Interested in buying DOGE but not sure where to start? This guide will explain how to buy Dogecoin in the UK and then how to safely store your DOGE tokens in a supported wallet. We also cover DOGE mining, and is it worth buying Dogecoin in 2023?
How to Buy Dogecoin in the UK in 2023
Dogecoin (DOGE) can be traded on popular centralized exchanges such as Binance, Crypto.com, FTX, and Coinbase, with an array of different cryptocurrencies, stablecoins, and FIAT currencies.
Plus, DOGE can also be traded using decentralized exchanges such as PancakeSwap when connecting up a supported wallet.

What is Dogecoin?
Dogecoin (DOGE) was initially launched as a joke currency that was forked from Litecoin in December 2013 by Billy Markus and Jackson Palmer. The cryptocurrency token is easily recognizable by its famous Japanese Shiba Inu dog logo and claims to be a fun alternative to Bitcoin.
The internet meme token has exploded in popularity after catching the attention of Tesla CEO Elon Musk. Now their biggest promoter, the tech pioneer, even changed his Twitter bio to CEO of Dogecoin.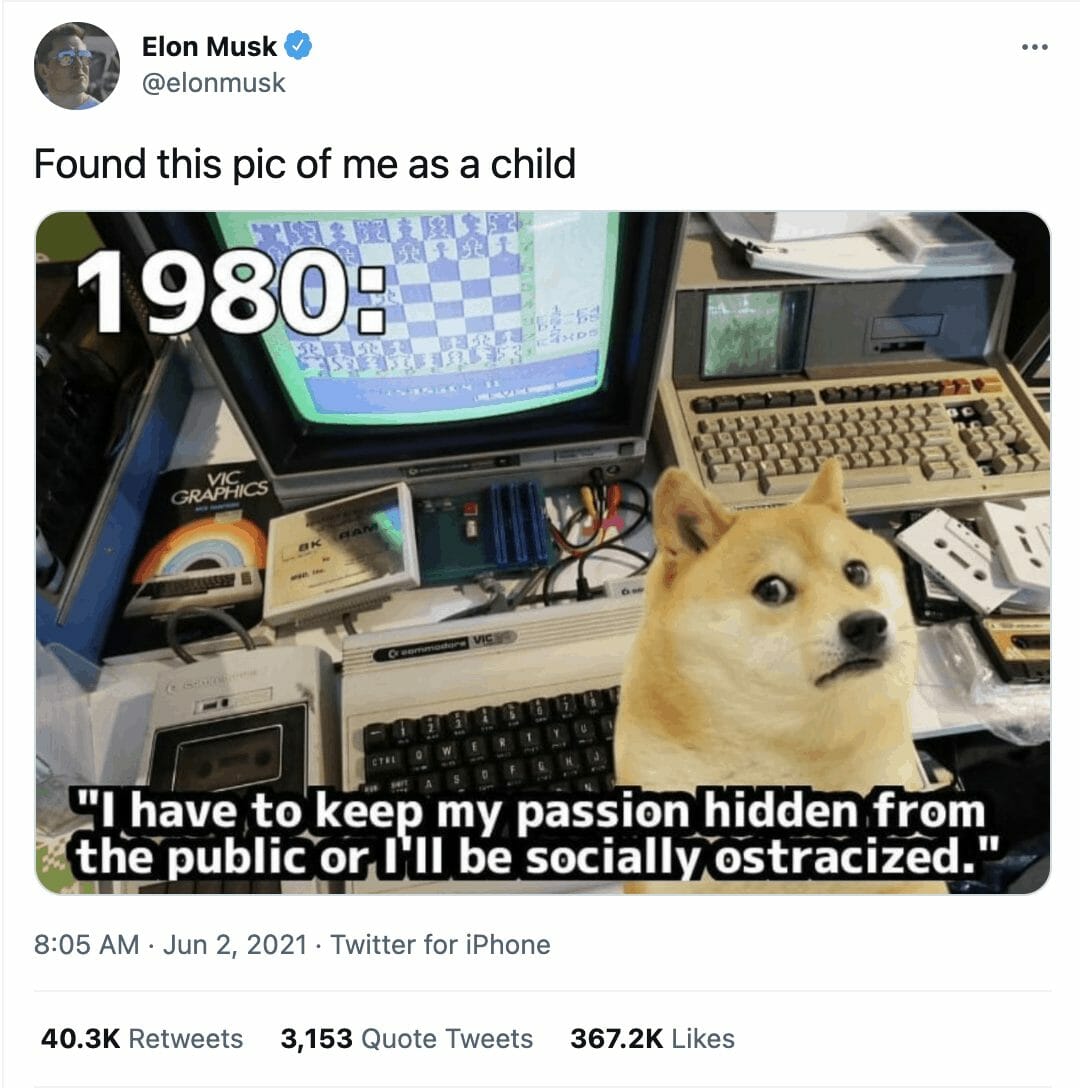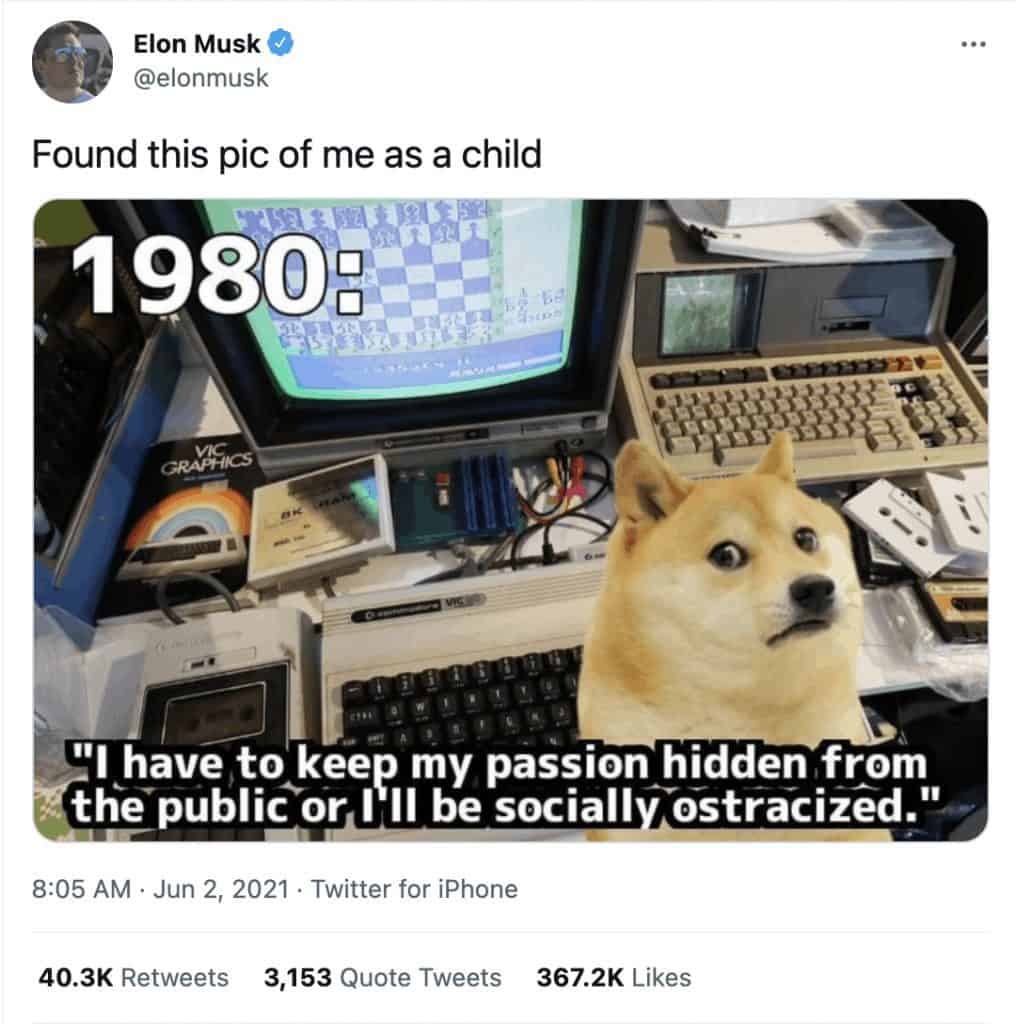 Like Bitcoin, Dogecoin is a proof-of-work (PoW) cryptocurrency and can be used for microtransactions or social media tipping on the likes of Reddit. However, unlike Bitcoin, which was designed to be scarce, 10,000 new Dogecoins are mined every minute, with no maximum supply.
Dogecoin is a popular coin for mining, enabling anyone to mine the digital currency using GPUs as part of their POW consensus protocol.
3 Exchange to Buy Dogecoin in the UK
With so many trading platforms to buy Dogecoin, we´ve compiled a list of the best exchange platforms to use. This includes available trading pairs, the platform´s fees, a link to our detailed reviews, plus the latest sign-up bonuses and offers.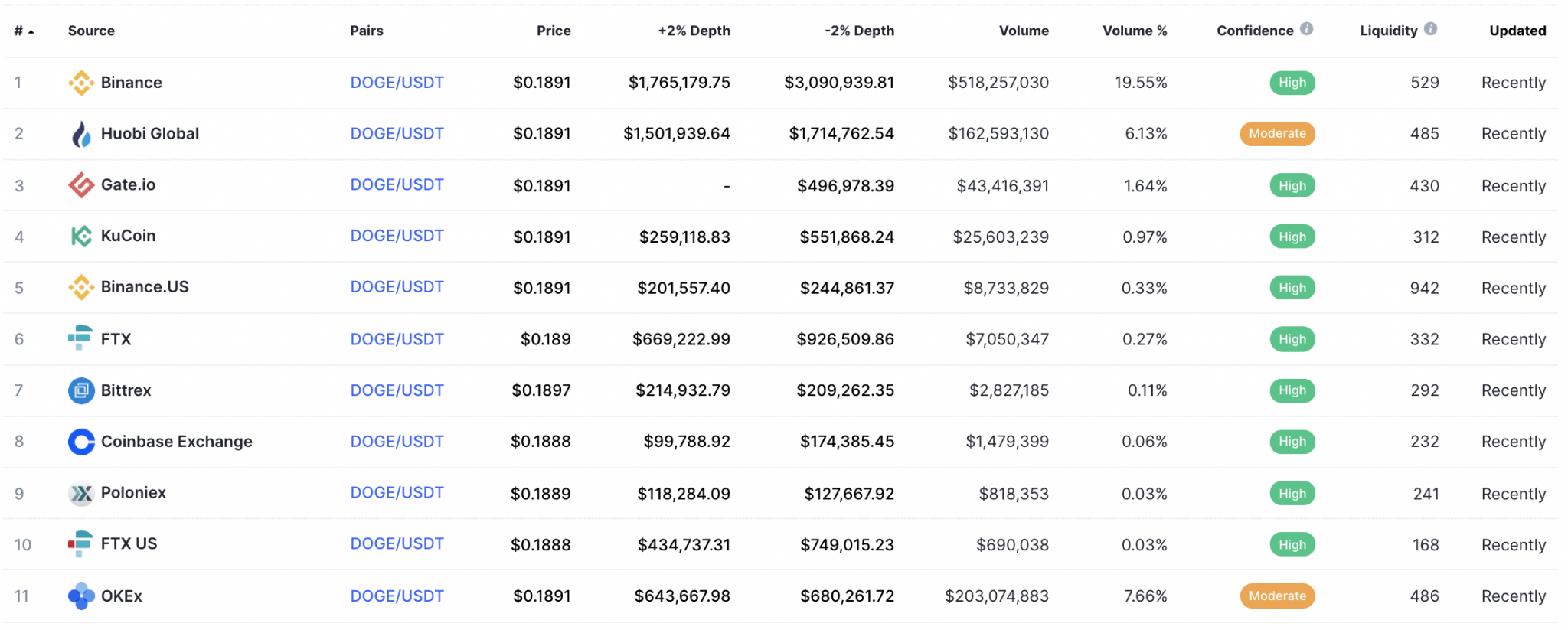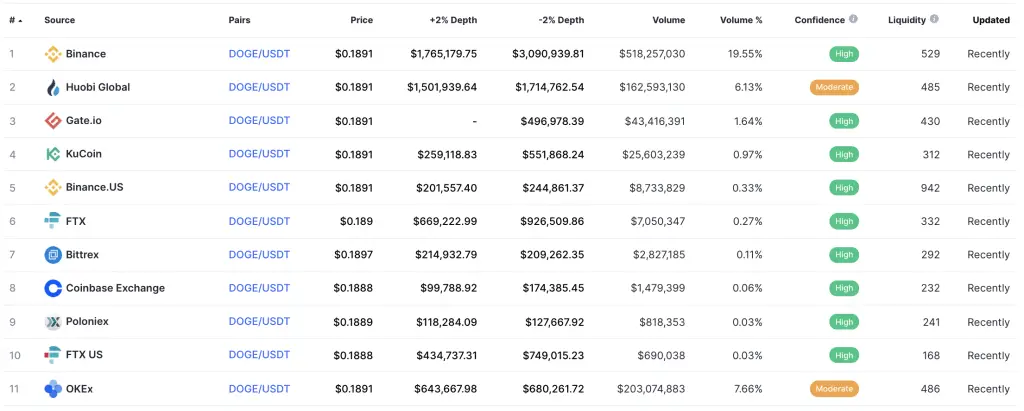 1. Coinbase
Dogecoin is available to buy, sell and convert on Coinbase. For the more advanced investor, you can use their Coinbase Pro trading platform to receive a better trading rate and reduce your trading fees to 0.5%.
One of the advantages of using Coinbase Pro to buy Dogecoin (DOGE) in the UK is you can deposit GBP for free using a UK bank transfer (via Faster Payments). Once you have made a deposit (which normally takes a few minutes), you can trade using the DOGE/GBP spot market.
New Coinbase users can receive a 5-pound sign-up bonus when they buy or sell $100 of crypto.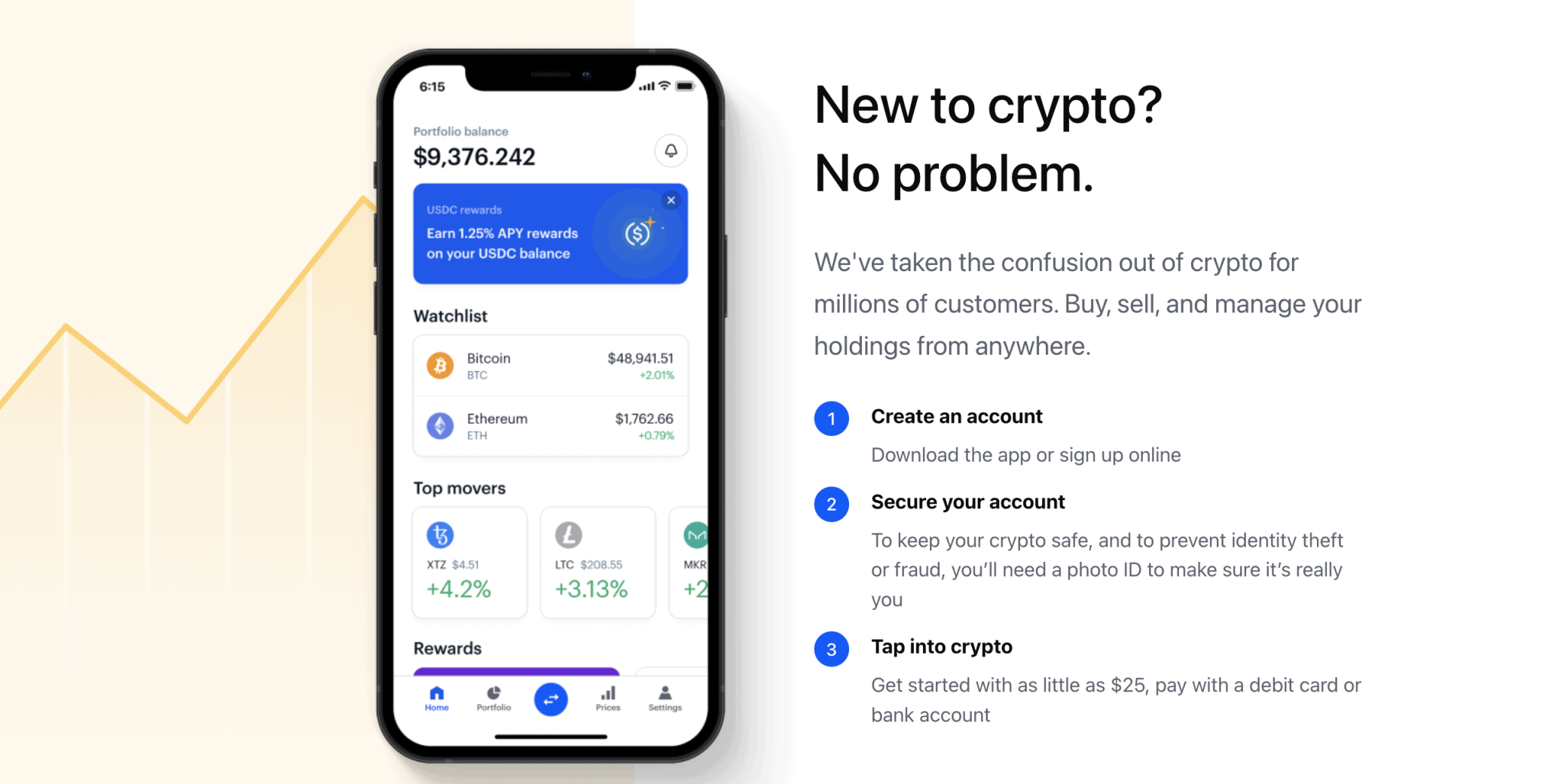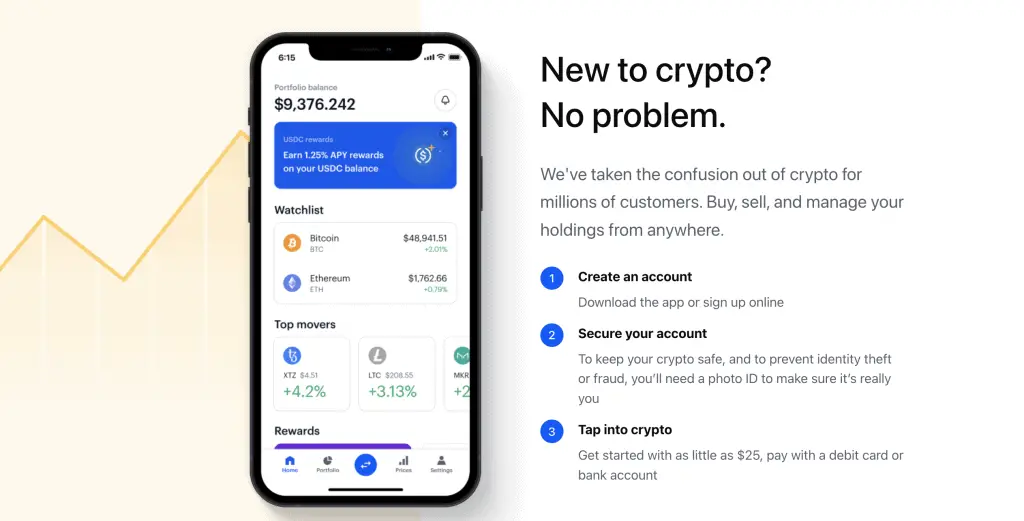 2. Binance
Binance was launched in 2017 and has quickly become the world's largest cryptocurrency exchange. Providing traders with a wide range of trading pairs, including GBP, and offering some of the lowest trading fees.
Until recently, you were able to deposit GBP into Binance, but they have hit some bumps with both Santander and Barclays stopping payments.
Binance is our go-to exchange due to its low fees and trading pairs. Their trading fees start at an impressive 0.1% compared to Coinbase's 0.5% making it the cheapest way to buy Dogecoin (DOGE) in the UK.
If you´re interested in sign-up to the Binance exchange, new users who use our referral link can save an additional 20% when tradings.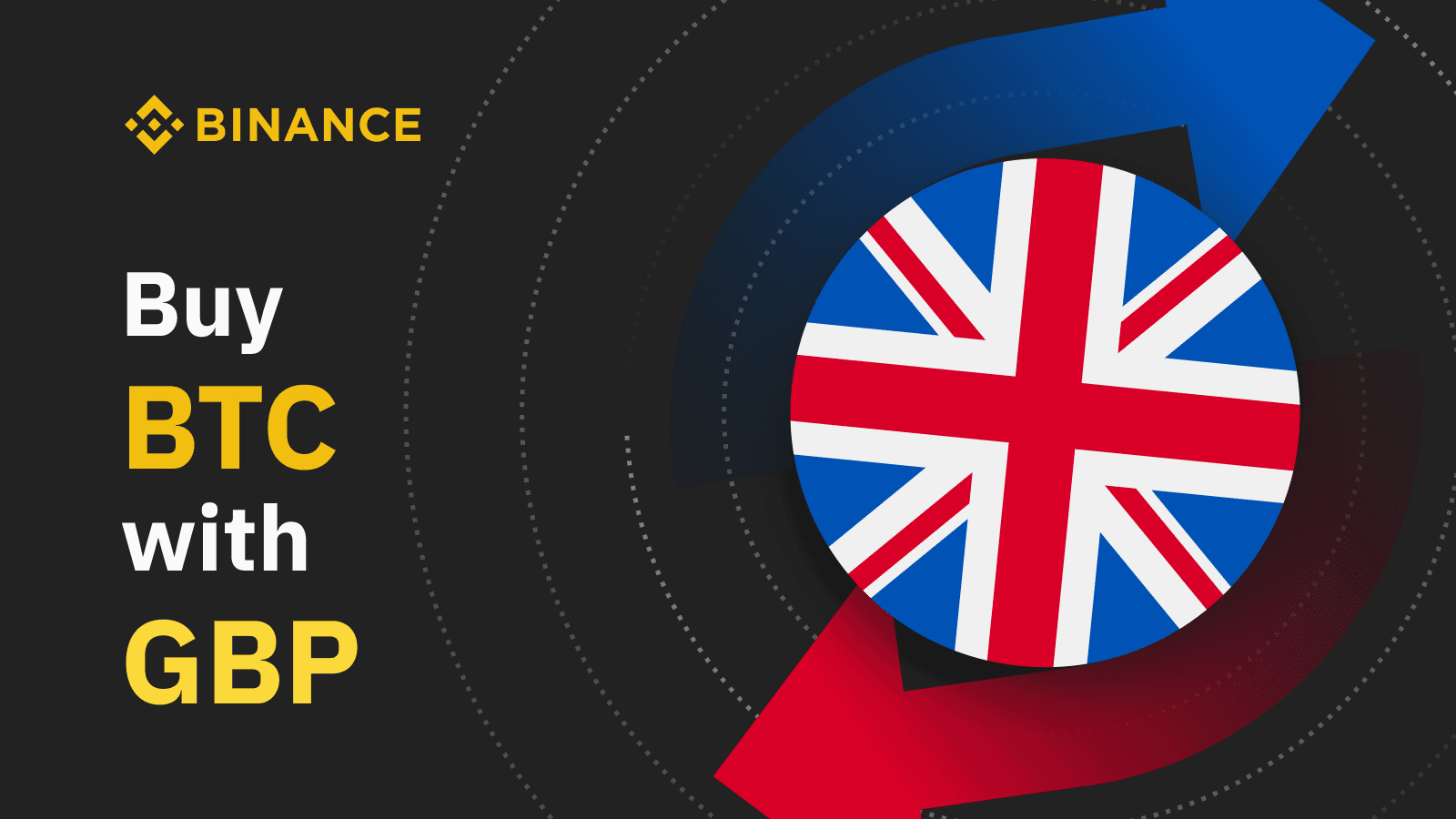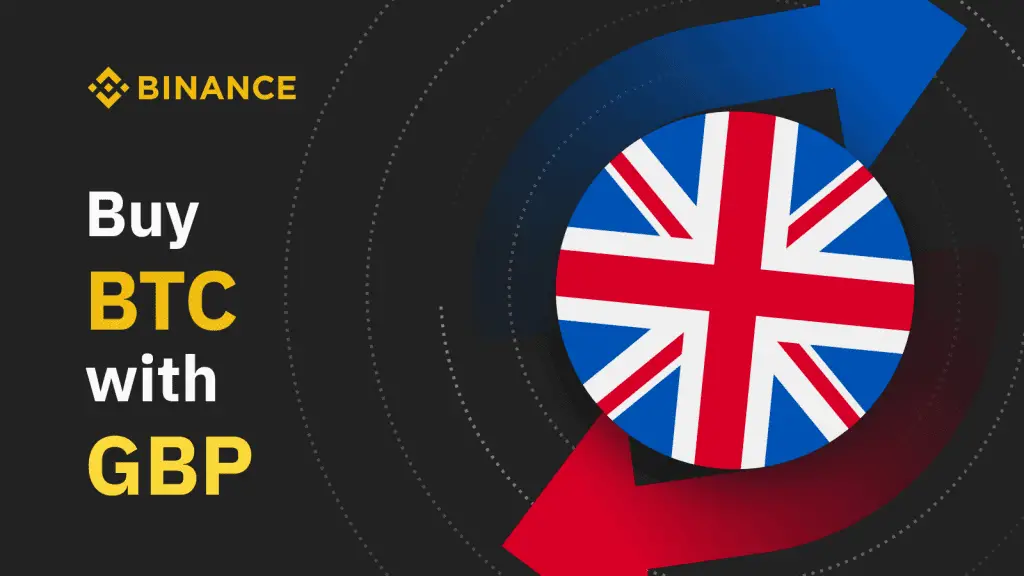 2. Kraken
Kraken is a long-standing crypto exchange launched in 2011 in San Francisco. The platform enables users to trade more than 30 digital assets and seven different FIAT currencies, including GBP. It's now trusted by more than 5 million traders, institutions, and authorities around the world.
Kraken is a trusted exchange we have used but mostly used to stake crypto. Their trading fees are pretty reasonable at around 0.26%, but they don´t offer a GBP/DOGE trading pair like Coinbase or Binance.
Kraken is a little mean and doesn´t offer any sign-up incentives, but if you would like to support the channel, you can use our affiliate link.
3. Crypto.com Exchange
The Crypto.com Exchange is part of a range of products and services offered by the one-stop shop for crypto, Crypto.com. Launched in 2019, the exchange enables users to trade crypto to crypto with low fees and deep liquidity.
The exchange is powered by CRO, Crypto.com's native token, meaning CRO holders can enjoy privileges by staking the token or using it to pay for trading fees. 
Crypto.com trading fees are 0.4%, but these can be reduced by staking their CRO tokens. They don't offer a GBP/DOGE trading pair, but you can easily trade using BTC, USDT, CRO, and USDC. We have also earned free DOGE from Crypto.com SuperCharge events.
Crypto.com sign-up bonus is linked to how much of their CRO tokens you stake. One benefit of staking CRO is their Crypto Card, where you can receive cashback on purchases plus free Spotify. If you´re a new user of Crypto.com, you could earn up to $50 when you use our referral code at signup.


Best Dogecoin (DOGE) Wallets
I wouldn´t recommend keeping any cryptocurrency on an exchange long-term. Without access to your private keys, you have less control over your assets, and you will be entrusting a third party to look after your crypto. If you´re unsure how to withdraw from an exchange, check out our guide on how to withdraw from Binance.
With DOGE, there are many different ways to safely store your crypto. These can include software, online, mobile, paper, or hardware wallets. Where you store, your DOGE is up to you. However, the safest way to store any crypto assets, especially larger amounts, are offline/in cold storage. This can be done in the form of hardware or paper wallets, but these do have their different pros/cons.
Therefore I´ve compiled a list of ways to store your DOGE, which vary from free official wallets to paid hardware wallets. You can also check our 10 Best Crypto Wallets for UK Investors.
| Wallet | DOGE Supported | Mobile/Desktop/Hardware | Free/Paid | Review |
| --- | --- | --- | --- | --- |
| Dogecoin Wallet | Yes | Mobile/Desktop | Free | – |
| Atomic Wallet | Yes | Mobile/Desktop | Free | Yes |
| Coinbase Wallet | Yes | Mobile App/Browser Extension | Free | Yes |
| Exodus Wallet | Yes | Mobile/Desktop/Hardware | Free/Paid | Yes |
| Trust Wallet | Yes | Mobile | Free | Yes |
| Ledger Nano | Yes | Hardware | Yes | Yes |
| Trezor | Yes | Hardware | Yes | Yes |
1. Dogecoin Official Wallet
The official Dogecoin wallet is a free wallet available for desktop and mobile (Android only). The desktop version comes in either a lite version which is used for storing and transferring Dogecoin, or a core wallet that downloads the entire blockchain.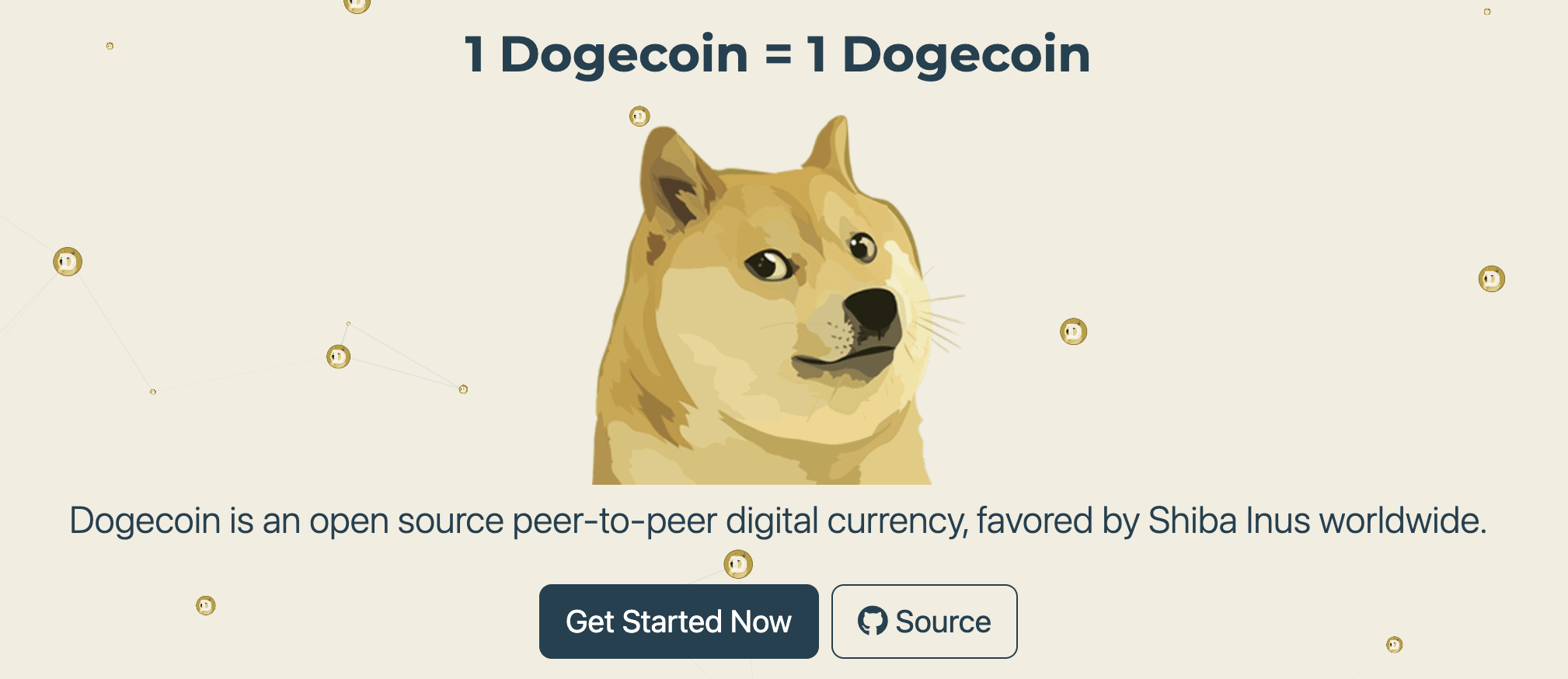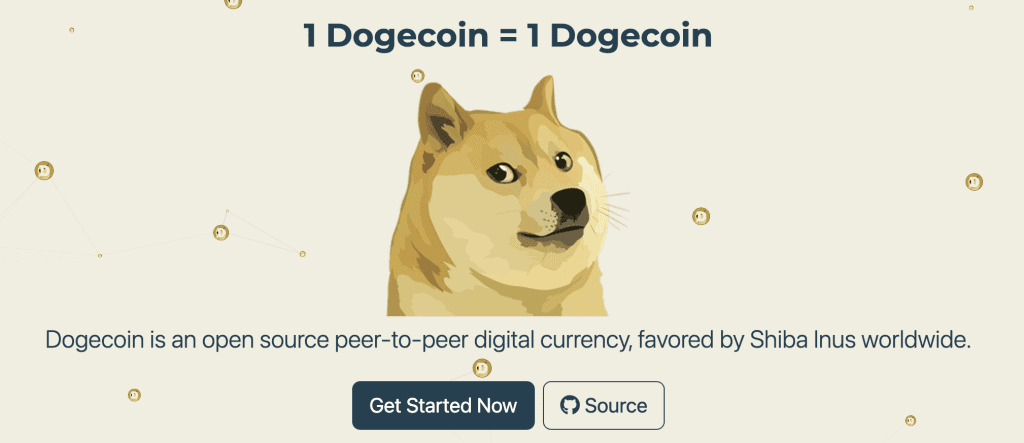 2. Atomic Wallet
Atomic Wallet is great for those that are interested in privacy. The free decentralized desktop and mobile wallet are very easy to use and ideal for newbies. Atomic Wallet gives you complete control over your crypto with access to your private keys.
3. Coinbase Wallet
Coinbase Wallet is another free option, which is available as a mobile app or browser extension and added the support for Dogecoin back in 2019. With the Coinbase Wallet, your private keys are encrypted on your phone using Secure Enclave technology to bring you best-in-class security.
I would recommend using Coinbase Wallet and not Coinbase or Coinbase Pro to store your Dogecoins.
4. Exodus Wallet
Exodus was one of the first wallets I ever used, and it's a fantastic free crypto wallet, available for desktop and mobile.
Check out our Exodus Wallet review, where we provide information on supported crypto and how to connect your wallet with a Trezor hardware wallet.
5. Trust Wallet
Trust Walletis the official mobile wallet by Binance, which is trusted by 10+ million users. Free to download on iOS and Android, Trust keeps you in control of your crypto assets. Easily send, receive, store and exchange your DOGE all within the mobile app.
You can check out our Trust Wallet review if you want more information.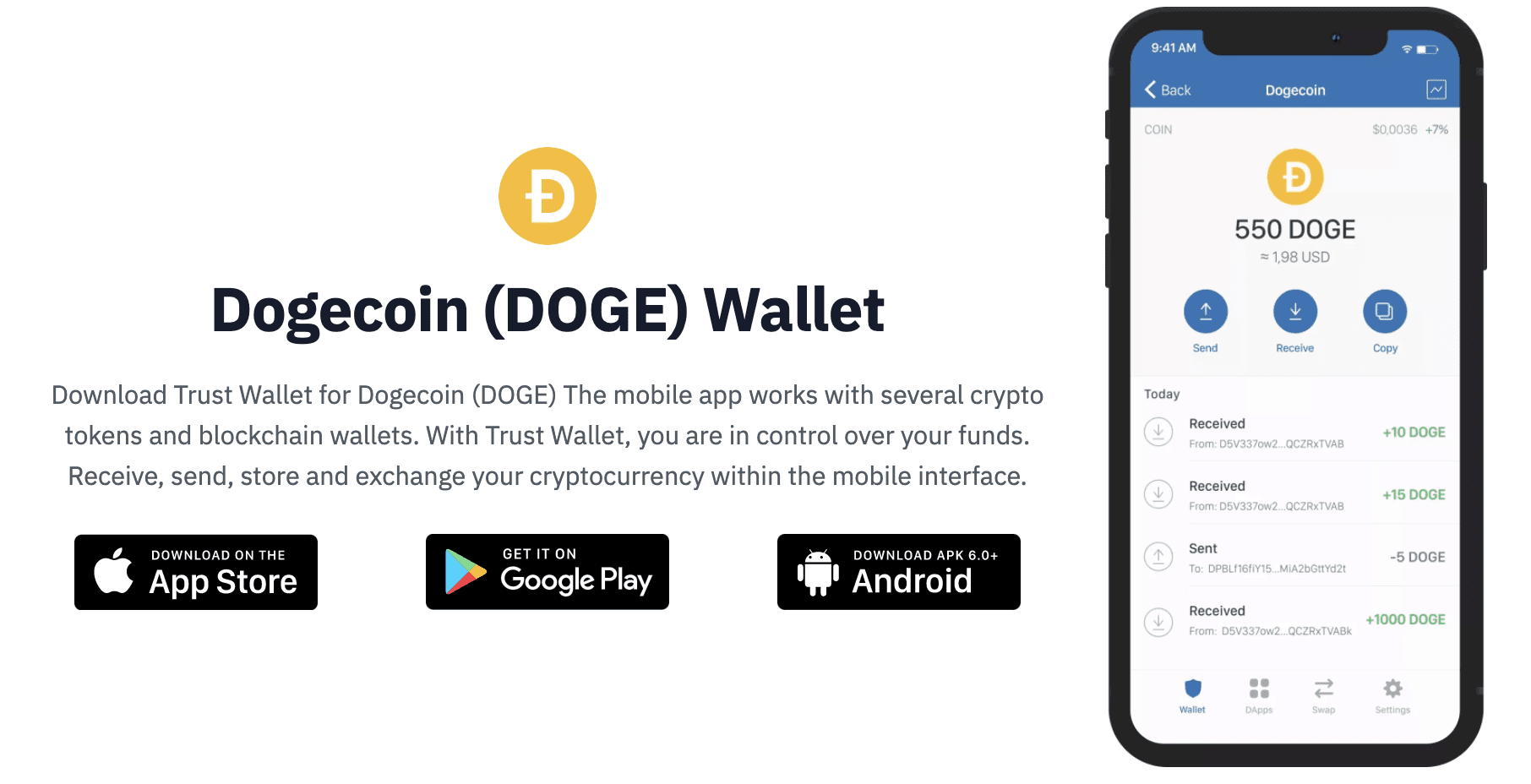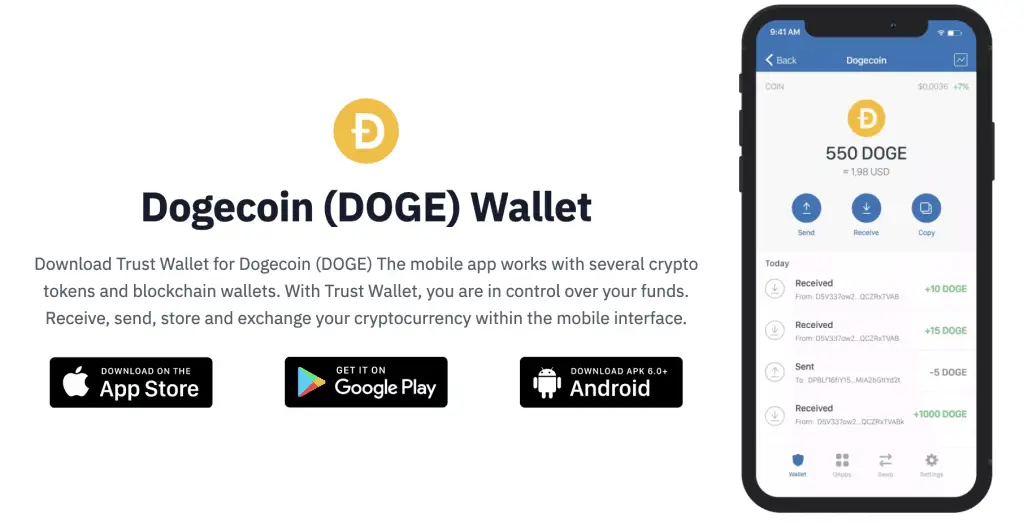 6. Dogecoin (DOGE) Support Hardware Wallet
When it comes to crypto hardware wallets, a host of different models are available to store your Dogecoin from the likes of Ledger and Trezor.
Below is a list of Dogecoin hardware-supported wallets:


Mining Dogecoin in the UK
Another way that you can earn Dogecoin is through mining. Because Dogecoin uses a proof of work (POW), consensus users can mine for DOGE with the correct equipment. The type of mining is identical to Litecoin as it runs on the algorithm "Scrypt". This means that the same ASIC miners for Litecoin can be used to mine Dogecoin. However, Litecoin is deemed more profitable.
Due to Dogecoin's increased popularity and difficulty, mining in a group or a "Mining Pool" can be a popular choice for miners. ASIC mining can be expensive; therefore, choosing a pool where you can earn is important. There are a host of mining pools to select from, and it's important to check the safety level, the fees, the way the rewards are calculated, location, and pool hashing power.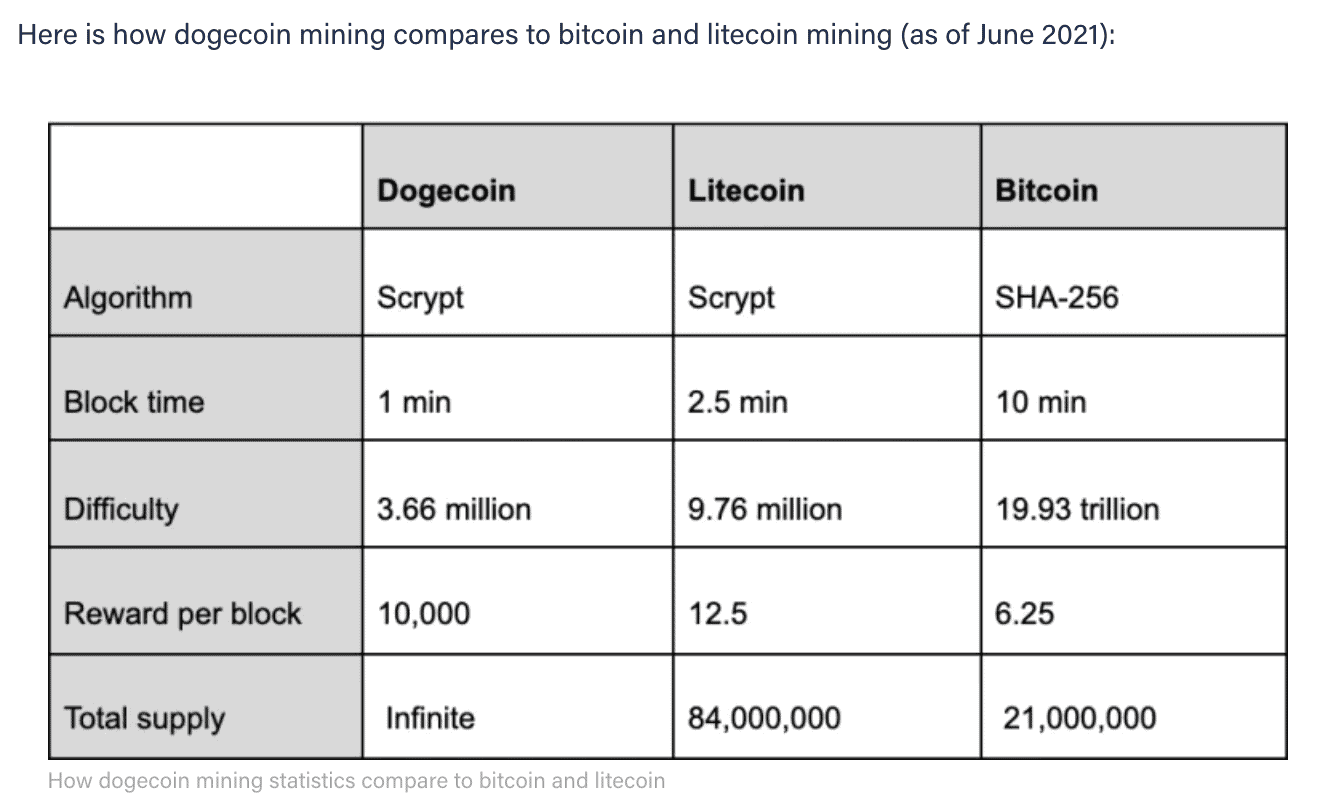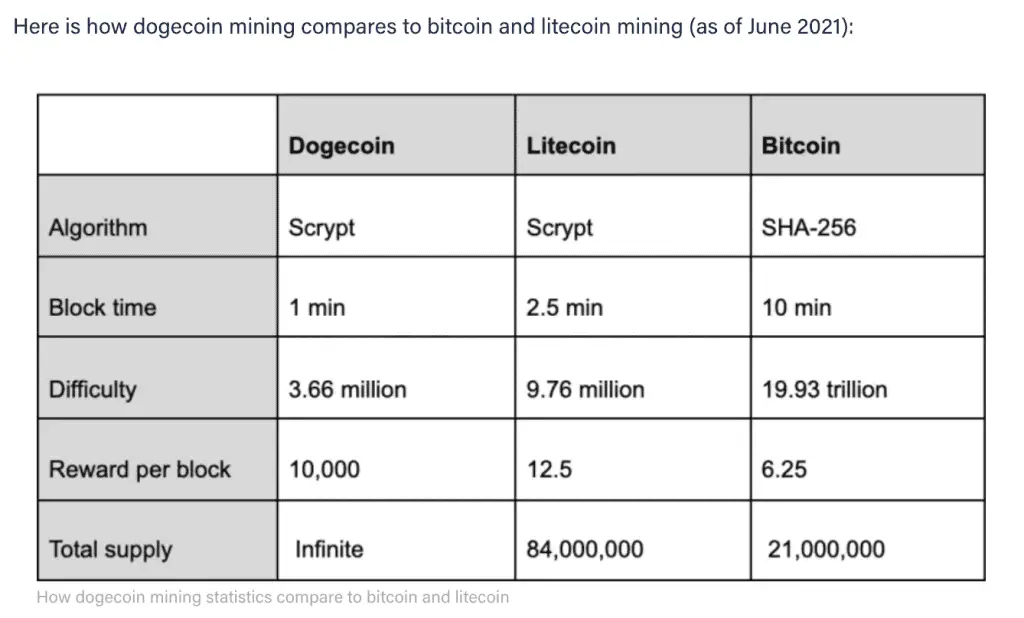 Earn Interest with Dogecoin
If you want to put your Dogecoin to work and start earning passive income, you can stake it to earn rewards. This can be done with fixed or flexible term plans using cryptocurrency exchanges such as Gemini or Binance.
Alternatively, Nexo has also recently added DOGE to their list of interest-earning assets, where you can now buy, earn and borrow your DOGE again on their platform.
Simply add Dogecoin into your Nexo wallet, and (depending on your loyalty level) you can earn up to 3% interest, which is paid out daily. Plus, there are no lock-up periods or fees to pay.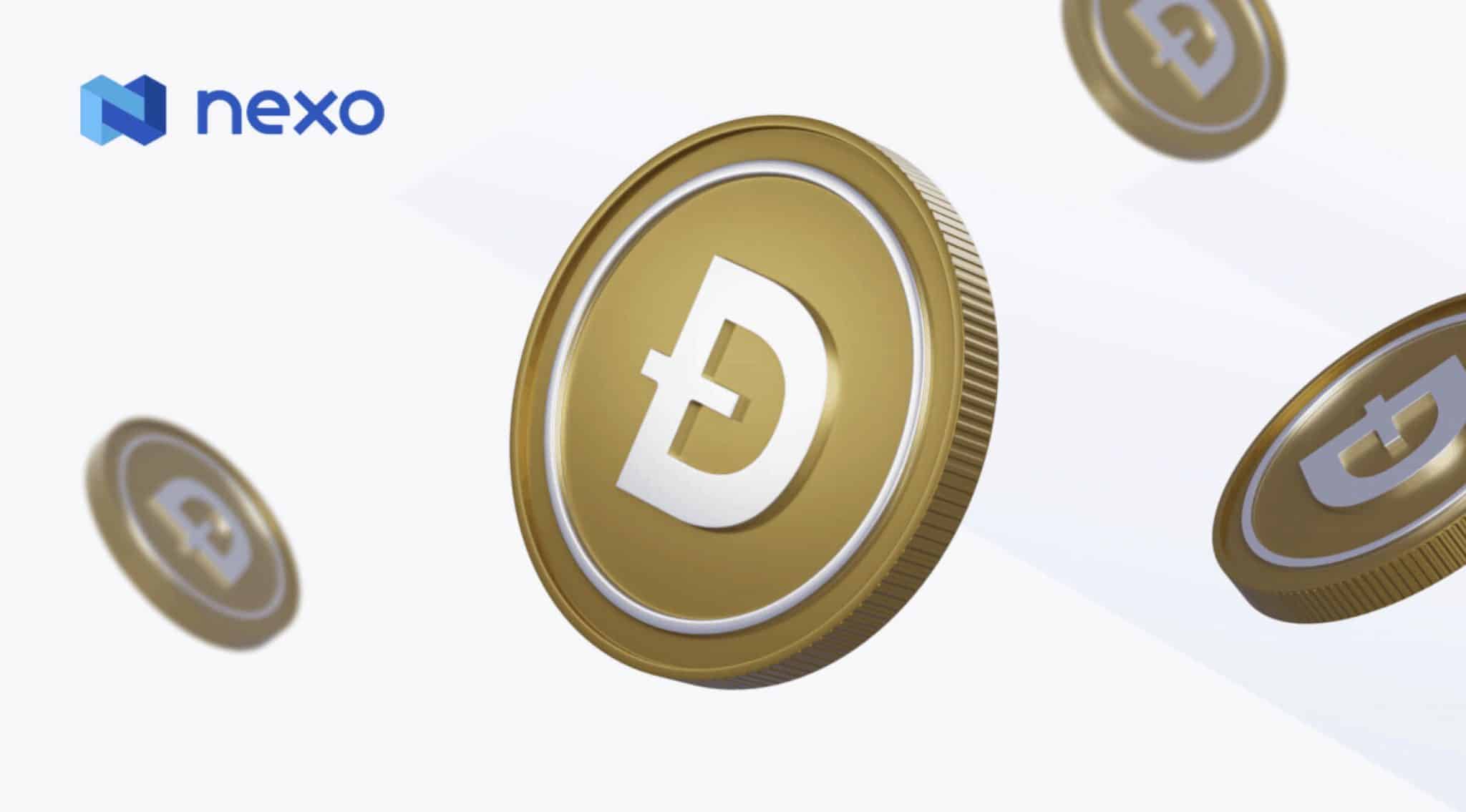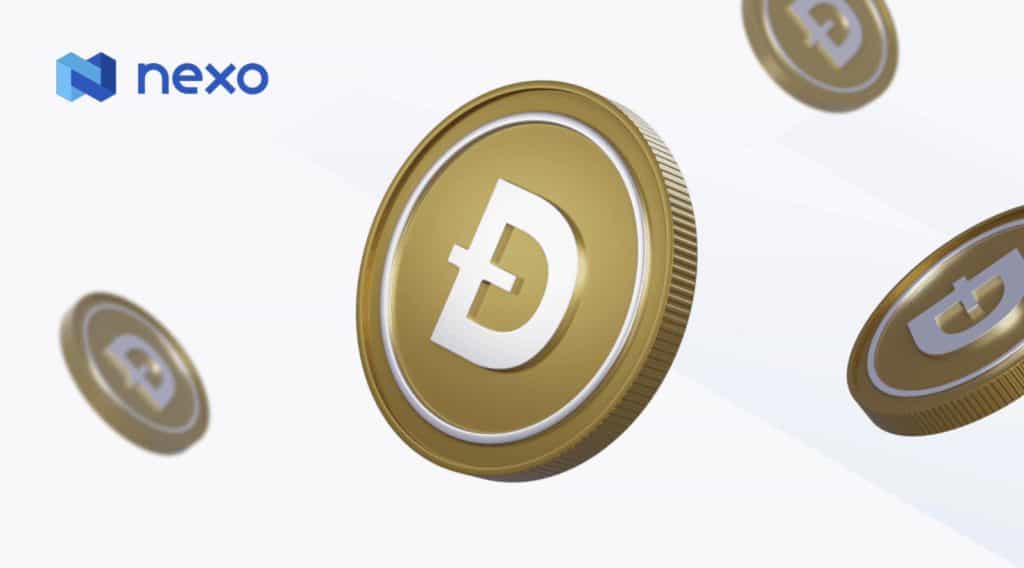 Conclusion
Dogecoin has been around since 2013 and has a passionate community, with over 2.1 million members on Reddit. As we have seen recently with meme stocks such as GameStop and AMC, they rarely have strong fundamentals but once fuelled by social media; you can´t bet against them.
Personally, we have purchased Dogecoin in the past but don't currently hold any in our portfolio. It's unlike we will buy DOGE in the future; we believe there are better cryptos you can buy and hold long term. Maybe it might be worth trading short-term, but that isn´t something we do.
Related Posts