In this Coinbase Review for 2023, we take a dive deep into the popular crypto platform. We analyze Coinbase's various features and apps and examine their security, fees, support, and pros and cons.
Coinbase's simple and user-friendly design makes it a popular choice for the new crypto investor. Coinbase's popularity continues growing, and it is available in over 100 countries, with over 35 million users buying, selling, and trading cryptocurrencies.
So, let's dive into this Coinbase Review to help you determine whether Coinbase is the right crypto platform for you.
Coinbase Review: How to Use Coinbase?
Coinbase Pros and Cons
What is Coinbase?
Coinbase.com is a leading cryptocurrency exchange platform that offers a comprehensive suite of services related to digital assets. Established in 2012, by Brian Armstrong and Fred Ehrsam, it has since grown into one of the world's largest and most trusted cryptocurrency exchanges.
The platform was designed with the goal of making it simple for investors to buy, sell, and store cryptocurrencies. It has succeeded in this regard, making it a popular choice for both newcomers to the crypto world and seasoned traders.
Coinbase offers a host of features tailored to the needs of its users. This includes Coinbase Earn, a feature that allows users to earn interest on their crypto holdings. Additionally, there's the Coinbase Learning Rewards program, which offers users the opportunity to earn free crypto by learning about various tokens and projects and answering a few simple questions.
For more advanced traders, there's Coinbase Advanced, formerly known as Coinbase Pro. This platform offers a range of advanced trading features, making it a suitable choice for seasoned traders looking for more sophisticated trading tools.
Coinbase Features & Products
As a leading cryptocurrency platform, Coinbase presents a diverse array of products and services to cater to the needs of both individual and institutional users. Whether you're a novice dipping your toes into the crypto world or a seasoned trader looking for advanced tools, Coinbase has a product designed for you.
Let's delve into the features and products that make Coinbase a versatile platform for all your crypto needs:
Coinbase for individuals:
Coinbase Wallet: Crypto mobile wallet for storing and managing cryptocurrencies.
Coinbase Advance Trade: A crypto exchange for advanced cryptocurrency trading
Coinbase Earn: Staking your crypto assets and receiving rewards of up to 5% APR.
Coinbase Learning Rewards: Learn about crypto tokens and projects and answer questions to earn free crypto rewards.
Coinbase Base: Recently released layer two networks built using Optimism.
Coinbase Card: A debit card that allows users to spend their cryptocurrency balances like fiat currency.
Coinbase Commerce: A solution for merchants to accept cryptocurrency payments.
Coinbase for institutions:
Coinbase Prime: A platform for institutional trading and investment in cryptocurrency markets.
Coinbase Custody: A secure storage solution for institutional-grade cryptocurrency holdings.
Coinbase Markets: A platform for institutions to access cryptocurrency market data and trade execution services.
Coinbase Advanced Trade
Coinbase announced in June 2022 that it was phasing out its Coinbase Pro version with its new Coinbase Advanced Trade. The company said the move is to ensure its users leverage its unified services. Coinbase said;
"Later this year, we'll begin sunsetting Coinbase Pro to migrate all advanced trading into one unified Coinbase account, bringing customers access to popular features like staking, Borrow, dapp wallet, and Coinbase Card from a single platform balance."
Coinbase Advanced Trade is a trading platform aimed at more experienced traders. Traders can exchange a wider range of assets with more advanced order types using order books, charts, and graphs. One of the advantages of trading on Coinbase Pro, compared to Coinbase, is their lower trading fees. It's worth checking out the Binance Exchange. to reduce your trading fees even further.
If you want more information, check out our Coinbase Advanced Trade Review & Tutorial.
Coinbase Wallet & DApp Browser
The Coinbase Wallet is a standalone application that provides users a secure way to store their cryptocurrencies and explore the decentralized web through a DApp browser. It's important to note that this wallet is separate from the Coinbase app, which is also available on Coinbase.com.
It's generally not advised to store your assets on centralized exchanges like Coinbase for extended periods. This is because these platforms are third-party entities, and storing your crypto with them means entrusting them with your assets. A common saying in the crypto community is, "Not your keys, not your crypto."
The Coinbase Wallet addresses this concern by giving you access to your private keys, ensuring that you have full control over your crypto assets. However, hardware wallets such as Ledger Nano S, Nano X or Trezor Model T are worth considering for those seeking additional security with offline storage.
Coinbase Learning Rewards
Coinbase Learning Rewards allows users to earn cryptocurrency by completing educational tasks about various digital assets. These tasks can range from watching videos, taking quizzes, participating in surveys, and trying out new cryptocurrencies.
Users are rewarded with small amounts of the cryptocurrency they are learning about, which they can then hold, sell, or exchange for other digital assets. The program is designed to help users learn more about cryptocurrencies and their potential uses while allowing users to earn money through their learning.
Coinbase Earn
Coinbase Earn provides users an easy and secure way to earn passive income by staking their crypto assets and receiving rewards of up to 5% APR. Coinbase stakes crypto on behalf of its customers and directly deposits rewards into their wallets, with users receiving rewards roughly every three days after the initial holding period. This allows individuals to earn passive income from staking their crypto assets without the technical complexities of running a node.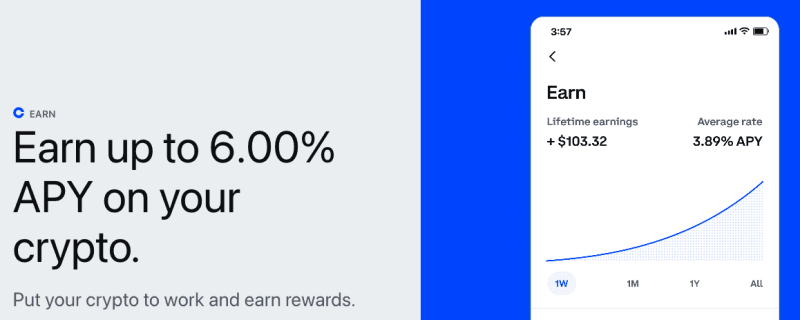 Coinbase One
Coinbase One is a premium subscription service offered by Coinbase, a leading cryptocurrency exchange platform. This service is designed to provide members exclusive benefits that enhance their trading experience and offer additional support and protection. Here's a more detailed look at the features:
Zero Trading Fees: Coinbase is known for its high trading fees, which can add up quickly for frequent traders. With Coinbase One, members can enjoy zero trading fees, making it a cost-effective choice for active traders. This feature could potentially save members significant amounts of money over time. However, it's important to note that this benefit does not extend to Coinbase Pro, Advanced Trade, or Prime Broker.
Dedicated 24/7 Phone Support: Cryptocurrency markets operate 24/7, and having access to round-the-clock support can be invaluable. Coinbase One members have access to dedicated phone support any time of the day or night, ensuring they can get help whenever needed.
$1M Account Protection: Security is a major concern in cryptocurrency. Coinbase One offers an added layer of protection with a $1 million insurance coverage for your account. This means members have a safety net in the unlikely event of a security breach leading to a loss.
Pre-filled Form 8949 in Coinbase Taxes: Dealing with taxes on cryptocurrency can be complex. Coinbase One simplifies this process by providing a pre-filled Form 8949, which is used to report sales and exchanges of capital assets to the IRS. This feature can save members time and effort during tax season.
Exclusivity: Coinbase One is only available in certain regions, adding an element of exclusivity to the service. This limited availability may change over time as Coinbase expands its services.
At $30 per month, Coinbase One could be a worthwhile investment for active traders and those who value the additional support and security features. However, potential subscribers should be aware of the limitations regarding zero trading fees and the regional availability of the service.
Coinbase Base
Coinbase Base is a Layer 2 network solution built on Optimism's OP Stack. It aims to provide a low-cost, secure, and developer-friendly environment for building decentralized applications, also known as "DApps", on-chain.
The network is designed to tackle the scalability issues that plague Ethereum and other blockchain ecosystems. It allows developers to integrate their products directly with Base, providing fiat onramps and making it easier for users to enter the crypto economy.
Coinbase has no plans to issue a new network token for Base. Instead, it is incubating Base within the company, leveraging its extensive experience developing crypto products.
To further support the growth of the Base ecosystem, the company has set up the Base Ecosystem Fund. This fund is designed to provide financial support to early-stage projects building on Base and meeting the predetermined investment criteria.

Coinbase Referral Code: £5 Bitcoin Sign-up Bonus
Coinbase offers new users a £5 Bitcoin sign-up bonus when they make their first trade. For more information on Coinbase referral code or sign-up bonus, click here.
If you plan to sign up for Coinbase, here's what you need to know about the Coinbase verification process.
Coinbase Supported Cryptocurrencies
Coinciding with the burgeoning cryptocurrency market, the number of cryptocurrencies supported on Coinbase has significantly increased in the past year. The platform now supports a wide range of popular cryptocurrencies. This includes but is not limited to:
Bitcoin
ChainLink
DAI (Dai Stablecoin)
EOS
Ethereum
Ripple
Stellar Lumens
Tezos
USDC (USD Coin)
Wrapped Bitcoin
These offerings represent a mix of well-established and emerging cryptocurrencies, catering to a broad spectrum of investor preferences. For a comprehensive list of all cryptocurrencies supported on Coinbase, you can refer to the relevant section on their official website.

Coinbase Payment Methods
The payment methods available on Coinbase depend on your geographical location and whether you're making a purchase or a withdrawal.
For users in the UK, payment options include Faster Payment Services, SEPA Transfers, 3D Secure Payments, and instant card withdrawals. Additionally, PayPal is available for withdrawals only. You can refer to their official website for a comprehensive list of payment methods available to Coinbase UK users.
For US-based users, Coinbase supports smaller transactions via PayPal, Apple Pay, and Google Pay. For a detailed list of payment methods, including transfer times for US users, you can refer to the corresponding section on the Coinbase website.
It's important to note that Coinbase no longer allows new users to link credit cards, restricting this functionality to debit cards. However, if you had previously linked a credit card, you might still be able to use it. Remember that your bank may charge additional fees for such transactions. Therefore, it's advisable to switch to a debit card or bank account for your transactions on Coinbase.
Coinbase Fees
The fees you pay with Coinbase will depend on the method of payment you choose and your location. In the past, Coinbase disclosed its fee structure, which they listed by country, payment method, etc. However, more recently, they have replaced this on their fee page with the following statement;
"Coinbase may charge fees when you buy, sell, or convert cryptocurrencies. Fees are calculated at the time you place your order and may be determined by a combination of factors including the selected payment method, the size of the order, and market conditions such as volatility and liquidity. The applicable fees will be listed in the trade preview screen which will be surfaced before you submit your transaction, and may differ for similar transactions."
Generally speaking, the most expensive way to buy crypto on the Coinbase exchange is via credit/debit card payments with a fee of around 3.99%. This isn't a way that I recommend buying your crypto due to the high fees. Although it may be one of the most convenient, you are paying for this convenience.
Other buy-and-sell orders with Coinbase incur a fee of between 1.49% and 2.99%. This doesn't seem huge, but if you compare this to Binance Exchange's 0.1% and Coinbase Advanced at 0.5%, you are paying over the odds.
As well as charging fees for instant buys and with payment via bank transfers, Coinbase also charges a spread of about 0.50% for both buy and sell orders. However, the actual spread may be higher or lower due to market fluctuations.
Coinbase Fees UK
The fees you will pay with Coinbase exchange will differ depending on your location. Previously you could find a full list of fees on their site by location. However, these have since been removed. Below is their previous list of fees, which you may be able to use as a guide;
Coinbase Fees US
The fees you will pay with Coinbase exchange will differ depending on your location. Previously you could find a full list of fees on their site by location. However, these have since been removed. Below is their previous list of fees, which you may be able to use as a guide;
Coinbase Support
Coinbase customer support is one of their biggest downfalls. They have been heavily criticized on the likes of Trustpilot, giving them a rating of "Bad". Although I have never personally experienced any issues, I can see how frustrating it can be if something goes wrong or you need help.
During crypto bull markets, Coinbase will have a surge of newbies signing up, and with more new users comes more complaints and customers needing help. They have become victims of their own success and hopefully will be ready for the next Crypto bull market.
Is Coinbase Safe?
To use the Coinbase exchange, you access the site with a username and password plus any 2-factor authentication you have associated. Coinbase is a centralized exchange that controls your crypto without access to your private keys. This means you are entrusting a third party to look after and secure your crypto assets.
Although Coinbase has not reportedly suffered an attack, there have been reports of Coinbase freezing user accounts. Therefore, we recommend not keeping your crypto on an exchange. When you have finished trading, move your crypto to the safety of a wallet, such as a Ledger or a Trezor.
Please Note: Coinbase insurance policy does not cover any losses resulting from unauthorized access to your Coinbase account(s) due to a breach or loss of your credentials. 
Is Coinbase Safe from Bankruptcy?
While Coinbase's bankruptcy risk is low and insurance is provided for funds, it's important to remember that users don't have the same level of protection as those who deposit money in a traditional bank. Customer assets may be subject to bankruptcy proceedings if an exchange goes bankrupt. However, Coinbase has committed to keeping 100% of its users' funds accessible.
While there is no indication that Coinbase is on the verge of bankruptcy, protecting your crypto is always a good idea. One way to do this is by storing your cryptocurrencies in your own secure wallet. This will ensure you have full control over your assets and reduce the risk of loss if Coinbase goes bankrupt.
Verdict: Should you use Coinbase?
Coinbase was the first exchange we used to buy Bitcoin and the exchange we would recommend to someone new to crypto. It´s simple and clear to use, and with the likes of Coinbase Earn, it continues to grow and attract new users.
Compared to Binance and OKX exchanges, the fees for buying and selling are expensive. These fees can add up, so I would try their more advanced Coinbase Advanced Trade and reduce them. Again, these fees are still very high, and you can do better.
Although we rarely use their Web3 wallet, it's a great wallet to have. However, if you want to invest long-term, check out a hardware wallet like a Ledger or Trezor.
FAQs
Why are Coinbase fees so high?
Coinbase's fees are generally higher than other exchanges due to its user-friendly interface and custodial storage services, which add to the cost of maintaining the platform's security and regulatory compliance.
However, the fees can be reduced by using Coinbase Advanced, which offers lower fees for trading and more advanced features for experienced traders.
Does Coinbase offer email support?
Yes, Coinbase does provide email support. However, it is important to be cautious of potential scams and to verify the authenticity of any emails claiming to be from Coinbase.
Please note: Coinbase support will never ask for a customer's account information, request remote access, or ask a customer to send funds to an external wallet address.
Coinbase emails will have the Coinbase.com domain name at the end (for example, support@coinbase.com and "contact@coinbase.com).
Does Coinbase charge a monthly fee?
No, Coinbase does not charge a monthly fee for regular use. However, they offer a premium service called "Coinbase One", which costs $30 per month and offers additional benefits.
Can you make money on Coinbase?
Yes, you can make money on Coinbase by trading cryptocurrencies. The value of cryptocurrencies can fluctuate rapidly, and if you buy low and sell high, you can make a profit. However, as with all forms of investment, risk is involved, and it's important to research and understand the market.
Is there a downside to Coinbase?
While Coinbase is a popular platform, it does have its downsides. The most commonly cited one is its relatively high trading fees compared to other exchanges. Additionally, the platform may not offer as many altcoins as other exchanges.
Can Coinbase be trusted?
Yes, Coinbase is widely regarded as a trusted and secure platform for cryptocurrency trading. It's one of the world's largest and most well-known cryptocurrency exchanges.
Related Posts
Here are some of our articles you may also find helpful;
*After you make a crypto purchase, BTC will be added to your portfolio. Limited time offer. Offer available to new users only. Offer not available to new users who were referred to Coinbase through the Referral Program or who have previously opened an account using different contact information. Coinbase may update the conditions for eligibility at any time.
"Cryptocurrency is not regulated by the UK Financial Conduct Authority and is not subject to protection under the UK Financial Services Compensation Scheme or within the scope of jurisdiction of the UK Financial Ombudsman Service. Investing in cryptocurrency comes with risk, and cryptocurrency may gain in value or lose some or all value. Capital gains tax may be applicable to profits from cryptocurrency sales."