In our Coinbase Advanced Review, we'll delve into one of the most popular crypto platforms, exploring its supported cryptocurrencies, fee structure, security measures, and how it stands apart from its predecessor, Coinbase Pro.
If you're searching for a platform that offers reduced trading fees and enables more sophisticated trading strategies, look no further. Coinbase has introduced Coinbase Advanced, a platform that empowers you to establish limit and stop orders, scrutinize real-time order books, and immerse yourself in advanced charts powered by TradingView.
So, let's dive into this in-depth review of Coinbase Advanced, designed to help you determine if Coinbase Advanced is the right cryptocurrency exchange for you.
Coinbase Advanced Review

What is Coinbase?
Coinbase is a leading cryptocurrency platform allowing users to buy, sell, and manage a diverse range of digital assets, including Bitcoin and Ethereum. Established in 2012, it's known for its user-friendly interface and robust security measures, making it a popular choice for beginners and experienced cryptocurrency traders.
Perfectly suited for newcomers venturing into the crypto world, Coinbase simplifies purchasing your first Bitcoin, offering convenient payment options such as credit/debit cards and bank transfers. But the platform's offerings extend far beyond this.
Coinbase provides a comprehensive suite of products and services tailored to various user needs. For the more seasoned traders, it offers an advanced trading feature, Coinbase Advanced, which provides sophisticated tools for efficient trading executions.
For those looking to maximize their crypto holdings, Coinbase presents opportunities to earn interest on your crypto assets. It also offers an educational platform where users can learn about various aspects of cryptocurrency, making it an excellent resource for beginners and experienced traders.
In addition, Coinbase has expanded its services to include an NFT marketplace, allowing users to buy, sell, and interact with non-fungible tokens, one of the latest trends in the crypto space.
Lastly, Coinbase offers its proprietary Coinbase Wallet, a secure and user-friendly digital wallet that allows users to store their digital assets, manage their private keys, and interact with decentralized applications (DApps).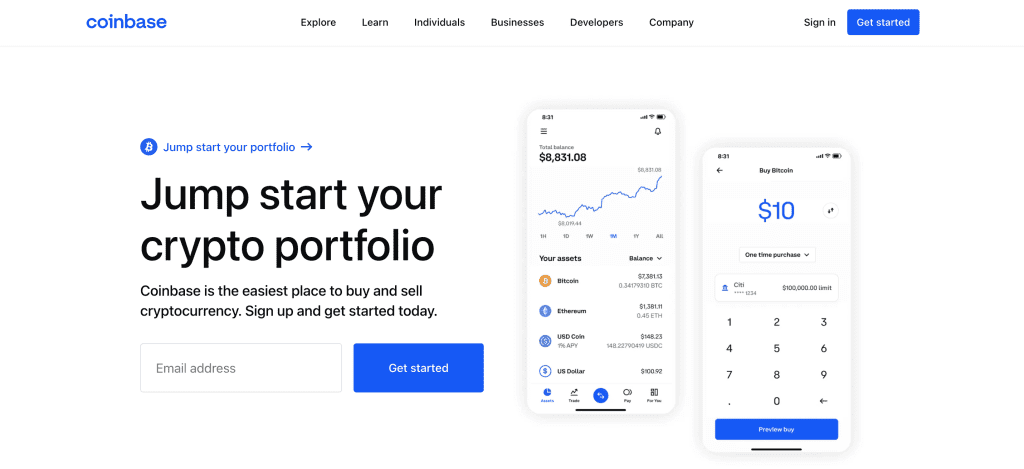 What is Coinbase Advanced?
Coinbase Advanced, the successor to the renowned trading platform Coinbase Pro, represents the next evolution in Coinbase.com's advanced trading offerings.
In a strategic move in June 2022, Coinbase declared the sunsetting of Coinbase Pro, aiming to provide customers with a more seamless trading experience while simultaneously granting access to all the popular features of Coinbase from a single account.
Retaining the real-time order books, liquidity, and competitive volume-based fees of its predecessor, Coinbase Advanced takes a step further. It offers seasoned traders an enhanced platform to buy, sell, and trade their crypto assets across many trading pairs, utilizing a broader array of sophisticated order types.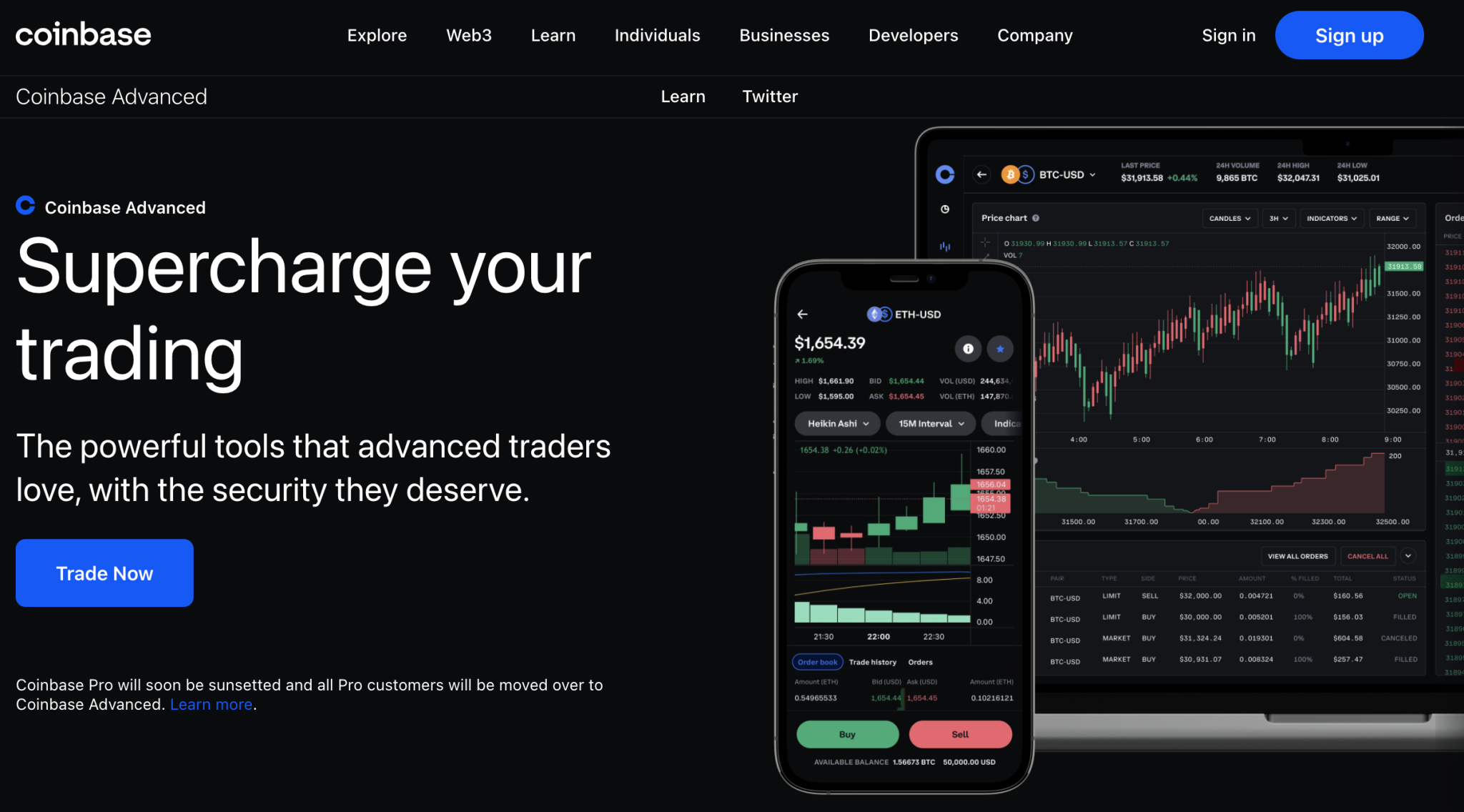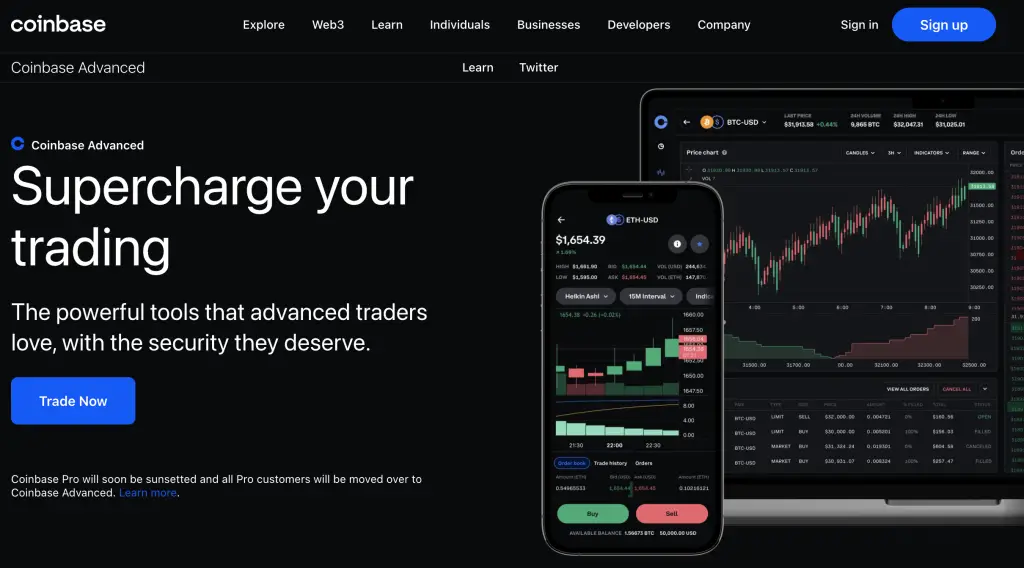 Coinbase Pro
Coinbase Pro was a platform tailored for users seeking more advanced trading functionalities. It offered sophisticated features such as limit and stop orders, real-time order book tracking, and in-depth chart exploration.
One of the significant advantages of Coinbase Pro was its competitive fee structure. Coinbase's fees were known to be higher, and Coinbase Pro emerged as a cost-effective alternative. The platform's fees were significantly lower, ensuring that users could maximize their profits without worrying about high transaction costs eating into their earnings.
However, in June 2022, Coinbase decided to sunset Coinbase Pro. This strategic move aimed to integrate more advanced trading tools directly into Coinbase.com, leading to the birth of Coinbase Advanced Trading. This new platform combines the user-friendly interface of Coinbase.com with the advanced trading functionalities of Coinbase Pro, offering users a seamless and efficient trading experience.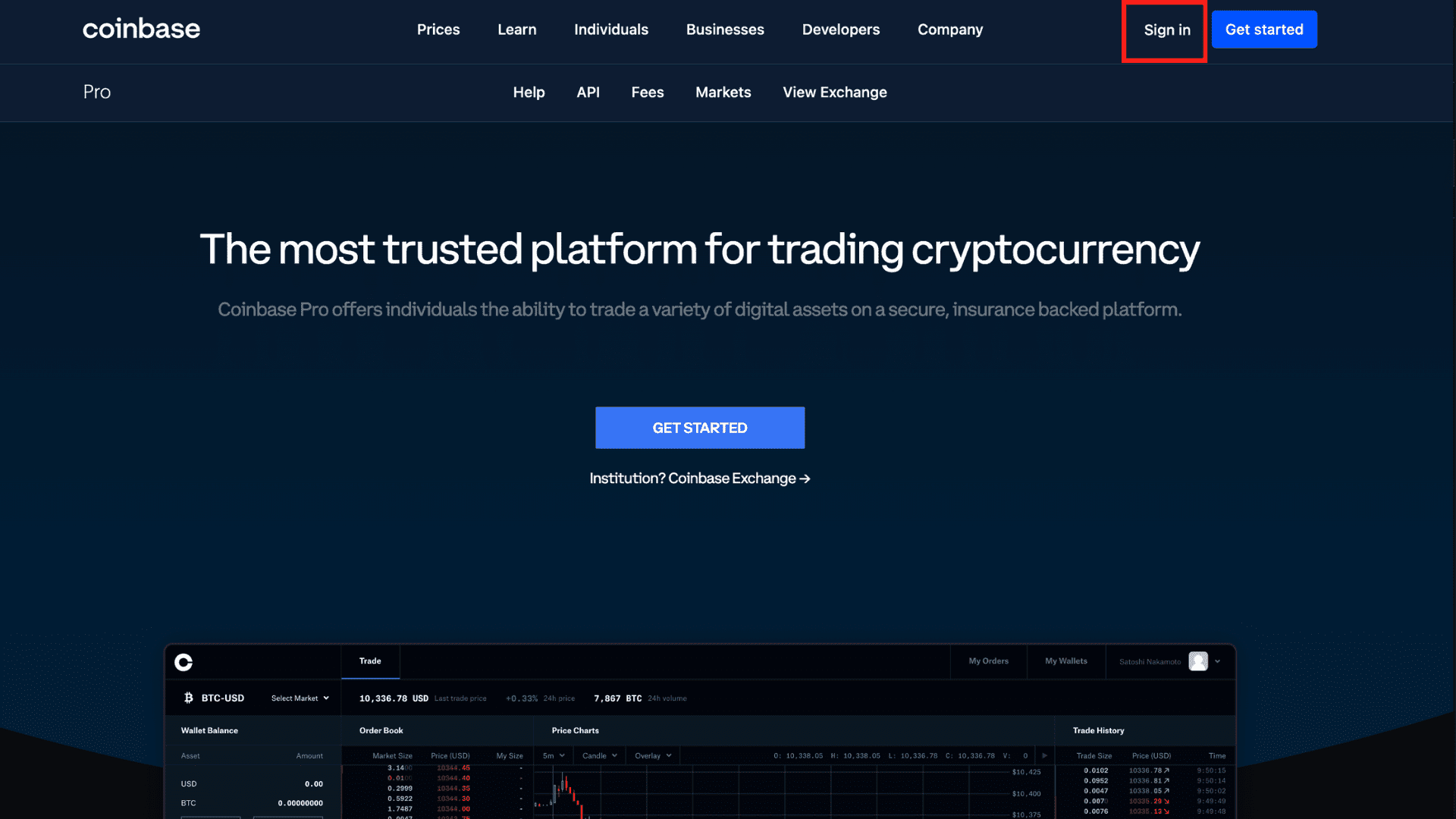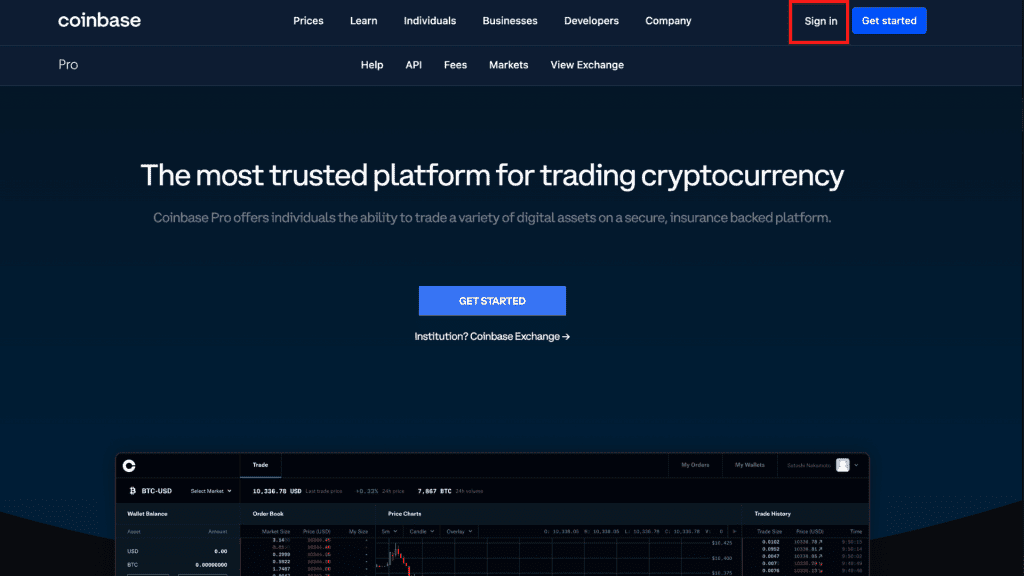 Coinbase Advanced Features
Designed with the seasoned trader in mind, Coinbase Advanced brings a wealth of features to the table that can be leveraged by both experienced traders and newcomers alike. This platform is not just about advanced trading; it provides a comprehensive suite of tools and services catering to various trading needs. Let's delve into some of the most popular features that make Coinbase Advanced a standout choice in cryptocurrency trading platforms.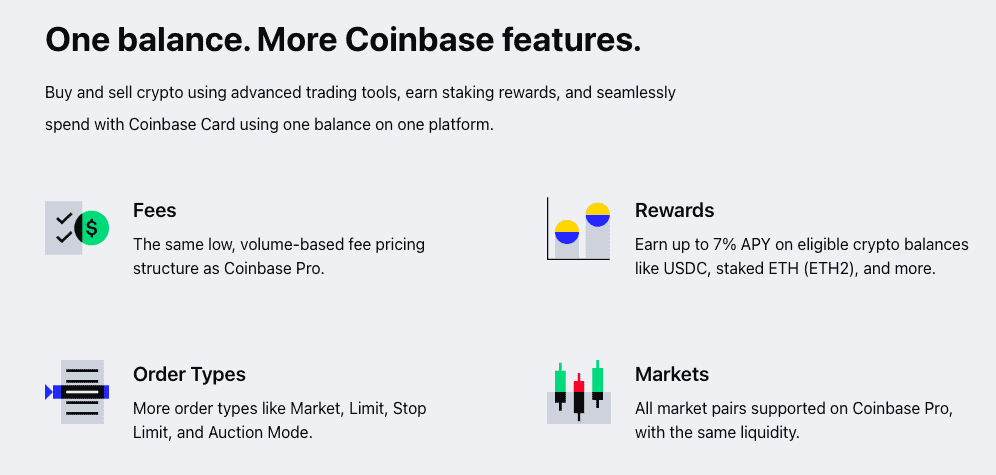 Advanced Charts
One of the standout features of Coinbase Advanced is its provision of advanced charts. These charts, powered by TradingView, offer a comprehensive suite of analytical tools, including EMA (Exponential Moving Average), MA (Moving Average), MACD (Moving Average Convergence Divergence), RSI (Relative Strength Index), Bollinger Bands, and custom drawing tools.
These tools provide experienced traders with the means to conduct in-depth market analysis, helping them make informed trading decisions. Moreover, Coinbase Advanced is continually evolving, with more indicators set to be introduced.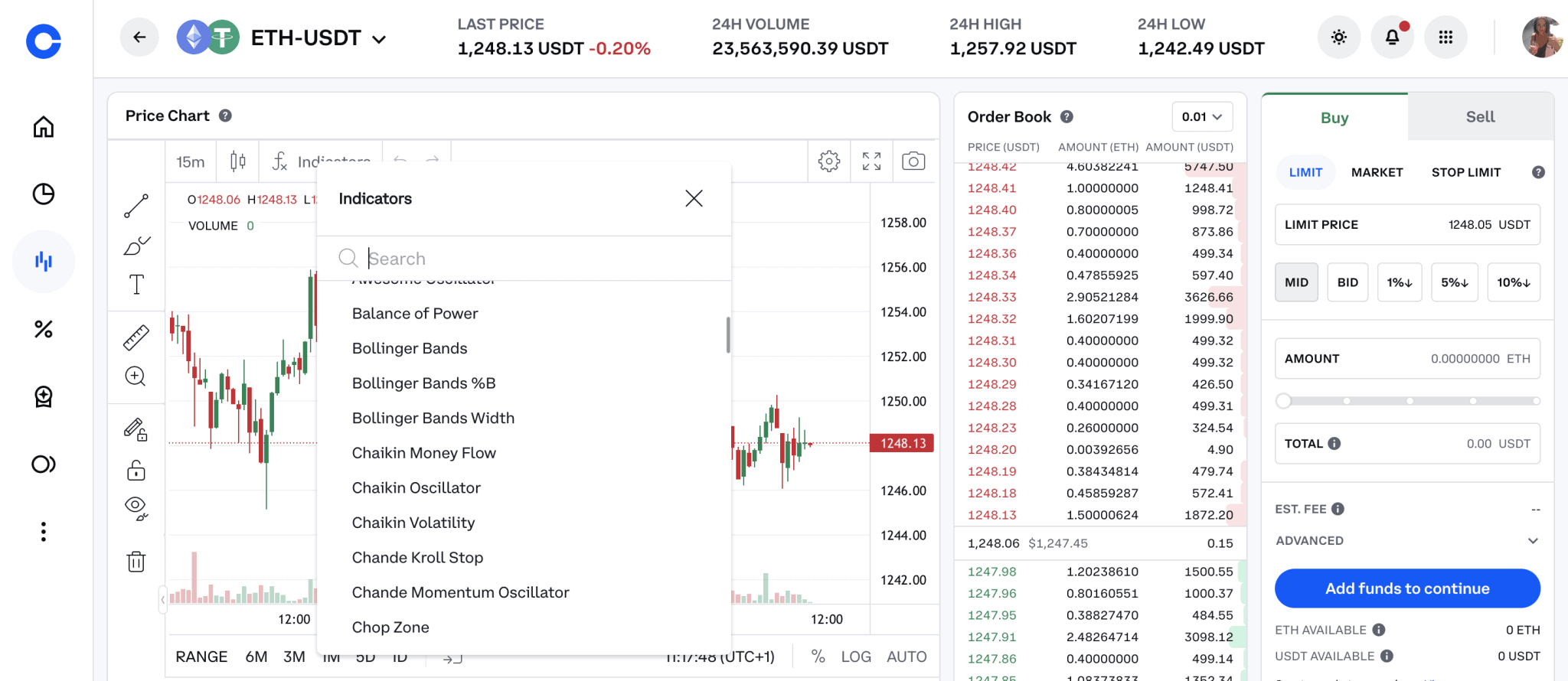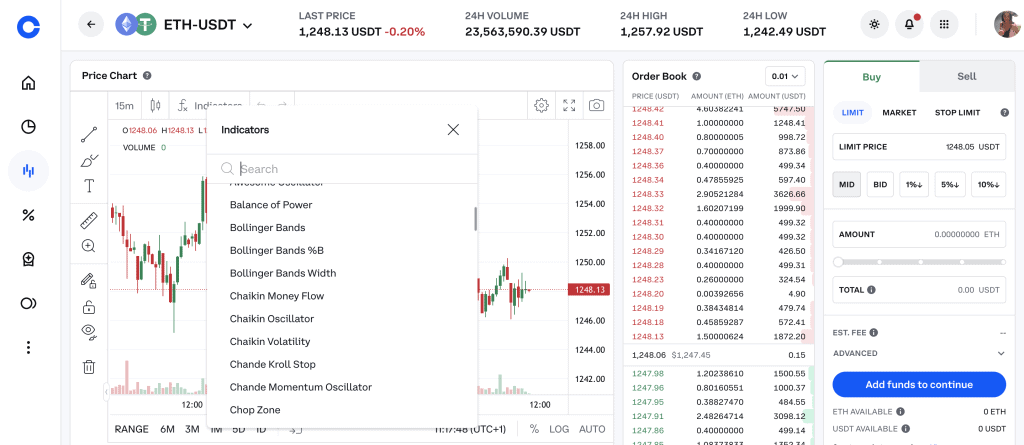 Rewards
Coinbase Advanced also offers a rewarding interest-earning feature. Users can earn interest on their cryptocurrency holdings, with rates reaching up to 7% APY on eligible crypto balances. This includes cryptocurrencies like USDC (USD Coin), staked ETH (Ethereum 2.0), and others. This feature allows users to maximize their crypto assets' potential, earning passive income simply by holding their cryptocurrencies in their Coinbase Advanced account.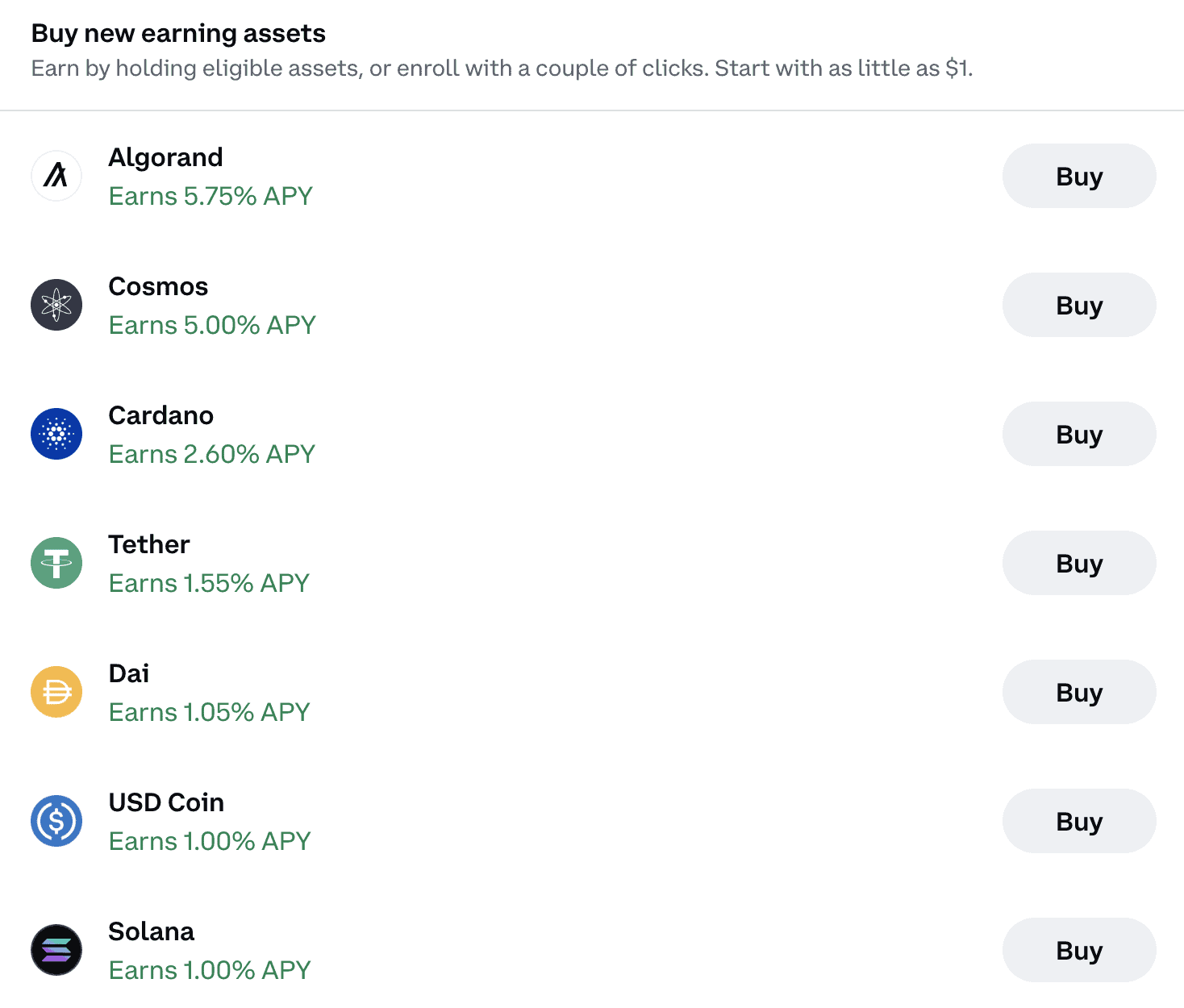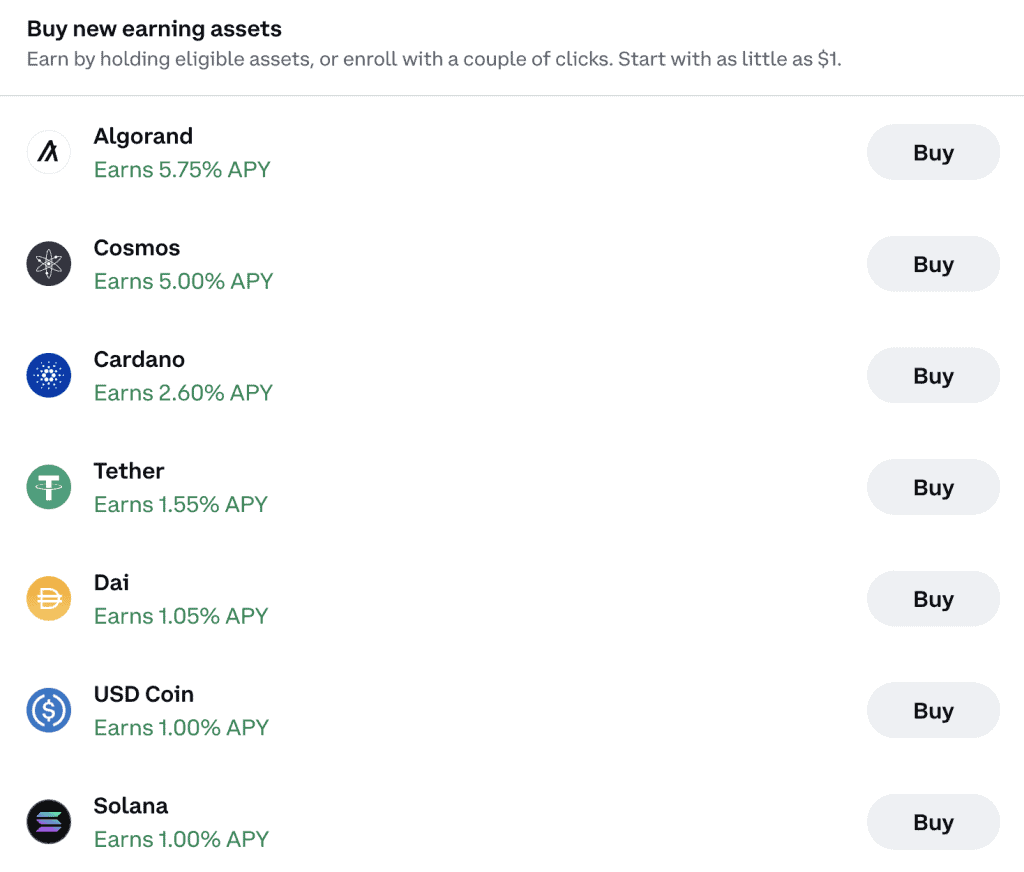 Mobile App
Understanding the need for mobility in today's fast-paced world, Coinbase Advanced extends its services to a mobile platform. Users can track their investments and execute trades on the go with the Coinbase Advanced mobile app. To start using this feature, users must download the latest version of the Coinbase app, which is readily available for Android and iOS devices. This ensures users can stay connected with the crypto market dynamics anytime, anywhere.
Advanced Trade API
Coinbase Advanced also introduces the Advanced Trade API, a powerful tool that allows users to manage orders, fees, and products using Coinbase's new v3 endpoints. The Advanced Trade API, available for both REST and WebSocket protocols, is currently in public beta and accessible to all users. Once fully launched, Coinbase will prompt their Coinbase Pro API customers to transition their Pro balances to Advanced Trade on Coinbase. Until then, customers can continue to use Coinbase Pro APIs for their trading needs, ensuring a seamless transition and uninterrupted trading experience.
Supported Crypto Pairs
Coinbase Advanced boasts an extensive range of supported trading pairs, with over 550 active pairs and more than 235 tradable assets. This includes widely recognized cryptocurrencies such as Bitcoin and Ethereum, ensuring that users can access the market's most popular and valuable digital assets.
In addition, Coinbase Advanced extends its support to tokens on various emerging networks, including Solana, Avalanche C-Chain, Polygon, and Algorand. This broad spectrum of supported assets ensures users can diversify their portfolios and explore opportunities in established and up-and-coming crypto networks.
Its support for FIAT markets sets Coinbase Advanced apart from many other cryptocurrency exchanges. Users can trade in GBP, EUR, and USD, seamlessly bridging traditional and digital currencies. This feature eliminates the need for users to own any crypto before they start trading, making Coinbase Advanced an accessible platform for those new to the crypto world.
For a comprehensive list of supported cryptocurrencies, users can visit the official Coinbase site. This list is regularly updated to reflect the dynamic nature of the crypto market, ensuring users have access to the latest tradable assets.


Fees
Coinbase Advanced presents a straightforward fee structure that simplifies trading for its users. No subscription fees are tied to trading on Coinbase Advanced, and deposits are free, making it an appealing platform for frequent traders and those new to cryptocurrency.
Trading Fees: Coinbase Advanced follow a maker/taker model and is calculated based on your 30-day trading volume across both Coinbase Pro and Advanced Trade. Typically, these fees are capped at ≤ 0.4% for maker trading orders and ≤ 0.6% for taker trading orders. This competitive fee structure is designed to help users retain as much of their profits as possible.
Withdrawal Fees: Coinbase Advanced can vary depending on several factors, including the withdrawal method, location, and type of withdrawal. For example, in the UK, users can withdraw cash (or FIAT) to certain banks and a linked Paypal account without incurring fees.
Cryptocurrency withdrawals, however, incur a network fee, which is necessary to process the transaction on the blockchain. The cost and speed of these transactions can fluctuate based on current network conditions.
Coinbase One Fees: While these fees are a standard part of trading on Coinbase Advanced, subscribing to Coinbase One can potentially reduce these costs. With its zero trading fees feature, Coinbase One can save active traders a significant amount in fees, potentially exceeding the $30 monthly subscription cost. This makes Coinbase One a worthwhile consideration for those who frequently trade on Coinbase Advanced. As always, being aware of potential transaction costs allows users to make informed trading decisions.
Crypto Trading Fees
| Pricing Tier | Taker Fee | Maker Fee |
| --- | --- | --- |
| <$10k | 0.60% | 0.40% |
| $10k – $50k | 0.40% | 0.25% |
| $50k – $100k | 0.25% | 0.15% |
| $100k – $1m | 0.20% | 0.10% |
| $1m – $15m | 0.18% | 0.08% |
| $15m – $75m | 0.16% | 0.06% |
| $75m – $250m | 0.12% | 0.03% |
| $250m – $400m | 0.08% | 0.00% |
| $400m+ | 0.05% | 0.00% |
Stable Coin Trading Fees
Taker Fee
Maker Fee
Stable Coins
(BUSD, DAI, PAX, USDC, USDT etc)
0.001%
0.00%
Click here to see the full breakdown of the Coinbase Advanced Fees.
Security
Coinbase understands the critical need for security and has implemented a robust suite of security measures to ensure its users' and digital assets' utmost safety. These measures are designed to protect against potential threats and provide users with peace of mind, knowing that their investments are well-guarded.
Let's explore the various security features that make Coinbase Advanced a secure platform for cryptocurrency trading:
Address Whitelisting (aka Allowlist): Address Whitelisting is a security feature that allows users to create a list of approved cryptocurrency addresses. This means that transactions can only be made to addresses on this list, adding an extra layer of security by preventing unauthorized withdrawals.
2-Factor Authentication & Biometrics for Mobile: Coinbase Advanced employs 2-factor authentication (2FA), a security measure that requires users to provide two types of identification before accessing their accounts. This typically involves something the user knows (like a password) and something the user has (like a mobile device to receive a verification code). Additionally, for mobile users, biometric authentication methods such as fingerprint or facial recognition can be used for an added level of security.
FDIC-Insured USD Balances up to $250K: For users in the United States, Coinbase Advanced provides an added layer of financial security. USD balances are insured by the Federal Deposit Insurance Corporation (FDIC) up to $250,000. This means that users' USD balances are protected even in the unlikely event of Coinbase becoming insolvent.
YubiKey for Mobile: YubiKey is a physical security key that provides strong 2-factor authentication. It's a device you plug into your phone or computer that verifies your login and password. Coinbase Advanced supports YubiKey, providing users with an additional layer of security.
Coinbase Vault: The Coinbase Vault feature provides additional security for storing large amounts of digital currency. It includes multiple approvers, time-delayed withdrawals, and offline storage (cold storage) to protect against theft or loss. This makes it an excellent option for users who want to store large amounts of cryptocurrency securely.
Coinbase Advanced vs Coinbase Pro
Coinbase's introduction of Coinbase Advanced as a successor to their previous advanced trading platform, Coinbase Pro, has sparked users' curiosity about the differences between the two. At first glance, the changes might seem subtle, as the fee structure and supported market pairs remain consistent.
However, the transition from Coinbase Pro to Coinbase Advanced is more than just a rebranding. It represents an upgrade, particularly in terms of charting capabilities and additional features, thanks to its integration with the broader Coinbase.com platform.
Let's delve deeper into the similarities and differences between Coinbase Advanced and Coinbase Pro to understand better the enhancements that the new platform brings to the table:
Advanced Trade
Coinbase Pro
Fees
<=0.4% maker
<=0.6% taker

<=0.4% maker
<=0.6% taker

Rewards
Earn up to 7% APY on eligible crypto balances

Not Supported

Asset Liability
All market pairs are supported on Coinbase Pro.

350+ Market Pairs

Order Types
Market, Limit, Stop Limit

Market, Limit, Stop Limit

Charts
Charts powered by TradingView including;
EMA, MA, MACD, RSI, Bollinger Bands, and drawing tools

Basics charts with EMA12 and EMA26 indicators.

Security
– 2FA
– Biometrics for Mobile
– FDIC Insured USD Balances up to $250K
– YubiKey for mobile
– Coinbase Vault
– Address Whitelisting (aka Allowlist)

– 2FA
– Biometrics for Mobile
– Address Whitelisting
– FDIC Insured USD Balances up to $250K

Mobile App
Yes
Yes
API
Coming in mid-2022

Yes
Verdict: Is Coinbase Advanced the Right Choice for You?
If you're seeking a platform that offers a seamless transition from beginner-friendly features to more advanced trading tools, Coinbase Advanced could be the perfect fit. Its integration into Coinbase.com simplifies the user experience and eliminates the complexity of navigating between two separate platforms.
Coinbase Advanced offers a cost-effective solution for traders, with competitive fees that can help maximize profits when buying and selling cryptocurrencies. While the trading interface might seem intimidating to newcomers at first glance, users can learn to navigate it effectively with some time and practice, optimizing their trading strategies and profits.
We hope this Coinbase Advanced review has provided you with some valuable insights into the popular crypto platform. If you've already been using Advanced Trade, we'd love to hear about your experiences. Feel free to share your thoughts in the comments below.
FAQs
Is Coinbase Advanced better than Coinbase Pro?
Yes, in many ways, Coinbase Advanced is an upgrade from Coinbase Pro. It offers all the features of Coinbase Pro but with additional benefits such as advanced charting tools, more market pairs, and rewards for holding certain cryptocurrencies.
How do I enable Advanced Trade in Coinbase?
To enable Advanced Trade, log into your Coinbase account and navigate the Advanced Trade section. If you're using the mobile app, ensure you have the latest version installed.
Does Coinbase Advanced have fees?
Yes, Coinbase Advanced does have fees. However, they are competitive and based on a maker/taker model. The fees are generally ≤ 0.4% for maker orders and ≤ 0.6% for taker orders.
Is Coinbase Advanced safe?
Yes, Coinbase Advanced is safe. It's one of the world's largest and most reputable cryptocurrency exchanges. It employs various security measures, including 2-factor authentication, biometric authentication, and address whitelisting. The FDIC also insures it for up to $250,000.
Is Coinbase Advanced still cheaper than Coinbase?
Yes, Coinbase Advanced is generally cheaper than Coinbase regarding trading fees. The fees on Coinbase Advanced are based on a maker/taker model and are generally lower than the fees on the main Coinbase platform.
Related Posts