This YubiKey review will take a closer look at what YubiKey is, how it works, and why it's one of the best options for anyone looking to boost their online security in 2023.
Online security is more important than ever, and with the rise of cybercrime and hacking threats, it's never been more crucial to protect your personal information and financial assets. If you're looking for a simple, effective way to increase your online security, the YubiKey security key is a great option to consider.
Whether you're new to two-factor authentication or simply looking to upgrade your current setup, this review will provide you with all the information you need to make an informed decision about YubiKeys by Yubico.
YubiKey Review
YubiKey Pros & Cons
What is a YubiKey?
A YubiKey is a small hardware device made by Yubico. These battery-free devices plug into your computer and (along with your password) provide you with an extra layer of security. A hacker cannot intercept this type of verification as they would physically need your device and your username/email and password to access your accounts.
Yubikeys are also very durable, waterproof and crush resistant. Plus they come with a keyhole ring and chain so that you don't lose them. Use a USB-A connector to your computer and a wireless NFC for your phone. NFC, which stands for "Near Field Communication", allows phones, tablets, laptops, and other devices to easily share data with other NFC-equipped devices.
Once you register your YubiKey with supported platforms or apps, tap your YubiKey for easy, strong two-factor authentication for computers, networks, and online accounts. With no need for text messages or one-time passcodes.
Who are Yubico?
Yubico is a Swedish security company specialising in developing secure authentication devices. The company was founded in 2007 and is headquartered in Stockholm, Sweden. With additional offices in the United States, the United Kingdom, Germany, and Australia.
Yubico is best known for its YubiKey product line. A series of secure authentication devices that use one-time passwords and public-key cryptography to provide two-factor protection for online accounts. YubiKey supports multiple protocols, including FIDO U2F, FIDO2, and OTP. Yubico products are used by individuals, organizations, and governments worldwide to enhance the security of their online services.

What is 2 Factor Authentication (2FA)?
2-Factor Authentication (2FA) is when you are asked to enter your username and static password, then for another piece of proof that you are who you say you are.
18 million login credentials are compromised daily, and one of the most important steps to securing your online presence is enabling a form of 2-factor authentication.
One of the most common forms of 2FA is the text that you receive on your mobile phone. This usually contains a string of numbers, characters, or a combination of both. However, this can come with an element of risk, as a hacker could also potentially compromise this system too. Another way is either using a secure app on your phone like Google Authenticator or Authy. Or by using a hardware device like a YubiKey 5 NFC.
Yubikey Features
YubiKey is a hardware security key that provides a range of features to enhance the security of your online accounts. Some of the main features of YubiKey include:
Two-factor authentication (2FA)
YubiKey can be used as a second factor of authentication, providing an additional layer of security to your online accounts.
Hardware-Based Encryption
YubiKey uses hardware-based encryption to protect sensitive information including such as passwords and personal identification numbers (PINs), making it more secure than software-based encryption.
Multiple Protocols
YubiKey supports multiple authentication protocols, including FIDO U2F, Yubico OTP, PIV-Compatible, OpenPGP, and more, making it compatible with a wide range of platforms and devices.
Physical Security
YubiKey requires a physical presence to complete authentication, adding an extra layer of security that cannot be duplicated or hacked.
Portable
YubiKey is small and compact, making it easy to carry with you wherever you go. Whilst ensuring that you have access to secure authentication even when you are on the go.
What Applications Support Yubikey?
The following is a list of some popular applications that support Yubikey:
Google services (Gmail, Google Drive, etc.)
Microsoft services (Outlook, OneDrive, etc.)
Facebook
Dropbox
GitHub
Bitbucket
LastPass Password manager
Dashlane
1Password
AWS
Additionally, the Yubikey security key can be used with any application that supports the Universal 2nd Factor (U2F) protocol or the FIDO2 standard.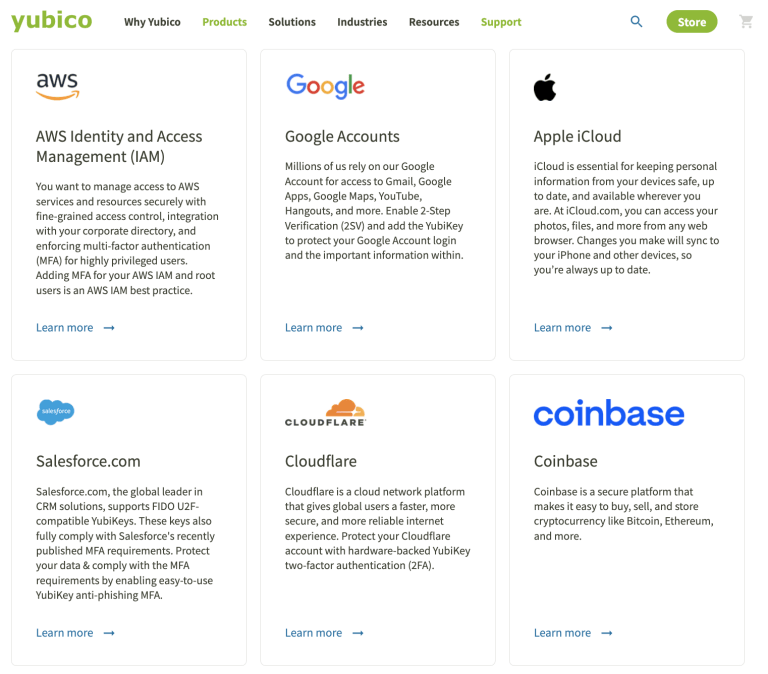 Types of Yubikeys
YubiKey is a hardware security device offered by Yubico in a variety of models to meet different needs and preferences. Here is a list and brief description of the different YubiKey models:
YubiKey 5 NFC: The Yubico security key NFC is compatible with mobile devices and can be used for 2FA by tapping it on the device. It supports multiple protocols and a variety of platforms, making it a versatile option.
YubiKey 5C NFC: This model is the same as the 5C NFC, however, is designed for use with USB-C ports.
YubiKey 5Ci: This 5Ci features a USB-C and Lightning connector, making it compatible with both Mac and iOS devices.
YubiKey 5 Nano: This compact model is designed for use with USB-A ports and supports multiple protocols, making it a convenient option for on-the-go use.
YubiKey 5 Nano 2FA: This model is similar to the YubiKey 5 Nano, but is specifically designed for two-factor authentication (2FA).
YubiKey 5C Nano: This model features a USB-C connector and is similar in size to the YubiKey 5 Nano, making it a compact and versatile option for use with a USB-C port.
YubiKey 5C Nano 2FA: This model is similar to the YubiKey 5C Nano, but is specifically designed for 2FA.
Each YubiKey hardware key offers different features and capabilities, making it important to choose the right one for your needs. Whether you need a compact option for on-the-go use, a model with a USB-C connector, NFC support, or a hardware security key specifically designed for two-factor authentication, there is a YubiKey model to meet your needs.
Where Can I Buy a YubiKey?
You can buy a YubiKeys from various online retailers, such as Amazon, Best Buy, and the Yubico website. Yubico also has a list of authorized resellers on its website, where you can find a local retailer that sells YubiKeys. Some computer and electronics stores also carry YubiKeys.
The YubiKey can be purchased individually, as a pack of 2, 10 or 50, ideal for teams.
Is Yubikey Safe?
YubiKey is a safe and secure option for protecting your online accounts. YubiKey is regularly updated by its manufacturer, Yubico. This is to address potential vulnerabilities and ensure that its security measures remain current and effective. To date, there have been limited reported incidents of YubiKey being hacked.
That being said, no technology is completely foolproof. The overall security of a YubiKey can also depend on factors such as how it is used and implemented. For example, if a user loses their YubiKey or it is stolen, someone else may have access to their sensitive information if they have not properly secured their accounts.
What Happens if I Lose My YubiKey?
If you lose your YubiKey security key, you should immediately deactivate it to prevent unauthorized access to your online accounts. This can usually be done through the account settings of the online services that use your YubiKey for authentication.
It is recommended to have a backup authentication method, such as a mobile authenticator app or multiple keys by Yubico, in case your primary key is lost or damaged. This spare YubiKey should be kept somewhere secure and safe.
Also, make sure that you have another way to enter your online accounts. For example, ensure that you take note of your backup codes with Gmail or recovery seeds with the likes of Blockchain.com.
Once you have secured your accounts, you can order a replacement YubiKey from Yubico or an authorized reseller.
YubiKey for iPhone
YubiKey hardware security keys are compatible with iPhones and can be used for secure two-factor authentication with various online services. To use a YubiKey security key with an iPhone, you need a Lightning connector YubiKey and a compatible app that supports the YubiKey.
For example, you can use the YubiKey with the LastPass password manager app or Google Authenticator app to add 2FA to your online accounts. Simply plug the YubiKey into the Lightning port of your iPhone. Then tap the button on the YubiKey, and enter the code generated by the device when prompted by the app.
Verdict: Should you buy a YubiKey?
If you are looking for additional hardware-level security and peace of mind, then Yubikeys are a worthwhile investment. YubiKey hardware keys will protect your crypto assets through 2FA (factor authentication). This means that even if one of your crypto security methods has been compromised, the other one will protect your assets.
People using YubiKeys have given it positive reviews for being a simple, fast, and secure device. It is one of those essential devices that are a must-have for everyone.
If you're new to Yubikeys security key and need help setting up your device, check out our beginners guide on how to use a Yubikey.
FAQs
Are Yubikeys Worth It?
Yes, Yubikeys are generally considered worth it for their strong security features and ease of use in protecting against online threats such as phishing and identity theft. However, the specific value will depend on the individual's threat model and specific use case.
Is Yubikey Really Secure?
Yes, Yubikeys are considered secure due to their use of hardware-based authentication and encryption, making it difficult for hackers to steal or compromise the stored data. However, no technology is completely foolproof and its overall security can also depend on factors such as how the device is used and implemented.
Can YubiKey Be Hacked?
In theory, any technology can be hacked, but Yubikeys are designed with strong security features to make it difficult for hackers to successfully compromise them. To date, there have been limited reported incidents of Yubikeys being hacked, and the company provides regular software updates to address potential vulnerabilities. However, the overall security of a Yubikey can also depend on factors such as how it is used and implemented.
How Long Will YubiKey Last?
The lifespan of a Yubikey can vary depending on factors such as usage and storage conditions, but the manufacturer, Yubico, states that their devices are designed to last several years with typical usage. The company also offers a warranty for their products, typically covering 1-2 years.
Related Posts