In this Ledger Nano X review, we are taking a closer look at the Ledger Nano X hardware wallet and how it compares to the Nano S Plus, Ledger Stax and its competition. 
Ledger Nano X can be a great solution for those wanting more control and security over their crypto assets. When you own crypto, keeping your private key secure is absolutely crucial. Losing a private key or someone else getting hold of it will give them access to your crypto holdings. It would be the same as someone having your bank details, passwords, PIN numbers, and other security details.
With Ledger, your private key is stored offline, safe from cyber criminals and data breaches, with you in complete control, for greater peace of mind.
So, let's dive into this Ledger Nano X Review to help you work out whether the Nano X is the right wallet for you.
Ledger Nano X Review: How to Setup a Ledger Nano X

Ledger Nano X Pros & Cons
Who is Ledger?
Ledger was launched in 2014 and is a leader in cryptocurrency security, securing crypto assets such as Bitcoin, Ethereum and Litecoin. 
In 2014, the company behind the Ledger Nano X and other hardware and software solutions was a team of eight with similar backgrounds and interests. Since then, Ledger SAS, a Paris-based company, has grown rapidly, now employing over 300 around the world, with employees in Paris, Vierzon, New York, Zurich and Singapore.
Ledger developed a proprietary operating system (OS) called BOLOS, an OS that's integral to the hardware wallets they've developed and Hardware Security Module (HSM) for various enterprise solutions. Ledger is a market leader because they've developed this unique technology to secure crypto assets. 
Since launching, Ledger has sold over 3 million hardware crypto wallets, has customers in 200 countries, and over 100 resellers stock Ledger products.
What is a Ledger Hardware Wallet?
A hardware wallet is a secure way to store crypto private keys. Your crypto assets aren't stored on this wallet, as these are stored on the decentralised blockchain. However, to access these crypto assets, you need a secure private key. 
When this is stored offline in a secure hardware wallet, such as the Ledger Nano X, no one else can access this private key. Making it safe from cybercriminals and potential data breaches. This is sometimes known as "cold storage" and is the most secure way to prevent private keys from falling into the wrong hands.
What is the Ledger Nano X?
One of Ledger's most popular hardware wallets is the Ledger Nano X. It allows customers to install over 100 crypto apps and currently supports over 5,500 crypto assets, coins, and tokens, including Bitcoin, Ethereum, XRP, and Litecoin.
With the Nano X, you can secure, buy, sell, and exchange crypto anywhere you go. With added Bluetooth connectivity, the Nano X can be connected to the Ledger Live and Ledger Nano X mobile apps, giving you the ability to manage your crypto from your smartphone safely. Plus, you can still connect it using the cable provided so that you can manage your crypto from your computer.
Ledger Nano X: Specification
A hardware wallet where you can buy, sell, and exchange crypto on the go (buying, exchanging and lending are all supported through third-party services); 
Install up to 100 apps, able to support up to 5,500 different cryptocurrencies, tokens, and NFTs 
Connect to your phone using Bluetooth, or use a USB to connect to a laptop 
It weighs 34g and is stainless steel, comes with three recovery sheets, and the size is: 72mm x 18.6mm x 11.75mm 
Compatible with iOS (13+), Android (7+), Mac (macOS 10.14+), Windows (8.1+), and Linux devices, either through Bluetooth or USB connections 
Use the Ledger Live app to get the most from it and manage your crypto 
It also comes with a large screen to make it easy to use.
Ledger Nano X Supported Cryptos
One of the most important questions regarding buying a hardware wallet is: Does this support the cryptocurrencies and tokens I'm going to buy, sell, exchange, and stake? 
The good news is, with the Ledger Nano X, you can buy, sell, exchange, stake, lend and manage 27 coins and over 5,500 tokens and NFTs directly from your smartphone or computer. These include popular cryptocurrencies, including Bitcoin, Ethereum, DogeCoin, Litecoin, Ripple and Stellar. 
Ledger has worked hard to increase the number of coins, tokens, NFTs, and other digital assets it supports. When first launched, it only supported around 1,500 coins and tokens. Plus, the number of apps it supported was limited. Now you can download and connect to over 100 apps. You can find a full list of Ledger-supported cryptocurrencies here.
Features
One way Ledger ensures they stay the number one crypto hardware wallet is by providing users with a wide range of useful features. Since we purchased our first Ledger Nano in 2017, they have continually added new features.
Ledger Live
Ledger Live is a cloud-based software and gateway to the Ledger hardware wallet, providing an easy-to-use interface for managing a Ledger device. The software is free to use and can be downloaded securely from Ledger.com onto a desktop or mobile phone. Supporting all Ledger devices, including the Nano S Plus and the Nano X.
Ledger Live simplifies sending, receiving, staking, and swapping crypto assets. With the recent addition of Bluetooth connectivity, you can now perform all these actions on the go, with access from a mobile device.
Ledger Live App for Nano X
The Ledger Nano X app allows Ledger Nano hardware device users to manage their crypto on a mobile device. This is known as Ledger Live (Mobile), which we explain in more detail below. With the app, you can buy cryptos such as Bitcoin and Ethereum via their partner Coinify. You can also use the app to send and receive your crypto on the go. Plus, you can swap, stake and lend your assets too.
Download the Ledger Nano X app on Google Play or the Appstore. Bluetooth connectivity is also available, which means you don't need to plug the device into a computer to use it.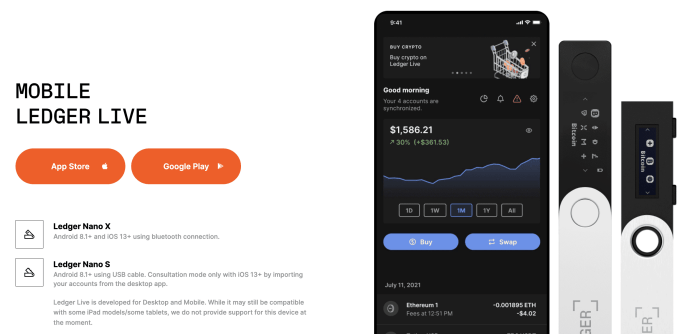 Ledger Extension
The Ledger Extension is a browser extension designed specifically for Ledger hardware wallets, allowing users to connect to NFT marketplaces and Web3 apps directly from their browsers. Initially launched for Safari, the extension will soon be available on other browsers as well.
Currently, only the Ledger Nano X is compatible with the Ledger Extension, thanks to its Bluetooth feature. However, compatibility with Ledger Stax and Ledger Nano S Plus will be introduced in the future, enabling users to connect their devices using a cable.
Ledger Support
Ledger offers several support layers, a Live Chat feature, active social media channels (where you can also ask for help), a Help Center, Frequently Asked Questions (FAQs), and a Contact Us option.
They don't say how quickly they answer questions, but customers shouldn't wait for more than 24 hours for a response.
Ledger Security 
Ledger is known for its security. Not only do they sell a popular range of hardware wallets, but other companies in the crypto space actively work with them to provide security solutions for crypto exchanges, apps, and platforms. 
Even with the cyberattack in July 2020 (more on that below), the hardware wallets themselves remained secure behind layers of encryption and security. Ledger then took action to increase security within other internal systems.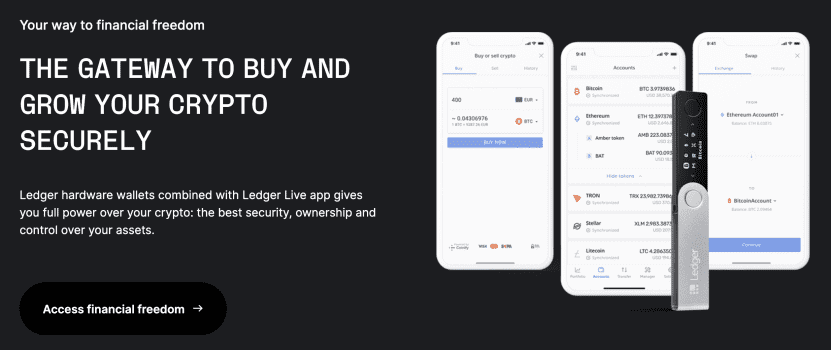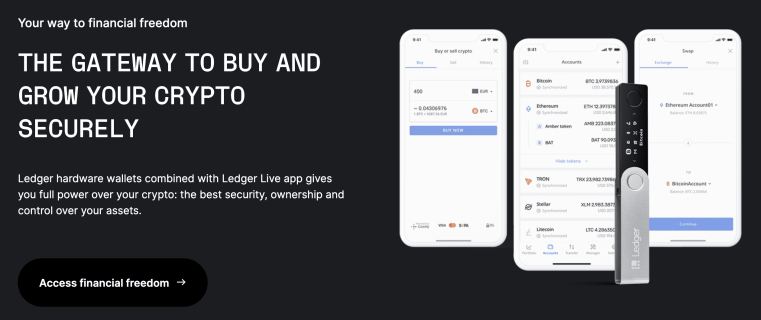 Within the wallets, Ledger uses a secure chip, "a tamper-resistant platform capable of securely hosting applications and data in accordance with the rules and security requirements set by pre-authorized applications and people." Not only that, but Ledger has created "a distinctive operating system called BOLOS, which we integrate [into the] secure chip for the Ledger wallet line." 
Because Ledger uses a system they have designed, customers don't share the same risks as they do on other platforms and with other wallets when software is open source, as is often the case in the crypto sector.  
Are Ledger Hardware Wallets Safe? 
Yes, Ledger puts great efforts into ensuring their wallets are secure, using a secure chip and proprietary operating system. Even when the hack happened in 2020, the wallets remained secure, and there have been no cyber-breaches since. Hardware wallets from Ledger are some of the safest wallets currently on the market. 
Ledger Hack 
Ledger actively warns against scams on the Contact page, saying, "[The] Internet is full of scammers. They might contact you by pretending to be someone from Ledger Support and asking for your 24-word recovery phrase. Never share your 24-word recovery phrase, even with Ledger Support. No one from Ledger will ever ask you for your 24-word recovery phrase." 
Receiving Phishing emailing from fake Ledger accounts? Learn How to Protect Yourself from Ledger Phishing Scams?
Unfortunately, one of the reasons for this warning is in July 2020; Ledger suffered a serious cyber-breach. A total of 272,000 customers were affected, with 1 million email addresses, postal addresses, names, and other details leaked online. 
However, the devices themselves were unaffected, and customer funds remained secure behind layers of encryption. Affected customers were contacted, and shortly after, Ledger took steps to ensure a similar attack wouldn't happen again.
Ledger Nano X Price
The Ledger Nano X is currently priced at $149.00. Some reviews consider this price a bit high, which has increased recently. However, Ledger regularly runs promotions for their devices, which you can check out on our deals and promotions page.
If you want to go for a cheaper option, you can look at purchasing the Ledger Nano S Plus at $79.00 or the new Ledger Stax at $279.00.
You can also save money by purchasing bundles, which you can use as additional or backup devices.
Ledger Nano X Discount Code
If you're interested in purchasing a Ledger Nano X, or any other Ledger product, they regularly run promotions where you can pick up some great deals. Ledger offers their biggest discounts during Black Friday and Cyber Monday. In 2021, you could have saved a massive 45%, and we expect Ledger to run similar deals this year.
Ledger Nano X Alternatives
Given the range of hardware wallets on the market, it's important to compare the Ledger Nano X with other devices. Let's look at how Ledger Nano X compares against the Nano S and competitors, the Trezor Model T, BitBox02 and Keeve.
Ledger Nano X vs Ledger Nano S
The Ledger Nano X and S come from the same family of hardware wallets, but how do they compare? Well, the Ledger Nano S has been around since 2016, and some users didn't like the clunky buttons on top of their devices. Plus, the number of coins, tokens, and supported apps was fairly limited. 
With the Ledger Nano X, there have been significant upgrades and improvements. The Ledger Nano X has buttons on the front of the device (making it easier to use) and five times more storage space for over 100 apps. It also comes with a larger screen, Bluetooth and wired connections, and a more powerful secure element chip.
All these new features do come at a price, though, with the Nano X costing $150 (£136). As opposed to the cheaper price tag of $59 (£54.50) for the Ledger Nano S.
| | | |
| --- | --- | --- |
| | | |
| | | |
| | | |
| | | |
| | | |
Ledger Nano X vs Trezor Model T
One of Ledger's main competitors is Trezor. Trezor and Ledger's devices are a safe way to store crypto, but what are the main differences?
First up, let's talk about the price. The Ledger Nano X will cost you roughly $150 (£136), while the Trezor T is $159. Although both regularly run promotions for their devices which are worth checking out.
The Trezor Model T has a really nice colour display and touchscreen, which is very easy to use. In contrast, the Ledger Nano X has a digital black-and-white display with two external buttons to operate. Both have a wide range of supported cryptocurrencies. 
However, where Ledger takes the lead is with the Ledger Live management software and Bluetooth connectivity.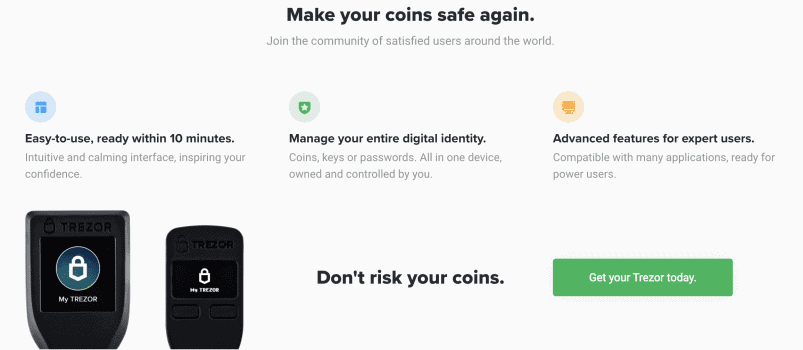 Verdict: Should you buy the Ledger Nano X? 
When it comes to the number of apps, supported cryptocurrencies, tokens, and NFTs, the Ledger Nano X is miles ahead of competitors and Ledger Nano S Plus. Plus, with the Ledger Live and the Nano X apps, there are easy ways to manage your private key, buy, sell, swap, and stake cryptocurrencies on these apps, your computer, and the device itself. 
It's not just the convenience factor; it's the security too. With proprietary software and a secure chip, it's one of the safest ways to manage crypto assets.
We hope you found our Ledger Nano S Plus review useful; if you already have your own Ledger Nano, let us know what you think in the comments below. If you want to purchase a Ledger Wallet, make sure you purchase one from the official Ledger store.
Related Posts