In this beginner's guide, we'll walk you through the process of how to set up and use Ledger Live to help manage your crypto investments.
Ledger Live is a cutting-edge, all-in-one platform that makes managing your digital assets a breeze. Trusted by over 4 million users, this powerful application offers a wide range of features, from buying and swapping cryptocurrencies to staking and NFT management.
So let's dive into this beginner guide to the Ledger Live app to help you get the most from your Ledger device.
How to Use Ledger Live to Manage Your Crypto

What is Ledger Live?
Ledger Live is a desktop and mobile application developed by Ledger, a company known for its crypto hardware wallets. It essentially serves as a bridge between the physical hardware wallet and your computer/mobile. This application allows you to manage various digital assets, such as Bitcoin, Ethereum, all from one place.
Ledger Live displays your balances and transaction history, providing a detailed view of your cryptocurrency portfolio. It also enables you to send and receive cryptocurrencies and the ability to buy, sell, lend, and swap assets. Importantly, it's designed to work with Ledger's hardware wallets, so your sensitive data, like private keys, are stored securely on your hardware wallet and not on your computer or mobile. This gives you the benefits of a digital wallet while maintaining a high level of security against digital threats.
Compatible with Ledger Nano X, Nano S Plus, and Ledger Stax. Ledger Live is available for desktop users on Linux, Windows, and Mac operating systems. Additionally, a mobile app version can be downloaded from the App Store or Google Play, offering added convenience and flexibility for managing your crypto assets on the go.

Ledger Live Features
Ledger continues to innovate and add new features to the Ledger Live App. They provide a secure gateway to the crypto and Web3 ecosystem, as well a user friendly interface to help manage your crypto portfolio.
To unlock the full Ledger experience, it's recommended to pair the Ledger Live app with a Ledger hardware wallet. This combination provides a secure and efficient way to manage your crypto assets.
Here are the key features Ledger Live currently offers;
Track
Ledger Live provides real-time tracking of cryptocurrency prices. This feature allows you to monitor the value of your crypto assets in real-time, providing insights into market trends and price fluctuations. It's an essential tool for anyone interested in the crypto market, whether you're a seasoned trader or a newcomer.
Build
Ledger Live is not just a wallet; it's also a learning platform. It offers educational resources to help you understand the complex world of cryptocurrencies. This feature is designed to help you build your knowledge about different cryptocurrencies, blockchain technology, and the principles of investing in digital assets. It's a valuable resource for making informed decisions about your crypto investments.
Buy
Ledger Live provides a secure platform for buying over 50 different cryptocurrencies. You can purchase digital assets directly from the application, which simplifies the process and ensures security. Additionally, Ledger Live allows you to sell Bitcoin, making it easy to liquidate your assets when needed.
Swap
his feature allows you to exchange one type of cryptocurrency for another directly within the Ledger Live application. With support for swapping over 100 different crypto assets, you have the flexibility to diversify your portfolio without needing to use an external exchange.
Earn
Ledger Live offers opportunities to earn rewards through staking or participating in other reward programs offered by various cryptocurrencies. Staking involves participating in a network of a particular cryptocurrency by holding and often locking up a certain amount of that cryptocurrency in a wallet to support network operations such as block validation. In return, participants earn rewards.
Manage
Ledger Live supports the management of over 500 coins and tokens. This means you can store, send, and receive a wide range of cryptocurrencies from a single platform. This feature simplifies the management of your digital assets, eliminating the need for multiple wallets or applications.
Oversee
With the rise of Non-Fungible Tokens (NFTs), Ledger Live has incorporated a feature that allows you to manage your NFT collection. NFTs are unique digital assets that represent ownership of a unique item or piece of content. With Ledger Live, you can securely store, view, and manage your NFTs.
Access
Ledger Live provides access to essential Decentralized Finance (DeFi) services. DeFi is a term that refers to financial services that are built on top of distributed networks with no central intermediaries. With Ledger Live, you can interact with various DeFi platforms, allowing you to lend, borrow, earn interest, and more, directly from the application.
Portfolio Management: Ledger Live provides a comprehensive dashboard where you can manage your entire crypto portfolio. It's a one-stop place to track all your crypto assets across various accounts and currencies.
Buying, Swapping, & Staking Crypto: Ledger Live allows you to buy, stake, and swap various cryptocurrencies within the Ledger App.
Managing NFTs: The Ledger Live app provides a platform to manage your non-fungible tokens (NFTs).
User-Friendly Interface: The app offers an easy-to-navigate interface with application controls, a menu, starred accounts, and a main viewer.
Mobile App with Bluetooth Connection: Ledger Live is available on both desktop and mobile, with the mobile app featuring a Bluetooth connection for enhanced convenience.
Ledger Hardware Wallet Integration: Ledger Live fully integrates with Ledger's line of hardware wallets. The app communicates with your Ledger hardware wallet whenever you want to send or receive transactions, ensuring your private keys never leave the secure device.

Ledger Live Supported Cryptos & Blockchain
Ledger Live currently supports a total of 130 different blockchains and 11,000+ tokens; this includes major cryptocurrencies such as Bitcoin, Ethereum, and XRP. In addition to the cryptocurrencies managed directly on the Ledger Live app, Ledger hardware wallets can also be used with third-party wallets to extend their support to other coins and tokens.
Is Ledger Live Safe?
Ledger Live is designed to work with Ledger hardware wallets, which are widely regarded as more secure than software wallets. The security of Ledger Live is enhanced by the fact that you cannot send cryptocurrencies without physically using your Ledger device. This means that even if someone managed to hack your computer, they could not withdraw cryptocurrencies without having physical possession of the Ledger device.
Some of the security features in Ledger hardware wallets include using a 24-word recovery phrase, with the option of adding a 25th word called a "passphrase" of your choosing. Additionally, Ledger Nano X, one of the Ledger devices, has Bluetooth security features for enhanced protection when using the mobile app.
However, it's crucial to maintain security best practices when using Ledger Live. Keep your Ledger device's firmware up-to-date, double-check transaction details on your Ledger device before confirming, regularly scan your computer for malware, and ensure you have the latest version of antivirus software installed. Following these practices will help ensure the safety of your crypto assets while using Ledger Live.
How to Verify Ledger Live App is Genuine
When downloading Ledger Live, it's crucial to ensure that you're downloading the genuine application. The safest way to do this is by downloading it directly from the ledger.com website. However, if you're uncertain about the authenticity of a version you've already downloaded, you can verify the sha512 signature of the app. This involves confirming the authenticity of the Ledger Live binary installation file by comparing its sha512 hash with the one available in the file found here.
How to Download & Install Ledger Live
The process for installing Ledger Live software is straightforward. Ledger Live is conveniently accessible across various platforms, including Windows, Mac, and Linux. If you prefer mobile, the Ledger Live App is accessible via Apple or Android OS. We will show you how to download Ledger Live on both desktop and mobile in our step-by-step guide below.
Ledger Live Desktop
When downloading Ledger Live, it's important to download the official version from Ledger. Please do not download any updates from emails or websites. Make sure you visit the official Ledger website and look for the 'Download Ledger Live' page.
Go to; https://www.ledger.com/ledger-live and click on "Download".
Select the version you want to install/update and let the file download.
Once downloaded, double-click on the file and follow the steps (these will vary depending on your operating system). If Live Manager is installed, you will then be prompted to replace your current version.
Launch the application and enter your credentials.
Ledger Live will then be installed on your device.
Once you've downloaded the Ledger Live application, you will now need to link your Ledger Hardware Wallet. Again the process is simple; just follow the below instructions.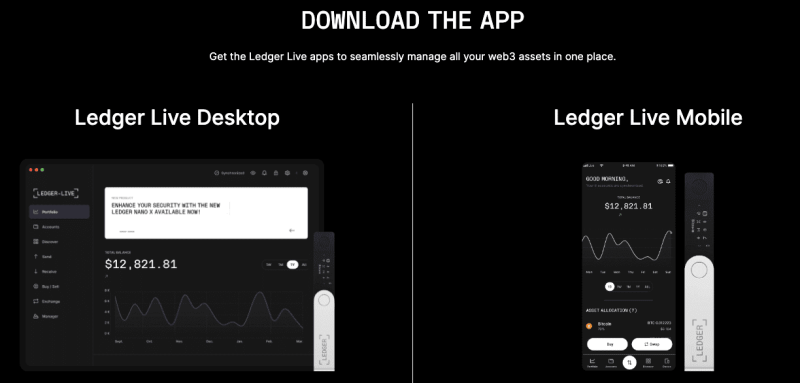 With Ledger Live successfully installed and launched, you'll be presented with three options:
Set up a New Device: Choose this if you've just acquired a new Ledger hardware wallet.
Restore Device from a Recovery Phrase: Select this if you're attempting to restore an existing hardware wallet previously configured.
Skip Device Setup: Opt for this if your Ledger wallet is already set up and configured.
Once your Ledger hardware wallet is unlocked and configured, either a new or pre-existing one, you're all set to delve into the features of Ledger. If you need additional assistance, the support section on the official Ledger website is a handy resource.
Ledger Live Mobile
The process of setting up Ledger Live on your mobile device is equally hassle-free. Navigate to Apple's App Store or Google's Play Store, and search for the Ledger Live app.
Then follow the installation instructions, and upon launching the app for the first time, you'll be met with these options:
Click 'Get Started'
It will then ask 'Do you own a Ledger?' and you will have two choices;

Yes, I do
Not yet

Explore Ledger live & Learn about its benefits.
Buy a Ledger Nano to secure your assets.

If you select 'Yes, I do', you will need to select

Set up my Ledger
Explore Ledger Live
Sync with Desktop App
Your Ledger hardware wallet can be connected to your mobile device using an OTG cable. However, if you're using a Ledger Nano X, which boasts Bluetooth capabilities, you can pair the device with your mobile wirelessly over Bluetooth."
How to Sync Ledger Live to Ledger Mobile App
To sync the Ledger Live mobile app with your Ledger device and the desktop version, follow these steps:
Install the Ledger Live app on your mobile phone.
Open the Ledger Live app on your mobile phone and click "Get started".
When asked if you own a Ledger device, click "Yes, I do".
Click on "Sync with a desktop app".
Open Ledger Live on your desktop computer.
Click on the Settings (cogwheel icon on the top right).
Open the Accounts tab and select "Export".
In the Ledger Live Mobile app, go to the Assets section.
Tap "Add more".
Tap "Import from Desktop".
Scan the QR code displayed on your desktop.
Select the accounts you want to import.
Tap "Import".
Now your Ledger Live mobile app should be synced with your Ledger device and desktop version.
How to Buy & Sell Crypto with Ledger Live
Ledger Live has partnered with Coinify and MoonPay so that users can buy and sell the likes of Bitcoin, Ethereum and Polkadot without leaving Ledger Live.
When buying crypto through Ledger Live, your crypto is sent directly to the crypto address created by your Ledger wallet. This ensures that your crypto is kept safe and secure from the instant you purchase.
How to Swap with Ledger Live
For users who already hold crypto on their Ledger hardware devices and are looking to diversify, Ledger Live has a swap function. With Swap, use has a single place to exchange more than 50+ different assets securely.
Crypto exchanges can be a prime target for hackers with so many assets stored. Plus, when you use an exchange, they own the key to the addresses they give you. Meaning you don't really own the assets, and the exchange can limit what you can do with your crypto.
However, with Ledger, access to your cryptocurrencies is completely offline and out of reach for hackers. Not only is the solution secure, but so is their Swap feature, with no swap taking place without your manual consent. Any assets that you swap are immediately in your own possession and completely in your control since you own your Private Keys.
With Ledger Live, users can use swap their tokens using partners Changelly or decentralized aggregator ParaSwap, with future plans to also include 1inch DEX aggregator too.
How to Lend with Ledger Live
The Ledger "Lend" feature gives you access to the Compound lending services directly through Ledger Live. The Ledger Live and Compound integration enables you to lend your DAI, USDT, or USDC and earn interest for it. Lending is yet another way to grow your digital assets, and you can lend cryptocurrencies to borrowers in exchange for interest payments.
There are also future plans to include Aave for lending and borrowing services.
How to Stake with Ledger Live
If you are looking to stake your tokens, you can use Ledger Live to do so. When writing this Ledger Live Review, you can currently stake Polkadot, Tezos, Tron, Cosmos, and Algorand.
Plus, you can also stake with their Lido integration. With Lido, you can stake any amount of ETH to ETH2.0 and earn daily staking rewards.
Ledger Live MetaMask Bridge
Since the Google Chrome update (Chrome 91), third-party wallets such as MetaMask have experienced U2F (Universal 2nd Factor) transport issues. This issue has also affected the popular browser Brave, which is based on Chromium.
As a fix, Ledger has released the Ledger Live bridge. This allows third-party wallets such as MetaMask to connect to Ledger easily.
Some users have received ¨Internal JSON-RPC error¨ when connecting MetaMask to Ledger. If you have, you can check out our guide on how to resolve this issue.
Conclusion
Ledger Live is a powerful and user-friendly application that simplifies the management of your crypto assets. By offering a comprehensive suite of features, including buying, swapping, and staking cryptocurrencies, tracking prices, and managing NFTs, Ledger Live has become an essential tool for millions of users worldwide. With a seamless experience across desktop and mobile devices, this app ensures that you always have access to your digital assets and can make informed decisions about your crypto investments.
Explore the world of Ledger Live and unlock the full potential of your crypto assets today!
FAQs
Is there a Ledger Live mobile app?
Yes, there is a Ledger Live mobile app available for smartphones. It is compatible with the Ledger Nano X via Bluetooth connection and with the Ledger Nano S and S Plus using an OTG kit. The mobile app can be downloaded for iOS and Android devices. You can find the app on the App Store for iOS devices or the Google Play Store for Android devices.
How much does Ledger Live cost?
Ledger Live is a free app that you can download to manage your crypto assets. However, there are fees associated with certain transactions, such as buying crypto through Ledger Live. It's important to note that these fees are for transactions within the app and do not include the cost of Ledger hardware wallets.
Related Post