If you're using the likes of a Ledger Nano S or Nano X, Ledger Live is the app you'll need to manage your crypto. In this Ledger Live review, I will explain what is Ledger Live, its features, and integrations, plus how to download and use Ledger Live.
Not only can you secure your assets, track, send and receive with Ledger Live. But they continue to add new features and integrations, making it one of the must-have crypto tools.


What is Ledger Live?
Ledger Live is an all-in-one application that lets you set up and manage your Ledger device. For beginners just getting started, Ledger Live users can buy their crypto or for those looking to diversify users can also swap and stake. Plus you can track your portfolio, send and receive it from a single platform.
Ledger Live supports the Ledger Nano X, Ledger Nano S, and Ledger Blue via USB. Available for desktop on Linux, Windows and Mac. Plus they also have a mobile app available from AppStore or GooglePlay.


Ledger Live Review
Ledger Live Supported Cryptos?
Ledger Live supports over 1,800 cryptocurrencies including Bitcoin, Polkadot, Tezos, Ethereum, and Ethereum based ERC20 tokens and more recently BNB and Binance Smart Chain tokens (BEP20).
How to Download Ledger Live?
When downloading Ledger Live it's important to download the official version from Ledger. Please don't download any updates from emails or websites, make sure you go to their official website.
To download Ledger Live Manager navigate to; https://www.ledger.com/ledger-live and click on "Download".
Select the version you would like to install/update and let the file download.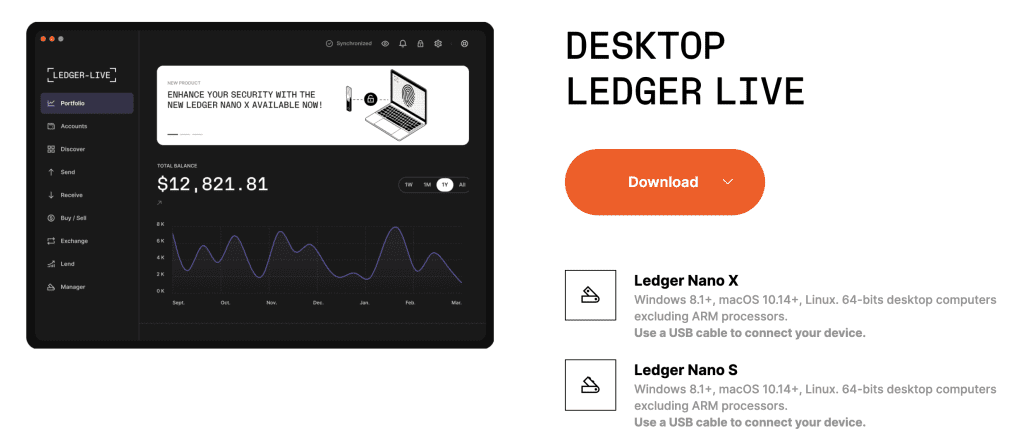 Once downloaded, double click onto the file and follow the steps (these will vary depending on your operating system).
You will then be prompted to replace your current version if you have Live Manager already installed.
Launch the application and enter your credentials.
Ledger Live will then be installed on your machine.
How to Buy/Sell with Ledger Live?
Ledger Live has partnered with Coinify and Wyre so that users can buy and sell the likes of Bitcoin, Ethereum and Polkadot without having to leave Ledger Live.
When buying crypto through Ledger Live, your crypto is sent directly to the address created by your Ledger wallet. This ensures that your crypto is kept safe and secure from the instant you purchase.
How to Swap with Ledger Live?
For users who already hold crypto on their Ledger hardware devices and are looking to diversify, Ledger Live has a swap function. With Swap, use has a single place to securely exchange more than 50 different assets.
Crypto exchanges can be a prime target for hackers with so many assets stored. Plus when you use an exchange, they own the key to the addresses they give you. Meaning you don't really own the assets, and the exchange can limit what you can do with your crypto.
However, with Ledger, access to your cryptocurrencies is completely offline and out of reach for hackers. Not only is the solution secure, but so is their Swap feature, with no swap taking place without your manual consent. Any assets that you swap, are immediately in your own possession and completely in your control since you own your Private Keys.
WIthin Ledger Live, users can use swap their tokens using partners Changelly or decentralized aggregator ParaSwap. With future plans to also include 1inch DEX aggregator too.
How to Lend with Ledger Live?
The Ledger "Lend" feature, gives you access to the Compound lending services, directly through Ledger Live. The Ledger Live and Compound integration enable you to lend your DAI, USDT, or USDC and earn interest for it. Lending is yet another way to grow your digital assets and you can lend cryptocurrencies to borrowers in exchange for interest payments.
There are also future plans to include Aave for lending and borrowing services.
How to Stake with Ledger Live?
If you are looking to stake your tokens, you can use Ledger Live to do so. At the time of writing this Ledger Live Review, you can currently stake Polkadot, Tezos, Tron, Cosmos, and Algorand.
Plus you can also stake with their Lido integration. With Lido, you can stake any amount of ETH to ETH2.0 and earn daily staking rewards.
Ledger Live MetaMask Bridge
Since the Google Chrome update (Chrome 91) third-party wallets such as MetaMask have experienced U2F (Universal 2nd Factor) transport issues. This issue has also affected the popular browser Brave, which is based on Chromium.
As a fix, Ledger has released the Ledger Live bridge. This allows third-party wallets such as MetaMask to easily connect to Ledger.
Some users have received ¨Internal JSON-RPC error¨ when trying to connect MetaMask to Ledger. If you have, you can check out our guide on how to resolve this issue.
Related Post