In this Polkadot review, I take you through the "internet of blockchains" allowing blockchains, oracles, and decentralized apps to seamlessly communicate with each other.
Firstly, I'll provide an overview of Polkadot, how to buy your DOT tokens and store them safely and securely in a supported wallet. Plus, I'll explain how to stake Polkadot DOT tokens to earn rewards with Kraken and Ledger.
So, let's dive into this Polkadot Review, to help you work out whether Polkadot is the right cryptocurrency for you.
Polkadot Review: How to Buy, Store & Stake DOT Tokens?
What is Polkadot?
Polkadot is a next-generation Blockchain protocol, that was created in 2016 by the co-founder of Ethereum Gavin Wood. Gavin left Ethereum to deliver on the promises that (in his opinion) Ethereum could not. The technology is run by the Web3 Foundation and developed by Parity Technologies where Gavin Wood also is a co-founder.
Having only launched in 2020, Polkadot is one the newest competing blockchain on the block amongst the likes of Ethereum, Cardano, and Cosmos. Given that Polkadot was founded by the same person as Ethereum there are a lot of similarities in its design and operation as Ethereum's update "Ethereum 2.0".


However, Polkadot's goal is to become the "new internet of blockchains" that will seamlessly communicate with each other.  Currently, there's no way for each different blockchain to communicate with each other. For example, you couldn't have a smart contract on Ethereum that could trigger a payment on the Bitcoin network.
Polkadot is working to resolve this, by providing cross-chain interoperability. So that blockchains, oracles, and decentralized apps will all be able to talk to each other.  By bringing all the different blockchains under one roof they hope to provide the best platform for any project which you can think of.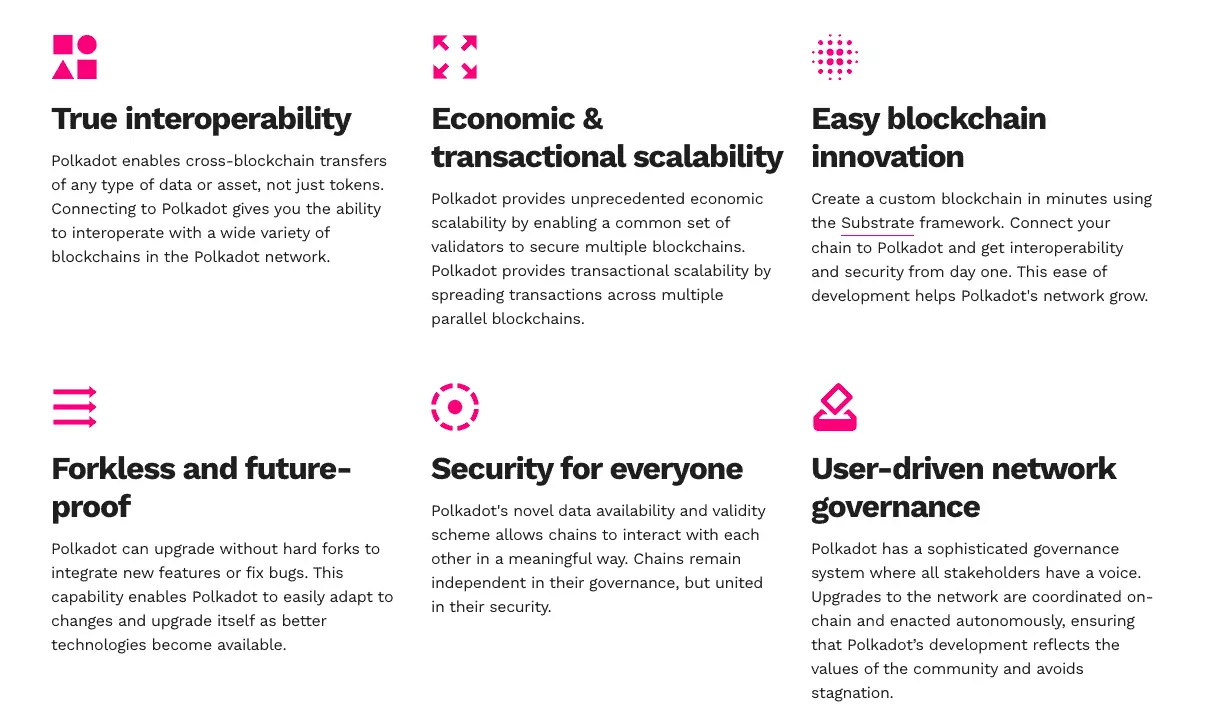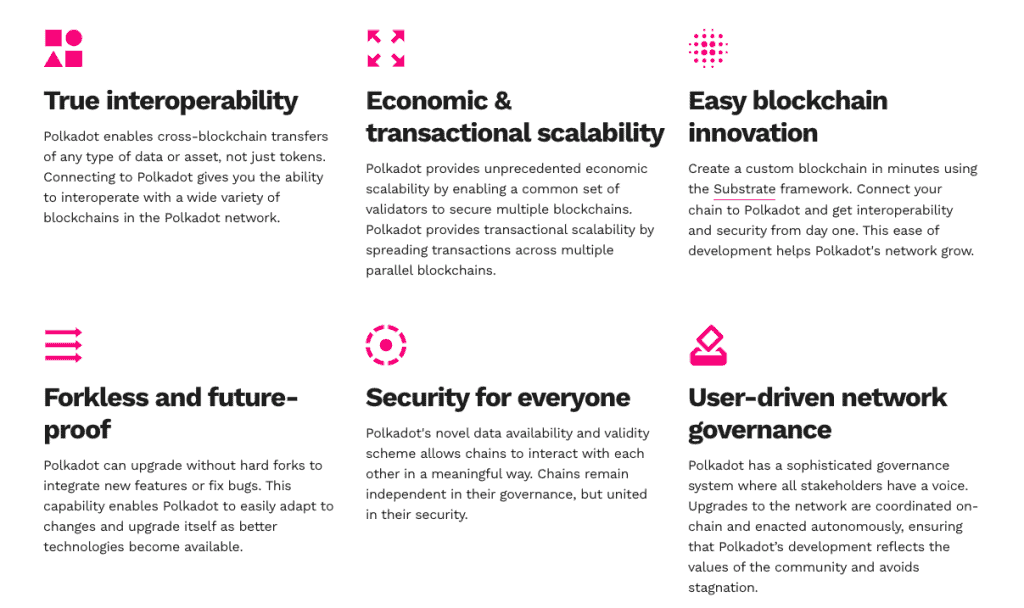 There are currently hundreds of projects already building on Polkadot. Some examples include a cloud platform, a browser extension wallet, and different types of block explorers. 
A few more benefits of Polkadot are that you can build your own custom blockchain in minutes and get security from day one. Polkadot can upgrade without any hard forks for new features or fixing bugs. Plus the transaction fees are very low and the scalability is high.
How Does Polkadot Work?
Polkadot uses Relay Chains, Parachains, Parathreads and Bridges to run the network.
Relaychains are responsible for the network's shared security, consensus and cross-chain interoperability.
Parachains allow multiple chains to run simultaneously, have their own tokens and optimize their functionality for specific use cases. Parathreads work in the same way but in a pay-as-you-go model.
Bridges then allow the Parachains and Parathreads to connect (and communicate) with external networks like Ethereum and Bitcoin.


Polkadot uses something called the GRANDPA consensus, which is used for a more secure and resilient network. In good network conditions, GRANDPA can finalize blocks in seconds. In bad network conditions, (such as a network partition), GRANDPA can finalize large quantities of blocks at once, when the partitions resolve.
Polkadot DOT Token
The Polkadot blockchain also has its own token, DOT. The Dot token allows holders to have governance rights on the platform, to vote on network fees, upgrades, and the deployment or removal of parachains. You are also able to use these tokens for staking or bonding. At the time of writing this Polkadot review, Polkadot has the 6th largest market cap.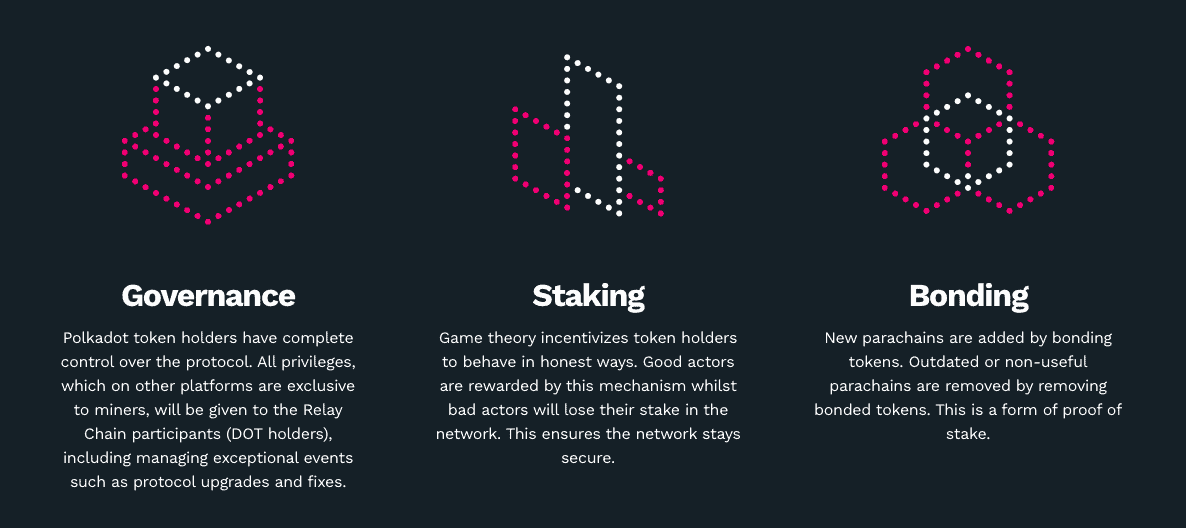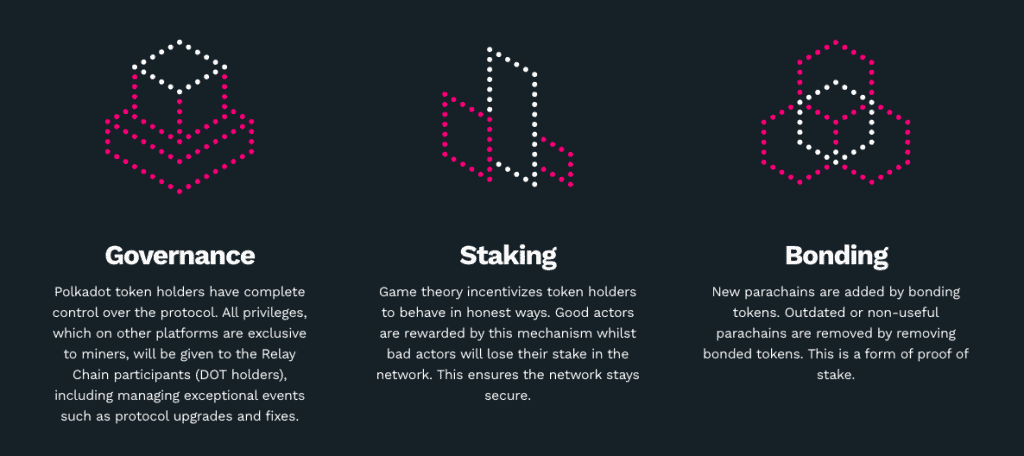 Where can you Buy DOT tokens?
The DOT tokens are available to buy on some of the major crypto exchanges such as the likes of Binance Exchange, Kraken, and Crypto.com. I have outlined some information on these exchanges below.
Kraken
Kraken is one of the globe's most trusted exchanges, founded in 2011. With Kraken, you are able to buy DOT with cryptocurrencies or stablecoins. Or, unlike crypto to crypto exchanges, you can also exchange using FIAT like USD, EUR, or GBP. Kraken's minimum order size is 1 DOT, so you can invest small if needed.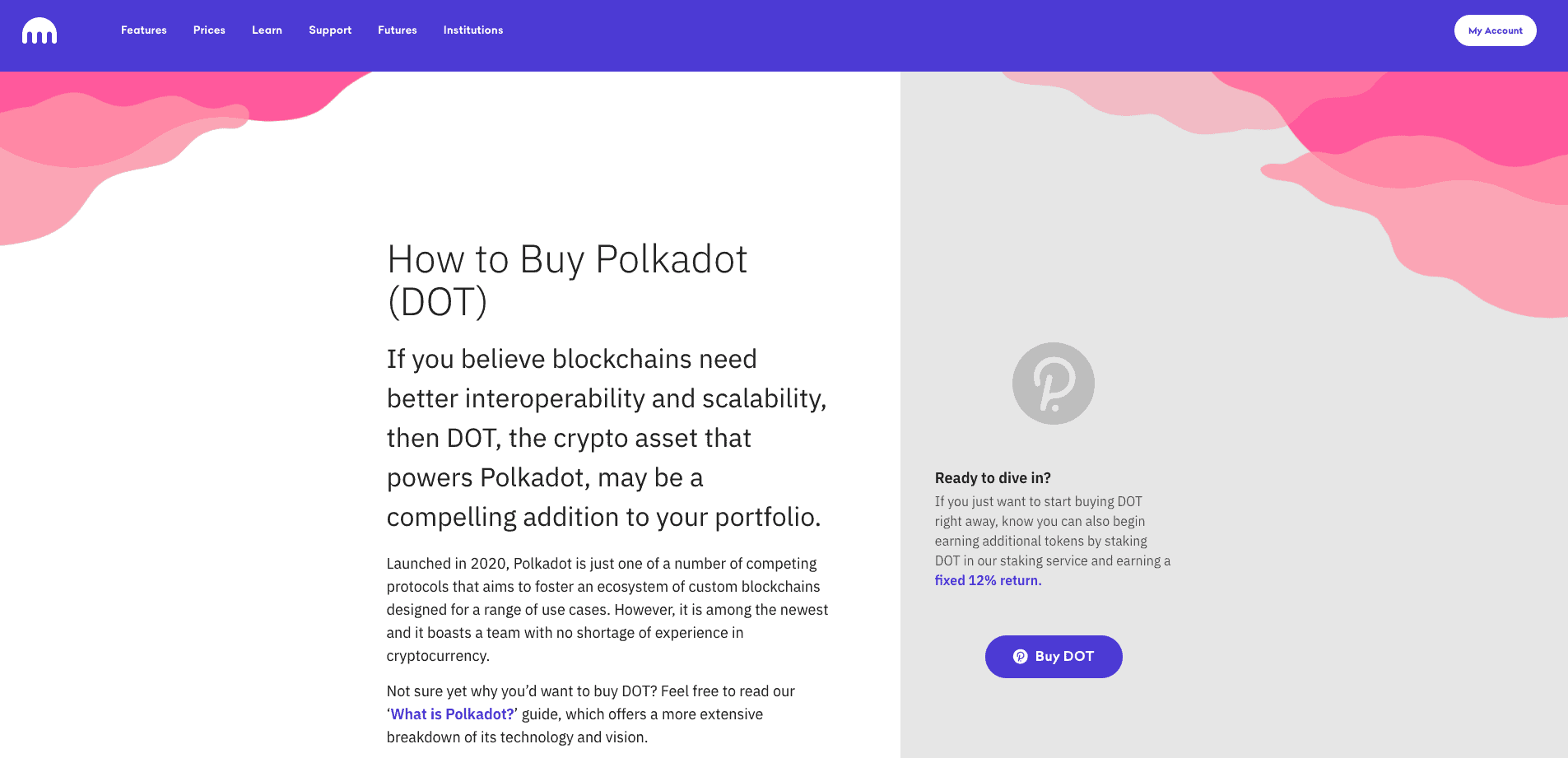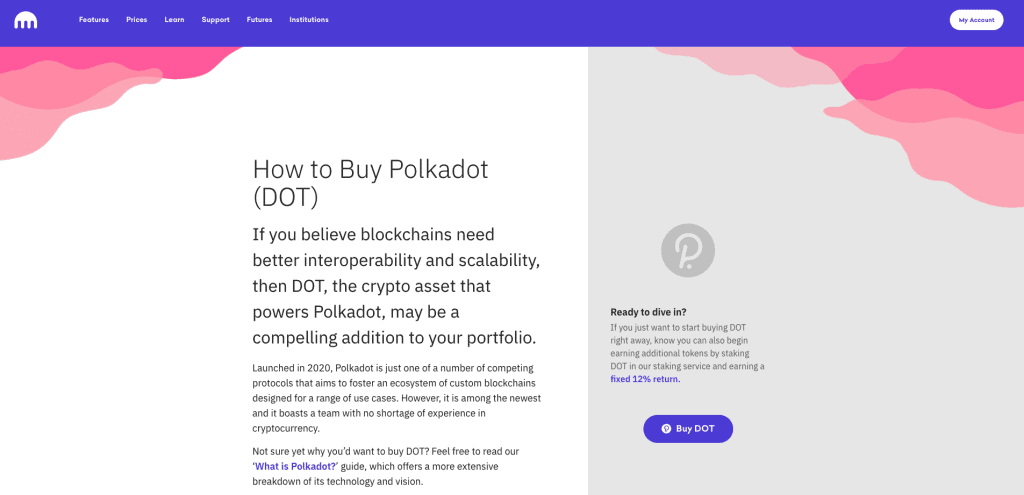 Binance
Binance Exchange is one of the largest crypto exchanges in the world by trading volume. The exchange also offers one of the widest ranges of cryptos available in the market. With Binance, you can trade for DOT for a small fee of up to 0.1%.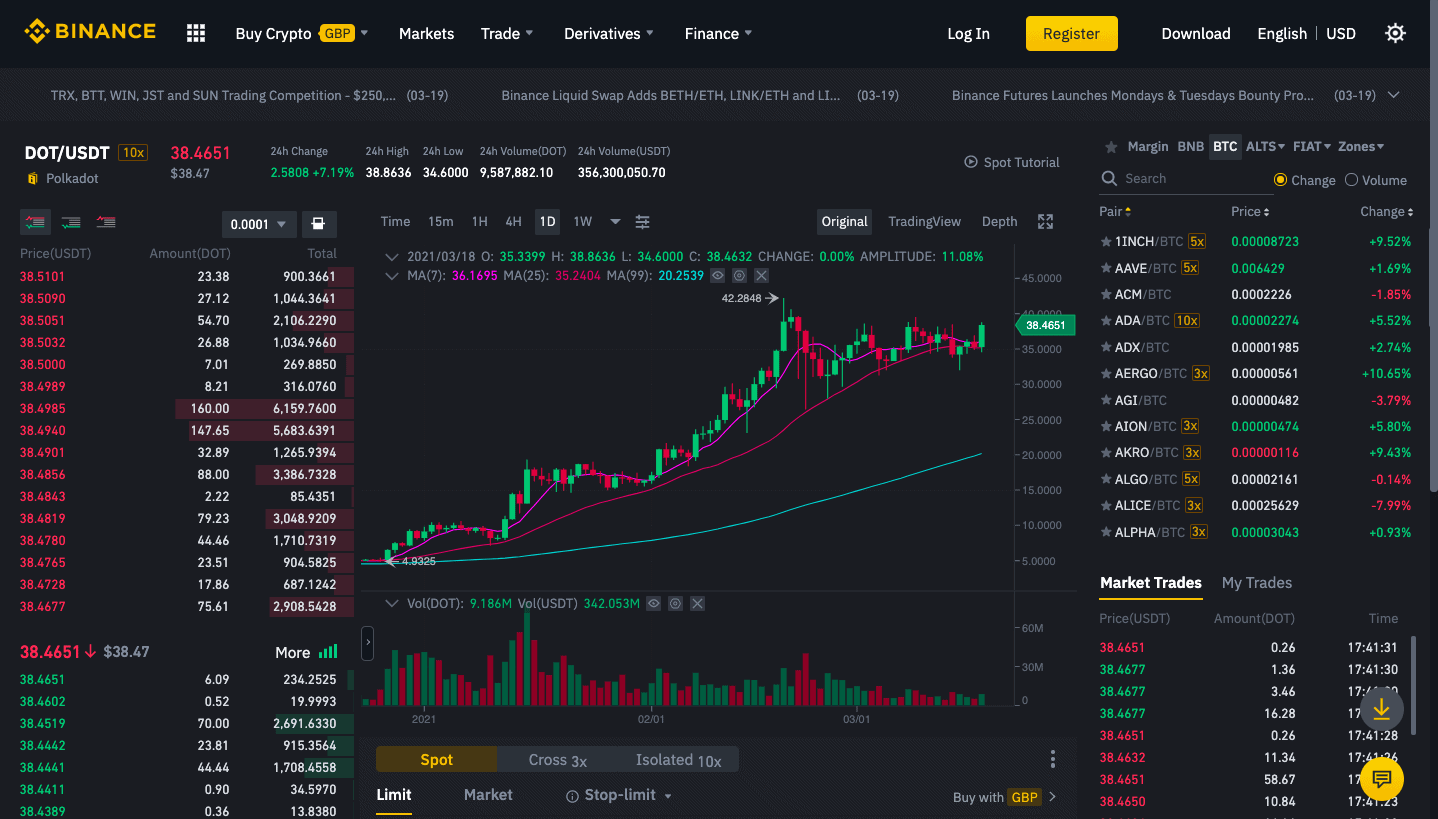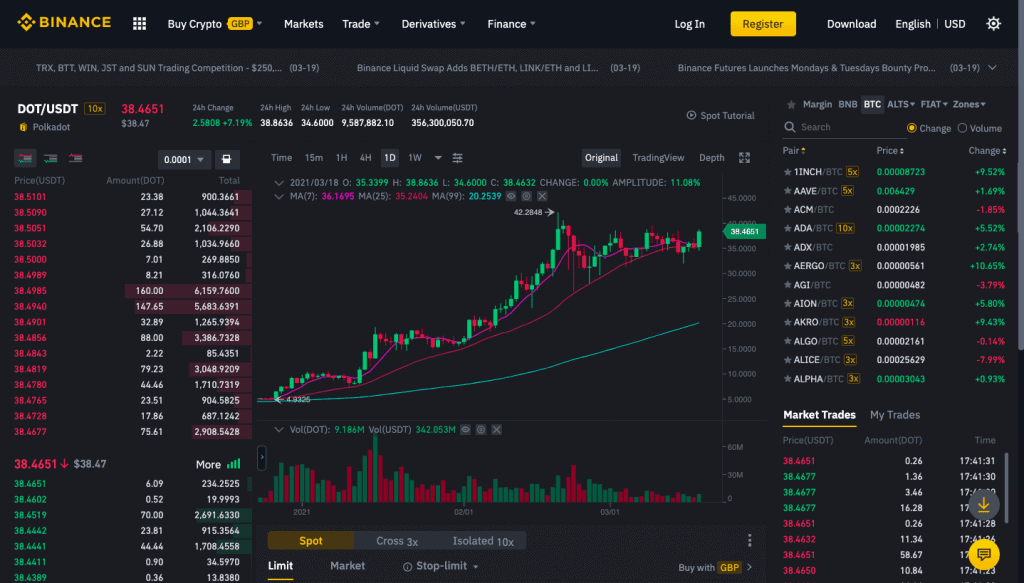 Crypto.com
The Crypto.com exchange is part of a whole suite of products from Crypto.com and offers trading for over 55 different cryptocurrencies. Plus they have also run several events with Supercharger and the Syndicate in the past.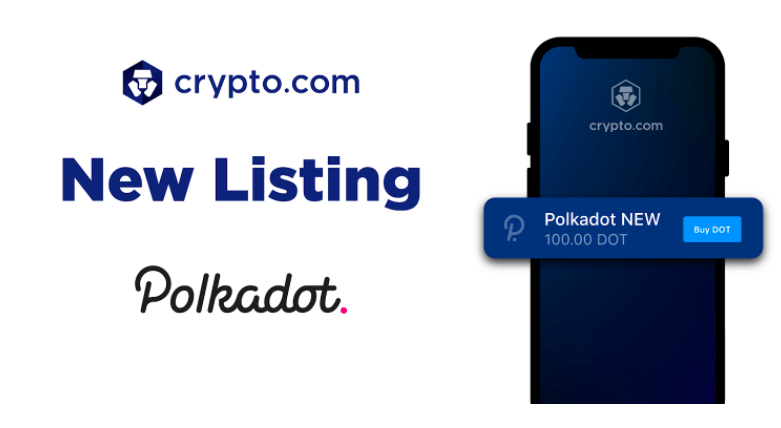 How to Store Polkadot DOT Tokens?
Once you have purchased or traded for your DOT tokens, it's important to store these in a supported wallet. 
Keeping your tokens on an exchange is not recommended, as it is a far more likely target for hackers. Plus you don't have control over your assets without access to your private keys. So where can you store your DOT? Well, as part of this Polkadot review, I´ve also recommended some wallets that support DOT.
Parity Signer
Parity Technologies, the developers of Polkadot, have developed Parity Signer which essentially turns your smartphone into a hardware wallet. The app is available for AppStore or GooglePlay.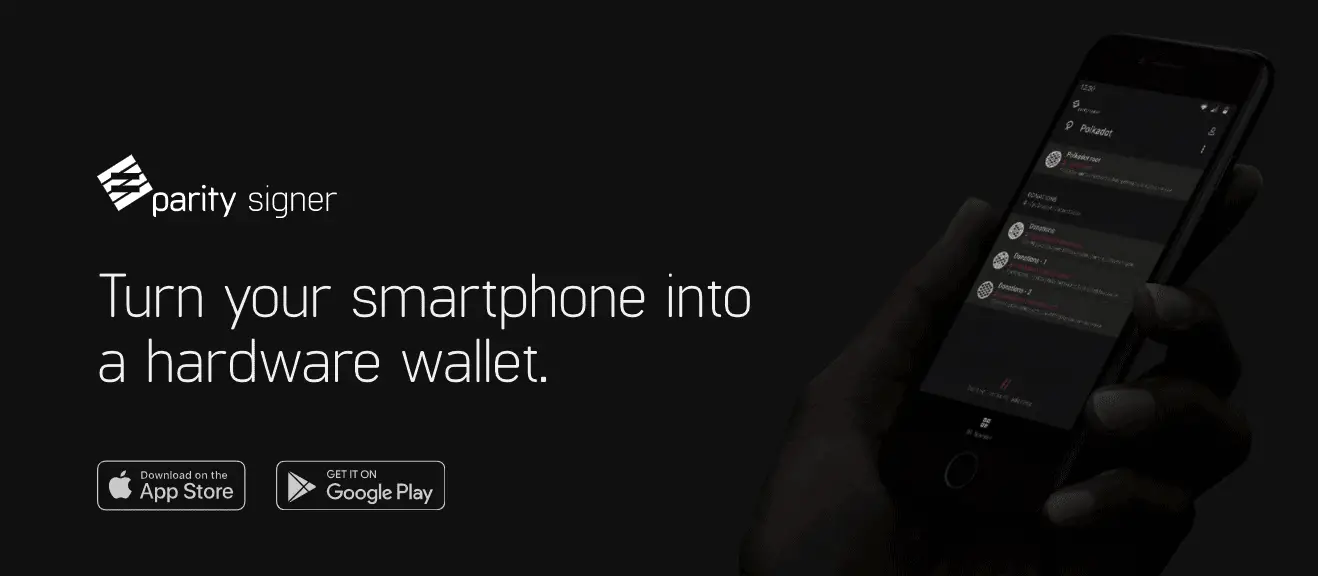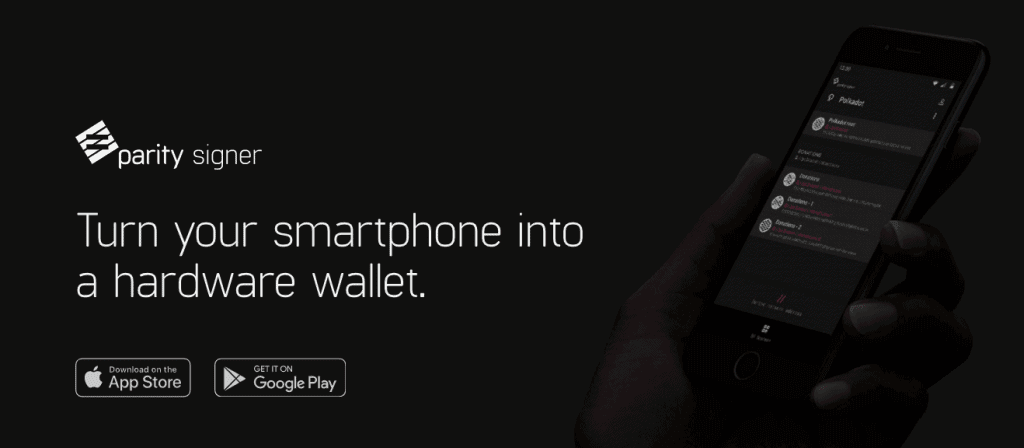 Parity Signer turns an old smartphone into a hardware wallet for Polkadot, Kusama, and Ethereum. With all data being transmitted over the air via QR codes. Just take an old smartphone, restore it to factory settings, then turn off all wifi and Bluetooth by going into airplane mode once and for all.
You can generate and store multiple private keys, scan, verify and sign your transactions with parity signer and Scan the QR code provided by Parity Signer to release your transaction to the blockchain and send your funds.
Polkawallet
Polkawallet was the first cross-chain mobile wallet for the Polkadot ecosystem. With this multi-wallet, you are able to hold your locked, reserved, and bonded assets and transfer them using a QR code. The wallet also allows staking and participation in the governance of Polkadot. In addition, the app will send you a notification of proposals and referendums should you wish to get involved.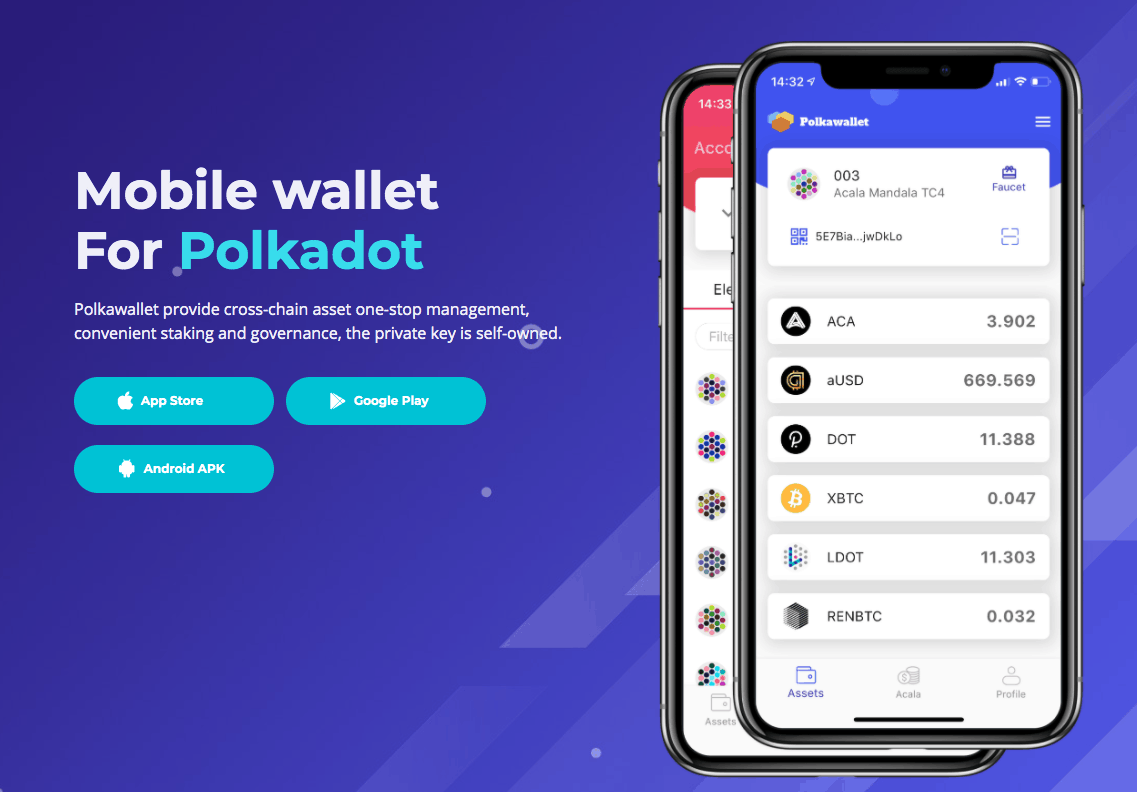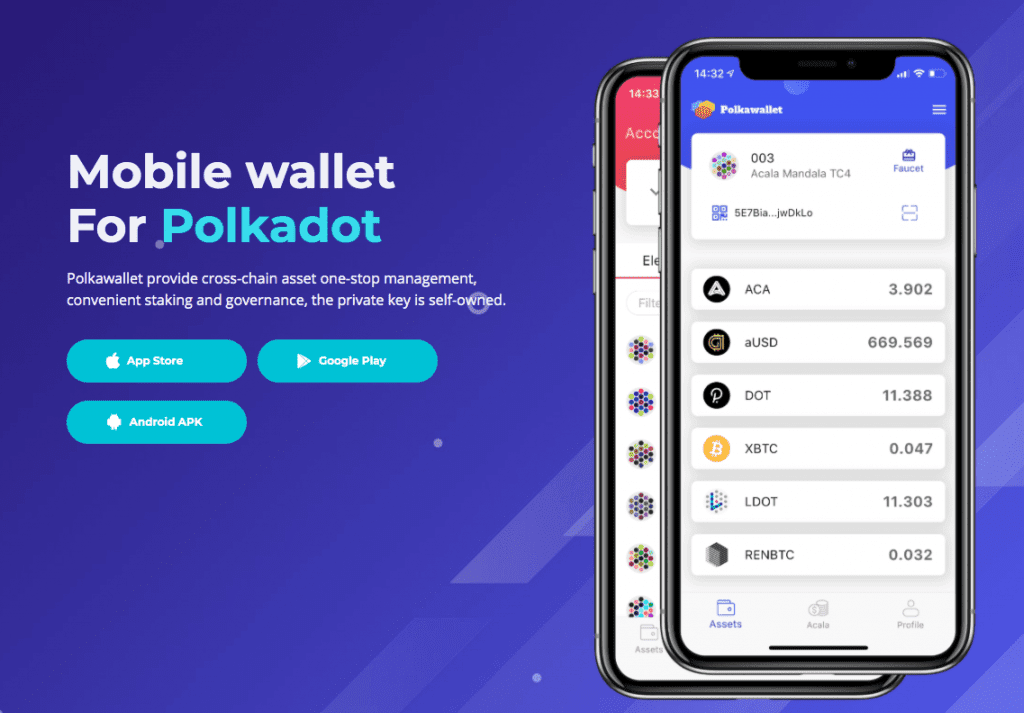 Atomic Wallet/Exodus
If you're looking for a free desktop wallet you can also use the Exodus or the Atomic Wallet to manage your DOT, as well as up to 300 other coins and tokens.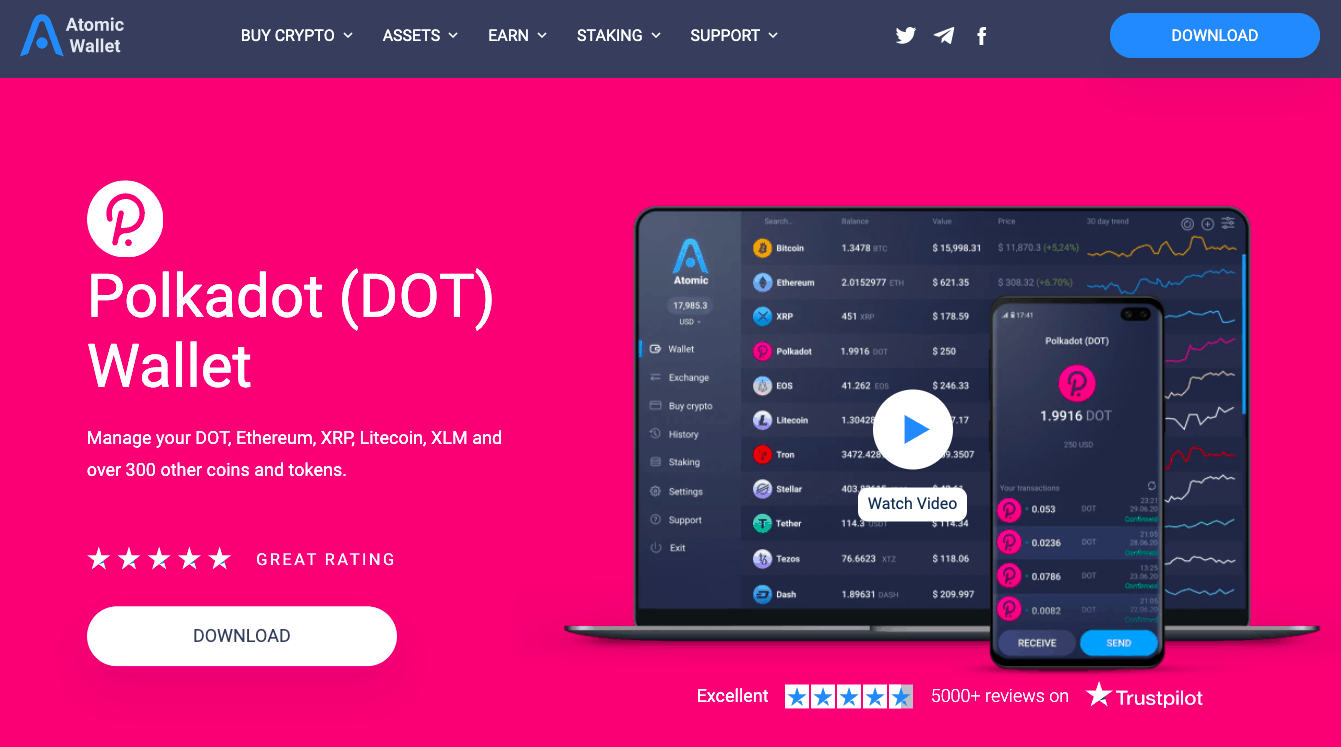 Ledger Nano S & Nano X
Using a hardware wallet such as a Ledger Nano X or Nano S is one of the most secure ways to store your DOT tokens. With Ledger, you can manage your DOT tokens directly within Ledger Live. Meaning that you're DOT is stored safely offline and away from any potential harm. Plus you can also earn DOT rewards through bonding with Ledger live.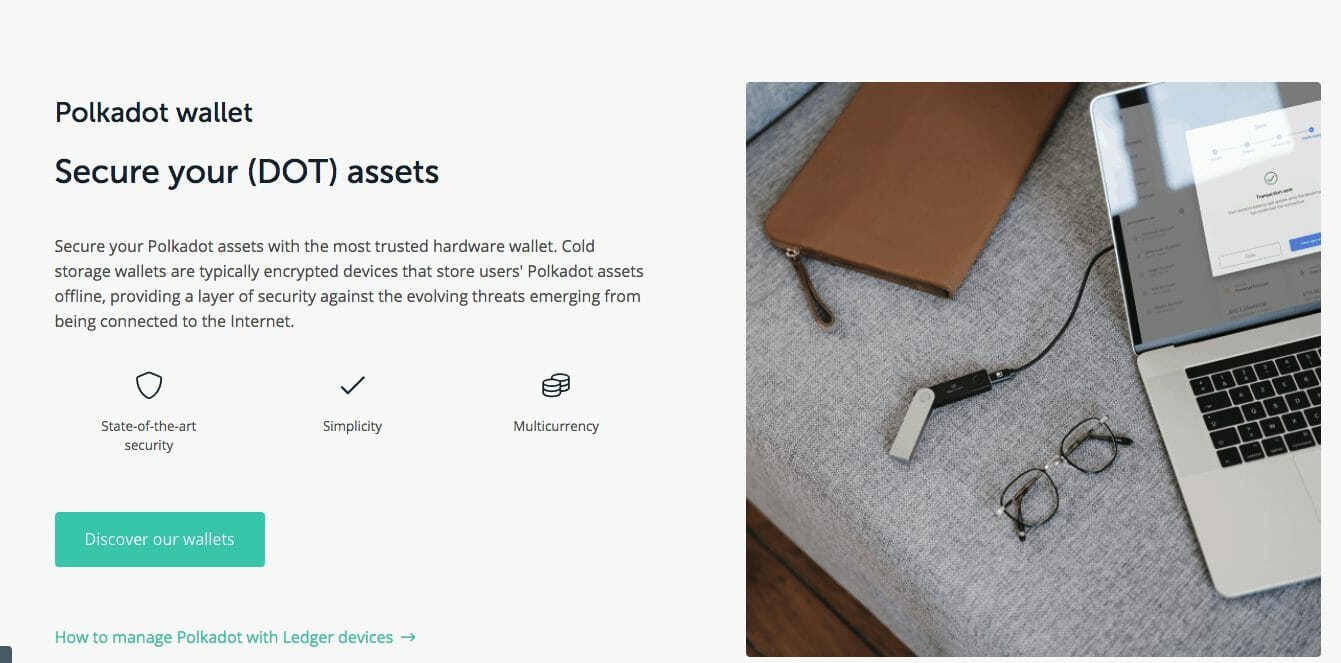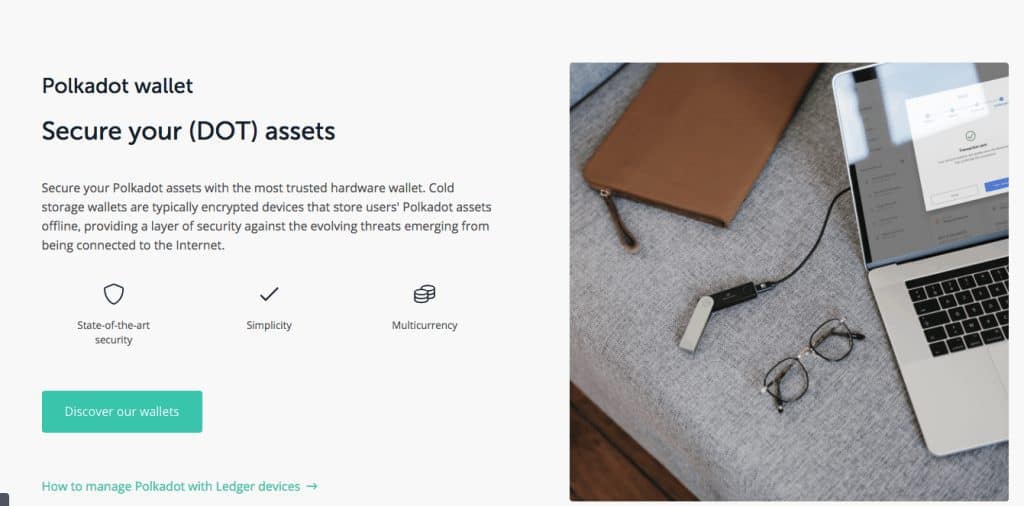 How to Stake Polkadot DOT Tokens?
Staking allows you to earn interest from your DOT tokens. Where essentially, a user holds funds in a crypto wallet to support the operations of a blockchain network and, in return, holders are rewarded for their contribution.
Polkadot uses a Nominated Proof-of-Stake (NPoS) protocol to secure its network. DOT holders who want to stake their assets can do this as a validator (but this will require running a node 24/7), or they can do this by nominating a validator and becoming a nominator.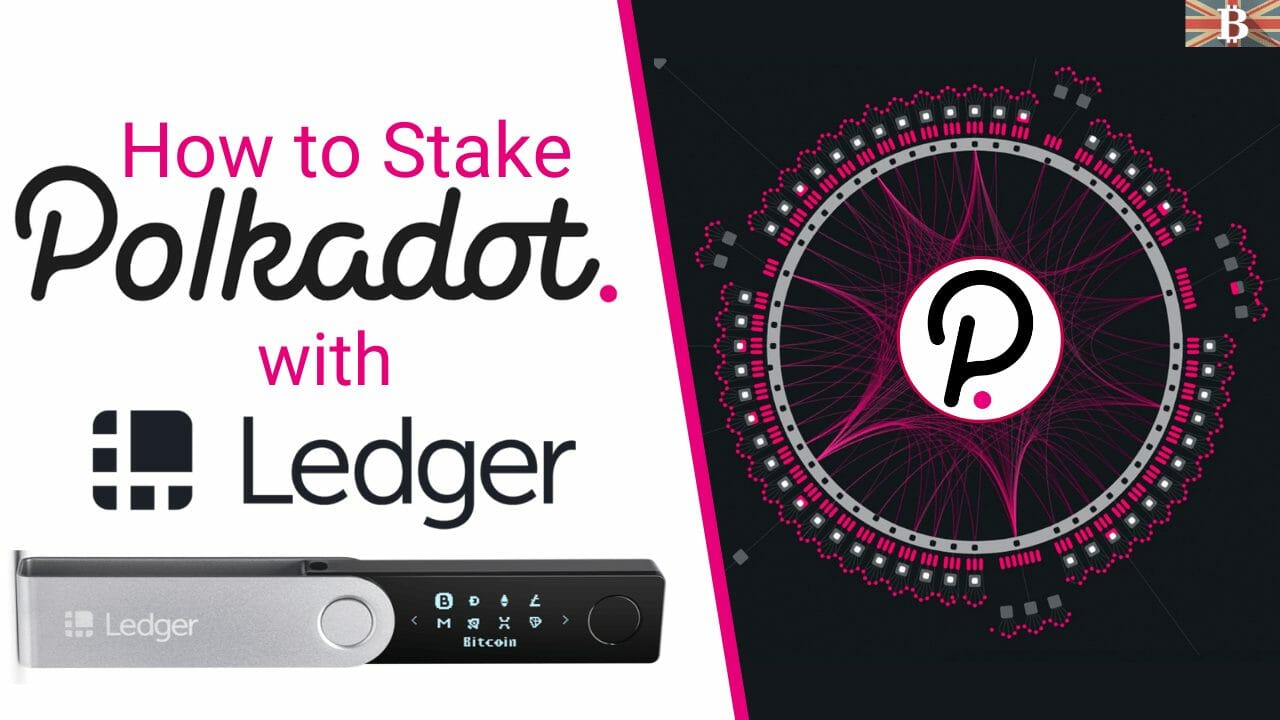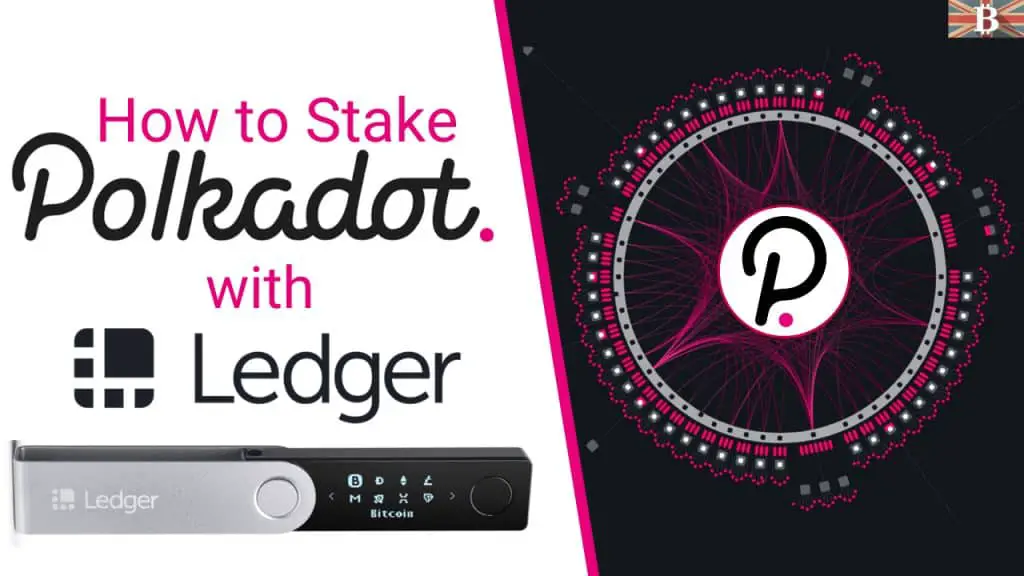 You can stake your DOT tokens on the Polkawallet, using some of the below methods;
Ledger Nano – Earn 10% by staking and bonding DOT tokens directly within Ledger Live and choosing a validator.
Polkawallet- Simply navigate to the "staking" menu in the app and pick your validator to stake your tokens.
Binance – Navigate to the "Finance" menu, under "Binance Earn". Here you can nominate Binance as a validator for as little as 1 DOT.
Kraken – Kraken offers a 12% fixed return on DOT. Find "Staking" in the menu, choose Polkadot and select "Stake".
How to Stake DOT Tokens with Kraken?
With Kraken, you can stake assets such as Polkadot, Ethereum, Tezos, Bitcoin, and even FIAT currencies such as Euros or US dollars. With returns currently ranging from 1.5% for Euros all the way up to 12% for Polkadot and KSM.
How to Stake DOT with Ledger?
If you'd prefer the safety of storing your tokens in a hardware wallet and away from an exchange, you can earn rewards directly within Ledger Live with rewards at around 10%.
Polkadot(DOT) vs Cardano(ADA)
Polkadot and Cardano are naturally compared because they are both founded by different co-founders of Ethereum. They are also both Proof of Stake blockchains. That being said, there are differences in the technology behind the tokens. Cardano has a more traditional design instead of using the Parachain ecosystem that Polkadot uses. You can see a full review on Cardano for comparison in our Cardano Review: How to Buy, Store & Stake ADA Tokens.
Related Posts