In this Cardano review, I take you through the proof of stake blockchain that's looking to rival Polkadot and the heavily congested Ethereum network.
Firstly, I'll provide an overview of Cardano, then explain how to safely buy Cardano ADA tokens and store them securely in a supported wallet. Plus I'll also explain how to stake Cardano ADA tokens to earn rewards.
So, let's dive into this Cardano Review to help you determine whether Cardano is the right cryptocurrency for you.
Cardano Review: How to Buy, Store & Stake ADA

What is Cardano?
Cardano is a proof-of-stake blockchain with smart contract support. Like Ethereum, it is often described as an Ethereum killer, as it can be deemed a competitor or a threat.
In fact, Cardano was actually created in 2017 by one of the co-founders of Ethereum named, Charles Hoskinson. Charles is very active with the Cardano community and regularly releases videos and live streams via YouTube.
Cardano aims to be low-cost and scalable. In contrast to Ethereum, they enable holders of ADA to help operate its network and vote on changes to its software rules. Whilst developers use the Cardano blockchain for smart contracts and building decentralized applications.
They state that they are the first blockchain platform to be built through peer-reviewed research, to be secure enough to protect the data of billions, scalable enough to accommodate global systems, and robust enough to support foundational change.
The blockchain has been released in stages with the aim of releasing better, cleaner and more secure code.  In fact, the network recently upgraded to "Mary" (the hard fork), allowing users to create tokens that run on Cardano natively, just like their own token ADA does.  So similar to ERC-20 tokens that can be created and transacted on the Ethereum network, native tokens will open up similar functionality for Cardano.
Enabling new tokens is a big step forwards in capability for the Cardano network and another move closer to full smart-contract functionality.
Cardano ADA Tokens
The Cardano ADA tokens are the native cryptocurrency of the Cardano blockchain. At the time of this Cardano review, ADA is the 3rd largest cryptocurrency by market capitalization.
ADA was designed to ensure that holders can participate in the operation of the network. Due to this, those who hold the cryptocurrency have the right to vote on any proposed changes to the software.
The token can be used as a digital currency, stored in a wallet, and delegated to a stake pool to earn rewards.

How to Buy Cardano ADA Tokens?
ADA can be purchased on popular cryptocurrency exchanges like Binance, Crypto.com, Kraken, and OKX. You can trade with various tokens, including; BTC, CRO,  ETH, EUR, GBP, USD, and USDT. 
Binance
Binance is considered one of the biggest cryptocurrency exchanges in the world in terms of the trading volume. Predominately crypto to crypto exchange, the platform supports more than 100+ coins with 240+ trading pairs.
Binance is supported by its own Binance Coin (BNB) token. Allowing users to receive discounts on the services of the Binance platform. 
With Binance, you can trade for ADA using cryptocurrencies such as the likes of BNB, BTC and ETH. Or in FIAT markets with AUD, GBP, EUR or stablecoins such as BUSD or USDT.
Crypto.com
The Crypto.com Exchange is part of a range of products and services offered by Crypto.com. Launched in 2019, the exchange enables users to trade crypto to crypto with low fees and deep liquidity. The exchange is powered by CRO, Crypto.com's native token, where CRO holders can enjoy privileges by staking the token or using them to pay for trading fees. 
Crypto.com first added the ADA token to its platform in June 2019, and users can trade for ADA with the likes of BTC, CRO and USDT.
eToro
eToro, which is trusted by millions of users, is a user-friendly platform enabling anyone, anywhere, to buy cryptocurrencies within just a few clicks. With eToro, you can purchase cryptocurrencies as actual tokens or trade CFDs based on the underlying cryptocurrency price.
Cardano ADA is available to trade on eToro with your USD deposits which can be made via bank transfers, credit/debit cards or Paypal.
How to Store Cardano ADA
Once you have bought your ADA tokens, you'll need to find a wallet that supports them. It's not recommended that you keep your crypto on an exchange that is a far more likely target for hackers. Also, you won't have control over your crypto unless you have access to your private keys.
Daedalus Wallet
Daedalus is the official wallet created by Cardano developers. It's a secure desktop wallet for the ADA currency that downloads a full copy of the Cardano blockchain and independently validates every transaction in its history. Ensuring that you get maximum security and completely trustless operation without centrally hosted 3rd party servers.
Your private keys are encrypted, you can create paper wallets for cold storage, and it runs on the likes of Windows, macOS and Linux.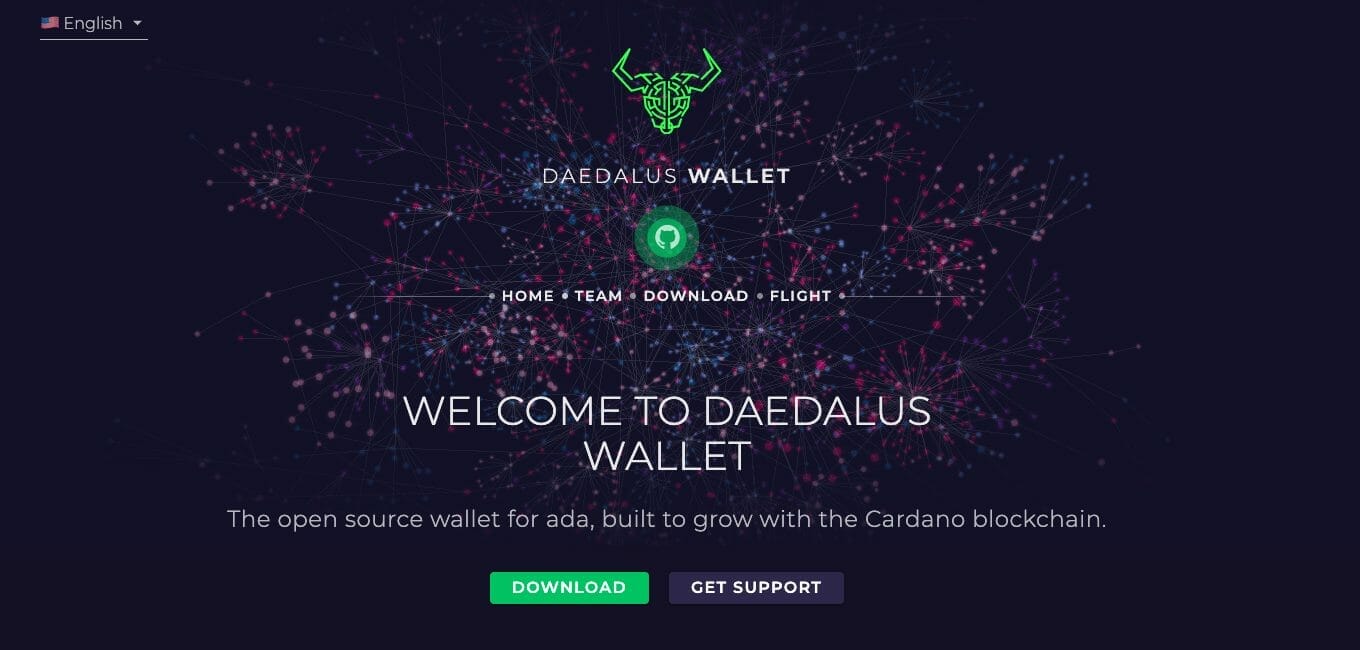 Yoroi Wallet
The Yoroi wallet is a light wallet, meaning you need to download a copy of the Cardano blockchain's history. The wallet allows immediate sending and receiving of transactions.
The wallet is available as either a browser or a downloadable app and supports integration with hardware wallets such as the Ledger Nano X, Nano S or Trezor Model T.
Hardware Wallets – Ledger & Trezor
The most secure way to store your ADA, or any crypto for that matter, is a hardware wallet. This device will keep your private keys stored offline and away from any potential harm.
You can use your Ledger with the Yoroi wallet on your desktop and simply add the Cardano app to your Ledger Live. Pr in the same way, you can also use the Trezor Model T. However, just be aware that their (cheaper) Trezor One does not support Cardano.
Exodus Wallet
Exodus is a desktop wallet that supports over 100 different cryptocurrencies. Included in this list is their own free and secure ADA wallet. The Exodus wallet is built with the beginner in mind, making sending, receiving, and exchanging very simple and fast.
Plus, you can also easily stake your ADA tokens within the Exodus wallet.
How to Stake Cardano?
Staking your ADA is a great way to earn interest in your cryptocurrency asset. When staking Cardano, your tokens are not locked up, and you can spend them whenever you like. By staking your ADA, you are supporting the Cardano network (by allocating resources to it and contributing to the stability of the network). In return, you can earn ADA tokens as rewards.
ADA can be staked in hardware, software and even paper wallets. Each method of staking will be slightly different, depending on your wallet type;
Daedalus wallet: Stake in the "Delegation Center".
Exodus wallet: Stake under the "Rewards" tab
Yoroi browser extension: Stake under the "Delegation List" tab
When staking ADA, you're actually staking your Cardano address. Therefore you will be staking your entire address balance into the pool instead of a specific amount of your choosing.
Then when it's time to receive your rewards, a snapshot will be taken, which will then be used to calculate your reward.
Related Posts