In this Exodus Wallet Review for 2023, we take a dive deep into one of the most popular crypto wallets available on both desktop and mobile. We analyze the variety of features Exodus wallet has to offer, plus their partnership with Trezor hardware wallet. We also take a look at Exodus' security, fees, support, pros and cons.
So, let's dive into this Exodus Wallet Review to help you work out whether Exodus is the right crypto wallet for you.
Exodus Wallet Review: How to Use Exodus Wallet
Exodus Wallet Pros & Cons
What is Exodus Wallet?
Exodus is a multi-cryptocurrency wallet, which is incredibly easy to use with its slick and intuitive design. Exodus was founded in 2015 by JP Richardson and Daniel Castagnoli. The wallet is available to download on your desktop and mobile, allowing users to easily manage their crypto assets anywhere.
Exodus supports over 155 different cryptocurrencies, including Bitcoin and Ethereum-based ERC20 tokens. Users can easily exchange within the wallet, manage their Trezor Hardware wallet, and access popular Apps such as Compound Finance and FTX without having to leave the comfort of their wallet.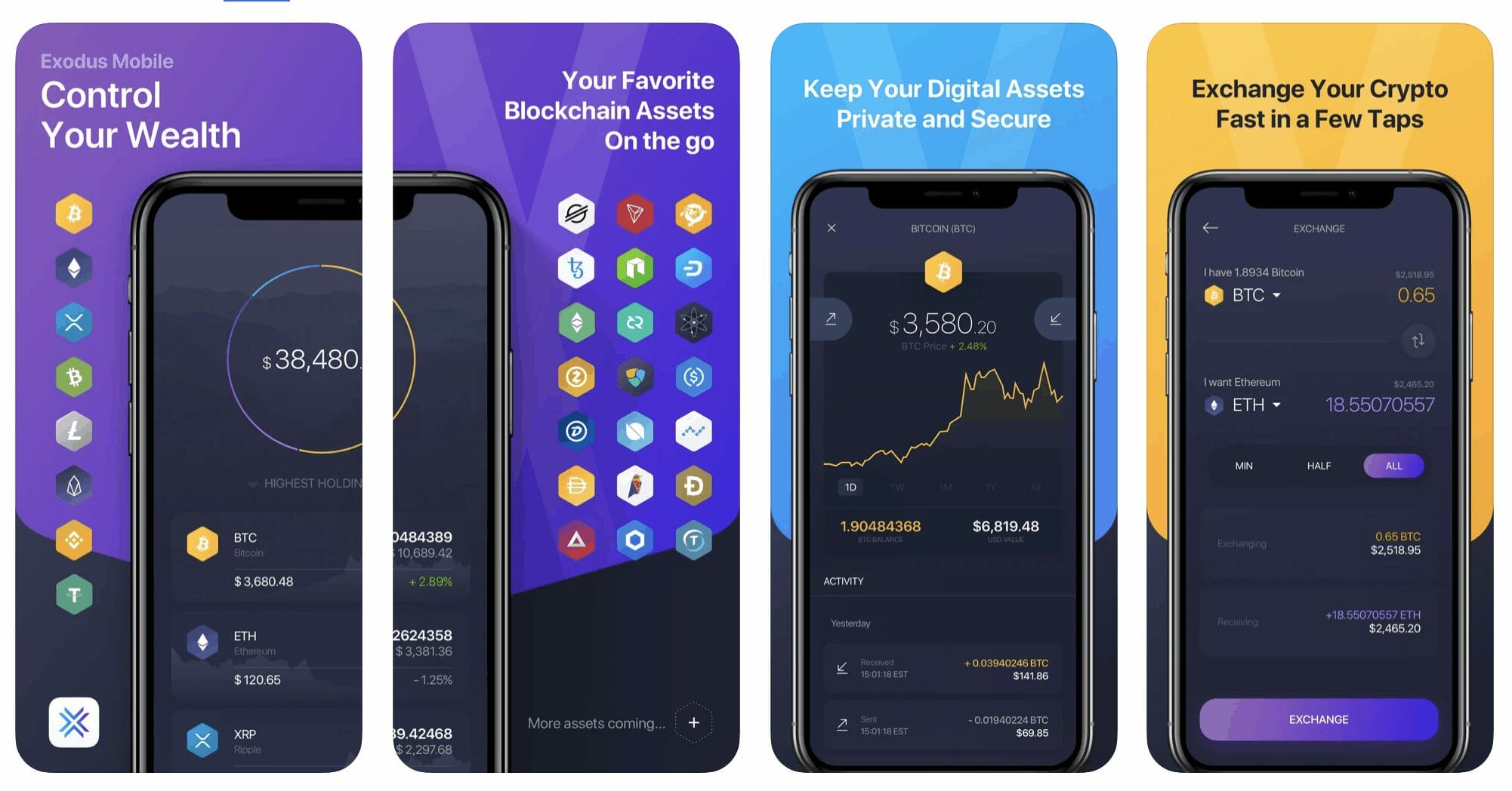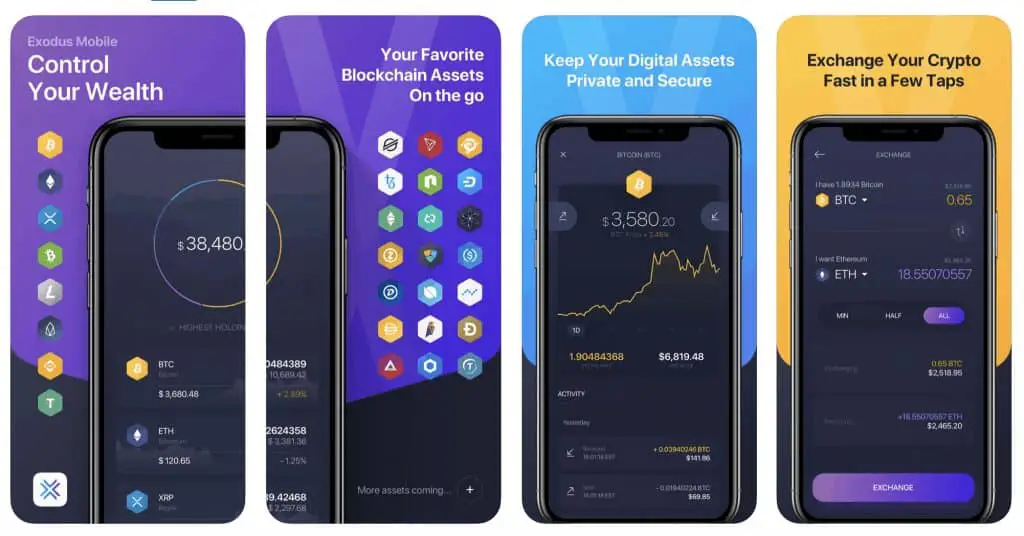 What is a Software Wallet?
A software wallet is a cryptocurrency wallet that is in the form of a desktop, mobile or online wallet. These are deemed as "hot wallets" as they are connected to the internet.
Software Wallets can also be custodial or non-custodial. This relates to whether you have complete control over your crypto with access to your private keys. Or whether you are allowing a third party to manage these.


Exodus Wallet Features
The Exodus Wallet team continue to innovate and add new features to their platform. They have also made some major partnerships with big players in the crypto space, such as Trezor, FTX and Compound Finance.
Exodus Desktop
Exodus Desktop gives users a way to securely manage and exchange their cryptocurrency in one easy-to-use application. The Exodus desktop wallet is free to download and is available on Windows, Mac, and Linux.
With Exodus desktop, you have complete control over your crypto with access to your private keys.
Exodus Mobile
Exodus released its mobile app on the 1st of July 2019. Allowing mobile app users to send, receive and exchange their crypto while on the go. Plus, you can easily sync Exodus Desktop with Exodus Mobile. It is available from either Google Play or the App Store.
One of the benefits of using Exodus mobile is that you can use the security from your mobile phone, such as a face or fingerprinting technology, as an extra level of security.

Trezor Wallet Partnership
Exodus has partnered with Trezor so users can interact and manage their Trezor One or Trezor Model T devices within the Exodus interface. Once you have connected Trezor to Exodus, you can send, receive and exchange your assets directly from the Exodus wallet.
Trezor has since released their Trezor Suite, so you can now manage your hardware wallet and crypto portfolio; click here to find out more.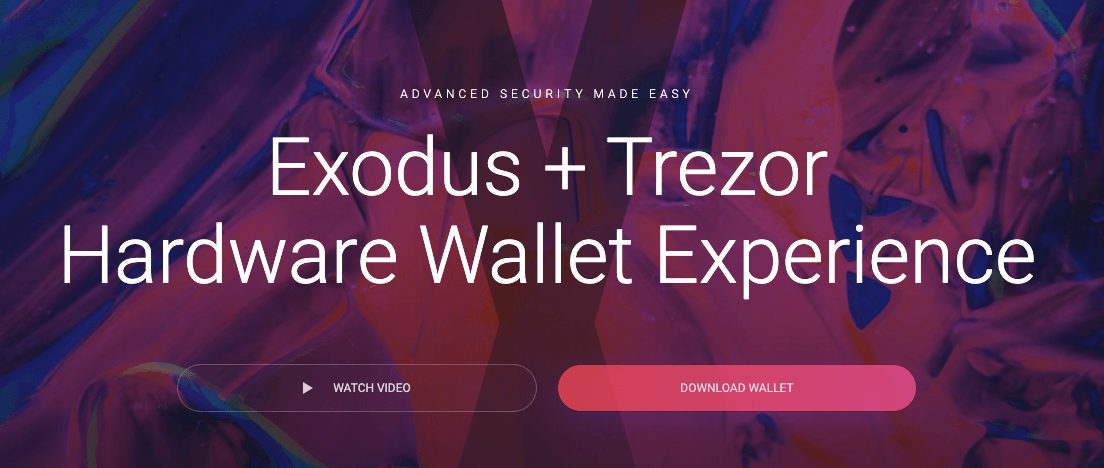 Trezor Wallet Bridge
To connect your Trezor hardware device to your Exodus wallet, you'll need to install the Trezor bridge. When you choose to "install bridge" from inside the Exodus wallet, you will be directed to the Trezor Suite website.
However, some people have reported issues in locating the Trezor Bridge. Therefore you can use this direct link instead.
Please note: the Trezor bridge can only be installed on chromium browsers such as Chrome or Brave, and Safari is not supported.

Exodus Crypto Apps
Exodus Apps allow users to explore and discover ways to do more with their crypto, such as earning interest with DeFi Apps like Compound Finance or swapping with cheaper fees with FTX from right inside the Exodus wallet.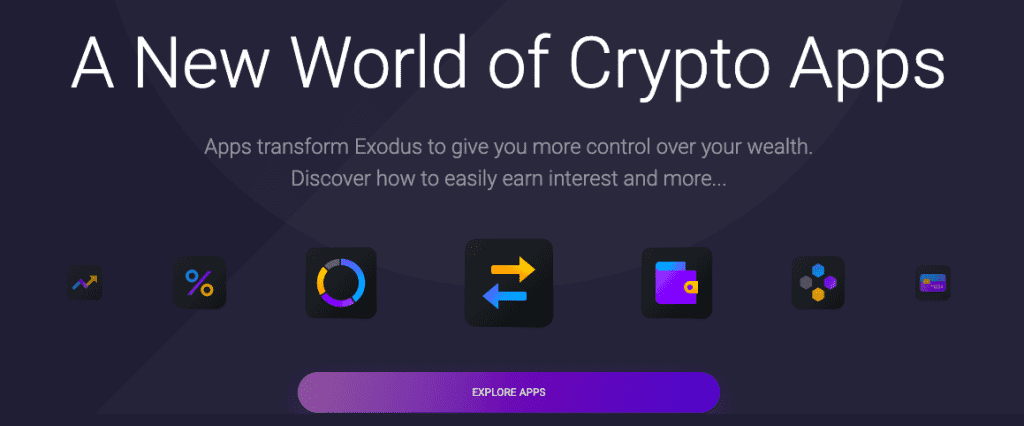 Crypto Rewards
With Exodus Rewards, you can now start earning interest on your crypto through staking. Just deposit the likes of Cardano, Cosmos, and Tezos and earn interest currently up to 19.84% for ONT.
The app built directly into your wallet makes staking easily accessible to anyone, even the beginner. Plus, it's a great way to earn passive income on crypto that would potentially be sitting idle in a wallet otherwise.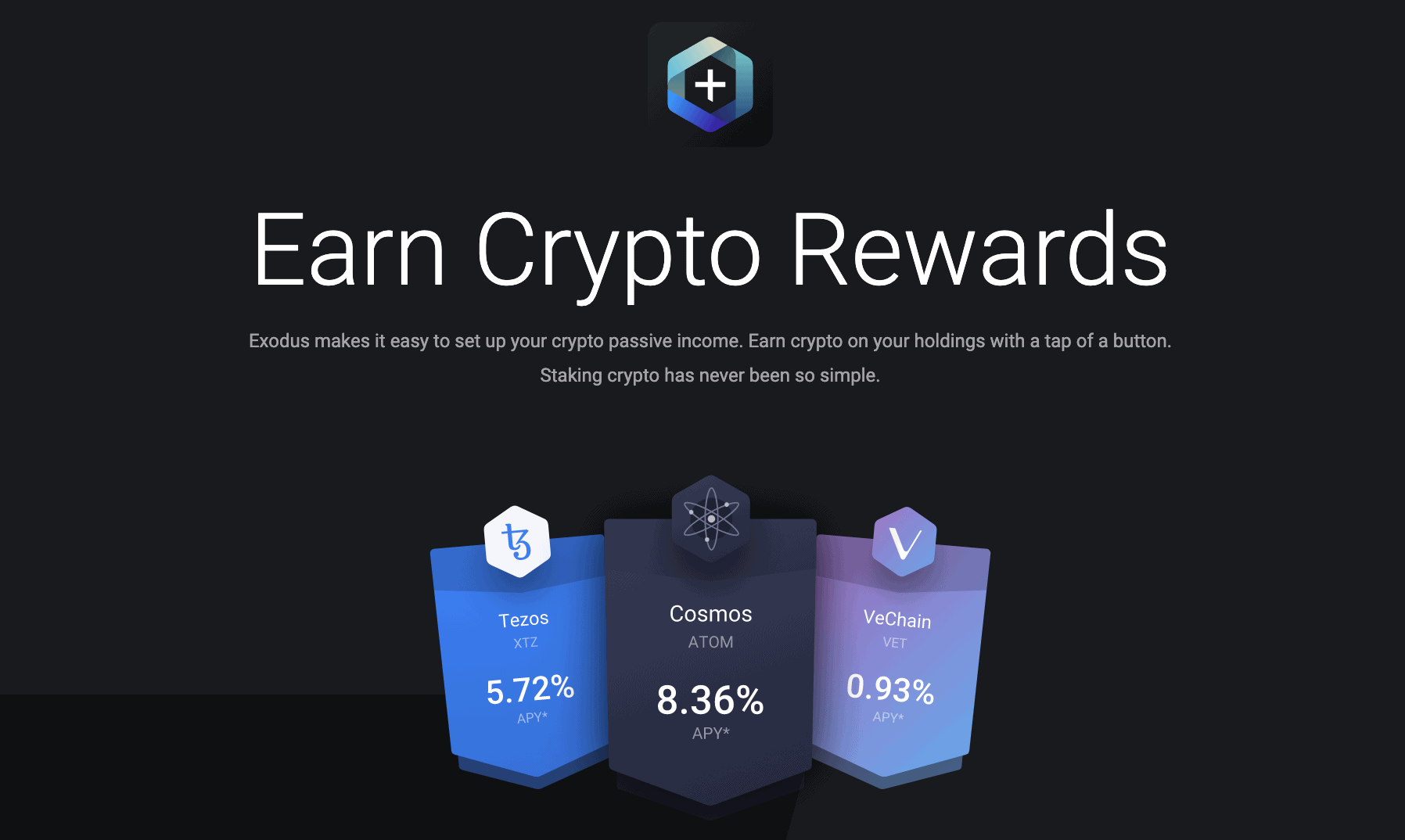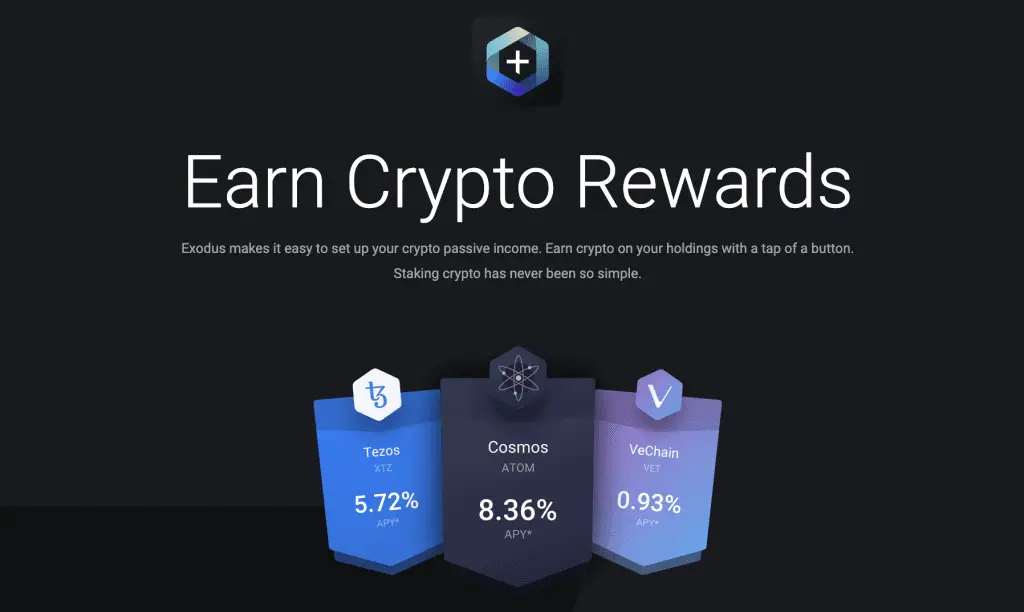 Compound Finance
Exodus is growing its platform to become more than just another crypto wallet and instead aims to become a portal to access the new Decentralized internet or DeFi. Those of you using the wallet may be interested to hear that you can earn interest with the Compound Finance App.
Using Compound with Exodus, users are currently only able to lend (or deposit) DAI, which can be done within a couple of clicks. Once you have lent your assets to the Compound Finance protocol, you accrue interest every time an Ethereum block is mined. 
For more information on Compound Finance, you can check out our tutorial here.
SportX
With the SportX integration, users can pick a sport, and a winner and place a bet with a DAI balance, all within Exodus. There is no account needed; you can bet on UFC fights, NFL, NBA, major South American and European football/soccer teams, video game esports, and more.

Exodus Shares


Supported Cryptocurrencies
Exodus currently supports 155+ tokens, with the list being continuously added. The supported tokens include the likes of Bitcoin, Ethereum, Litecoin, UNI, CRO, Monero XRP, and XLM, as well as stable coins such as DAI. These tokens can be used to send, receive, exchange, and earn interest.
The full list of cryptocurrencies supported by Exodus wallet can be found here.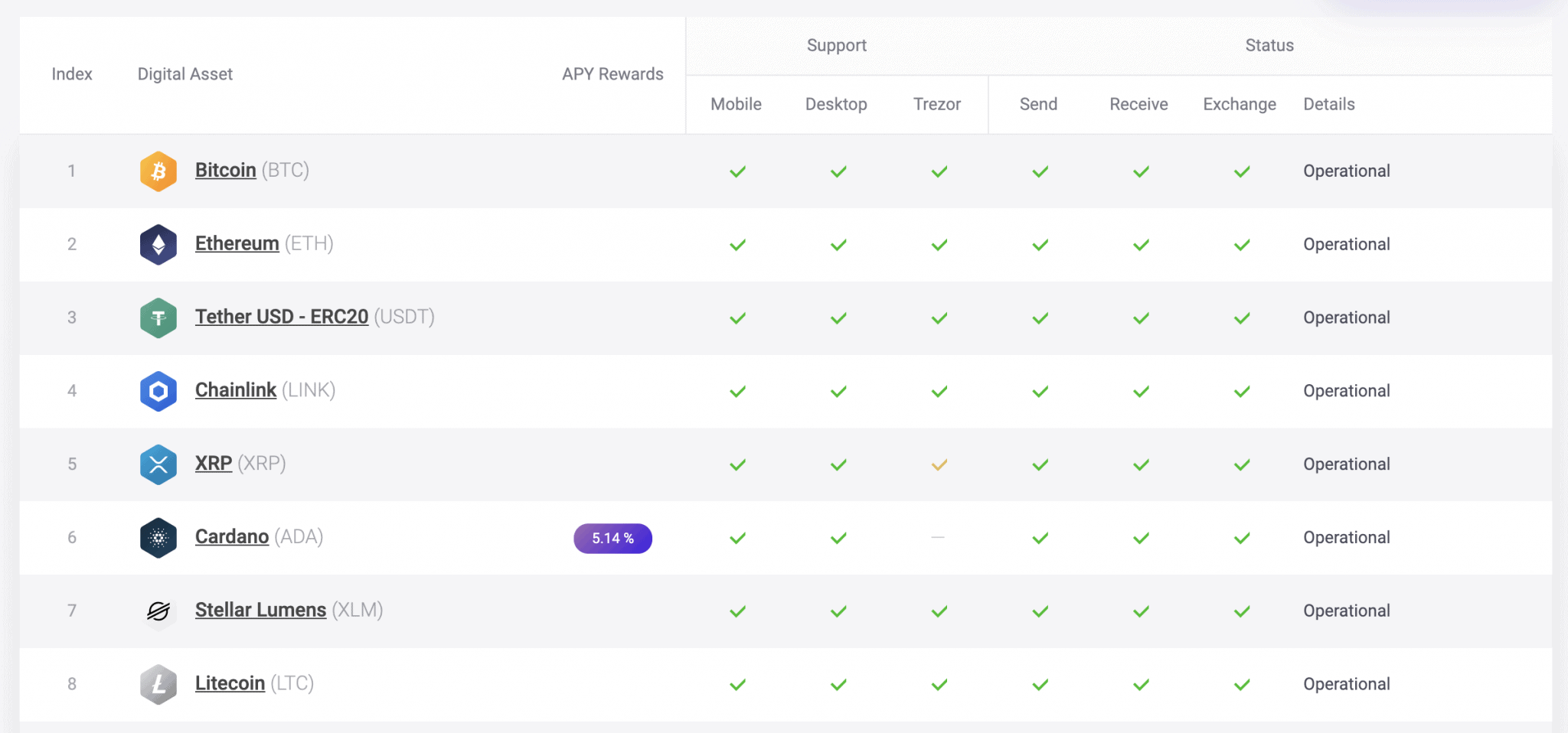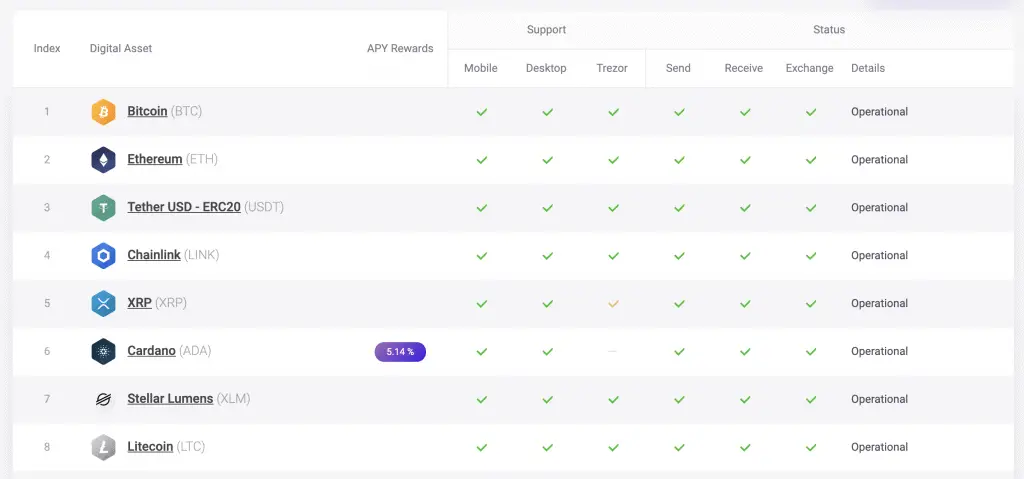 Exodus Wallet Fees
Unlike an exchange, Exodus does not charge fees for withdrawing from their wallet. However, you will be charged network fees which are paid to the miners for sending a transaction. Other than the fees that go to the network, Exodus does not charge fees for sending or receiving.
Previously, Exodus didn't allow users to amend transaction fees. However, these can now be edited using a slider which is really handy when Ethereum gas fees are high.
Exodus makes money from a small portion of the spread on asset exchanges. These are typically between 2% – 5% for convenience. Plus, you'll need to pay the transaction fees.
Therefore, this won't be the cheapest way to exchange your crypto. We'd always recommend using external exchanges such as Binance or FTX to get the best trades, or check out our compare exchanges page to find the right exchange for you.
Exodus Wallet Security
Like all crypto wallets, the security of your assets should be your number one concern. One of the benefits of Exodus (unlike some other wallets) is they do give you access to your private keys.
Exodus Private Keys
How to Access Exodus Wallet Private Kets?
Your recovery seed phrase can be found under your "Settings."
Then go to "Backup."
"Recovery Seed Phrase".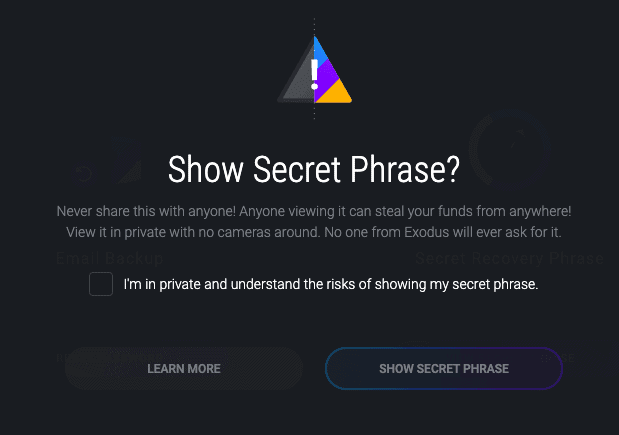 Is Exodus Wallet Safe?
Exodus will only ever be as safe as the computer it is installed on, your own security practices, or how safely you store your private keys. This is because, with Exodus, you are in complete control of your account, and safety is in your control.
Unlike custodial platforms such as Binance or Coinbase, Exodus does not manage or store your private keys. Plus, they cannot view, access, or control your wallet in any way because all of your wallet's information is stored locally on your computer.
Exodus also cannot view or reset your password and does not have information in relation to your secret 12-word or private keys.
Unfortunately, Exodus has yet to include 2FA on their desktop or mobile wallets. I personally believe it would be a great addition to add something like a YubiKey to help increase security.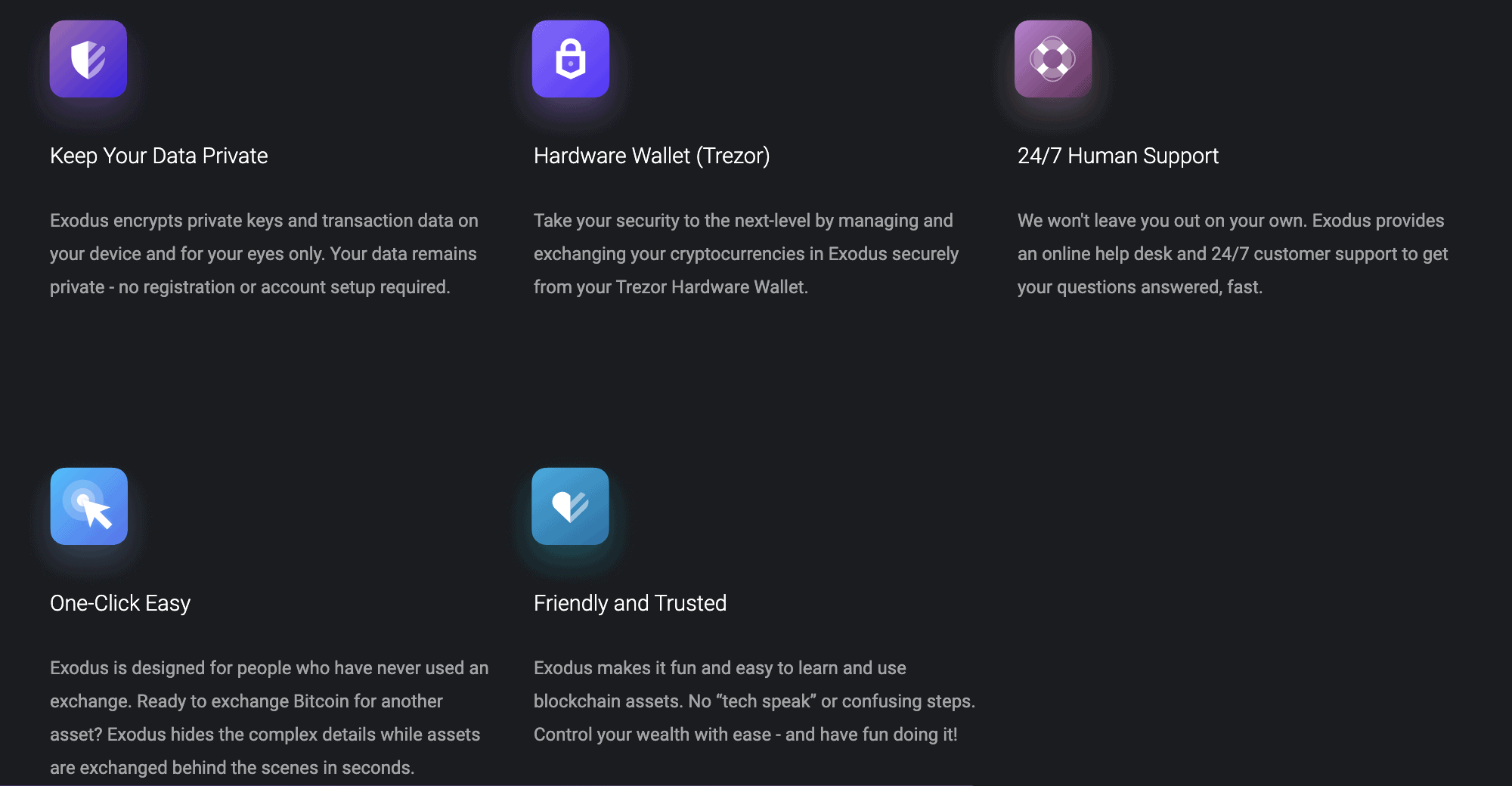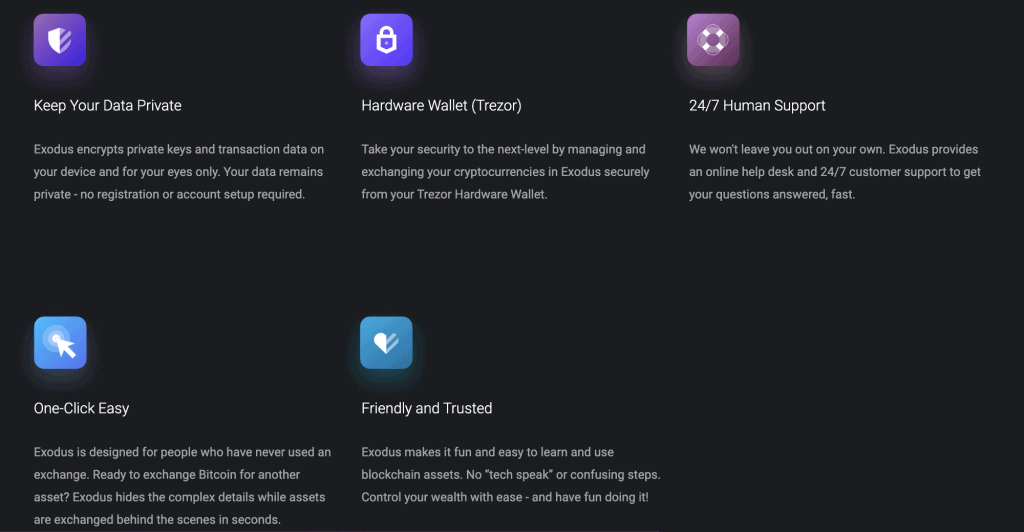 Exodus Wallet Support
There are a few ways that you can contact Exodus Support. Exodus has a comprehensive list of FAQs that should answer basic questions. However, you can email support, send a message via Twitter, or contact their helpdesk if more support is required.
I've personally used their email support a few times, and when I contacted them while creating this Exodus wallet review, their support team was quick to respond. Unlike other crypto platforms, I found them to be extremely helpful and provide a prompt response. Obviously, during bull markets, replies may be slower.
Verdict: Should you use Exodus Wallet?
I personally love the Exodus wallet, I have tried and tested a lot of cryptocurrency wallets over the years, and Exodus is still by far one of my favourites. Not only is the user-ability and design great, but they continually keep improving with features such as Apps.
I understand a lot of users will have a Ledger and not a Trezor, so this integration may not benefit. As someone who owns both hardware wallets, it's nice to find a platform that integrates Trezor. Even though they have now released Trezor Suite, I will continue using the current combination.
We haven't experienced any issues with Exodus, but their fees can be high, which is a negative. I would also like an option for 2FA; it would be great if they were able to integrate the likes of a YubiKey, which platforms such as Binance and Blockchain.com have recently done.
Exodus actively responds to comments on TrustPilot, making sure issues are dealt with promptly; they currently have an impressive rating of 4.3/5 from 2,539 reviews.
We hope you enjoyed our Exodus Wallet review; if you have already tried Exodus, let us know what you think in the comments below. If not, try Exodus Wallet for yourself and download it here.
Exodus Wallet FAQs
Has Exodus Wallet Been Hacked?
As a company, Exodus has never been hacked. This is important because Exodus do not hold your crypto or your keys and you remain in control with them safely stored on the blockchain.
However, you'll find many complaints from users online about their individual wallets having been hacked; this is where 2-factor authentication could have potentially prevented this.
Related Posts