In this Trust Wallet review for 2023, I take you through the overview of one of the most popular crypto wallets. We take a look at Trust Wallet features, fees, supported cryptocurrencies, and their security.
Trust Wallet is a market-leading multi-cryptocurrency and official digital wallet from Binance Exchange. With over 25+ million users, the beginner-friendly wallet allows users to store digital assets, including NFTs, securely. As well as making in-app crypto purchases and stakes to earn interest and interact with Web 3.0 applications via their DApp Browser.
So, let's dive into this Trust Wallet Review to help you work out whether Trust Wallet is the right crypto wallet for you.
Trust Wallet Review

What is Trust Wallet?
Trust Wallet is a decentralized, secure cryptocurrency mobile wallet. The wallet lets users buy, store, exchange, and earn crypto. The Trust Wallet was founded in 2017 by Viktor Radchenko with a focus on "building a better interface for storing and accessing funds, as well as laying the infrastructure for other developers to build DApps." It was originally built to support tokens in the Ethereum ecosystem but now supports 65 other blockchains, such as Binance Smart Chain (BSC).
The Trust App is available on mobile and downloadable for Android and Apple devices. With this, you can use the app on your phone, tablet or computer and easily access your crypto on the go or from the comfort of your home. If you already have a mobile wallet, you can use the app to move all your crypto assets to the Trust app.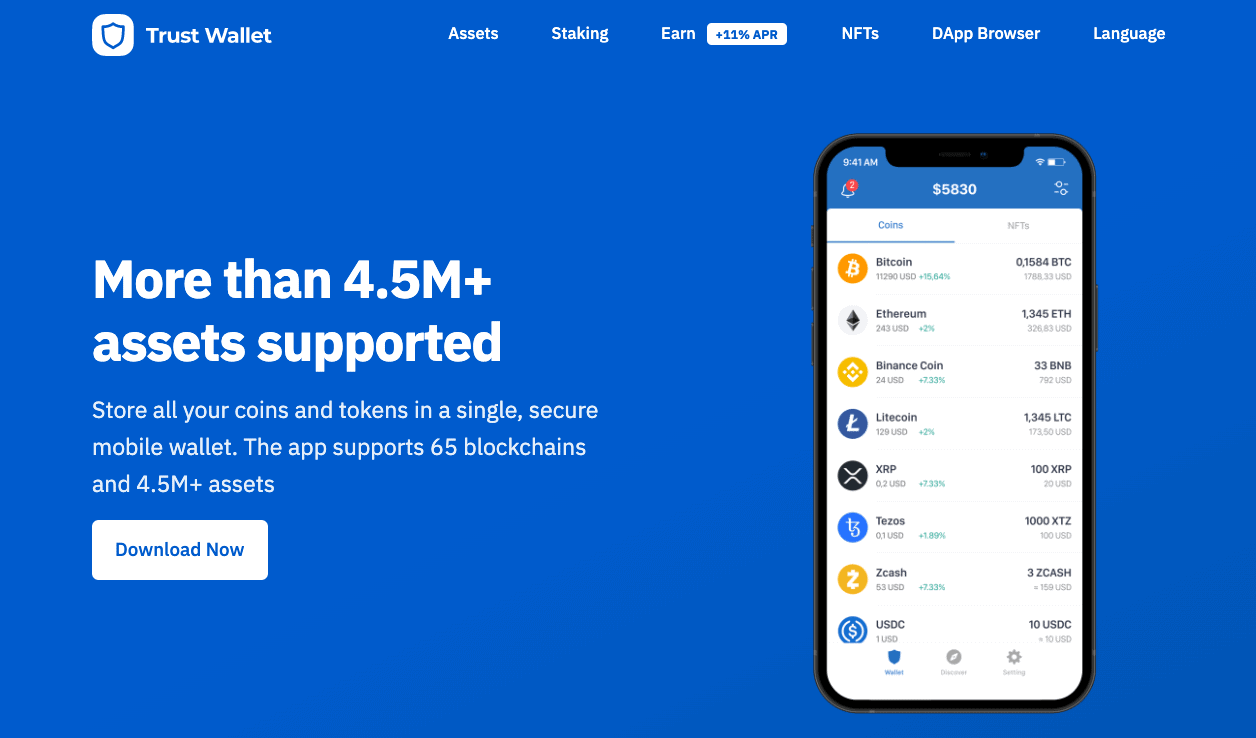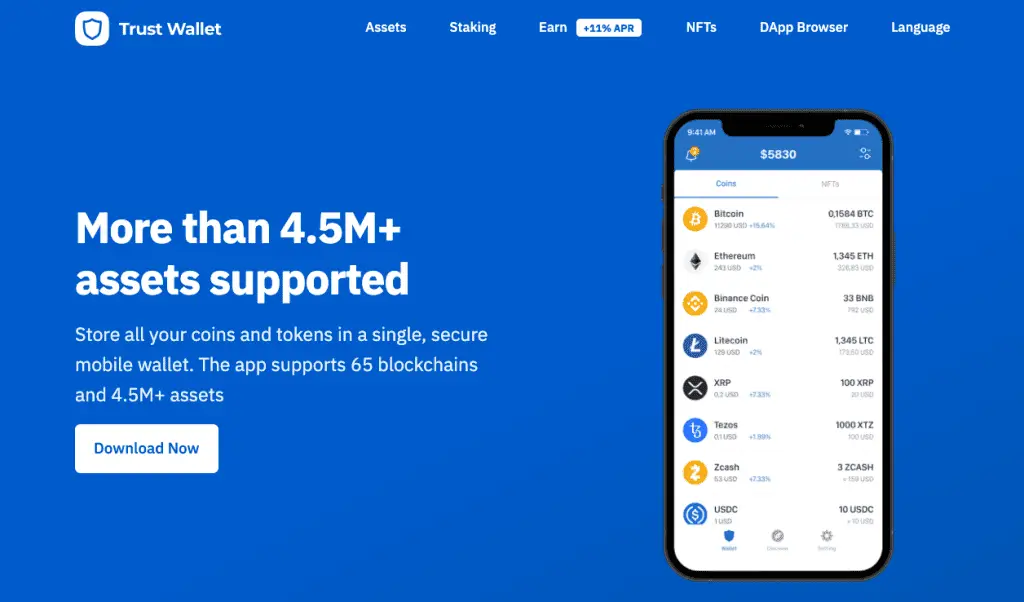 Binance Acquisition
Binance acquired trust wallet in their first public acquisition in July 2018. Stating this was to provide better services and enhanced safety for its users.
Binance said that the acquisition of Trust Wallet "shows the importance of secure wallet technology for the future development of cryptocurrency as a whole". Trust Wallet now integrates this partnership with BSC (Binance Smart Chain).
Trust Wallet Supported Cryptocurrencies
The Trust Wallet supports all the major cryptocurrencies, including Ethereum ERC20 tokens. Overall the crypto app supports more than +160K assets as well as 65 different blockchains.
You can see the current list of cryptocurrencies supported here, and some are also listed below;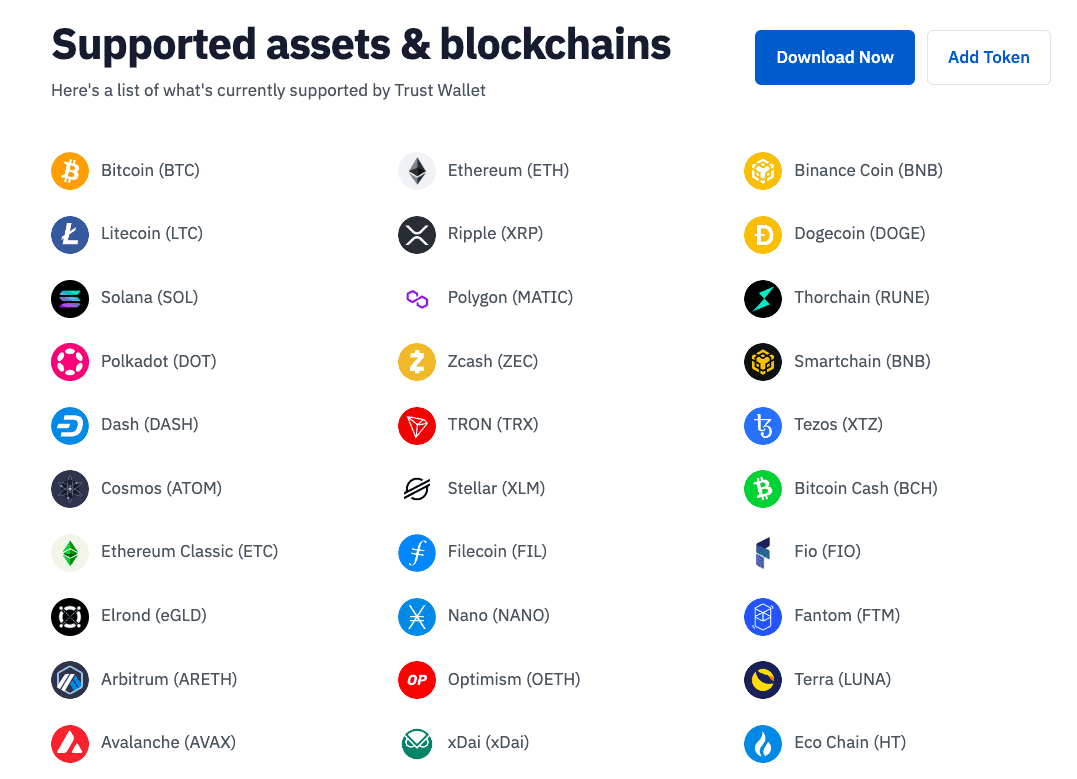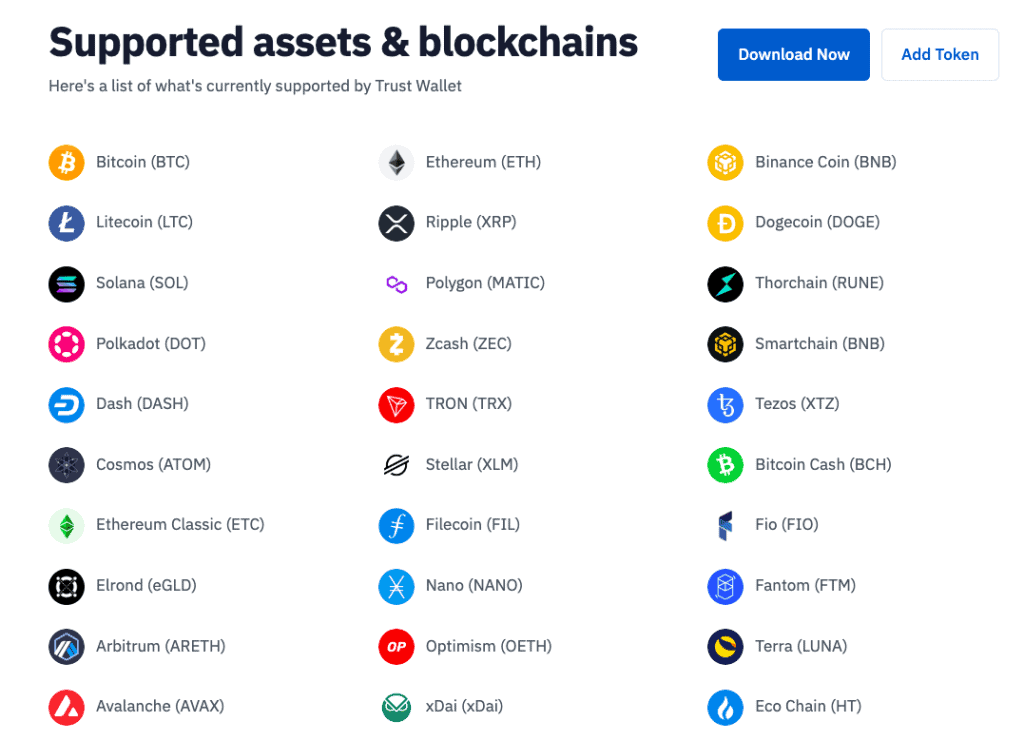 Trust Wallet Fees
When sending or trading crypto, there will always be an associated fee to process the transaction on the network. The fee you pay will vary depending on the network you use. For example, a Bitcoin transaction will have different fees than Ethereum or Binance Smart Chain transactions. Again the amount you pay will fluctuate depending on market demand and network capacity.
Users will be charged fees by 3rd party fiat-to-crypto providers, MoonPay, and Simplex when purchasing crypto with the likes of a credit card. However, Trust Wallet doesn't charge any additional fees on top of these. Nor any additional fees when swapping from one crypto for another in the in-app DEX or when using the DApp Browser to interact with Decentralised applications.
Is Trust Wallet Safe?
The great thing about Trust Wallet is that it is open-sourced, so that anyone can view the code. They are also audited by Stateful, a security firm whose reports can find here.
In terms of user security and privacy, you can store your private keys locally. The app also states that they never store any of your personal information. Should you need to, you can use the wallet backup facility, where you can restore your wallet from an encrypted file using a security key.
If you have been searching for a Trust Wallet Chrome extension on the Chrome Web Store, please avoid downloading this app. Trust Wallet does not currently have a Chrome browser extension like MetaMask.
Features
Trust Wallet has many popular features built into the app and continues to innovate. Below are a few we have highlighted that should appeal to both the crypto newbie and the more experienced investors;
Free to Download & Use
The Trust Wallet is a free-to-use app with no charges to download the app. The only charges incurred as those to the miners for transactions to be processed on the network.
Supports Multi Crypto Assets
Supporting over 65 blockchains means a huge range of supported cryptocurrencies and tokens with the Trust Wallet. It enables users to buy, sell, and trade various coins within a single interface.
Beginner Friendly
Trust Wallet is an easy-to-use app built with the beginner in mind. Starting with the initial download, sending your crypto is made simple with easy addresses, and users can also purchase their crypto with a credit card. Ideal for those just getting started with crypto.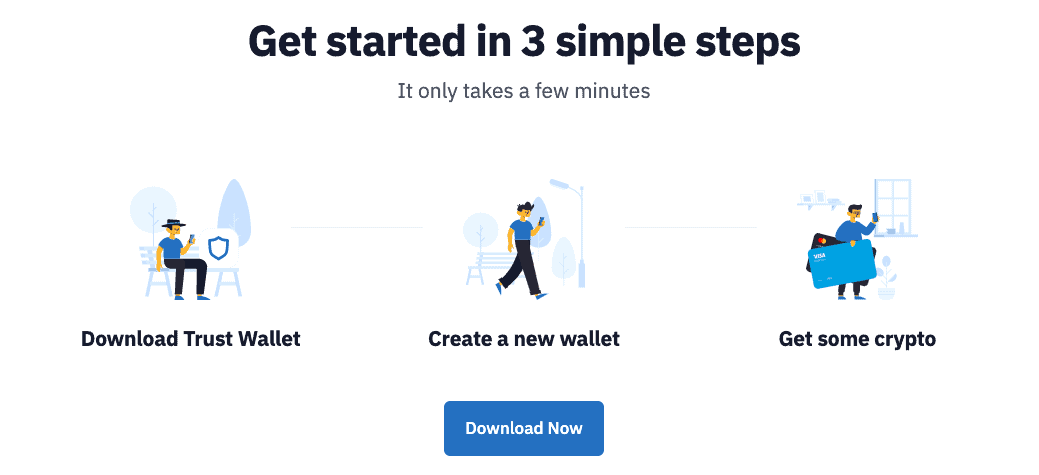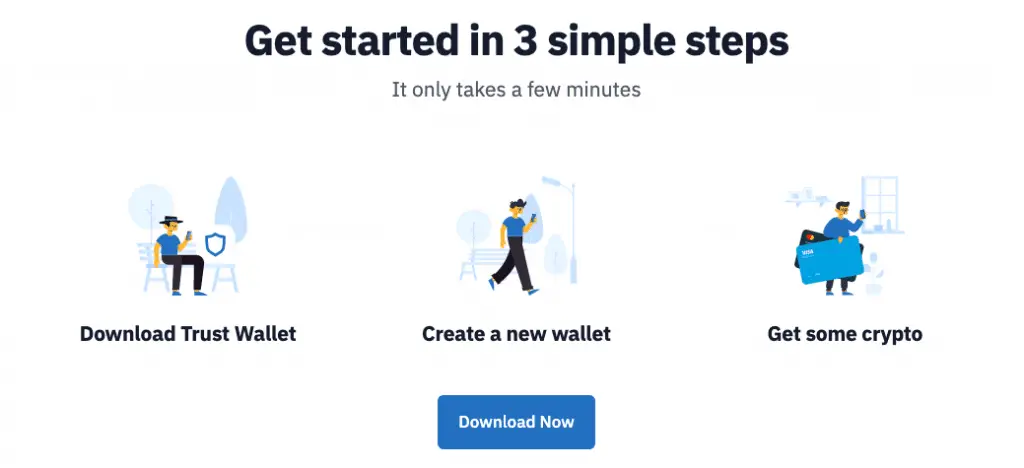 Quickly Buy Crypto with a Debit/Credit Card
Buying your first cryptocurrency is made very simple, with the ability to buy cryptocurrency with your credit card. Meaning you don't need to have any crypto on an exchange like Binance or Coinbase to get started using Trust Wallet.
Simply select the cryptocurrency you want to purchase, enter your credit card details, and your wallet will be topped up in a few minutes.
Please be aware buying Bitcoin/crypto with a credit card isn´t recommended, as you will pay high fees for convenience.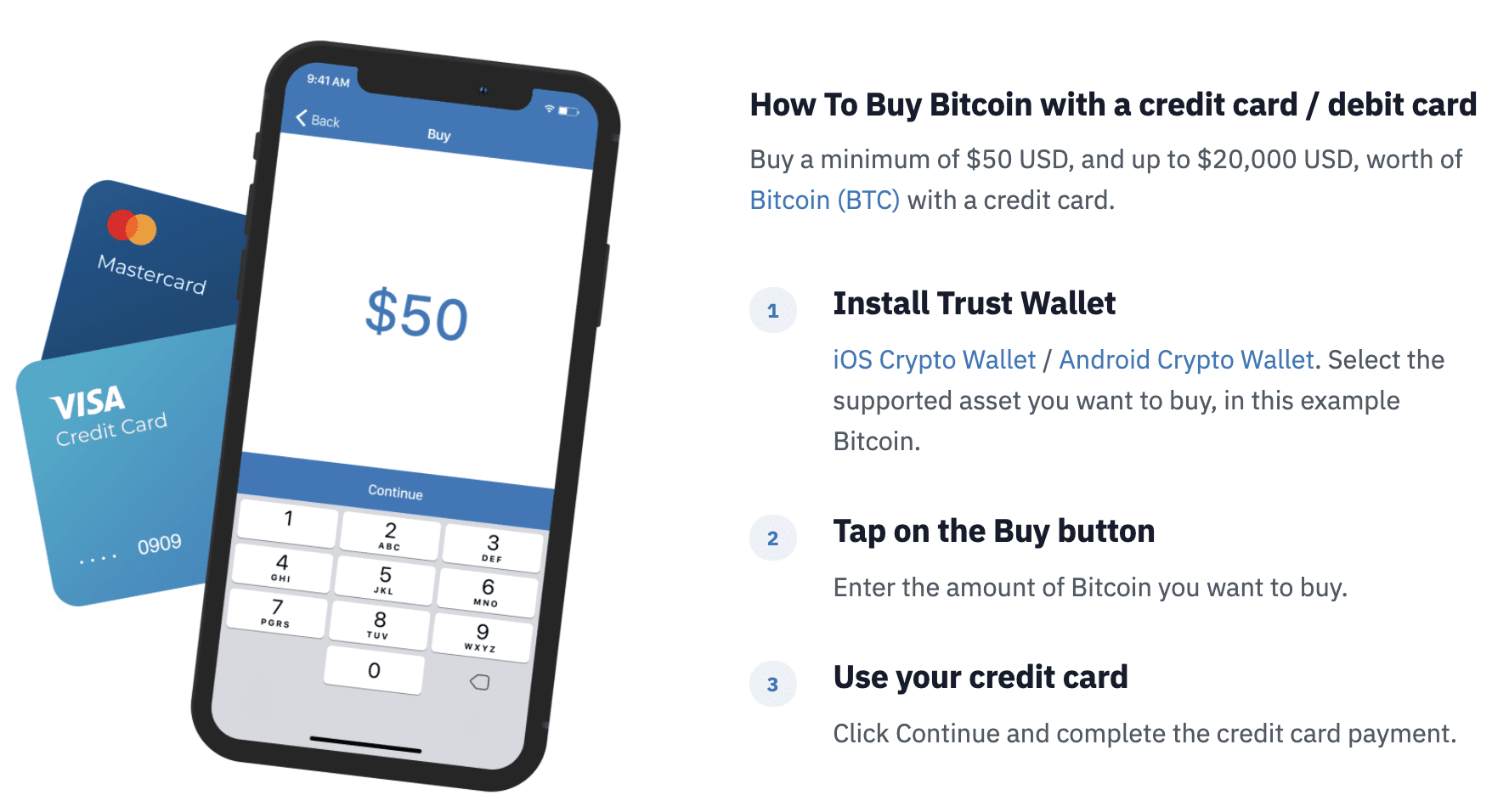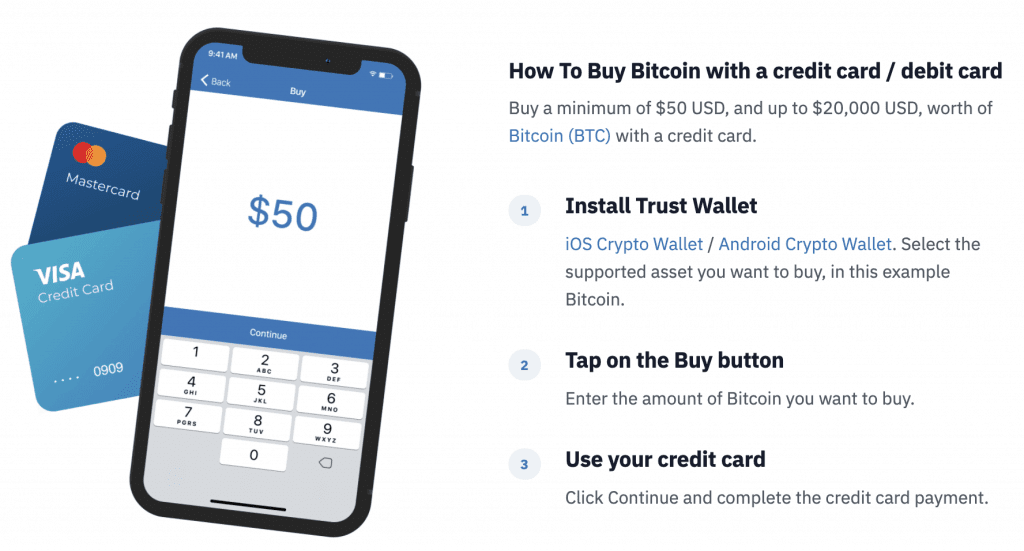 Swap & Exchange Crypto
With the Swap or Exchange functions built into the Trust Wallet, users can easily trade one cryptocurrency for another. This can be done using a simple swap or more advanced trading options using the BinanceDEX.
Earn Interest
Trust Wallet allows users to earn interest on cryptocurrencies by staking the tokens inside the app. This includes receiving variable interest rates with popular cryptos such as the likes of BNB, Tezos, Tron, Cosmos, or Algorand.
DApp Browser
If you're an Android user, you can enjoy an inbuilt DApp browser where you can safely interact with dApps from within your wallet. Connect to decentralized applications such as PancakeSwap or UniSwap without ever having to leave your Trust App.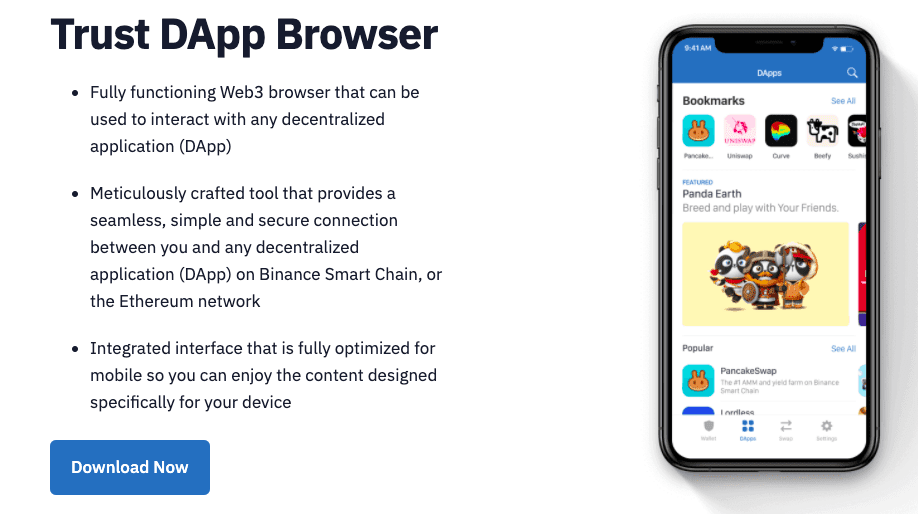 Trust Browser Extension
The Trust Wallet browser extension allows users to interact with DApps directly from their web browser and acts as a companion to the mobile app. This feature is particularly useful for those who are iOS users after Trust wallet had to remove their DApp Browser.
Users can store, send and receive crypto across all Ethereum Virtual Machine (EVM) chains and Solana. Plus, it also includes multi-wallet support, meaning you can import your existing wallets and connect your Ledger hardware wallet for an additional layer of security.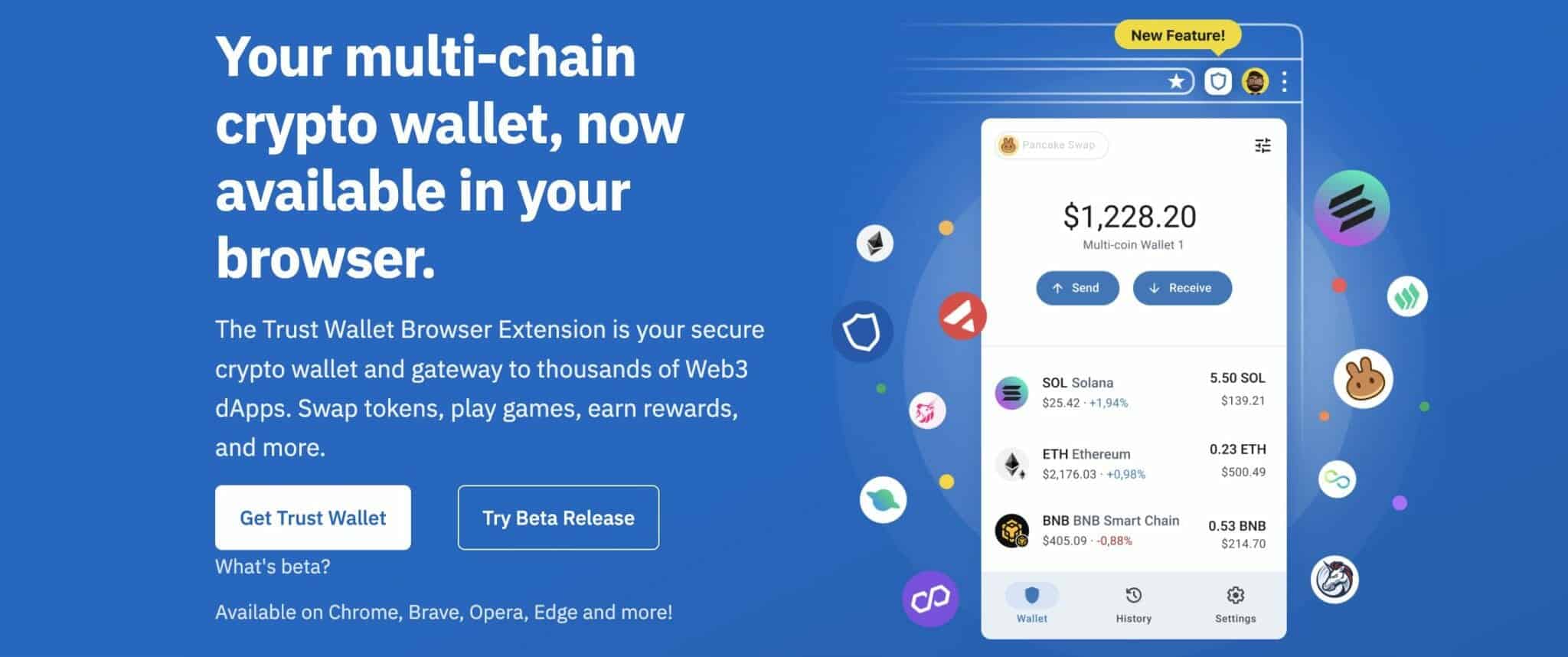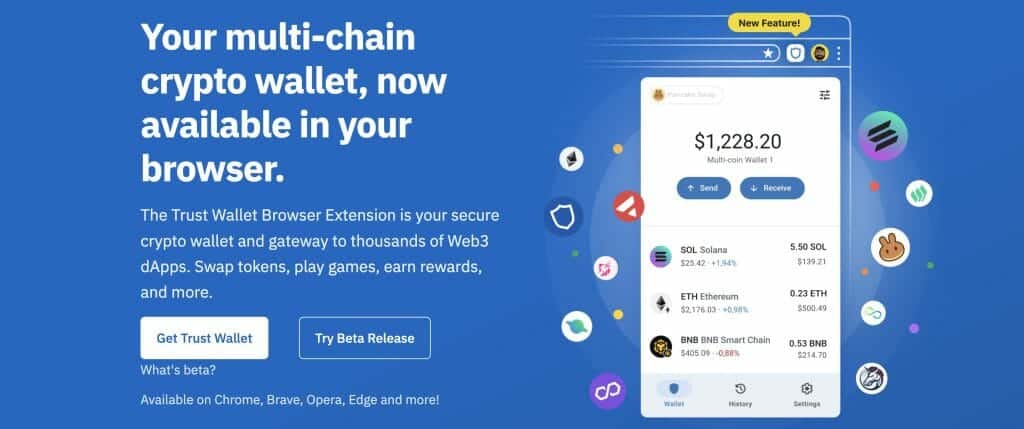 Private & Secure
When you store your crypto within Trust Wallet, you have complete control with access to your private keys. The wallet is decentralized; therefore, no one can access your crypto but you. Plus, no personal data is collected or stored, and your identity is kept safe.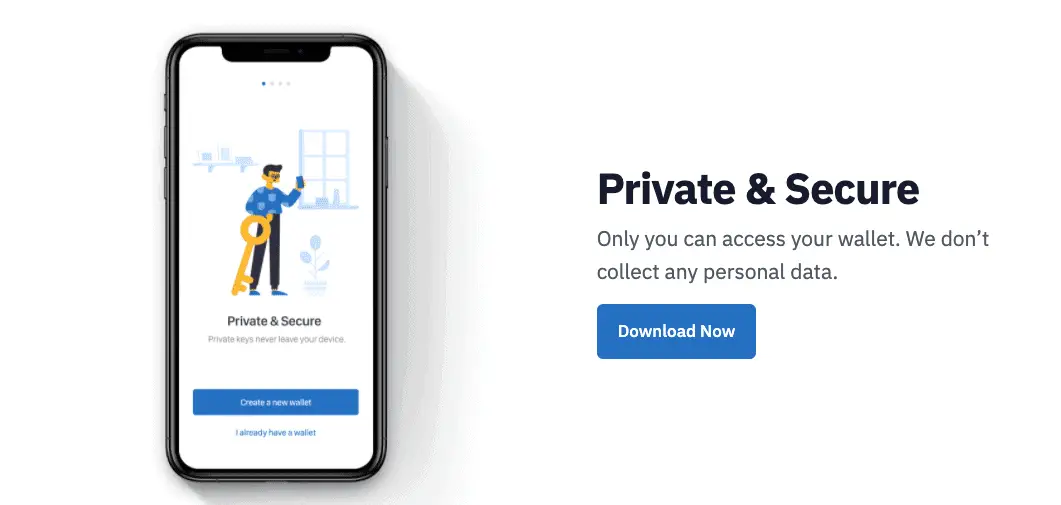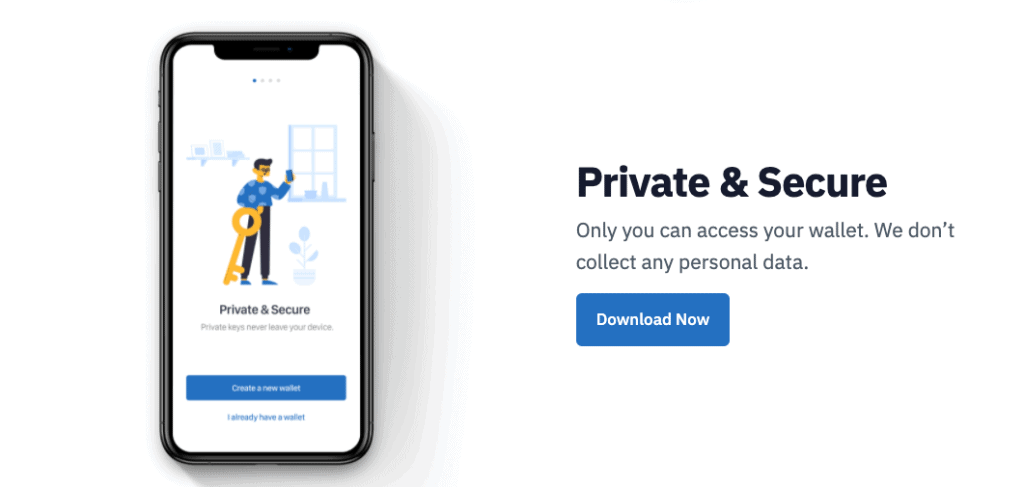 Trust Wallet DApps
The Trust wallet provides access to popular decentralized apps (DApps), including PancakeSwap, UniSwap, and SushiSwap. You can access these sites seamlessly using their DApp Browser or the WalletConnect function.
DApp Browser
DApps integration is a newer feature for the Trust Wallet. You can access Web3 applications on Binance Smart Chain or the Ethereum network with the app. Trust works with the developers of the individual DApps to ensure the best possible user experience. Because of this, each DApp that is integrated has been vetted and optimised for the Trust app.
Unfortunately, Trust Wallet had to remove this feature for their iOS users to comply with the Apple App Store guidelines. However, Android users are unaffected by this.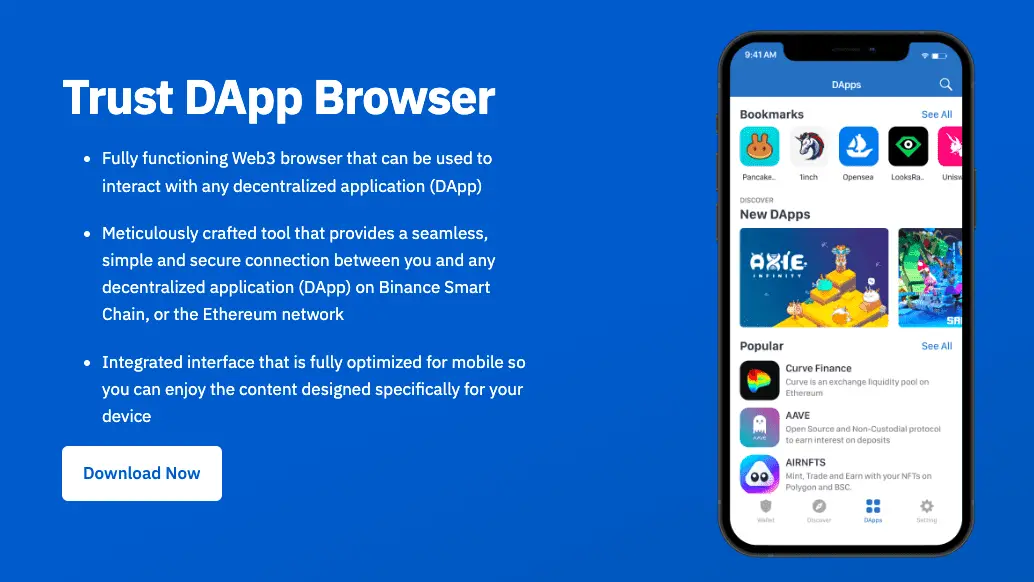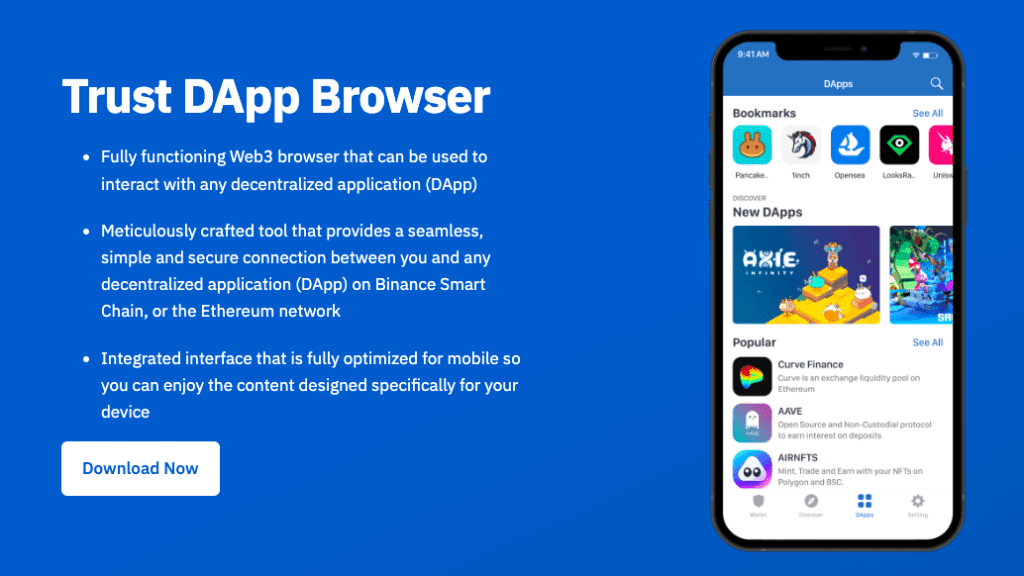 WalletConnect
WalletConnect is an open-source protocol for connecting decentralized applications to mobile wallets with QR code scanning or deep linking. Users can interact securely with any Dapp from their Trust Wallet, making it a safer choice than desktop or browser extension wallets.
Using WalletConnect, you won't be asked for your private key or wallet seed words; please never share this information with anyone.
WalletConnect works with the likes of PancakeSwap, UniSwap, and 1inch Exchange Aggregator.


How to Connect DApps to PancakeSwap
Since June 2021, the DApp (Decentralized Application) browser feature has been completely removed for Apple iOS devices. However, there was a workaround, but this was also later removed. To connect to DApps such as PancakeSwap, you can use the WalletConnect feature. To find out more on how to connect via WalletConnect, please check out our guide and tutorial here.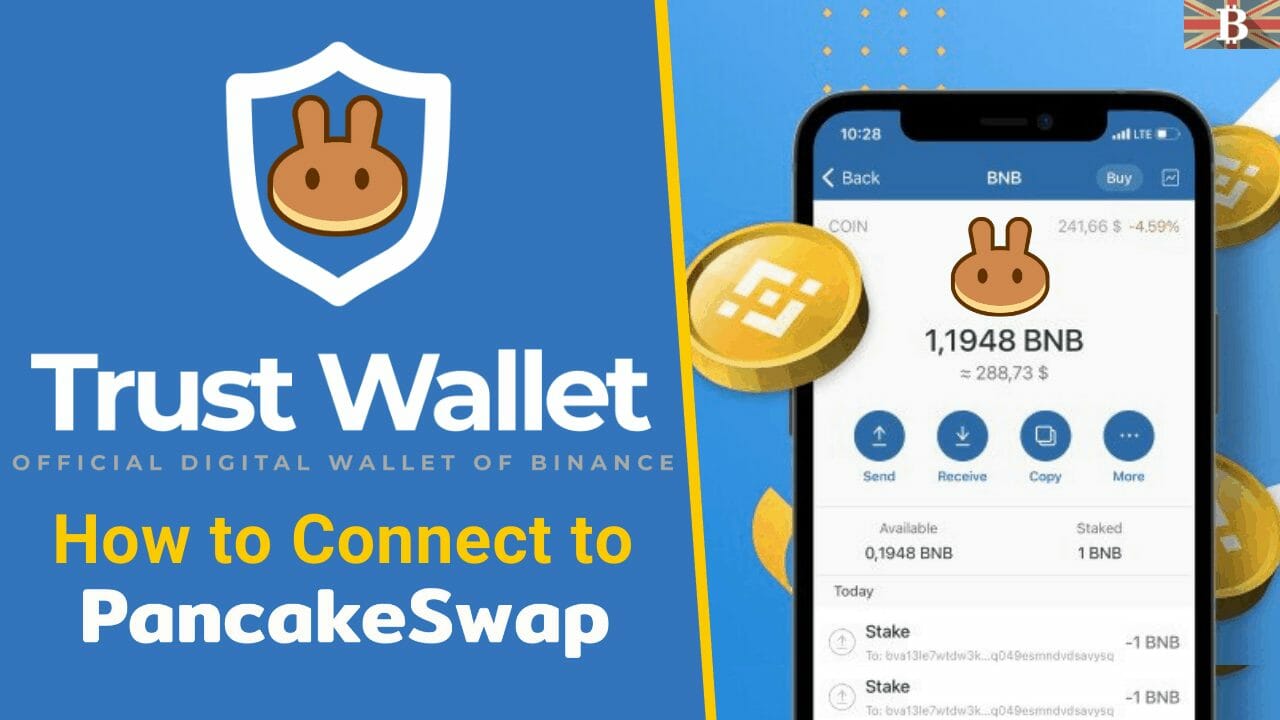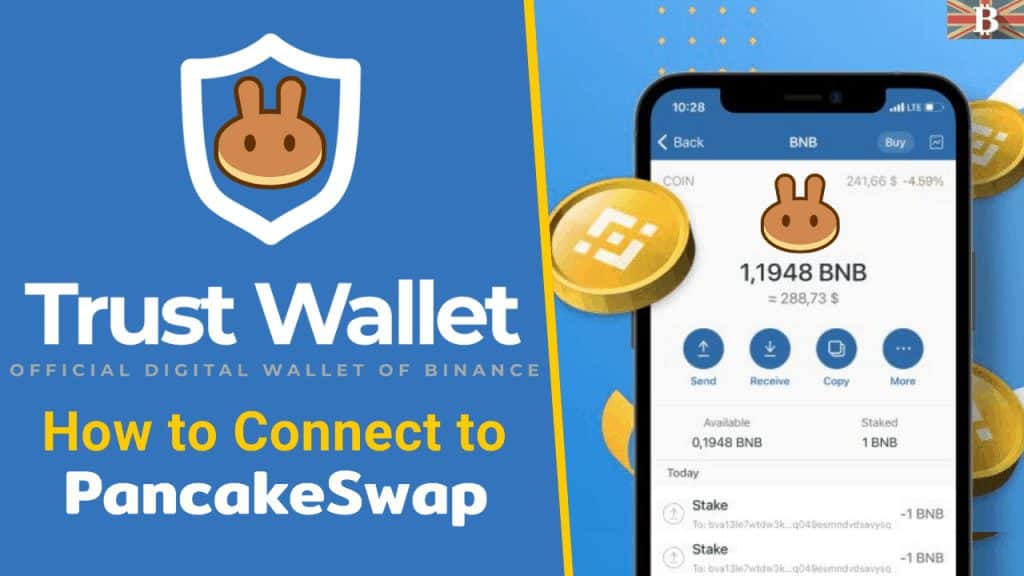 Trust Wallet NFTs
NFTs are also supported within the Trust app. These are 'Crypto Collectables' that are sometimes represented as avatars or computer-generated works of art. These collectables are associated with a public address and are secured on the Blockchain within the wallet.
The Trust App provides an easy way to store and access all your crypto collectables and NFTs with peace of mind and security. Over the last few years, there have been various versions of crypto collectables, such as CryptoKitties, Decentraland, and Lordless. Plus, more recently, there's been a rise in interest in NFTs.
To store your NFTs or collectables within the app, simply click "Receive". You'll be prompted with a QR code and address to send across to.
Interested in creating your own NFTs? Check out our guide on Rarible and how to create and sell NFTs.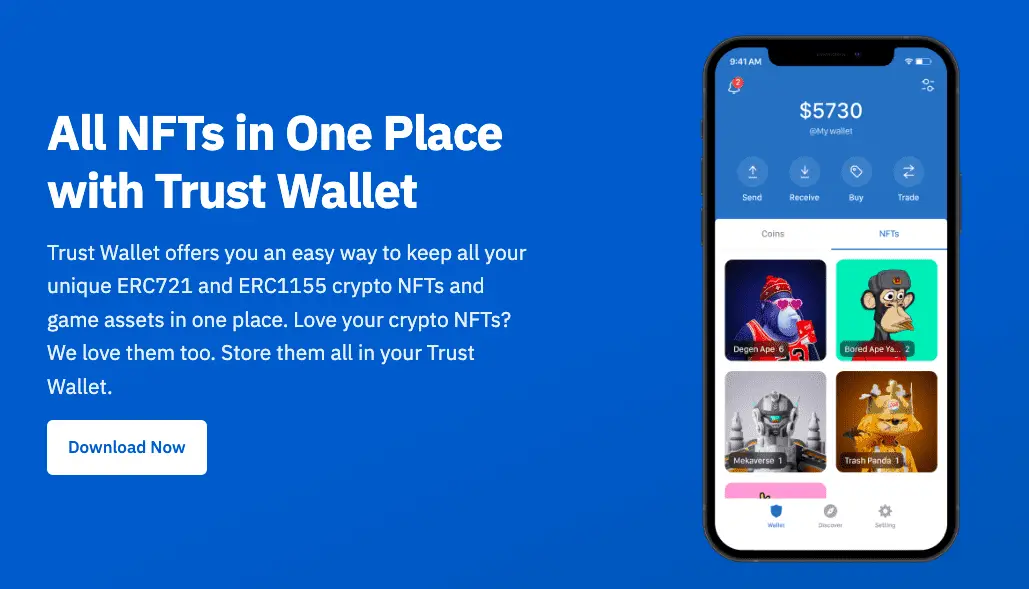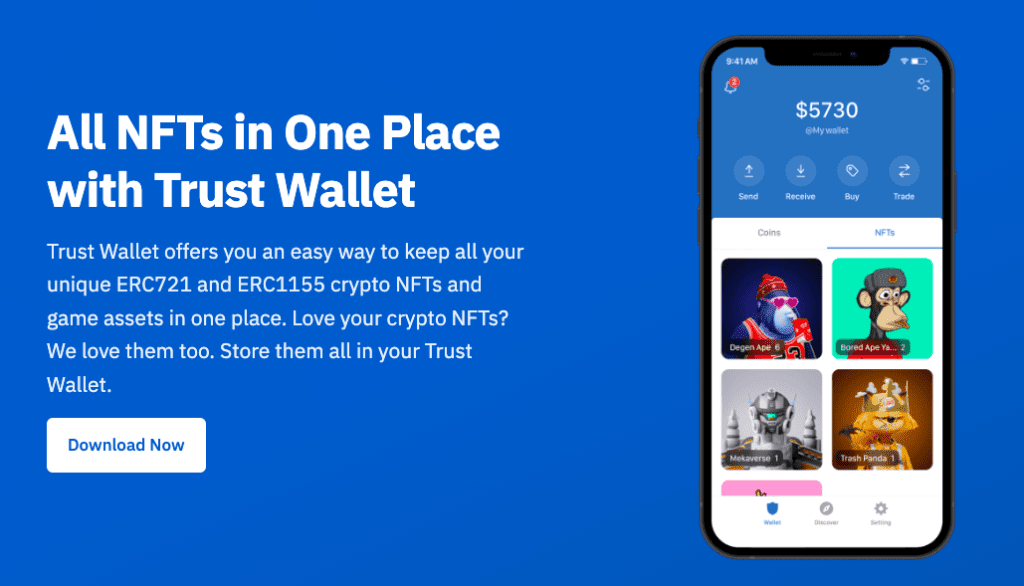 Trust Wallet Staking
One of the reasons I personally use the Trust app is its staking feature. Where I currently stake my Binance BNB tokens and earn +7.5% APY. When staking BNB on Trust, the APY will depend on the validator you choose, which changes over time.
Staking is beneficial for earning interest on your crypto or having a say in the governance of a particular coin. Unfortunately, not every token is available to stake and earn rewards.
You can currently stake; EVMOS, DOT, SOL, KAVA, OSMOSIS, COSMOS, BNB, TOMO, XTZ, and TRX.

If you're interested in how to make money from the Trust app, you can check out their Staking Calculator, which will provide you with an estimate of daily, monthly, and yearly earnings.
When staking, you'll need to choose the validator to which you'd like to delegate your stake. You can view a list of validators and their current rates. It's worth researching who these validators are before staking with them.
Just be aware that when you're staking your tokens, you won´t be able to withdraw or exchange them, as they'll be locked for a set period. 
How to Unstaking with Trust Wallet?
The process of un-staking your tokens can only be done after ten days of the last staking transaction. The un-staking of your tokens will stop the rewards from being generated. Once the un-staking is confirmed, your tokens will be transferrable.
Trust Wallet Token (TWT)
Trust Wallet Token or TWT was relaunched in October 2020 as a BEP-20 token on Binance Smart Chain, providing benefits and incentives to Trust Wallet users.
Holders of TWT tokens unlock a variety of benefits when using Trust Wallet. These include discounts on in-app purchases and on the use of decentralized exchange services. TWT holders can also participate in the governance of the Trust App and vote on updates and proposals, helping to shape the app's development.
Trust Wallet Support
Trust Wallet does not have a dedicated support team like many similar decentralised applications. This is one of the biggest downfalls I personally find with the Trust App. However, they have a relatively in-depth "Help Centre" available online, including a predefined list of Frequently Asked Questions. Support tickets can be raised through their help centre, with a response expected within 2-3 business days. Although we haven't had to raise a support ticket, I've heard that responses can be slow.
When searching Trust Wallet reviews on Trustpilot, the majority are negative, with a Bad score of 1.5/5. However, Trust App reviews on the Apple App Store and Google Play fair are much better, with an impressive 4.7/5, 110k reviews and 4.5/5 with a huge 410k views.

Verdict: Should you use Trust Wallet?
We have been using Trust Wallet for several years and love how simple and easy it is. We mostly use the Trust app to stake our BNB tokens and have previously earned between 10% to 40% APY. Although this has now reduced to 7.5%.
Trust Wallet is free to use, beginner-friendly, and has some great features, especially if interacting with the Binance Smart Chain. So, it's definitely up there with Exodus wallet as one of our best free crypto apps.
I prefer to use our Ledger and Trezor hardware wallets, which come at a cost. Plus, I never like to rely on a single wallet to hold all my crypto assets and prefer to spread the risk.
Personally, we haven't had any issues, but not having issues resolved in a reasonable timeframe can quickly lose customer confidence. So it would be nice to see them increase their level of customer support.
We hope you enjoyed our Trust Wallet review; if you have already tried Trust App, let us know what you think in the comments below. If not, try Trust Wallet for yourself and download it here.
Related Posts