This guide will explain how to add Binance Smart Chain to MetaMask so that you can connect to DApps on the Binance Smart Chain (BSC), such PancakeSwap.
MetaMask has always been the go-to wallet for accessing the Ethereum network. However, you can add Binance Smart Chain (BSC) to MetaMask and interact with supported DApp and DEXs. Users have become increasingly frustrated with the sky-high Ethereum GAS fees. One way to avoid Ethereum altogether is by using the Binance Smart Chain.
So, let's dive into how to connect Binance Smart Chan to your MetaMask wallet.
How to Add Binance Smart Chain to MetaMask (Desktop)
To add Binance Smart Chain (BNB) to MetaMask is a simple process but will require you to enter the below details of the Binance network into your Metamask wallet. If you don't already have Metamask, you can check out our beginner's guide on downloading and setting up a Metamask wallet.
Download MetaMask & Create a Wallet
Add Network to Networks
Add BSC to MetaMask
Save BSC Network on MetaMask
Deposit Tokens to Pay for GAS Fees
This guide will explain how to connect Binance Smart Chain to MetaMask. You will be provided with all the details you need to add to Binance Smart Chain to your MetaMask wallet.
For more information on the Binance Smart Chain, you can also check out the Binance Academy.
Total Time: 15 minutes
Download MetaMask & Create a Wallet
– To add Binance Smart Chain to Metamask, make sure MetaMask is installed on your device.
– You can download the Metamask wallet from https://metamask.io/.

Add New Network to MetaMask
– Open your MetaMask wallet & click the dropdown arrow beside "Ethereum Mainnet", then select "Add Network".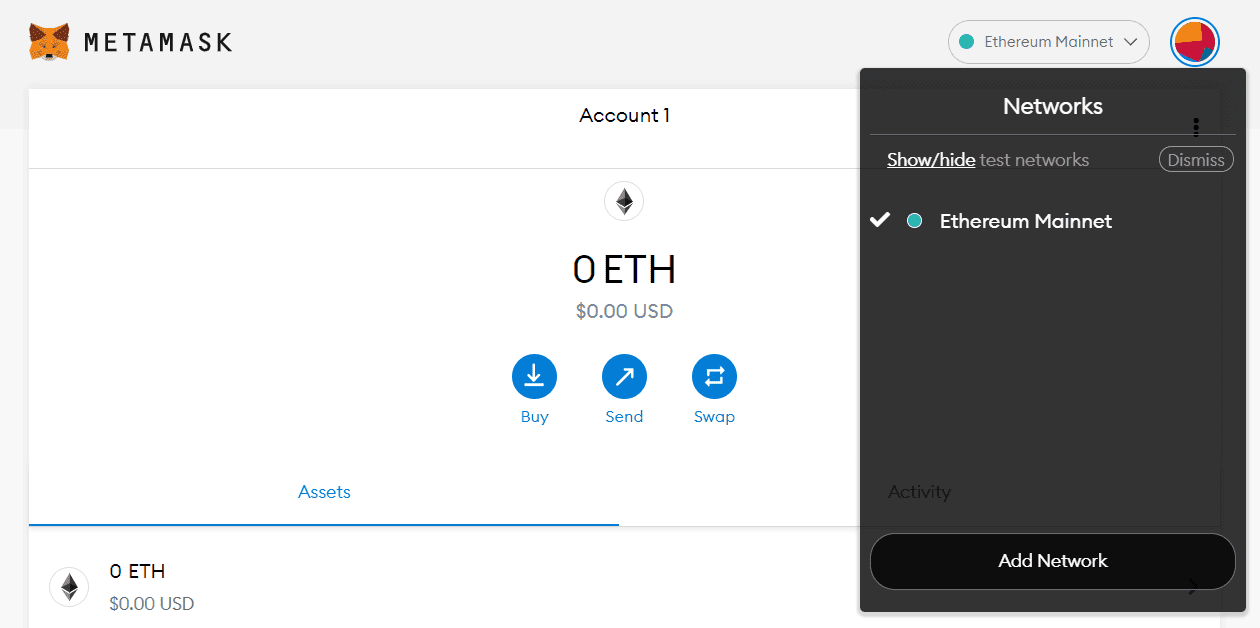 Add Binance Smart Chain to MetaMask

– You will need to copy or paste the information below to the appropriate box in MetaMask. You may use the image below for reference.
– You can double-check the network details withBinance Academy.
– Network Name: Smart Chain
– New RPC URL: https://bsc-dataseed.binance.org/
– Chain ID: 56
– Symbol: BNB
– Block Explorer URL: https://bscscan.com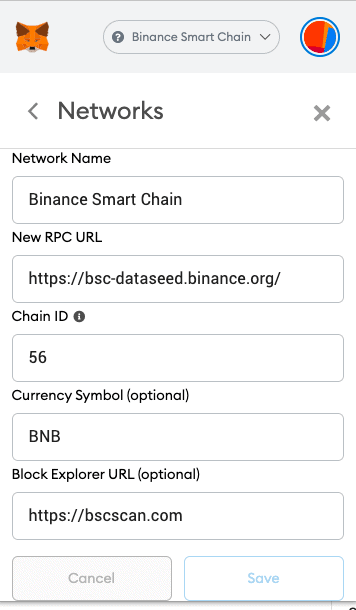 Save BSC Network to your MetaMask Wallet
– After adding the Binance Smart Chain network into MetaMask, click "Save".
– Congratulations! Binance Smart Chain will now be connected to MetaMask
Deposit BNB Tokens
– You will need BNB tokens to pay for transaction fees on the BSC network.
– Please send BNB tokens across to MetaMask on the correct network.
How to add Binance Smart Chain to MetaMask (Mobile)
The process of connecting BSC to the MetaMask mobile app is similar process to the step mentioned in the desktop guide.
Here's how users can connect BSC to MetaMask mobile
Open the Metamask Mobile app
Go to the settings tab & click "Network"
Click on "Add Networks"
Select "Add BSC Network"
Binance Smart Chain Networks
You can connect your MetaMask wallet to either Binance Smart Chain "Testnet" or the "Mainnet".
Binance Mainnet
Network Name: Smart Chain
New RPC URL: https://bsc-dataseed.binance.org/
ChainID: 56
Symbol: BNB
Block Explorer URL: https://bscscan.com
Binance Testnet

What is MetaMask?
MetaMask is a popular cryptocurrency wallet and browser extension. Traditionally used on the Ethereum network, MetaMask can also be customized to connect to the likes of Binance Smart Chain, Polygon and Avalanche Network.
MetaMask serves as a bridge between the user's web browser and the BSC, providing a convenient and user-friendly interface for managing assets, sending and receiving cryptocurrency, and interacting with DEXs and DApps.
MetaMask is available as a browser extension for the likes of Chrome, Opera, and Brave and a mobile app for iOS and Android devices.
If you want to learn more about MetaMask, check out our Metamask beginners tutorial.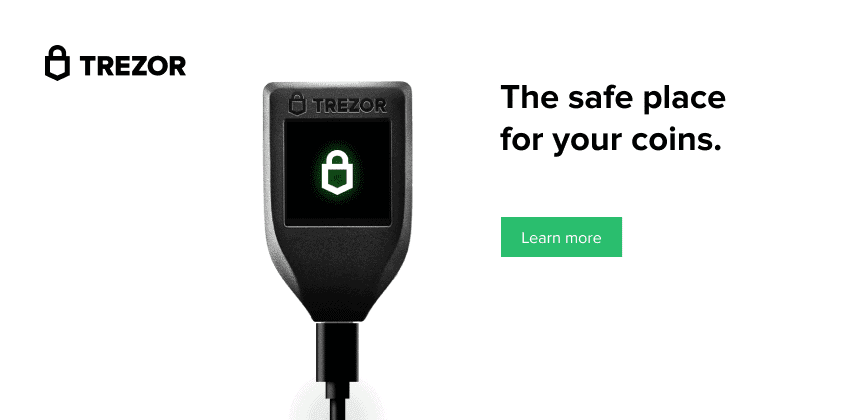 What is the Binance Smart Chain (BSC)?
The Binance Smart Chain, also known as BSC, is a blockchain created by Binance for developing high-performance decentralised applications. Binance already had the Binance chain created to issue, use and exchange digital assets on the blockchain. They had optimised this for ultra-fast trading, which meant they had to make certain trades off's, one of which was it wasn't as flexible in terms of programming as other blockchains.
Therefore, the Binance Smart Chain was built to change this whilst also running alongside the Binance Chain to ensure that users could get the best of both worlds.
Due to the affordability and speed of transactions on the Binance Smart Chain, a number of Decentralised Applications (DApps) now run on the Binance Smart Chain. These include the likes of PancakeSwap, Ramp Defi and Paraswap.
Getting an error when trying to buy or swap tokens on PancakeSwap? Find out How to Fix "Insufficient Output Amount" on PancakeSwap.
Binance BNB Tokens
The Binance Coin (BNB) was launched by Binance Exchange in 2017 as an ERC-20 token on the Ethereum blockchain. However, BNB is now the native currency of Binance Smart Chain (BSC).
BNB has several uses, including reduced trading fees, increasing your Binance account tier, and spending as a cryptocurrency. Plus, it's also used to pay for fees on the Binance Chain.
The Binance Coin BNB has seen huge growth since its launch, which has been helped along by several rounds of token burn events. BNB is currently sitting at the number 3 spot on CoinMarketCap and can be traded in over 300 trading pairs across 120 exchanges, including the likes of Binance Exchange, FTX and Huobi Global.
https://widgets.coingecko.com/coingecko-coin-ticker-widget.js
How to Send BNB to Binance Smart Chain on MetaMask
To transfer BNB tokens from Binance Exchange to Metamask, you must follow the steps above in this tutorial. Once that's completed, you can then follow the below to send BNB.
Go to your Binance wallet within the exchange, select Binance (BNB), and click "withdraw".
Open MetaMask on your browser. Make sure you select the Binance Smart Chain network before copying your address.
Paste the MetaMask address you copied in the address field on Binance Exchange. Choose the Binance Smart Chain (BSC) Network and, enter the amount you want to transfer, then submit the transaction.
I recommend using 2FA as an extra layer of security, so if you have this in place, you should be asked to confirm the transaction. If you don't have a YubiKey, I recommend looking into this to increase security.
Once you have completed security verification, you should receive a withdrawal confirmation email.
As the transaction was sent via Binance Smart Chain, the transaction should go through within a few minutes and at a very low transaction fee.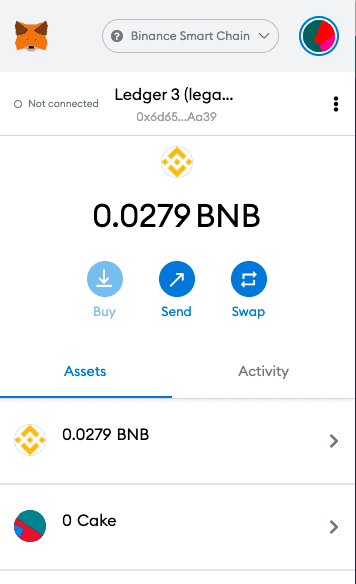 Binance.US
Unfortunately, Binance.com isn't available for users who live in the United States and are instead permitted to use Binance.US. Some of the downfalls with Binance.US is the number of trading pairs available and the ability to swap or take part in liquidity farming on PancakeSwap or BakerySwap.
However, Binance has released a Binance Chain Wallet extension for chrome browsers that works for both the Binance Chain (BC) and Binance Smart Chain (BSC). However, users have experienced issues when using the Binance Chain Wallet, so just be curious when using this.
Another option I believe you can get around this is by disguising your location by using a VPN like ExpressVPN. This is a risk and not something I would recommend.


How to Bridge Binance Smart Chain Tokens?
If you're looking for ways to bridge your tokens. There are a few different ways to move your assets cross-chain. If you have a Binance account, you can withdraw your tokens on your required network. Alternatively, you can use sites such as the Celer cBridge that allows you to bridge your tokens from multiple chains such as Ethereum, Abitrum or Binance Smart Chain.
Just be aware that if you are bridging from the Ethereum network, you will need to pay the transaction fees in ETH, and at the time of writing this article, these are very high.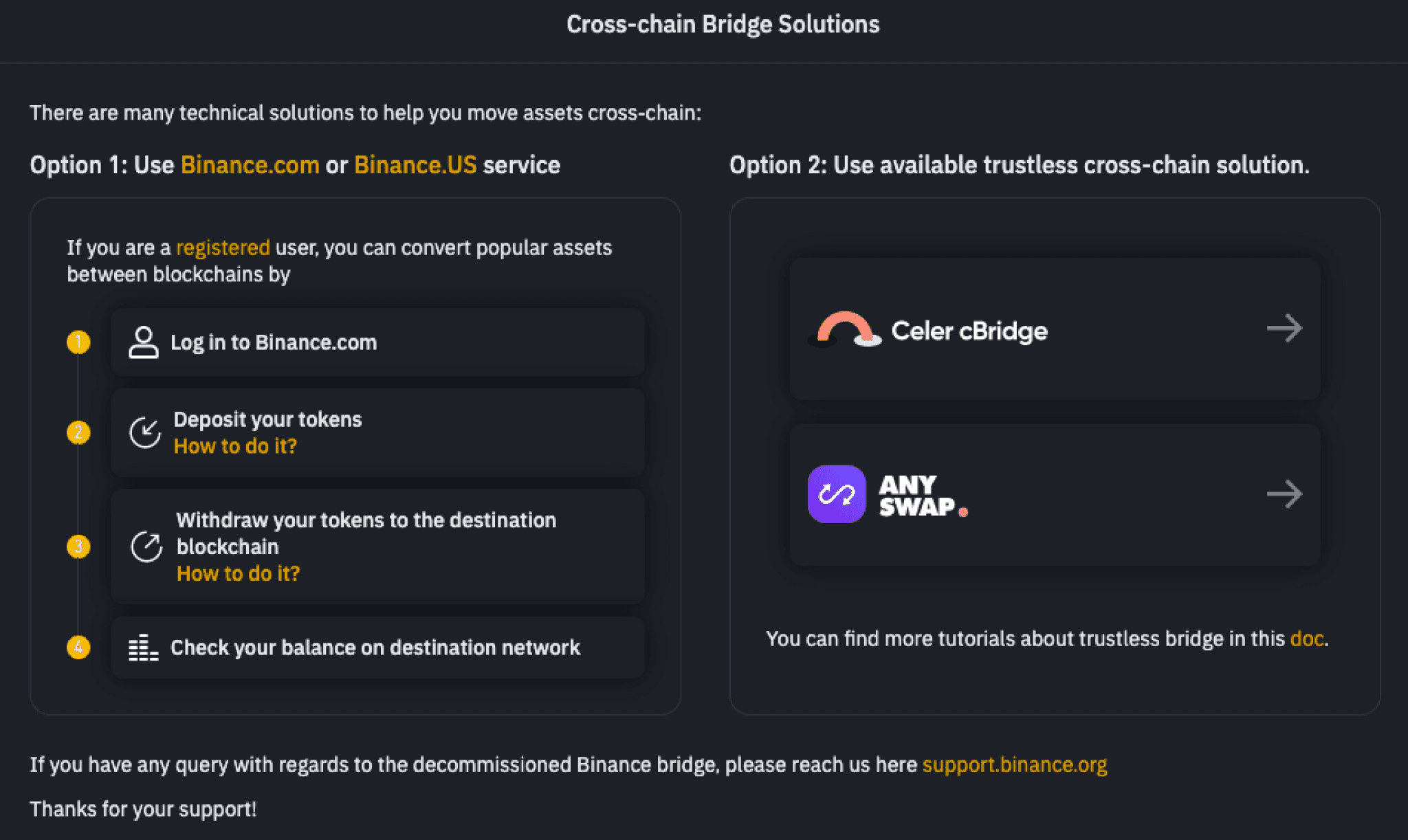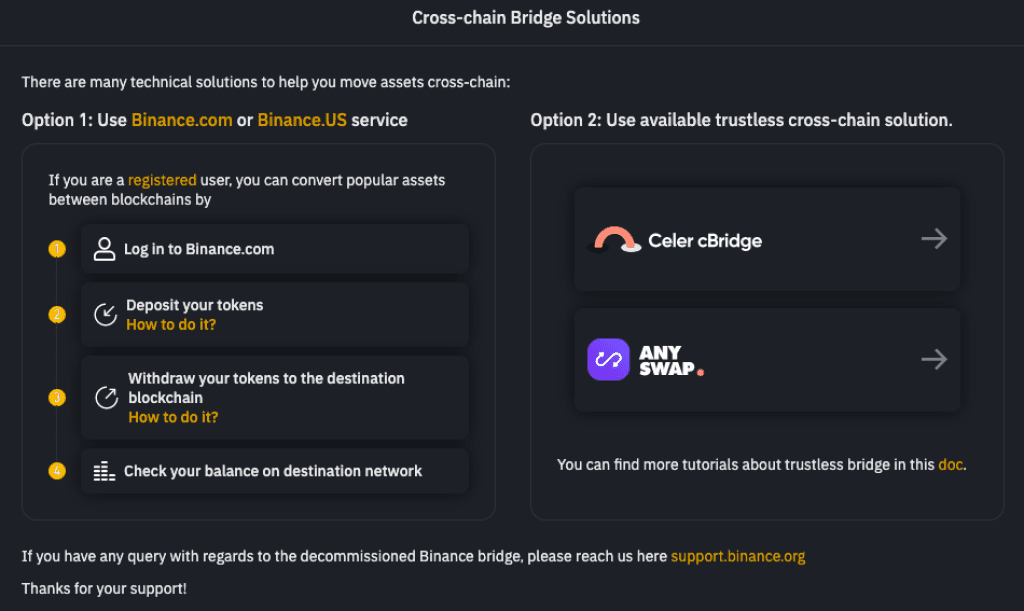 Related Posts