In this Pangolin review, we'll take a look at the popular Pangolin decentralized exchange (DEX) for Avalanche and Ethereum assets with fast settlements and low transaction fees. We'll take a look at the fees, supported tokens, how to connect Pangolin to MetaMask wallet. Plus how to claim your free PNG tokens from the Pangolin airdrop.
What is the Pangolin Exchange?
Pangolin is a community-driven decentralised exchange (or DEX) supported by Ava Labs for Avalanche and Ethereum assets.
The DEX uses the same automated market maker (or AMM) model as the likes of UniSwap, but is built on the Avalanche network. By using the Avalanche network instead of the likes of Ethereum, not only is fully compatible with Ehtereum assets and tooling but it helps to improve the user experience by being faster, with higher throughput and reducing fees.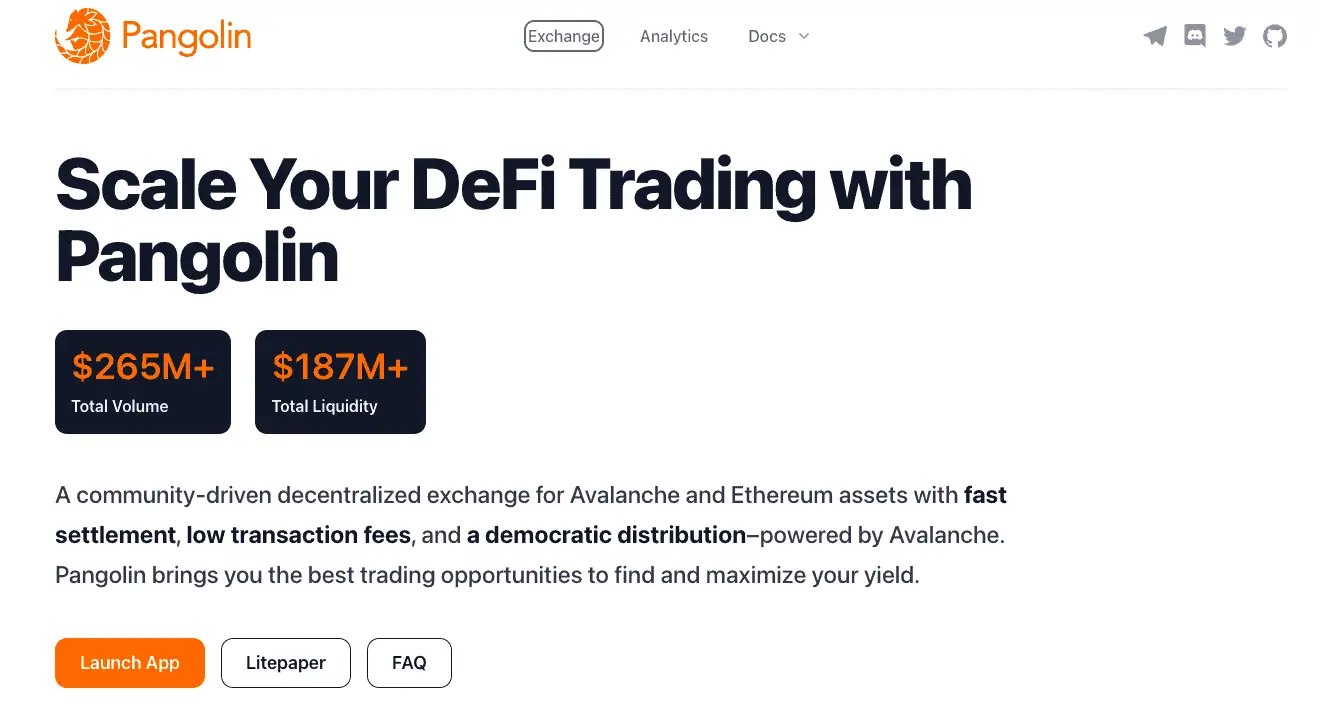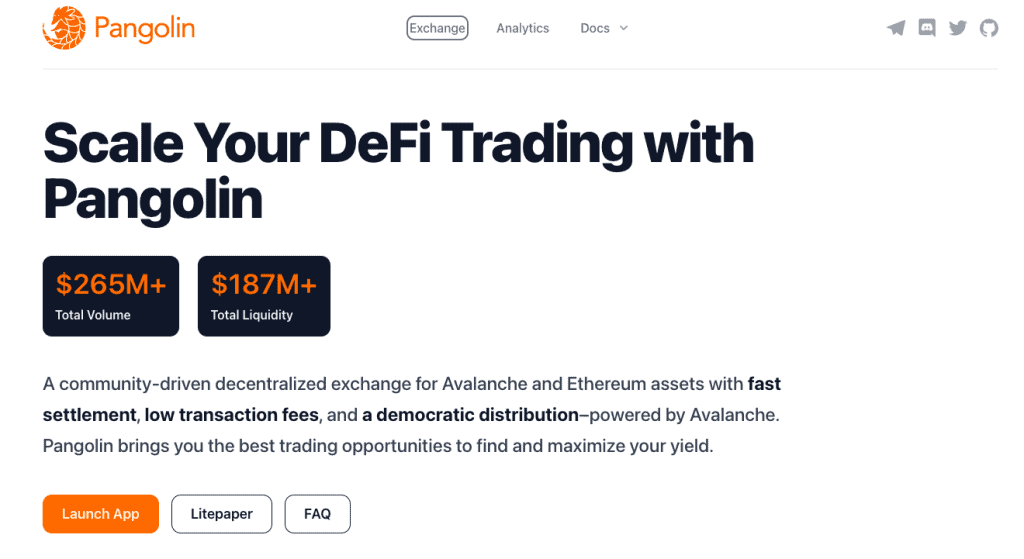 Etheruem based assets can be transferred to Avalanche via the Avalanche/Ethereum Bridge. This allows users to yield assets such as Uniswap, Aave, ChainLink and Wrapped Bitcoin across 2 blockchains.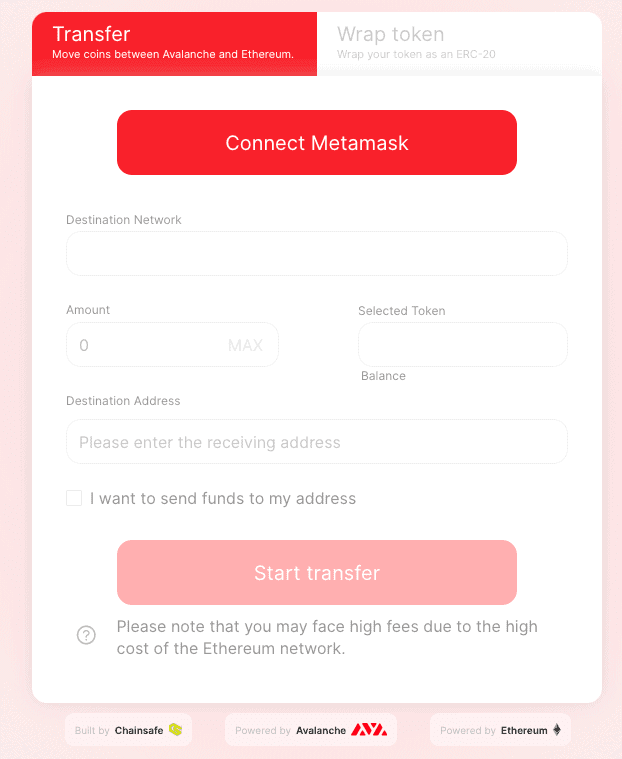 What is Avalanche Network?
Avalanche enables people and enterprises around the world to build decentralised solutions at scale. Whilst Ethereum is "currently" using proof-of-work, it's struggling to scale participation without incurring massive fees and network congestion.
However, Avalanche is the first smart contracts platform that confirms transactions in under one second. It supports the whole of the Ethereum development tool kit and enables millions of independent validators to participate as full block producers.
Their native token Avalanche (or AVAX) is then used to secure the network through staking, to transact peer-to-peer and pay fees.


Pangolin Supported Wallets
At present, you can only connect a MetaMask wallet to the Pangolin platform. However, MetaMask must be connected to the Avalanche Network.
How to Connect Avalanche Network to MetaMask
To use the Pangolin DEX you'll need to have a compatible wallet. One compatible wallet is Metamask, however, you will first need to manually connect the Avalanche network to Metamask.
To set up the Avalanche network on your MetaMask wallet;
Open your MetaMask Wallet
Click "Ethereum Mainnet" in the top center
Choose "Add Network"
Enter the following details:

Network Name: Avalanche Network
New RPC URL: https://api.avax.network/ext/bc/C/rpc
Chain ID: 0xa86a
Symbol: AVAX
Explorer: https://cchain.explorer.avax.network/

Click "Save".
Pangolin Fees
With Pangolin, the trading fees are 0.3%. All tokens are distributed to the community and Pangolin direct trading fees (0.3%) to liquidity providers.
As there are no order books there are no deposit or withdrawal fees, but you will need to pay transaction fees for interacting with the Avalanche Network. These transaction fees are paid in AVAX but are currently low, especially compared to the likes of the gas fees on the Ethereum network.
Pangolin PNG Tokens
The Pangolin token (PNG) is capped at a supply of 538 million tokens. The first 95% of PNG are dedicated to the community treasury, where it will be used to fund liquidity mining. The remaining tokens are dedicated to the community airdrop which is valid 1 month after Pangolin's launch.
Pangolin Support
If you have a support query, they have a detailed FAQ section with tutorials and step by step guides for you to follow. You can also contact Pangolin via their social media channels, such as Telegram, Discord, Github or Twitter.
Pangolin PNG Airdrop
If you held either Uniswap (UNI) or Sushiswap (SUSHI) tokens in a wallet before December 7th 2020, you could be in for a free airdrop. During the airdrop, you'll be able to get free PNG tokens.
To qualify you'll need to have held UNI or SUSHI on Ethereum on December 7, 2020, and you'll need access to that wallet. Plus you have to own one UNI or SUSHI on Avalanche with the same wallet that held the tokens. Which you can get either through the Pangolin Exchange or Bridge. 
Also, the claim must also be made within one month of Pangolin's launch.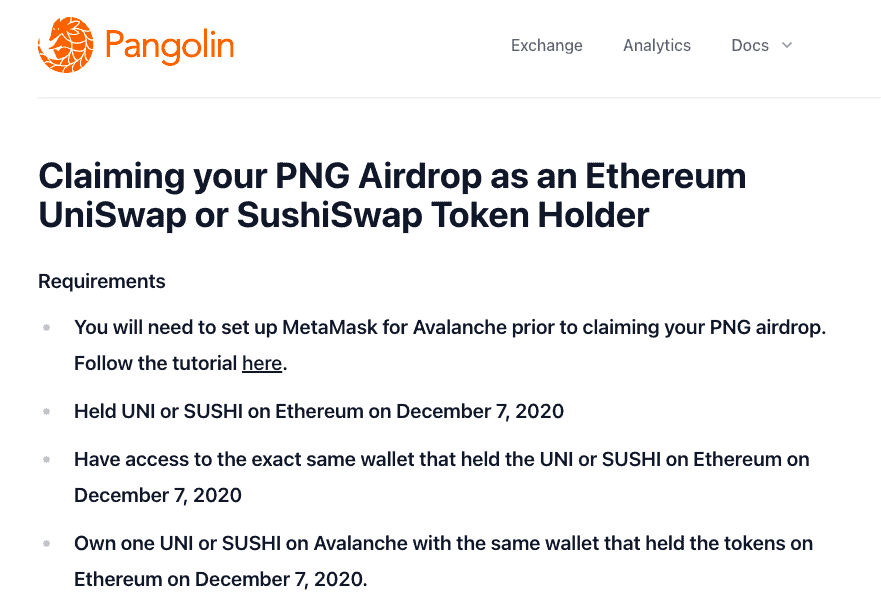 Pangolin PNG Airdrop Step by Step Guide
To get started, you'll need to do is locate the wallet where you had your UNI or SUSHI stored on December 7th 2020. This wallet will need to be connected to the Avalanche network. If you're not too sure how to do this, please see my guide above.
Then head across to Pangolin.exchange, connect your wallet and click onto the Airdrop tab to see if you qualify for any PNG tokens as part of the airdrop.
In order to claim your PNG, you need to have one UNI or SUSHI on the Avalanche network which you may not already have.  However, unfortunately, you cant just send across 1 SUSHI or 1 UNI straight over to our address as we're on the Avalanche network.

There are a few different ways around this. One way is to transfer your tokens across is using the avalanche bridge. However this does interact with Ethereum and with the gas fee being so high, it might not make claiming this airdrop worthwhile for some people.
Alternatively, you can trade for one UNI or one SUSHI on Avalanche using the Pangolin site.  But first, you'll need to have some tokens on the Avalanche network to trade with (and some AVAX to pay for the fees).  AVAX can be found on exchanges such as OKex, Binance or Bitfinex.
When you have your AVAX you'll need an Avalanche Wallet to withdraw your tokens to. Which you can create over at wallet.avax.network.
Once that's created, you have 3 addresses (X,P and C). You'll need to use the X chain address to receive your funds which is where you'll send your funds to.

When the transfer to your Avalanche wallet is complete, head to "Cross Chain" on the left. From here we are going to be transferring our tokens between Exchange and C which is contracts. 
The source chain will remain the same (as X chain) as that's where our tokens are, but the destination will need to be changed to C chain contract. Then send across you tokens, which will export from the X chain and imported onto the C chain.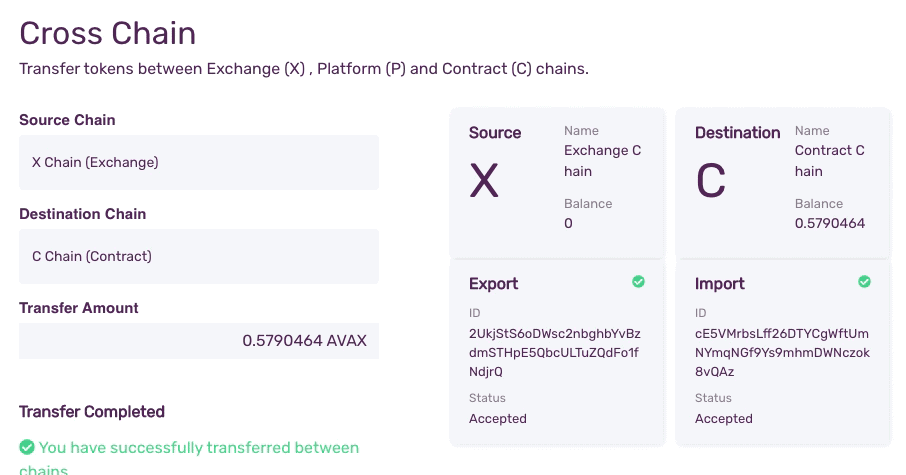 Once complete, choose "Send" on the left and from the source chain you click from "X" to "C". Copy your address (that's on the Avalanche Network) from within MetaMask. And send your tokens across.
Please note that when sending on the Avalanche network the gas price MUST remain at 470 otherwise this transaction won't process.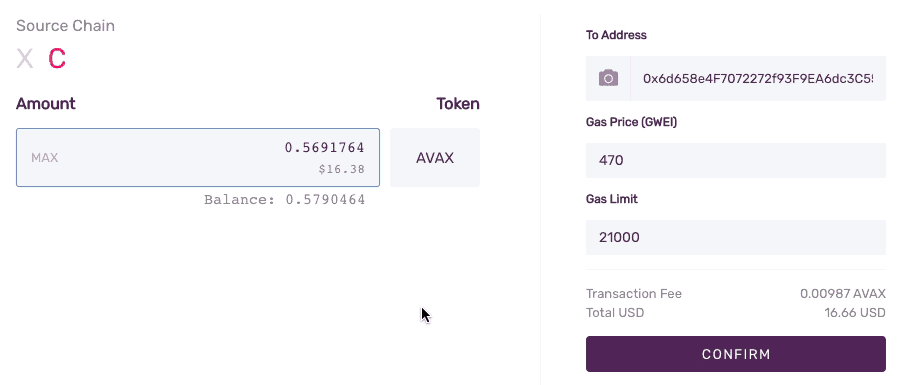 Next, you need 1 UNI or 1 SUSHI on the Avalanche network, which you can swap using your AVAX tokens. Just make sure you have enough to account for slippage and to pay for the fees.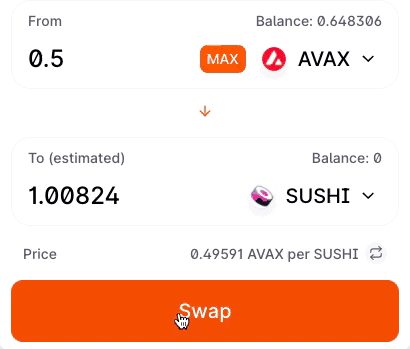 Then finally, head across to the Airdrop tab and claim your free PNG tokens!