In this beginner's guide to crypto airdrop, we take a look at what is a crypto airdrop and how they work. Plus, how to get notified of future airdrops and how you can earn free crypto from some of the best airdrops available.
Cryptocurrency airdrops are a great way to receive free crypto and are usually given to early adopters or loyal followers who have previously interacted with a cryptocurrency project. But how do you know when these airdrops are available if you're eligible or what if you missed an airdrop or have tokens unclaimed, potentially missing out on hundreds if not thousands of dollars?
What is a Crypto Airdrop?
Crypto airdrops became popular during the initial coin offering (ICO) craze in 2017 and 2018. New crypto projects used airdrops as a marketing tool to help promote their ICOs and spark enthusiasm. Airdrops were usually given away to users for completing tasks such as sharing or liking social media posts.
Projects also airdrop governance tokens to early adopters. These tokens can then be used to say how a project will govern going forward. The most popular governance tokens to be given away by airdrops have been from DeFi platforms UniSwap and 1Inch.
For users, the appeal is simple: Crypto airdrops allow people to obtain tokens without having to buy cryptocurrency. In other words, free crypto. And for the companies, the benefit is clear: People who would have otherwise been unaware of a project could wind up becoming investors or, at the very least, provide free advertising for the company.
How do Crypto Airdrops work?
Cryptocurrency companies will distribute free coins to their communities to increase their project's visibility, increase the circulating supply and stimulate trade. These free distributions are commonly known as airdrops.
There are a few different ways that airdrops are distributed, which are preannounced airdrops for those who hold a certain token in their wallet or complete specific tasks outlined by a project or company.
Airdrops are also rewarded to those who are early adopters and who have interacted with a project before a certain snapshot in time. In this case, an airdrop is not preannounced before this date, therefore specifically targeting their loyal following.
How to get Crypto Airdrops?
The easiest way to find a crypto airdrop might be to simply enter "crypto airdrops" or "what is a crypto airdrop?" into a search engine. Since these events are designed for marketing and project promotion, they tend to make themselves relatively easy to find. There are even some websites exclusively devoted to listing upcoming airdrops, like Earni.Fi.
However, do your own due diligence. The cryptocurrency world is full of scams and people trying to get their hands on your crypto. Make sure that the offer of free crypto is real, not someone simply trying to steal your information. Never send any crypto to receive an airdrop, and never share your private key!!
Earni Fi: Get Notifications & Claim Unclaimed Airdrops
EarniFi allows users to sign-up and tracks their Ethereum or Binance Smart Chain addresses. As a way to promote themselves, new projects will often distribute tokens in an airdrop. These airdrops will often have an expiration date, after which time, you lose the opportunity to claim your free crypto. However, Earnifi solves this by notifying you of available airdrops connected to your wallet address.
When claiming your airdrops via EarniFi, you will either be directed to the site to claim or claim directly from EarniFi. EarniFi doesn't charge any fees for this, plus you can pay for this claim using any address and not necessarily the wallet that has received the airdrop.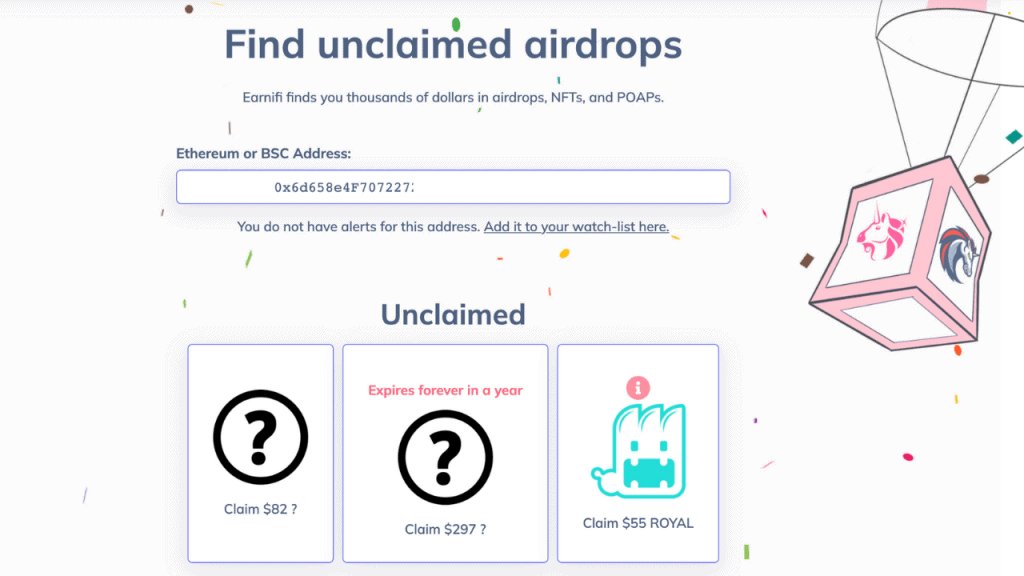 To add addresses to a watchlist, you'll need to create an account for Earnifi. Where there are 2 plans available, their paid "Premium" plan at $19 per month, and they also have a Free plan. The premium plan offers 10 watch addresses, email you alerts for basic and premium airdrops and give you recommendations of any upcoming/future airdrops. Plus, they'll let you know specific airdrops that you've missed (rather than showing a question mark).
The Free plan allows up to 2 addresses and provides email alerts on basic airdrops, which include the likes of UNI and 1inch. If you decide to go for a paid plan, you can pay with ETH or make monthly card payments, plus there's a discount if you pay upfront for a year.
Although the premium plan is $21 a month, if you get just 1 airdrop from Earnifi, then this could potentially pay off.

Best Crypto Airdrops
We have been very lucky with previous crypto airdrops from the likes of UniSwap, 1Inch, and ShapeShift. Below are some of the tutorials and how-to guides on how to claim airdrops in the past. However, depending on when you're reading this, these crypto airdrops may not be available. But there is no harm in trying your luck.
ShapeShift FOX Token Airdrop (July 2021)
In this video, I take you through the ShapeShift FOX token airdrop. I give provide an overview of ShapeShift and its move to become decentralized before explaining who is eligible. I then take you through a walkthrough of how to claim your FOX tokens using a hardware or web wallet. Then finally, how to put these FOX tokens to work with farming.
Ampleforth FORTH Airdrop Token (April 2021)
Ampleforth, the rebasing cryptocurrency protocol has now launched its new token FORTH. As part of this, they're dropping their newly released token to the community. If you've ever had a wallet that's "touched" AMPL, you could be one of the lucky 75,000 people set to get some free FORTH tokens.
Pangolin PNG Token Airdrop (February 2021)
In this tutorial, I show you how to claim Pangolin PNG airdrop tokens on the Avalanche network. If you held either Uniswap or Sushiwap tokens in a wallet before 7/12/20, you could be in for a free airdrop. I provide an overview of the Pangolin exchange and Avalanche network, then show you how to connect MetaMask to Avalanche. Before walking you through how to claim your free PNG tokens from the Pangolin exchange.
1inch DEX 1INCH Token Airdrop (December 2020)
In this tutorial, I show you how to claim your 1INCH tokens from the 1Inch decentralised exchange airdrop. Available for any Ethereum wallet that interacted with the platform prior to December 24 2020. I explain the reason for the airdrop, who is eligible for the airdrop and then demonstrate how to claim your 1inch tokens and how you can also check multiple wallet addresses.
1Inch DEX 1INCH Token Airdrop (September 2020)
In this tutorial, I take you through the UNI token airdrop from UniSwap. Available for anyone with at least 1 transaction on Uniswap before September 1, 2020. I provide a brief overview of the UNI token and the airdrop. Plus, demonstrate how to claim your tokens, buy further tokens, and how to provide liquidity.
Related Posts