In this EarniFi Review, we take a look at how you can claim and get notified of crypto airdrops with EarniFi.
Millions of dollars have been released in crypto airdrops over the last few years, and some of these airdrops have been life-changing for people. Uniswap, 1INCH and ENS were some of the biggest airdrops in the last few years, with lots of noise on Twitter and YouTube, with users sharing their windfall. However, some smaller airdrops can go unnoticed, even by us at Every Bit Helps.
One way to track these crypto airdrops and get notified is by using EarniFi, so let's jump into this Earnifi review to find out how EarniFi can help you claim airdrops
EarniFi Review: How to Claim Crypto Airdrops?
What is EarniFi?
Earni.Fi was created by DeFi Dawson and allows users to track the number of blockchains, including Ethereum, Binance Smart Chain, and Polygon addresses for airdrops. Some airdrops will often have an expiration date; after that, you lose the opportunity to claim your free crypto. However, Earnifi solves this by notifying users when they have an airdrop available to claim.
In November 2022 EarniFi was acquired by the popular crypto podcast Bankless and they aim to improve the tool. They are currently looking at ways to combine the perks currently offered by EarniFi and Bankless subscribers.
How Much Does EarniFi Cost?
EarniFi has two plans available: their paid "Premium" plan at $21 per month and their "Basic" Free plan. You can pay using ETH or monthly card payments, and there's also a discount available if you pay upfront for a year.
EarniFi Basic Free Plan
EarniFi "Basic" allows users to claim basic crypto airdrops and POAPs (aka Proof of Attendance Protocol). If you're a free Basic user, you may see airdrops with a "?". These are airdrops that can be claimed, but you will need a Premium plan to reveal the airdrop.
The Basic Free plan includes,
Basic Airdrops
Watch up to Two Addresses
Email Alerts for Basic Airdrops
EarniFi Premium Plan
If you regularly interact with DeFi protocols, this plan should pay for itself.
The Premium plan includes,
Premium & Basic Airdrops
Watch up to 10 Crypto Address
Email Alerts for Premium & Basic Airdrops
Upcoming Airdrop Recommendations
Auto-Claim New POAPs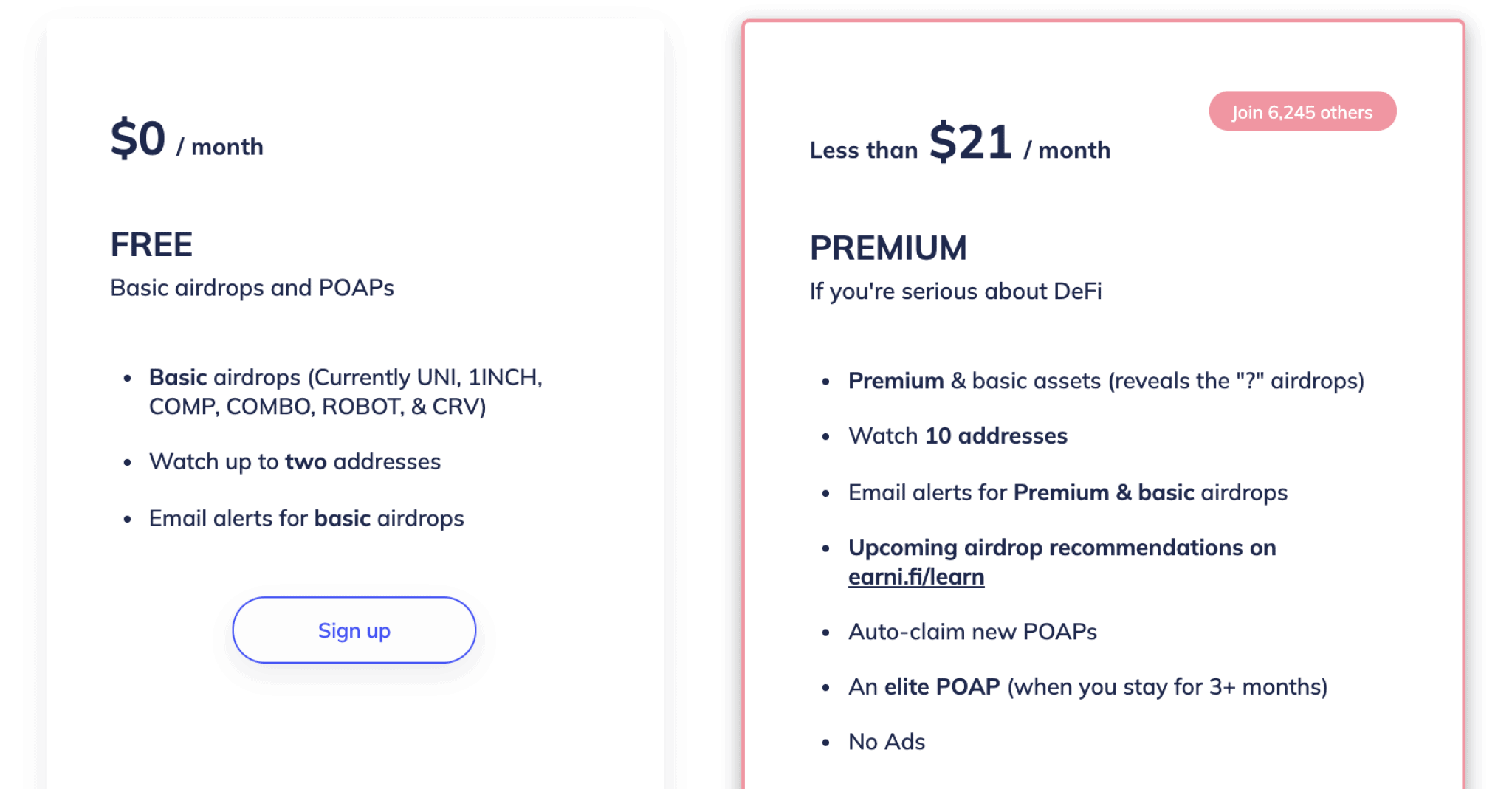 How to Claim Airdrops with EarniFi?
When claiming your airdrops via EarniFi, you will either be directed to the site to claim, or you may be redirected to the platform to claim directly from within their site. EarniFi doesn't charge any additional fees for this service. Plus, you can claim your airdrop using any wallet address, not just the wallet that has received the airdrop.
What Blockchains Does EarniFi Support?
EarniFi searches for airdrops and NFTs across multiple blockchains, including;
What is a Crypto Airdrop?
Crypto airdrops became popular during the initial coin offering (ICO) craze in 2017 and 2018. New crypto projects used airdrops as a marketing tool to help promote their ICOs and spark enthusiasm. Airdrops were usually given away to users for completing tasks such as sharing or liking social media posts.
Projects also airdrop governance tokens to early adopters. These tokens can then be used to say how a project will govern going forward. The most popular governance tokens to be given away by airdrops have been from DeFi platforms UniSwap and 1Inch.
For users, the appeal is simple: Crypto airdrops allow people to obtain tokens without having to buy cryptocurrency. In other words, free crypto. And for the companies, the benefit is clear: People who would have otherwise been unaware of a project could wind up becoming investors or, at the very least, provide free advertising for the company.
How do Crypto Airdrops work?
Cryptocurrency companies will distribute free coins to their communities to increase their project's visibility, increase the circulating supply and stimulate trade. These free distributions are commonly known as airdrops.
There are a few different ways that airdrops are distributed, which are preannounced airdrops for those who hold a certain token in their wallet or complete specific tasks outlined by a project or company.
Airdrops are also rewarded to those who are early adopters and who have interacted with a project before a certain snapshot in time. In this case, an airdrop is not preannounced before this date, therefore specifically targeting their loyal following.
How to get Crypto Airdrops?
The easiest way to find a crypto airdrop might be to simply enter "crypto airdrops" or "what is a crypto airdrop?" into a search engine. Since these events are designed for marketing and project promotion, they tend to make themselves relatively easy to find. There are even some websites exclusively devoted to listing upcoming airdrops, like Earni.Fi.
However, do your own due diligence. The cryptocurrency world is full of scams and people trying to get their hands on your crypto. Make sure that the offer of free crypto is real, not someone simply trying to steal your information. Never send any crypto to receive an airdrop, and never share your private key!!
Conclusion
EarniFi is a useful tool to find crypto airdrops you may have missed or never even heard about. However, with the downturn in the crypto markets, airdrops have become less frequent.
We hope you found our EarniFi review useful; if you have earned money using EarniFi, let us know in the comments below.