In our MetaMask review, we delve deep into the features, security, pros, and cons of this popular crypto wallet and gateway to blockchain-based decentralized applications (DApps). This comprehensive guide covers how to install, set up, and use the MetaMask wallet while connecting it to supported blockchains such as Ethereum, BSC, and Avalanche.
MetaMask is a browser extension that you can download and install on the likes of Google Chrome, Mozilla Firefox, Microsoft Edge, and Brave. The wallet allows you to manage your crypto assets and serves as a bridge to a growing range of DApps, including UniSwap, PancakeSwap, Maker, and Compound.Finance, among others.
MetaMask Review
What is MetaMask?
MetaMask is a cryptocurrency wallet and gateway to blockchain Dapps. Created by ConsenSys in 2016, MetaMask is now trusted by over 21 million users worldwide to keep their data and crypto secure. 
Predominately created as an Ethereum-based wallet and more recently become popular with Ethereum Layer-2s like Arbitrum/Optimism and alternative networks such as Binance Smart Chain.
The wallet is most commonly used as a browser extension, with over 4 million downloads and provides users with a gateway to using blockchain apps. However, MetaMask mobile is also available for Android or iPhone, where users can sync the app with the account on their desktop in a matter of seconds. 
MetaMask equips you with everything you need to manage your digital assets, including a key vault, secure login, token wallet, and token exchange.
With the ability to connect to both Ethereum and Binance Smart Chain-based DApps, users can use their tokens to trade on decentralized exchanges, play games, and spend in gambling applications. It's also a great entry point for DEFI, providing users with a way to interact with decentralized finance applications such as the likes of UniSwap, PancakeSwap, Compound, or Zapper.Fi.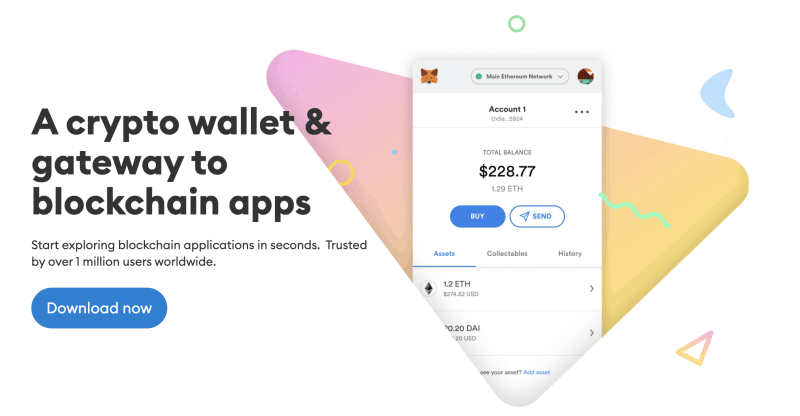 What is a Web3 Wallet?
You'll often hear MetaMask described as a Web3 wallet. This is because MetaMask enables users to interact with decentralized apps (dApps). In fact, MetaMask is also the most widely supported wallet across the larger DeFi ecosystem.
Web3 Wallets are the software that allows you to interact with Web 3.0, a third generation of the internet. Web 3.0 applications are mostly referred to as decentralized applications or dApps, and these are often powered by the blockchain. DApps that exist on the blockchain will often need the user's tokens to use its features, such as game tokens, trade, stake, earn interest, etc. By using MetaMask, you are able to use these dApps while keeping control of your tokens.
Metamask Security
MetaMask is a non-custodial wallet, which means it doesn't host or store your assets. Instead, it generates passwords and keys locally on your device, so only you can access your accounts and data. It supports various blockchains, such as Ethereum, Binance Smart Chain, Polygon, and others.
Regarding security, MetaMask does not store any of your personal or private data on its servers. All data is encrypted in your browser and protected via your MetaMask password. To further secure your account, you can only restore lost MetaMask accounts using your Secret Recovery Phrase.
However, MetaMask is a software, or hot, wallet, which means it stores the keys to your crypto assets using software on an internet-connected device. While it offers encryption and password protection, it's essential to follow security best practices to ensure the safety of your assets.
You can find more information on privacy and security by visiting Metamask's support page.
Is MetaMask Safe?
MetaMask is only as safe as your ability to keep your seed phrase or private keys secure. The wallet is also deemed as a "hot wallet" as it connects to the internet; therefore, there are also risks.
It is recommended that you only keep small amounts of assets within the wallet (longer-term), or one of the safest ways to use MetaMask is by connecting it to a hardware device, such as a Ledger or a Trezor. In this way, MetaMask is working as a middleman, and your funds are not exposed.
MetaMask Private Keys
MetaMask is a non-custodial wallet; therefore, if you lose your private key/seed phrase, MetaMask cannot help you to recover your wallet or funds. When creating your MetaMask account, you will be provided with your12-word phrase. You will need towrite down and store your seed phrase offline, as this will be the onlyway to recover your funds should your device crash or your browser reset.
Also, never share your seed phrase or your private key with anyone, as you will lose complete control over your wallet.
Metamask Features
Portfolio
MetaMask Portfolio is a feature that allows you to view and manage your MetaMask accounts and their assets in one place. It aggregates values from up to 10 of your accounts and displays your total holdings, giving you an at-a-glance summary of their value in your chosen currency.
You can access MetaMask Portfolio by visiting portfolio.metamask.io. This feature aims to give users a convenient way to track their assets and make better decisions based on accurate and up-to-date information.
Metamask Mobile App
MetaMask also provides a mobile app allowing users to manage their Ethereum private keys on the go. The mobile app serves as a wallet for Ether and other tokens and enables users to interact with decentralized applications (dApps) just like the browser extension. By offering a convenient and user-friendly platform, MetaMask mobile app aims to enhance the experience of accessing and interacting with the decentralized web on mobile devices.
MetaMask Swaps
MetaMask users can not only store but also compare and swap tokens directly within their wallets. The token swaps feature fetches quotes across multiple decentralized liquidity sources to ensure users the best available prices with the lowest network fees.
The feature is initially available to users of the MetaMask extension on the Firefox browser, with plans to be rolled out to other browsers and mobile apps.
Up to now, MetaMask users would need to go to the website of a specific decentralized exchange or exchange aggregator, sign in, approve each token on each dex, costing money in gas, and then run the swap.
However, now MetaMask has collaborated with ConsenSys to build Swaps: a feature that enables any Web3 or DeFi user to access the tokens they need for their sites easily. 
Buy Crypto with MetaMask
You can buy crypto directly with MetaMask using the browser extension or mobile app. However, the fees for buying crypto with Metamask can be high as you are paying for the convenience. When you click the "Buy" button on Metamask, you will be provided with the best quotes based on your region and preferences.
Metamask has partnered with multiple platforms and is looking to add more providers and payment methods in the future.
How to Buy Crypto with MetaMask?
To buy crypto with MetaMask, follow the below step-by-step guide. The process is simple and user-friendly, whether you use the browser extension or the mobile app.
Open the MetaMask browser extension or mobile app.
Click on the "Buy" button to start the process.
Select your Region
Select Payment Method
Select the Token & Network (You want to Purchase)
Input your Preferred Amount (i.e. the value (in fiat) of the token you want to buy)
Click "Get Quotes."
Choose your Quote (You'll see the quotes available, and they will be arranged in descending order based on how much crypto you receive)
You'll be securely redirected to their website to complete the purchase. Funds will be deposited in your MetaMask wallet.
EIP-1559
EIP-1559 is an Ethereum Improvement Proposal aimed at improving the user experience of Ethereum transactions. MetaMask supports EIP-1559 by allowing users to set the maximum amount they are willing to pay for their transactions, which includes base fees and max priority fees. This feature helps users have more control over their transaction costs and ensures a more predictable fee structure.
Metamask Customer Support
As one of the leading cryptocurrency wallets in the Ethereum space, MetaMask offers customer support mainly for technical problems encountered while utilizing the wallet on individual devices. Though live assistance might not be consistently accessible, users can find support through various means, such as the self-help centre, the community message board, email correspondence, or by raising a support ticket on the official website.
Supported Blockchains
MetaMask primarily supports the Ethereum blockchain but is also compatible with various other networks. Some of the networks supported by MetaMask include Binance Smart Chain, Cronos, Avalanche, Fantom, Polygon, Harmony ONE, Coinbase Base, Velas, xDai, and Layer 2 networks like Arbitrum.
To add a blockchain to MetaMask, you will need to manually add these networks to your MetaMask wallet based on the documentation provided by each network. MetaMask allows users to add support for over 50 different blockchain mainnets and testnets through its 'Add Network' feature.
MetaMask Learn
MetaMask Learn is a free-to-use educational platform available in 10 languages for anyone interested in learning about web3. It offers a series of engaging lessons and interactive simulations to help users understand what web3 is, why it matters, and how to get started with MetaMask. The course currently consists of eight lessons, each only taking a couple of minutes to complete.
MetaMask Learn aims to share enthusiasm for the Web3 of today and empower users to build, explore, and participate in the world of tomorrow.
How to Create a Metamask Wallet
Once you have completed these steps, your MetaMask wallet will be set up and ready to use. For advanced configuration options, you can access the wallet set-up process and toggle settings such as phishing detection, incoming transactions, and default RPC provider.
To create a MetaMask wallet, follow these steps:
Go to the official MetaMask website or the Chrome Web Store and download the MetaMask extension for your browser (e.g., Chrome, Firefox, or Brave).
Click on the MetaMask extension icon and select "Get Started".
Choose "Create a Wallet" and agree to the Metamask terms and conditions.
Create a strong password to secure your Metamask wallet.
Store your backup phrase (Secret Recovery Phrase) in a secure location.
Confirm your backup phrase by selecting the words in the correct order.
FAQs
How does Metamask make money?
MetaMask makes money through various channels, including swap fees, management fees, and selling merchandise via its online store. One of the primary ways MetaMask generates revenue is by charging a 0.875% service fee when users connect to a decentralized exchange like Uniswap. These swap fees occur when users compare or swap Ethereum-based tokens within the wallet.
Is MetaMask free to use?
Yes, MetaMask is free to download and use. However, users may incur transaction fees when interacting with the Ethereum network.
Can I access MetaMask on my desktop?
MetaMask doesn't offer a dedicated desktop application, but it can be accessed through browser extensions for Chrome, Firefox, and Brave.
Is MetaMask safe to use?
MetaMask employs encryption and seed phrases to protect users' private keys. Although it's considered secure, users should always take necessary precautions to safeguard their assets.
Can I use MetaMask to interact with dApps?
Yes, MetaMask allows users to connect and access dApps.
Does MetaMask support Bitcoin BTC?
MetaMask does not support native Bitcoin (BTC) directly, as the Bitcoin network is not Ethereum Virtual Machine (EVM) compatible, and MetaMask is primarily designed for Ethereum-based assets.
However, you can hold a wrapped version of Bitcoin, called WBTC (Wrapped Bitcoin), in your MetaMask Wallet, as it exists on the Ethereum blockchain and is compatible with the EVM.
Other versions of BTC that exist on either the Binance Smart Chain or ERC20 networks, such as BTCB or BBTC, can also be stored in your MetaMask wallet.
Related Posts