In this beginner guide, we'll take you through the ins and outs of buying and selling cryptocurrency with PayPal. So you can make an informed decision about whether PayPal is the right platform for you to buy and sell crypto.
In today's digital age, cryptocurrency is becoming an increasingly popular investment option. And with the launch of PayPal's cryptocurrency feature in August 2022, buying and selling digital assets has never been easier.
Whether you're a seasoned crypto investor or just starting out, PayPal's cryptocurrency functionality offers a convenient way to purchase, store, and transfer digital currencies such as Bitcoin, Ethereum, Litecoin, and Bitcoin Cash.
However, before you dive in, it's essential to understand the platform's fees, limitations, and protections.
How to Buy Crypto on PayPal
We will now explain how you can buy crypto with PayPal. In this example, we will show you how to buy Bitcoin on PayPal App, but you can buy other cryptocurrencies such as Ethereum, Litecoin and Bitcoin Cash. Plus, you don't have to do it on the mobile app. You can also purchase crypto on the PayPal desktop version.
In this step-by-step, we will explain how to set up and buy cryptocurrency on PayPal.<br>
Total Time: 5 minutes
Log into PayPal & Go to Finance Tab
To get started and buy your first cryptocurrency on PayPal, you will need a PayPal account. If you don't have one, you can sign-up here.

Once you're logged into PayPal, go to the bottom of the App and select the Finance tab.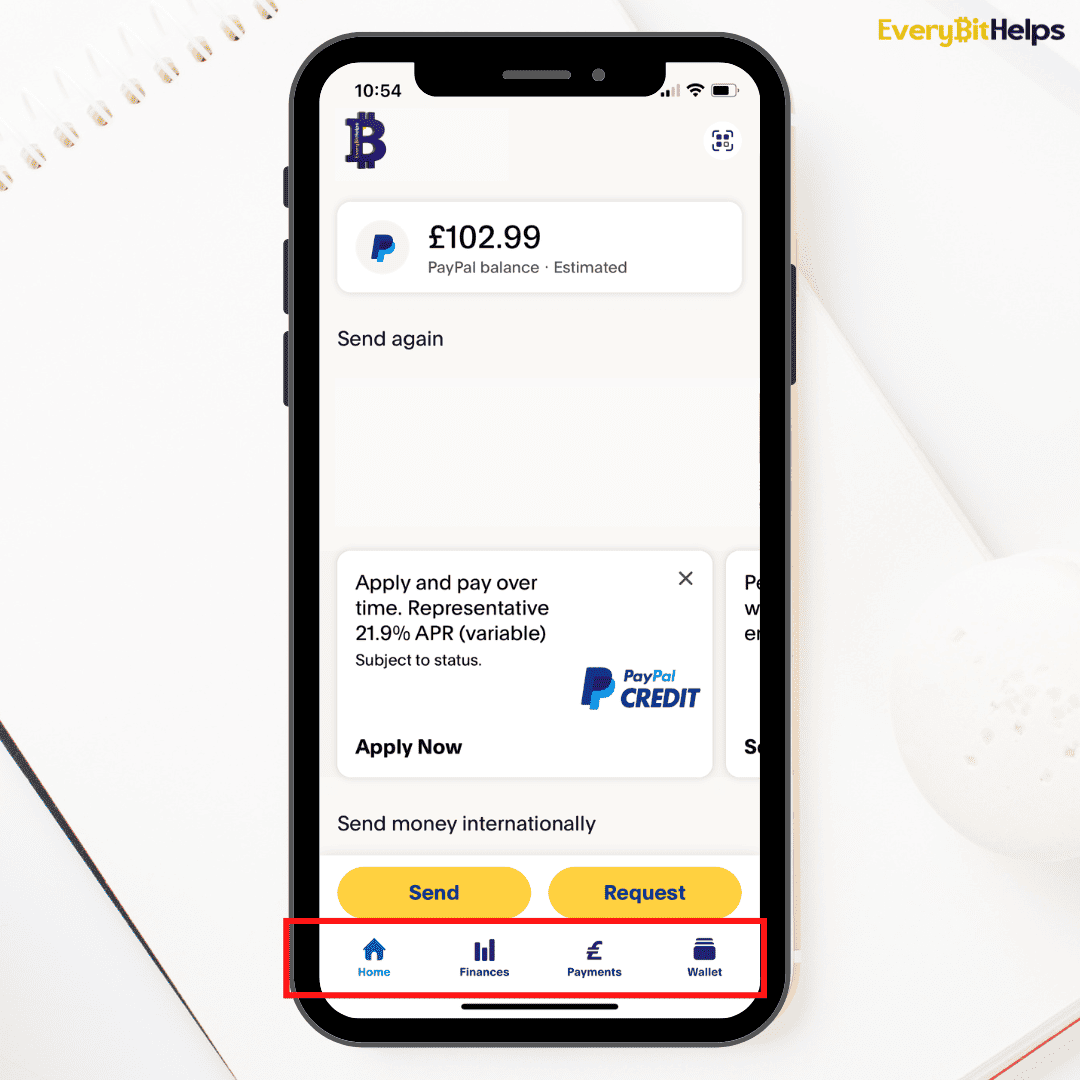 Select the Cryptocurrency to Purchase
In this example, I will buy Bitcoin, but you can purchase any cryptocurrency you find on this screen. I currently have the option to buy Bitcoin, Ethereum, Litecoin and Bitcoin Cash.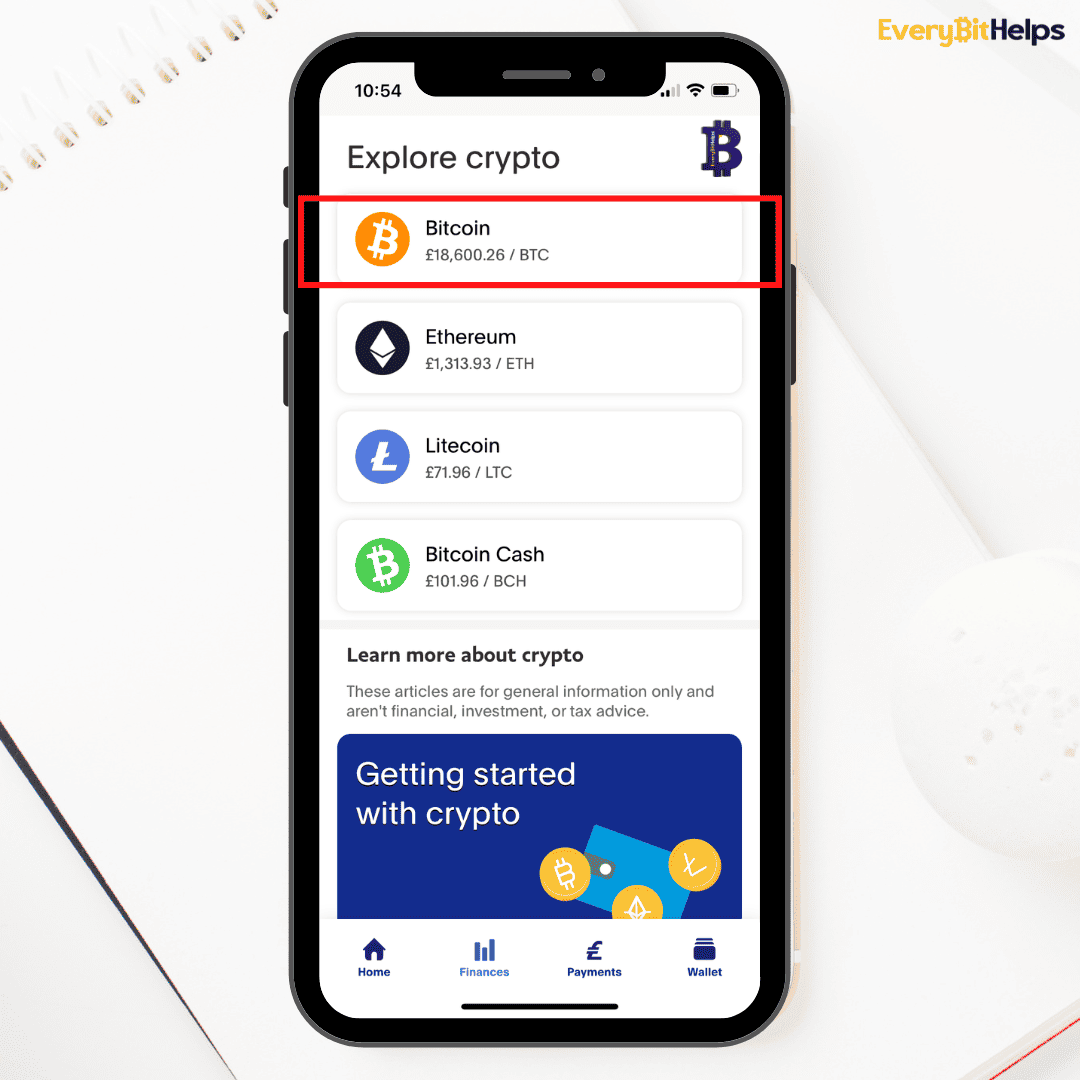 Confirm Personal Information
If this is your first time buying cryptocurrency on PayPal, you will need to agree to some of the PayPal terms, and these will depend on your location. You will only need to do this once.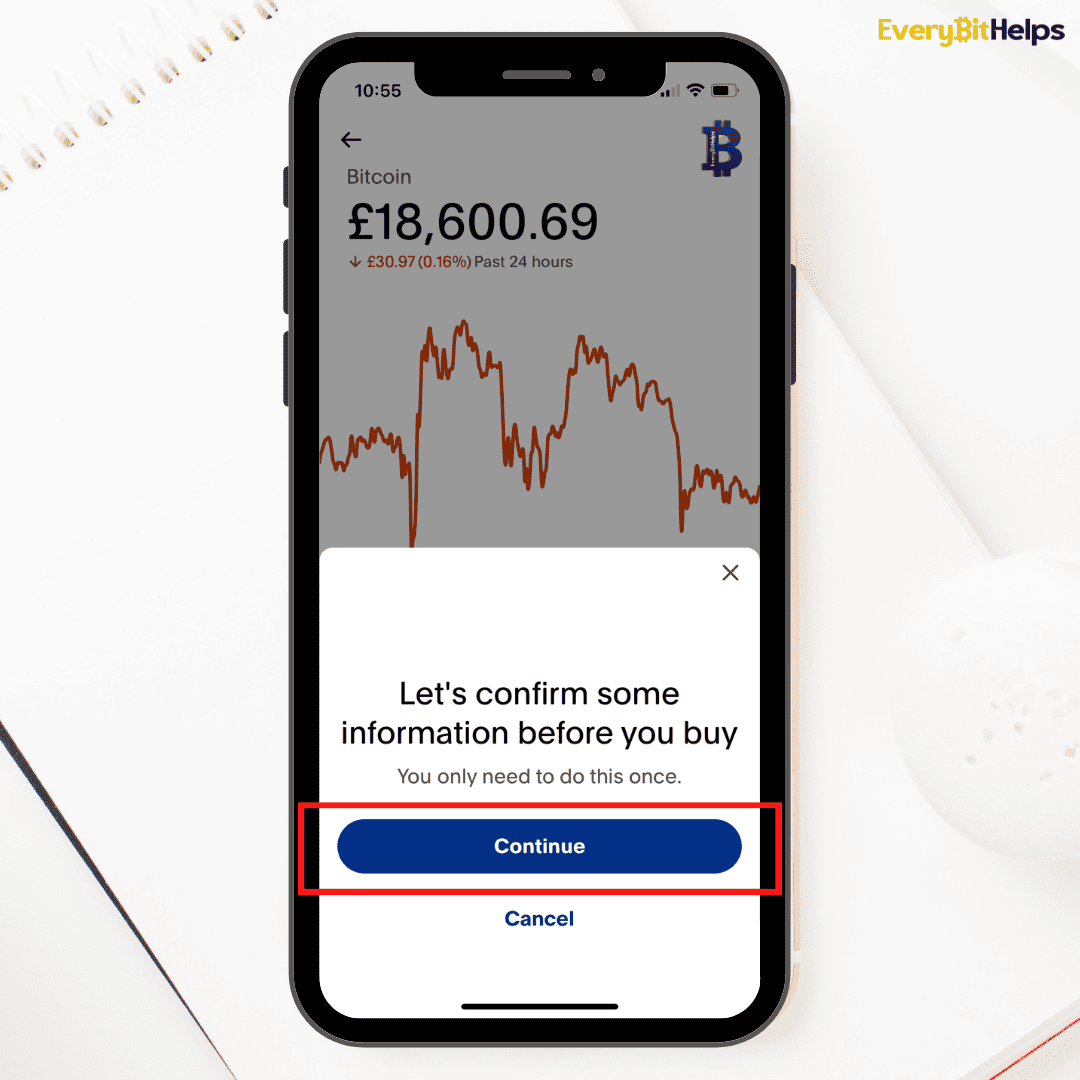 Confirm US Tax Payer Status
You will then need to confirm your US Taxpayer status.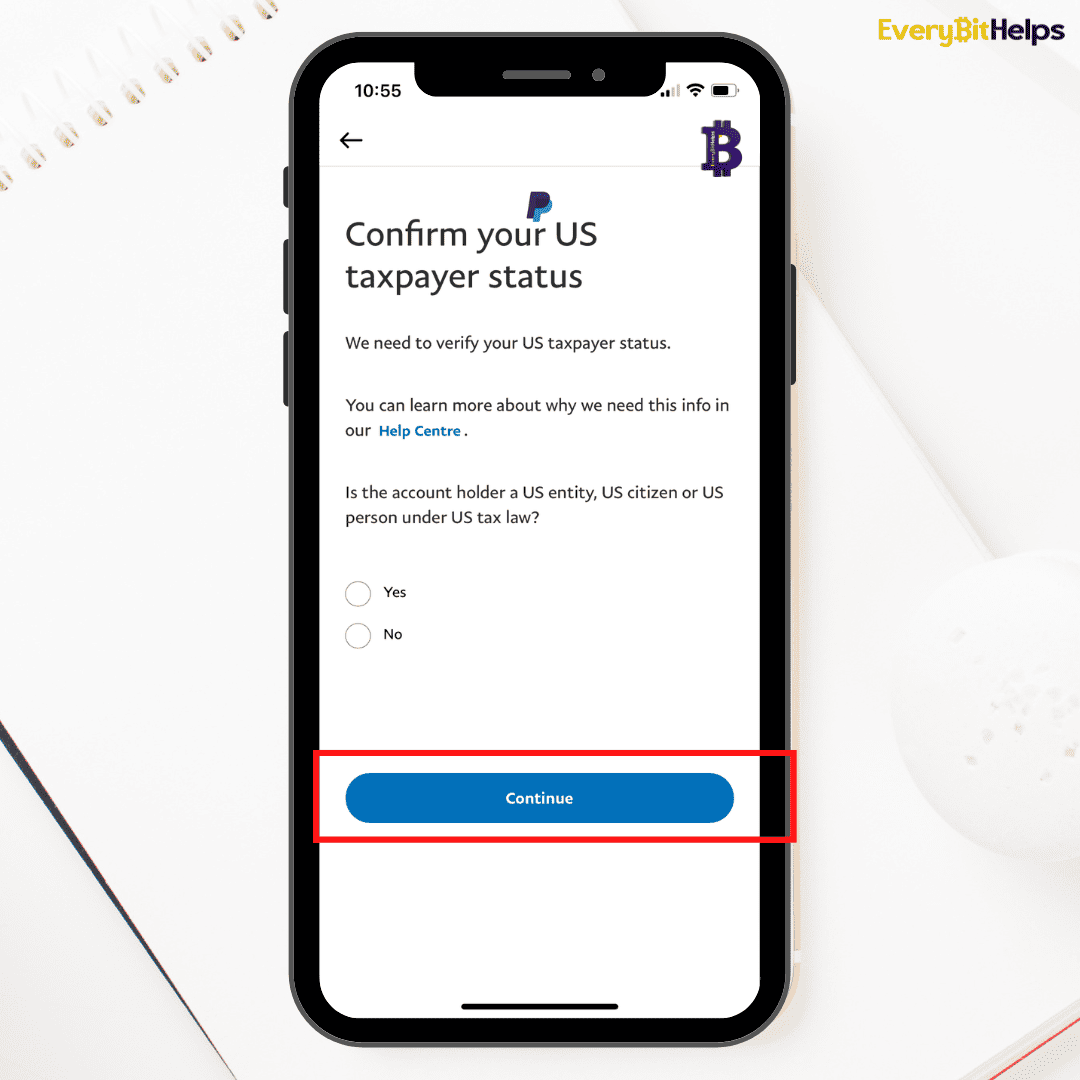 Confirm you have Read the PayPal Cryptocurrency Warning
PayPal will provide warnings about cryptocurrency to ensure you understand the risk involved when buying crypto.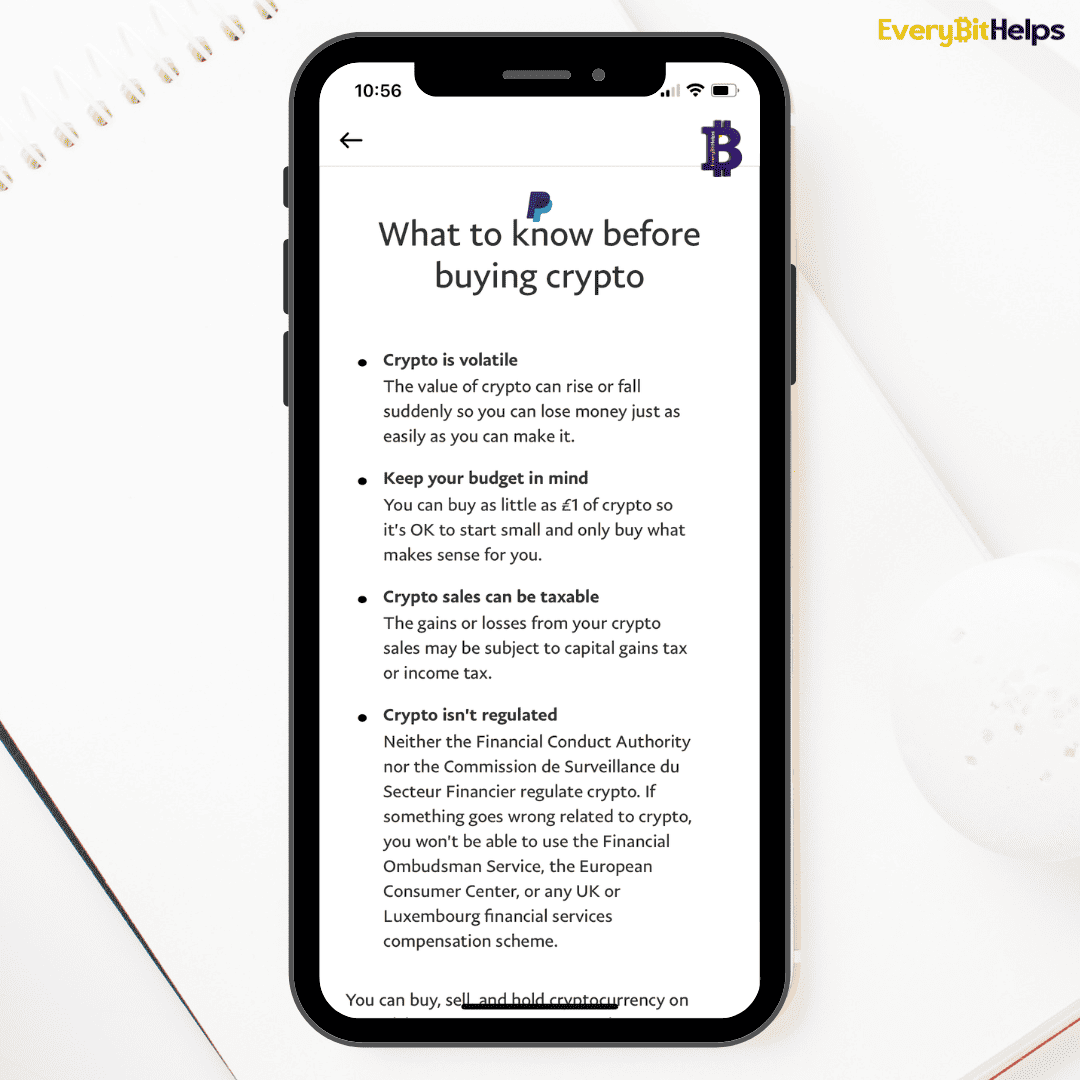 Enter the Amount of Crypto to Purchase
Now we have gone through the paperwork; we can now get on with buying your crypto assets on PayPal. You can enter the amount you want to purchase or select one of the quick tabs to purchase a set amount.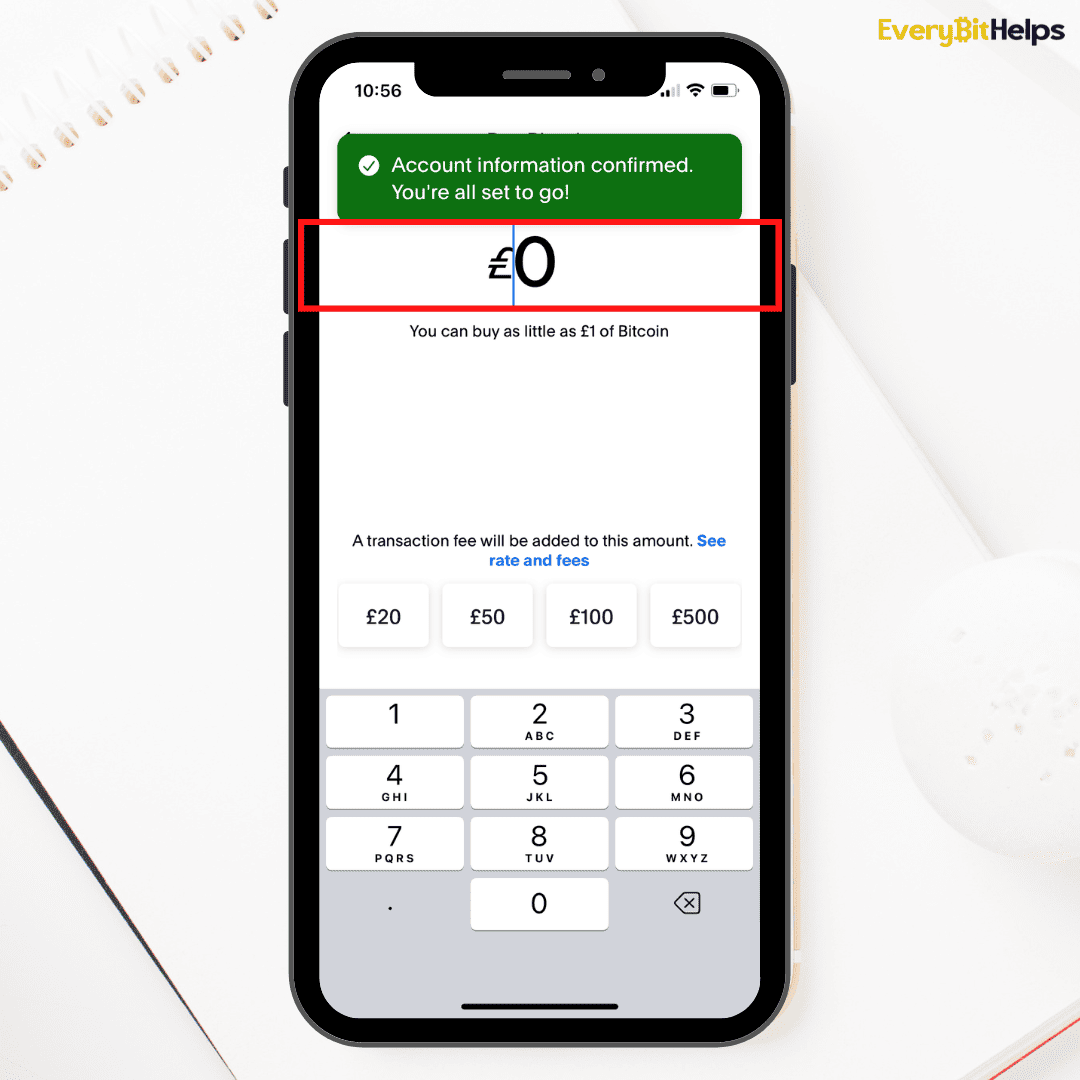 Agree to Fees & Exchange Rate
You will need to agree to the transaction and exchange fees. The rates you pay will depend on the amount of cryptocurrency you are buying. You will find a breakdown of PayPal's crypto fees in this article.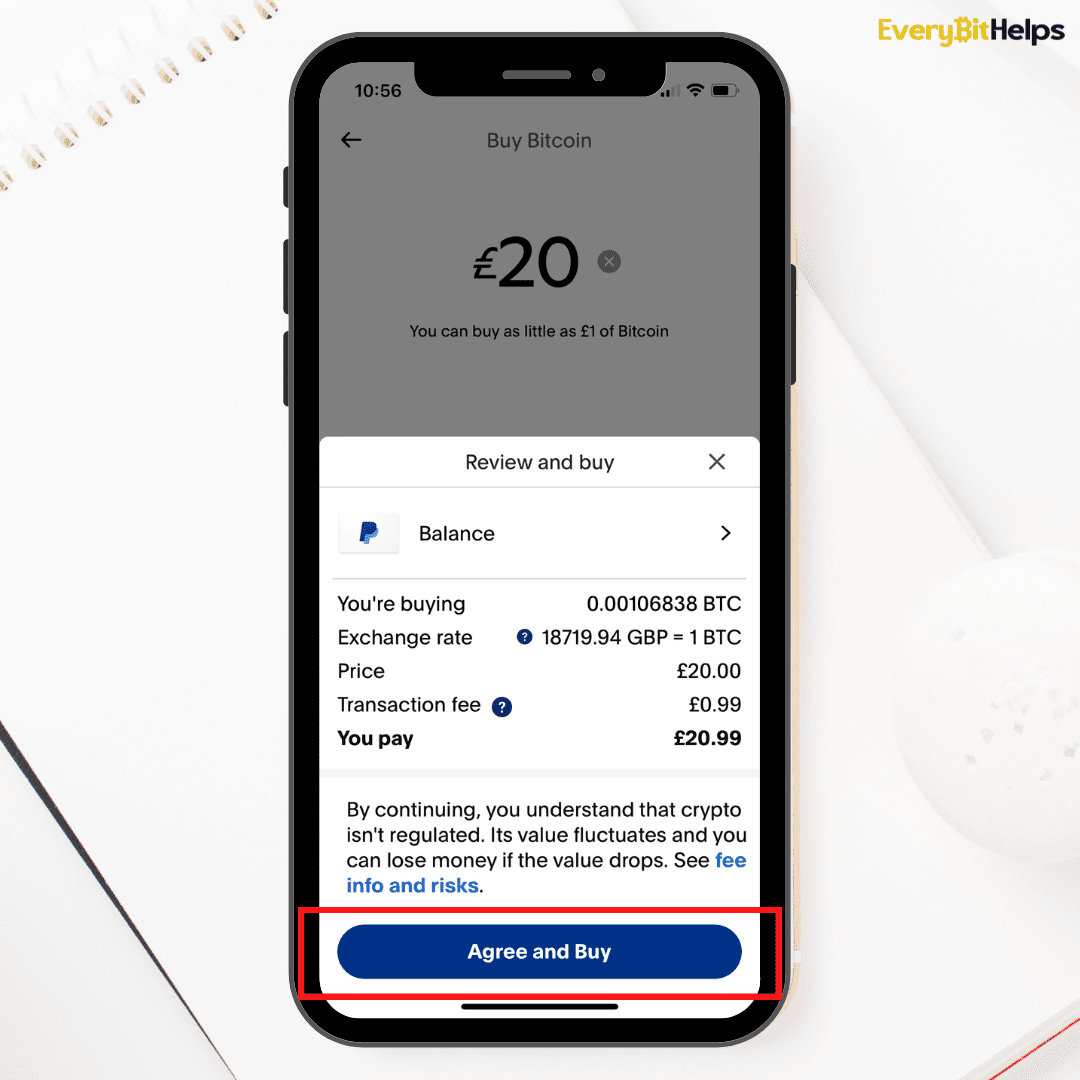 Crypto Purchase on PayPal
Congratulations, you have now purchased crypto on PayPal. What you can do next with your crypto assets will depend on where you're located. Ideally, you would withdraw this to a secure wallet with access to your private keys. However, this option isn't available to everyone, including me.

If you're lucky and the price shoots up, you can always withdraw and cash out into fiat (i.e your local currency)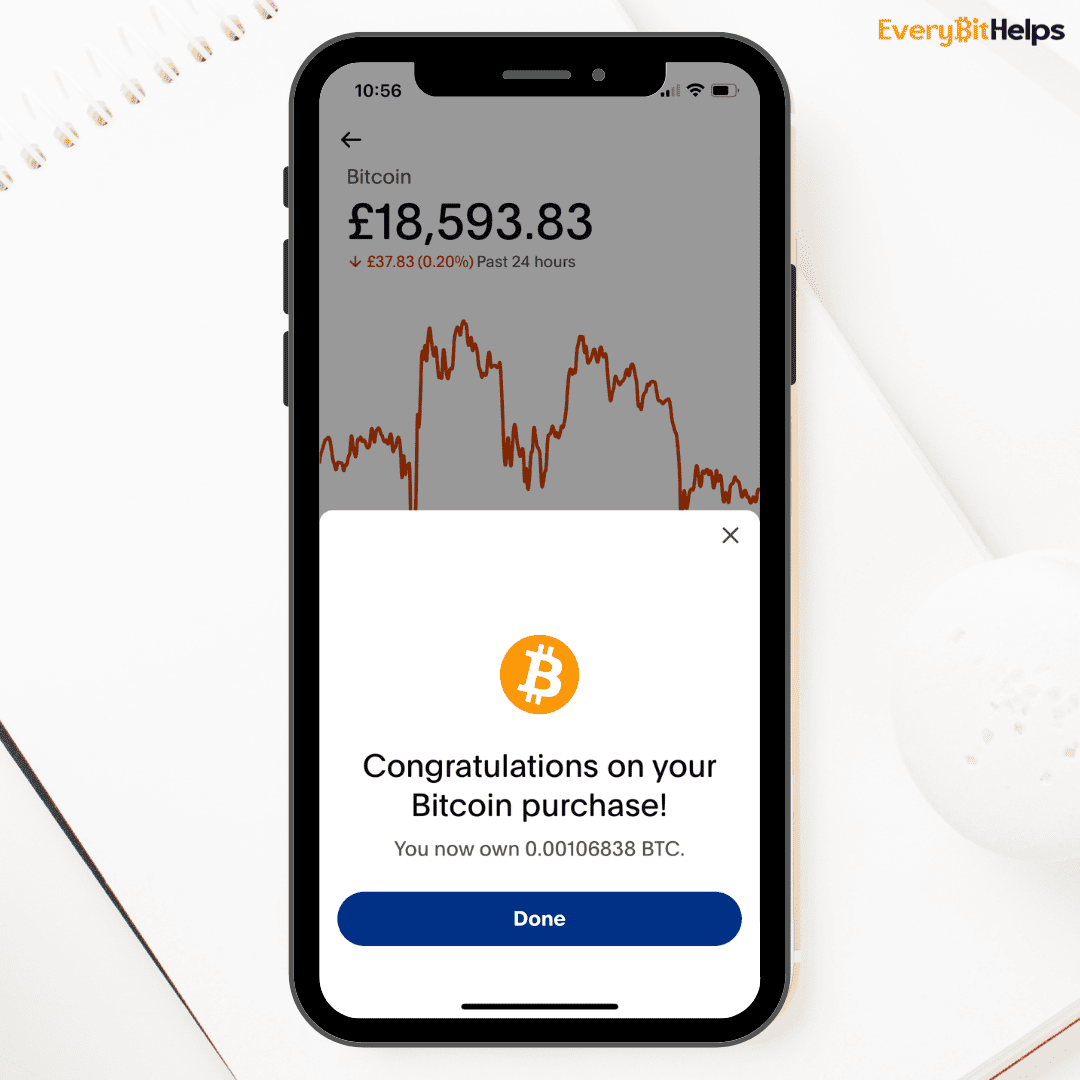 What is PayPal?
PayPal is an online payment system that allows you to pay for things online and send and receive money safely and securely. With PayPal, you can link your bank account, credit card or debit card to your account, which enables you to make purchases with participating merchants online. PayPal acts as a mediator between your bank and the merchant, ensuring the security of your payment information.
In addition to online purchases, PayPal also offers a convenient way to send and receive money to and from friends and family. Whether it's splitting rent with roommates or receiving birthday money from loved ones, PayPal makes it easy to transfer funds securely.
With its user-friendly interface and robust security measures, PayPal is a reliable and trustworthy payment platform that has become a go-to choice for millions of users worldwide.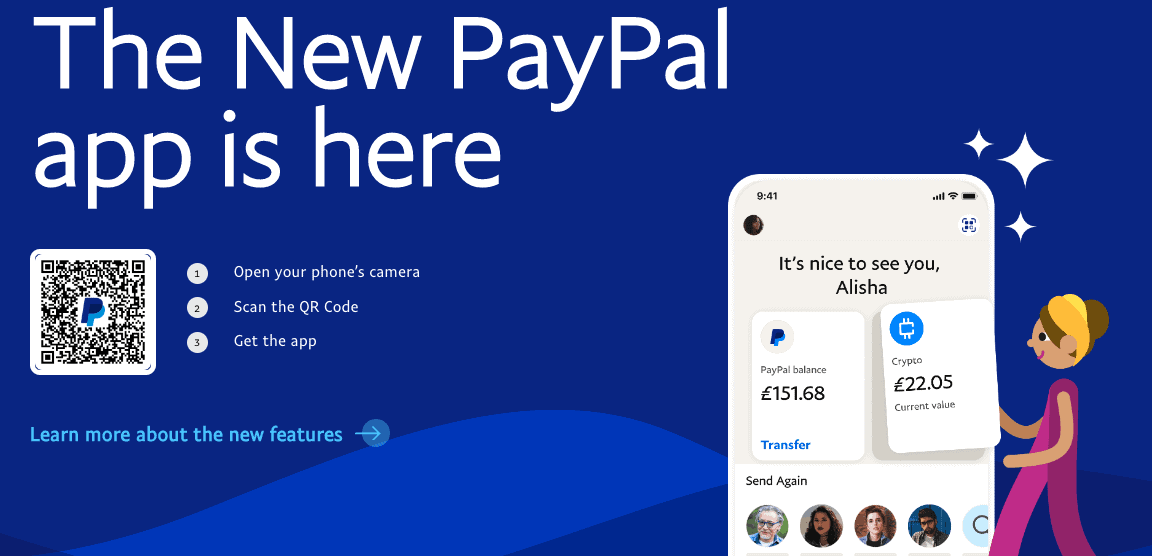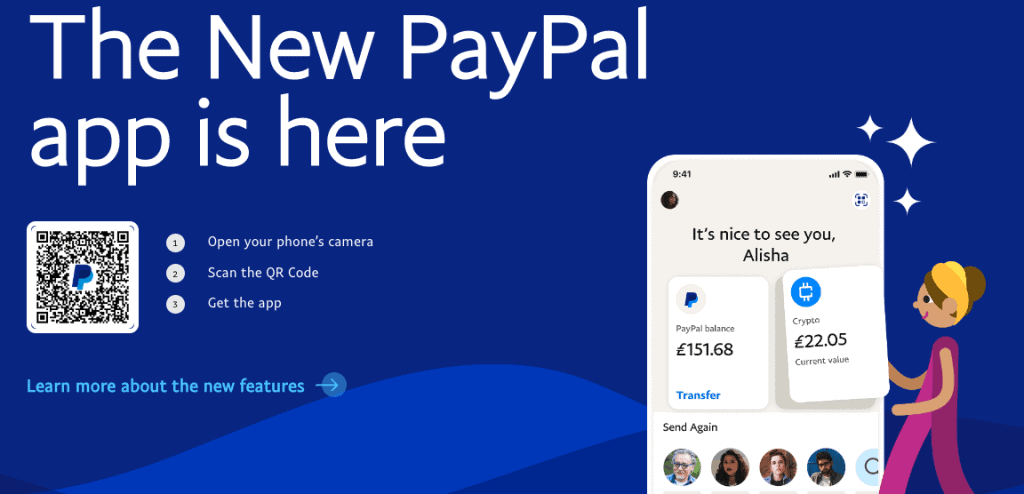 PayPal Adds Cryptocurrency
Due to customer demand, PayPal announced it would allow customers to transfer cryptocurrency from their accounts to other wallets and exchanges. The new feature enabled customers to transfer supported coins into PayPal, send crypto to other PayPal users and move crypto from its app to external crypto addresses, including exchanges and hardware wallets.
Internal crypto transfers, such as PayPal to PayPal, would have no fees. PayPal's new feature was initially launched to its U.S. users, and an additional identity verification process is required before users can transfer any crypto.
What can you do with Crypto on PayPal?
Depending on your location, you can do several things with cryptocurrency on PayPal. Such as sending and receiving crypto to and from an eligible PayPal account. Buy, hold, and sell cryptocurrency and use the proceeds from selling cryptocurrency to pay for purchases through a PayPal account with Checkout with Crypto. Plus, transferring cryptocurrencies between other wallets and exchanges.
You can find the Terms and Conditions and Acceptable Use Policy by going to PayPal Legal.
What are PayPal Crypto Fees?
When buying or selling cryptocurrency through PayPal, users are subject to a margin or "spread" of around 0.5% on top of the market price.
Additionally, PayPal charges the below transaction fees based on the purchase amount.
| Purchase Amount | Fees |
| --- | --- |
| $1.00 – $4.99 | $0.49 |
| $5.00 – $24.99 | $0.99 |
| $25.00 – $74.99 | $1.99 |
| $75.00 – $200.00 | $2.49 |
| $200.01 – $1,000.00 | 1.80% |
| >$1,000.00 | 1.50% |
What Cryptocurrency does PayPal Support?
PayPal currently supports a limited number of cryptocurrencies, with the potential to add more in the future. If you have crypto available on PayPal in your location, you will be able to buy, sell and transfer Bitcoin, Ethereum, Litecoin, and Bitcoin Cash.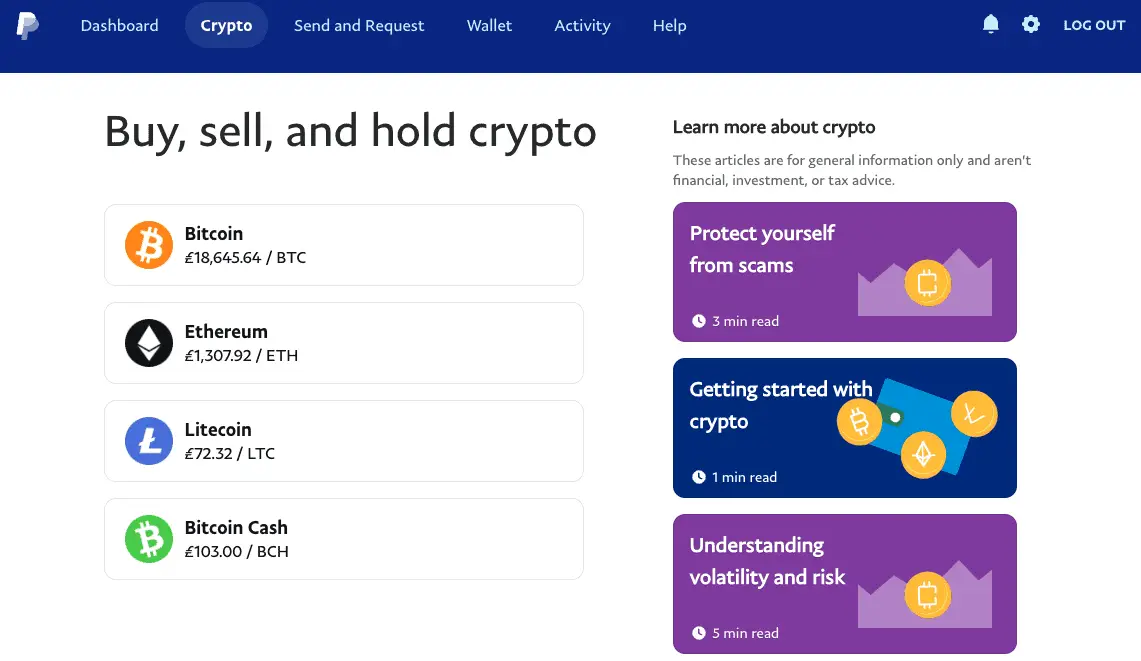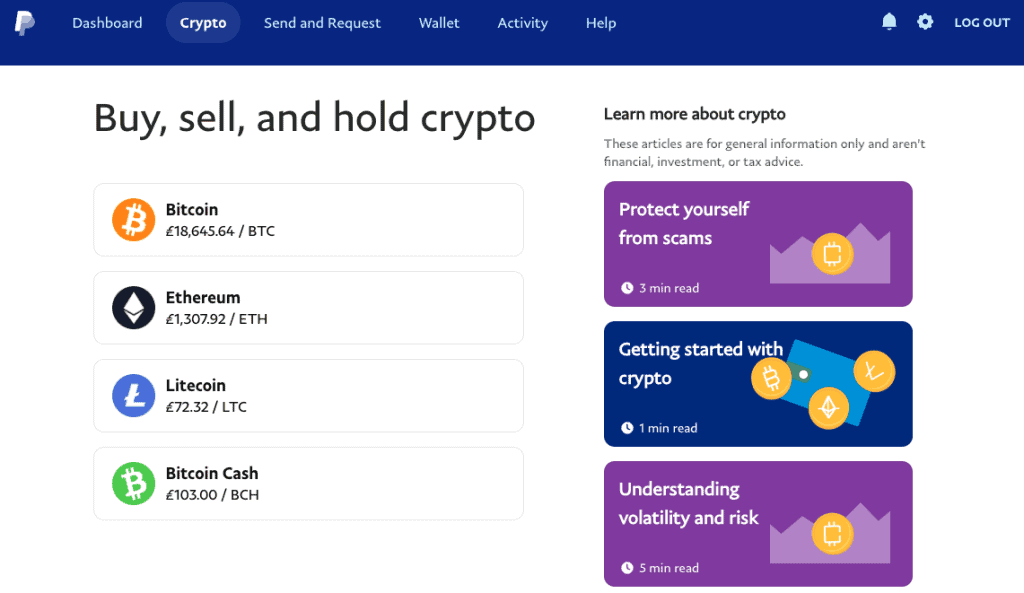 Does PayPal Offer any Protections on Crypto?
Crypto funds on PayPal are not eligible for Federal Deposit Insurance Corp. coverage. PayPal Buyer Protection also doesn't apply to cryptocurrency purchases, but crypto purchases may be protected from unauthorized activity. In case of an unauthorized transfer, you may be eligible for reimbursement up to the equivalent of $50,000.
Conclusion
PayPal has made buying and selling cryptocurrency much more accessible to the average consumer. While it may not be the cheapest option available, the convenience and simplicity of the platform make it an attractive choice, particularly for those new to the world of cryptocurrency.
Whether you're looking to invest or just want to experiment with crypto, PayPal's user-friendly interface makes it a great option if you are okay with paying a higher transaction fee.
FAQs
Is PayPal a good place to buy Bitcoins?
The fees for buying or selling cryptocurrencies on PayPal are competitive with those of major exchanges such as Coinbase.com. However, other more advanced exchanges like OKX and Binance may offer lower fees for buying and selling cryptocurrency.
But PayPal does make buying Bitcoin very convenient, although a little pricy. Ultimately, whether PayPal is a good place to buy Bitcoin depends on your individual preferences and needs.
Can you buy Dogecoin on PayPal?
Can you buy Ethereum with PayPal?
If PayPal allows crypto purchases in your region, you will be able to buy Ethereum. The process of buying Ethereum on PayPal is outlined in the step-by-step guide above. In the above example, we use Bitcoin; you will follow the same process and just change Bitcoin to Ethereum.
Can you buy XRP with PayPal?
At this time, you can not buy XRP directly on PayPal. However, you can connect your PayPal account to an exchange like Coinbase or Binance, send money from PayPal to the exchange and then buy XRP.
Related Posts