In this 2022 OKX Review, we take a dive deep into what is OKX? We analyze the variety of features the platform has to offer. Plus, we take a look at security, regulations, fees, support, pros and cons.
OKX is one of the most popular crypto platforms and offers a range of financial products such as staking, OKX wallet, NFTs marketplace and crypto loans.
So, let's dive into this OKX Review, to help you work out whether OKX is the right platform for you.
OKX Review: How to Use OKX?


OKX Pros & Cons
What is OKX?
OKX was created in 2017 by Star Xu, and the Seychelles-based exchange boasts an impressive portfolio of investors, including VenturesLab, Ceyuan Ventures and Longling Capital. Their services are available in more than 200 countries, except for the USA.
OKX has its own utility token called 'OKB', which was launched in early 2018. OKB can be used to settle trading fees and pay for particular services on the platform.
In terms of trading, OKX offers a range of products, including margin trading, options trading, perpetual swaps, and spot trading. They also have their own demo trading account where users can use virtual money to practice trading and strategies without the risk of losing any real money.
They also include a range of financial products on the platform for staking, earning interest and crypto loans. As part of their latest rebrand, you can also get involved in DeFi, download their private wallet or get involved in NFTs.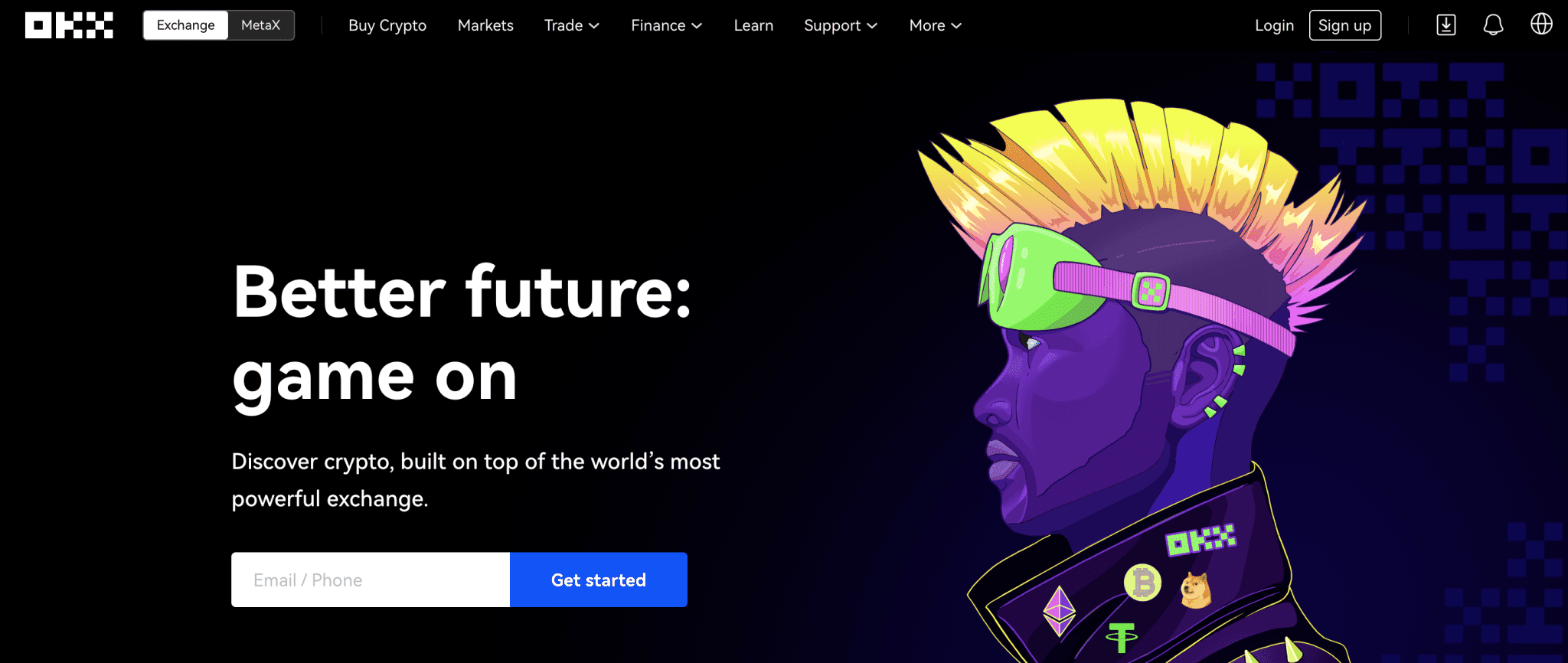 OKeX Rebrand
In January 2022, OKEx changed its name to "OKX" to reflect its transformation into a financial services platform. They felt the old name hinting at the word "Exchange" no longer reflected the platform's image.
The OKX platform now includes passive earning services, NFT (Non-Fungible Token) marketplace, DApp (Decentralized Application) and the DeFi ecosystem MetaX. OKX CEO Jay Hao commented: "OKX is moving beyond the standard centralized exchange model to give our customers an end-to-end cryptocurrency experience."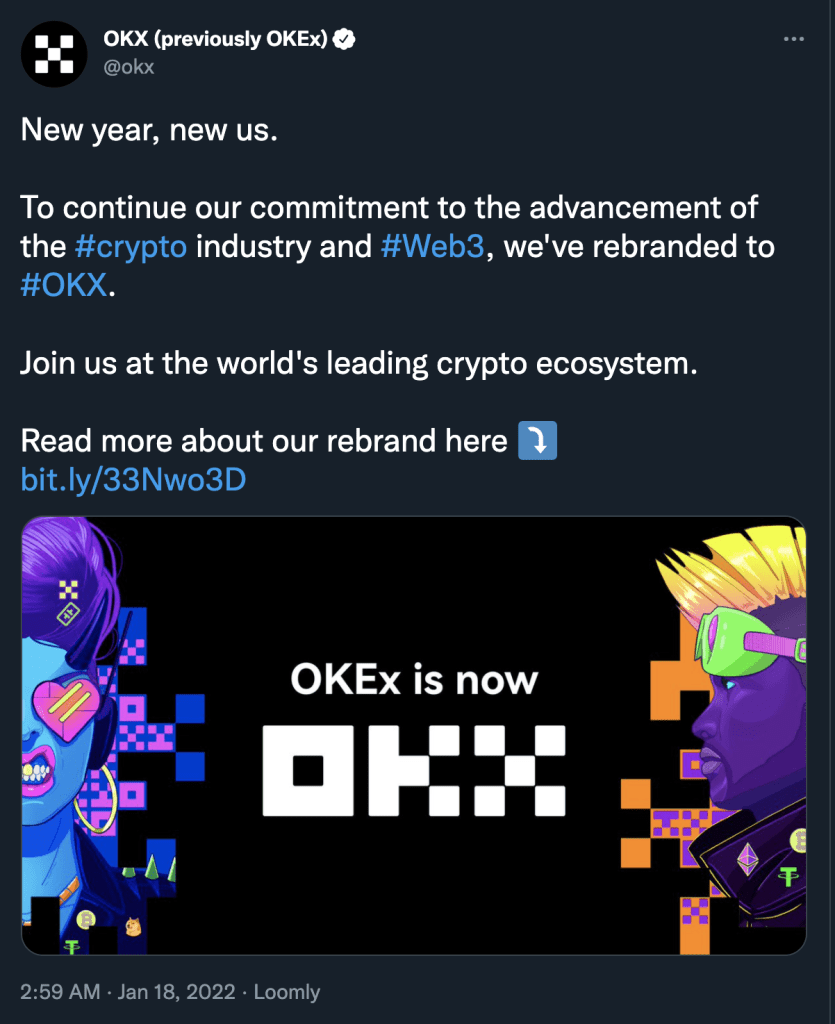 OKX & Manchester City Partnership
In March 2022, OKX announced their partnership with English Premier League champions Manchester City. OKX is now the clubs' official Cryptocurrency Exchange Partner.
Roel De Vries, the Chief Operating Officer for City Football Group, stated: "We are pleased to welcome OKX as an Official Partner of Manchester City today as they look to venture into the world of sports. The new partnership aligns with our shared values of innovation, drive for success and being at the cutting edge of our respective industries. Their broad and inclusive approach to targeting diverse audiences resonates with our approach. We look forward to working together throughout the partnership." 
Jay Hao, CEO of OKX shared "We are delighted to partner with Manchester City, one of the world's best-loved and most successful teams. Football and crypto share something important; they are for everyone, and they create inclusivity within society. For OKX, Manchester City is a club that represents the effect football has to make a positive difference in people's lives, bringing people together around a shared love of the beautiful game. We are entering the Premier League for the first time as City's official crypto partner to celebrate this community spirit in the world of football because it's something we both share,".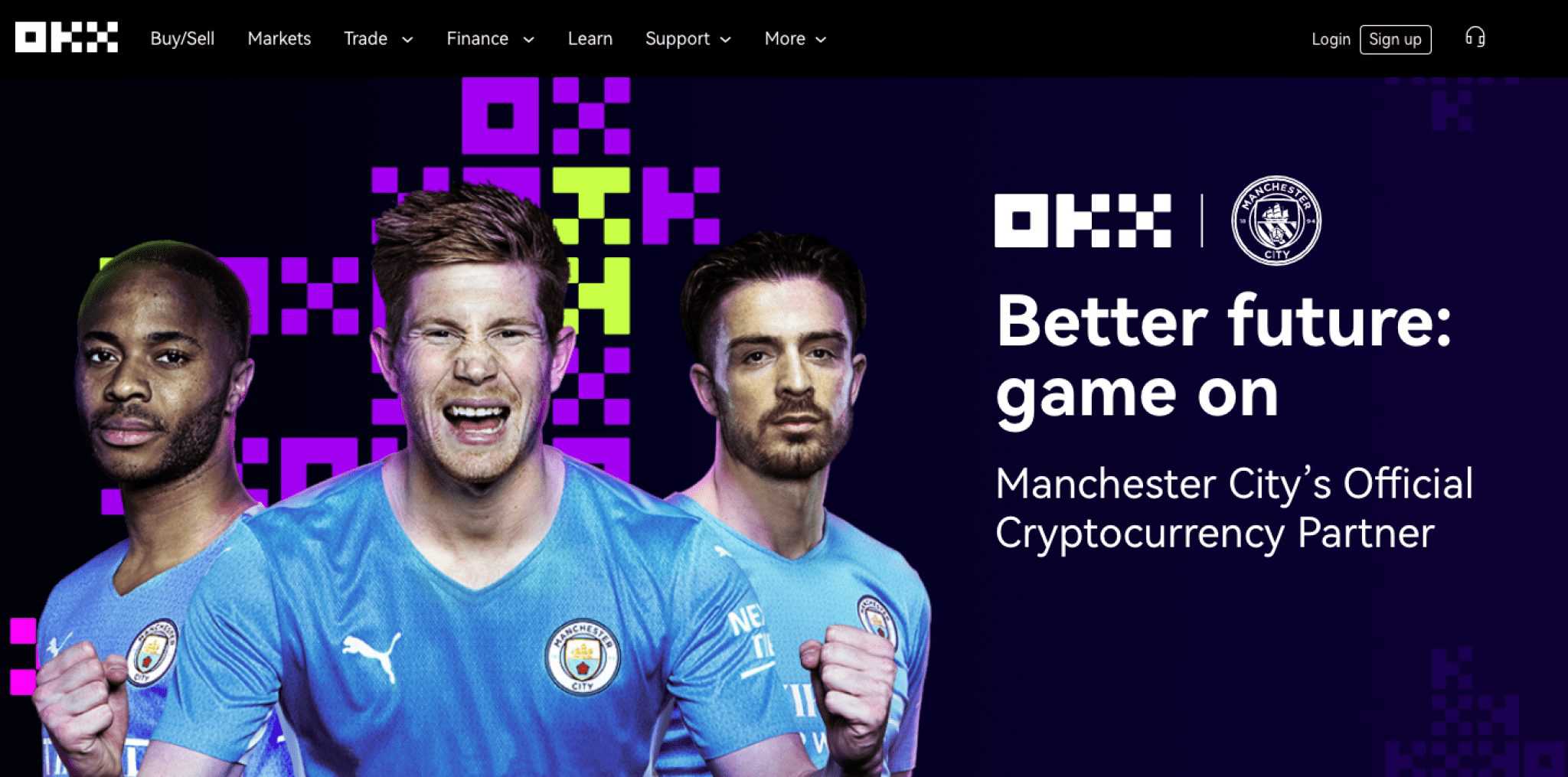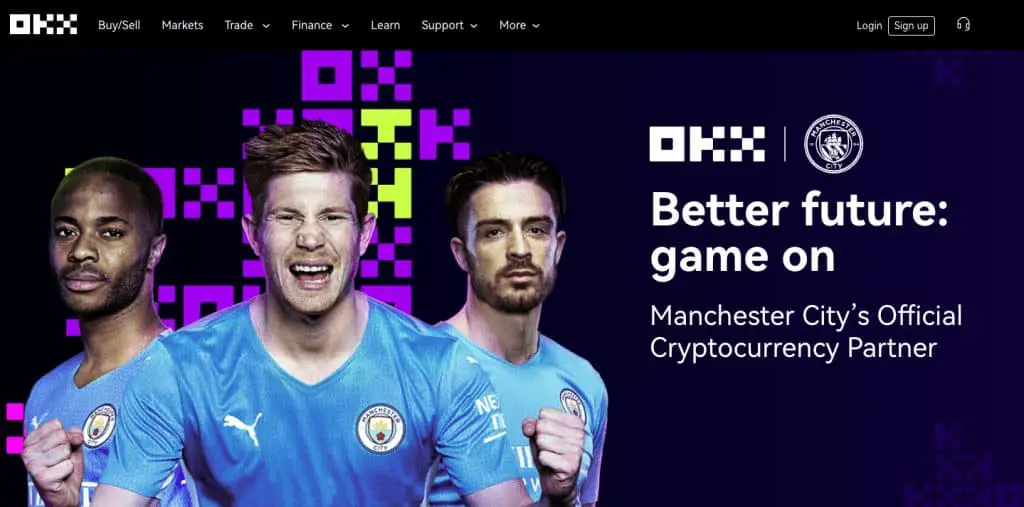 OKX and McLaren F1 Partnership
Industry-leading crypto provider OKX has announced a new multi-year sponsorship deal with McLaren F1 Racing, becoming the brand's official Primary Partner.
The move teams OKX up with one of the most successful racing teams in F1, with the partnership also extending to the McLaren Shadow esports team. 
OKX Exchange Supported Cryptos
The OKX platform is crypto to crypto; therefore, you can´t trade with FIAT markets such as GBP or Euros. However, they offer ways to buy your crypto from their site. OKX offers 140+ crypto assets and more than 400 trading pairs which can be bought using BTC, USDT, ETH, DAI and the native OKB token.
Deposit Methods
If you don't already have any crypto to trade with, you can buy your crypto from OKX with GBP, USD, EUR or a range of fiat currencies. The exchange offers 17 different payment methods to buy your fiat, including Apple Pay, Visa, MasterCard, or an online transfer from your bank.
You can also deposit a variety of cryptocurrencies with zero deposit fees. These can be sent across from another crypto wallet using the 'Deposit' tab in your account dropdown menu.

OKX Fees
OKX's fee structure for spot trading is dependent on a few different factors. These include the trading pair, OKB holding, volume of trading, and if you are a maker or a market taker.
For most users and trading pairs, the fees are 0.1% for market orders and 0.08% for taker orders. However, if you are a VIP user, i.e., your monthly trading volume is more than 10 million, you are eligible for fees as low as 0.06%.
There are no fees for deposits; however, fees are incurred for withdrawing your crypto. The withdrawal fee depends on the crypto you are withdrawing, for example, 0.0002 BTC for Bitcoin, 0.004 Eth for Ethereum and so on, which is cheaper than some centralized cryptocurrency exchanges such as Coinbase, Gemini and Kraken.
Regular Users
OKX regular users' fees are based on the number of OKBs held. OKB is the native crypto of the OKX exchange. The more OKB tokens you hold the lower your fees. 
| TIER | OKB HOLDINGS | 30-DAY TRADING VOL | MAKER FEE | TAKER FEE |
| --- | --- | --- | --- | --- |
| Level 1 | < 500 | < $10 million | 0.080% | 0.100% |
| Level 2 | ≥ 500 | < $10 million | 0.075% | 0.095% |
| Level 3 | ≥ 1,000 | < $10 million | 0.070% | 0.090% |
| Level 4 | ≥ 1,500 | < $10 million | 0.065% | 0.085% |
| Level 5 | ≥ 2,000 | < $10 million | 0.060% | 0.080% |
VIP Users
OKX VIP users' fees are determined by their trading volume over the last 30 days.
| TIER | 30-DAY TRADING VOL | MAKER FEE | TAKER FEE |
| --- | --- | --- | --- |
| Level 1 | ≥ $5 million | 0.060% | 0.080% |
| Level 2 | ≥ $10 million | 0.040% | 0.075% |
| Level 3 | ≥ $50 million | 0.020% | 0.070% |
| Level 4 | ≥ $100 million | 0.000% | 0.060% |
| Level 5 | ≥ $200 million | -0.002% | 0.050% |
| Level 6 | ≥ $500 million | -0.005% | 0.040% |
| Level 7 | ≥ $1 billion | -0.0010% | 0.030% |
| Level 8 | ≥ $10 billion | -0.010% | 0.025% |
OKX Features
The OKX crypto platform offers a lot in terms of products and services for its users. These features are split between the Exchange and MetaX and currently include;
OKX Exchange
Buy Crypto – Ways to purchase crypto with FIAT
Convert – Instant crypto swaps
Basic Trading – Spot trading
Margin Trading – For advanced traders, Margin Trading, Perpetual Swaps, Futures and Options
Earn – Deposit your crypto into fixed, flexible terms and earn interest
Loan – Borrow with collateralised crypto loans
JumpStart – OKX token sale platform
Dot Slot Auction – Vote for Polkadot and Kusama projects to get rewards
Learn – Tutorials, trading ideas and industry analysis
OKX Wallet
NFT Marketplace
Farming
Access to DApps
OKX Wallet
OKX Wallet was previously known as MetaX and is your entry into Web3, DeFi and the Metaverse. It's a self-custody software wallet where you can easily store crypto and NFTs, swap crypto with an inbuilt DEX, mint and trade NFTs and connect to Dapps
Downloadable as a web browser extension and is multi-chain, supporting various networks, including OEC, Ethereum, Polygon, Fanton, Binance Smart Chain and HECO.
With the OKX wallet, users remain in complete control of their crypto with access to their private keys. It can also be used to connect to DApps and DeFi protocols to invest, trade and earn.


OKX Support
OKX has a responsive and friendly customer support centre to chat and create bug reports which can be accessed from their user dashboard.
Having their utility token OKB gives you access to dedicated customer support.
OKX Security
Unlike many other centralized exchanges, with a notorious history of getting hacked, OKEx has never been hacked in its history.
However, in Oct 2020, OKEx did suspend all withdrawals from its exchange. At that time, the company's CEO, Star Xu, was taken into custody by authorities in Shanghai, which might have forced OKEx to suspend transactions. They said that Xu was no longer head of the exchange and insisted that all customer funds were safe and secure. What happened then is still unclear, but Xu was released soon, and OKEx has continued to flourish and is still trusted by millions of users worldwide.
OKX Referral Bonus
OKX offers new users a 10K Mystery Box and a $10 Bitcoin sign-up bonus. Plus, if you use our exclusive referral code 12689950959 you will receive a 20% rebate on every trade.
| | |
| --- | --- |
| OKX Referral Code | Use Referral Code 12689950959 or our OKX referral link |
| OKX Sign-up Bonus | 10k Mystery Box, 20% Off Trading Fees & $10 Bitcoin Bonus |
| Referral Terms | OKX Referral Terms |
| Bonus Last Validated | October 2022 |
Verdict: Should you use OXK?
OKX has a longstanding reputation in the cryptocurrency market. They tick all the boxes on a checklist of features for a crypto platform, especially if you are a beginner and just getting started. Their customer support is highly regarded, plus their low fees and available markets for you to start trading immediately.
Although they had a hiccup on their way with the suspension of withdrawals, it is worth noting that no funds were reported stolen or missing.
We believe that OKX should be on every trader's desktop in 2022 due to its diverse trading options and history of satisfaction and customer support.
Related Posts