This Bittrex review will take you through an overview of the cryptocurrency exchange's popular security focus. I explain how to buy and sell crypto on the exchange, supported cryptocurrencies, deposit methods, fees, and tokenized stocks.
Bittrex is a popular centralized cryptocurrency exchange and one of the first exchanges I personally used to get exposure to alt-coins. Originally founded in Seattle in 2014 by three cybersecurity engineers. With a goal to provide a world-class cryptocurrency exchange, focusing on security and trust.
So, let's dive into this Bittrex Review to help you work out whether Bittrex is the right crypto exchange for you.
Bittrex Exchange Review
What Is Bittrex Exchange?
Bittrex is a popular cryptocurrency exchange based in Liechtenstein and Bermuda. The company was originally founded in Seattle in 2014 by Bill Shihara, Richie Lai, and Rami Kawach. All three founders were cybersecurity engineers who had previously worked at the likes of Microsoft, Amazon, and Blackberry. The Company is headquartered near the financial centre of Zurich, in the Principality of Liechtenstein. 
Initially launched as a crypto-to-crypto exchange, they have now introduced 2 FIAT markets with support for EUR and USD deposits. With Bittrex, you can buy, sell and trade over 500 markets, including trading for tokenized stocks like Apple, Tesla, and Facebook.
Deposit Methods
With Bittrex, you can deposit FIAT or cryptocurrencies into the exchange. FIAT includes USD and EUROs and can be sent via bank wire or deposit by debit/credit card. You can also deposit USD and EUR to your Bittrex Global account whilst charging EUR/GBP/USD to your card.
There are also daily/monthly limits which will depend on your location and card provider. With wire transfers, there are no limits and fees, although your bank may charge these.
If you are depositing cryptocurrency, minimum deposits apply to each cryptocurrency. However, generally speaking, this is around 0.1 of a token.

Bittrex Supported Cryptocurrencies
You can trade with a huge selection of markets and cryptocurrencies with the Bittrex exchange. These include the likes of Bitcoin, Ethereum, USDT, and tokenised stocks like Facebook or Apple.
In total, over 600 trading pairs are available on Bittrex, making it the go-to exchange for a wide range of tokens.
Bittrex Fees
Bittrex trading fees are based on your monthly trading volume, and they work on a maker/taker model for larger trading volumes. Previously, for those who trade under $50K per month, there was a flat fee of 0.20% whether you were a maker or a taker. However, these have greatly increased to 0.75% for trading under $5,000.
These fees are quite expensive compared to their competitors, with Binance at 0.1% and the more expensive Coinbase Pro at 0.5%.
The fees start to reduce depending on your trading volume and whether you are a maker or a market taker after $50K. You can also get discounts when sharing your referral code with friends and family.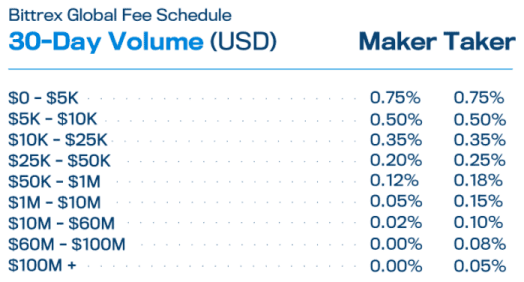 Withdrawal & Deposit Fees
With Bittrex, that are no deposit fees when depositing cryptocurrencies. However, for those who deposit with a Visa or Mastercard, a 3% processing fee is applied.
Bittrex Global allows users to deposit USD and EUR to their Bittrex Global account while charging EUR/GBP/USD to their card. They will also charge a 2.5% foreign exchange fee on top of the card processing fee for these transactions.
Bittrex will charge a small fee for withdrawals with inbuilt network transfer fees. The network fee is available to view on the withdrawal window for each coin or token.
Bittrex Tokenised Stocks
Customers of Bittrex can now purchase tokenised stocks such as Tesla, Apple and Facebook or ETFs like SPDR S&P 500. Tokenised stocks are tokenised derivatives backed 1:1 with traditional stocks, providing users with the same benefits as owning the underlying stock.
These shares can be traded using cryptocurrencies or FIAT on the Bittrex Global platform. However, tokenized stocks can only be bought, sold and traded on the Bittrex Global exchange. You cannot withdraw your Tokenized Stocks to other exchanges or wallets. 
Bittrex Support
Bittrex offers a comprehensive FAQ section on its site, which offers its users some pre-written documented support documents. However, if you require further assistance, they also have a support ticketing service available which you can reach from the support section of their site.
I've not personally used Bittrex support, so we can not personally comment. However, I have used the FAQ section, which is easy to use, and answered some basic questions.
Verdict: Should you use Bittrex?
Bittrex was the first multi-cryptocurrency exchange I used and was once considered one of the most popular exchanges. However, they have seriously fallen behind other exchanges, with very little innovation in the last few years. Honestly, the platform has hardly changed since I used it in 2017.
They support a wide range of cryptocurrencies, but rarely have I found a token that is not available on Binance. The major issue is Bittrex fees; they are just too high. Compared to the likes of Binance or OKX, which have trading fees starting at 0.1%, Bittrex is a massive 0.75%.
Although I've never needed to contact Bittrex support for help, like a lot of other crypto exchanges, you will quickly come across lots of negative reviews. Bittrex TrustPilot's score is currently "Bad", with a score of only 1.5. Another issue that seems to get much attention is Bittrex freezing and closing accounts. However, the like of Binance has been known to have done the same thing.
If you're new and want to sign-up for an exchange, I would go for Binance or OKX. But it's always worth keeping your options open and having more than one exchange available.
Related Posts