CoinSmart is a publicly listed Canadian trading platform available for desktop and mobile, with support for 18 cryptocurrencies and FIAT deposits in Canadian dollars, Euros or US Dollars. Its features mean it's not only ideal for the newbie buying their first crypto but also built with the more advanced trader in mind.
CoinSmart Review: How to Use CoinSmart Exchange

CoinSmart Pros & Cons
What is CoinSmart?
CoinSmart is a publicly listed cryptocurrency exchange based in Toronto. They were founded in 2018 by Justin Hartzman and Jeremy Koven when they found it difficult to fund and get verified on other exchanges. 
Their mission was to make cryptocurrency accessible to anyone, and they started to develop a reliable, beginner-friendly exchange that would make crypto accessible initially to anyone in Canada.
Now users in Europe and Canada can buy and sell Bitcoin and some of the most popular digital currencies quickly and easily on desktop and mobile, with plans to bring on Latin America and Australia soon. 
CoinSmart offers quick verification, an easy-to-use interface, a high level of security, and the ability to fund your account with multiple methods using Euros, Canadian or US Dollars. 
In November 2021, CoinSmart went public and became listed on the public markets. They are a FINTRAC-registered Money Service Business. This means they are compliant with regulatory standards. Plus, they're backed by a registered Canadian bank.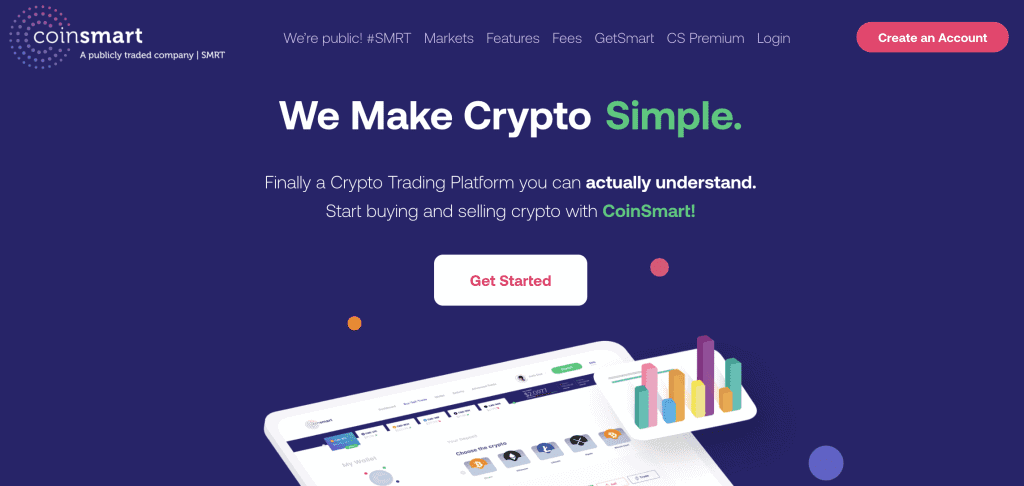 CoinSmart Features
CoinSmart offers many features ranging from the crypto newbie to the more advanced crypto trader and continues to add new features. Below, we've listed some of the most popular.
SmartTrade
Coinsmart SmartTrade allows beginners to buy, sell, or trade crypto within just a few clicks. Simply choose the cryptocurrencies that you'd like to trade between without having to worry if there is a direct swap available. SmartTrade works all of this out for you in the back end to do it in one transaction.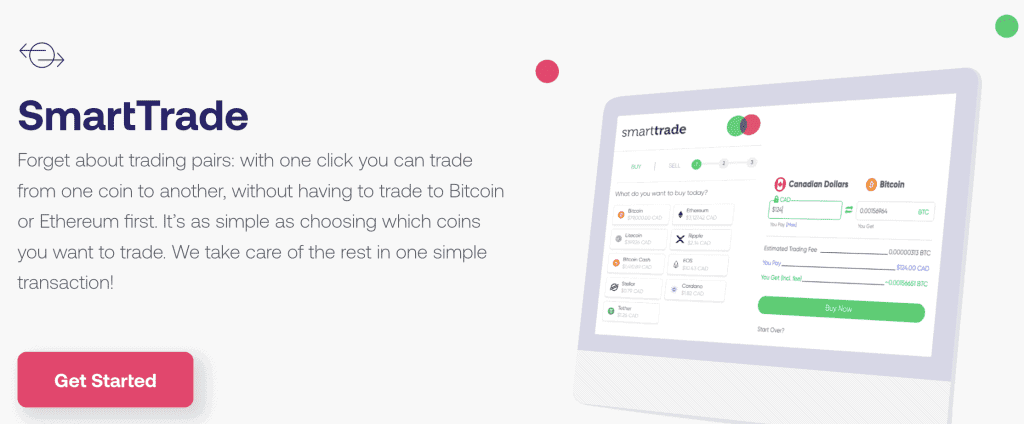 Advanced Trade
The Coinsmart Advanced Trade feature is for the more experienced investors. With Advanced Trade, users can use real-time charting and create more advanced order types, such as limit and stop-loss orders.
Although the charts, graphs and order books can be a little daunting, any user can use the Advanced Trade feature to place an order at a defined price and wait for the market to reach that price. Helping users to get the best price for their crypto.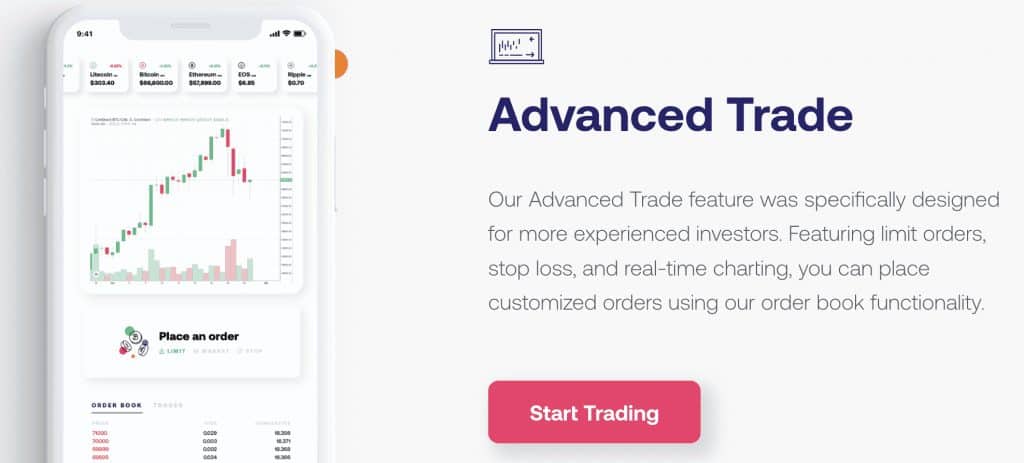 SmartGuarantee
CoinSmart's SmartGuarentee offers its users guarantees for certain services, including;
If these conditions are not met, users will receive certain benefits. Including credits for deposit or withdrawal fees, which will be applied to your account in 2 business days. You can check out their full terms here.
What is Covered with CoinSmart SmartGuarantee?
Deposits will be credited to your account the same day we receive them.
Cash withdrawal requests are processed within five business days.
Account verifications are processed on the same day.
What is Not Covered with CoinSmart SmartGuarantee?
When you provide inaccurate or incomplete information concerning the requested deposit or withdrawal.
If our compliance team requires further information to verify your account.
When your deposit or withdrawal is not allowed under our Terms of Service, for example, if it exceeds your transaction limits, it is within our withholding period, or you have not complied with our Terms of Service.
If the delay is due to any action, omission or inactivity by or on behalf of your financial institution or another 3rd party providing your services
If we suspect any fraudulent, illegal or suspicious activity on your CoinSmart Account.
CoinSmart Mobile App
The CoinSmart trading platform is not only available on desktops. You can also buy and sell all your favourite cryptocurrencies with the CoinSmart mobile app. CoinSmart mobile is available for Android via Google Play and iOS via AppStore.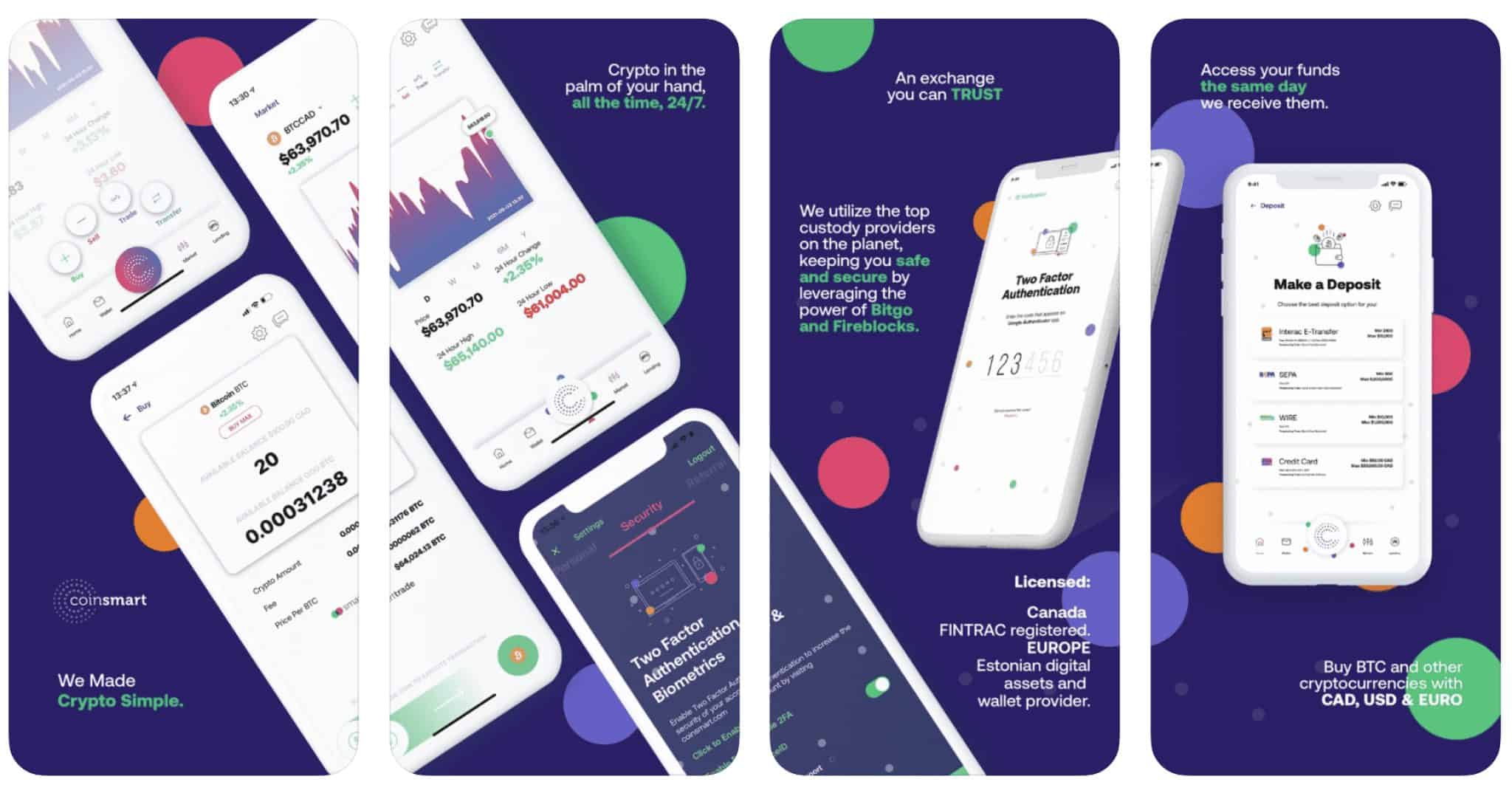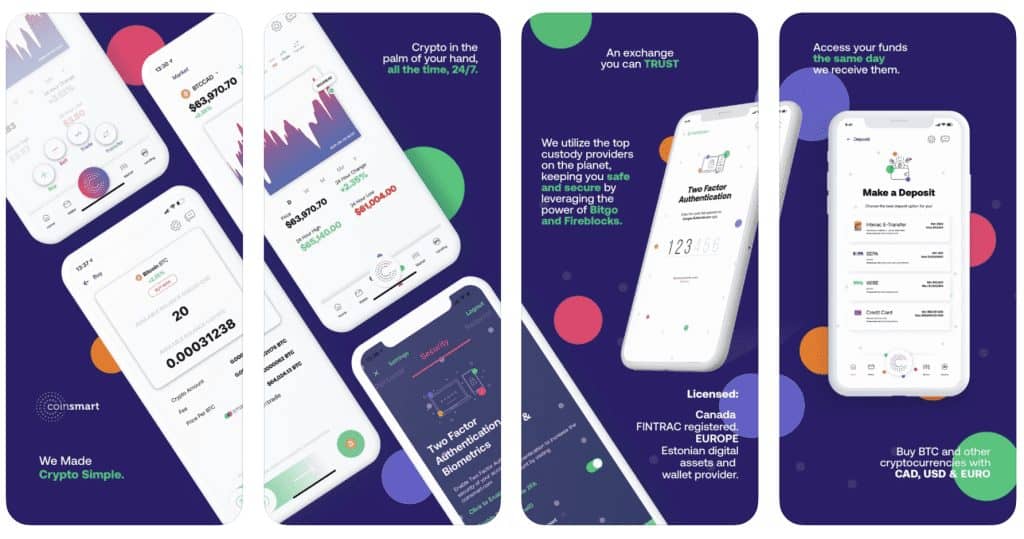 Supported Crypto
With CoinSmart, you can buy and sell some of the most popular cryptocurrencies, which include;
Bitcoin
Bitcoin Cash
Chainlink
Dogecoin
EOS
Ethereum
Litecoin
Shiba Inu
Stellar
USDC
Users can deposit and buy crypto with FIAT currencies, including Euros, US, and Canadian Dollars.


CoinSmart Fees
Funding
Users can fund their CoinSmart accounts with cryptocurrencies or traditional (fiat) currencies. These include Euros, Canadian Dollars or US Dollars.
Depending on your location and currency, Coinsmart accepts Interac, SEPA, Wire Transfers, and E-transfers with same-day deposits.
If you're creating a new account and depositing €100 or more, use our link to get €20 of BTC.
European Fees
Canadian Fees
0% Fee $2,000<

1.5% Fee >$1,999
Trading Fees
Trading crypto on CoinSmart does incur trading fees. These are considered single trades at 0.2% or double trades at 0.3%.
A single trade is trading between a FIAT currency and a cryptocurrency. Or if you are trading between cryptocurrencies.
A double trade is trading between 2 cryptocurrencies that are not Bitcoin. I.e Polkadot and Solana.
FIAT Withdrawal Fees
You can withdraw this back to your bank account if you've sold your crypto for FIAT currencies such as CAD or EURs. Withdrawals can take between 1 and 5 days. Depending on your location and method, these may come with a withdrawal fee.
Canada
| | | | | |
| --- | --- | --- | --- | --- |
| | | | | |
| Electronic Funds Transfer | | | | |
| | | | | |
Europe
| | | | | |
| --- | --- | --- | --- | --- |
| | | | | |
| Electronic Funds Transfer | | | | |
| | | | | |
| | | | | |
Crypto Withdrawal Fees
If you're holding your crypto for the long term and want to withdraw this to the likes of a hardware wallet, you can easily withdraw your crypto from the platform.
Crypto withdrawals are within 24 hours, and withdrawal fees are on crypto by crypto. These fees as based on the gas fees at the time and have been lower in the past and will be lower as gas fees go down.
CoinSmart Support
Regarding customer service/support, you can contact CoinSmart via email or their 24×7 chat on the platform. This takes you to a bot with simple answers, or you can "get in touch" and speak to someone on live chat.
We contacted support whilst writing this CoinSmart review, and they returned to me in seconds. This is great, especially if you compare this to other exchanges where support can be non-existent.
They also have a comprehensive FAQ section on their website. Their "GetSmart" Hub also helps users learn about the crypto world.
How to Contact CoinSmart Support?
Security
CoinSmart is a FINTRAC-registered Money Service Business meaning they adhere to certain compliance and regulatory standards. As part of this, they also provide documentation to maintain this status. Plus, CoinSmart is also backed by a registered Canadian bank.
Coinsmart prevents fraud by running a strict identity verification process that can detect fake addresses and DOBs using a database by data collection agencies.
CoinSmart also enables 2-factor authentication using Google Authenticator. This gives users a one-time code for actions on the platform, such as logging in or withdrawals.
Is CoinSmart Safe?
Yes, we would say that CoinSmart is safe to use. With its FINTRAC registered Money Service Business award, CoinSmart has to adhere to many regulatory standards. Plus, they use BitGo's cold storage service, which is insured by Lloyd's of London for $100 million.
The added implementation of 2-factor authentication (as a standard) for logins and withdrawals also ensures the user controls their account.
Regulations
On February 16th 2022, the RCMP (Royal Canadian Mounted Policy) issued an alert indicating that they and the Ontario Provincial Police were investigating activity related to the financing of protests and listed 34 crypto wallets that were subject to investigation.
This order required Canadian financial institutions (including crypto exchanges) to avoid any dealings with these crypto wallets, which held more than $1 million.
Although CoinSmart were contacted …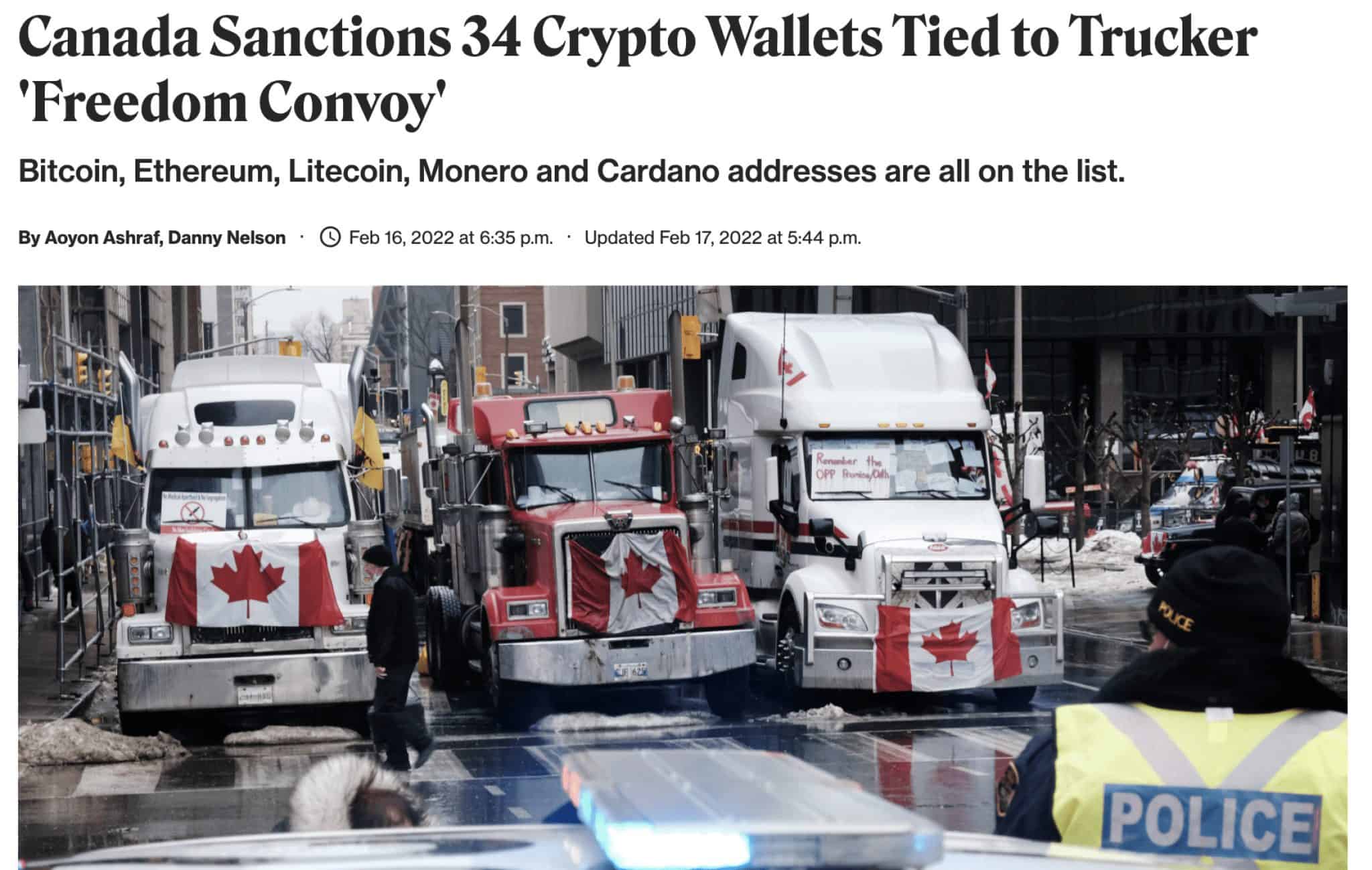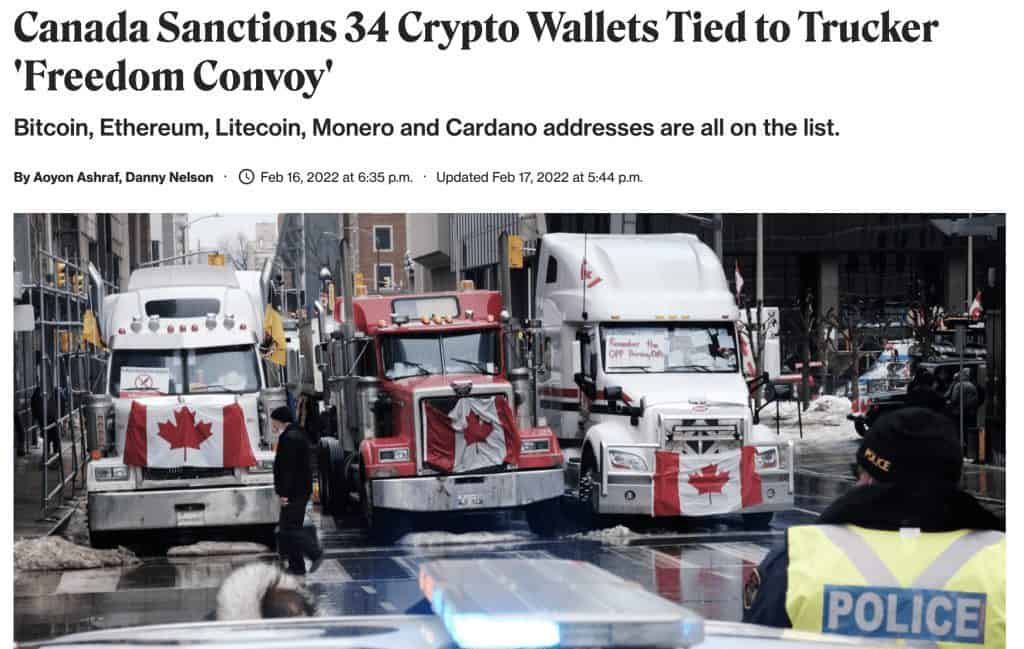 CoinSmart Sign-up
With CoinSmart, you can create an account and get verified in minutes. Follow the below steps to sign up and get €20 in free Bitcoin.
Head to CoinSmart.com or use our sign-up link.
Enter your email address and a secure password to secure your account.
Enter EBH20 into the referral code to get €20 in BTC (when you deposit €100 or more).
Choose your "Country" from the dropdown
Agree to the Terms of Service
You will be prompted to verify your email address and to sign in to your account.
CoinSmart is a centralised, regulated and publicly listed platform. So you will need to complete KYC. This includes providing a photographic ID, a selfie and a security question.
I know that these types of verifications can be a little annoying. But this extra layer can protect you from scams and identity theft. Without it, anybody can use your info, create an account (using your name) and pull funds.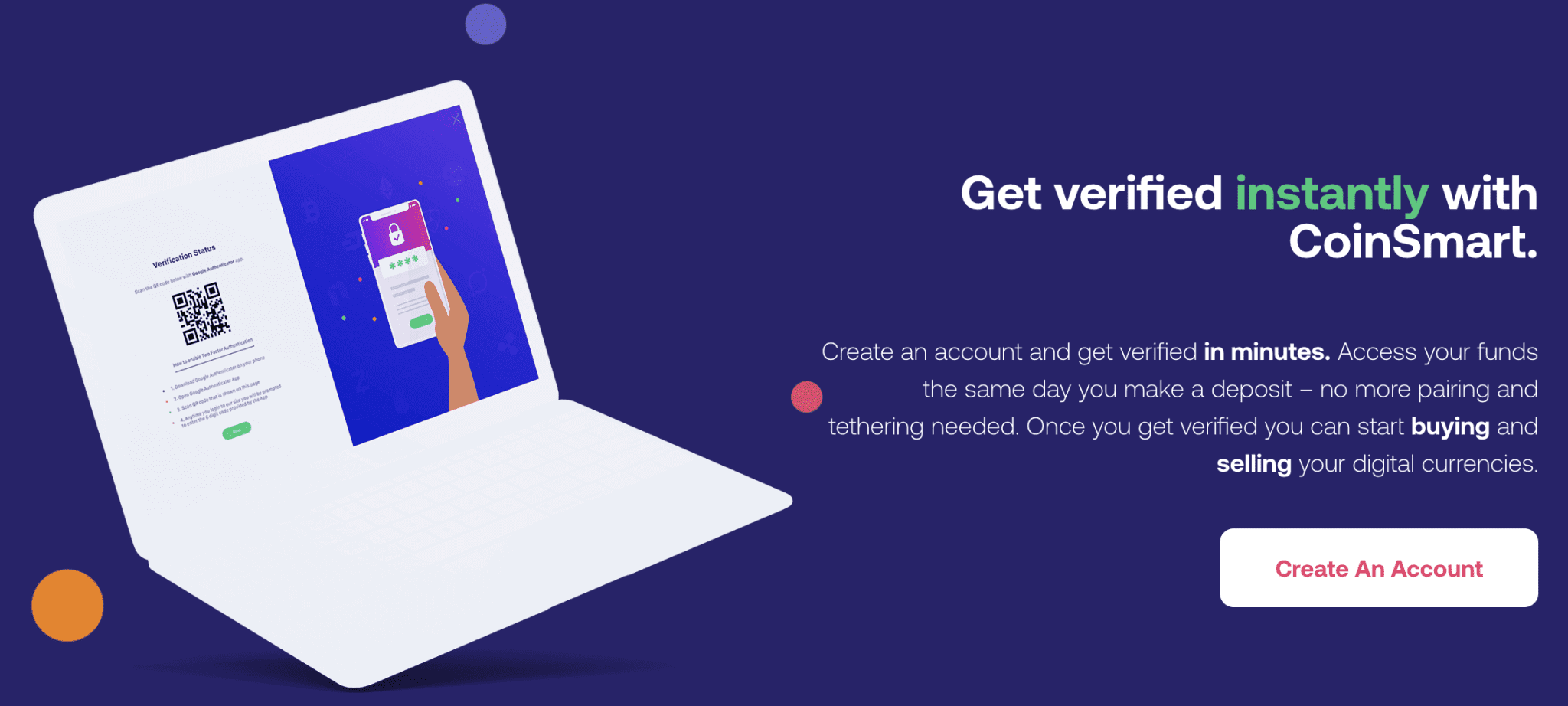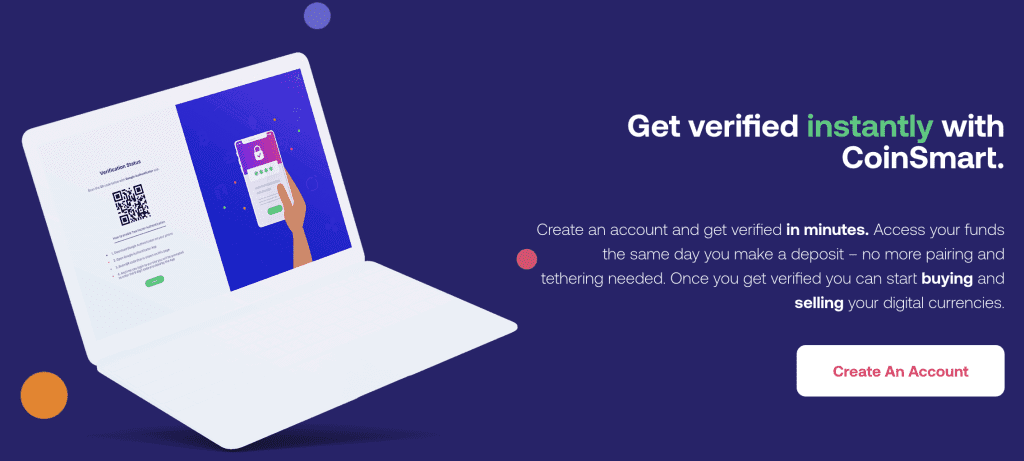 CoinSmart Referral Code
Use CoinSmart Referral Code ebh20 at Sign-up

 Get €20 of BTC (min deposit €100) 
FAQs
Is CoinSmart available in the USA?
CoinSmart is currently not available in the USA (United States).
Related Posts