This guide will provide you with the 8 Best Places to Stake Solana SOL Tokens. Plus, how to stake SOL to earn up to 9% interest in passive income.
Instead of just holding Solana SOL tokens on an exchange like Binance and OKX or on a hardware wallet like Ledger, you can stake your SOL tokens and earn interest. We have been doing this for a while now and earn around $300 per month in passive income.
So, let's jump into this beginner's guide to Solana staking and show you how to start earning interest on your SOL tokens.
6 Best Places to Stake Solana SOL Tokens in 2023
We have put together the 6 best places to stake Solana SOL tokens in 2023. Staking Solana SOL tokens is a great way to earn passive income, but SOL can be very volatile, like all crypto assets.
Before you choose your method of staking SOL tokens and making any investment, please do your own research, as staking crypto does come with risk.
Coinbase
Binance Exchange
Huobi Exchange
Kraken Exchange
Exodus Wallet
Phantom Wallet & Ledger Nano
Want to find the best rates to stake & lend your crypto assets? Check out our DeFi rates table to find the best returns on your crypto.
1. Coinbase
Coinbase is one of the most popular crypto platforms in the world and introduced Solana staking in June 2022. Staking SOL on Coinbase is a great option, especially for beginners, as you don't need to worry about setting up validators, and you start with as little as $1.
When you stake Solana on Coinbase, you will automatically start earning rewards every 3 to 4 days. The current APY for SOL on Coinbase is around 4% APY; however, this can fluctuate. Coinbase makes entry into crypto very easy for newbies, but this also comes with a price. Staking Solana on Coinbase comes with a staking fee of 25%.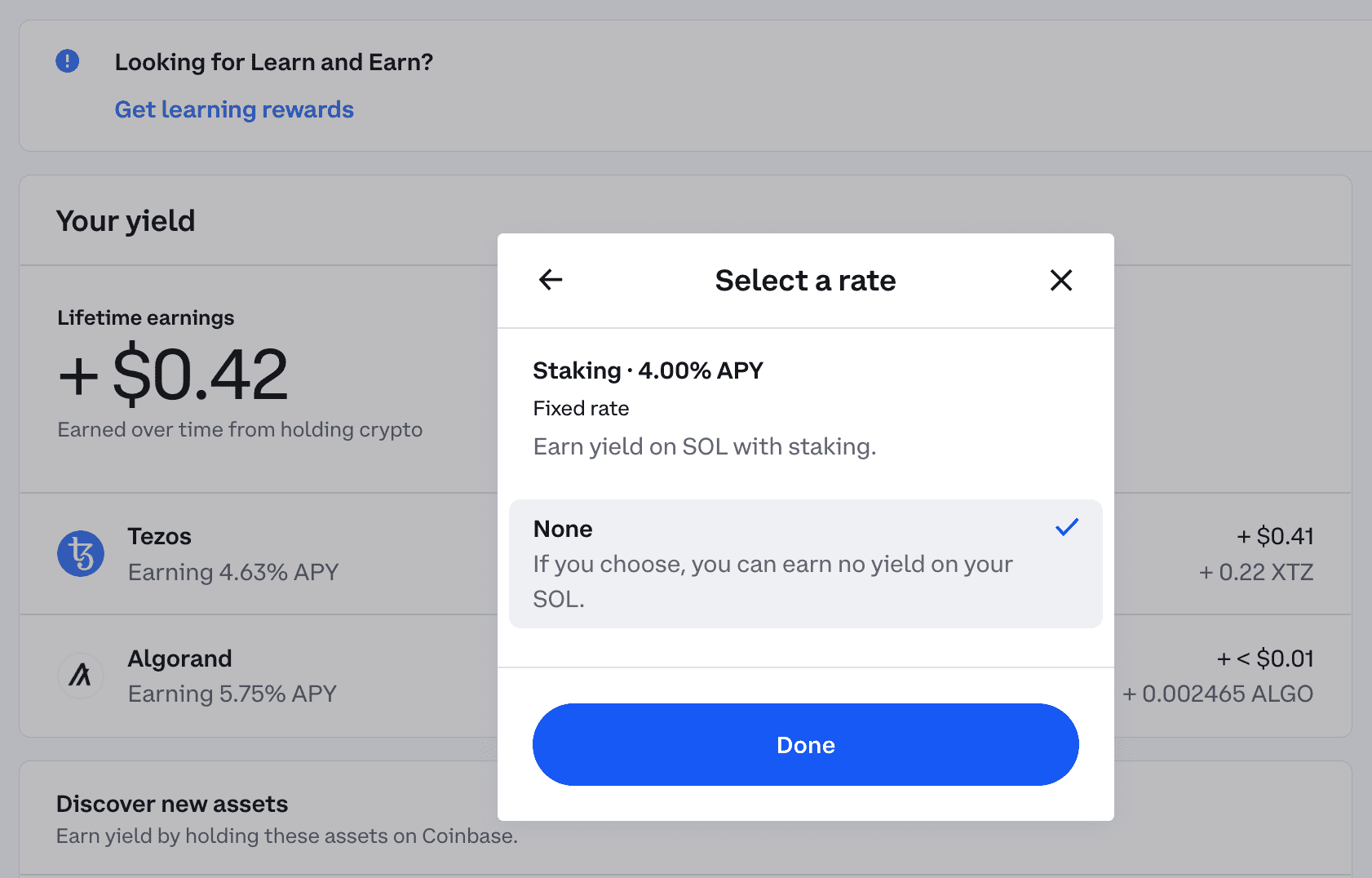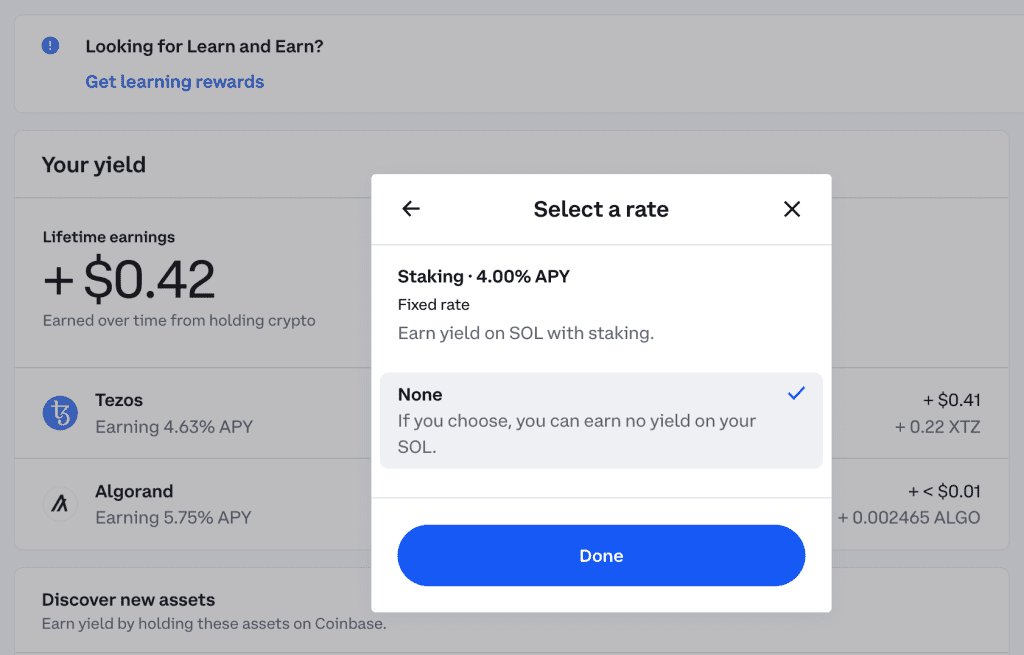 Coinbase Solana Staking Rate: 4% APY
Staking Verdict: Coinbase makes it very easy to stake Solana, but the rate you receive will be lower than its competitors. Coinbase may be worth considering if you already have an account and don't mind not getting the best interest rate.
Coinbase Sign-up Bonus: Click here to get a $10 BTC Bonus when you sign-up to Coinbase.

2. Binance Exchange
Binance is the world's largest crypto exchange, offering investors some of the lowest fees in the industry, high liquidity and hundreds of trading options. Created by Changpeng Zhao in China in 2017, the crypto exchange relocated to the Cayman Islands. Binance.US is the U.S. version of Binance.com but offers investors fewer cryptocurrencies to trade and features.
Binance.com has a few different options when it comes to staking SOL. Unfortunately. Binance.US users cannot stake Solana and will need to look for another option mentioned in this guide.
Binance offers its users some of the best Solana staking rates in the market. However, these promotions are only for short amounts of time. Realistically, to stake Solana on Binance Earn, you will be looking to lock up your SOL tokens for either 30, 60 or 90 days. Normally the longer you lock up your tokens, the higher the interest rate you will receive. Just be aware that these subscriptions do expire, and the interest rates do change.
Binance Solana SOL Staking Rates;
30 Days Locked Staking – 5.86%
60 Days Locked Staking – 7.50%
90 Days Locked Staking – 14.79%
120 Days Locked Staking – 19.47%
15 Days Fixed Savings – 35%
Flexible Savings – 1.50%
Binance calculates its staking interest daily, but if you break the lock-up period early, you will lose any accrued interest.
With so many features, Binance can be a little daunting for users new to investing, but you will quickly get used to it. We also have a few Binance beginners tutorials if you need further assistance. For those who are looking for an easy way to earn interest from their SOL tokens, Binance could be a great choice. Not only does Binance offer ways that you can trade SOL, but you can also stake and earn a yield.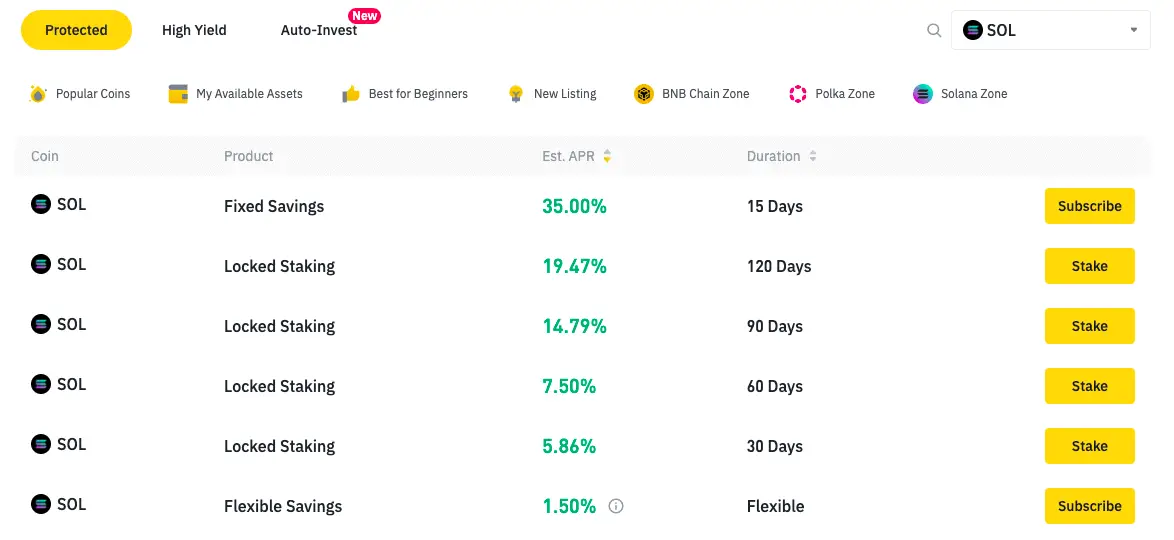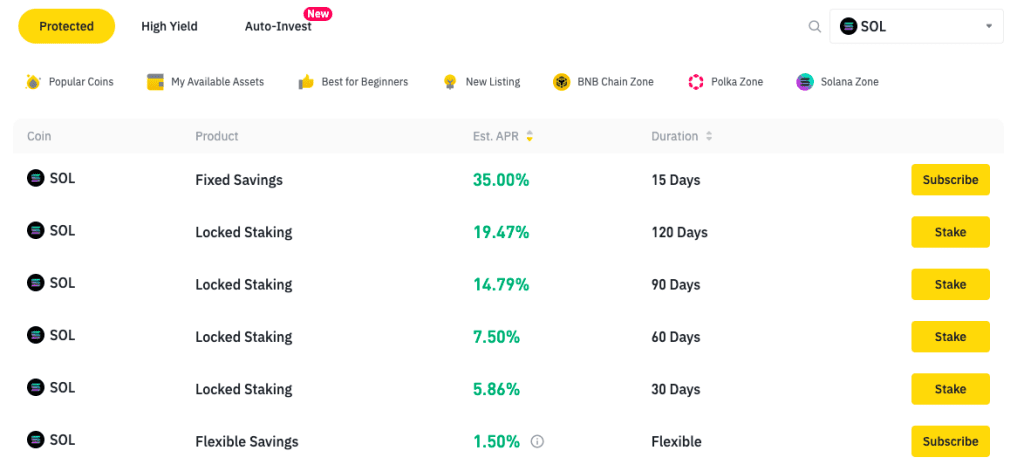 Binance Solana Staking Rate: up to 35% APY
Staking Verdict: We personally do stake crypto on Binance and have never experienced any issues. If you have a Binance account and trust the platform, it may be worth considering staking SOL on Binance. However, we don't stake Solana on Binance Earn.
Binance Sign-up Bonus: Click here to get 20% off trading fees, plus a bonus of up to $100 when you sign-up for Binance.

3. Huobi Global
Huobi Global is a crypto-to-crypto exchange founded in China in 2013 and has since been relocated to Seychelles. Although available in most countries worldwide, Huobi isn't available in the U.S.
Huobi Global Solana staking is similar to Binance but with lower interest rates. They offer a few staking options on their Huobi Earn feature, with Fixed, Flexible, and First Timer investing options.
Previously, with staking SOL on Huobi, you could earn around 5.35% APY, which is much lower than some of its competitors. You will find Huobi does run special promotions and has offered limited-time rates as high as 50% APY for SOL.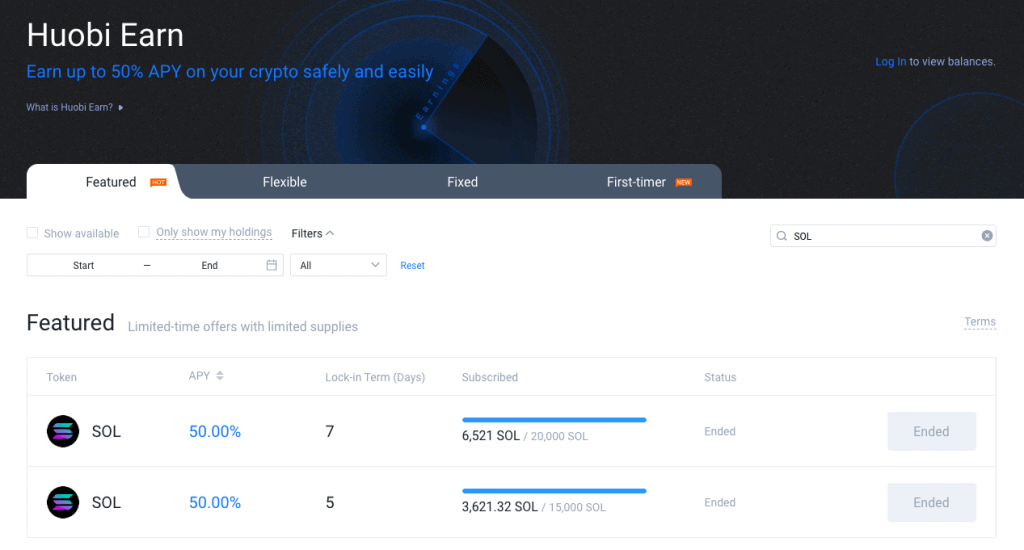 Huobi Global Solana Staking Rate: 4.60% APY
Staking Verdict: If you want to stake Solana on an exchange, we think you can get better rates elsewhere. We would personally avoid staking Solana on Huobi Global.
Huobi Global Sign-up Bonus: Click here to get 20% off your trading fees when you sign-up to Huobi Global and use our referral code y3mz2223.
4. Kraken Exchange
Kraken is U.S. based crypto exchange with excellent security and low trading fees, making it a popular choice for crypto investors. Although Kraken is a U.S.-based exchange, you may notice some restrictions depending on your location.
Solana is one of 14 tokens available to investors for staking; the others include the likes of ETH, DOT and ADA. If you don't have SOL, you can trade for these on Kraken for the likes of USD, EUR, GBP and BTC. Once you have your SOL tokens, you can start stake SOL and earn between 6-8% APY. To stake Solana on Kraken, you must deposit at least 0.2 SOL. Unlike other options in this list, there are no lockup periods to stake SOL, and your tokens can be withdrawn at any time.
Although we are not a big fan of the Kraken exchange user interface and user experience, they do make staking crypto very easy. In our opinion, Kraken is one of the safest exchanges, and we do use Kraken for staking, but we don't stake Solana.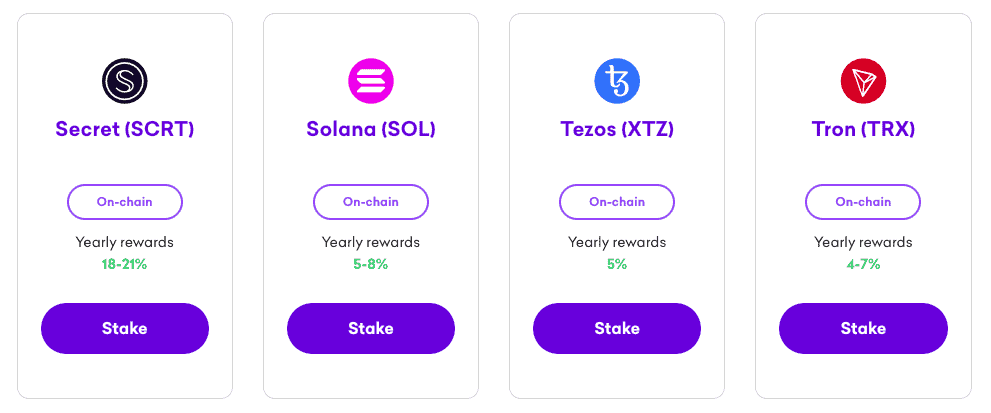 Kraken Solana Staking Rate: 5-8% APY
Staking Verdict: Staking SOL tokens on Kraken is worth considering if you already have a Kraken exchange. We do use Kraken for staking crypto but don't currently stake any Solana.

5. Exodus Wallet
Exodus is a free desktop and mobile wallet where you can also store and stake your SOL tokens. Under the Rewards tab, you'll find several tokens where you can stake, which include Solana at 5.23% APY, and this is currently with an estimated staking period of 4 days.
If you don't have any SOL to stake, you can exchange for some within the Exodus wallet. However, just be aware that this won't be the cheapest way to exchange your tokens due to high spreads. But it does mean that you don't have to swap and send your tokens from one platform to another.
When you stake SOL with Exodus, you will be staking with the Everstake API provider.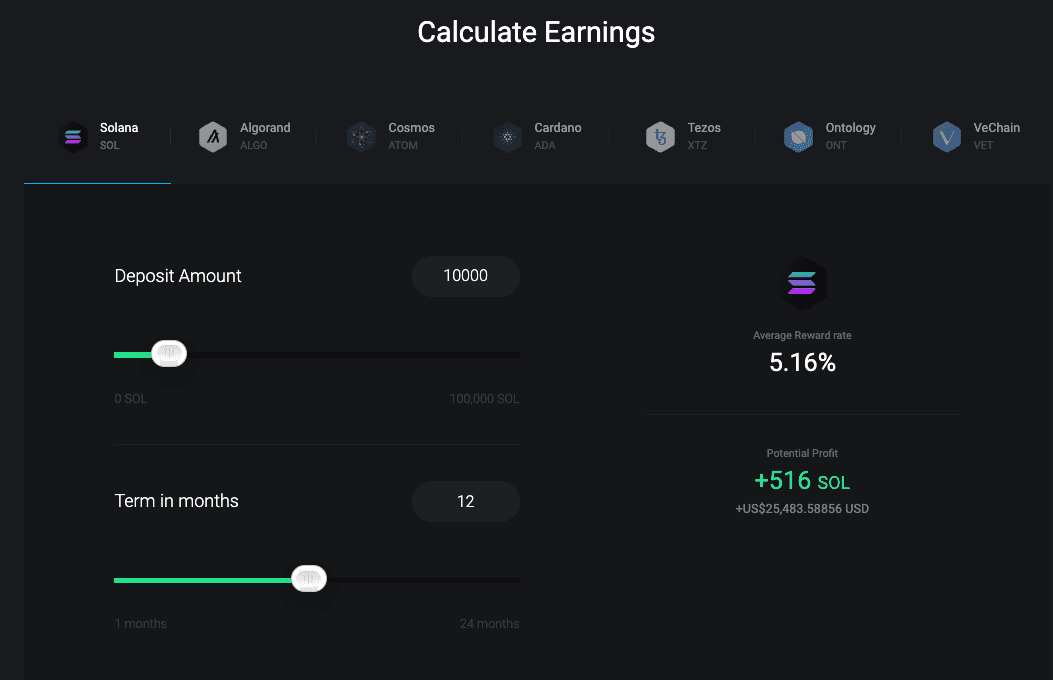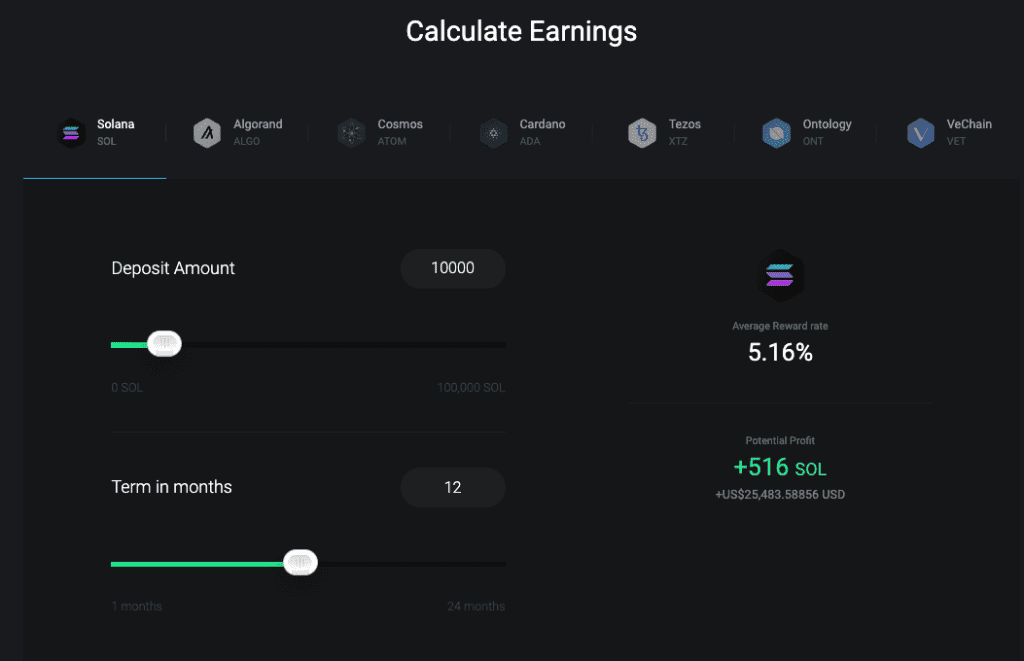 Exodus Wallet Solana Staking Rate: up to 5.23% APY
Staking Verdict: Exodus was the first wallet we ever used when we first got into crypto, and it's still a favourite of ours. The Solana staking rates on Exodus are on the low end, but I would prefer to stake Solana in the wallet rather than on a crypto exchange.
6. Phantom Wallet & Ledger Nano
The Phantom Wallet is the non-custodial wallet for Solana, similar to the likes of Metamask. Phantom Wallet allows users to safely store and stake SOL tokens with access to their private keys. Plus, you can also connect Phantom to a Ledger hardware wallet for extra security.
When staking your SOL within the Phantom Wallet, you'll be presented with a list of validators that you need to choose from. It is important to research these Validators, as you will be entrusting them to earn your interest. Before you stake with your validator, all the information will be broken down, such as the validator's commission rate and the number of current delegators.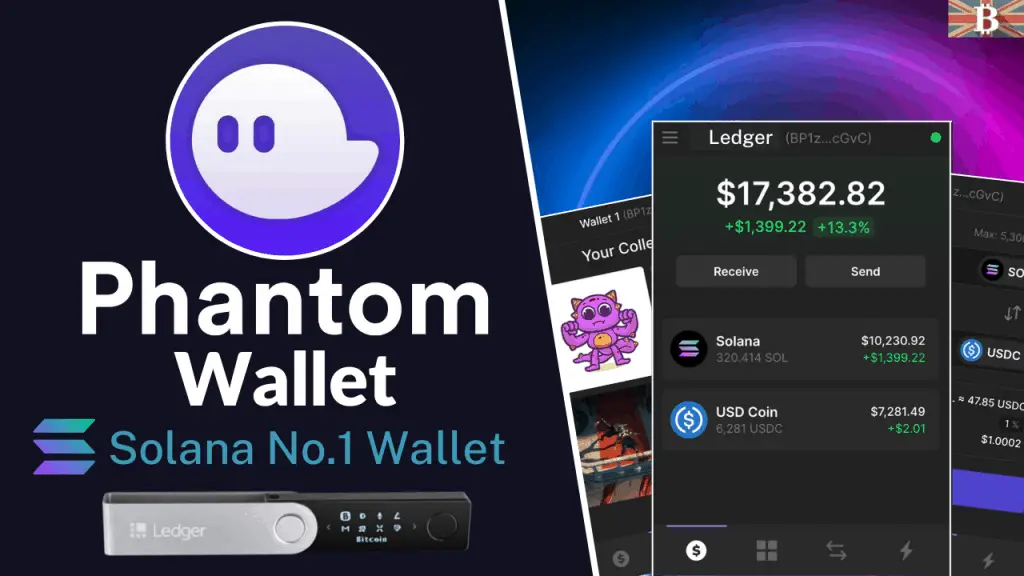 Phantom Wallet Solana Staking Rate: 6-8% APY
Staking Verdict: We personally use the Phantom wallet to stake Solana in conjunction with our Ledger Nano hardware wallet. We felt this was the safest way to stake SOL and choose our own validators. This won't be the easiest method to stake Solana, but if you have the time, it's worth researching.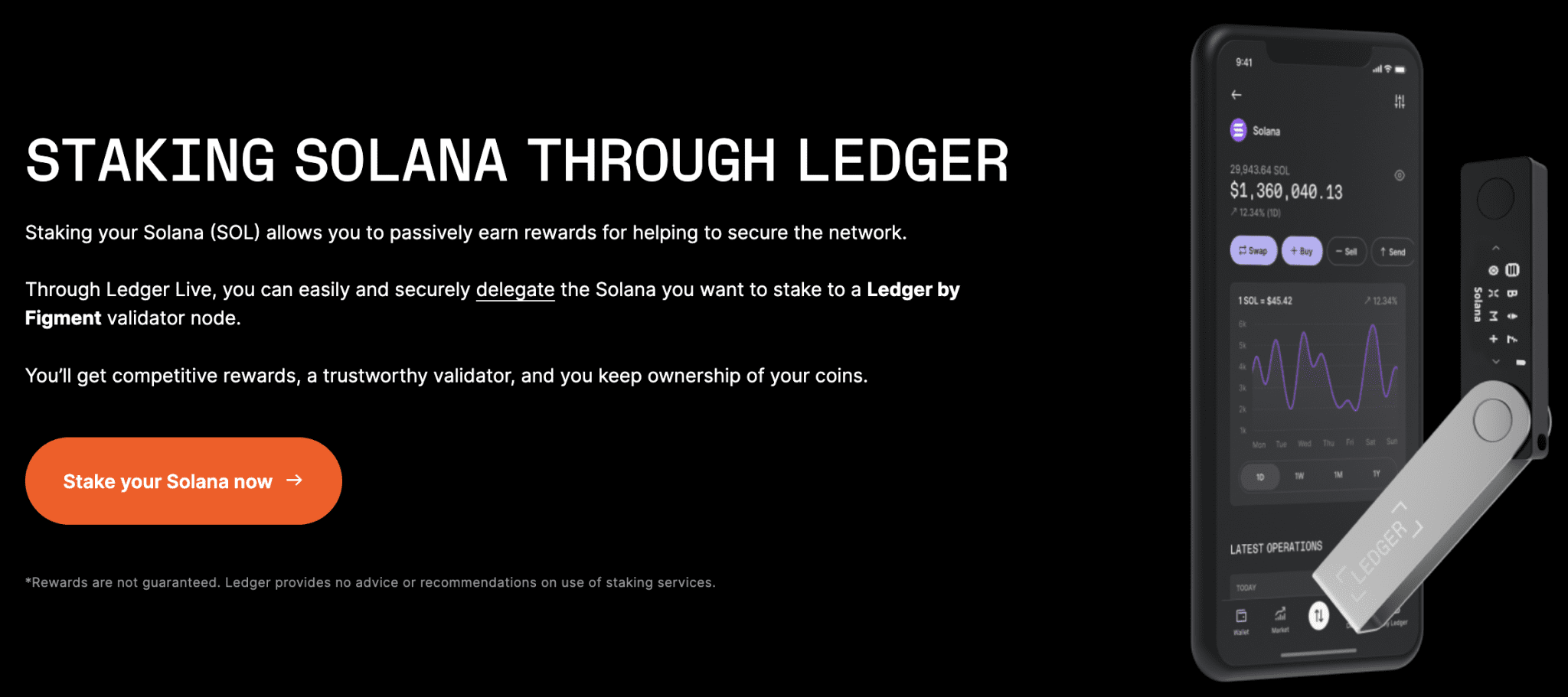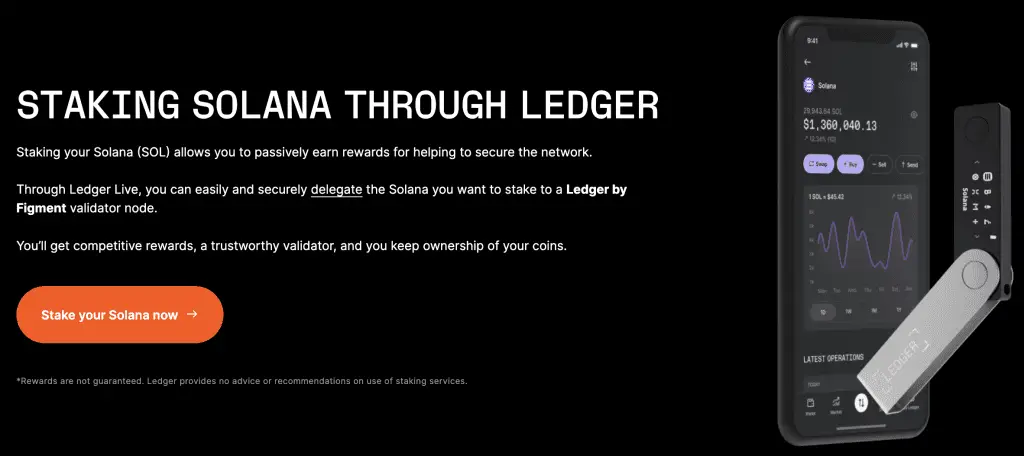 Best Solana Staking Rates 2023
There are a few other options to stake your Solana SOL tokens we didn't mention in the guide, you can also check out our staking and lending table to find the best SOL interest rates.
If we have missed a way to stake Solana SOL tokens, please let us know in the comments below.
What is Solana?
Solana has one of the fastest-growing ecosystems in the cryptocurrency space with its highly scalable blockchain, which they claim to be the fastest in the world. You can buy or trade for Solana using popular cryptocurrency exchanges such as Binance, Huobi, or Crypto.com.
With Solana, you can connect to a vast array of DeFi solutions, and it's probably best known for its successful SOL token, which has gone from strength to strength since its release and is currently in the top ten on CoinMarketCap.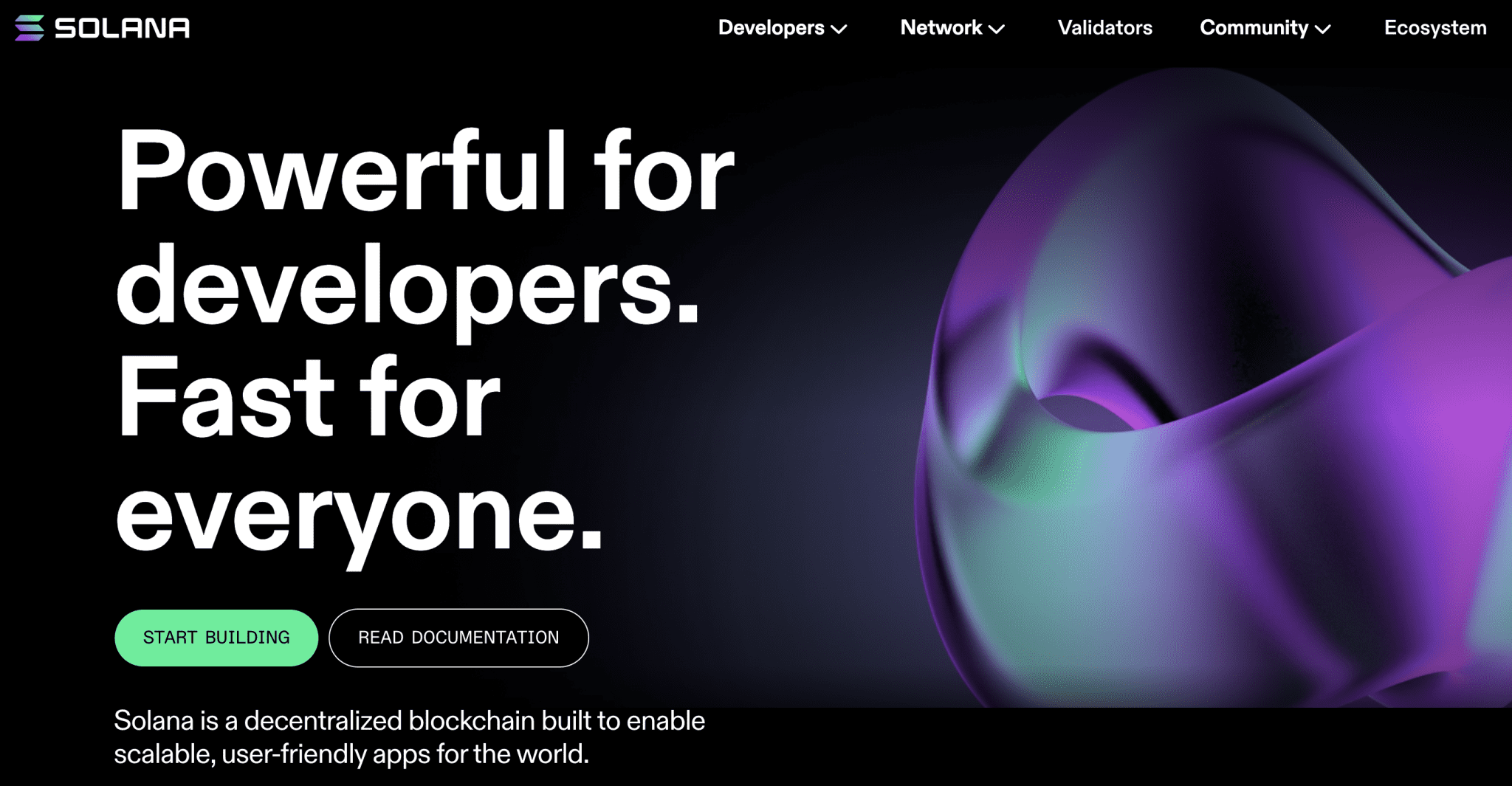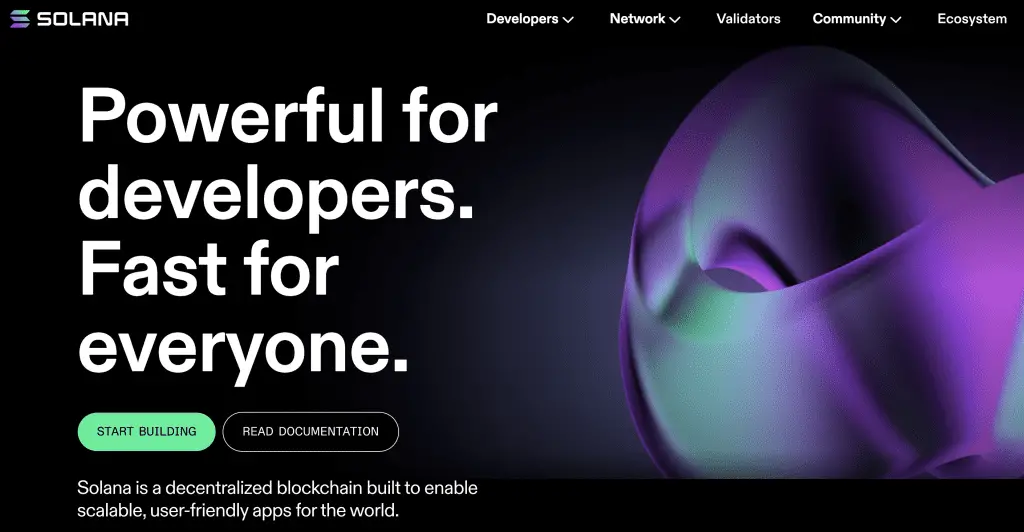 How to Stake Solana SOL Tokens?
By staking your SOL tokens on the Solana blockchain, not only can you earn rewards, but you will also be helping to secure the network. To stake your tokens on Solana, you'll first need to have bought or traded for your tokens which will need to be transferred across to the platform that you have chosen to stake your tokens with.
With Solana, there are several platforms or apps that you can choose from. Firstly, you can stake these directly on a supported exchange. Usually, we don't recommend storing your crypto on an exchange where you don't have access to your private keys, but these platforms can offer attractive rates. Alternatively, you can stake Solana within a wallet, where you'll have access to your private keys.


What is Crypto Staking?
Cryptocurrencies that allow staking use a consensus mechanism called Proof of Stake. This is how they ensure that all transactions are verified and secured without a bank or payment processor. If you choose to stake your crypto assets, your crypto then becomes part of that process. 
Is Staking SOL Safe?
There is a mechanism known as "slashing" on many Proof-of-Stake networks. Slashing is any process by which a portion of the stake delegated to a validator is destroyed for malicious actions undertaken by the validator.
This incentivises validators not to undertake such actions, as less stake delegated to a validator means that the validator then accrues fewer rewards. Being slashed can also be seen as a reputational risk for retaining current or attracting potential future stakes.
Slashing also poses a risk to token holders, who could potentially lose some of their tokens if they have delegated to a validator which gets slashed. The presence of slashing could incentivize token holders to only delegate their tokens to validators they feel are reputable and not to delegate all their tokens to a single or small number of validators.
On Solana, slashing is not automatic. If an attacker causes the network to halt, they can be slashed upon network restart.
How to Choose a Solana Validator?
When choosing a Solana validator, there are a few factors to consider, these include;
Commission Rate: This will impact your rewards, so choosing a lower commission rate is recommended.
Uptime: It's important to find a validator that maintains close to 100% uptime for their services.
Size: Some users like to delegate to smaller validators to assist in decentralising the network and in the value of your SOL investment long-term. Whilst some will find strength in numbers and prefer the larger validators.
Values: Consider validators committed to adding value to Solana by supporting the platform app development, tooling or educational materials.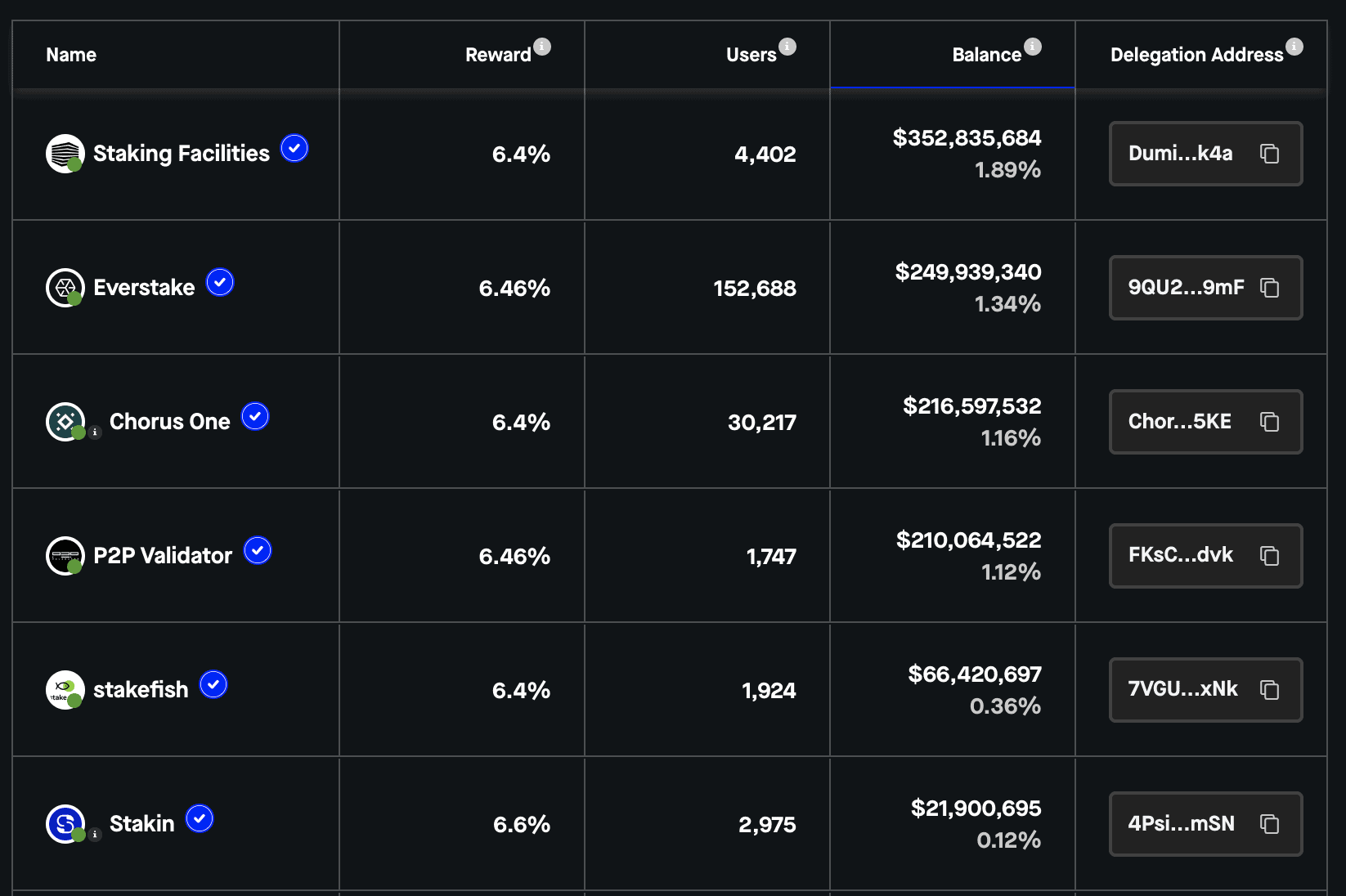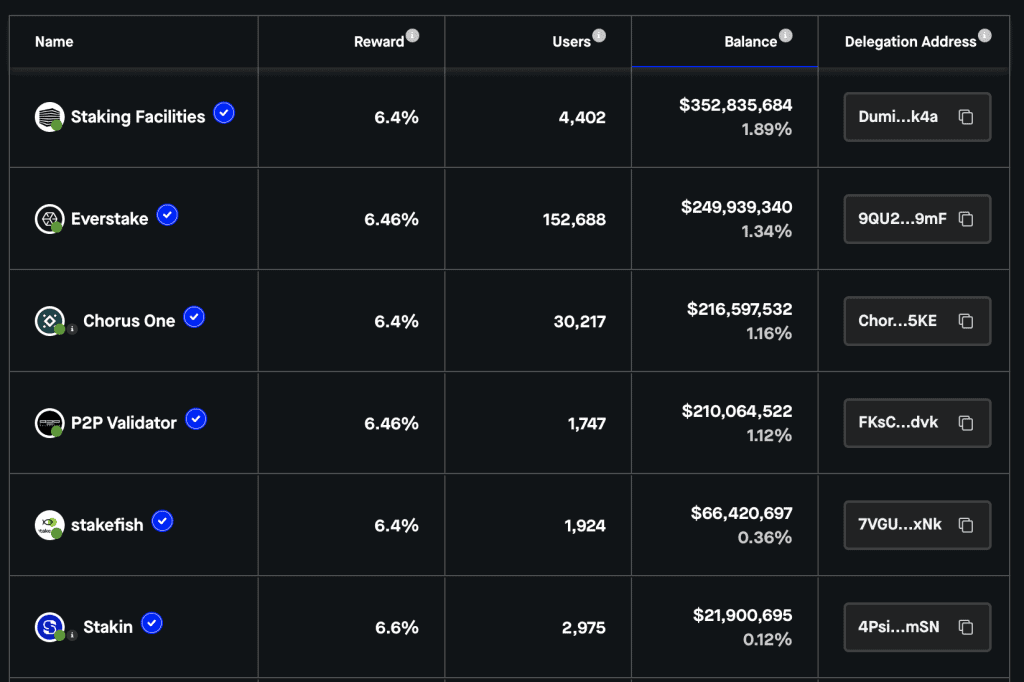 FAQ
How do you mine Solana tokens?
Solana SOL tokens can not be mined as it uses a consensus mechanism called Proof of Stake However, you can stake Solana and earn staking rewards. 
Does Solana have a max supply?
Solana has an unlimited supply of SOL tokens, unlike Bitcoin, where there can only be 21 million tokens. At the beginning of each year, the Solana blockchain issue tokens based on the year-to-year inflation rate. When SOL first launched, there was a maximum supply of around 500 million.
Can you stake Solana SOL on Binance US?
Yes, Solana staking is available on Binance US. You can stake a minimum of 0.01 SOL and a maximum of 30,000 with a 2-day un-staking period.
How to calculate your Solana SOL staking rewards?
Related Posts