Are you seeking a platform that allows you to earn passive income from your crypto assets and offers a suite of other features? Welcome to our comprehensive Nexo review, where we delve into how Nexo enables you to earn up to 12% APY on your crypto assets, borrow against your holdings, and much more.
In the ever-evolving crypto landscape, Nexo stands out by offering more than just a secure place to store your cryptocurrency. Beyond its high-yield interest accounts, Nexo provides a range of services, including instant crypto credit lines, a versatile Nexo Card for spending your crypto, and a robust exchange with 70+ crypto and fiat pairs.
So, are you ready to delve deeper and find out if Nexo aligns with your crypto needs? Let's explore Nexo's features, interest rates, pros, and cons in our Nexo review. Unleash the full potential of your cryptocurrency with Nexo.
Nexo Review: Earn up to 12% APY on Crypto & Stablecoins
What is Nexo?
Nexo is a Swiss-based crypto platform that was established in 2018 by Credissimo. Nexo aims to bring professional financial services to the world of digital assets. It operates worldwide, amassing a global user base of over 5 million across more than 200 countries and supporting over 60 cryptocurrencies.
Nexo is the world's largest crypto lending platform and is a pioneer in the digital finance industry that extends beyond the traditional functions of a crypto platform. It offers a suite of innovative services, including crypto-backed loans, a rewards card, and many other unique features that distinguish Nexo from its competitors.
In addition, Nexo is mostly known for its cryptocurrency interest account and lending services. It offers an annual percentage yield (APY) between 6% and 12% for a variety of digital assets, including Bitcoin (BTC), Ethereum (ETH) and Ripple (XRP).
While Nexo's comprehensive product range is accessible in most jurisdictions it serves, certain services may be unavailable in specific regions due to local laws and regulations.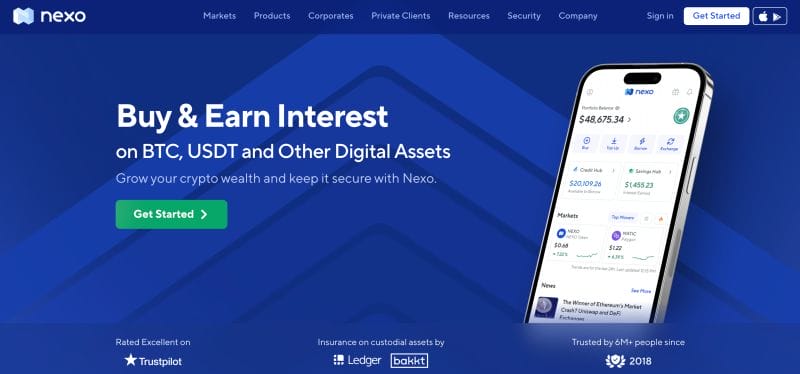 Features
Nexo provides a comprehensive suite of features designed to meet the diverse needs of cryptocurrency enthusiasts across the globe. These features are tailored to enhance your crypto experience, whether you're a seasoned investor or a newcomer to the digital currency space. Here's a snapshot of the key offerings:
Please be aware that the accessibility of certain products and services may differ based on regional laws and regulations. Let's delve into each feature to understand how they can benefit your crypto journey.
Nexo Earn
Nexo's Earn feature is a standout offering that allows users to generate passive income from their crypto assets. With Nexo Earn, users can lend over 60 different crypto assets and start earning interest immediately upon deposit. The interest rates vary depending on the crypto asset and can reach up to 16%, paid out daily.
Users can choose to lock their funds for longer periods to earn higher interest rates. Additionally, users can earn up to 2% higher rates by choosing to receive their interest earnings in NEXO tokens. The Nexo Earn feature also allows users to earn interest in the same coin they're lending, such as earning BTC for lending BTC or ETH for lending ETH.
Nexo Earn operates on a security-first approach, with all digital assets benefiting from the insurance provided by Nexo's custody partners, such as Ledger Vault and Bakkt. The platform has a proven real-time risk engine and strict collateralization requirements to ensure safe earnings generation.
However, it's crucial to understand that while the yield on lending appears to be coming from interest paid by borrowers, Nexo Earn's terms and conditions grant Nexo the right to rehypothecate the crypto you deposit. This means that the assets can be used as collateral for Nexo's trading, borrowing, or business activities, similar to traditional banking practices.
However, it's important to note that Nexo Earn is unavailable in the United States or Canada.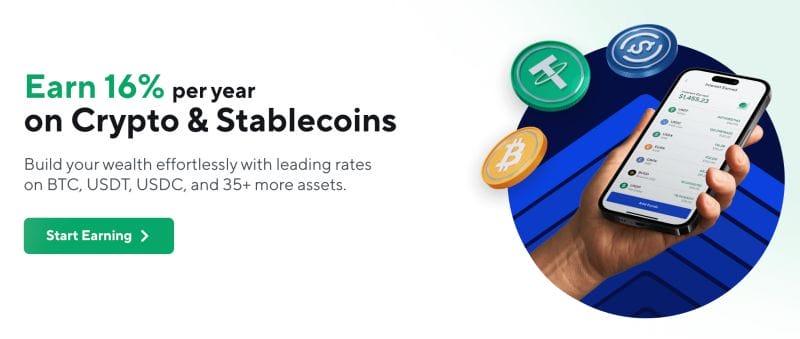 Nexo Interest Rate
Nexo users can earn daily compounded interest on their crypto or fiat currencies, such as Euros, GBP, and USD, with rates reaching up to 16%. This feature sets Nexo apart from many other platforms or savings accounts, allowing users to withdraw their funds anytime without incurring any fees.
To achieve the highest rates, users must earn their interest in Nexo's native token, NEXO, and hold at least 10% of their wallet balance in the token. This feature is automatically activated when users buy or transfer assets on Nexo, making the process of earning interest incredibly straightforward.
Nexo offers flexible terms for earning interest. Users can choose between flexible terms, where their assets are free to trade, sell, or withdraw at any time, and fixed terms, where they can secure higher rates by committing to a term of 1, 3, or 12 months. The interest is paid out daily, giving users instant access to their earnings.
Nexo Borrow
Nexo's Borrow allows users to leverage their crypto assets to obtain instant loans. This service is designed to be straightforward and user-friendly, with no credit checks or lengthy application processes. Users can borrow amounts ranging from $50 to $2 million per day, depending on the value of their deposited crypto assets.
The borrowing process is simple. Users deposit their crypto assets into their Nexo account, and based on the value of these assets, they are instantly approved for a credit line. The minimum borrowing limit is $50 for stablecoin loans and $500 for fiat currency loans. The borrowing limit is capped at $2 million per day.
The interest rates for borrowing can be as low as 0% for Platinum users with a Loan to Value (LTV) ratio of 20% or less and as high as 13.9% for base users with a higher LTV. The LTV ratio is determined by the type of collateral assets used. More volatile assets have a lower LTV cap, while stable assets can have an LTV ratio of up to 90%.
One of the unique features of Nexo's borrowing service is its flexibility. There are no fixed repayment schedules, and users can choose to repay their loans partially or in full at any time. Additionally, users can select from over 30 fiat currencies or borrow instantly using USDT or USDC.
It's important to note that while Nexo's Borrow feature offers many benefits, it also comes with risks. As with any form of borrowing, users should be aware of the potential for asset volatility and ensure they understand the terms and conditions of their loan.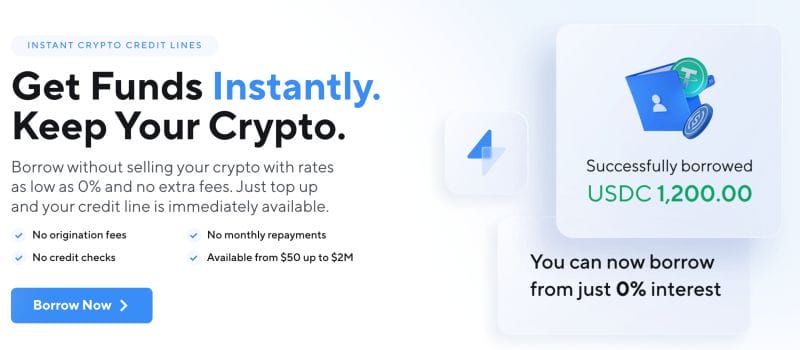 Nexo Exchange
Nexo Exchange is a user-friendly platform designed for those who prefer simplicity and convenience in their trading experience. It allows users to instantly swap a wide range of cryptocurrencies at the best market prices. The platform is integrated with the Nexo Wallet, providing a seamless trading experience. It offers instant execution, a best-price guarantee, no limits, and no fees, making it an ideal choice for those new to cryptocurrency trading or those who prefer a straightforward, hassle-free trading process.
Nexo Pro
On the other hand, Nexo Pro is a more advanced platform designed with professional traders in mind. It provides a suite of institutional-grade trading tools, including liquidity aggregation from over 3,000 order books, advanced trading tools for executing various order types, and superior market intelligence features. Traders can track social sentiment, monitor on-chain data, view sector performance, and access more advanced data. Nexo Pro also offers top-tier security and custodial insurance, ensuring the safety of users' funds. For those who prefer automated trading strategies, Nexo Pro provides open API access through both REST and Websocket.
Nexo Booster
The Nexo Booster feature allows users to leverage their crypto holdings to borrow more funds and increase their position in a given asset up to three times. Users can leverage their current holdings and buy up to three times more of their favourite digital assets by financing the acquisition through a crypto-backed credit. The process of borrowing and buying happens instantaneously, eliminating price slippage.
The Nexo Booster is powered by Nexo's Instant Crypto Credit Lines, which means users can pay off their balance partially or fully whenever they want, without a fixed payment schedule. The Booster allows users to leverage up to $250,000 per boost, with no limit on the number of transactions they can make.
Nexo Booster differs from Nexo's other lending products in that it comes with a one-time fee for each boost based on the Loan-to-Value (LTV). Higher leverage will cost more. The fees are as follows:
Lower than 50% LTV: 1% fee
50-60% LTV: 2% fee
60-70% LTV: 3% fee
Users will also pay interest on the borrowed amount, determined partly by their loyalty tier. If the repayment is made within 30 days, the maximum Nexo interest rate of 13.9% will apply regardless of the loyalty tier.
NEXO Token
The NEXO Token is the native cryptocurrency of the Nexo platform and plays a crucial role in unlocking its range of benefits and incentives. It offers a range of benefits to token holders, enhancing their experience and rewards on the platform.
Swap Rewards: Depending on the number of NEXO Tokens you hold compared to your overall portfolio balance, you can earn up to 0.5% back in crypto rewards on every purchase or swap you make on the Nexo Exchange. The higher your Loyalty Tier, the more rewards you earn.
Borrowing Discounts: As you ascend the Loyalty tiers, your borrowing rate decreases. For instance, if you hold at least 10% of your Portfolio Balance in NEXO and maintain a Credit Line Wallet Loan-to-Value (LTV) of 20% or below, you qualify for the lowest interest rate of 0%.
Free Withdrawals: Depending on your Loyalty tier, you can enjoy between 1 and 5 free monthly crypto withdrawals to an external wallet. You can also make unlimited free-of-charge withdrawals and crypto and fiat transfers.
Discount on Pro Trading Fees: Regardless of your Loyalty tier, as a Nexo Pro user, you can use the NEXO Token to pay off your trading fees and enjoy a 50% discount.
Participation in Governance Votes: Holding NEXO Tokens allows you to participate in any future Governance Votes, thus shaping the future of Nexo (1 NEXO = 1 Vote).
NEXO Token Interest Rate
Holders of the NEXO Token can benefit from an attractive annual interest rate of up to 12%. This interest is accrued daily and applies to NEXO Tokens held in both their Nexo accounts' Savings and Credit Line wallets.
For those opting for FLEX Terms, a base interest rate of 4% is offered to all users. However, for those who commit to a Fixed Term of one month, the interest rate increases significantly, ranging between 8% and 12%. This daily interest is distributed through NEXO tokens, enhancing the benefits for NEXO token holders.
Nexo Wallet
The Nexo Wallet is a Web3 non-custodial wallet that provides users with a unique web3 identity and access to the world of Decentralized Finance (DeFi). It supports five Ethereum-compatible networks, including Polygon, BNB and Avalanche, but it doesn't support Bitcoin, for example. The wallet is designed to hold ETH, ERC-20 tokens, and NFTs.
However, it's important to note that the Nexo Wallet is unavailable in the US. The wallet's smart contracts have passed an independent audit by Hacken with a perfect score, meeting the highest blockchain security standards. This ensures that the Nexo Wallet adheres to the best practices in terms of security.
The Nexo Wallet offers several advantages:
Aggregated Wallets: It allows users to view all their wallets in one place, making it easier to manage NFTs and tokens.
Batched Transactions: Users can save on transaction costs by bundling multiple transactions together.
Flexible Payment Options for Transactions: If a user needs to pay for a transaction with ETH but only has USDC, they can pay with another supported asset, solving a common problem in the crypto world.
Efficient DEX Trading: The Nexo Wallet aggregates liquidity from multiple decentralized exchanges to reduce price impact and provide users with the best possible price for their tokens.
Earn DeFi Yields: Users can interact with popular dApps like Compound to earn a yield.
Multi-Network Interaction: The wallet works with Ethereum, Polygon, BNB Chain, Avalanche, and Fantom, offering users various options for sending, receiving, and swapping crypto.
Nexo Card
Nexo has its card. Letting you spend the value of your crypto without selling it. Cardholders can use the Nexo Card like any other card. Simply swipe your card, and the payment amount is deducted from the available balance of your Instant Crypto Credit Line.
The card is accepted worldwide by 40M+ merchants, and you can get 2% instant cashback on all purchases. Plus, get flexible repayment options again with zero fees.
Nexo Mobile App
The Nexo Mobile App is designed to streamline your crypto banking experience, delivering efficiency, convenience, and robust security at your fingertips. Compatible with iOS and Android devices, the app grants you access to all of Nexo's features through a sleek, user-friendly interface.
Key Features of the Nexo Mobile App:
Instant Crypto Credit Lines: Gain immediate access to cash without selling your crypto, right from your mobile device.
High-Yield Savings: Put your idle assets to work by earning up to 8% interest, backed by a 100% Asset-Backed Guarantee.
Insured Crypto Account: Safely store, receive, send, and make payments with crypto through a secure platform, whether for personal or business use.
Global Accessibility: As a licensed and regulated digital assets institution, Nexo has processed over $700 million for over 200,000 users worldwide. The app lets you instantly borrow over 40 fiat currencies across 200 jurisdictions and accrue daily interest on your idle assets.
Nexo Loyalty Program
The Nexo Loyalty Program is a four-tier system with Base, Silver, Gold, and Platinum levels. The benefits you receive under this program depend on the amount of NEXO Tokens you hold in your Portfolio Balance, which includes the Savings and Credit Line Wallets.
Here's how the tiers work:
Base: No NEXO Tokens are required.
Silver: At least 1% of your portfolio must be in NEXO Tokens.
Gold: At least 5% of your portfolio must be in NEXO Tokens.
Platinum: At least 10% of your portfolio must be in NEXO Tokens.
For instance, if your portfolio balance consists of $5,000 in BTC and $200 in NEXO Tokens, the ratio of NEXO against the value of all other assets held in the account would be 4%, placing you in the Silver Loyalty level.
The benefits of the Loyalty Program include increased yields with the Earn on Crypto & FIATx suite in conjunction with Flex and Fixed Term deposits, lower borrowing rates for the Instant Crypto Credit Lines, and a higher number of free crypto withdrawals per calendar month. You can increase your earnings by keeping your assets in Fixed Terms and choosing to receive interest in NEXO Tokens.
The Loyalty Program is dynamic and flexible, with your Loyalty tier calculated in real-time based on the ratio between the value of your NEXO Tokens and the rest of your portfolio. If your level changes, the respective rewards are applied automatically. The tiered model creates room for more perks in the near future.
Please note that NEXO Tokens held in your Nexo Pro portfolio do not count toward your Loyalty level. Also, the Nexo Earn Product is unavailable for citizens or residents of certain jurisdictions, including Bulgaria, Estonia, the USA, and Canada.
Fees
Nexo prides itself on offering a fee-friendly experience to its users, with a variety of transactions being free or having minimal costs. Here's a breakdown of the fees you can expect on Nexo:
Trading Fees (Swaps): Nexo does not charge any additional trading fees for swaps. Instead, it uses a spread, which is a small difference between the market ask price and the price you pay. While there's no explicit trading fee for standard swaps on Nexo, the spread cost is something to consider.
Trading Fees on Nexo Pro: For users with a 30-day trading volume of up to $10K, the fees are 0.40% for takers and 0.30% for makers. However, higher trading volumes can qualify for lower fees, even as low as 0%.
Network Fees (Withdrawals): Nexo offers free withdrawals depending on your Loyalty tier, with up to 5 free monthly crypto withdrawals. Additionally, withdrawals over the Polygon, Binance Smart Chain (BEP-20), Arbitrum networks, and EOS withdrawals are free of charge for all Loyalty tiers and do not count towards your free monthly crypto withdrawals. Once the free withdrawal limit is reached, a fee incurred by the network will be automatically charged. This fee is not fixed and depends on the current condition of the respective blockchain.
Fiat Withdrawals: Under Nexo's #ZeroFees policy, you can make unlimited free-of-charge fiat withdrawals and crypto and fiat transfers into your Nexo Wallet and credit line withdrawals. Nexo does not charge any credit line origination, forex, or exchange fees.
Nexo Pro Spot Trading Fees
| Pricing Tier | Taker | Maker |
| --- | --- | --- |
| Up to $10K | 0.20% | 0.20% |
| $10K – $50K | 0.18% | 0.18% |
| $50K – $100K | 0.16% | 0.14% |
| $100K – $1M | 0.14% | 0.12% |
| $1M – $10M | 0.12% | 0.10% |
| $10M – $100M | 0.10% | 0.08% |
| $100M – $200M | 0.09% | 0.06% |
| $200M – $500M | 0.08% | 0.05% |
| $500M+ | 0.07% | 0.04% |
Support
Nexo has earned a reputation for providing exceptional customer support, as evidenced by its high rating of 4.7/5 on Trustpilot. Users frequently commend the responsiveness and helpfulness of the support team, highlighting these attributes as standout features of the service.
It's important to remember that individual experiences with customer support can vary, often depending on the nature of the issue or request. Therefore, for any concerns or inquiries, it's advisable to contact Nexo's customer support directly for the most accurate and prompt assistance.
Nexo offers multiple channels for customer support. Users can reach out to the team by submitting an online form. Additionally, Nexo provides a 24/7 Live Chat feature, accessible from the bottom right corner of the screen when logged in.
In our personal experience, Nexo's support team proved to be extremely helpful. Upon reaching out via the Live Chat, I received a response within a mere 5 minutes, demonstrating their commitment to providing timely and effective customer service.
Is Nexo Safe?
Nexo has a robust security infrastructure to protect its users' assets and has implemented several security measures to ensure their protection. However, as with any platform dealing with digital assets, users should always exercise caution. Investing in cryptocurrencies and using crypto platforms always has inherent risks due to market volatility and regulatory uncertainties. Users should always do their own research and consider their risk tolerance when dealing with digital assets.
Here are some factors that contribute to Nexo's safety:
Overcollateralization: Nexo only lends funds to borrowers who meet their strict collateralization requirements. This policy sets them apart from other firms in their sector that issue under or uncollateralized loans, thus exposing their clients to risk.
Risk Management: Nexo uses market-neutral strategies like collateralized lending, basis trading, and market making. This allows them to maintain a strong liquidity position, meet credit demand, and continue their growth.
Insurance: Through partnerships with Ledger Vault, Bakkt, and other custodians, Nexo has a comprehensive network of custody and insurance providers. They provide insurance protections on custodial assets via prestigious underwriters, including Lloyd's of London and Marsh & Arch.
Global Licensing: Nexo holds a comprehensive portfolio of licenses, ensuring compliance with the applicable regulatory frameworks. They work with top-tier legal counsel and engage proactively with regulatory decision-makers to ensure the sustainability of their products.
Secure Storage: Nexo diversifies its comprehensive custodial infrastructure using multiple trusted custodians. Your digital assets are held in a mix of hot and cold storage by partners in various geographical locations, making it exceptionally difficult for unauthorized parties to access them.
Platform Security: Nexo.com is 256-bit SSL secured, thus employing one of the most solid encryption methods used in modern encryption algorithms, protocols, and technologies. They also use 2FA authentication and biometric identification and have regular third-party penetration testing and platform assessment.
Data Protection and Confidentiality: Nexo implements various security measures when users enter, submit, or access their information. Your personal information is contained behind secured networks and is only accessible to a limited number of persons who are required to keep the information confidential.
Nexo Referral Program
The Nexo Referral Program allows you to earn passive income by referring new users to the Nexo platform. For every new user you refer to Nexo, you can earn up to $100 in NEXO Tokens.
Here's how it works:
Share your unique referral link with friends and family.
You both earn a bonus for every new user who signs up with your link and deposits assets in the Nexo Wallet. The bonus is in NEXO Tokens, equivalent to 10% of the referred friend's first deposit.
Your bonus will be credited to your Nexo account within 30 days of your friend's first deposit.
Please note that the Nexo Referral Program is subject to the platform's terms and conditions. The program is unavailable in all regions due to local regulations and restrictions.
Verdict: Should you use Nexo?
Nexo stands out as a highly user-friendly and innovative platform, with its comprehensive suite of features making it an excellent choice for crypto enthusiasts.
Customer support is crucial to any financial platform, and Nexo excels in this area. Their responsive and helpful customer service is reflected in their impressive Trustpilot rating, demonstrating high customer satisfaction.
However, it's essential to understand the inherent risks involved in lending your crypto. Recent issues with platforms like Celsius and BlockFi highlight the potential pitfalls in this space. Yet, Nexo has navigated these challenging times without significant issues, which is a promising sign of its robustness and reliability.
That said, the decision to lend your crypto should be based on carefully assessing the risks and rewards. While Nexo offers attractive interest rates, you must consider whether the potential returns justify the risks involved.
Furthermore, while Nexo's leverage and boost features can be advantageous, they are unsuitable for everyone. These tools require a certain level of experience and understanding of the crypto market dynamics.
In summary, Nexo offers a compelling package for those looking to maximise their crypto assets. However, as with any financial decision, it's crucial to do your research and understand the risks involved.
FAQs
Where is Nexo Based?
Nexo is a global platform based in Zug, Switzerland. It operates in over 200 jurisdictions worldwide, providing a wide range of services to crypto users.
Is Nexo available in the US?
Yes, Nexo is available in the US, but certain restrictions exist. Due to specific jurisdictional regulations, Nexo does not operate in the US states of Alaska, New York, and Vermont.
Which is better, Nexo or Coinbase?
Nexo and Coinbase have their unique strengths. Coinbase is known for its user-friendly and secure wallet and exchange services, making the crypto industry more accessible to mainstream users. On the other hand, Nexo offers a wide range of services, including crypto-backed loans, reward card, and interest-bearing accounts. The choice between Nexo and Coinbase depends on the specific needs and preferences of the user.
Is Nexo a Russian company?
No, Nexo is not a Russian company. It is a global platform with its company based in Switzerland.
Is Nexo FDIC Insured?
Nexo, like most cryptocurrency platforms, is not FDIC insured. The Federal Deposit Insurance Corporation (FDIC) is a United States government corporation providing deposit insurance to depositors in U.S. commercial banks and savings institutions. It does not extend its insurance to digital or crypto assets. It's important for users to understand this distinction and the risks associated with holding and investing in cryptocurrencies.
Related Posts