Want to know how to earn passive income on your crypto assets? In this Nexo review for 2022, we explain how you can earn up to 12% APY by lending your crypto to Nexo and also how to borrow against your asset to take out a loan.
Instead of just locking your crypto away in a secure wallet or exchange, you can now earn daily interest with Nexo.io. Lending isn't the only feature available on the Nexo platform, you can also borrow fiat by using your crypto as collateral. We'll also look at the other short-term lending platforms, such as BlockFi, and see how they compare.
So, let's jump into this Nexo review to help you work out if Nexo is the right crypto lending and borrowing platform for you.
Nexo Review: Earn up to 12% APY on Crypto & Stablecoins

What is Nexo?
Nexo was launched in 2018 by Credissimo, the leading European fintech group. They state they provide the world's first instant crypto credit lines and have processed more than $13 billion for 2,500,000+ clients in 200+ jurisdictions.
The platform is centralized, and users can deposit cryptocurrencies to earn interest. Or they can use crypto as collateral to borrow cash or stable coins instantly.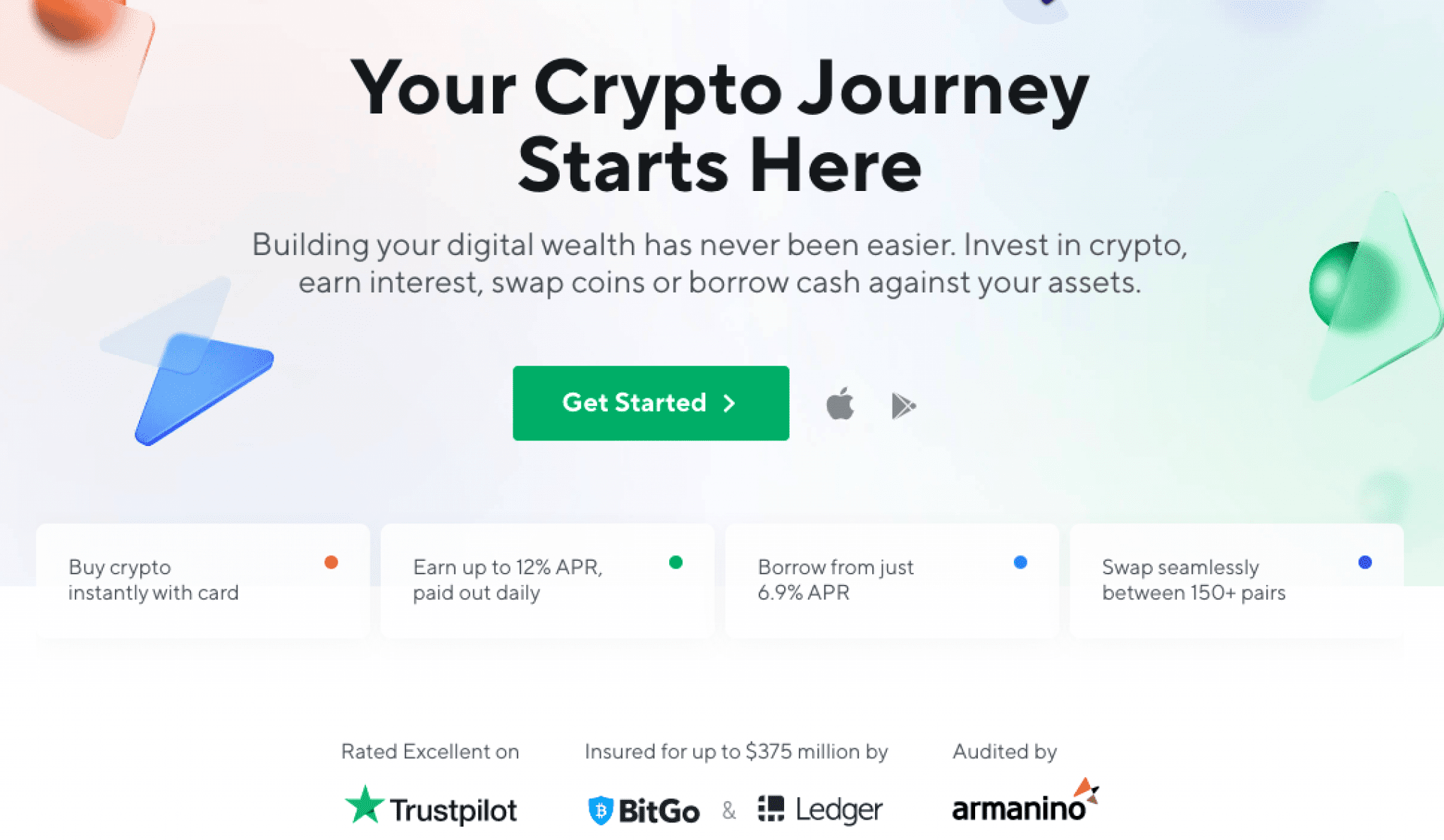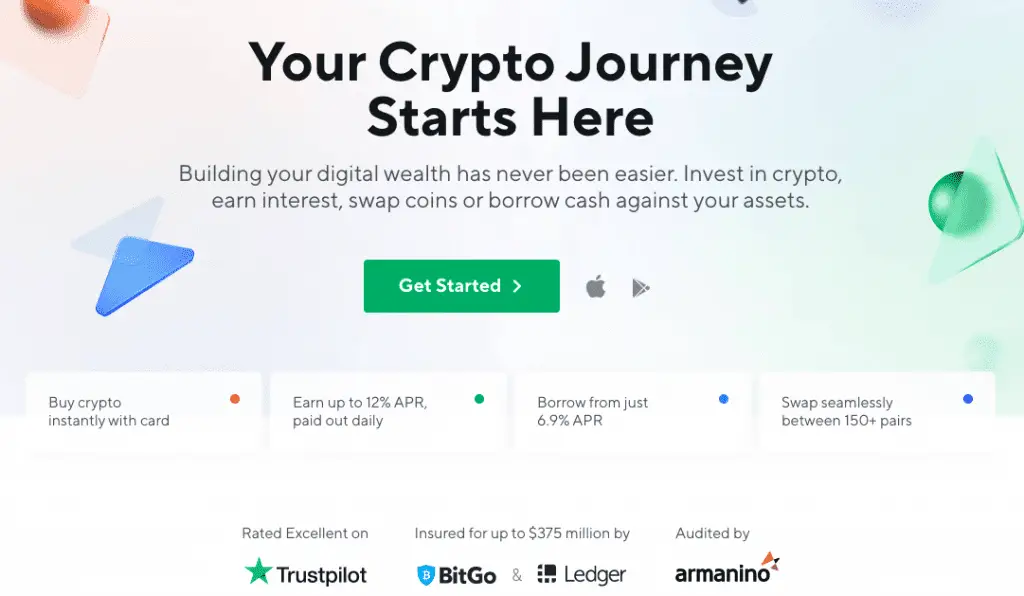 NEXO Token
Nexo has its own NEXO token, which they deem the world's first dividend-paying asset-backed token. Essentially. itis the key to unlocking the full potential of Nexo, as you'll get higher earning rates and their lowest borrowing rates. Plus, you'll get free crypto withdrawals.
The Nexo token is an Ethereum-based ERC20 token that can also be sent on the BEP2 network. In terms of performance, the NEXO token did incredibly well in 2020, increasing by a massive 3241%.
With NEXO, users can:
Earn 12% APY for stablecoins, and EUR, GBP and USD deposits
Earn 8% APY for BTC, ETH, XRP, BCH, LTC, BNB, EOS, LINK, XLM, TRX, PAXG
Pay 6.9% APR for Nexo's Instant Crypto Credit Lines
Get free crypto withdrawals
Vote on Governance Proposals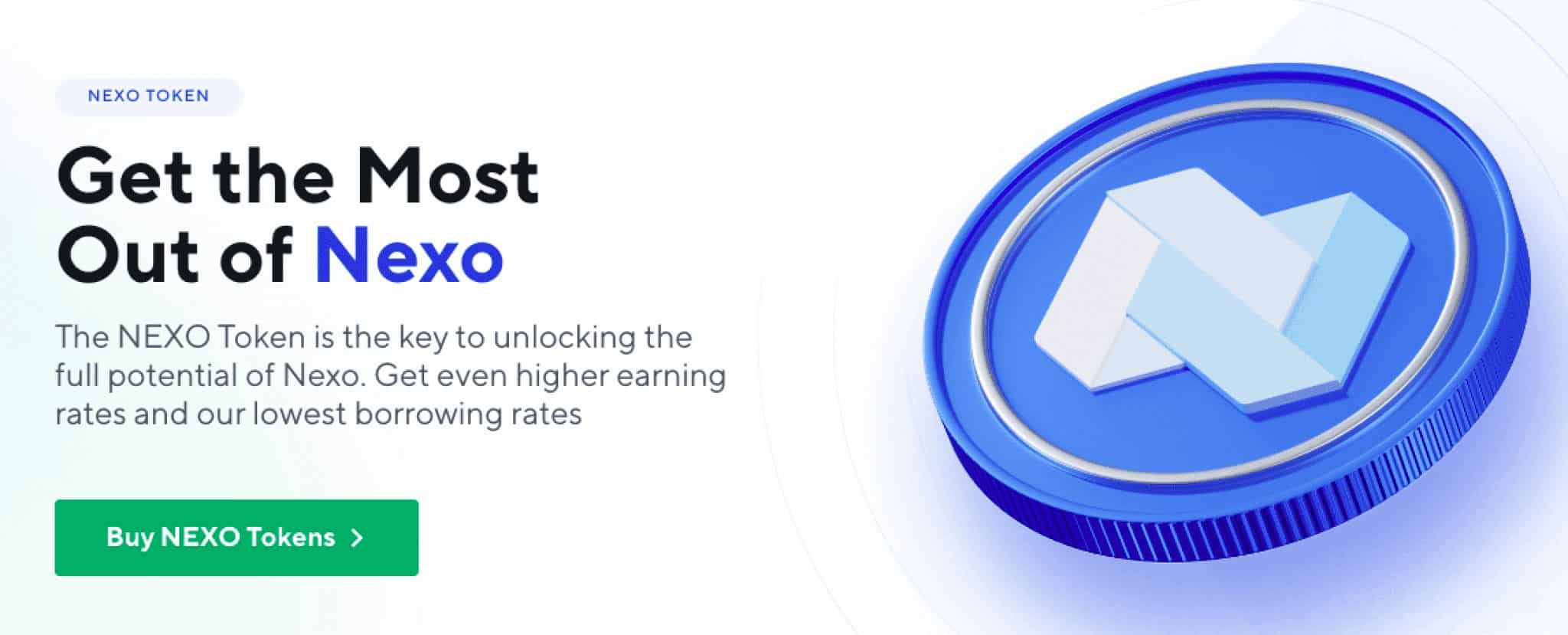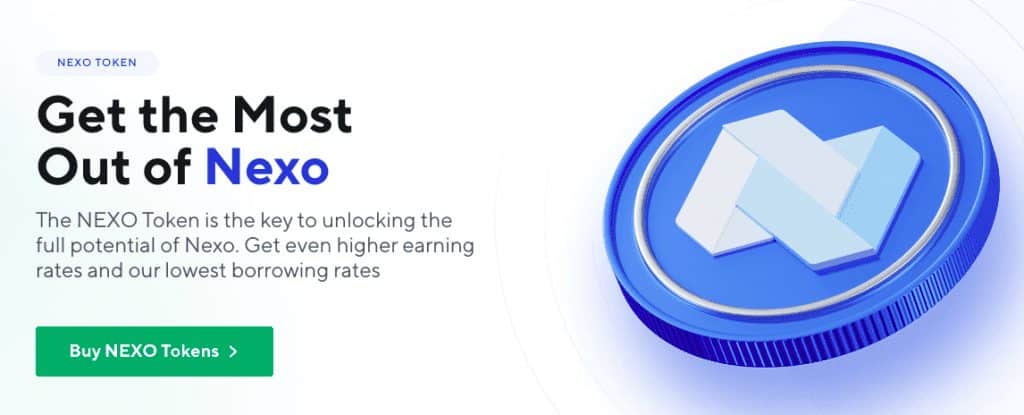 Where Can I Buy NEXO Tokens?
The NEXO platform includes an exchange where users can purchase the NEXO token without leaving the site. Users can purchase NEXO with FIAT currency such as USD, GBP, or EUR.
Alternatively, you can also swap your cryptocurrency for NEXO using their swap function, where you can select from a whole host of cryptocurrencies.
The NEXO token is available on over 20 exchanges, including UniSwap, Huobi, Binance DEX, and 1inch.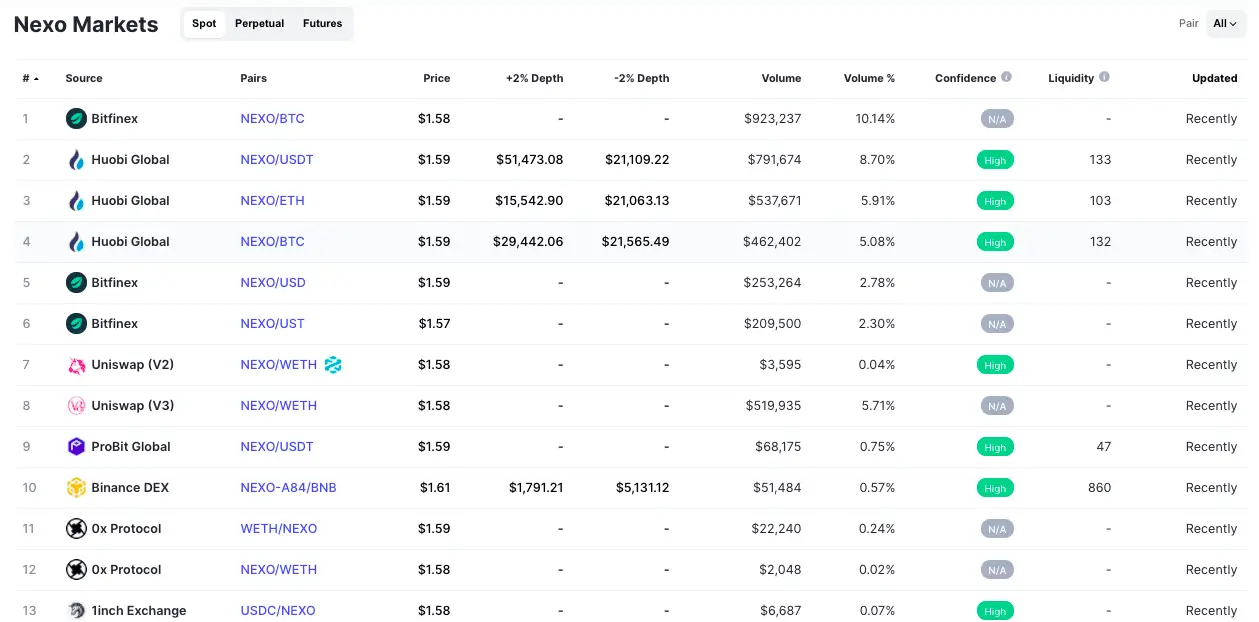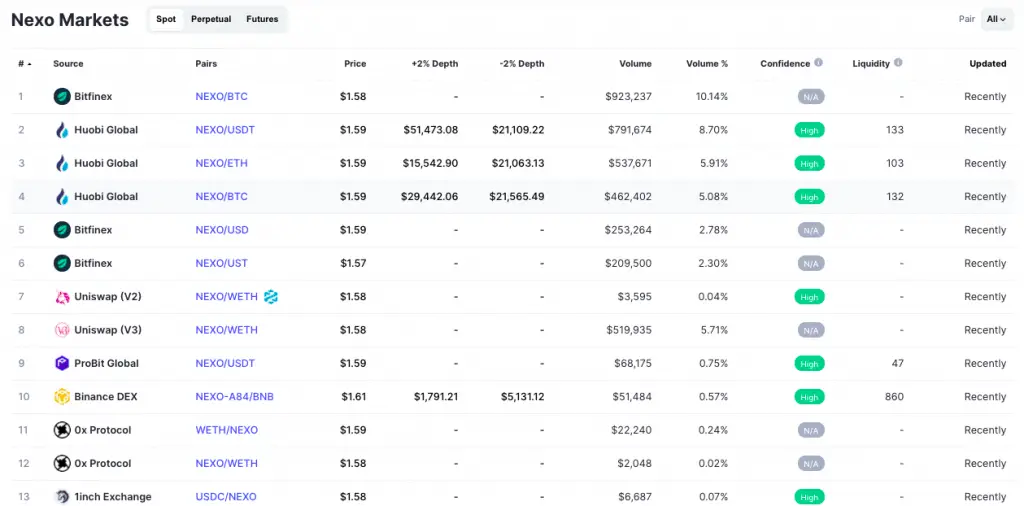 NEXO Dividends
NEXO tokens holders used to receive a portion of Nexo's net profit in the form of dividends. The platform has paid out a total of $30 million since 2018. However, the Dividend program ended in June 2021 after the Nexo community indicated their preference for daily payouts of up to 12% APY on NEXO tokens over dividends.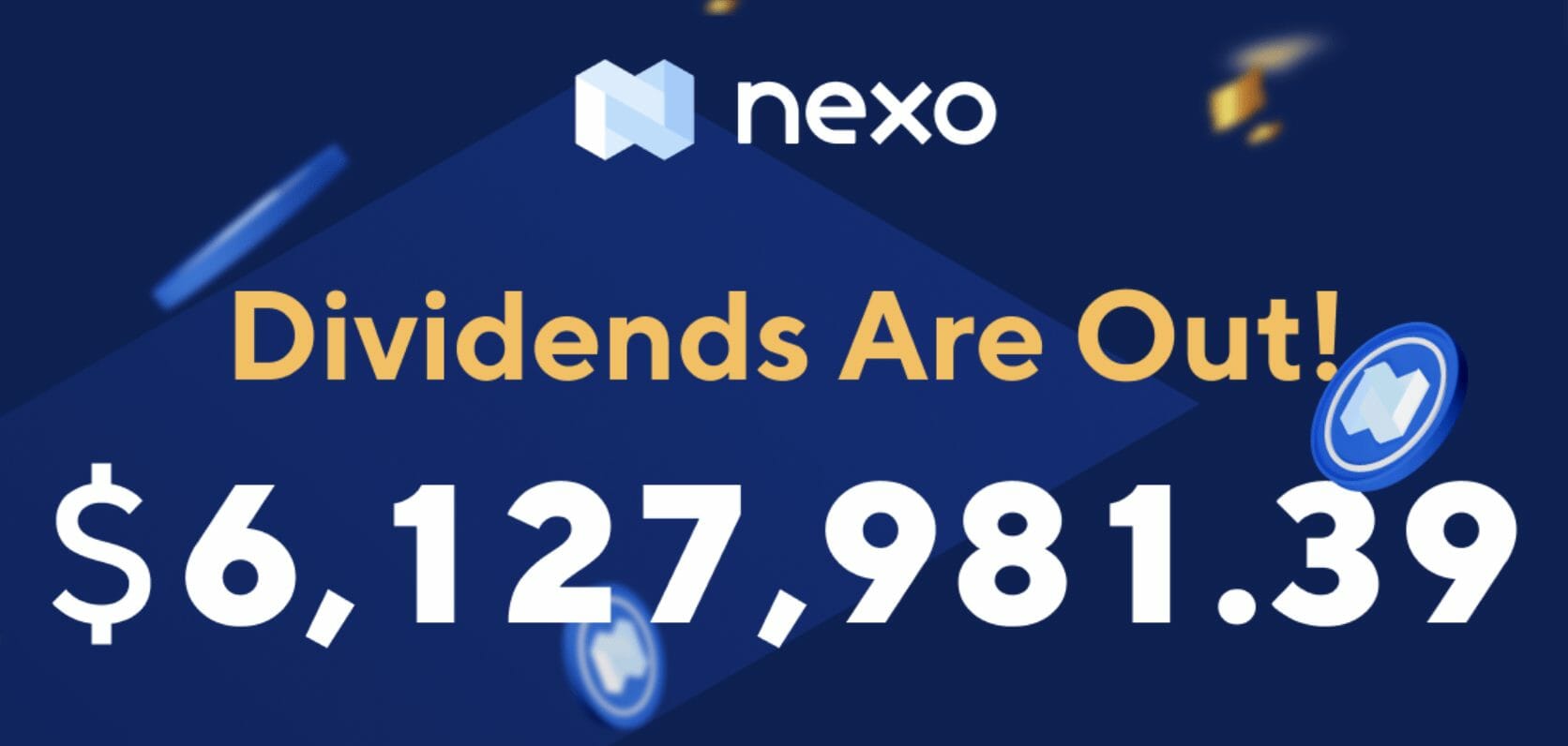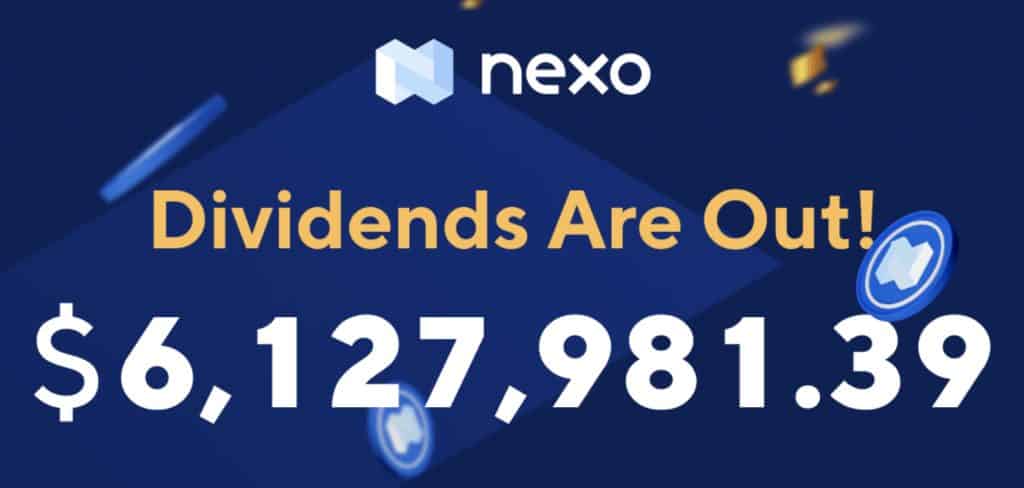 NEXO Token Daily Interest
NEXO Token holders can receive up to 12% interest per annum. This interest is paid out daily on the NEXO Tokens held in both the Savings and Credit Line wallets of their Nexo accounts.
All users receive a base rate of 7% interest for FLEX Terms. However, anyone on a Fixed Term for one month will receive between 8% and 12% interest. This daily interest is paid out in NEXO tokens and applies to all NEXO token holders (unless they are citizens or residents of the state of New York).
Nexo $25 Referral Code
Nexo introduced its Nexo referral program in July 2021. New users to Nexo can now welcome a bonus of up to $100 when they use our exclusive referral link, complete identity verification, and deposit $100 or more.
BTC sign-up rewards will be instantly available and will be unlocked after 30 days. 
Sign-up to Nexo with a referral link
Complete advanced verification & confirm the identity.
Deposit $100+ into Nexo
Earn up to a $100 welcome bonus (unlocked after 30 days)
Nexo Referral Code
Click Here to Sign-up to Nexo
Sign-up Bonus
Deposit of $100→ $10 Welcome Bonus
Deposit of $200 → $20 Welcome Bonus
Deposit of $500→ $50 Welcome Bonus
Deposit of $1000 → $100 Welcome Bonus
Referral Bonus Terms
Complete Advanced Verification to confirm their identity.& deposit $100+
Bonus Last Verified
November 2022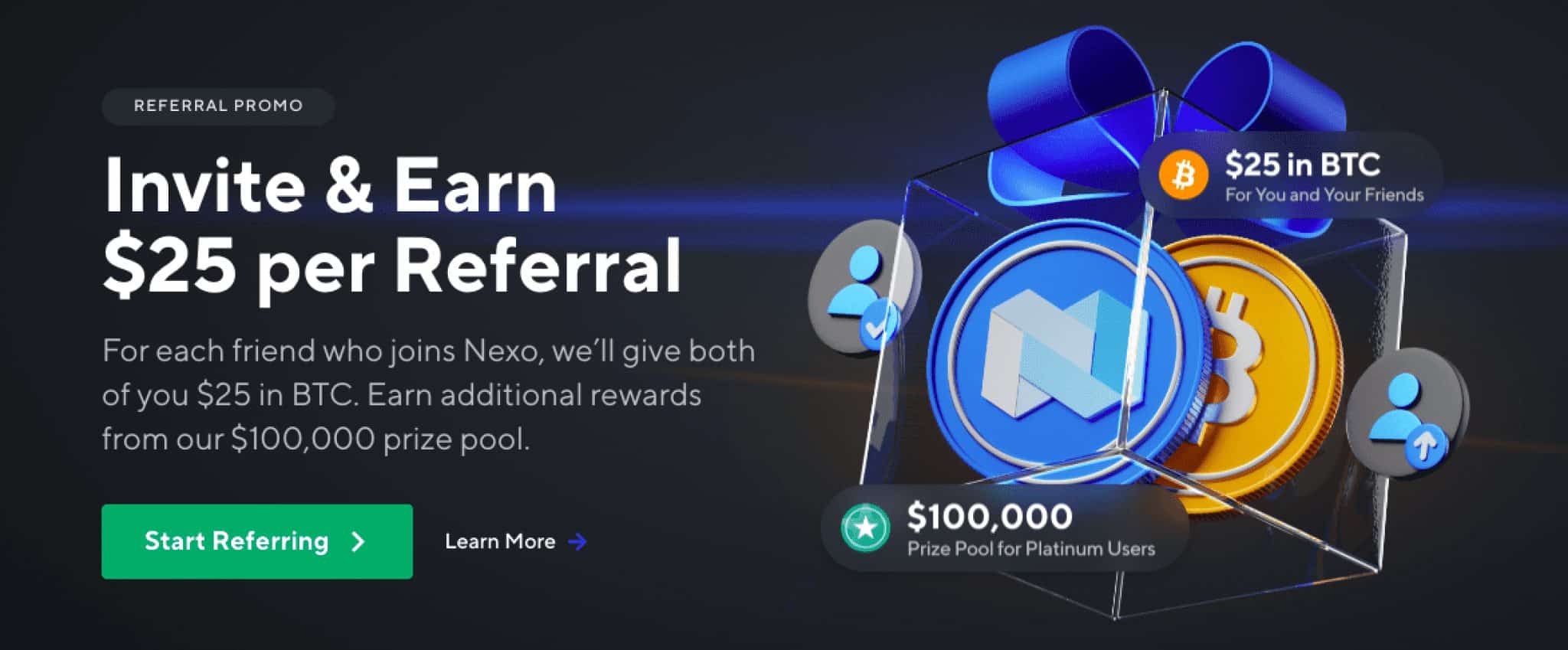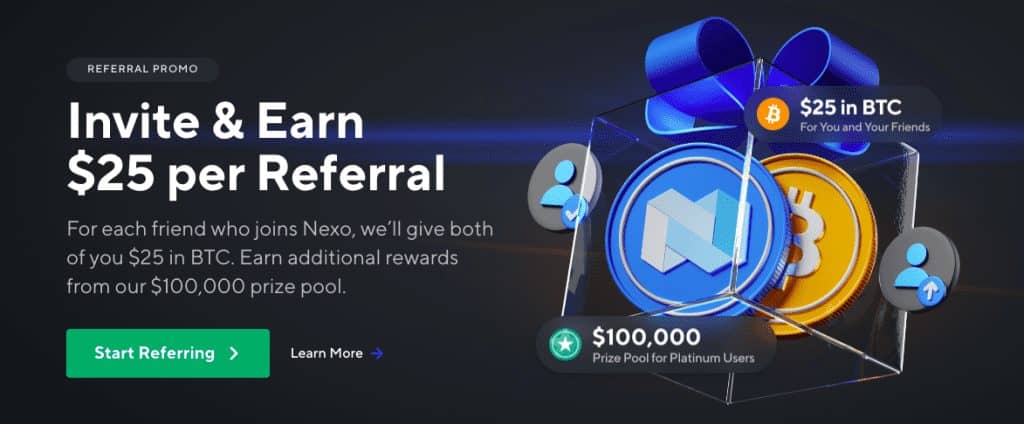 Nexo Loyalty Program
With the launch of Nexo's Loyalty program, you need to stake a certain percentage in $NEXO Tokens to receive lower interest rates for loans and increased deposit yields. The program comprises four tiers which are as follows;
Base: Less than 1% of NEXO Tokens in your Portfolio Balance
Silver: At least 1% of the Portfolio Balance in your account must comprise NEXO Tokens
Gold: At least 5% of the Portfolio Balance in your account must comprise NEXO Tokens
Platinum: At least 10% of the Portfolio Balance in your account must comprise NEXO Tokens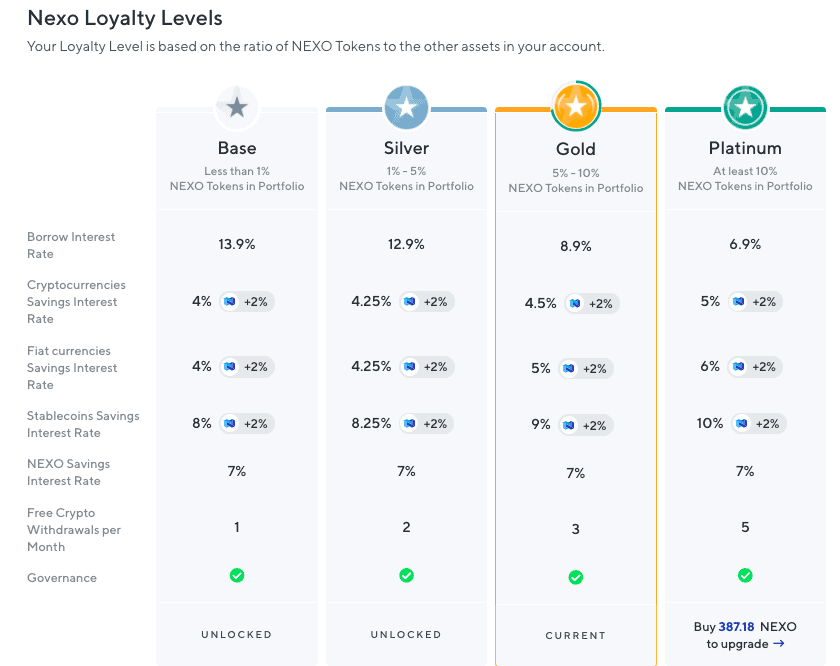 Nexo Interest Rates
With Nexo, you can earn daily compounding interest on your crypto or your FIAT currency, such as Euros, GBP and USD, with rates up to 12%. Unlike many other platforms or savings accounts, your funds are not locked up, and you can withdraw at any time with zero fees.
To get the highest rates shown, you will need to earn your interest in their NEXO token and hold 10% of your wallet balance in the token.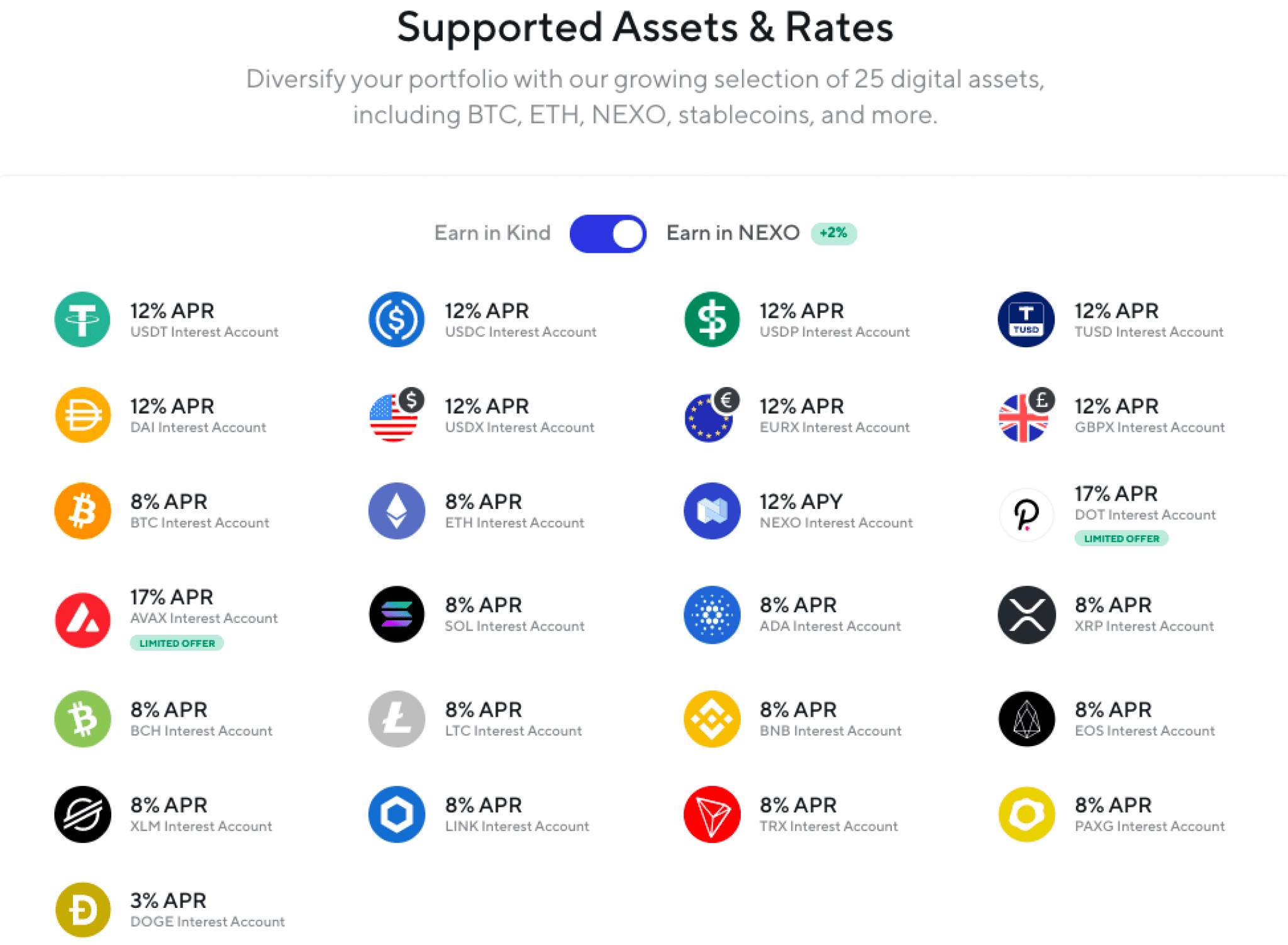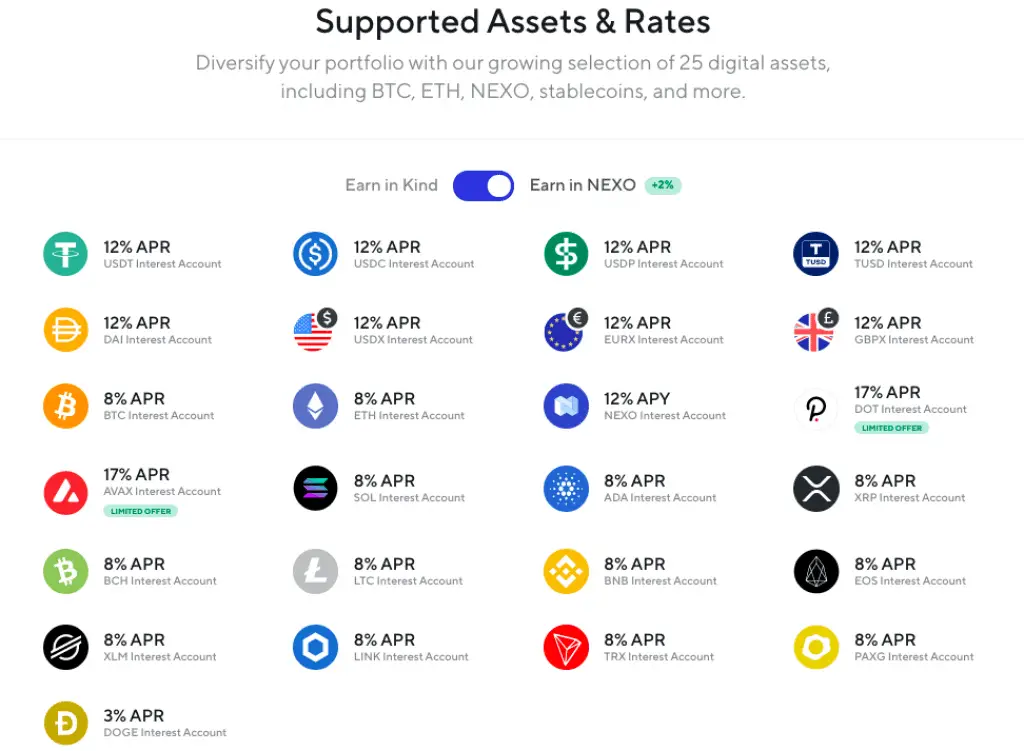 How Long Do Deposits Take?
For security purposes, Nexo will require a crypto deposit to receive several confirmations on the blockchain before the funds can be credited into your account.
These confirmations will all depend on if the network is congested and on the blockchain. For example, Bitcoin deposits require six confirmations, Ethereum-based deposits are 50 confirmations, and XRP is nearly instant.
Nexo Loans
In traditional banking systems, loan approvals can be slow if you want to borrow money for a car, a house, or your next vacation. Plus, you must go through credit scrutiny with credit checks based on your credit score.
However, Nexo approves loans in seconds, sending money straight to your account.  Previously these rates started at 5.9% however increased to 6.9% APR from May 26th, 2021.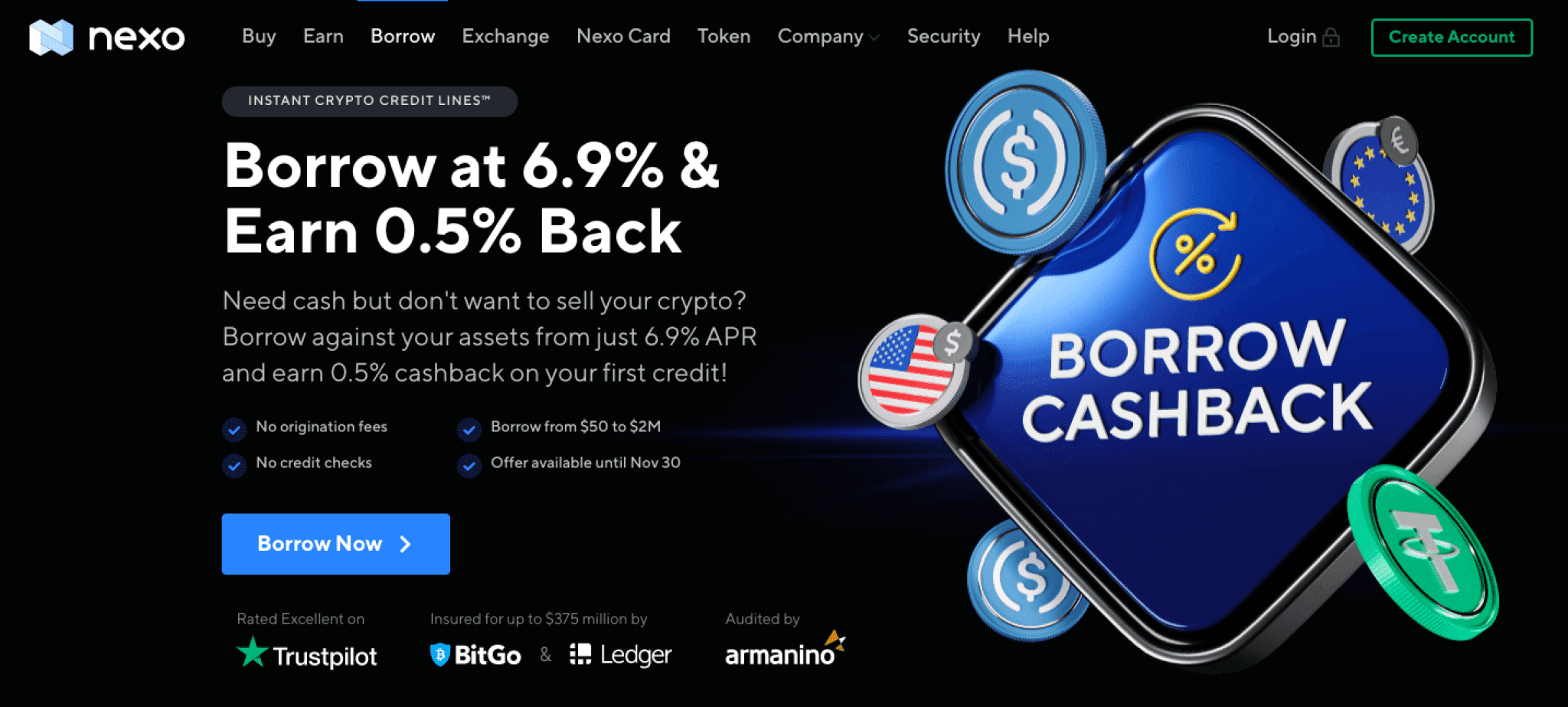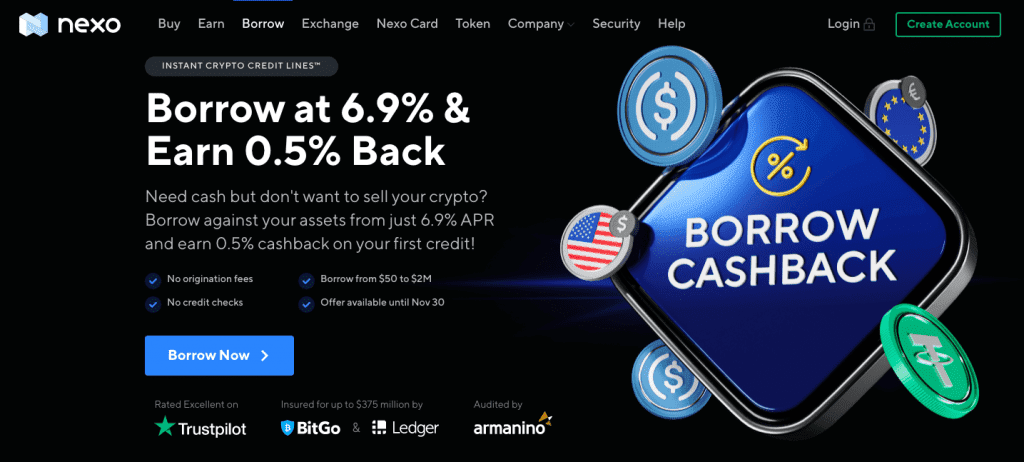 This is all done by collateralizing your crypto. Previously, if you wanted to free up some funds, you'd need to sell your crypto. However, with Nexo, you can simply use it as collateral to borrow funds.
You can borrow cash or stable coins from as little as $10 all the way up to $2M. However, this will obviously depend on the amount of collateral you deposit. 
You can take a Nexo loan equal to (or up to) 50% of the crypto collateral you deposit. In other words, if your collateral is $1,000, you can get a loan of up to $500. This is done to protect the system.
Just in case there was a crash in the value of the crypto, which is obviously very volatile.
What Tokens are Accepted as Collateral?
With Nexo, you can use over 20 digitals assets as collateral, including cryptos such as BTC, ETH, SOL, NEXO and XRP or Stablecoins such as USDC or USDT. Nexo doesn't support wrapped tokens such as wBTC OR wETH.
If you want a token added, you can contact Nexo and fill out an application form.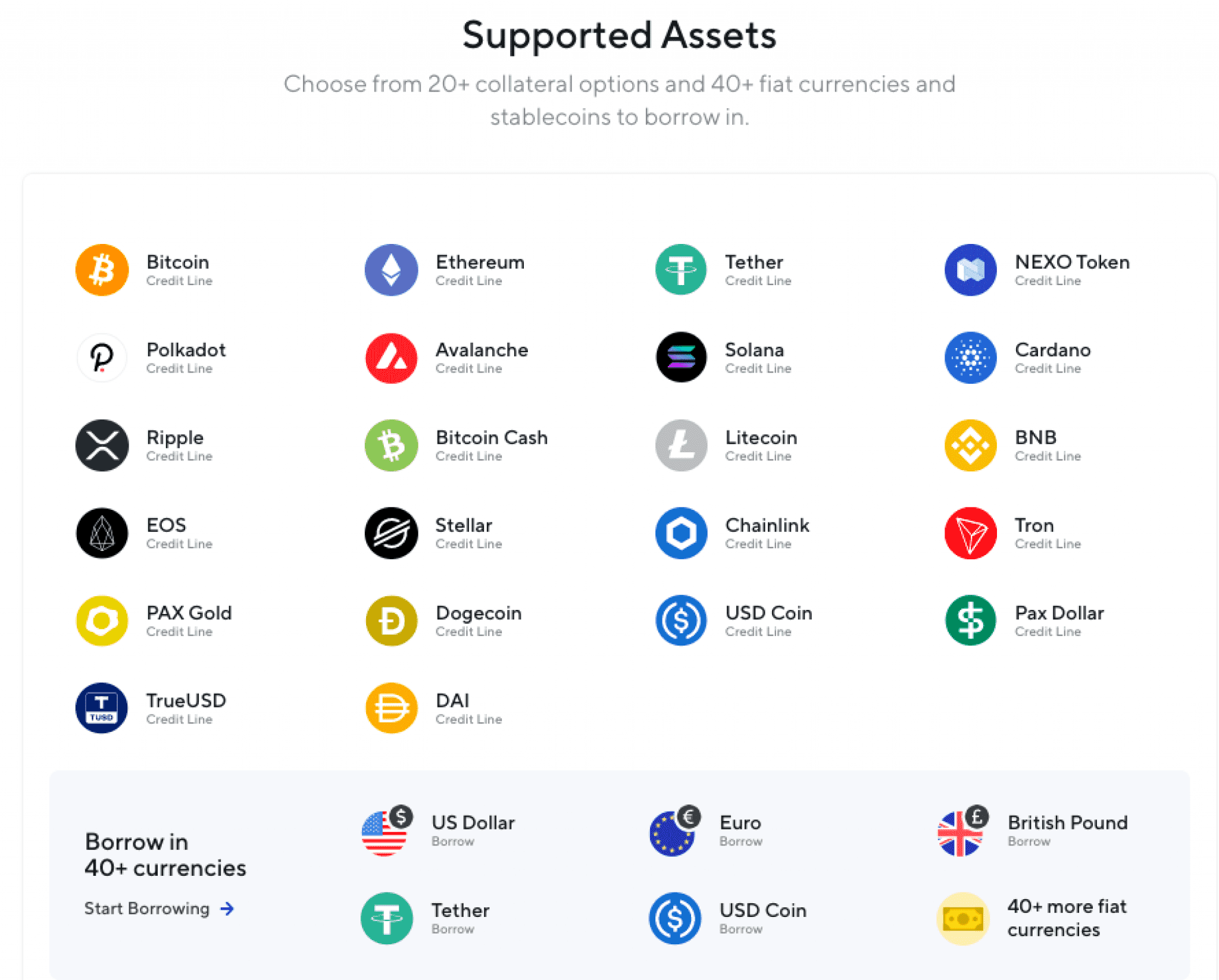 What is Loan to Value?
Your Loan-to-Value ratio is an indicator representing the size of your loan compared to the value of your assets that are securing the loan. This ratio can change, especially if the value of the collateral goes down as the Loan-to-Value will then go up.
Therefore, monitoring your account is very important during market drops. Suppose the price of your crypto asset falls too low. In that case, the Loan-to-Value will continue to increase, and Nexo will automatically request (via SMS and email), that you repay your loan or add extra collateral in your Credit Line Wallet.

LTV is calculated as the loan amount in USD divided by the value of the collateral in USD, expressed as a percentage.
Loan amount: $5.000
Value of collateral: $10.000
Loan-to-Value = ($5.000/$10.000)*100% = 50.0%
If you don't repay, there is a threshold where assets from your Savings Wallet will automatically move to your Credit Line Wallet. 
If they are insufficient to cover the required Loan-to-Value, the collateralized asset will start being sold by Nexo to pay back part of the loan to rebalance the Loan-to-Value. This threshold at Nexo is set at 83.3%. But before all that happens, you will be notified via SMS and email.
However, on the flip side, if the value of the collateral increases, your credit line will be automatically increased as well. This could allow you to take another loan, for example.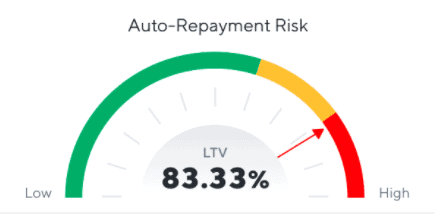 Loan-to-Ratio Rate Changes
As of 5th May 2021, the Loan-to-Value (LTV) ratios for ten cryptocurrencies on the Nexo platform will be lowered for clients withdrawing new credit lines on or after this date.
Below is a list of the new LTV rates;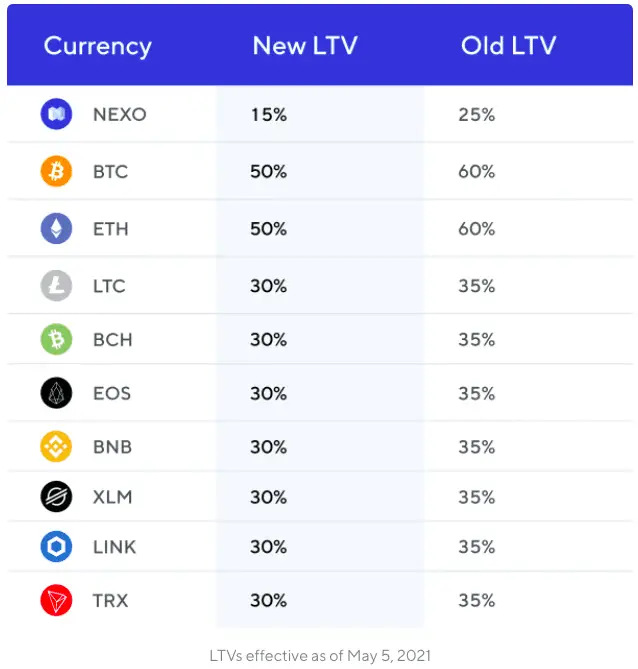 Nexo Card
Nexo has its own card. Letting you spend the value of your crypto without selling it. Cardholders can use the Nexo Card like any other card. Simply swipe your card, and the payment amount is deducted from the available balance of your Instant Crypto Credit Line.
The card is accepted worldwide by 40M+ merchants, and you can get 2% instant cashback on all purchases. Plus, get flexible repayment options again with zero fees.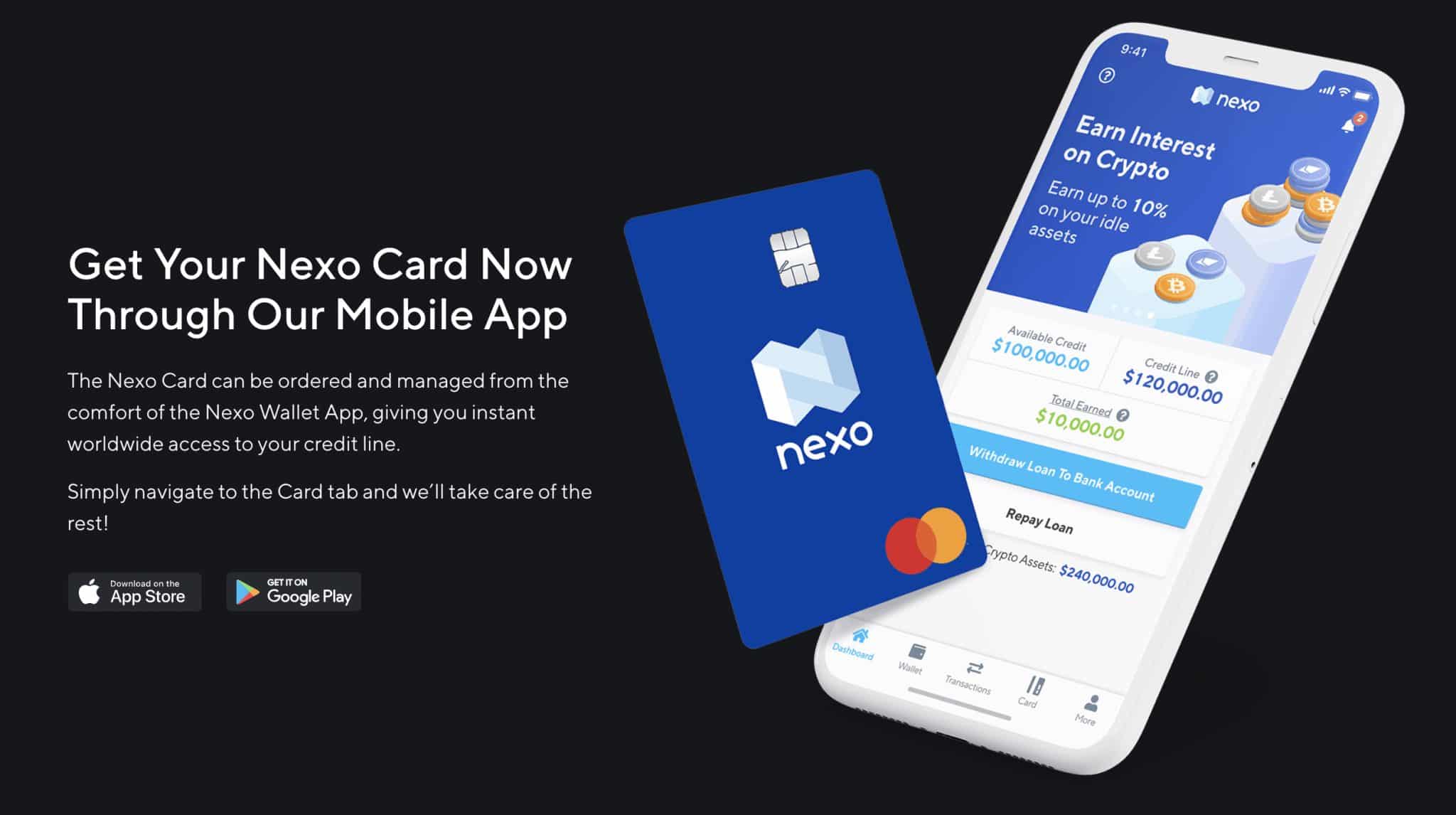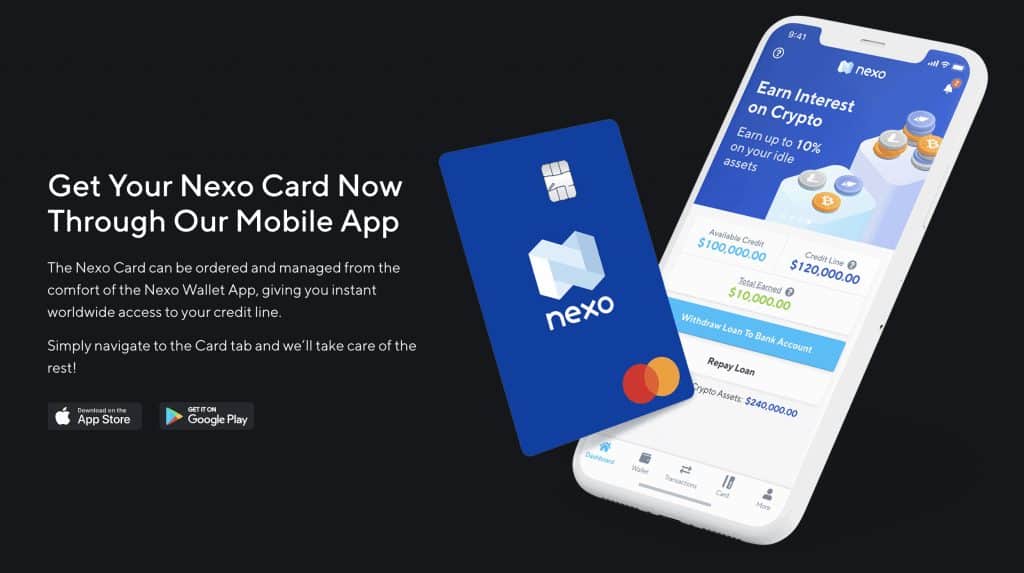 Fees
Nexo boasts zero fees on its platform for deposits, withdrawals, and repayments. You will find some minimum amounts for crypto and cash withdrawals; however, these are at no cost to the users.
What is the Minimum Amount of Crypto I can Withdraw?
The minimum amount of crypto you can withdraw from Nexo is shown below;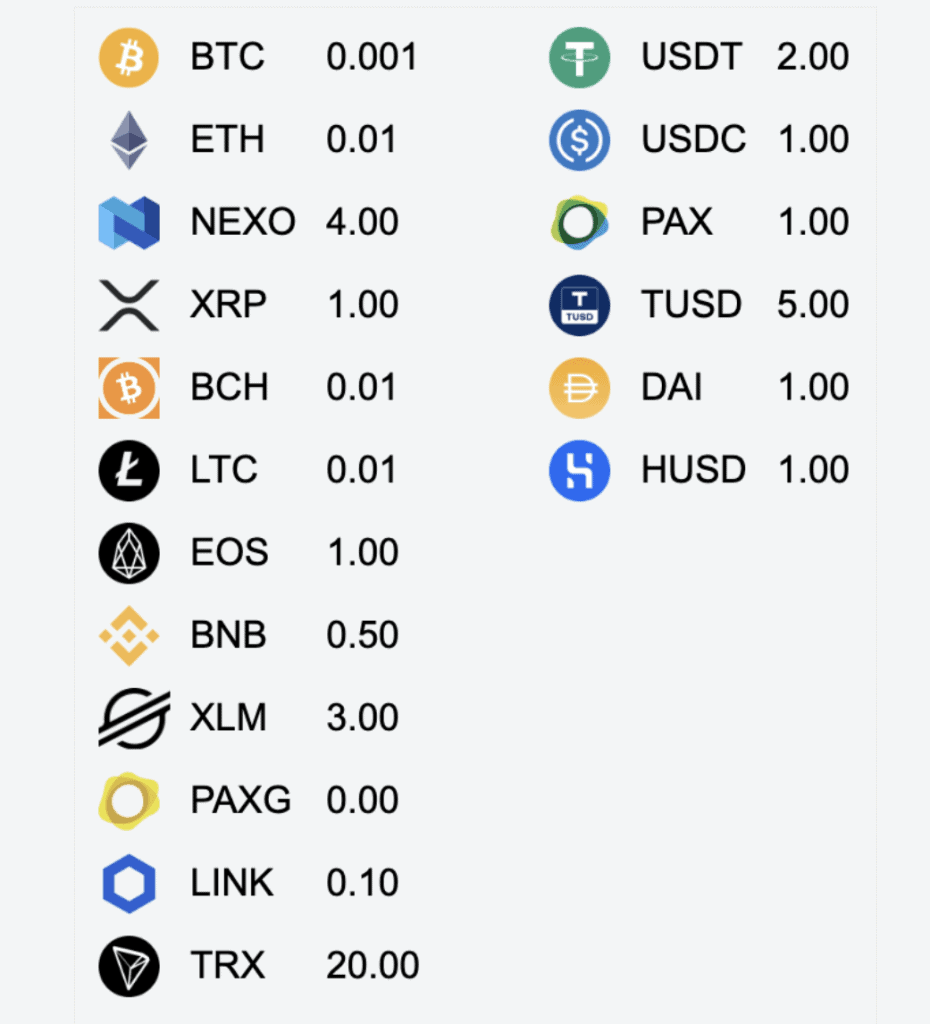 Nexo Support
Nexo Customer Support can be contacted by filling in an online form or emailing support@nexo.io. Plus, they have a 24/7 Live Chat facility available in the bottom right of the screen when you're logged in.
When I contacted their support via chat, they were very helpful and responded within 5 mins.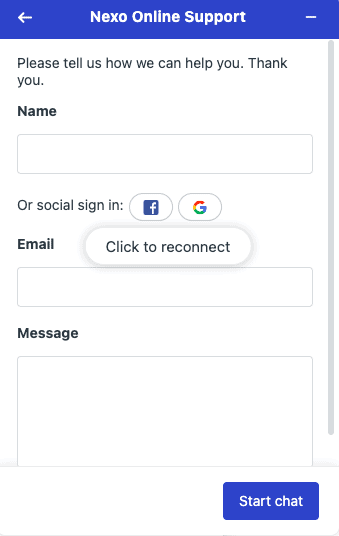 Is Nexo Safe?
In terms of security, Nexo partners with the world-renowned custodian BitGo, Ledger Vault and other custodians whose facilities are insured via Lloyd's of London and Marsh and Arch.
Nexo's total insurance is currently $375 million, one of the highest in the crypto lending industry. However, Nexo aims to up its insurance to $1 billion by the end of 2021.
Is Nexo FDIC Insured?
Nexo is currently working on acquiring an FDIC-insured US chartered bank. To give them access to cost-efficient financing, plus a strong foothold in the US market.
Whilst this is underway, it's worth mentioning that they do secure all their crypto assets with the custodian BitGo, for maximum security.

Nexo Audit
Nexo has recently announced that Armanino LLP (a certified PCAOB auditor) is now providing a real-time audit of Nexo's audits. Becoming the first crypto lender to publicly open its books.
The 3rd party audit allows clients, regulators, and the public to instantly view Nexo's assets and liabilities. These daily reports are viewable and downloadable for both Nexo's Borrow and Earn Crypto Interest products.
This means that everyone can now verify in real time that client holdings on Nexo's platform are fully backed, setting an example for others in the industry to follow.
Users can view the real-time audit on the Nexo attest report page.