In this Phantom Wallet review, we'll take a look at the secure wallet browser extension. Delving into Phantom's features, supported blockchains, plus how to swap and stake to earn a yield.
Phantom is a user-friendly, digital web3 wallet for the Solana blockchain, making it safe & easy for you to store, send, stake and swap tokens and NFTs.
So, let's dive into this Phantom Wallet review to find out if the Phantom is the right wallet for your crypto assets.
Phantom Wallet Review


What is the Phantom Wallet?
The Phantom is the non-custodial wallet for the Solana blockchain. It´s remarkably similar to its web3 alternative, Metamask, and is currently available as a free browser extension for Chrome, Firefox, Brave and Opera Browser downloads.
With the Phantom wallet, you can manage your crypto and NFTs, stake, swap tokens and access DeFi applications on the Solana blockchain. The team is also working on supporting Ethereum, with a beta version coming soon. In my opinion, I see Phantom being a serious challenger to the popular Metamask wallet.
Phantom is a non-custodial Web3 wallet where the user has access to their private keys. Again similarly to Metamask, you can also connect it directly to Ledger, which we'll also take a look at.
In just six months of its launch, Phantom gained more than 2 million monthly active users making it the fastest-growing crypto wallet. In January 2022, Phantom announced a $109M Series B led by Paradigm with participation from past investors, including a16z, Variant, Solana Ventures, and Jump Crypto.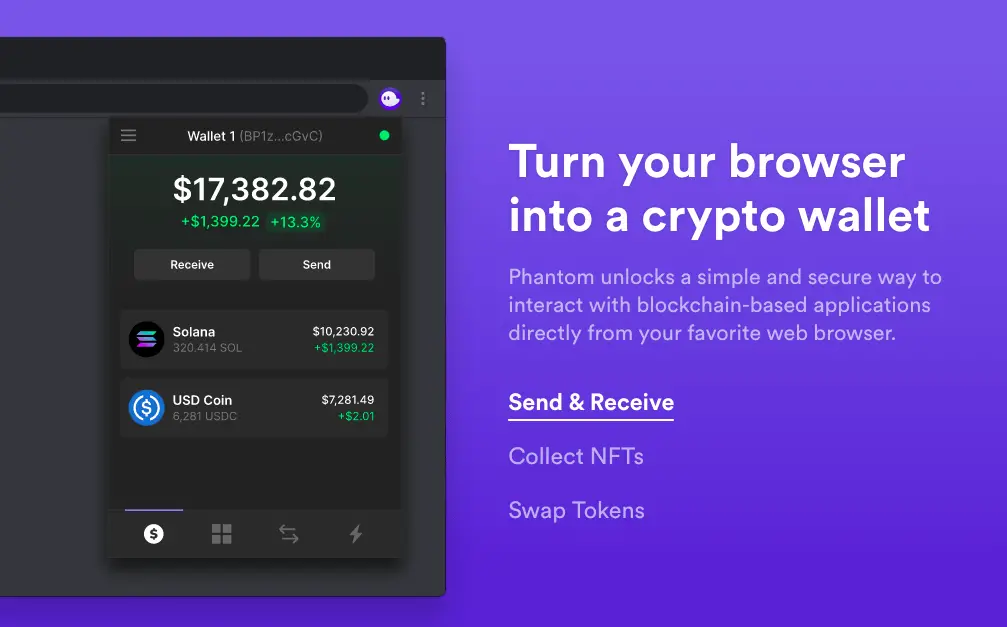 What is Solana?
Solana is a highly scalable and (what they claim to be) the fastest blockchain in the world, which is known for offering a vast array of DeFi solutions and for its successful SOL token.
The platform was founded in 2017 by Anatoly Yakovenko, who worked for Qualcomm before founding Solana. The team has designed Solana to be able to process over 50,000 transactions per second, competing with the likes of Visa or Paypal. They do this by using something called "Proof of History".
Solana also has support for smart contracts, allowing developers to create DApps on the network. This means that DEXes, lending platforms and NFT marketplaces can all be run on Solana.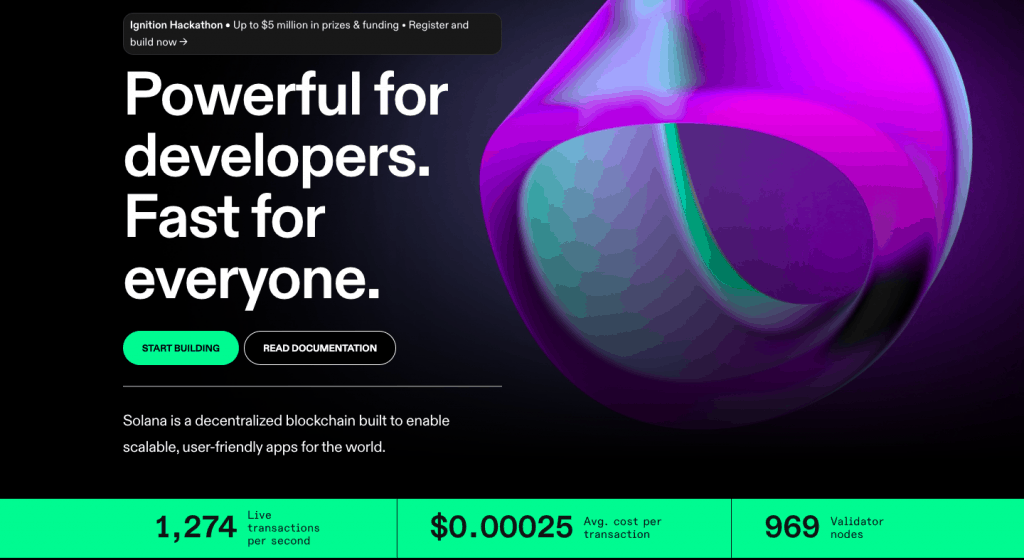 What are SOL Tokens?
The SOL token is Solana's native token. SOL has several use cases, plus you can stake your SOL tokens to earn rewards. The current circulating supply of SOL is 26 million, with a maximum supply of SOL caps at 489 million SOL.
Where Can I Buy SOL Tokens?
SOL can be traded using a variety of cryptocurrency exchanges with popular options, including; Coinbase, Binance exchange or FTX.
Phantom Wallet Fees
For any transactions on the Solana network, you'll need to pay transaction costs or gas fees, which in this case are paid in SOL. This is similar to how you need to pay ETH for transactions on Ethereum or BNB for the Binance Smart Chain. However, instead, you'll need to pay SOL for Solana.
Therefore you'll need to always have enough SOL tokens in your wallet to pay for any transaction fees when sending, swapping, staking, etc.
Is Phantom Wallet Safe?
The Phantom Wallet is non-custodial, meaning that users hold their own private keys. Therefore a lot of the Wallets security lies in the users' hands and not a 3rd party.
When you create a new wallet, you'll be prompted to write down your secret recovery phrase, which is a collection of 12 words. These words are what would be required should you need to restore your wallet. And are therefore a really important part of creating a wallet. If you lose your recovery phrase, there is no way to recover your wallet.
Plus if someone gets hold of these words, they will have access to your crypto assets. So it's important you write them down correctly, in the correct order and store them somewhere safe and away from any potential harm.
Phantom Wallet App
Phantom for iPhone is available as a mobile app so that you can use the crypto wallet and your favourite Web3 Apps on the go. With the Phantom wallet app, you can do everything you can do on a desktop, including functions such as sending, receiving, swapping and earning.
Please note that this is only available from the AppStore for iOS users and is not yet available for Android. Please beware of fake downloads.
Phantom Wallet & Ledger
The Phantom wallet supports connection to the popular hardware wallet Ledger. Meaning that your tokens are always stored safely within the security of your Ledger device. At the time of writing this Phantom Wallet Review, Trezor is yet to support Solana.
To connect your Ledger hardware wallet, you will first need to install the app on your device via Ledger Live. Then pair and connect your wallet by creating an account and address.
How to Connect Phantom Wallet to Ledger?
Install the Solana App on your Ledger (make sure you´re running the latest version)
Go to "Settings" on your Ledger device and set "Allow Blind Sign" to "Yes"
Connect and unlock your Ledger device
Open the Phantom Wallet
Clicking the burger/menu option in the top left of the wallet
Choose "Add/Connect Wallet"
Select "Connect hardware wallet."
When prompted to select a USB device, choose your Ledger device and "Connect".
Select the address you want to use, and your Ledger device will connect.
You can connect your Ledger with Chrome, Brave and Edge. However, there is no Ledger support with Firefox.
Problems Connecting Ledger & Phantom
I personally had some issues when connecting my Ledger Nano X to Phantom. After speaking with Phantom, I found this isn't an issue with the wallet itself. Instead, it's the way that Ledger works with Solana.
A few tips that I'd recommend are;
Make sure Ledger isn't connected to Metamask or Terra Station wallets
Close all apps that may be using or connected to your Ledger.
On the Solana app on your Ledger device. Go to settings and set "Allow Blind Sign" to "Yes."
Swapping Tokens with the Phantom Wallet
With the Phantom Wallet, you can token swap from one token to another on Solana using an inbuilt DEX. At the time of writing this Phantom Wallet review, you can swap between Solana, USDT, USDC, Serum and Raydium.
Phantom's inbuilt DEX makes swapping simple without having to move your funds or connect to any additional DApps. You'll just need enough SOL to pay for the transaction costs, which, compared to Ethereum, are very low.
Staking Solana with Phantom
Phantom allows users to stake Solana within the web app, where you can earn a yield on your crypto asset. When staking your Solana, you simply choose a validator from the list. It's worth doing your research into each validator before committing to staking with them.
You can also stake Solana SOL tokens on the likes of Exodus wallet, FTX Exchange and Binance Earn. If you´re looking for alternatives, we have put together a list of 5 ways you can stake your Solana Sol tokens.
You can check our comparison table for the best staking and lending rates.
Phantom vs Metamask
The Phantom wallet is set to rival the likes of Metamask, especially once they integrate with the Ethereum network. But what are the main differences? The below table shows a comparison between the features of both wallets.
| | | |
| --- | --- | --- |
| | | |
| Access to private keys | | |
| Hardware Wallet Support | | |
| Solana Network Support | | |
| Ethereum Network Support | | |
| Swap Function | | |
| Mobile App | | |
| NFT/Collectibles | | |
Phantom Wallet Support
Due to the number of scams that were facilitated through the Phantom Discord, they, unfortunately, shut down the channel. You can, however, follow their Phantom Twitter account. If you need help, you can also go through their help articles https://help.phantom.app/. If you can't find the answer to your question here, then you can submit a support ticket, and they will respond as soon as they can.
When creating this Phantom Wallet review, we contacted their support via Discord, and they were extremely helpful.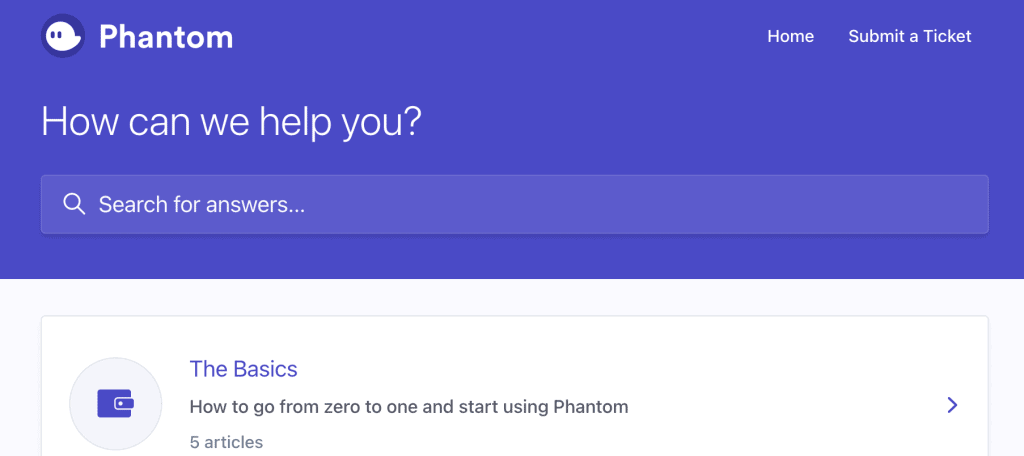 Verdict: Should you use Phantom Wallet?
Before creating a Phantom wallet tutorial, I had never interacted with the Solana blockchain, even though I had held the SOL token since the beginning of 2021. I had some issues initially connecting Phantom to Ledger, but once I overcame these, I thoroughly enjoyed using the wallet. I even decided to un-stake my SOL and RAY tokens from the FTX exchange and staked them using Phantom for a better APY.
If you're new to crypto, Phantom will be a little daunting, to begin with, but if you have used MetaMask previously, you will have no issues. If Phantom continues innovating and they release their Ethereum version, I'm sure the adoption will be huge for the platform.
We hope you enjoyed our Phantom review; if you have already tried Phantom, let us know what you think in the comments below or click here to download Phantom Wallet.
Related Posts