In this beginner's guide to Binance Earn, we will explain how to earn interest with Binance Earn. Plus, the available products for investors include rates and investing terms. Plus, how you can start earning interest on your crypto assets with Binance Earn.
Binance Earn is the one-stop hub where Binance users can earn interest on their crypto assets within the exchange. Choose from dozens of crypto financial products, with over 60+ supported cryptocurrencies, including Bitcoin, Ethereum, and their own BNB token.
So, let's jump into this Binance guide to help you work out if you should invest your crypto into Binance Earn.
What is Binance Earn?
Binance Earn is a complete suite of products that are available to Binance customers. Essentially Binance Earn acts as your crypto savings account, where you'll find a great variety of options for earning passive income with your crypto holdings. Binance offers a whole host of savings options which are available depending on your desired level of risk, term, and returns.
Plus, you can stake your coins, lend your funds for interest, or safely deposit them into a DeFi service through Binance.  To start using any of the Binance Earn solutions, you'll need to transfer your funds from your exchange spot wallet across to Binance Earn.
The different savings options available are split between Flexible Terms, Fixed Terms and High-Risk Products.
If you´re not already signed up for the Binance exchange, you can use our referral code to receive a 20% discount on trading fees.


How does Binance Earn Work?

What is Binance?
Binance.com is an online exchange platform founded in China by Changpeng Zhao in 2017. Where you buy and sell cryptocurrencies using digital assets such as Bitcoin and Ethereum.
The Binance exchange is well known for its low trading fees, a wide range of available cryptocurrency pairings, and high liquidity. However, Binance has recently become more than just a crypto exchange and now offers its customers a wide range of financial services.
Binance also has its own Binance Coin (BNB). This token allows you to receive discounts on the services of the Binance platform. Users of Binance can receive a 25% discount on trading fees by paying with Binance's BNB token.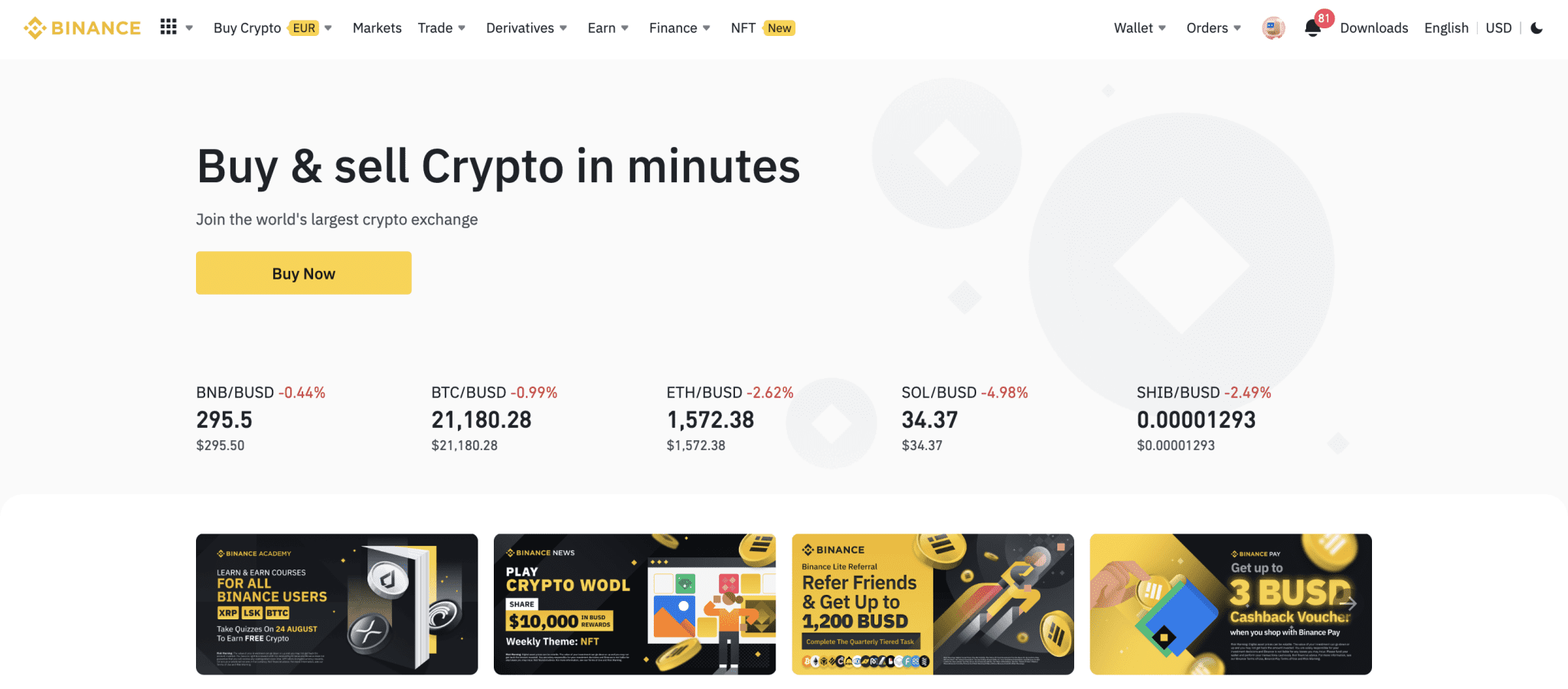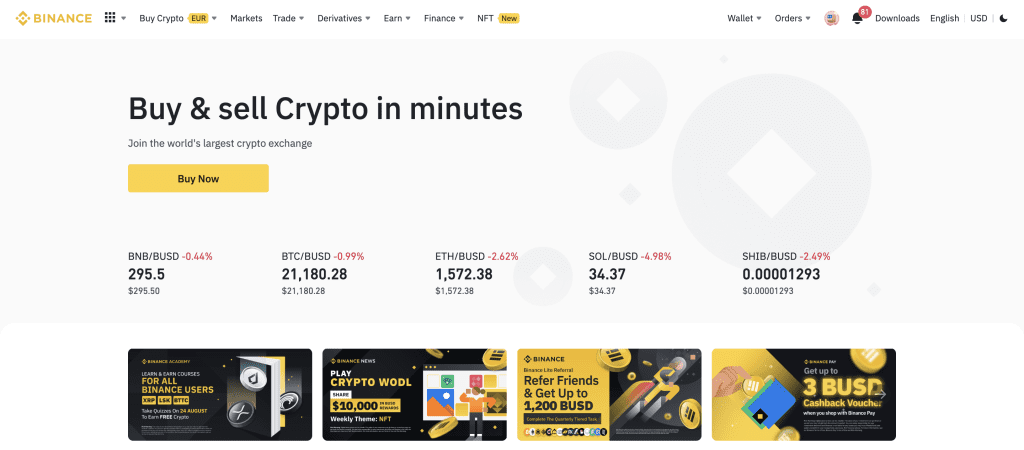 Binance Earn Flexible Terms
Within Binance Earn, the flexible options allow users to earn interest without locking in their funds for set periods. The interest rates will be lower with these options. However, these will come with a lower risk, plus the ability to withdraw at any time.
Flexible Savings
Flexible Savings offer Binance users the ability to deposit crypto and gain interest on a daily basis. This option is great for crypto, which may otherwise sit idle in your spot wallet.
With Flexible Savings, there are currently 56 savings products. Users can currently earn up to 10% interest on the likes of 1INCH, BUSD, BAL, BTC, ETH and USDT. You can also auto-transfer, automatically using your available spot wallet balance to purchase flexible savings.


LaunchPool
With Launchpool, you can deposit the likes of BNB, BTC, and other cryptocurrencies to get a share of new tokens that are being launched on the Binance exchange. Currently, there are rates as high as 68.64%. You can view information such as the total rewards, the farming period and available tokens to stake for each event.
LaunchPool is deemed as flexible terms. This is because although you lock up these tokens, you can still redeem them at any point during the event.


BNB Vault
The BNB Vault is a BNB yield aggregator that combines Flexible Savings, BNB DeFi Staking and Launchpool to give you the best APY returns. 
When you stake your BNB tokens, you will receive BNB Vault assets. These rewards will be sent to your spot wallet. With BNB Vault, you have flexible terms and can un-stake your funds.


Binance Earn Fixed Terms
Fixed Terms essentially mean you'll be depositing your funds regularly for a specific "Fixed" period. With fixed terms, you'll find that the interest rates are higher than those available on Flexible Terms.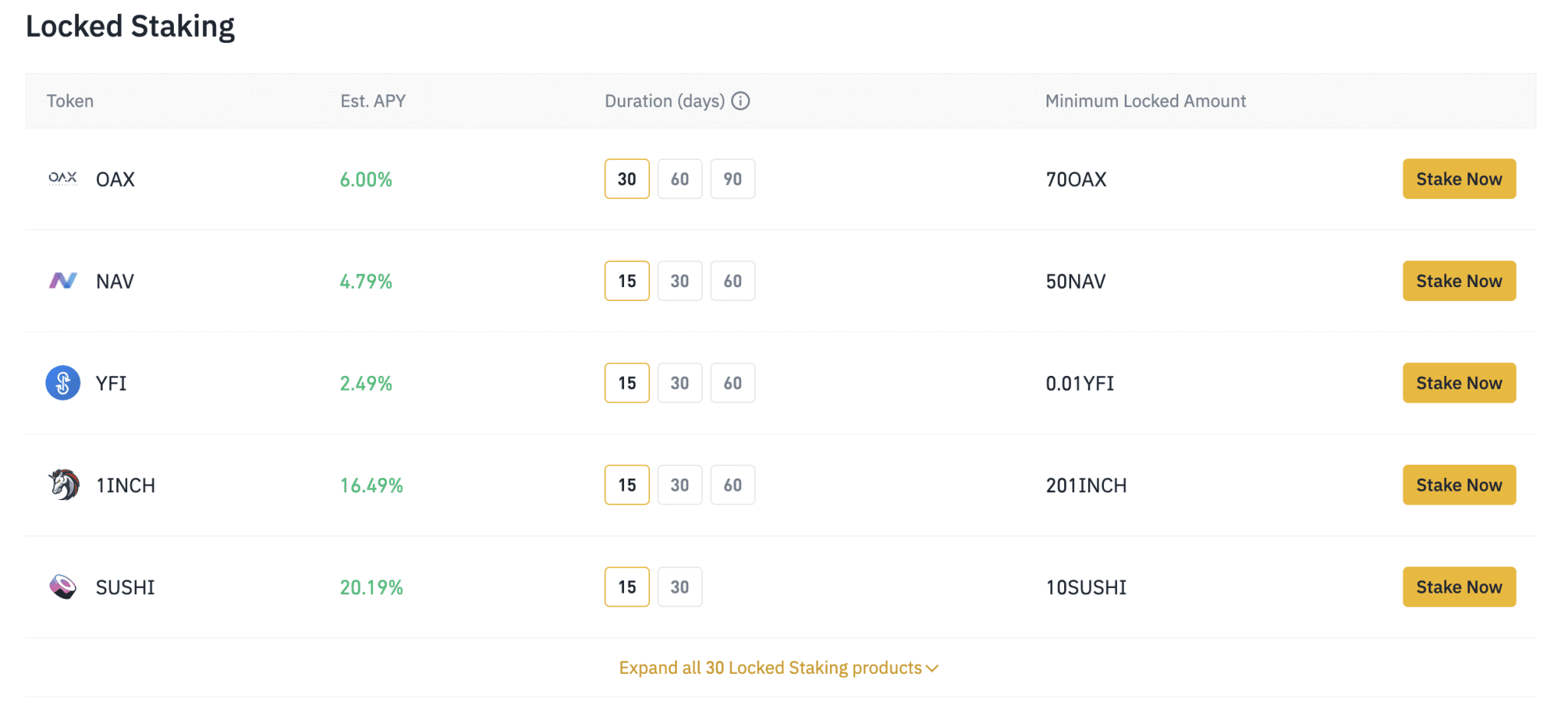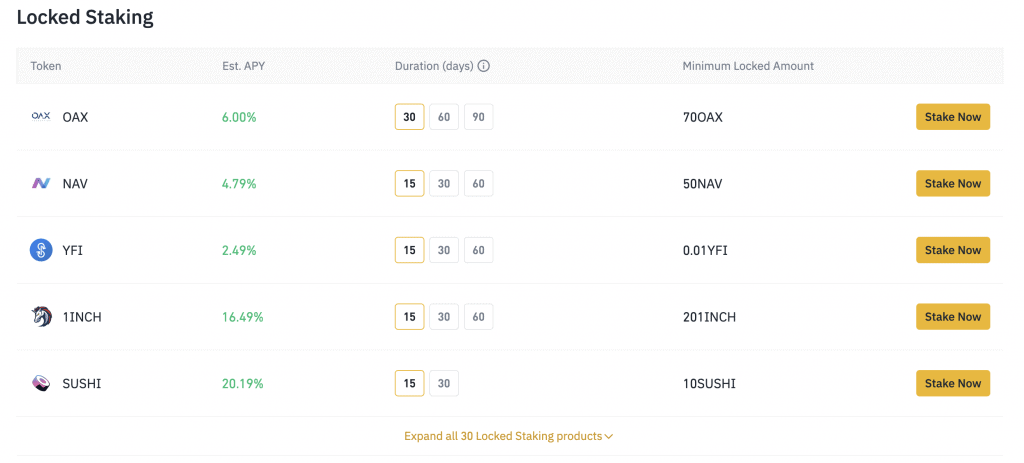 Fixed Savings
With Fixed savings, you deposit your crypto for fixed terms, which are between 7 to 90 days. These rates will increase the longer you deposit your crypto.
You can currently deposit the likes of USDT, BUSD and USDC. These deposits are currently at rates of up to 7% for a 90-day term. During this term, your crypto is locked in.


Locked Staking
With Locked Staking, users can gain rewards through staking assets on the blockchain. There are around 30 staking products available, including popular staking tokens such as; 1INCH, SUSHI, YFI, ATOM, EOS and DASH, with the highest rate currently at 30%.
These products also come with minimum locked amounts too and vary in term lengths.


Activities
Activities are special events with limited supply and higher demand. Because they are generally at a capped supply, you sometimes need to subscribe quickly. 
There have been around 155 of these activities events so far, with the highest rate being 88%. Activities can offer even higher returns than Fixed Savings usually does.


ETH 2.0 Staking
ETH 2.0 staking is another fixed-term product and a safe and secure place for ETH staking, with up to 20% APY.
When you stake your ETH, this can't be redeemed during the first phase, which may take more than two years. However, Binance will regularly distribute on-chain rewards to all participants based on their BETH position (which is the token provided as proof of your staked ETH) in a 1:1 ratio.
Once the first phase is complete, you can redeem your ETH. However, in the meantime, you can swap your BETH for ETH on a 1:1 basis. You can swap BETH back to ETH at any time and receive the amount equivalent to your current BETH amount.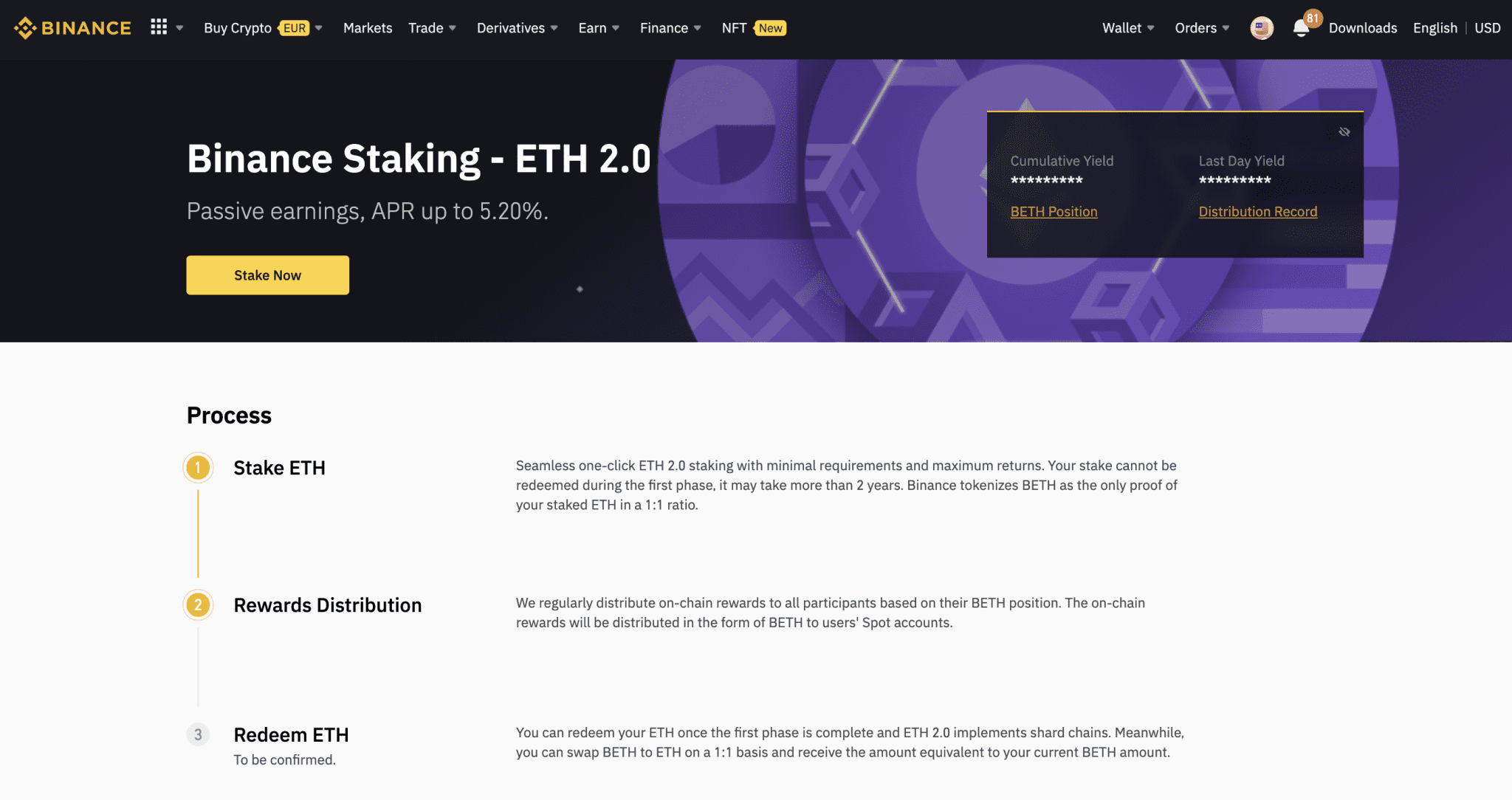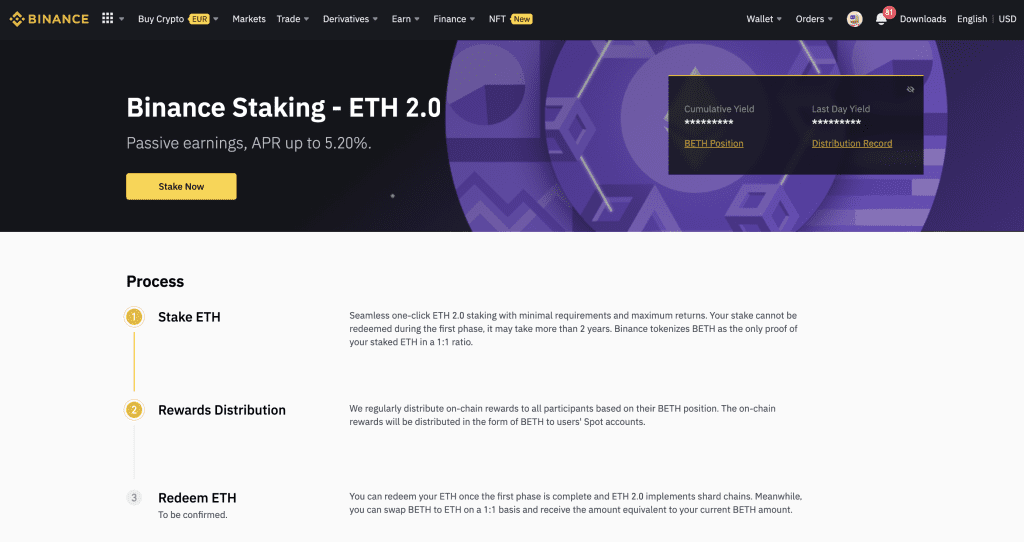 High-Risk Products
These products can offer some of the highest interest rates. However, they come at a higher risk, and users should invest cautiously once they fully understand the risks.


DeFi Staking
DeFi Staking is a way to access DEFI without having to manage your private keys, make trades or perform other complicated tasks required to participate in DeFi Staking. Decentralized Finance (DEFI) staking provides financial services to users through smart contracts and higher earnings for specific currencies.
Currently, the interest rates reach 8.79% for staking the likes of DAI. Plus, they offer both flexible locking and fixed locking deposits. DeFi staking also comes with minimum lock amounts.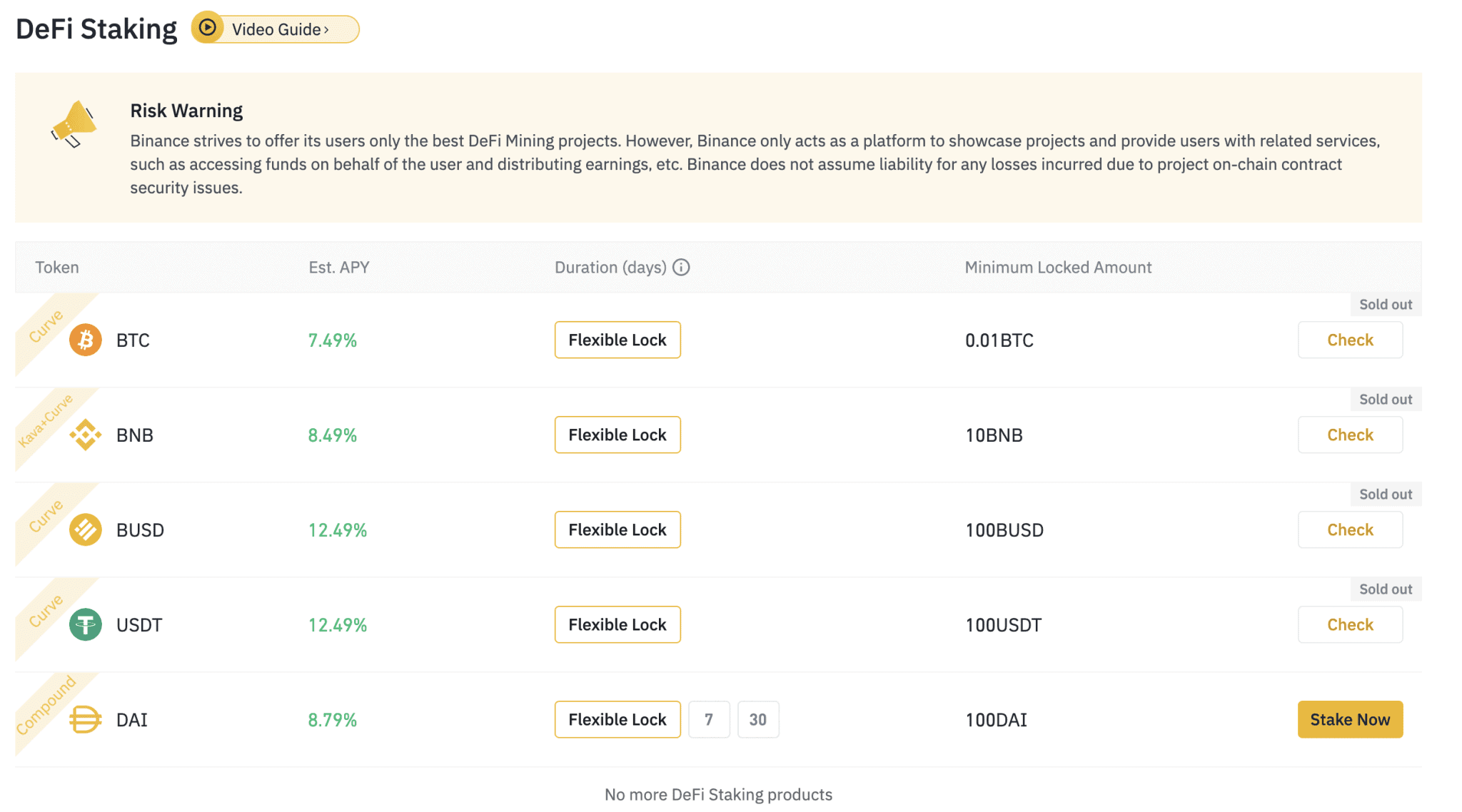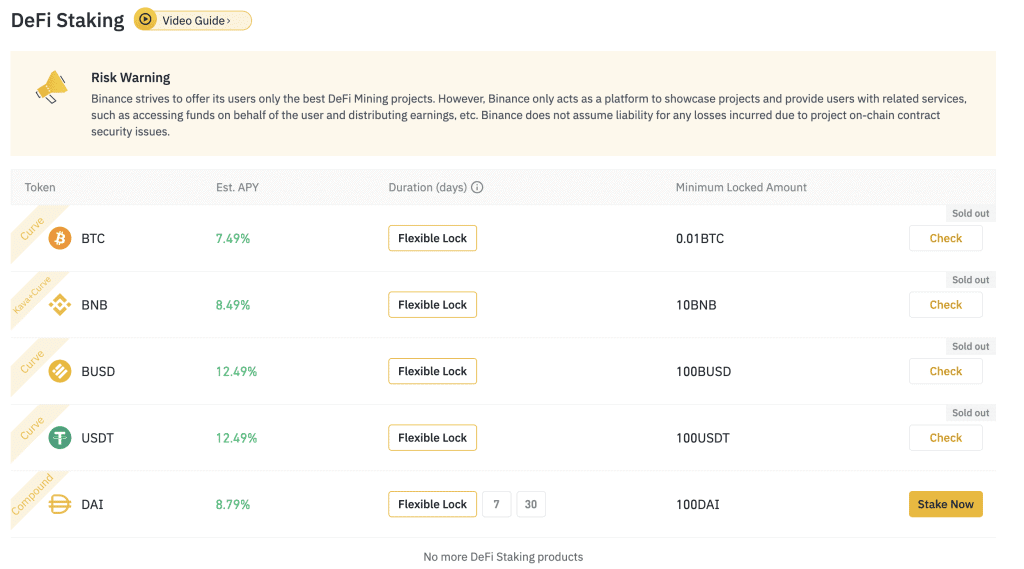 Dual Savings
Dual Investments/Dual Savings are another way to earn, but this time it doesn't matter which direction the price goes. With Dual Savings, you deposit a cryptocurrency and earn a return based on two assets. You commit your holdings, lock in a yield, but earn more if the value of your holdings increases during the time that they're locked up.
The annualised rates of return are as high as 160% (for BTC), and users can deposit BTC, BUSD or USDT.
Although the rate of return is fixed, the final settlement is determined based on the settlement price and the pegged price. Therefore, the risk associated with Dual Currency Investments mainly lies in the high rate of market volatility. Users are advised to invest with caution once they fully understand the risks.


Liquid Swap
The final high-risk savings option is Liquid Swap. This is where you can become a liquidity provider and can earn double rewards with rates up to 15.67%.
Liquid Swap, also known as BSwap, is obviously not risk-free either. When the market price of tokens fluctuates greatly, the staking income may be lower than that of ordinarily holding the tokens, and losses may even occur at this point.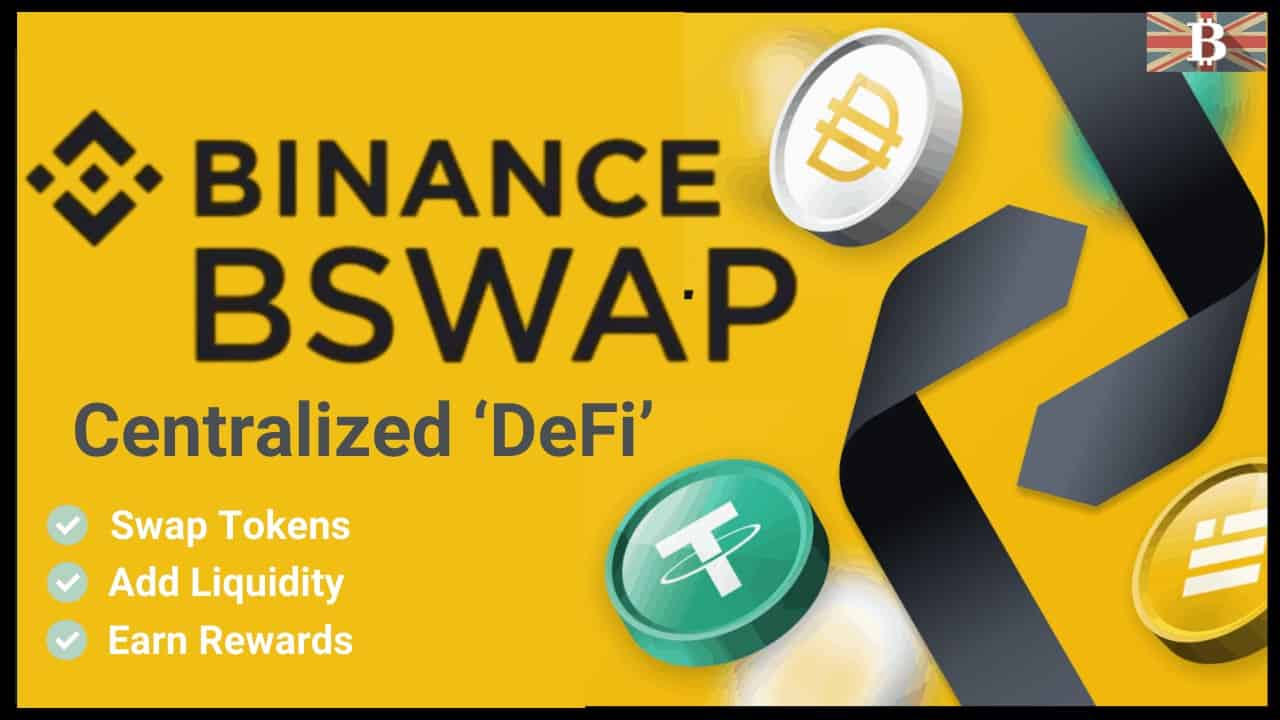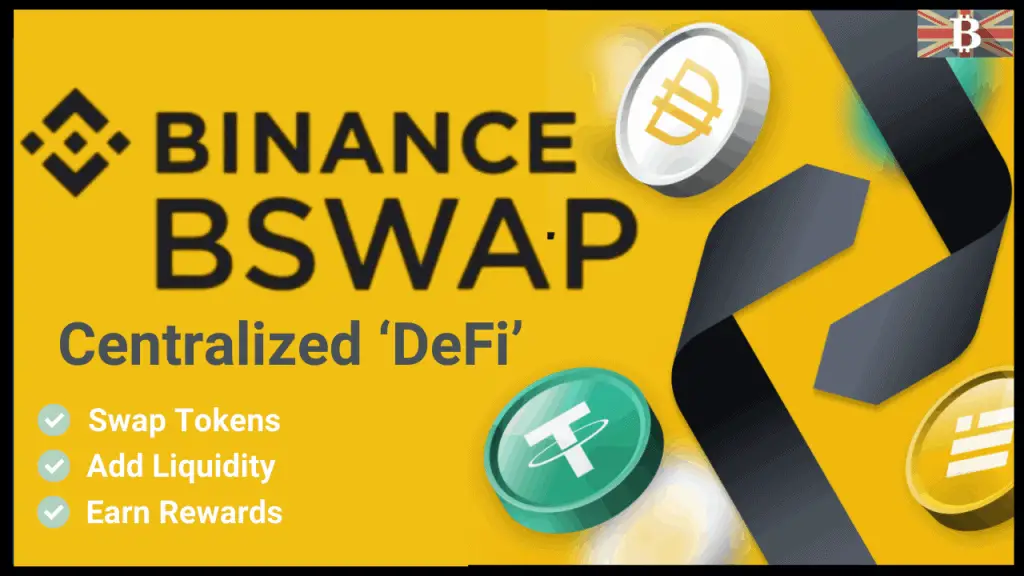 Binance Earn FAQs
Can you make money on Binance earn?
With Binance Earn, you can make money earning interest on your crypto by lending, staking and easily growing your holdings with yield farming and staking opportunities.
Is Binance earn safe?
There are risks associated when staking or lending out your crypto on Binance Earn. However, Binance Earn is a trusted platform. They have some key metrics to keep your crypto safe, which include carefully monitoring their on-chain staking and LTV, holding a balance of liquid and locked offerings, offering reasonable rewards with no subsidies, and educating users to use their service responsibly.
Can you lose money with Binance earn?
It is possible to lose money on Binance Earn, and you could lose your investment if the value of the crypto you have deposited or staked fails.
Does Binance stake automatically?
If you want Binance to stake your crypto automatically, you can use the ¨Auto Subscription¨ feature, which automatically compounds your savings and staking yields daily.
They also have an ¨Auto Invest¨ feature which schedules recurring crypto buys and automatically earns APY on your purchases, using stablecoin funds from your wallet. 
Related Posts