In this ZenGo Wallet Review, we dive deep into the world's first on-chain crypto wallet with no private key vulnerability.
We analyze the variety of features ZenGo wallet offers, plus their partnership with Nexo to offer users interest on their crypto assets. We also take a look at ZenGo's security, fees, support, pros and cons.
So, let's dive into this ZenGo Review to help you work out whether ZenGo is the right crypto wallet for you.
ZenGo Wallet Review: How to use ZenGo
ZenGo Pros & Cons 
What is ZenGo? 
ZenGo is a non-custodial WEB3 wallet designed to make the global crypto economy accessible to everyone. The Israeli-based crypto wallet was founded in 2018 by Omer Shlomovits, Ouriel Ohayon, Tal Be'ery and Gary Benattar.ZenGo has so far raised $24 million and closed its last funding round on Apr 27, 2021; this includes the backing of Samsung Next and NYC's Insight Partners.
ZenGo states that they are the most secure crypto wallet in Web3, with 605,000+ customers. Which they do by being the first on-chain crypto wallet with no private key or seed phrase. Instead of having the vulnerability of a private key (which can be lost or stolen), ZenGo uses an advanced type of cryptography called MPC (Multi-Party Computation).
ZenGo Wallet Features
ZenGo offers an array of different features to ensure its users never need to leave the app. You can buy, trade, and earn up to 8% interest on Bitcoin, Ethereum, and over 70 other crypto assets. You can even connect securely to NFT & DeFi Dapps using ZenGo's ClearSign Web3 firewall. 

Buy & Sell Crypto
With ZenGo, you can buy and sell crypto directly from within your wallet using third-party providers such as MoonPay, Coinmama and Banxa in more than 180 regions worldwide.
ZenGo offers a simple payment gateway for buying crypto with credit cards, Apple Pay, bank transfers (using SEPA and Swift), or debit cards (using Maestro). Plus, you can also sell your crypto and send this back to your bank account.
ZenGo makes it as easy as possible to buy crypto, no matter what you use to buy it with. Just remember to take a look at the fees before doing this. 
Trade & Swap
ZenGo allows users to get some of the best trading rates when it comes to swapping their crypto. If you want to swap from Bitcoin to Ethereum, Ethereum to USDT, you can do this using their "Trade" feature.
Trade is powered by their partnership with Changelly, the world's leading crypto exchange platform.
Earn Interest
Earning interest on your crypto assets is pretty simple with ZenGo. ZenGo has partnered with Nexo, a licensed and registered financial institution for crypto lending and investments.
The interest rate you will earn depends on the cryptocurrency you deposit. ZenGo allows investors to earn interest on nine cryptocurrencies, with APYs ranging from 3% to 8%. For a breakdown of the supported cryptos and interest rates, check out the complete list here.
| Crypto | First Tier APY | Second Tier APY |
| --- | --- | --- |
| Bitcoin | 3% APY up to $25,000 USD | 1.5% APY up to $25,000 USD |
| Ethereum | 4% APY up to $100,000 USD | 1.5% APY up to $100,000 USD |
| USDC | 8% APY up to $100,000 USD | 4% APY up to $100,000 USD |
| USDT | 8% APY up to $100,000 USD | 4% APY up to $100,000 USD |
| DAI | 8% APY up to $100,000 USD | 4% APY up to $100,000 USD |
| TrueUSD | 8% APY up to $100,000 USD | 4% APY up to $100,000 USD |
| ChainLink | 3% APY up to $25,000 USD | 1.5% APY up to $25,000 USD |
| Nexo | 4% APY – No Limits | n/a |
| Tezos | 5.75% – Variable | n/a |
ZenGo Interest Rates as of 5th August 2022
NFTs & DeFi
Users who want to connect securely to decentralised apps (DApps) or NFTs can use ZenGo in combination with WalletConnect. WalletConnect is an open-source protocol that acts as a bridge between your Web3 wallet and the world of DeFi.
Whether you want to buy and sell NFTs on OpenSea, trade for your crypto with UniSwap or get involved in the Metaverse, ZenGo makes this all possible with WalletConnect.
No Private Key / Seed Phrase Vulnerability
Previously, you had two choices, either keep your assets on a centralised exchange where you have less control over your crypto or secure it in a wallet where you'll need to store your private keys safely.
However, with ZenGo, you have the best of both worlds: full control over your crypto but with no private key vulnerability. 
This is because it does not use the traditional public key/private key architecture", meaning there is no private key held by ZenGo or you because it never gets created. This is because ZenGo uses MPC cryptography. Now, MPC is NOT new technology – it's actually been around for a while! But until now, it's only been used by billion-dollar institutions and companies like Fireblocks to custody serious sums of money. ZenGo is the first company to bring this advanced security tech to you and me.
What Cryptocurrencies Does ZenGo Support?
ZenGo supports over 70 mainstream cryptocurrencies and crypto-assets, including popular assets such as Bitcoin, Ethereum, USDC and DAI, with more coming soon.
You can check out the full list of supported cryptocurrencies here. 
ZenGo Fees 
ZenGo charges a range of fees to buy, send, and trade crypto, which is dedicated by the third-party provider offering the service. Plus, there will also be transaction fees incurred on the network, which are paid to the miners.
Receiving crypto is free; there are no minimum, maximum, or network fees. 
When sending crypto, it's also free, apart from network fees (not paid to ZenGo). These fees always vary depending on the volume of transactions and the crypto you want to send. 
Any fees for trading, buying, or earning interest and the rates will be dictated by the third-party provider. However, with Moonpay credit card purchases, there is around a 5.99% fee plus a spread. For trading your crypto, there is approximately a 0.5% fee and a 2% spread charged by Changelly.
These fees are high, but it's an incredibly convenient way of purchasing crypto through the app or swapping from one cryptocurrency to another.
Fees to Buy Crypto on ZenGo with a Bank Transfer
Provider
Payment Methods
Spread (%)
Process Fee
Gateway Fee
Currency Conversion Fee
Network Fee
Min
Banxa
SEPA, Local Payments, PIX, Interac, iDEAL, OSKO, Bank Transfer
1.99-2.29
Included
0%
No
Yes
50 USD/EUR or equivalent in local currency
Banxa
Wire Transfer (US)
1.99-2.29
Included
0%
No
Yes
100 USD
MoonPay
PIX, Local Payments, SEPA (non-US residents only)
1.5-3.0
1.99% (min. €3.99/£3.99/$3.99)
0%
Yes
(non-USD/CAD/AUD/EUR/GBP)
Yes
85 USD/EUR/GBP
Fees to Buy Crypto on ZenGo with a Credit/Debit Card
Provider
Spread (%)
Processing Fee
Gateway Fee
Currency Conversion Fee
Network Fee
Min
Banxa
2.55
Included in the spread
1.99%
No
Yes
50 USD/EUR or equivalent in local currency
MoonPay
1.5-3.0
4.0% (min. €3.99/£3.99/$3.99)
1.99%
Yes
(for non-USD/CAD/AUD/EUR/GBP)
Yes
85 USD
For New York: MoonPay Spread and fees add up to 6%*
Fees to Sell Crypto on ZenGo to a Bank Account with MoonPay
| Feature | Details |
| --- | --- |
| Spread (%) | Usually 1.5%-3.0% |
| Processing Fee | 1.99% (min. €3.99/£3.99/$3.99 or currency equivalent) |
| Gateway Fee | 0% |
| Minimum | 0.001 BTC, ETH: 0.01, BCH: 0.05, USDC: 30, USDT: 30 |
| Maximum (Europe) | €10k daily, €20k monthly |
| Maximum (United Kingdom) | £10k daily, £20k monthly |
| Maximum (United States) | $10k daily, $20k monthly |
| Network Fee | Yes |
ZenGo Support 
ZenGo has fairly high ratings on app stores (iOS and Android), above 4.78, and a Help Center is provided for customers. The website also has a Live Chat feature, as you can expect. 
ZenGo is loved for its live 24-7 in-app customer support. As of now, you can have someone ready to help you in less than 2 minutes! You can also contact and connect with ZenGo across numerous social channels (Twitter is probably the most useful if you have a problem and don't know about their live support feature).
ZenGo Security 
Security is so important for any crypto wallet. You need to know your crypto funds, assets, and passwords to protect they are completely secure. 
ZenGo works on the assumption that people are the weakest link in any security chain. We forget things and lose things, especially passwords and even phones. 
So, with ZenGo, they've said, "Goodbye, [to the] single point of failure."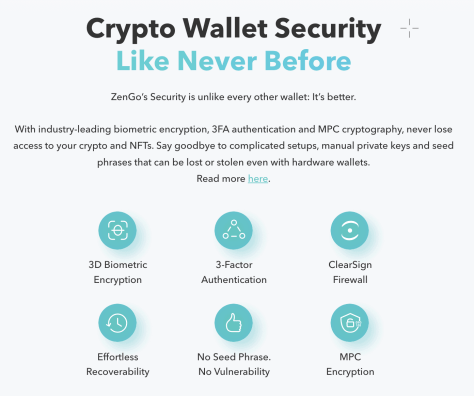 Instead of a single password, ZenGo employs a mathematical-based two-factor approach to security. These passwords are known as "secret shares", and you create them when setting up an account. One is stored on your phone. The other is stored on a secure ZenGo server. 
Both of these "secret shares" (another way of saying passwords or secure keys) are needed to log in. 
ZenGo also uses biometrics: a simple selfie. So, if you lose your phone, delete the app, or want to use it on another device, you need to take a selfie to match that with the 3D biometric face map you created during setup. Combining the two passwords (secret shares) and a face scan gives ZenGo 3-Factors of Authentication (3FA), making this wallet even more secure. 
Between two secret shares (mathematical passwords), and biometrics, ZenGo has taken extensive steps to keep customers' wallets secure. 
ZenGo Recovery Kit
The ZenGo Recovery Kit is a keyless recovery system that simplifies and secures the process of recovering your wallet and funds in case of loss or device compromise. It eliminates the need to manage, store, or worry about losing a private key.

How to Recover ZenGo Wallet?
The ZenGo Recovery Kit provides unique security features to ensure you never lose access to your crypto wallet or funds. To recover your ZenGo Wallet, you will need to;
Download ZenGo on a new phone
Log in with the same email you used to create your ZenGo account
Access your recovery kit on your cloud service (iCloud, Google Drive, or Dropbox)
Pass the selfie scan to verify your identity.
Is ZenGo Wallet Safe? 
Alongside the 3-factors of authentication (3FA) listed above, ZenGo uses "MPC-based cryptography" to keep customer wallets secure, and something is known as "Chill Storage™, which guarantees access to your funds even in extreme cases." 
ZenGo doesn't have access to any funds stored in your wallet. They also provide a list of steps you should take to keep your account completely secure, including adding two-factor (2FA) authentication to any email accounts connected to your wallet (the one you used to create an account) and your phone. 
If you want to understand crypto security in more detail, ZenGo has created a list of the most common scams going around. Well worth reading!
Fortunately, ZenGo hasn't suffered any cyber breaches or hacks, unlike other wallets. It would be very difficult for hackers to gain access to customer wallets if that were to happen, given the various decentralized layers of security used. 
ZenGo Referral Code 
ZenGo offers new users a $10 Bitcoin bonus when they buy $200 or more of crypto via the ZenGo Wallet. To be eligible to receive your sign-up bonus, use our link or use the ZenGo referral code at sign-up
How to Earn Free Crypto with ZenGo Wallet;
Set up your ZenGo Wallet

Download & install the ZenGo wallet with our exclusive link.
On the email screen, go to "Tap here to enter your code", & use referral code TRADEZEN & Click Apply.
Make sure you see "Referral code applied."

Buy Crypto

Go to Buy in the ZenGo Wallet
Make a purchase of $200 or more. (Only purchases made via MoonPay are eligible)

Receive your Bitcoin Cashback Reward

Once complete, you will receive your Bitcoin cashback reward within a few days.

Verdict: Should you Use ZenGo?
ZenGo comes with all of the features you should expect of a secure online wallet. Given the recent stories of hacks and lost crypto because of private keys and seed phrase vulnerabilities, a secure MPC wallet like ZenGo is worth considering.
You can buy, trade, earn, and exchange crypto all within the ZenGo wallet. Useful for those who want to keep crypto in one place rather than in multiple wallets and exchanges. And it seems as secure as possible, with recovery options if you lose your phone or forget an element of the security passwords (secret shares).
ZenGo actively respond to comments on Trustpilot, making sure issues are dealt with promptly; they currently have an impressive rating of 4.1/5 from 213 reviews.
We hope you enjoyed our ZenGo wallet review; if you have already tried ZenGo, let us know what you think in the comments below or click here to download ZenGo Wallet.
FAQs
Is ZenGo wallet safe?
Yes, the ZenGo wallet is considered a safe, non-custodial cryptocurrency wallet to store crypto assets. It gives users full control over their digital assets without relying on a third party. ZenGo has over 800,000 safe customers and has never been hacked. It uses three industry-pioneering technologies to enhance its security, one of which eliminates the seed phrase vulnerability by utilizing Multi-Party Computation (MPC).
Which country is ZenGo based?
ZenGo, a cryptocurrency wallet company, is based in Tel Aviv, Israel.
Related Posts