Looking for a cryptocurrency wallet to protect your digital assets? We have put together 12 of the best crypto wallets for UK investors.
With high inflation and tech stocks at an all-time high, Cryptocurrency has quickly gained popularity as a great investment opportunity. But what do you do once you have purchased your crypto? After all, you might have the next Bitcoin or Dogecoin, and you don't want anyone to steal your assets.
Alternatively, if you're completely new to investing, you should check out our beginner guide on how to buy Bitcoin in the UK and crypto-friendly banks for UK investors.
Best Crypto Wallets for UK Investors in 2023


Top Crypto Wallets for UK Investors
Here is a list of the best crypto wallets for UK crypto investors where you can store your digital assets safely. This list was put together by Every Bit Helps and wallets we personally use or have used. Some of the wallets are free; however, we give some paid options for more security.
Ledger Nano X
Ledger Nano S
Trezor Model T
Exodus Wallet
MetaMask Wallet
Trust Wallet
Argent Wallet
Coinbase Wallet
Atomic Wallet
Guarda Wallet
Paper Wallet
If we have missed one of your favourite wallets, let us know in the comments below.
1. Ledger Nano X
The Ledger Nano X is one of the market's most secure and popular wallets and can be quickly set up. A Nano X hardware wallet will cost around £136.00. The lightweight nature of the Ledger Nano X makes it easy to carry with you. It can support the storage of multiple tokens simultaneously. You can also use the Ledger Nano X to buy crypto with GBP through Coinify. 
The Ledger Nano X supports Bluetooth functionality, allowing connectivity with your desktop computer or phone. Plus, it adopts extremely secure technology, making it the recipient of a CSPN First Level Security Certificate by ANSSI.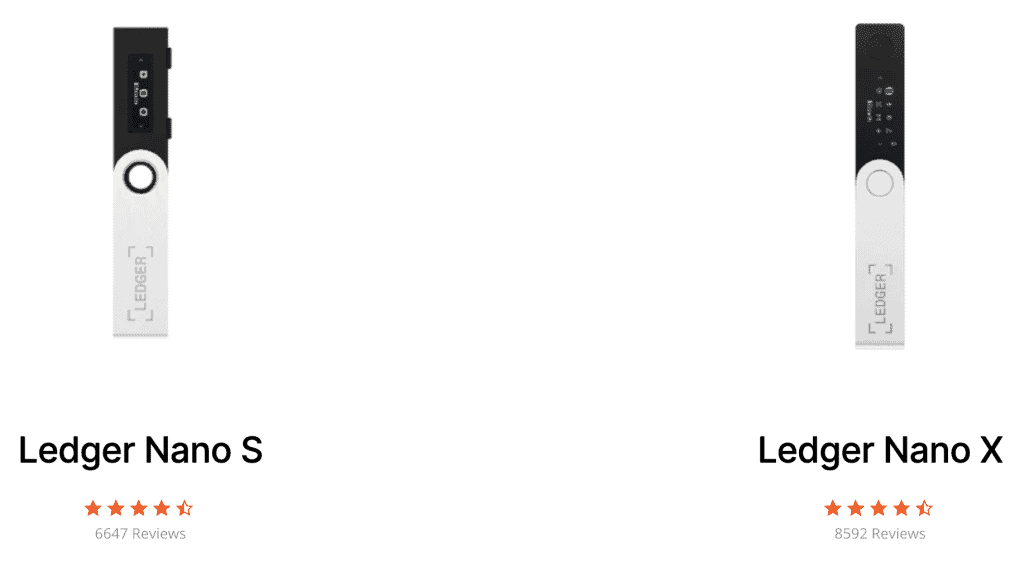 2. Ledger Nano S Plus
If the Ledger Nano X is out of your price range, the Ledger Nano S Plus is another alternative to the Ledger Nano X. Priced at £69.00, Ledger Nano S Plus is a great entry point if you're getting started and want to add extra security. Users can access and support more than 5,500 crypto tokens. However, it lacks a Bluetooth connectivity feature and can only store up to 100 apps. 
Nonetheless, this is a great choice for beginners or someone looking for a basic hardware wallet without too many features at a reasonable price. 
| | | |
| --- | --- | --- |
| | | |
| | | |
| | | |
| | | |
| | | |


3. Trezor Model T
Supporting more than 1,000 tokens, the Trezor Model T is a hardware wallet with a full-colour touchscreen. The device is easy-to-use, and users can set it up within 10 minutes, and boasts exceptional security.
The Trezor Model T is priced at almost £195.00, making it a more expensive hardware wallet. Whilst it is more expensive, it is still up there as one of the best crypto wallets for UK investors. You can also check out their cheaper hardware wallet, the Trezor One.
You can connect Trezor to the new and improved Trezor Suite dashboard. Trezor is also compatible with the popular mobile and desktop wallet Exodus.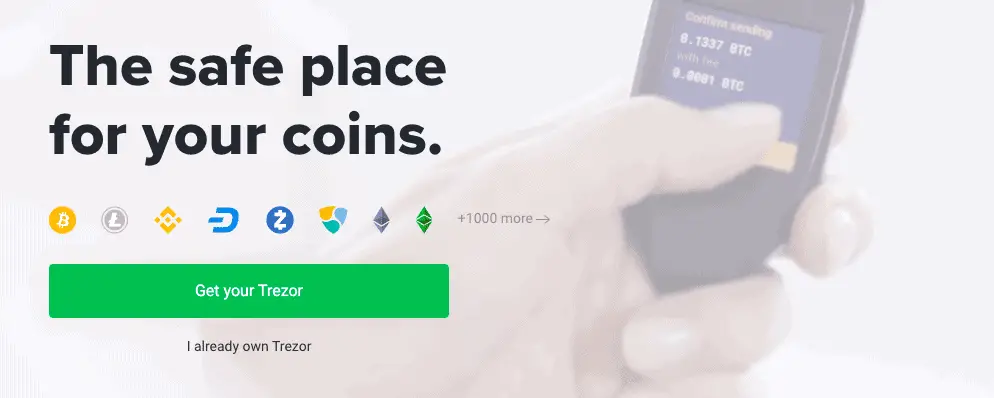 4. Exodus Wallet
Exodus is a free mobile and desktop wallet with a sleek, easy-to-use interface. Ideal for beginners, it integrates a built-in exchange and the freedom to switch between over 235 crypto tokens. Plus, it also offers ways that users can earn passive income on their crypto assets.
The Exodus wallet provides users with their private keys but does not offer any level of two-factor authentication, which is deemed one of the wallet's biggest negatives. But as mentioned above, you can connect a Trezor hardware wallet to Exodus.
The exodus wallet was the first wallet we ever used and one we still use today, with the Trezor Model T. If you want a free wallet, this is defiantly one to consider.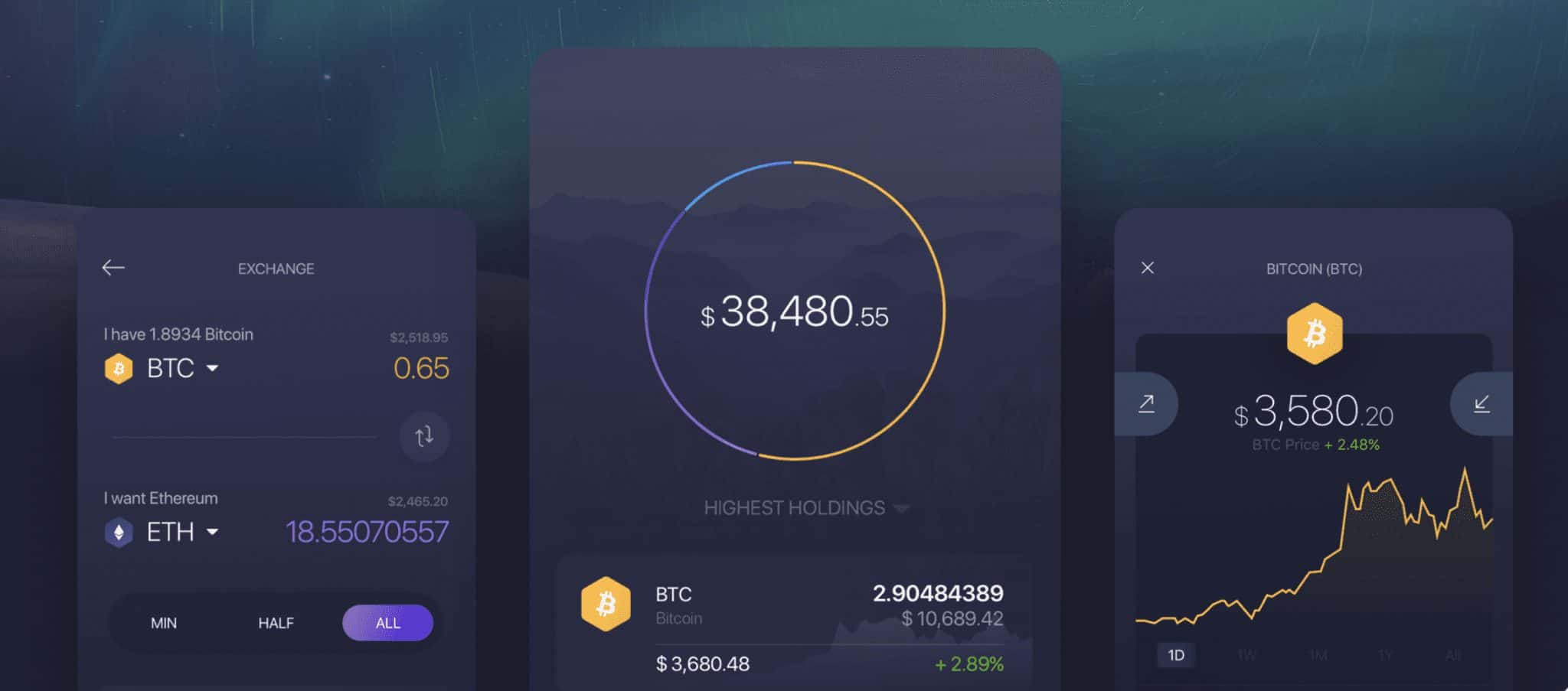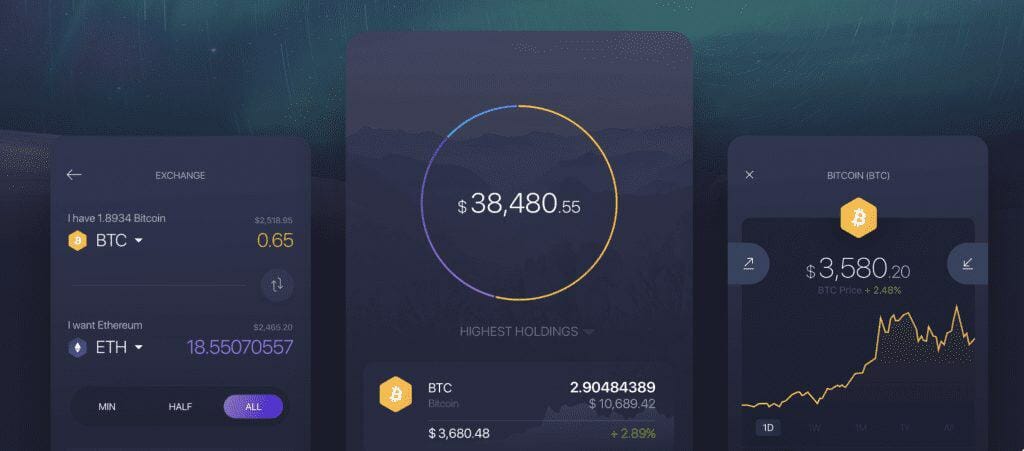 5. MetaMask Wallet
MetaMask wallet is available as both a browser extension and a mobile app. It is trusted by over 30 million users worldwide and allows users to buy, store, send and swap their tokens. Metamask is also a great way to connect to blockchain-based applications or DApps.
The wallet supports multiple networks, including Ethereum, Binance Smart Chain (BSC), Polygon, Avalanche and Optimism. Plus, it is also compatible as a gateway for hardware wallets such as Ledger and Trezor.
Want to create a wallet? Check out our beginner's guide on how to create a MetaMask wallet.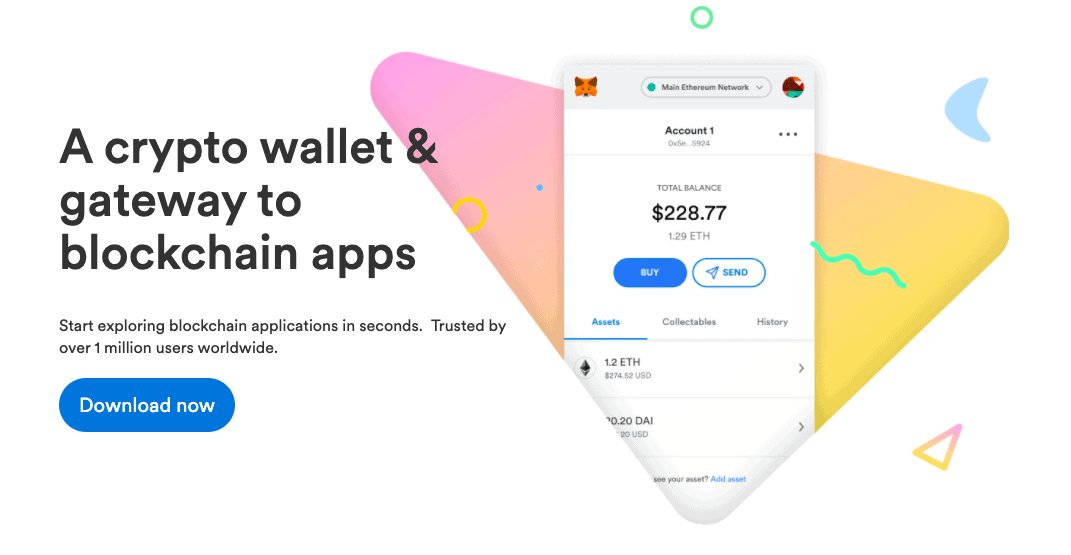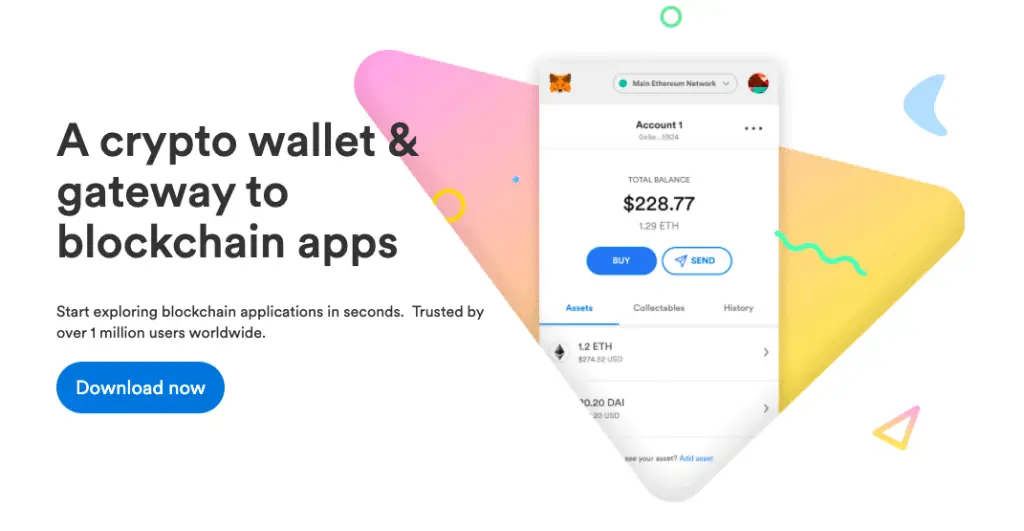 6. Trust Wallet
Trust Wallet is the official mobile wallet by Binance, which is trusted by ten million+ users. Users can buy, store, collect NFTs, exchange, and earn crypto within the Trust Wallet app.
Trust wallet gives you complete control over your crypto, and it is deemed private and secure as only you will have access to your wallet. The app is available for iOS, Google Play or Android.
If you use Trust Wallet on iOS devices, you won't be able to access the DApp browser feature; this was a real pain for users when this was removed. The team has now added a new Discover feature to replace the browser, but some users are still unhappy.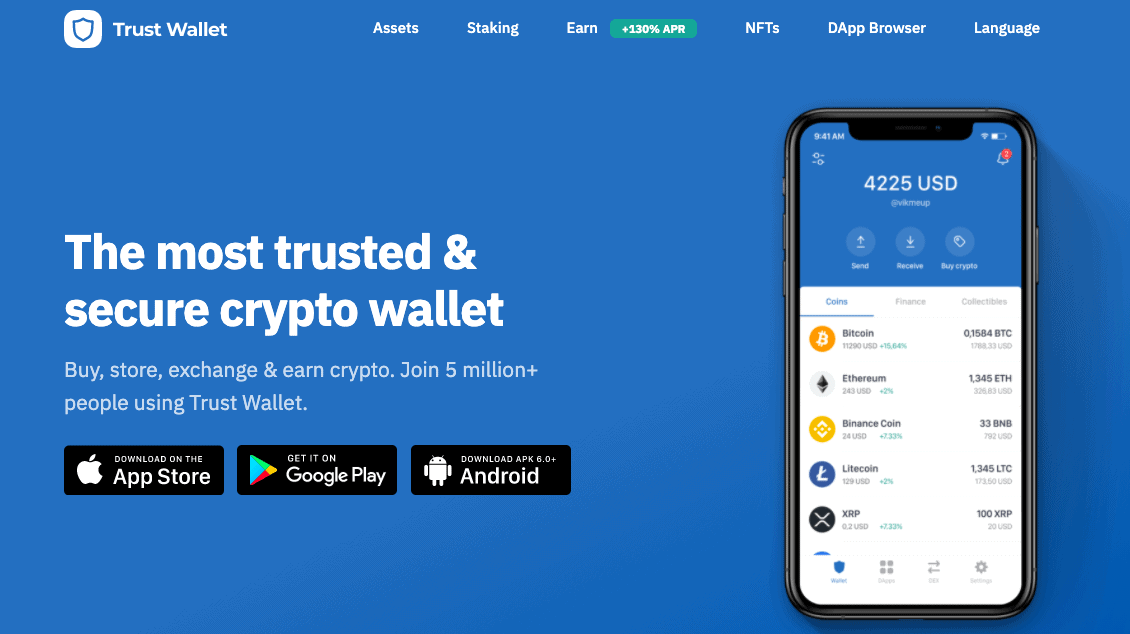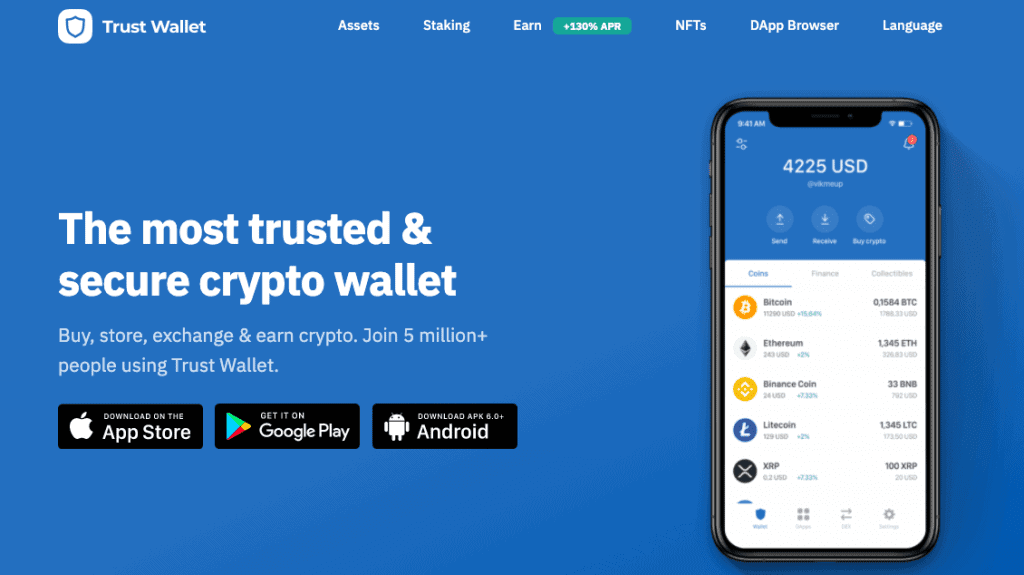 7. Argent Wallet
Argent is an Ethereum-based mobile wallet for storing, sending, and earning crypto. Unlike other wallets, there is no seed phrase to back up, as Argent uses their "Guardians" feature.
You can also use Argent Wallet with DApps such as Aave, PoolTogether, Compound Finance, and UniSwap, which are all built into the wallet.


8. Coinbase Wallet
The Coinbase Wallet is a standalone app that allows users to manage their private keys and store their crypto assets securely.  Not to be confused with the Coinbase app, which is also available on Coinbase.com.
Coinbase Wallet supports over 4,000 Ethereum-based ERC20 tokens, and you can also safely store and view all of your NFTs too. Plus, you can interact with Ethereum DApps via its integrated DApp browser giving you access to decentralized exchanges, jobs, and digital collectables.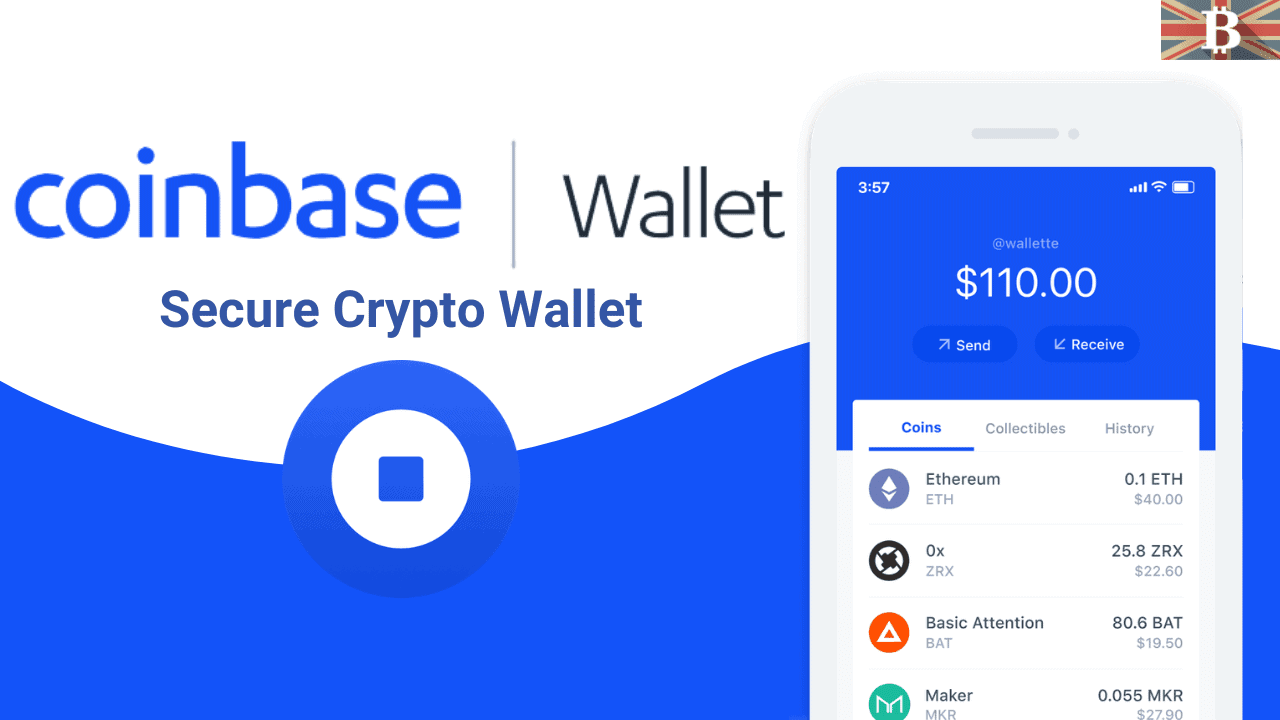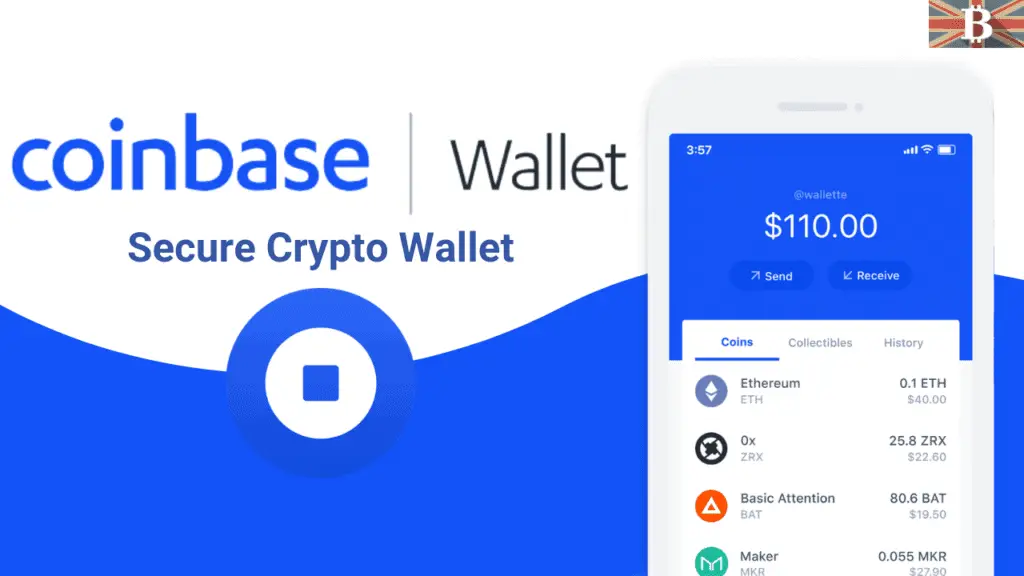 9. Atomic Wallet
Atomic Wallet is very similar to its peer, the Exodus Wallet. This is a free-to-use mobile and desktop wallet where users can manage their Bitcoin, Ethereum, XRP, Litecoin, XLM, and over 300 other coins and tokens.
The Atomic Wallet offers ways to buy crypto with a credit card; you can stake 10+ assets to earn interest and exchange it with cashback.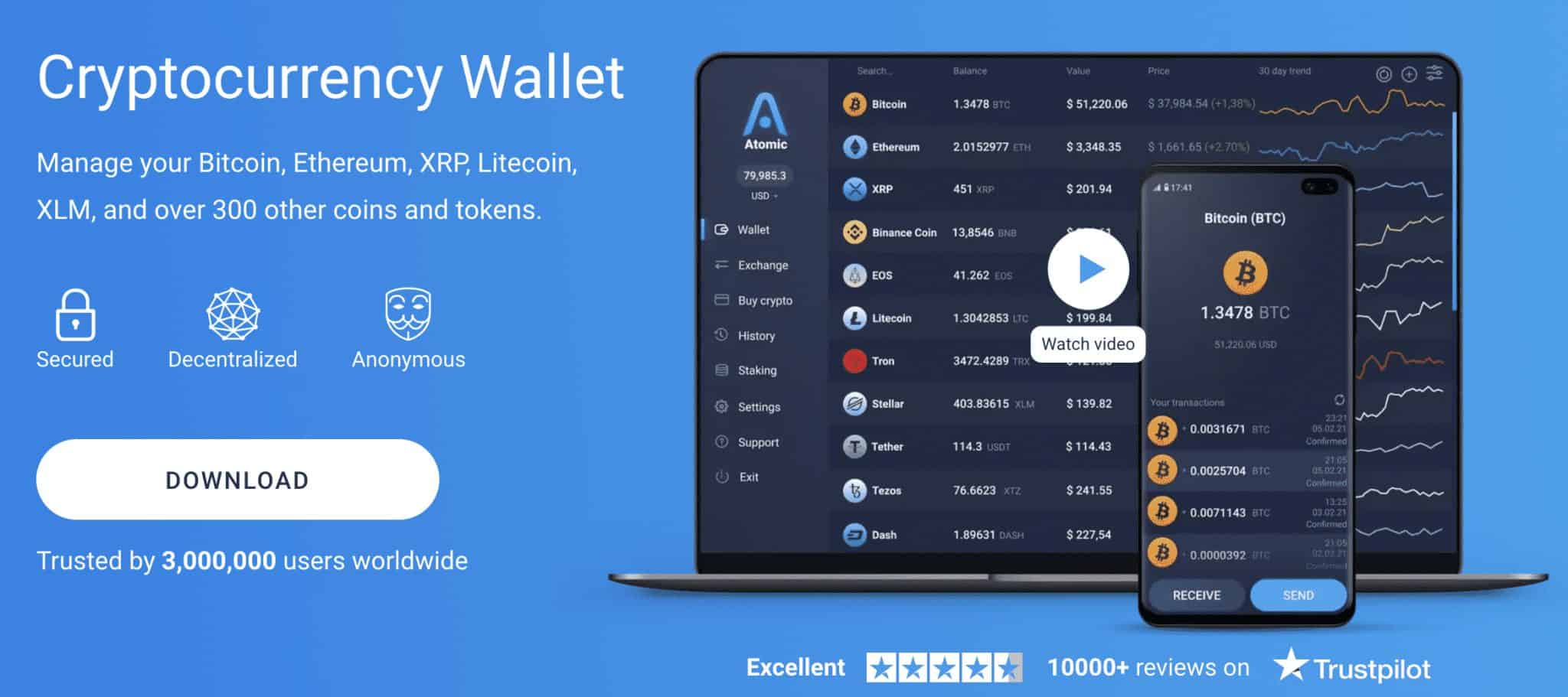 10. Guarda Wallet
Guarda Wallet is a desktop, web extension and mobile wallet where you can stake, exchange, earn and buy the likes of Bitcoin and Ethereum.
The Guarda Wallet is a beginner-friendly wallet that supports over 400,000 tokens on over 50 major blockchains. Plus, Guarda has an excellent TrustPilot rating of 4.6 stars.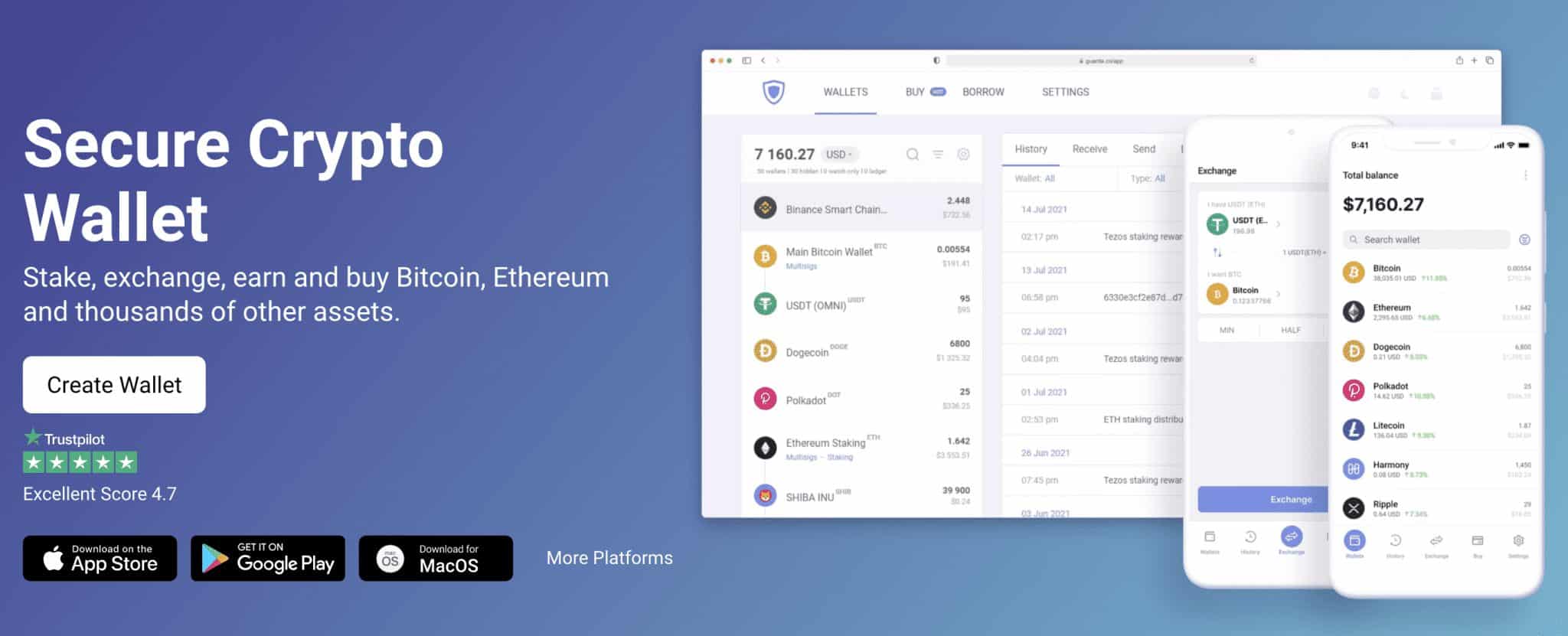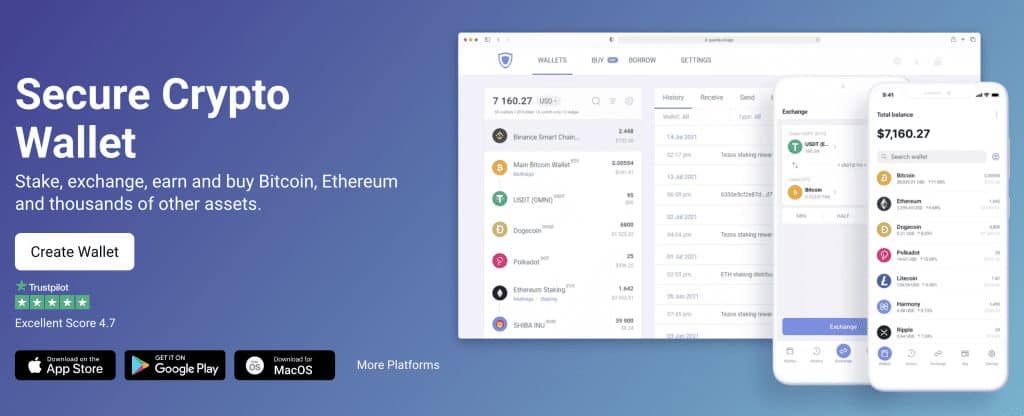 11. Paper Wallets
Paper wallets are not as common as they once were. But if you want to keep your crypto assets completely offline, paper wallets are a safe free alternative to a hardware wallet. Printed public and private keys will be provided, but it's important to create the paper wallet correctly, as the security and safety of the wallet are down to the users.
Please ensure that you keep your keys in a safe and secure place; otherwise, you will put your funds at risk.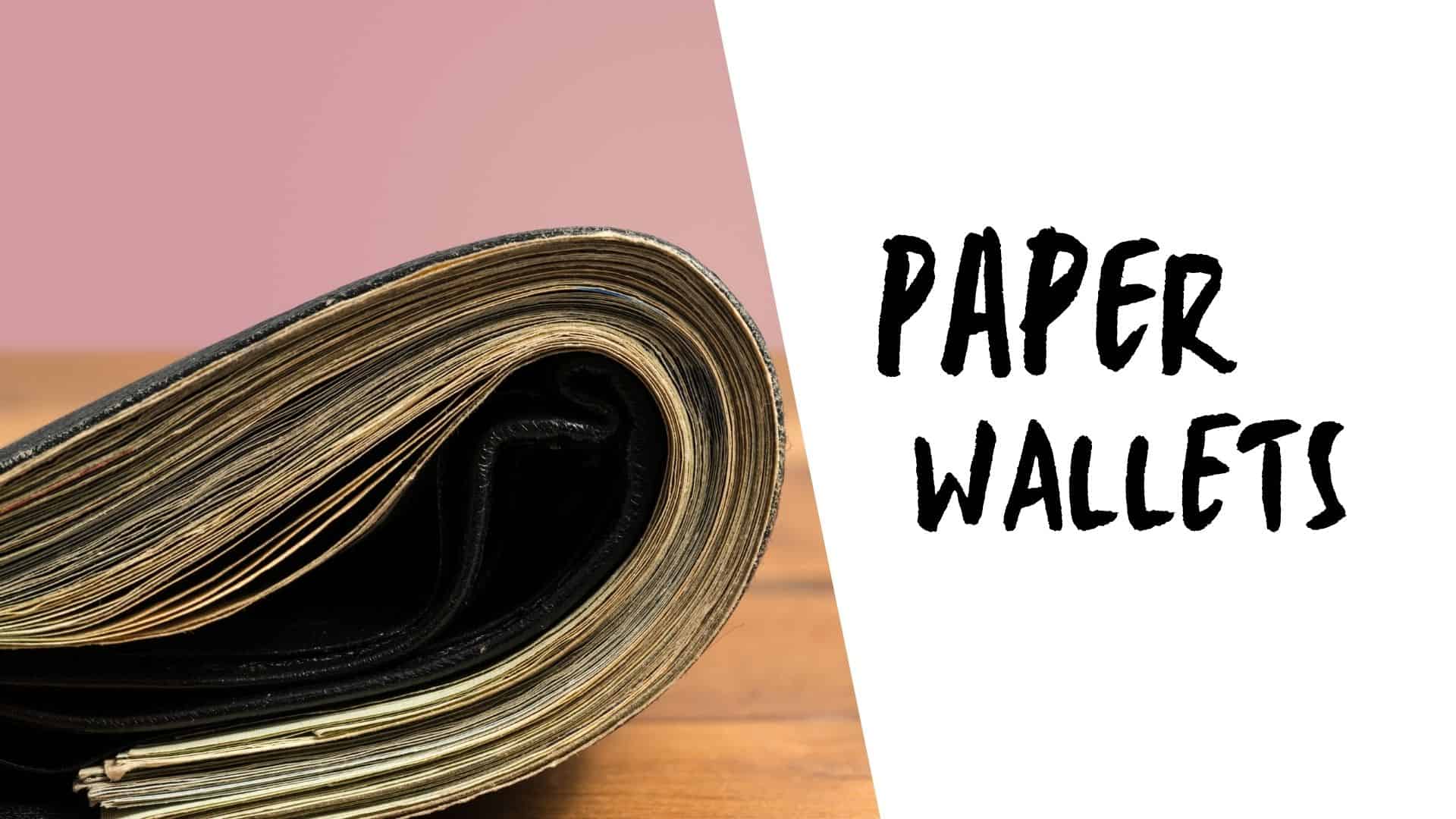 What is a Crypto Wallet?
A Crypto wallet securely stores your crypto assets and private keys. They will also allow you to send, receive and sometimes stake cryptocurrencies such as Ethereum, Cardano or Polkadot.
Unlike a traditional wallet, which holds the actual cash, technically, a crypto wallet doesn't actually store your crypto. Instead, these live on the blockchain and can only be accessed using something called a private key. These are proof that you own your crypto and allow you to make transactions. When you have control of your private keys, you have complete control over your crypto, and if you lose them, you lose access to your money.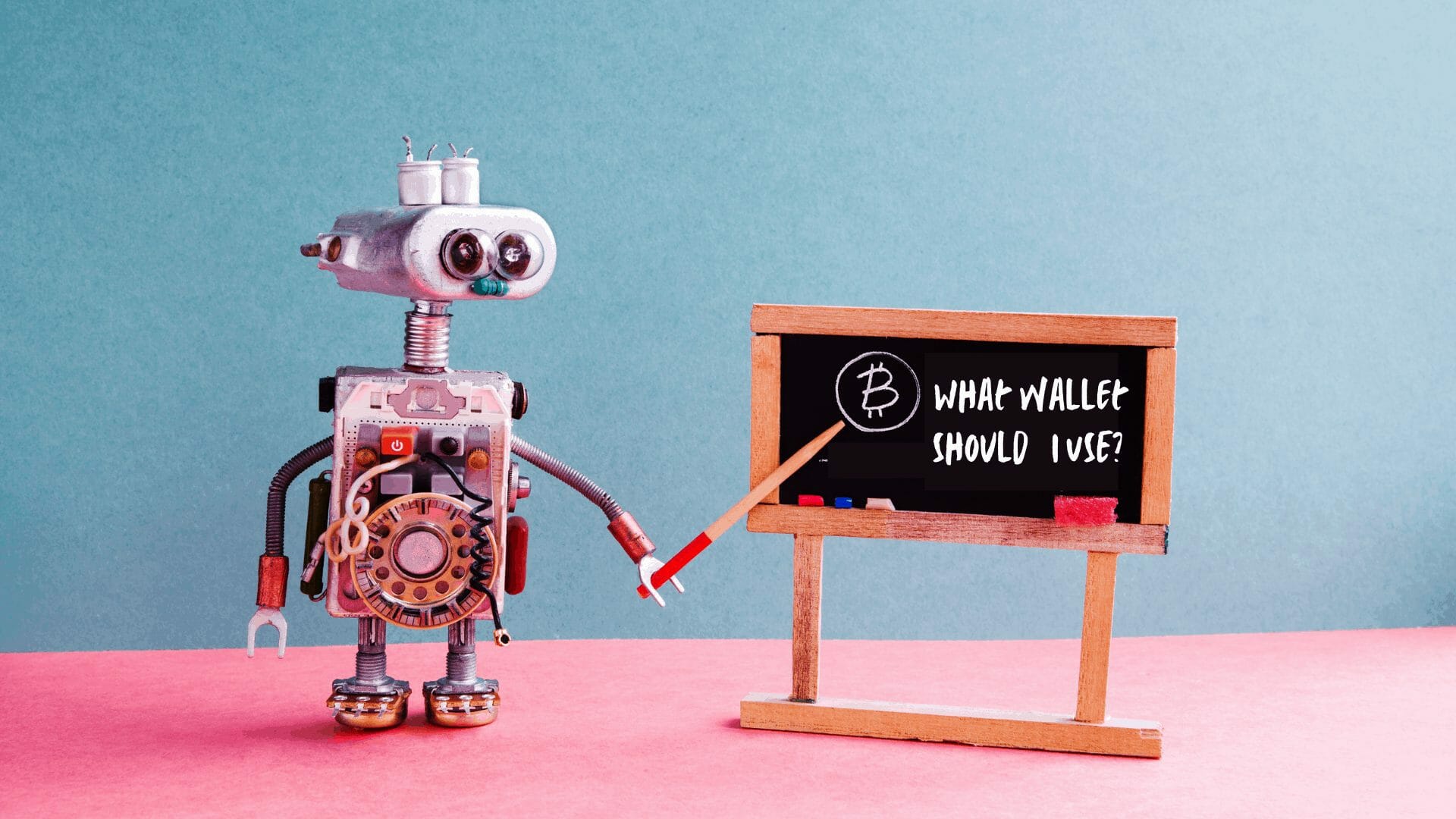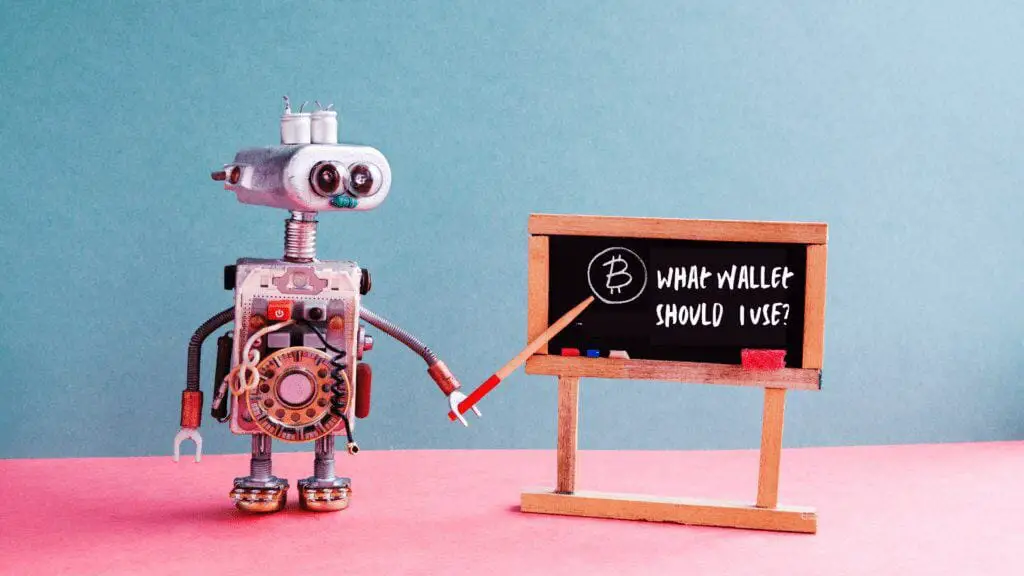 As crypto has evolved, so have crypto wallets, and you can now do more than simply store your crypto in them. Wallets regularly now include additional features allowing users to swap or buy crypto, access DApps, earn passive income and, more recently, the ability to store NFTs.
Crypto investors can use different types of wallets, which are defined into two main categories; Hot Wallets or Cold Wallets.
Hot Wallet: Hot wallets are where the wallet connects to the internet and includes desktop, web and mobile wallets
Cold Wallet: A Cold Wallet (also known as cold storage) is where your crypto is stored offline and is therefore deemed the safest way to store your crypto and includes hardware and paper wallets
What to Look for in a Cryptocurrency Wallet?
When choosing a crypto wallet, be sure that the wallet has all the features you require for your cryptocurrency needs. It's also important to consider security, multi-coin support, and user interface. It's also not necessary to buy a hardware wallet such as a Ledger or Trezor, as there are plenty of great free alternatives. However, it is worth considering if you have a large crypto investment or looking to invest in crypto long-term.
To find the best crypto wallet for you, you must understand what features you need. There are three key features that you should consider when looking for a crypto wallet:
1. High Level of Security
The main purpose of a cryptocurrency wallet is to keep your assets safe and secure. Therefore, the best wallets will offer a high level of security. You may choose to keep some crypto assets offline in a cold wallet (hardware wallet) or a hot wallet (less secure) with extra security, such as 2FA. Another option would be a non-custodial wallet that provides you access to your private keys. As they say, "not your keys, not your crypto".
2. User Interface
In choosing a wallet, the user interface is a personal choice and can depend on your level of knowledge. Obviously, if you are new, it's good not to overcomplicate things and become overwhelmed. At the same time, you want to ensure that it includes everything you need. So choose one that has enough functionalities and user friendly.
3. Multi-Coin Support
You might have a diversified crypto investment portfolio. If this is the case, opt for wallets that can support multiple blockchains. Before you choose a crypto wallet, go through your list of investments and cross-check the wallet's supported tokens. 
Most wallets offer support for Bitcoin, and Ethereum, including ERC20 tokens and a few other large-cap blockchain-based tokens. However, if your major investments are based on other blockchain products, such as Binance Smart Chain or Solana, you must confirm that your wallet offers support.
Tip: When sending crypto to and from a wallet or exchange, ensure you send your assets on the correct network/blockchain. If you choose the wrong network, you might lose your crypto. I recommend sending a test amount if you can.
FAQ
What is the safest crypto wallet?
In our opinion, the safest crypto wallet is a hardware wallet such as a Ledger Nano or Trezor.
Related Posts
Here are some of our articles you may also find helpful;