In recent years, the UK has seen a surge in cryptocurrency investing. However, it's been challenging to find crypto-friendly banks that have embraced this trend thus, many people still rely on their crypto hardware wallets. Many of the UK's leading high street banks remain hesitant, often restricting customers from purchasing crypto with their cards or complicating withdrawals from crypto exchanges.
If you've faced hurdles with your bank over crypto transactions, you know the importance of finding a reliable crypto-friendly bank. That's why we've crafted this guide, detailing the top crypto-friendly banks in the UK for 2023 and highlighting those best avoided to help you make an informed banking choice for your crypto needs.
Top Crypto-Friendly UK Banks 2023
Although we can't say which crypto-friendly banks are the best, certain ones are worth avoiding. Most banks are friendly towards customers using their accounts to buy and receive crypto (through transfers, withdrawals from exchanges, and credit and debit cards). However, banks will still block and flag payments, requiring UK customers to contact them to resolve the issue.
Newer challenger banks such as Revolut are more pro-crypto than older, traditional banks such as Lloyds. So, it may be worth considering opening a separate, crypto-friendly account purely for buying digital currencies and withdrawing funds from cryptocurrency exchanges. The last thing you'd want is your day-to-day bank accounts to be disrupted.
Here is our list of the best crypto-friendly banks in the UK for 2023. We have tried and tested the majority of these banks. However, if you have had a positive or negative experience with any of these UK banks, please let us know in the comments below.
If you're completely new to investing, you should check out our guide on buying Bitcoin in the UK or the best crypto wallets for UK investors. Let's get started.
1. Revolut
Revolut is a financial app where customers can trade stocks and shares through their accounts, but Revolut is also completely positive towards crypto assets. 
In the past, crypto exchanges (such as Binance) have suspended GBP Deposits or Withdrawals. However, with Revolut, you can use alternative fiat currencies such as US Dollars or Euros.
If you want to learn more, check out our Revolut review and video tutorial.


Is Revolut Crypto-Friendly?
Revolut is an account we have personally used since purchasing our first crypto on Coinbase in 2017. We initially started using Revolut to avoid foreign currency exchange fees and lower transaction fees.
Since then, we have never experienced issues with buying digital assets or withdrawing funds. However, we have had to verify our transaction history with Revolut. Resulting in them closing one of our accounts.


Although Revolut allows you to buy digital currencies within their three account types (Standard, Premium and Metal), this isn't something we have personally done. However, we have used and would recommend Revolut as a gateway to deposit and withdraw funds to and from crypto exchanges.
Does Revolut Debit Card Allow Crypto Purchases? Yes!
Does Revolut Credit Card Allow Crypto Purchases? N/A
Does Revolut Allow Crypto Deposits/Withdrawals via Bank Transfer? Yes!
Is Revolut Binance Friendly? Yes! In fact, you can use their Euro, USD, or GBP Accounts!
Is Revolut Coinbase Friendly? Yes!
2. Nuri Bank
Nuri is a German-based bank formerly known as Bitwala, which was founded in 2013 by three founders, Ben, Joerg and Jan and is available. Now rebranded as Nuri, they currently have over 300,000 bank account holders and are available for EEA residents (including Switzerland and the UK).
With Nuri, users can access a full German bank account and manage, save and grow their money. Invest in cryptocurrencies, create savings plans, and receive interest payments directly from your bank with the Bitcoin Interest Account. They'll even have access to a free (zero fee) Nuri debit card with unlimited free atm withdrawals.
Please note: Nuri filed for insolvency on Tuesday, August 9th, 2022. More details are here.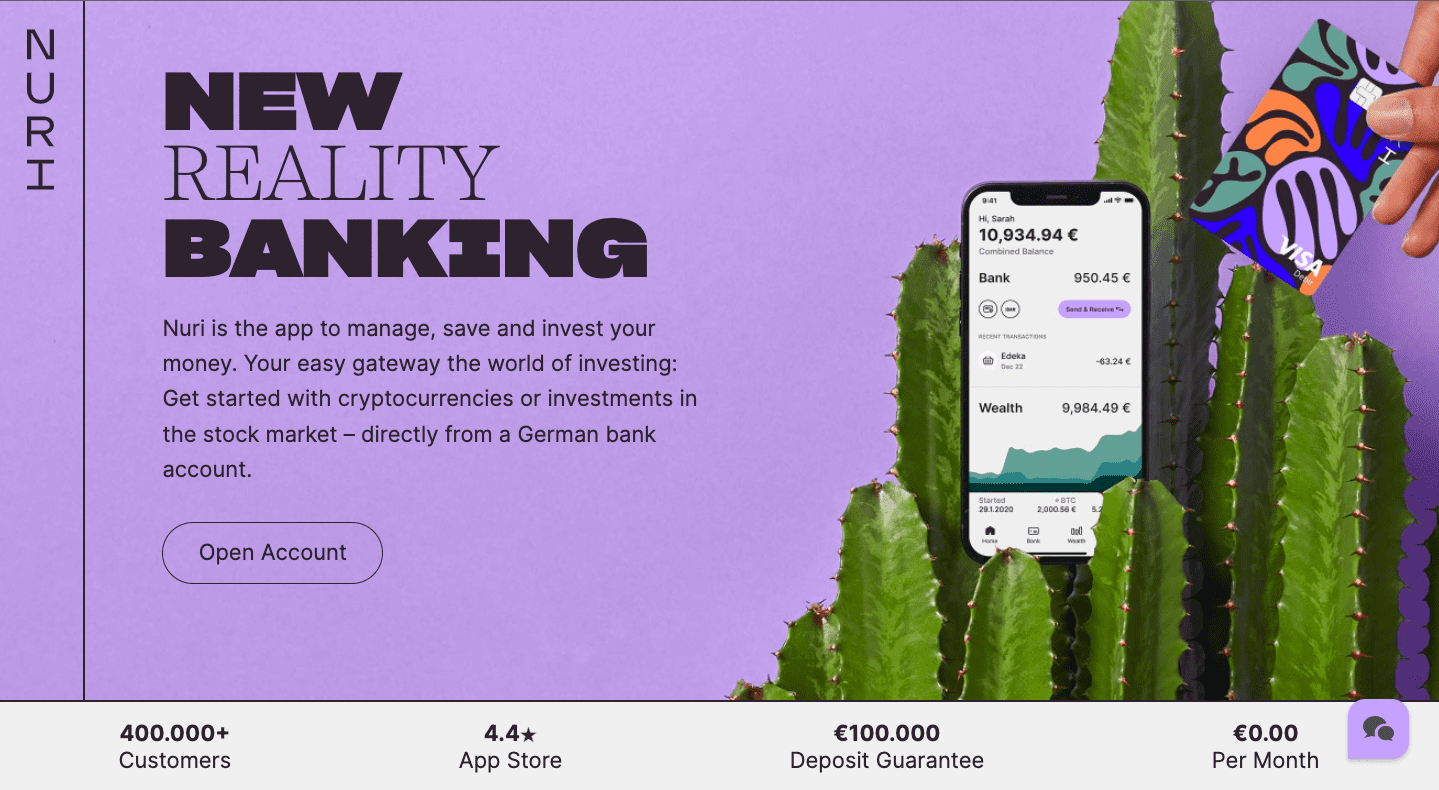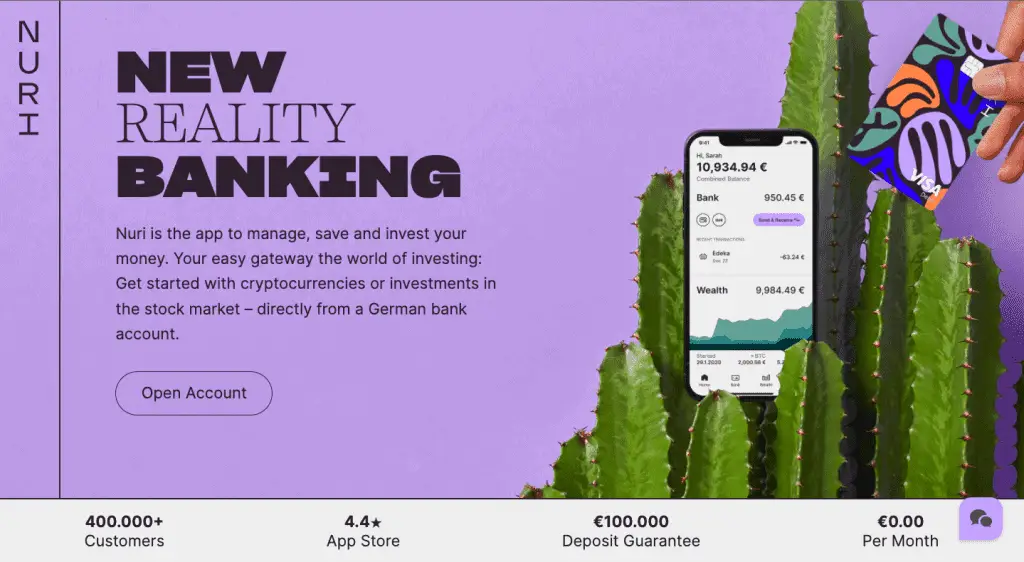 Is Nuri a Crypto-Friendly Bank?
Nuri is a new account for us, and we have yet to try and make purchases with their card, which we've just received through the post today! However, Nuri is certainly crypto-friendly because you can purchase Bitcoin and Ether directly in the app. Plus, you can sell your crypto to euros for instant spending on their visa debit card.
Does Nuri Debit Card Allow Crypto Purchases? Yes!
Does Nuri Credit Card Allow Crypto Purchases? N/A
Does Nuri Allow Crypto Deposits/Withdrawals via Bank Transfer? Unknown as yet
Is Nuri a Binance-Friendly Bank? Unknown as yet
Is Nuri a Coinbase Friendly Bank? Unknown as yet
3. Royal Bank of Scotland (RBS) & NatWest
The Royal Bank of Scotland (which also owns NatWest) supports customers wanting to buy and sell through cryptocurrency exchanges. Customers usually don't have any problems buying crypto with their credit/debit cards or direct transfers to wallets or exchanges.
However, RBS naturally flags a few exchanges they consider as high risk. So try using the big-name crypto exchanges instead of the less popular ones.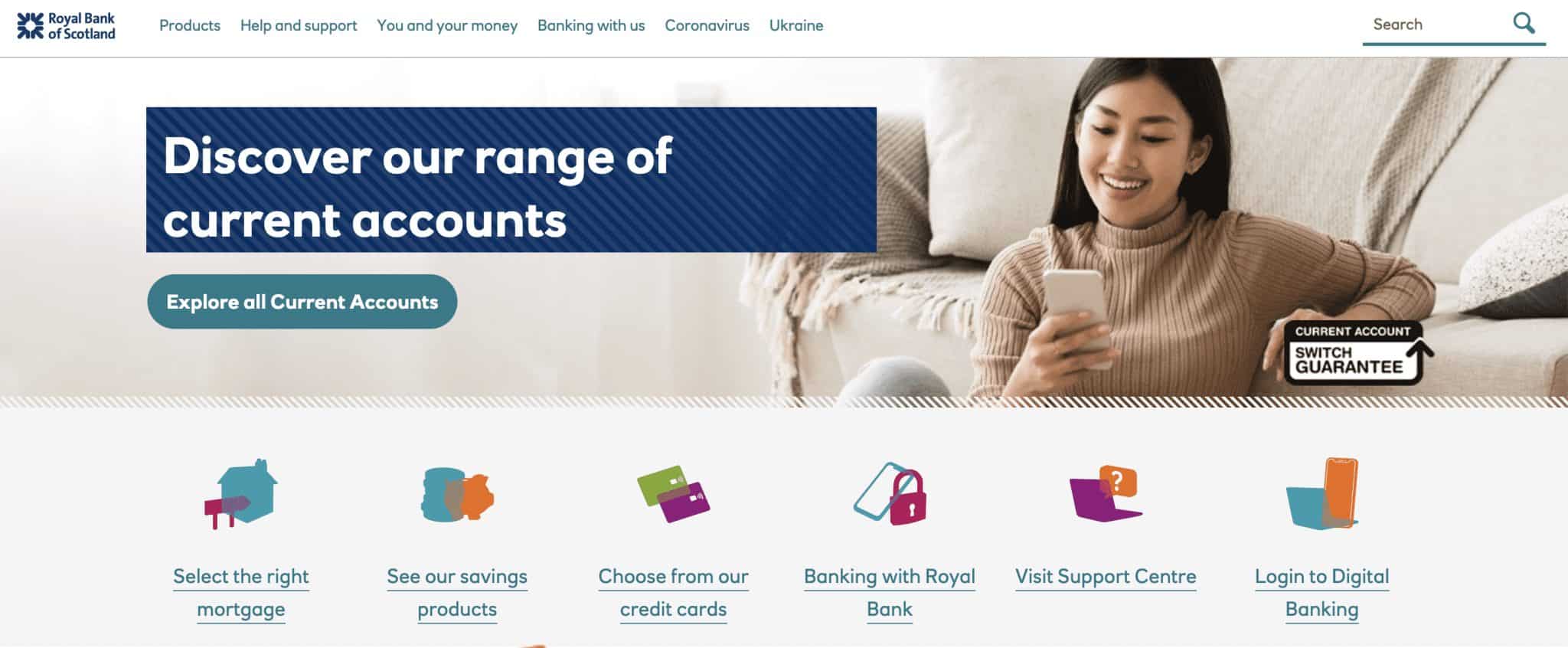 RBS has a comprehensive list of crypto FAQs which can be found here.
Is RBS & Natwest a Crypto-Friendly Bank?
We have never used RBS or Natwest to purchase crypto, so we have no personal experience. However, the feedback we have received has been mixed. We would not recommend opening up a Natwest bank account if you're a crypto investor. However, you might be lucky if you already have an account as they seem to work with some exchanges such as eToro.
Some crypto communities have reported that they were stopped from buying crypto directly but were able to do so via bank transfer.
Does RBS & Natwest Debit Card Allow Crypto Purchases? Mixed Feedback
Does RBS & Natwest Credit Card Allow Crypto Purchases? Mixed Feedback
Does RBS & Natwest Allow Crypto Deposits/Withdrawals via Bank Transfer? Yes
Is RBS & Natwest a Binance-Friendly Bank? Maybe
Is RBS & Natwest a Coinbase Friendly Bank? Maybe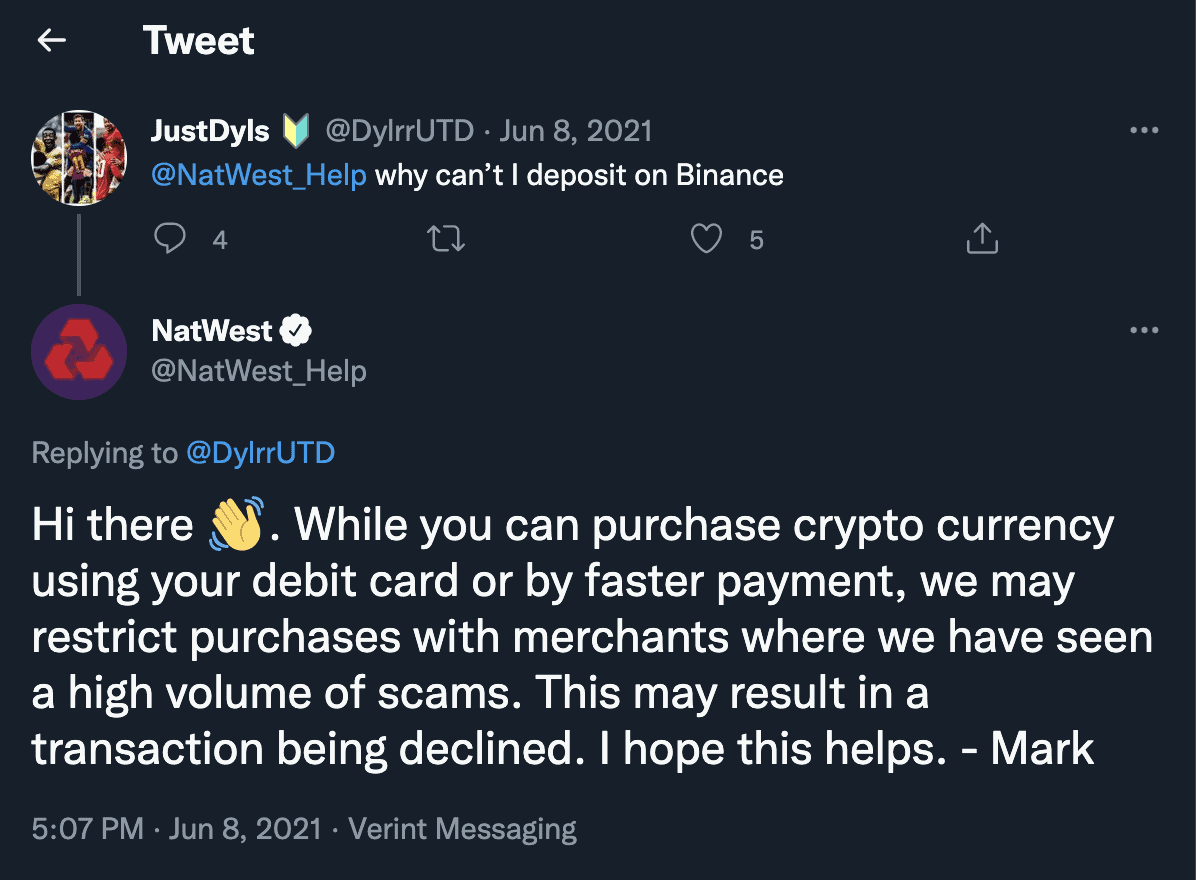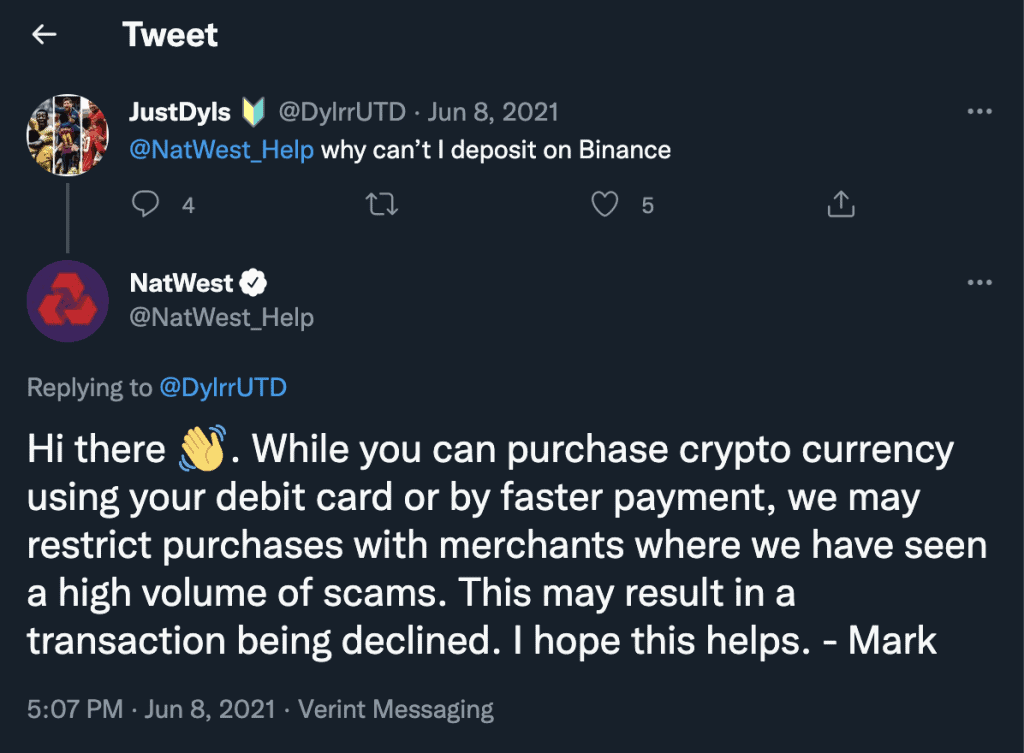 4. Monzo 
Monzo is another challenger online bank similar to Revolut (they don't have branches) and is equally known as being crypto-friendly. However, you are unable to buy crypto directly within the app.
Although, as is the case with every bank wanting to adhere to FCA regulations, they will block payments to and from any high-risk crypto exchanges. For example, after The Financial Conduct Authority issued a consumer warning on Binance, they stopped payments to the crypto trading platform.
You can use a range of other cryptocurrency exchanges as part of your personal banking services with Monzo.

Is Monzo a Crypto-Friendly Bank?
We have personally never had a negative experience using Monzo, and when speaking with the crypto community, most crypto investors use Monzo as a means to fund their accounts without any major issues. However, this may depend on which exchange you use, and you may have issues transferring funds from cryptocurrency trading platforms such as Binance.
Does Monzo Debit Card Allow Crypto Purchases? Mixed Feedback
Does Monzo Credit Card Allow Crypto Purchases? Mixed Feedback
Does Monzo Allow Crypto Deposits/Withdrawals via Bank Transfer? Yes!
Is Monzo Binance Friendly Bank? No
Is Monzo Coinbase Friendly Bank? Yes!
5. Nationwide Building Society
Generally speaking, Nationwide is also crypto-friendly. In the banking system, all banks have systems to prevent unusual payments or anything they suspect is fraud. So, there's a chance a payment might be stopped.
However, there are no known issues when paying from a Nationwide account or sending transactions from a cryptocurrency exchange into customers' accounts in the UK.  For example, Nationwide restrict debit and credit card payment made to Binance. However, you can still withdraw money from Binance into your Nationwide account.
Also, Coinbase has stated that they will no longer be accepting deposits from Nationwide Bank.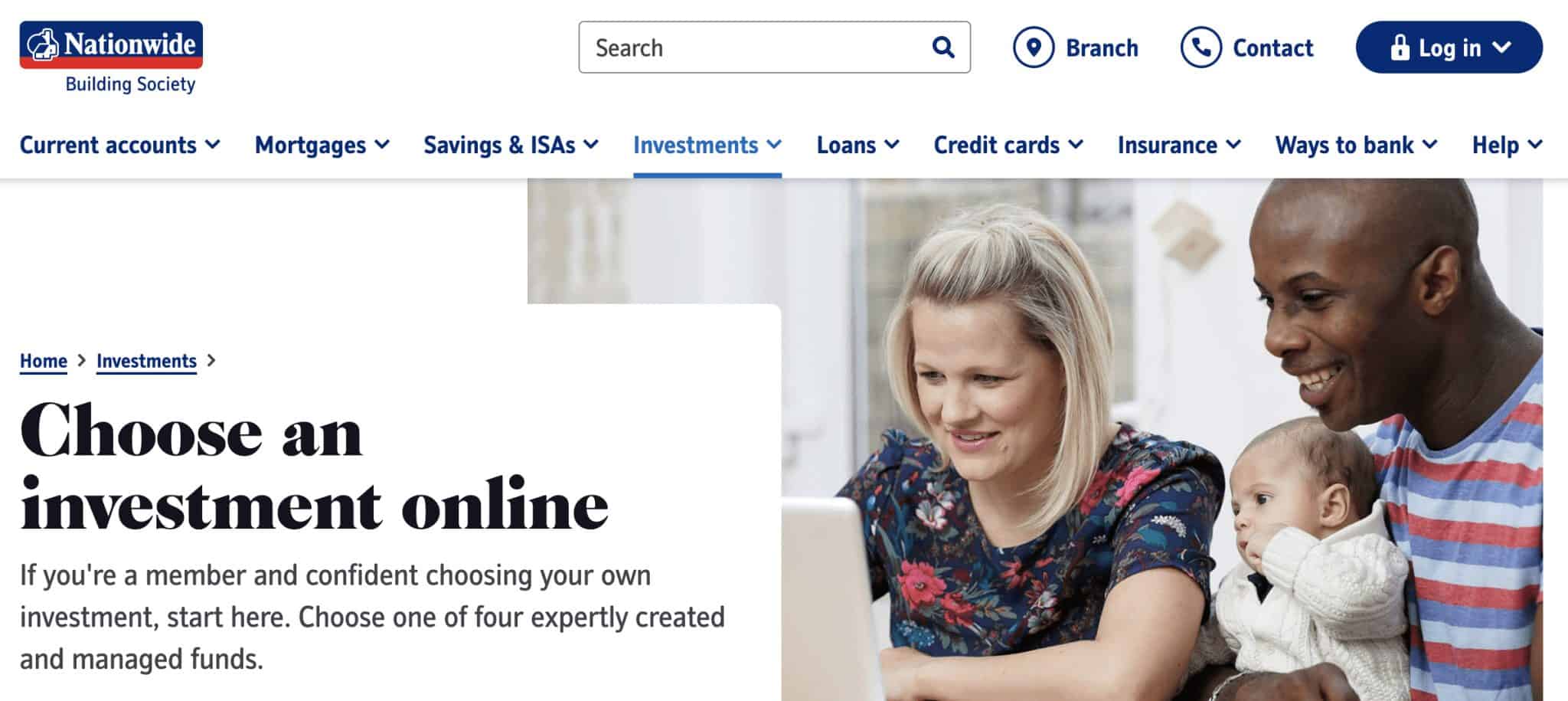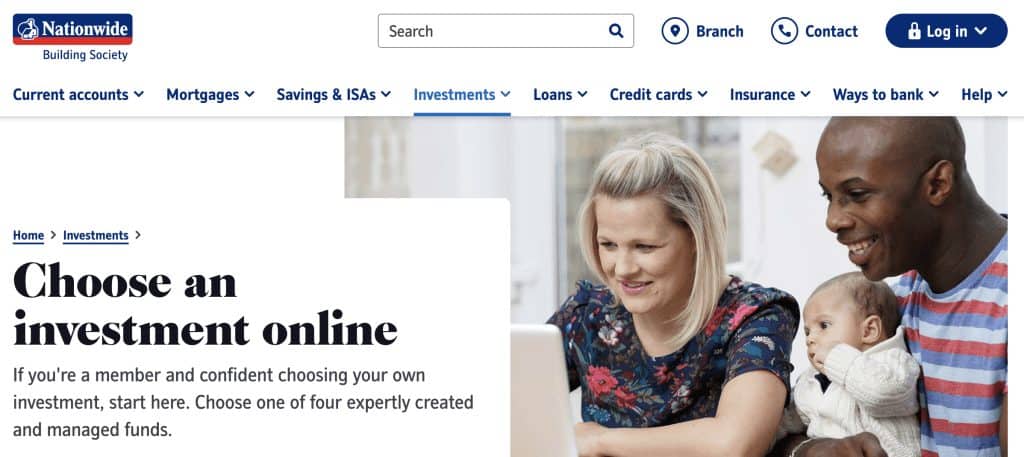 Is Nationwide a Crypto-Friendly Bank?
Although we hold a Nationwide bank account for services such as travel insurance, we don't use Nationwide regarding crypto. As you cannot use the likes of Coinbase or Binance with Nationwide or use credit cards for payments, it has only just cut cryptocurrency-friendly banks.
Does Nationwide Debit Card Allow Crypto Purchases? Yes!
Does Nationwide Credit Card Allow Crypto Purchases? No
Does Nationwide Allow Crypto Deposits/Withdrawals via Bank Transfer? Yes
Is Nationwide Binance Friendly Bank? No
Is Nationwide Coinbase Friendly Bank? No

6. Cashaa Bank
Cashaa neo-bank offers a crypto-friendly business wallet where you can essentially hold, swap, and earn with crypto and fiat. Moreover, it has one of the best crypto interests account with up to 36% potential yield on your crypto assets.
Is Cashaa Bank a Crypto-Friendly Bank?
Unlike traditional banks that may be hesitant or even resistant towards cryptocurrencies, Cashaa neo-bank fully embraces this digital revolution by integrating cryptocurrency services into its platform. By doing so, they provide their customers with seamless access to both fiat currencies and popular cryptocurrencies such as Bitcoin or Ethereum within a single crypto wallet.
Who needs a separate Bitcoin wallet when the integration not only simplifies the process of managing and utilizing cryptocurrencies but also allows users to enjoy the benefits of both traditional banking and digital assets.
Can I open an account with Cashaa if I don't own any cryptocurrencies? Yes. They provide options for both fiat currencies and popular cryptocurrencies.
Is Cashaa available worldwide? Yes. However, certain restrictions may apply depending on the country of residence due to regulatory requirements.
How long does it take to open an account at Cashaa? The account opening process with Cashaa Bank is typically quick and straightforward. It can be completed online within a few minutes, subject to verification procedures.
Can I transfer funds between my traditional bank account and my Cashaa Bank account? Yes.
Is Cashaa a Crypto-Friendly Bank? Yes.
Which UK Banks are NOT Crypto-friendly? 
Naturally, not every UK bank will be friendly towards cryptocurrency. Some have maintained a level of scepticism, even hostility, towards cryptocurrencies. However, with demand ever increasing, it will only be a matter of time before these traditional banks want to make money from crypto.
Until that day comes, we've compiled a list of some of the banks to avoid when it comes to crypto-related transactions;
1. Lloyds Bank
Before the global financial crash and recession in 2008, Lloyds Bank and TSB were one bank. Now they're two separate financial institutions, and Lloyds (Lloyds Banking Group, which includes Halifax, Bank of Scotland and MBNA) has blocked credit payments to crypto exchanges since 2018. With debit cards, these payments sometimes work and sometimes don't. 


Is Lloyds a Crypto-Friendly Bank?
Overall, we wouldn't say that Lloyds is a crypto-friendly bank. There are better alternatives to making cryptocurrency transactions. However, contacting Lloyds customer services is recommended to see if they will let a payment through. Unfortunately, this doesn't always work.
2. HSBC 
The UK's biggest bank HSBC has been less than supportive of the crypto industry. Even going as far as banning customers from trading MicroStrategy's shares.
They state, "The bank will not facilitate the buying or exchange of products related to or referencing the performance of virtual currencies".


Is HSBC a Crypto-Friendly Bank?
We personally have closed our accounts with HSBC due to their stance on cryptocurrency transactions. HSBC's official stance on cryptocurrencies remains cautious due to several factors that influence their decision-making process. As of date HSBC crypto withdrawal and deposit policies has not yet changed. HSBC would probably be one of the worst banks for UK crypto investors. Avoid!
3. TSB 
TSB (once part of Lloyds TSB) previously allowed deposits, payments and withdrawals from cryptocurrency exchanges. However, in June 2021, TSB announced that they were blocking their 5.4 million British banking customers from buying cryptocurrencies because of fears that the trading platforms are huge fraud risks.


Is TSB a Crypto-Friendly Bank?
Although TSB used to be a crypto-friendly bank in the UK, it is no longer the case. After banning any crypto-related transactions for their clients, TSB is a bank we advise crypto investors to avoid.
4. Starling Bank
Starling Bank doesn't have a policy against cryptocurrencies. However, the international payment provider they work with doesn't support the purchase of crypto through the credit and debit cards they issue. Plus, other systems and policies seem to prevent crypto buying, selling and exchanging.


Is Starling a Crypto-Friendly Bank?
We personally do have a Starling account, although we have not used this for crypto purchases. There seem to be mixed reviews regarding people's experience with Starling. However, there appear to be some grey areas about buying, selling and exchanging from their payment provider, which hopefully they can resolve in the future.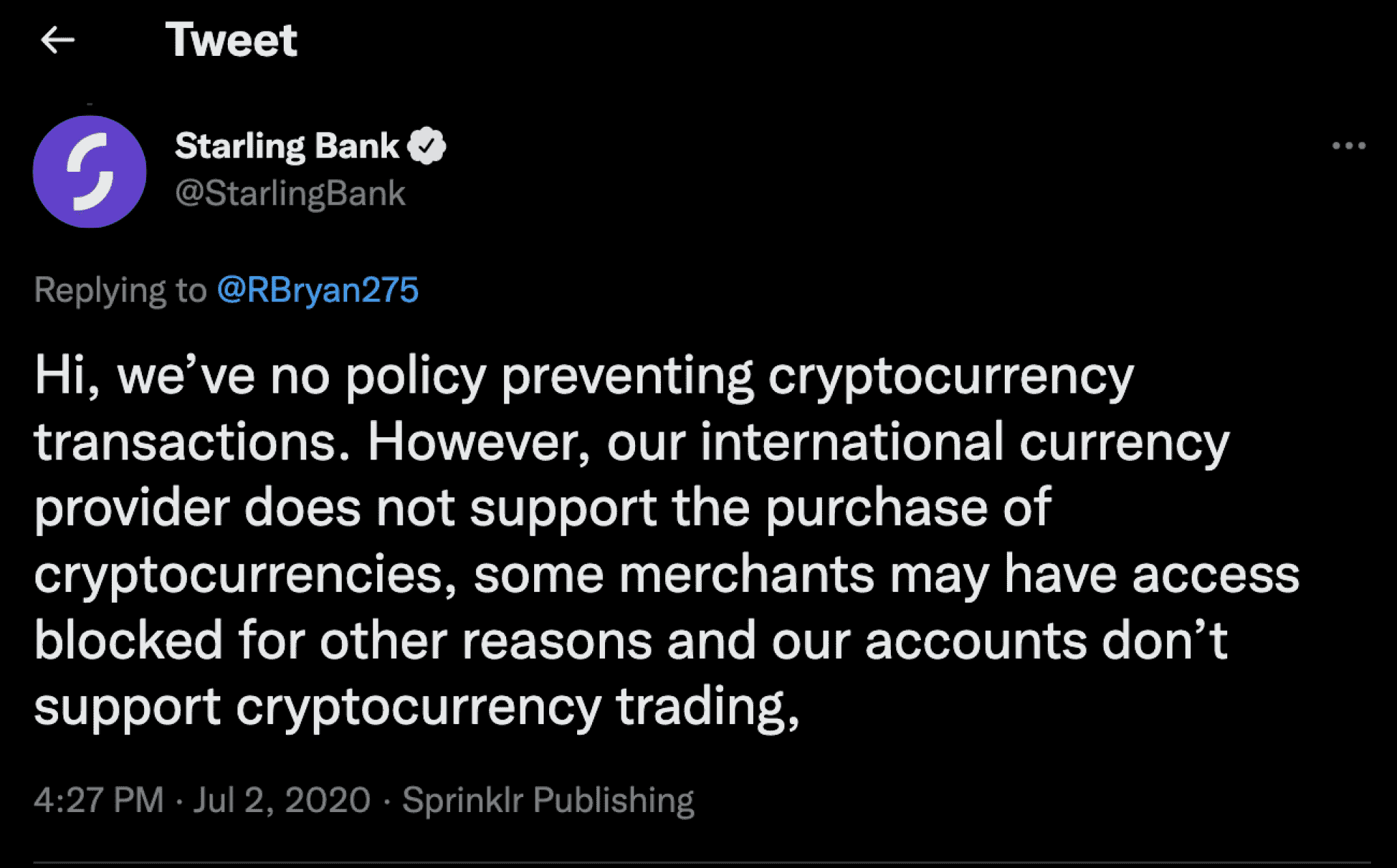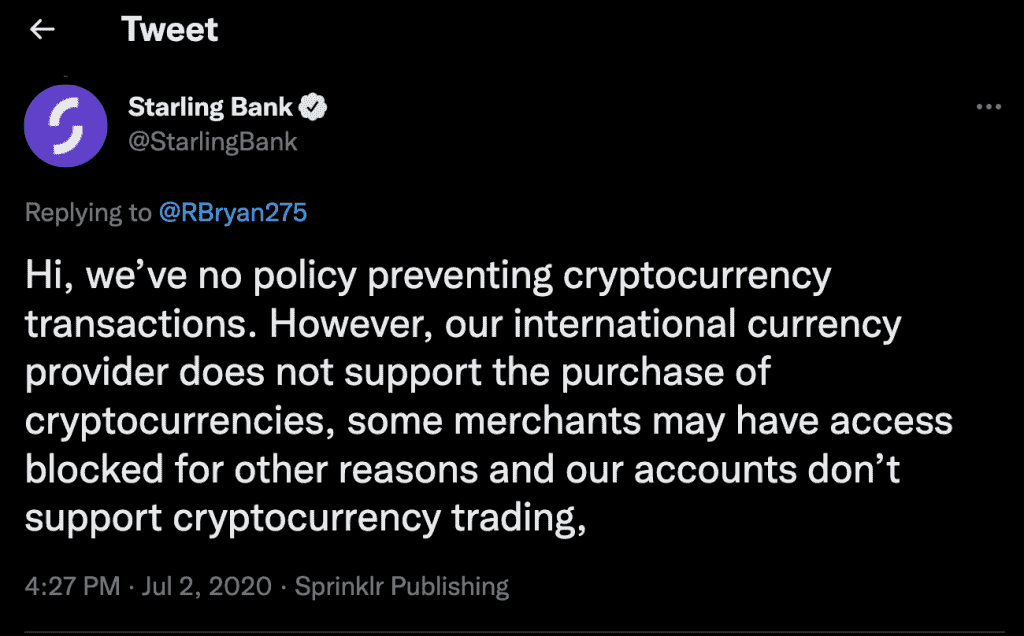 5. Barclays 
A few years ago, Barclays partnered with Coinbase in what was meant to be an exciting venture into cryptocurrencies. However, that was cancelled in 2019.
They also stopped debit card purchases and credit card transactions with Binance due to regulatory uncertainty regarding this crypto exchange in the UK.
Although Barclays state that they allow clients to purchase cryptocurrency, some customers have reported blocked payments and even closed or frozen accounts.


Is Barclays a Crypto-Friendly Bank?
We would not recommend Barclays Bank for crypto investors. From the feedback we have received, Barclays is not crypto-friendly. If you're looking for Bitcoin-friendly banks in the UK, there are plenty more to choose from. Unfortunately, traditional banks such as Barclays are slow to change.
6. Santander 
Although Santander does allow you to interact with some crypto platforms, they have set limits for their customers. The current restrictions allow Santander customers a transaction limit £1,000 for individual transactions and a total limit of £3,000 limit over a 30-day rolling period.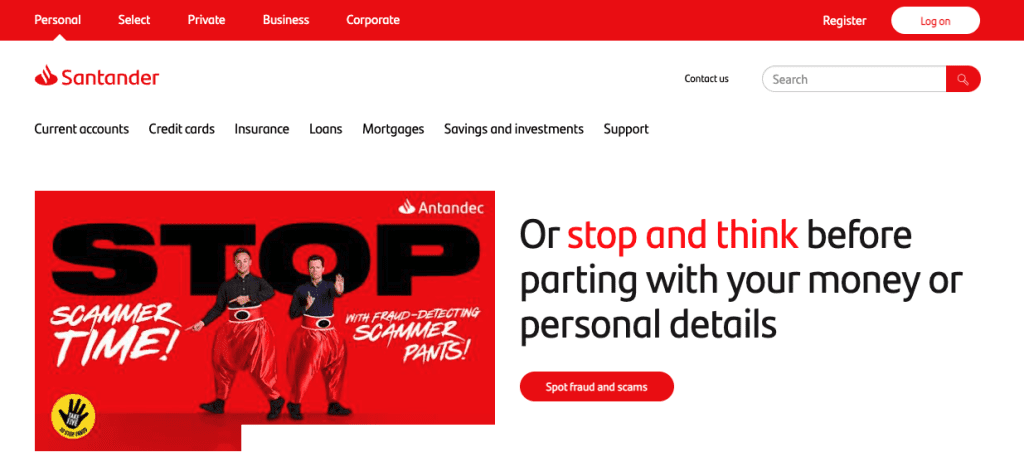 Is Santander a Crypto-Friendly Bank?
Overall, Santander is not a crypto-friendly bank. In November 2022, Santander released a statement that there would be a £1,000 limit on individual transactions with crypto exchanges and a £3,000 limit on total monthly transactions.
Crypto-Friendly Fintech Alternatives
Fintech platforms provide a channel for boycotting non-friendly crypto banks. For instance, while HSBC Bank isn't crypto-friendly, you can freely transfer funds from HSBC to Revolut and deposit them on any cryptocurrency exchange.
Xace
Xace was created with crypto and gaming as a priority. It provides business and personal accounts for GBP with UK Faster payments and EUR accounts with payments via SEPA via IBANs. Xace also supports CHAPs and BACS payments.
Xace is registered with the FCA as a small payment institution, providing payment accounts under the Payment Services Regulations 2017 (FRN: 911400).


Is Xace Crypto Friendly?
Does Xace Virtual Debit Card Allow Crypto Purchases? Yes!
Does Xace Virtual Credit Card Allow Crypto Purchases? N/ A
Does Xace Allow Crypto Deposits/Withdrawals via Bank Transfer? Yes!
Is Xace a Binance-Friendly Bank? Yes! You can use their Euro, USD, or GBP Accounts!
Is Xace a Coinbase Friendly Bank? Yes!
Fidor Bank
Fidor Bank offers crypto-friendly baking services and has the Kraken crypto platform as one of its clients. The two main types of accounts are the Fidor ICO account and the Fidor Exchange account. While the latter targets cryptocurrency exchanges, the Fidor ICO account serves projects looking to raise money via a coin offering.

Is Fidor a Crypto-Friendly Bank?
Does Fidor Virtual Debit Card Allow Crypto Purchases? Yes!
Does Fidor Virtual Credit Card Allow Crypto Purchases? N/ A
Does Fidor Bank Allow Crypto Deposits/Withdrawals via Bank Transfer? Yes!
Is Fidor Bank a Binance-Friendly Bank? Yes! 
Is Fidor Bank a Coinbase-Friendly Bank? Yes!
What Are Crypto-Friendly Banks?
Crypto-friendly banks are financial institutions that are open to dealing with cryptocurrency transactions. Allowing their customers to use their accounts to deposit and withdraw to and from reputable crypto platforms.
A crypto-friendly bank should allow you to:
Use credit and debit cards that they issue to buy and sell crypto freely.
Complete wire transfers to cryptocurrency exchanges and similar entities.
Cash-out funds from your cryptocurrency investments.
Why do Banks Not Like Crypto?
Traditional banks have been hesitant to support cryptocurrency transactions due to concerns over money laundering, fraud, and other risks associated with the volatile nature of the crypto markets. However, as the popularity of cryptocurrencies has grown, more banks are beginning to explore the potential benefits of offering crypto-friendly services to their customers.
Verdict: What Crypto-Friendly Bank Should You Use?
So which UK bank should you use to start investing in crypto? Well, the last thing you want is your day-to-day bank closing or restricting your bank account. You will need your bank for traditional financial banking services such as mortgages, loans, and credit cards, so keep this in mind. Also, it's very difficult to say which is the best crypto-friendly bank, as many people seem to have different experiences.
Personally, we have been using a bank to bridge our traditional bank, i.e. Nationwide, HSBC etc. and the crypto exchange we want to buy crypto from. Since 2017, we have been using Revolut to do this and haven't had any major issues. At one stage in 2020/2021, we were asked to show proof of our income, as we sent too much money through Revolut to Coinbase. We tried to fight it, but you must follow their rules.
Although I like Revolut, I wouldn't use it to store my life savings, and we try to spread the risk with a few UK banks we've opened over the years. We still retain some crypto funds in our hardware wallet for risk management. If you want know more about hardware wallets, you may read our article about Trezor and Ledger.
I will try and keep this post fresh and up to date, but if you have had any negative experiences, please feel free to put them in the comments below.
Good Luck!
FAQs 
Is Cryptocurrency Regulated in the UK?
When it comes to crypto exchanges operating in the UK, they must adhere to financial guidelines set by the regulator, the Financial Conduct Authority (FCA). Crypto exchanges must go through Know Your Customer (KYC), anti-money laundering (AML) and other regulatory processes. This applies to every new customer that signs up.
Even Binance, the world's largest crypto exchange and trading platform, was banned in the UK, in 2021, for failing to meet FCA requirements. Although London is one of the world's leading financial capitals, making it a centre for FinTech, Challenger Banks, and now Crypto/Blockchain and DeFi-based startups, companies in those sectors must play by the rules. 
Is Crypto Legal in the UK? 
Crypto is legal in the UK but isn't classed as a currency (nor legal tender), so not every UK bank is crypto-friendly.
Instead, the UK government (through HMRC, the UK's tax collecting authority), the Bank of England, and financial regulatory authorities consider crypto an investment asset. Therefore, the UK government and financial bodies treat crypto that way.
As a result, banks don't accept direct deposits in crypto. And if your bank doesn't allow payments to or from crypto exchanges, they could be blocked in either direction. This is regardless of the method you try and use to make or withdraw payments, whether through a direct transfer (faster payments) or using a credit or debit card.
From a banking perspective, this means crypto isn't always accepted. Banks are slowly changing, especially older, larger, more established financial institutions.
Is Crypto Banned in the UK? 
No, crypto isn't banned in the UK. However, many companies accept payment in crypto, so you can't do much with it other than trade, exchange, save, and invest. Many UK banks now accept that customers pay money into and out of crypto exchanges, and most support this.
 
Crypto exchanges are regulated similarly to money transfer services, such as PayPal, Wise (formerly TransferWise), Western Union, and others. You need to go through KYC and other requirements to sign-up for exchanges in the UK.
However, always watch out for those that don't, and accept that in some cases, it might take a call to customer services to allow a payment to come in or go out. 
Do you Pay Tax on Crypto in the UK? 
Yes, you would need to pay taxes similar to self-employment for any profits you make on trading crypto (if this is a noticeable part of your income). Crypto is considered an investment asset, so you would be paying taxes on investment income, at the relevant applicable rate, depending on what you've made in a year. 
Always consult an accountant if you need to start filing self-employment tax statements to get a clear idea of how much you need to pay.
If you want to find out if you are due to pay any tax on your crypto, you can try the crypto.com tax tool for free.
What is a Fintech Company?
Fintech (short for finance technology) are computer programs and other technology used to support or enable banking and financial services.
Related Posts
Here are some of our articles you may also find helpful;