9 Best Investment Apps in the UK for 2023
Based on our combined knowledge of the industry, we've identified some of the best trading apps for UK consumers in 2023. Each of the companies listed below offers best-in-class performance across a range of criteria, from the quality of their investment platforms to their competitive fees.
Although we have numbered the best investment mobile app from 1 to 9, we do not recommend any app or platform. We recommend you do your own research when investing and seek advice from a financial advisor.
Our Recommendations – Best Investment Apps in the UK
Having introduced the two types of investment apps we'll be covering, it's time to take a look at these companies in more detail, as well as their investment platforms. The fintech market is always transforming and innovating, but here are our picks for the Best Investment Apps in the UK.
Active Investment Options
Hargreaves Lansdown 
Hargreaves Lansdown is something of a household name in the financial industry. Winning multiple awards over a 30-year period, the Bristol-based provider offers retail traders a raft of market opportunities, and across a range of investment platforms. The company is listed on the FTSE 100 index and boasts over £135.5bn in assets under management.
Despite (or perhaps because of) its above-average trading fees, and unflashy website design, Hargreaves Lansdown is a reassuring presence in the wealth management industry. With its illustrious heritage, the company continue to deliver excellent service and are a trusted investment provider.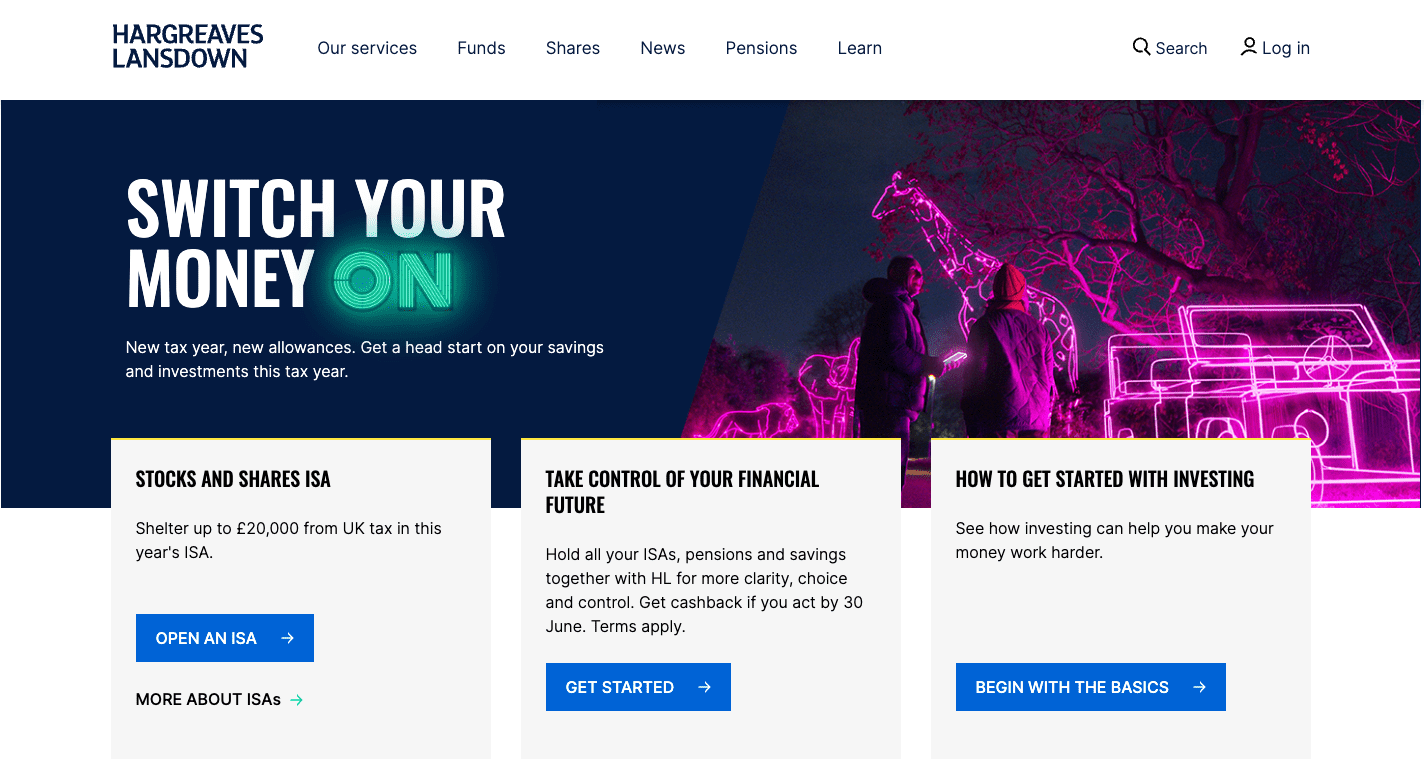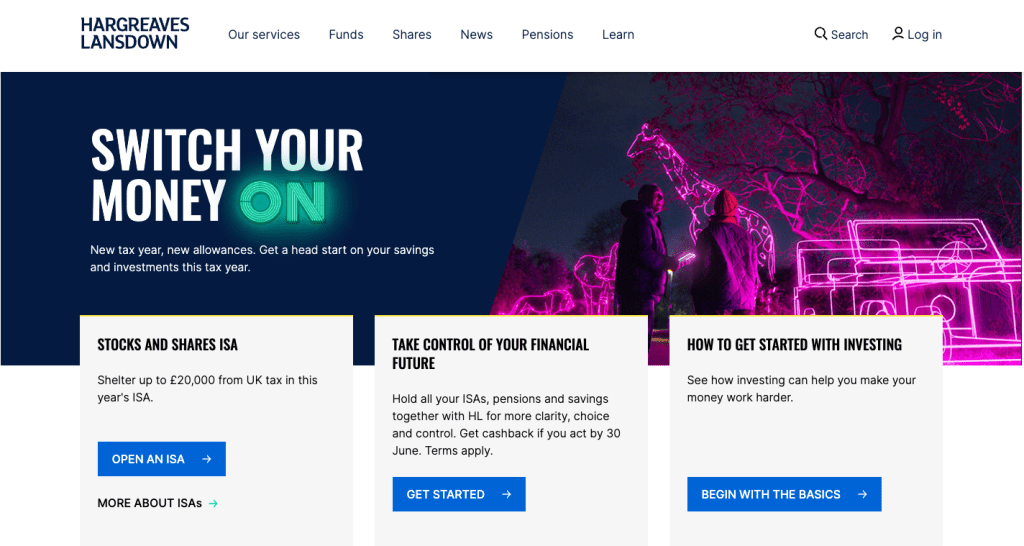 Hargreaves Lansdown Account Types: Stocks and shares ISA, Fund and share account, GIA, SIPP, LISA, JISA, Junior SIPP, Savings account
Hargreaves Lansdown Investment Products: Share dealing, funds, stock market indices, investment trusts, ETFs, commodities, indices corporate bonds & gilts, foreign exchange
Hargreaves Lansdown Fees:
* For brevity, we've selected the Hargreaves Lansdown stocks and shares ISA as indicative of its entire tax-wrapped account selection (JISA, SIPP, etc.) which is 0.45% across the board. 
Hargreaves Lansdown Trustpilot Score: 4.3
Hargreaves Lansdown is Recommended for: Experienced investors requiring advanced market insights
eToro
eToro is a highly regarded investment provider whose global reputation and capacity for innovation have made eToro a household name in the financial industry. They offer an expansive selection of instruments to trade, with competitive pricing that earmarks them as a solid option for people looking to trade stocks.
They were one of the first companies to introduce a 'copy trading' feature, which they promote heavily across their website and advertising channels. Their huge marketing spend, which includes a Super Bowl halftime ad, speaks to a company with grand ambitions to corner the investment market. Overall, eToro offers a good choice, good pricing, and excellent investment platforms.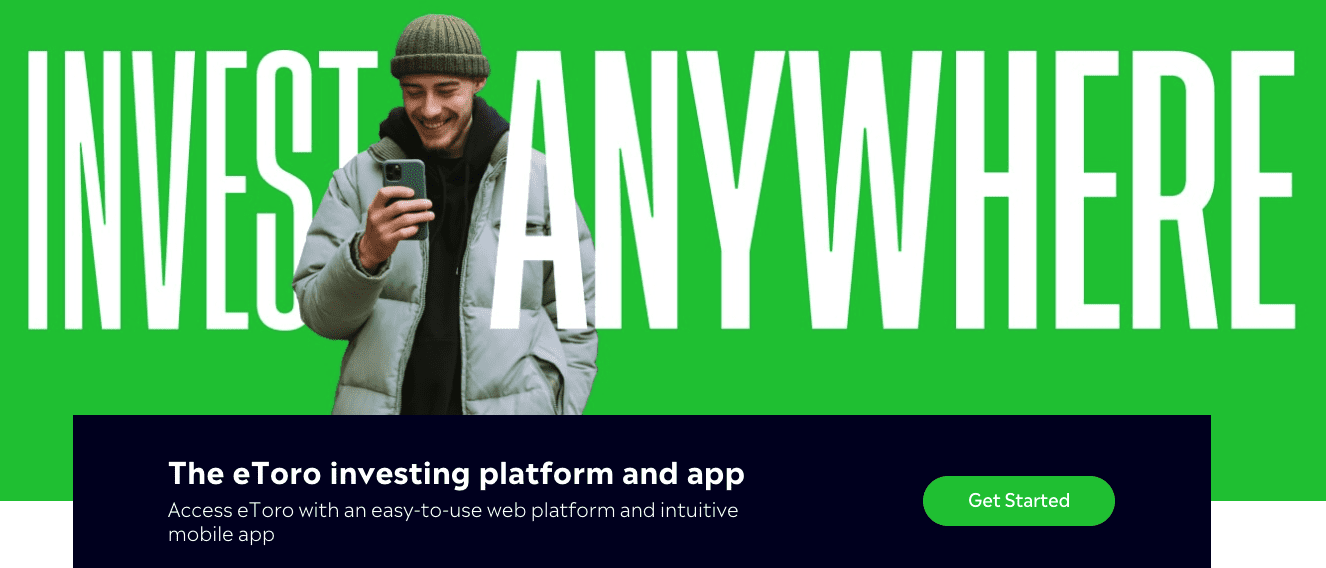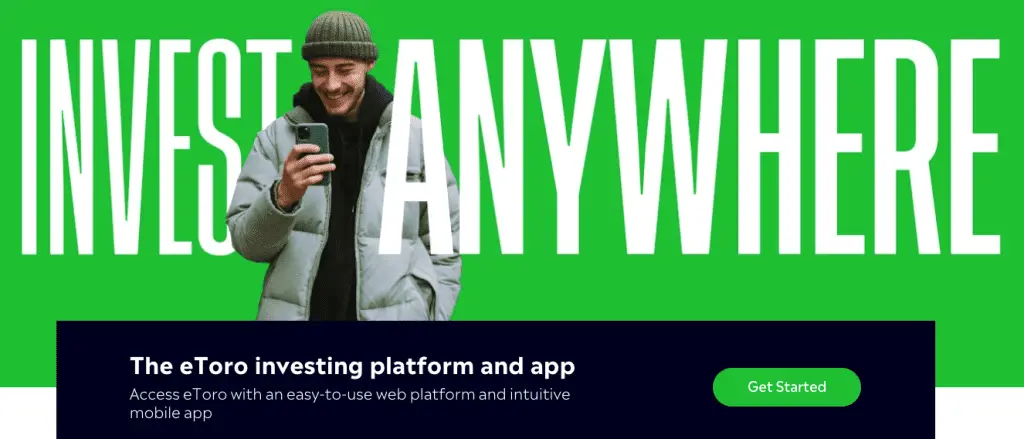 eToro Account Types: Live account, Corporate account, Professional account
eToro Investment Products: Stocks, crypto, CFDs, currencies, indices
eToro Fees: 
| Account Type* | Management Fees + Commission |
| --- | --- |
| Live account | 0* |
* While lacking management fees or commission, Etoro charges various spreads and fees for some trades and withdrawals. 
eToro Trustpilot score: 4.2
eToro is Recommended for: Those looking for a competitively priced all-rounder. 
Interactive Investor
Interactive Investor is an award-winning multi-asset broker that provides a wealth of market opportunities for DIY investors. With a trusted background in providing expert financial insights and analysis, its trading platforms are equally rich in detail. It offers a strong array of account types and app features, and its online reviews are overwhelmingly positive. 
Its fee structure is satisfyingly simple, with a flat fee paid per month. These fees start from £9.99 per month for its basic accounts, while its 'super investor' accounts charge £19.99. These prices might prove slightly offputting for those tempted by some of the 'freemium' models on the market, but active investors with weightier investments will very quickly experience good value for money by investing with this provider.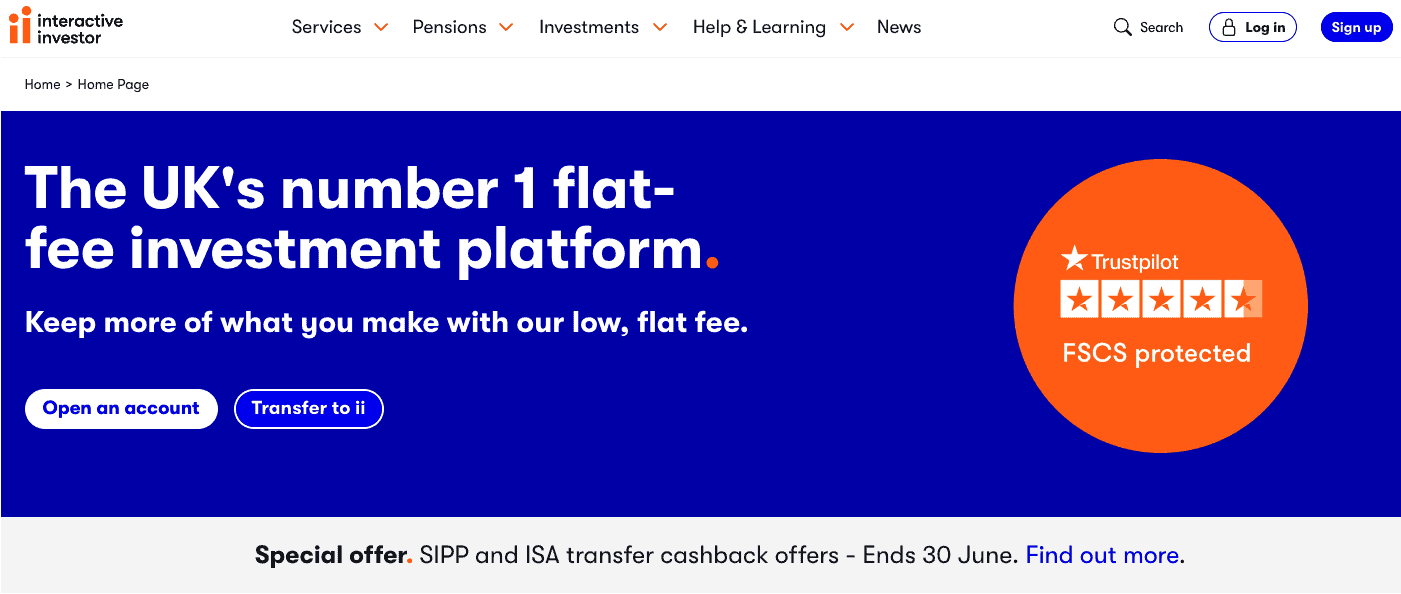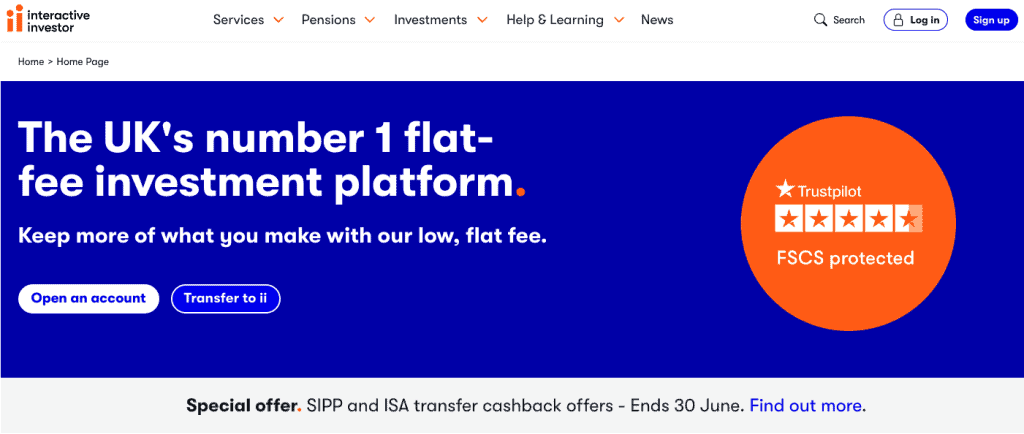 Interactive Investor Account Types: Stocks & Shares ISA, GIA, SIPP, Junior ISA, Cash savings account, Super Investor
Interactive Investor Investment Products: Shares, funds, investment trusts, ETFs, IPOs 
Interactive Investor Fees: 
| Account Type* | Management Fees |
| --- | --- |
| ISA and trading account | £9.99 per month |
| SIPP | £12.99 per month |
| Super Investor  | £19.99 per month |
Interactive Investor Trustpilot Score: 4.7
Interactive Investor is Recommended for: Higher net worth investors
Freetrade
Freetrade is a fintech firm providing entry-level investment services to customers in the UK. Touted as a 'challenger stockbroker' upon launch, they recently surpassed the 1.1 million customer mark, cementing their position as a household name in an evolving financial landscape. 
Offering commission-free trading via a suite of account options, Freetrade's pricing continues to undercut most other DIY investment options. Despite remaining light on trading functionality and analysis, fledgling investors looking for a cheap way to buy and sell stocks will find a lot to love in the platform's clean and accessible user interface. Additionally, it has one of the best investment apps in the UK.

Freetrade Account Types: Stocks and shares ISA, SIPP, GIA, Freetrade Plus
Freetrade Investment Products: Stock market indices, ETFs, Investment trusts, SPACs, REITs
Freetrade Fees:
| Account Type* | Management Fees |
| --- | --- |
| ISA, SIPP, GIA | 0 |
| Freetrade Plus | £9.99 per month |
Freetrade Trustpilot Score: 4.3
Freetrade is Recommended for: Inexperienced investors looking for a low-cost trading app.
Trading 212
Trading 212 are part of a new wave of investment businesses providing commission-free trading. The company provide an array of investment options, available through its ISA, CFD, and general investment accounts. Its platforms include a powerful web trader, as well as an easy-to-use investment app. 
Among many unique innovations introduced by the company, Trading 212's investment 'pie' feature is a great addition. Those making regular investments into a predefined basket of stocks can now funnel their money into user-created pies, which automatically allocate funds depending on their portfolio composition. These pies can be created and then shared with the Trading 212 community via their investing apps.


Trading 212 Account Types: General investment account, Stocks and shares ISA, CFD
Trading 212 Investment Products: Stocks and ETFs
Trading 212 Fees:
| Account type* | Commission | Currency Conversion Charge |
| --- | --- | --- |
| GIA | ZERO | 0.15% |
| ISA | ZERO | 0.15% |
| CFD | ZERO | 0.5% |
Trading 212 Trustpilot Score: 4.5
Trading 212 is Recommended for: Mid-level investors attracted by lower costs and unlimited commission-free trades.
Passive Investment Options
Nutmeg
For those new to investing, Nutmeg offer an impressive suite of products and services to help hit your money goals. One of the most celebrated roboadvisors on the market, its algorithm-driven portfolio selection process is remarkably slick. Simply fill out a short questionnaire, and you'll have a bespoke investment portfolio based on your stated risk tolerance. 
Its recent acquisition by JP Morgan validates its impressive achievements in the wealth management space. While charging higher fees than many of its competitors, Nutmeg's performance is encouraging, as are the clear and regular investment strategy updates they provide. Likewise, the company offer one of the best investment apps in the UK to track your portfolio growth.


Nutmeg Account Types: GIA, Stocks and Shares ISA, Junior ISA, SIPP
Nutmeg Investment Styles: Fully managed, fixed allocation, socially responsible, Smart Alpha (in partnership with JP Morgan).
Nutmeg Fees:
| Account Type* | Management Fees |
| --- | --- |
| Actively Managed | 0.75% up to £100k – 0.35% on portion beyond |
| Fixed Allocation | 0.45% up to £100k – 0.25% on portion beyond |
Nutmeg Trustpilot Score: 4.1
Nutmeg is Recommended for: Inexperienced investors looking for a 'set and forget' investment app.
Wealthify 
Wealthify is an award-winning investment provider offering a smart approach to wealth management. Using a combination of market knowledge and technical expertise, it offers investment opportunities via a range of actively managed funds. 
Emboldening prospective clients with the promise to 'make your money work harder', the company offer numerous account options, as well as two investment portfolio styles – original and ethical. With its low barriers to entry (you can invest with as little as £1), Wealthify helps those with little or no investment experience to get a foothold on the financial market.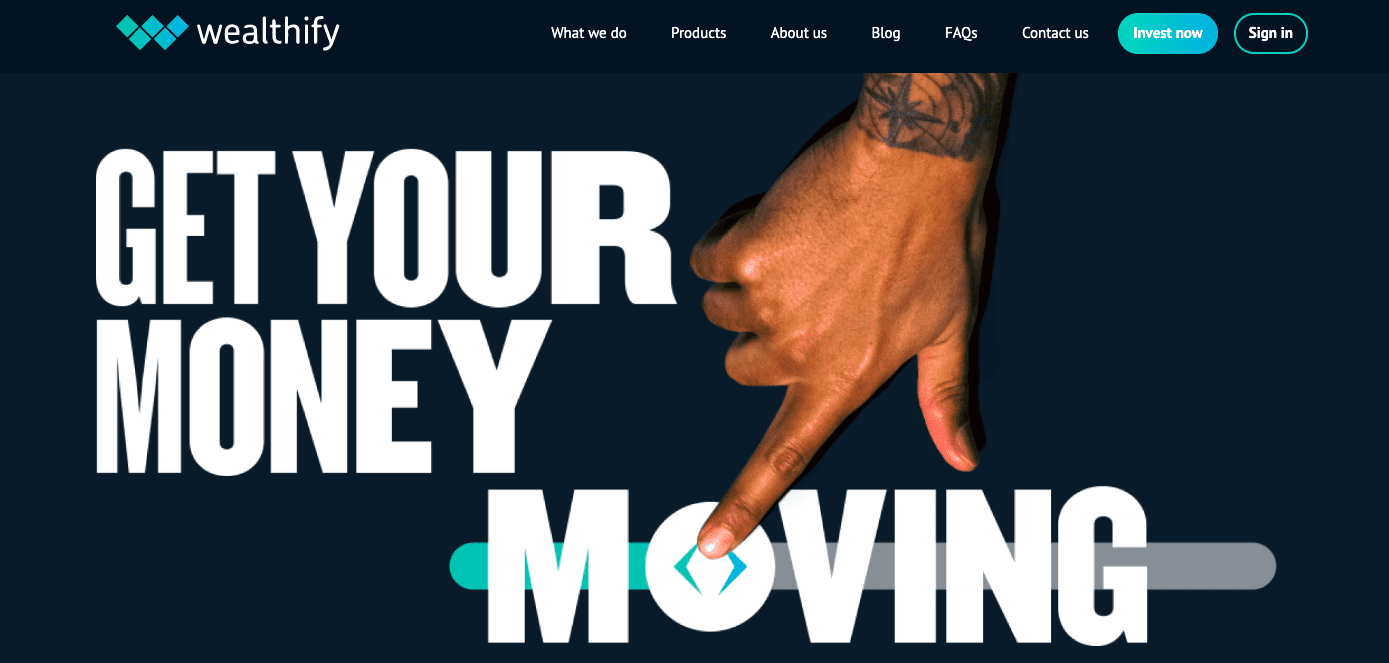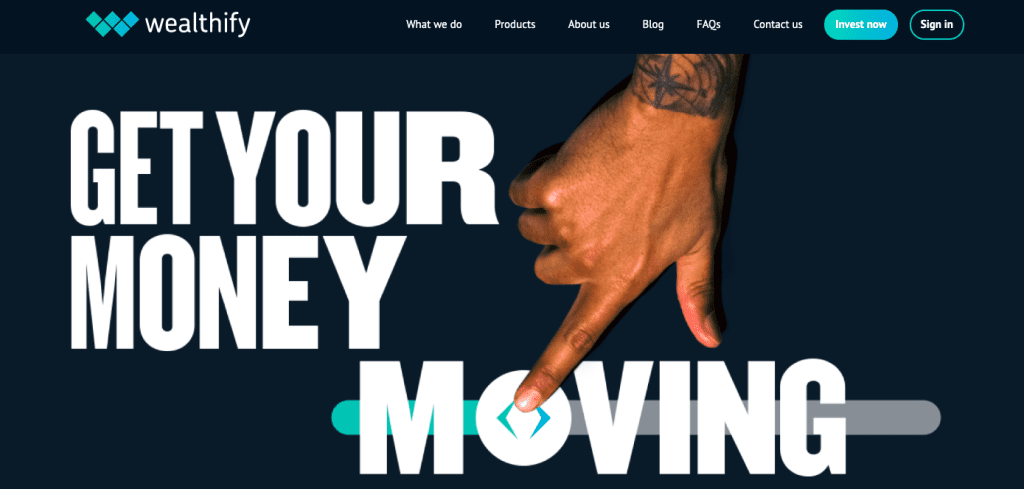 Wealthify Account Types: GIA, ISA, Junior ISA, SIPP
Wealthify Investment Styles: Original, ethical
Wealthify Fees:
| Investment Style | Account Management Fee |
| --- | --- |
| Original | 0.60% |
| Socially responsible | 0.60% |
Wealthify Trustpilot Score: 4.5
Wealthify is Recommended for: Novice investors seeking a lower-priced alternative
Moneyfarm
Moneyfarm provides a solid option for those looking to invest with an active fund manager. Its transparent communication style and slick presentation are a refreshing change from other more established firms on the market. The company offer a simplified user experience without appearing too basic, while its strong historical performance and detailed educational resources suggest client funds are in capable hands. 
Providing valuable client services such as live investment consultations, Moneyfarm is a great option for new investors. Despite growing competition from the likes of Nutmeg and Wealthify, there's a lot to love about Moneyfarm, it's trading app, and its commitment to providing quality service to its clients.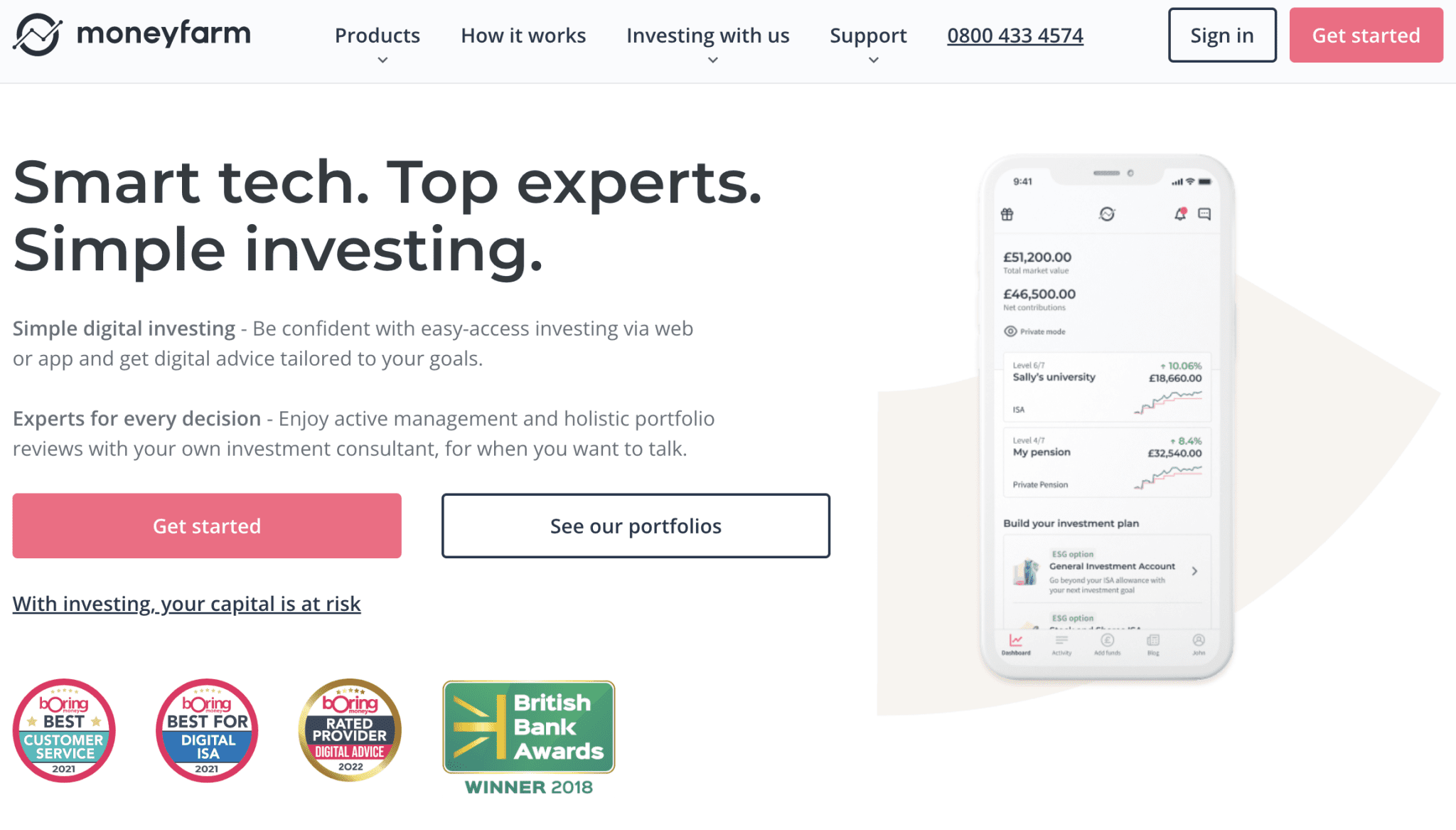 Moneyfarm Account Types: Stocks and Shares ISA, SIPP, GIA, Junior ISA
Moneyfarm Investment Styles: Classic, socially responsible
Moneyfarm Fees:
| Amount Invested | Account Management Fee |
| --- | --- |
| £500 | 0.75% |
| £10,000 | 0.70% |
| £20,000 | 0.65% |
| £50,000 | 0.60% |
| £100,000 | 0.45% |
| £250,000 | 0.40% |
| £500,000 | 0.35% |
Moneyfarm Trustpilot Score: 4.5
Moneyfarm is Recommended for: Investors who want that 'Personal Touch'. 
Invest Engine
Invest Engine are quickly becoming something of a fan favourite in the passive investments space. Like other providers on the market, they build and maintain portfolios on behalf of clients. But unlike other providers, they also provide a DIY portfolio selection option, so that users can enjoy the best of both worlds. In either case, Invest Engine use exchange-traded funds as the preferred vehicle for diversified market access. 
Another great benefit is the low fees on offer, with some of the most competitive prices on the market. At 0.25% for its actively managed service, this massively undercuts rivals Nutmeg and Wealthify. On the flip side, it lacks an ethical investment option, and you'll need a £100 minimum to set up your first portfolio.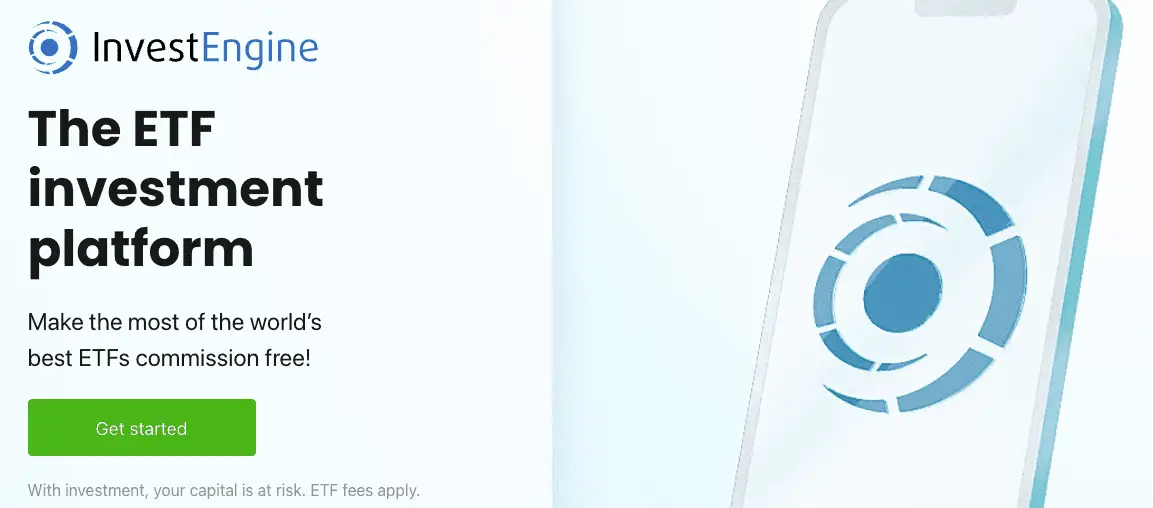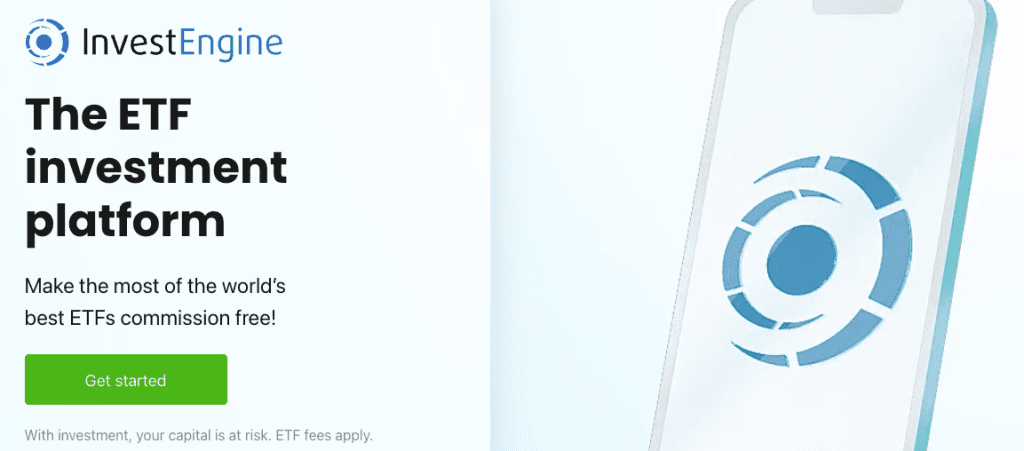 Invest Engine Account Types: ISA, GIA, Business account
Invest Engine Investment Styles: DIY, Growth portfolio, Income portfolio
Invest Engine Fees:
| Investment Style | Account Management Fee |
| --- | --- |
| DIY (Do It Yourself) | 0% |
| Managed | 0.25% |
Invest Engine Trustpilot Score: 4.4
Invest Engine is Recommended for: Investors looking for a simple and affordable experience
---
What Is Investing?
Now we've listed some of our favourite investment apps, now time to ask the fundamental question; what is investing?
In simple terms, investing is the process of allocating money with the expectation of generating future returns. As financial organisations have grown more diffuse, the question of 'how to invest' has been answered in many various forms, with many investing apps created to keep consumers spoilt for choice.
These days, the concept of 'investing' typically refers to buy-and-hold positions, with trades executed and sold over the course of months, if not years. In contrast, 'trading' connotes shorter-term strategies, which attempt to profit from smaller price swings. 
Active vs Passive Investing
As part of our list, we've selected a combination of active vs passive investments, each fulfilling various functions for investors. When just starting out in financial markets, you should take into account your investment goals, your time horizons, and your appetite for risk. These will determine which category of investment provider you should choose. 
What is Active Investing?
To begin with, what are active investments? This category refers to the DIY investments that users make themselves. These companies offer the platforms with which to execute trades, with the decision-making left to the individual. Including the likes of Freetrade, Hargreaves Lansdown, and Trading 212, such businesses make their money primarily on a per-trade basis, with fees collected via market spreads and foreign exchange conversions.  
What is Passive Investing?
Secondly, there are passive investments, in which professional wealth managers look after your money. These are the 'Set and Forget' style investments, which typically involve higher costs in the form of management fees, but can provide reassurance that your money is in safe hands. Those investing in such funds will usually have longer time horizons than those who choose the DIY stock-picking firms mentioned above. 
In recent years, we've seen an explosion of tech-driven companies across both ends of the investment spectrum. Promising simpler platforms, lower fees, and better performance, these firms have spearheaded something of a fintech boom.
The Main Types of Investments 
While there are many financial instruments available to trade, UK investment providers will typically choose those with the healthiest, and most stable, long-term prospects. They will also favour broad market exposure over individual stock picking. The two investment types favoured by the UK industry are shown below.
Stocks & Shares
Within a stocks and shares ISA, investors can choose from a diverse portfolio of equities. These typically include stocks from well-known businesses, with some of the best providers offering the greatest range of options. Popular stocks include Apple, Tesla, and Google, each of which can be bought and sold using an array of trading apps on the market.
Exchange-Traded Funds
Exchange-traded funds (also known as ETFs) are an investment vehicle favoured by such wealth managers as Nutmeg and Wealthify. Think of it as a basket of stocks, which can itself be traded on the market. Such ETFs can be classed as thematic, as in the case of ethical investing options, or they could simply replicate a popular investment index, like the Dow Jones. 
How to Invest Money in the UK?
For those asking 'how do I invest money in the UK?', it's important to consider the multiple investment vehicles available for UK retail traders. While you can always invest using a general investment account, it's recommended to take advantage of the various tax-wrapped accounts on offer. These protect your investment returns up to certain limits and should be the first consideration for anyone looking to invest money in the UK. 
To help, we've outlined some of the key tax-wrapped accounts currently available: 
Stocks and shares ISA: tax-free investment returns up to £20,000, without needing to pay capital gains tax.
Self-invested personal pension: a pension 'wrapper' that allows you to save, invest and build up a pot of money for when you retire. Also qualifies for pension tax relief.
Lifetime ISA: an investment style created to help people save either for their first home or for retirement. With this account, the government will give you a bonus worth 25% of what you pay in, up to a set limit, every tax year.
Junior ISA: a tax-efficient trading account you can create for your child, and which anyone can contribute towards.
What's the Best Way to Invest Small Amounts of Money in the UK?
If you don't have a large lump sum to invest, chances are you're on the market for the best way to invest small amounts of money in the UK. Thanks to a highly competitive fintech market, many companies are emerging that provide quality service without needing to deposit high amounts. Additionally, those hoping to invest in their favourite stocks will appreciate the benefits of 'fractional trading'. This allows traders to buy stocks at specific prices, rather than having to invest in multiples of a company's share price. 
Ticking both of these boxes, we'd recommend Trading 212 as an ideal provider. With no minimum deposit, and a £1 minimum buy/sell order requirement, it's easy to invest insignificant amounts without being penalised. This makes the company an excellent investment platform for those wondering what's the best way to invest small amounts of money in the UK.
How do I Choose the Right Investing App for me?
When you're choosing an investment platform, it's easy to get swayed by some of the flashy brands out there. This can prove a harmful approach, especially if you're unaware of some of the more essential features of a company's service. 
Instead, you should start by:
Deciding whether you want to invest in ready-made portfolios or whether you want more control to select and manage your investments. 
Once you've decided, look at costs. The ratings we've generated above include detailed information about the fees you can expect to pay, as well as the minimum investment requirement.
If you think you've made a decision, then why not try before you buy? Most providers offer a demo account via their investment app to help you start investing without making a deposit. This can be a great way to assess an investment app's worth without risking your own money. 
How to Invest your Money with an Investment App
As we've seen, there are various ways for modern retail investors to gain market exposure. Once you've decided which route you'd like to take, the next stage is creating your first investment account. For most providers, registering and depositing are pretty straightforward. This onboarding process will generally take just a few minutes but may take longer for certain companies like Robo-Advisors, where more information is required. 
Expert-Managed Investment Apps
If you're investing using expert-managed investment apps like Nutmeg or Wealthify, the setting-up process can take a little longer. This is because such companies will build you a bespoke portfolio, based on your risk tolerance. New users will generally need to complete the following steps:
Create an account. You will be asked to provide basic contact information, including email, phone number, and address. 
Verify your account. Proof of identity and proof of residence are usually requested. 
Make your first deposit. Minimum investment amounts vary between providers, as do the payment methods offered. It's therefore worth choosing a company that makes this process as easy as possible, based on your requirements. You can usually make transfers directly from your bank account.
Choose your investment fund. In the case of roboadvisors, this will take the form of a short questionnaire about your financial situation. For other fund managers, it will be a case of selecting an investment funds type that corresponds with your investment goals and attitude to risk. 
Self-Managed Investment Apps
For self-managed investment apps like Freetrade and Trading 212, the registration process is similar to that of expert-managed investment apps. But the actual process of investing looks a lot different. Rather than being allocated a fund based on defined parameters, it's up to investors themselves to create and manage their own portfolios. 
The stages of making your first investment typically look like this:
Create an account
Verify your account
Make your first deposit
Take your time, and perform in-depth research. It's always exciting entering the markets for the first time. But it's important to make sure your first investment is grounded in logic and analysis, rather than just enthusiasm
When the time is right, and the markets are favourable, start investing
Are Investment Apps Safe?
We all hear horror stories about people losing their life savings to online investment scams. It's therefore important to tread with caution. To help answer the question 'are investment apps safe', we've provided a quick guide to knowing what to look out for before you start investing:
Are Investment Apps Regulated?
Financial firms dealing with customers inside the UK should be approved by the FCA (financial conduct authority). FCA licensed companies are obligated to meet stringent protocols relating to client safety and security
Are your Funds Segregated?
Typically, client money is held in a separate bank account to avoid the commingling of assets. This ensures your own money won't be used to service company debt. 
Is your Data Secured?
Always be sure to check a company's data protection policies, to ensure you're happy with the way your personal information is used. Also look out for secure login processes, with encrypted login protocols proving the most secure. 
FAQs
Best Investment App for Beginners UK?
For inexperienced investors, the sheer quantity of providers out there can be overwhelming. To help determine what is the top investment apps in the UK, it's important to consider accessibility, as well as ease of use.

In our opinion, those looking for a simplified beginner experience will find Freetrade an ideal choice. While lacking some of the investment tools provided by more established businesses, the company provide low fees and low barriers to entry. Additionally, it boasts slick platforms to help its retail investor accounts feel more familiar and user-friendly. This makes it an ideal investment platform for newcomers.
What is a Robo-Advisor?
In recent years, technology has improved the way we manage money. It's changed the way we invest it too. Even the wealth management industry, once the domain of star fund managers, has undergone something of a tech revolution. The emergence of investing apps like Nutmeg, Wealthify, and Moneyfarm are prime examples. Each uses smart algorithms to create and manage portfolios on behalf of retail investors.

In the same way, as a financial advisor will assess your financial situation, and recommend comprehensive savings strategies, modern roboadvisors take a similarly holistic approach. When signing up with these companies, you'll be asked a series of questions about your finances, in an attempt to determine how high your risk tolerance might be. It will then recommend a portfolio based on your answers. While these businesses will typically undercut the more traditional fund managers out there, they do still charge a management fee. So it's worth shopping around to get the best deal!
Where can you go for Stock Market Advice?
For those new to investing, trading the markets can seem a daunting prospect. There are thousands of investment opportunities at any one time, and it's easy to start suffering from a Fear of Missing Out. So where can you go for stock advice before you start investing?

There are many stock advisor websites online, each of which provides in-depth research and analysis on a range of financial instruments. They can provide summarised reports of a company's short and long-term prospects while giving a final score indicating whether or not a stock is considered overbought or oversold. While it's important to make your own decisions about a stock's likely trajectory, it's useful to take a deep dive into the methodology used by each provider, so you can hone your own trading instincts.

Some of our favourite websites providing such investment advice include:
– Motley Fool Stock Advisor
– Morningstar
– Seeking Alpha
How are Investment Safeguarded in the UK?
Generally, UK Investment platforms and Apps will be signed up to the Financial Services Compensation Scheme (FSCS). If this is the case, the FSCS will compensate UK investors up to £85,000 in the event of a firm going bankrupt.

Please check the https://www.fscs.org.uk/ website for more information.
Related Posts
Here are some of our articles you may also find helpful;