Our Nutmeg review for 2022 explores the latest product launches and updates from one of the market's most established digital wealth management companies.
Nutmeg's portfolios help UK investors generate returns within preselected risk profiles by providing discretionary investment services. One year on from its acquisition by financial heavyweights JP Morgan, our Nutmeg investment review asks if it's worth opting for this provider or if better results can be generated elsewhere.
So, let's dive into the Nutmeg review to see if this investment platform is right for you.
Nutmeg Review: How to Use Nutmeg
What is Nutmeg?
Founded in 2011 by Nick Hungerford and William Todd, Nutmeg has emerged as one of the fastest-growing online wealth managers in recent years, with over £3 billion in assets under management and a client base of over 140,000 users. The company's multi-account offering targets investors without the time or knowledge for DIY stock selection. 
Combining smart tech infrastructure with in-house investment expertise. Nutmeg offers diversified portfolios comprising ETFs (Exchange Traded Funds) to help investors reach their financial goals. Since its £700 million acquisition by JP Morgan, the company have undergone a significant rebrand, with new products, features, and a wholesale redesign.
Adopting a more corporate look and feel, Nutmeg 2.0 feels a world away from teddy bears and ostriches. But does it offer better value?
Looking for a Mobile Investment App? Check out our Guide on the 9 Best Investing Apps for UK Investors.


How Does Nutmeg Work?
In order to answer the question of 'how does Nutmeg work?' it's important to understand what is a "Robo Advisor". In short, Robo Advisors uses an intelligent combination of tech and professional expertise to match investors with suitable portfolios.
The primary criteria for this selection process are risk tolerance, i.e., how much risk and market volatility are you prepared to experience, given your investment goals? If your time horizons are decades, not months, you'll be well suited to one of Nutmeg's more adventurous portfolios. On the other hand, if you intend to withdraw your money sooner, it's worth maintaining a slow and steady approach.
Alongside its portfolio creation process, Nutmeg maintains risk exposure through frequent rebalancing. For example, strong equity performance might see your portfolio heavily overweight in stocks, which would, in turn, increase your risk exposure. Instead, Nutmeg actively rebalances portfolios to ensure the right percentage of each investment type is included to coincide with your stated investment goals.
Pros & Cons
Overall, Nutmeg offers a solid proposition for inexperienced investors. The clarity and ease of its platforms and transparent communication style reveal a wealth management provider with its customer's best interests at heart. On the other hand, higher-than-average management fees and questionable returns vs. index fund alternatives might prove a turn-off for those seeking better results from their investments. 
Nutmeg Investment Products
Nutmeg's accounts offer a diverse range of investment opportunities for clients. Its comprehensive selection of products, which includes a Lifetime ISA and Stocks and Shares ISA, covers all the bases for tax-efficient earnings.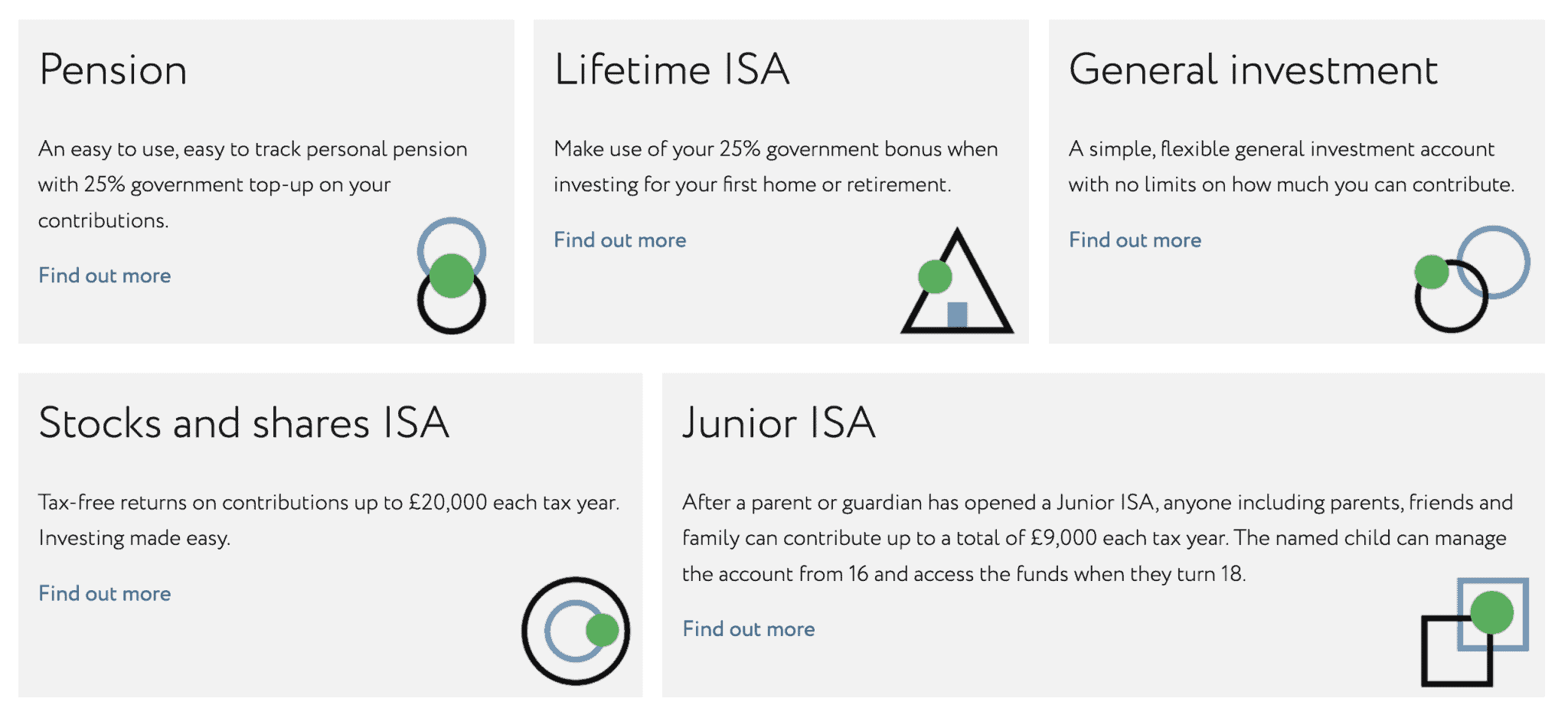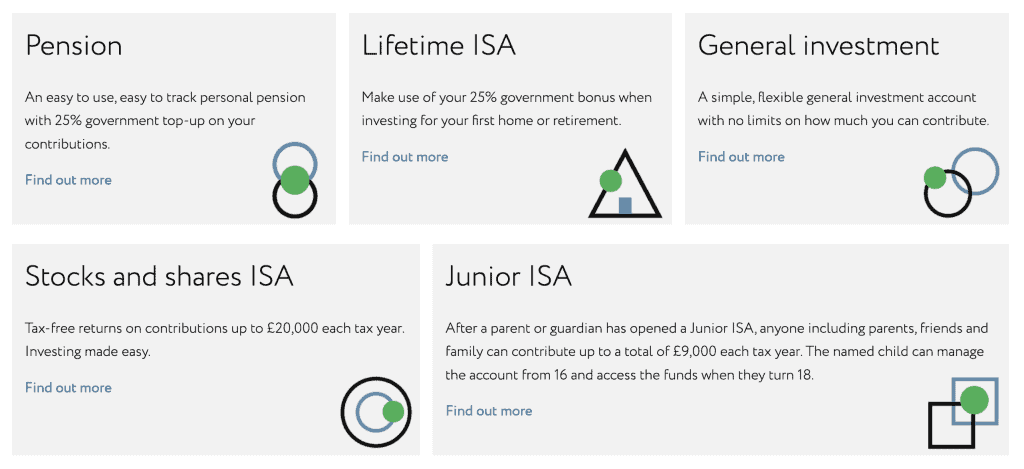 General Investment Account
Nutmeg's General Investment Accounts are a simple way to invest if you've used up your annual ISA allowance or simply wish to invest outside of a tax wrapper. In keeping with the rest of its account range, Nutmeg's GIA allows free deposits and withdrawals at any time, with account oversight available through its web platform or smartphone app. 
Investment ISA
Nutmeg Investment ISAs enable tax-free returns of up to £20,000 each year. Those looking to consolidate ISAs from other providers can benefit from Nutmeg's free ISA transfer service.
Junior ISA
Invest in your children's future using a Nutmeg Junior ISA account. These accounts offer a tax-free account of up to £9,000 each year, with the money made available to your child when they turn 18 years old.
Personal Pension
Nutmeg Personal Pension is a service to help you track, manage, and consolidate your retirement funds. Account owners are entitled to an instant 25% tax relief top-up for tax-efficient pension account contributions. This means every £800 invested in a pension is worth £1000 for a basic rate taxpayer.
Nutmeg Investment Styles
Nutmeg Clients can choose from a range of investment styles. These include its flagship Fully Managed portfolios, Fixed Allocation, Socially Responsible investing, and the Nutmeg Smart Alpha option. Within each selection is a range of risk levels determined based on your investment goals, as chosen during onboarding.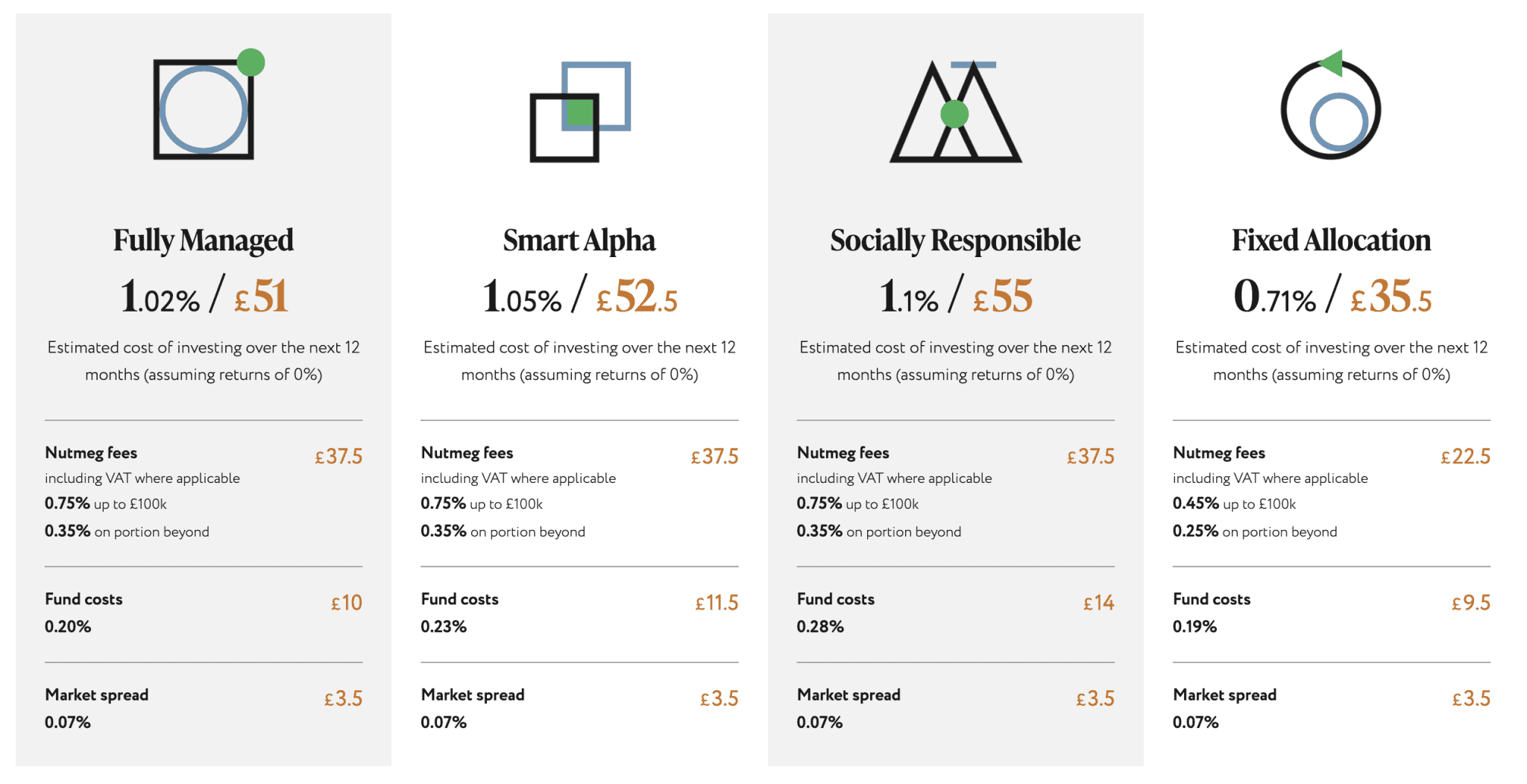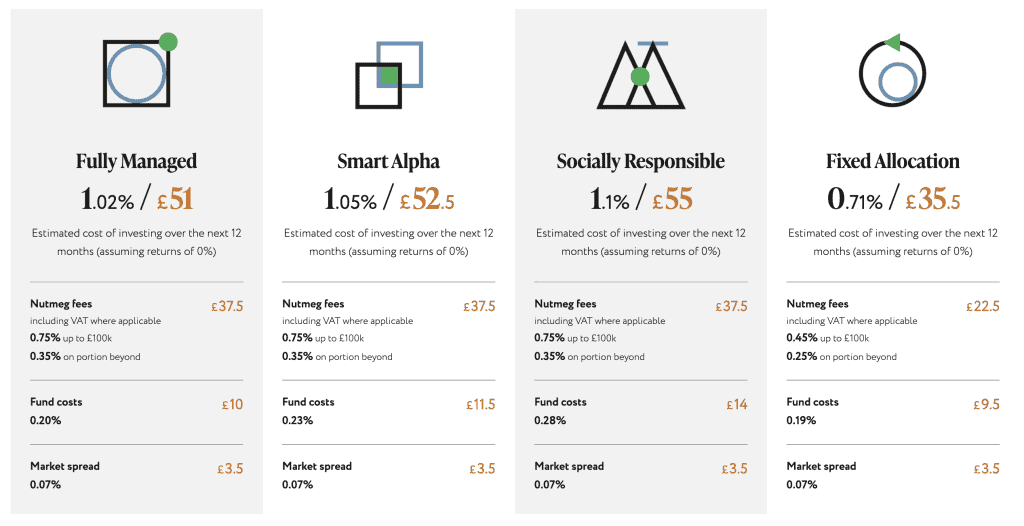 Fully Managed
Nutmeg's expert investment team actively manages and rebalances these portfolios based on the latest news and market forecasts. With increased oversight comes increased costs, but for people who are concerned about short-term economic effects, it could provide extra peace of mind.
Fixed Allocation Portfolios
Incurring lower fees than their fully managed counterpart. Nutmeg's Fixed Allocation Portfolios are designed to perform without regular intervention by Nutmeg's investment team. These investments are built for long-term investment growth and typically include exposure to growth industries.
Socially Responsible Portfolios
As Nutmeg's ethical investment option, portfolio holdings are selected according to ESG (Environmental, Social, and Governance) criteria. Nutmeg's investment team actively manages the socially responsible portfolio and includes a similar risk breakdown.
Smart Alpha Portfolios
Harnessing the insights and strategies of JPMorgan's multi-asset solutions team. Nutmeg's Smart Alpha Portfolios seek to deliver benchmark-beating returns for investors. Smart Alpha's investment returns totalled 20.4% in 2021, which is a great performance for such a new product.
Nutmeg Features
Operating within a crowded wealth management market, Nutmeg's features are designed to offer an enhanced customer experience to justify its comparatively high costs. These include added platforms, products, and educational material.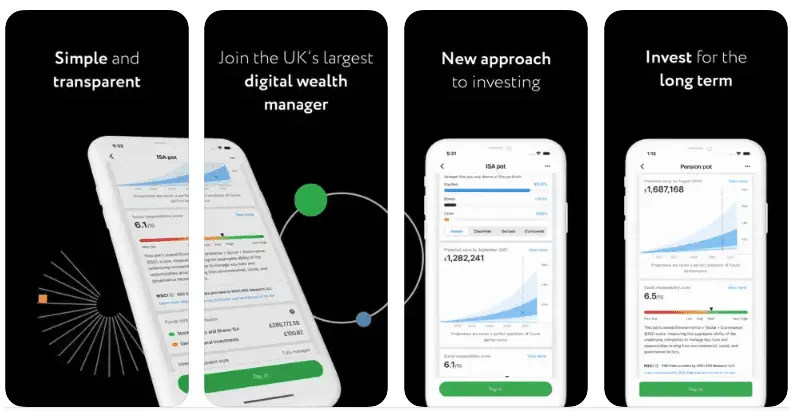 Nutmeg Mobile App 
Nutmeg's mobile app allows users to monitor their investments, manage their Nutmeg portfolios, and access customer support. It's detailed portfolio breakdowns and growth charts offer added insights to those seeking extra clarity over their holdings. The Nutmeg app is available for both Android and iOS. 
Compound Interest 
Nutmeg automatically reinvests your returns to encourage exponential portfolio growth. This compounding effect can be visualised through Nutmeg's helpful Compound Returns Calculator. 
Regular Investor Updates 
Hear from Nutmeg's investment team about the latest market-moving news events and what they might mean for your portfolio with a series of professionally filmed video updates. 
Online Wealth Services
Looking for financial advice? Seek clarity over your finances with Nutmeg's online wealth services, available for a one-off fee.
Nutmeg Fees
The Nutmeg fees are broken down into two tiers, with their starting rate dropping significantly when clients trade higher amounts. The fees remain broadly similar across most of its products, with the company's fixed allocation style priced lower to reflect its lack of active management.
| Investment | Fees |
| --- | --- |
| Socially Responsible Investing | 0.75% up to £100k & 0.35% after |
| Fully Managed | 0.75% up to £100k & 0.35% after |
| Smart Alpha | 0.75% up to £100k & 0.35% after |
| Fixed Allocation | 0.45% up to £100k & 0.35% after |
Nutmeg Minimum Investment
One potential pitfall for those looking to try Nutmeg for the first time is its minimum investment requirements. The minimum investment for Nutmeg's ISAs, General Investment Accounts, and Pensions is £500. Nutmeg's Lifetime ISAs and Junior ISAs, the minimum investment is £100.
| Product | Miniumum Investent |
| --- | --- |
| | £500 |
| General Investment Account (GIA) | £500 |
| Pensions | £500 |
| Lifetime ISA | £100 |
| Junior ISA | £100 |
| | |
Is Nutmeg Worth the Fees?
Nutmeg's fees rank slightly above average compared to some of its Robo Advisor peers, with rates reduced significantly for those investing over £100k. Despite this, Nutmeg represents a very attractive proposition for those looking to turn away from traditional wealth managers.
With its comprehensive account selection, solid investment performance, and seamless mobile app, we think it's worth paying extra for quality service. Following on from its acquisition by JP Morgan, we can expect to see additional features rolled out in the near future, all of which will benefit existing Nutmeg clients.


Nutmeg Performance
Unlike many other companies in the wealth management space, Nutmeg isn't afraid to divulge details of its investment portfolio performance. This may be due to Nutmeg's impressive long-term results. Nutmeg's performance over a 5-year period stands at +20.6%, ahead of its peers, who are calculated at an average of 16.7%.
Nutmeg's lifetime performance of its highest-risk pot would have earned investors over 125%. While suffering like everyone else from the dire economic conditions that have plagued financial markets in 2022, they still managed to gain investors 3% over a 12-month period, while other competitors have been trading at a net loss.
Nutmeg Track Record vs. Peers
| Period | Nutmeg Performance | Peers Performances |
| --- | --- | --- |
| All Time | 59.1% | 52.7% |
| Last 5 Years | 9.9% | 14.3% |
| 2021 | 6.1% | 7.6% |
| 2020 | -7.1% | 4.3% |
| 2019 | 8.4% | 11.7% |
| 2018 | -7.1% | -5.1% |
| 2017 | 8.4% | 6.7% |
| 2016 | 7.6%% | 8.6% |
| 2015 | 0.9% | 1.9% |
| 2014 | 4.6% | 4.5% |
| 2013 | 14.7% | 9.2% |
You can check out Nutmeg's performance with its helpful range of graphs available on its website.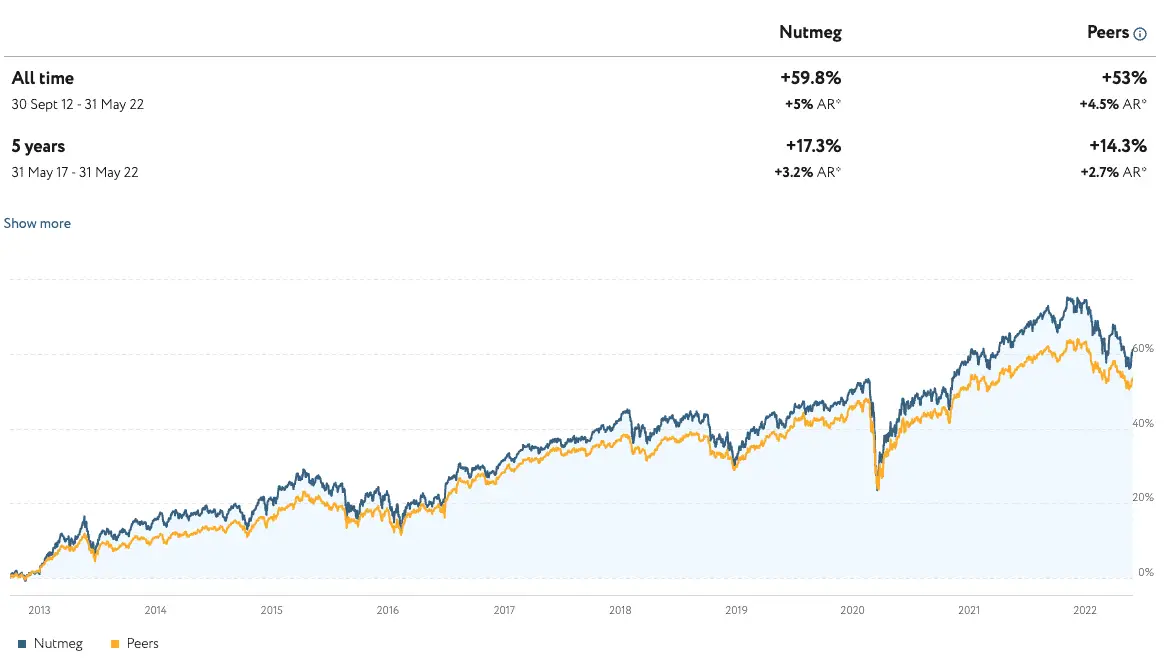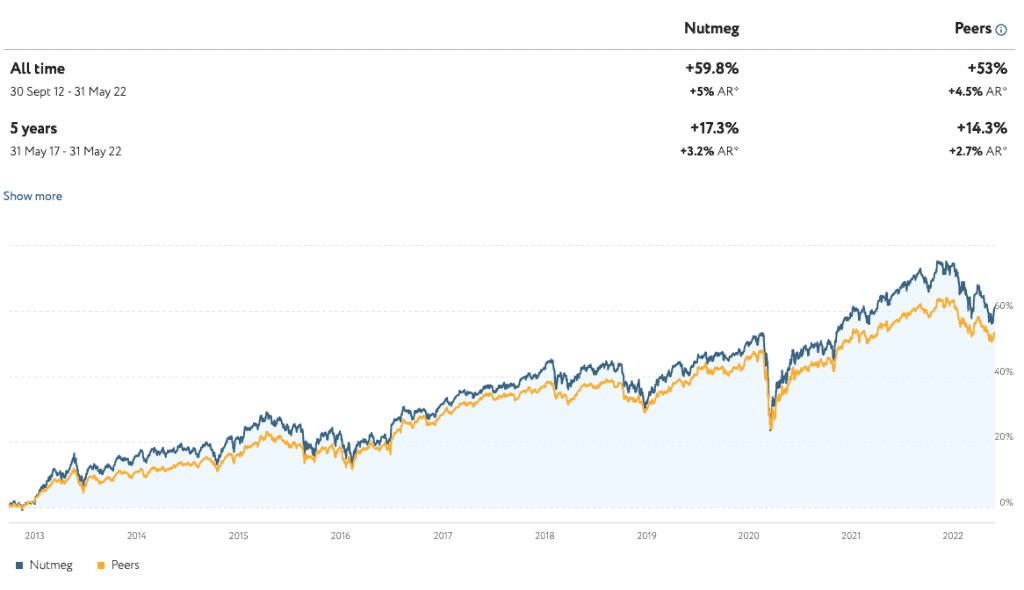 Nutmeg Support
From our experience, Nutmeg's customer queries are dealt with quickly and confidently. It rarely takes more than a few minutes to get through to a Nutmeg support rep. Users have historically reported difficulties in getting through to an agent, particularly during volatile market periods. It seems increased investment into their support has smoothed out any wrinkles, and recent reports have been broadly positive.
In addition to its great customer service, a wealth of support articles also provide a handy resource for those whose enquiries may have been previously answered.
How to Contact Nutmeg Support?
Nutmeg's customer support team are available to contact via email, webchat, or phone. Serving UK clients only, Nutmeg maintains domestic contact hours, with support channels open between:
9 am to 5:30 pm, Monday to Thursday
9 am to 4:30 pm on Friday
Is Nutmeg Safe?
While articles abound concerning Nutmeg's uncertain path to profitability, Nutmeg is open and transparent about client security while maintaining the safety and security of customer funds. A support article on the topic provides a comprehensive breakdown of the measures it takes to this end.
To protect its growing user base, Nutmeg maintains strict security protocols. These include:
Segregated Client Funds: Client money is held in a separate bank account to avoid the commingling of assets. Nutmeg's chosen banking partner is Barclays Bank, and its asset custodian is StateStreet Corporation.
Safeguarding of Assets: In the unlikely event of Nutmeg going bankrupt, users will be compensated up to £85,000 via the Financial Services Compensation Scheme (FSCS).
Regulated Conduct: As an FCA-regulated business, Nutmeg is obligated to meet all of the rules and regulations set by the FCA. These include all the client protections those rules require.
Nutmeg Alternatives
Nutmeg's competitors in the wealth management space include established giants Hargreaves Lansdown and Vanguard, as well as emerging fintechs such as Wealthify and Moneyfarm.
While offering similar products and services, the fees and past performance of each vary, so getting bang for your buck requires detailed research and analysis. We've created a simple comparison table below to help you distinguish between these other investment platforms.
To obtain a fair and accurate picture, we've selected the equivalent account option for Nutmeg's three closest competitors, with 1-year performance data garnered from their highest-risk portfolios.
| | Nutmeg | Wealthify  | Moneyfarm |
| --- | --- | --- | --- |
| Management Fees (>10k) | 0.75% | 0.60% | 0.75% |
| 2021 Performance | 15.30% | 12.82% | 13.70% |
| Investment products | ISA, JISA, LISA, GIA, Pension | ISA, JISA, GIA, Pension | ISA, JISA, GIA, Pension |
| Socially Responsible | Yes | Yes | Yes |
| Trustpilot Review | 4.1 | 4.6 | 4.5 |
| EBH Review | Review | Review | Review |
Nutmeg vs Wealthify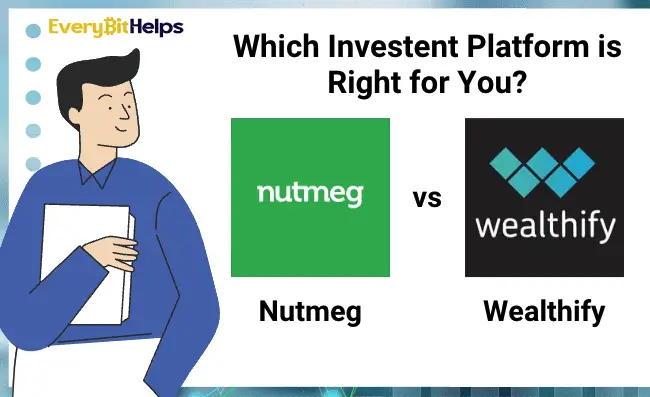 One of Nutmeg's key competitors in the Robo Advice sector is Wealthify. Offering lower fees on investments under 10k, their competitive pricing and wide product selection position them as a strong alternative.
While foregoing the bells and whistles of Nutmeg and with a slight historical underperformance compared to their more established rivals, their stripped-back approach to investing could represent a more attractive proposition for those new to the world of investing. 
For investments over £100, however, Nutmeg's trading fees decrease to 0.35% on its actively managed accounts, which is a significant drop-off compared to Wealthify's flat fee of 0.60%. Those choosing between the two companies will therefore, be minded to assess the pricing differences as investments grow. 
Nutmeg vs Moneyfarm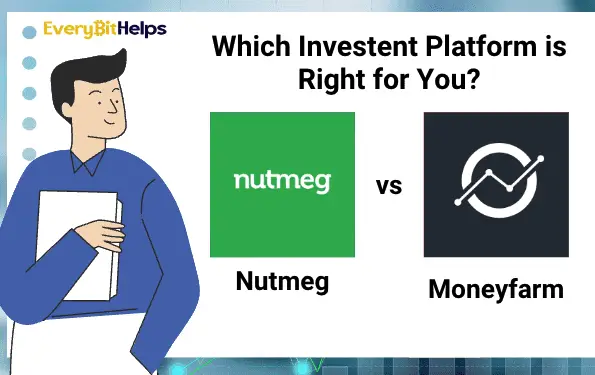 In the past few years, Nutmeg has experienced something of a pricing war with rivals Moneyfarm. As a result, both offer broadly similar fees, with just a few differences in the tier structure.
Despite the broad similarity between the pair, the two diverge quite significantly in their historical track records. On the basis of highest-risk portfolio performance, Nutmeg managed 19.6% growth for 2021, with Moneyfarm achieving 10.2%. While historical returns are no predictor of future performance, it's interesting to see Nutmeg's investment strategy win out in what was a bumper year for financial markets.
Nutmeg Sign-up
Opening a Nutmeg account is more complex than that provided by key competitors. But with customers entrusting their hard-earned savings to the company, it feels refreshingly thorough rather than frustratingly tedious. Investing is a long-term play, and Nutmeg's communication stresses the importance of allowing suitable time horizons to achieve your stated money goals.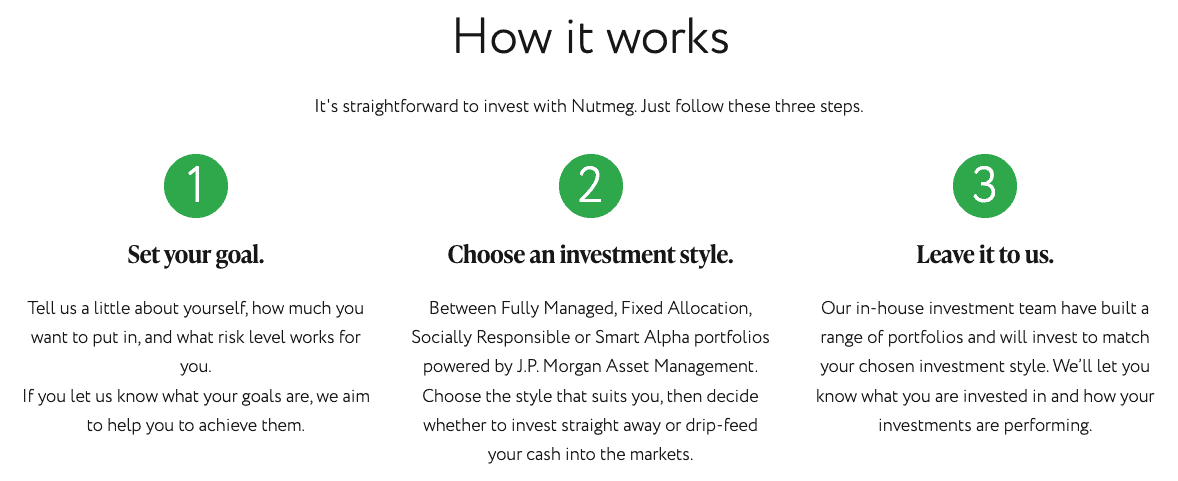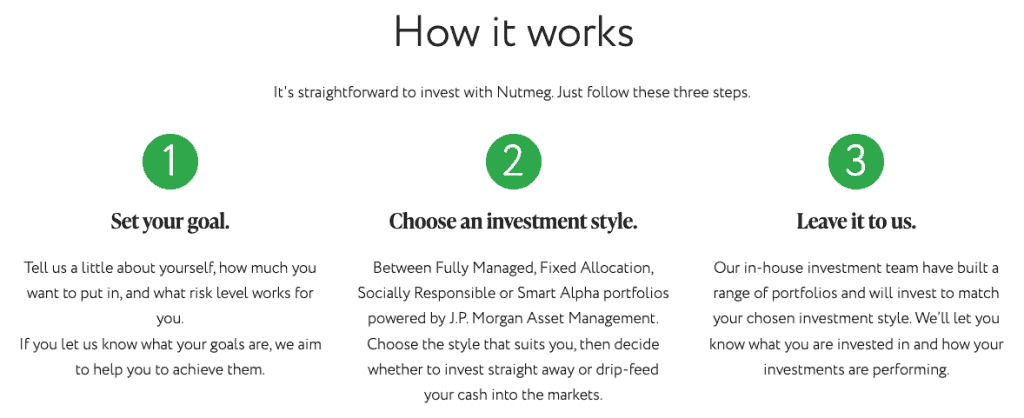 Once you've entered your personal details, including contact information, national insurance number, and nationality, you'll be asked a set of questions about your investment style, individual circumstances and intentions. Nutmeg's Robo sorting hat will allocate you a suitable investment risk level for your portfolio, which you can manually adjust later. 
It shouldn't take longer than 10 minutes to complete this process, and once finalised – your Nutmeg account will be open, and you'll be able to make your first deposit. This can be done through Bank Transfer, Open Banking payment, or debit card. 
Nutmeg Referral Offers & Incentives
Right now, Nutmeg offers a generous referral scheme where users can earn gift vouchers for successful referrals.
If your friend invests £500 or more in an ISA, pension or general investment account, you will receive a £100 reward. If they invest £500 or more in a Lifetime ISA or Junior ISA, you will receive a £50 reward. 
In addition, new clients can earn Avios points when they sign up, allowing them to take advantage of British Airways flights, upgrades, hotel stays, car hires and more.
Our Verdict: Should You Invest with Nutmeg?
For those new to investing, Nutmeg offer an impressive suite of products and services to help you hit your money goals. Nutmeg provides a wealth of guidance and expertise to kick-start your investment journey from securing a healthier financial future to something as concrete as affording your first home. 
While charging higher fees than many of its competitors, Nutmeg's performance is encouraging, as are the clear and regular updates provided through its desktop and mobile platforms. But while the merits of passive investing are frequently appraised, the inclusion of Smart Alpha into its portfolio selection signals a 'beat the market' attitude, which could send mixed messages to clients. 
We hope you found this Nutmeg review useful. If you have already tried Nutmeg, let us know what you think in the comments below or click here to start using Uphold Wallet for yourself.
Nutmeg FAQs
See below for some of the most commonly posed questions about Nutmeg that people have been asking online.
What Payment Options Does Nutmeg Accept?
Deposits can be made using a Bank Transfer, Open Banking payment, or a debit card.
Where are Nutmeg Located?
Nutmeg's headquarters are located in London, United Kingdom. 
Does Nutmeg Serve Customers Overseas?
Right now, Nutmeg only serves customers in the UK.
Does Nutmeg have a Minimum Investment?
Nutmeg requires a minimum investment of £100 for a Lifetime ISA or £500 for General, ISA, and Pension pots.
How Quickly Can I Withdraw Money from Nutmeg?
Due to Nutmeg's bi-weekly trading cycles, it will take between 3-7 business days before your money will reach your bank account.
Related Posts
Here are some of our articles you may also find helpful;