In this Moneyfarm review for 2022, we take you through one of the market's most established digital wealth management companies.
Since its launch in 2011, Moneyfarm has emerged as one of the fastest-growing investment companies in Europe. They now lead a new wave of Robo-Advisors making bespoke portfolio selections on behalf of UK investors.
With a growing list of account types available, our latest Moneyfarm review assesses whether or not the company represent good value in an increasingly crowded fintech market. 
Moneyfarm Review: How to Use Moneyfarm?
What is Moneyfarm?
Having achieved commercial success in Italy, Moneyfarm turned its sights on the UK market in 2016. Delivering low-cost investment opportunities across seven actively managed portfolios, its blend of simplicity and expertise has seen the business grow in popularity and acclaim.
Moneyfarm now boasts over £1.6bn in assets under management, and after acquiring Wealthsimple's UK client base along the way, it is in a solid position to win over more of the retail investment market. 
Moneyfarm's recent facelift, including a new look for the Moneyfarm app and web platforms, marks a departure from its earlier corporate style. Its simplified aesthetic now better reflects the company's ethos – to make investing in stocks and shares easier and more accessible to the masses.
This Moneyfarm review will assess the company's current offering of products and services while investigating its claim to be 'one of the most influential fintechs around'.
Looking for a Mobile Investment App? Check out our Guide on the 9 Best Investing Apps for UK Investors.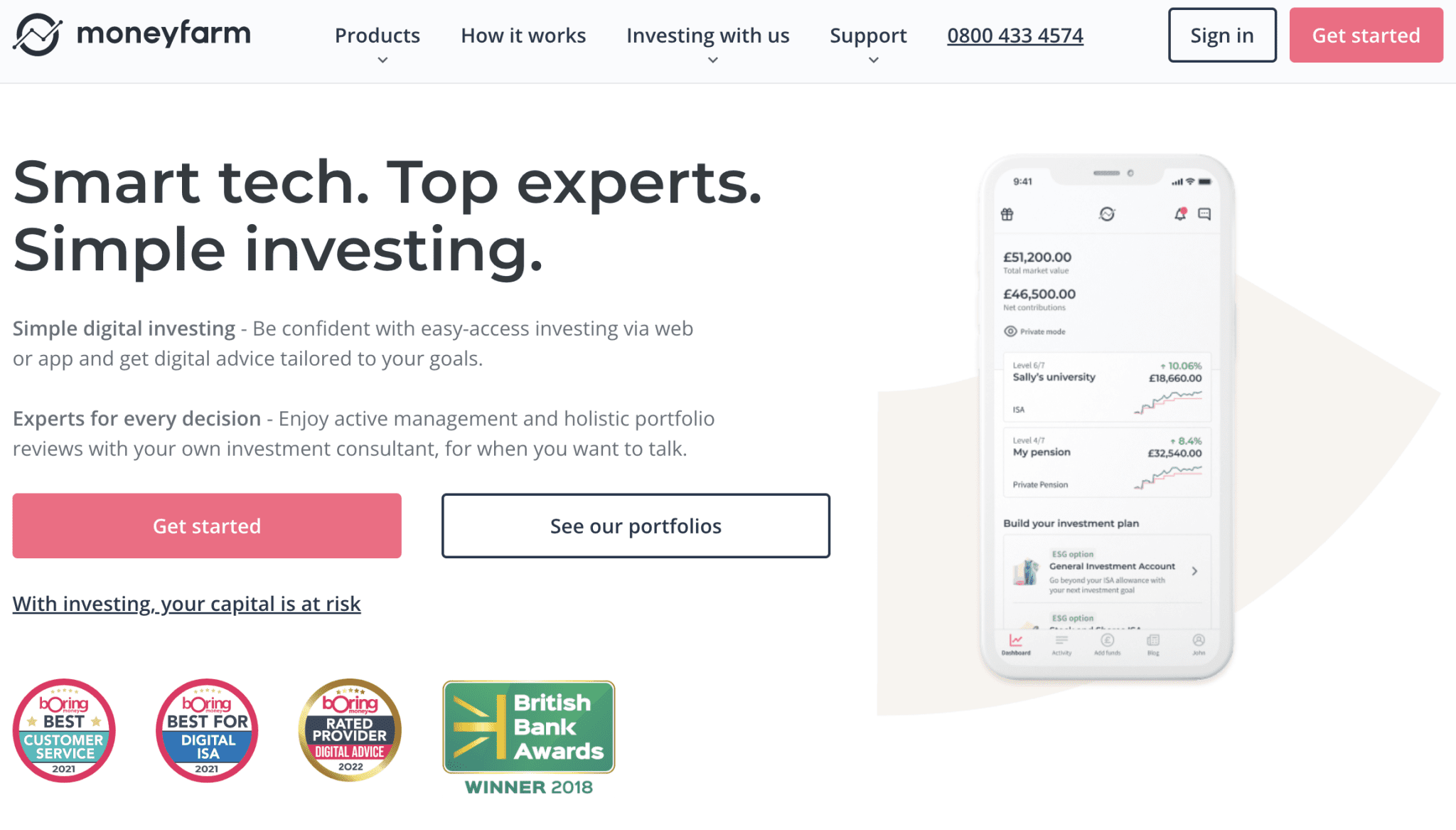 How Does Moneyfarm Work?
So how does Moneyfarm work? In a similar style to Nutmeg's onboarding process, Moneyfarm works by providing a detailed questionnaire to help allocate a risk level to each investor. The questions range from your saving and spending habits to more psychologically probing ones that ascertain your personal circumstances and risk appetite.
The whole process can be completed on the Moneyfarm website in under 10 minutes, after which you'll be assigned a recommended portfolio risk level. You'll also see a colourful pie chart that shows the likely asset allocation of your portfolio and the portion of your funds that will be allocated to different sections of the market (bonds, stocks and shares etc.) 
Once your account is set up, you'll be free to navigate Moneyfarm's flashy interface. Minimalist by design, the user experience looks slick and modern, providing the perfect canvas to view your investment performance. 
Pros & Cons
With its focus on actively managed portfolios, Moneyfarm's 'trust the experts' approach might pit them against tough opposition in the fund management space.
However, Moneyfarm can keep costs comparatively low by utilising a tech-driven approach to portfolio creation. Enjoying stronger performance than some of its key competitors, Moneyfarm delivers good value for money. But those looking for more control and oversight of their investments might feel slightly let down.
Moneyfarm Investment Account Types
Moneyfarm offers five investment account types that conform to the seven risk levels determined during the signup process. The account options enable you to invest tax-free while also including a general investment account, plus an ethical choice for those looking to grow their money according to ESG principles.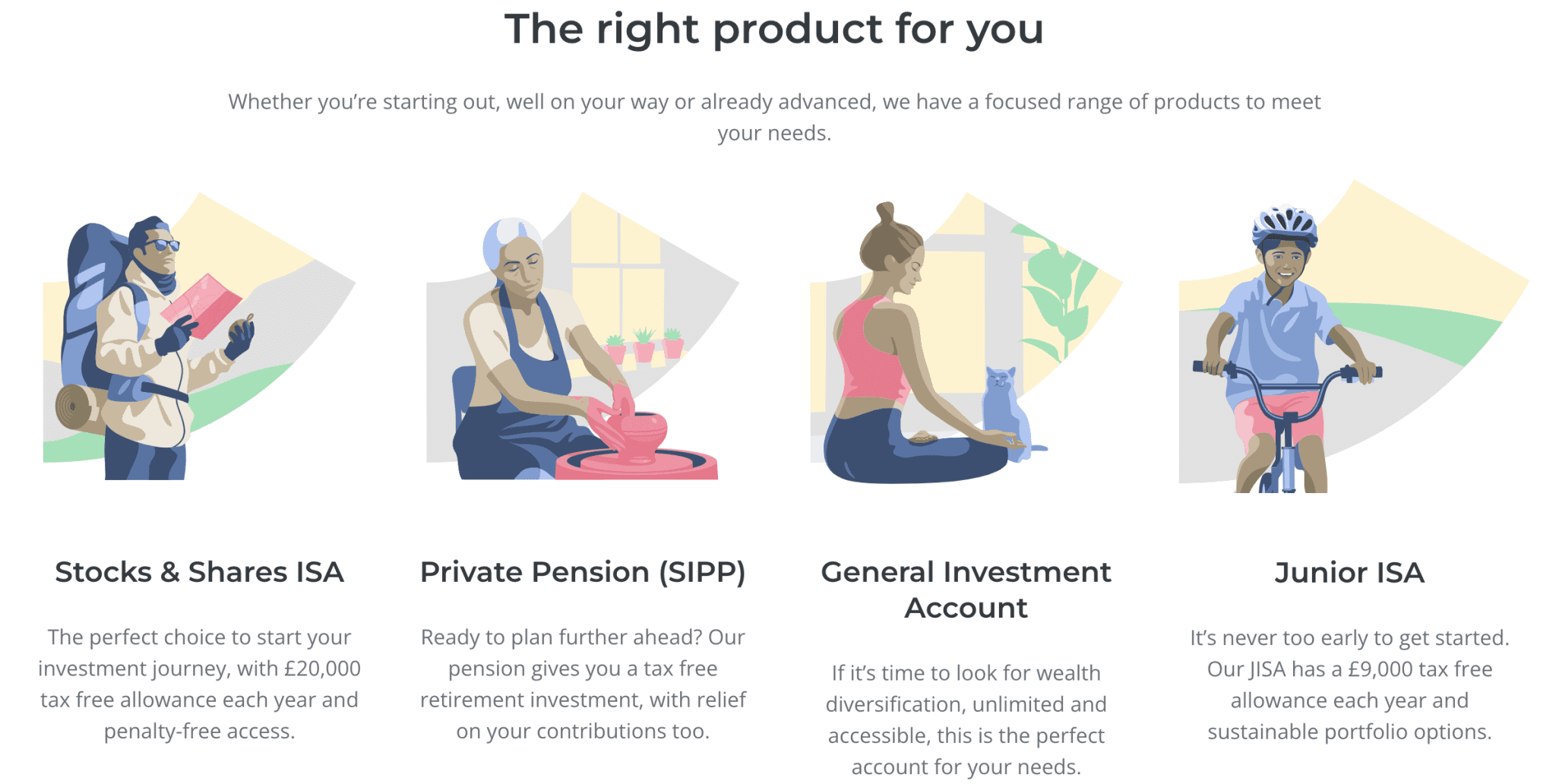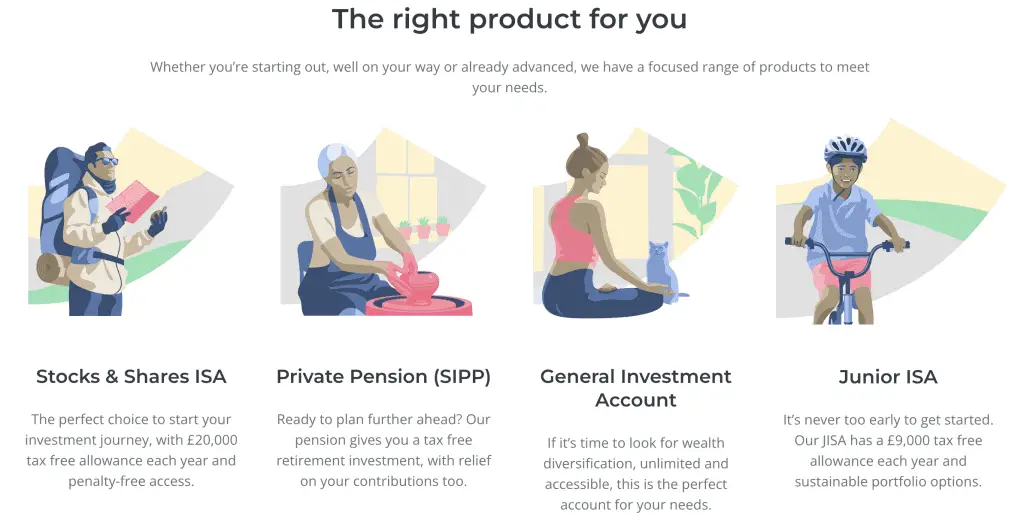 Stocks & Shares ISA
Moneyfarm offers tax-wrapped Stocks and Shares ISA, where users can invest up to £20,000. Moneyfarm provides free Stocks and Shares ISA transfer service for those looking to switch from a previous provider. 
Private Pension (SIPP)
If you're looking at retirement planning, Moneyfarm Self-Invested Personal Pension accounts (also known as SIPPs) offer up to 45% tax relief on contributions. See all your pension contributions in one place and transfer existing pensions using the Moneyfarm pension transfer service.
General Investment Account
Moneyfarm General Investment Account allows unlimited contributions and all the benefits of an actively managed Moneyfarm account. Unlike the Moneyfarm Shares ISA, you will need to pay tax on a general investment account.
Junior ISA
Moneyfarm Junior ISA is a great tax-efficient way to save up to £9,000 per year for your child. Investment returns are protected from both capital gains tax and income tax. The Junior ISA account can be created by a parent or guardian for your child, and can only be accessed by the child, once they turn 18.
Moneyfarm Investment Styles
Moneyfarm offers two actively managed investment styles. These include differing pricing structures while also varying in the ethical approach they take to fund selection. Both of these are described in further detail below.
Classic Account
Investments within Moneyfarm's classic accounts don't include ethical considerations in its portfolio selection process, but with the growing trend towards greener industries, such investments are sure to play a more significant part in non-SRI portfolios in the years ahead.
The classic accounts benefit from being globally diversified and regularly balanced. Account holders can receive a dedicated consultant to help resolve any issues or uncertainties.
Socially Responsible Investing
Moneyfarm offer socially responsible portfolios to give users the option of ethical investing. These are fund selections that are determined according to ESG (Environmental, Social, & Governance) criteria. 
The Ethical portfolio fund fee is slightly more expensive at 0.21% compared to regular portfolios at 0.2%. These fees are still relatively low cost when compared to other investment platforms.


Moneyfarm Features
While broadly similar to other Robo-Advisors on the market, Moneyfarm offers multiple unique value propositions to help benefit investors. This section of our review covers the most distinctive Moneyfarm features that clients can enjoy. 
Smart Portfolio Matching
Submit a short questionnaire and get matched to one of seven portfolio risk profiles. This suits those who are uncertain about the level of risk they should be taking for their investments. 
Investment Advisor
Unlike other investment platforms, Moneyfarm is able to provide financial advice. Clients can speak to an investment advisor on the phone or via live chat for free via their advice centre and receive investment advice and guidance suited to their personal needs.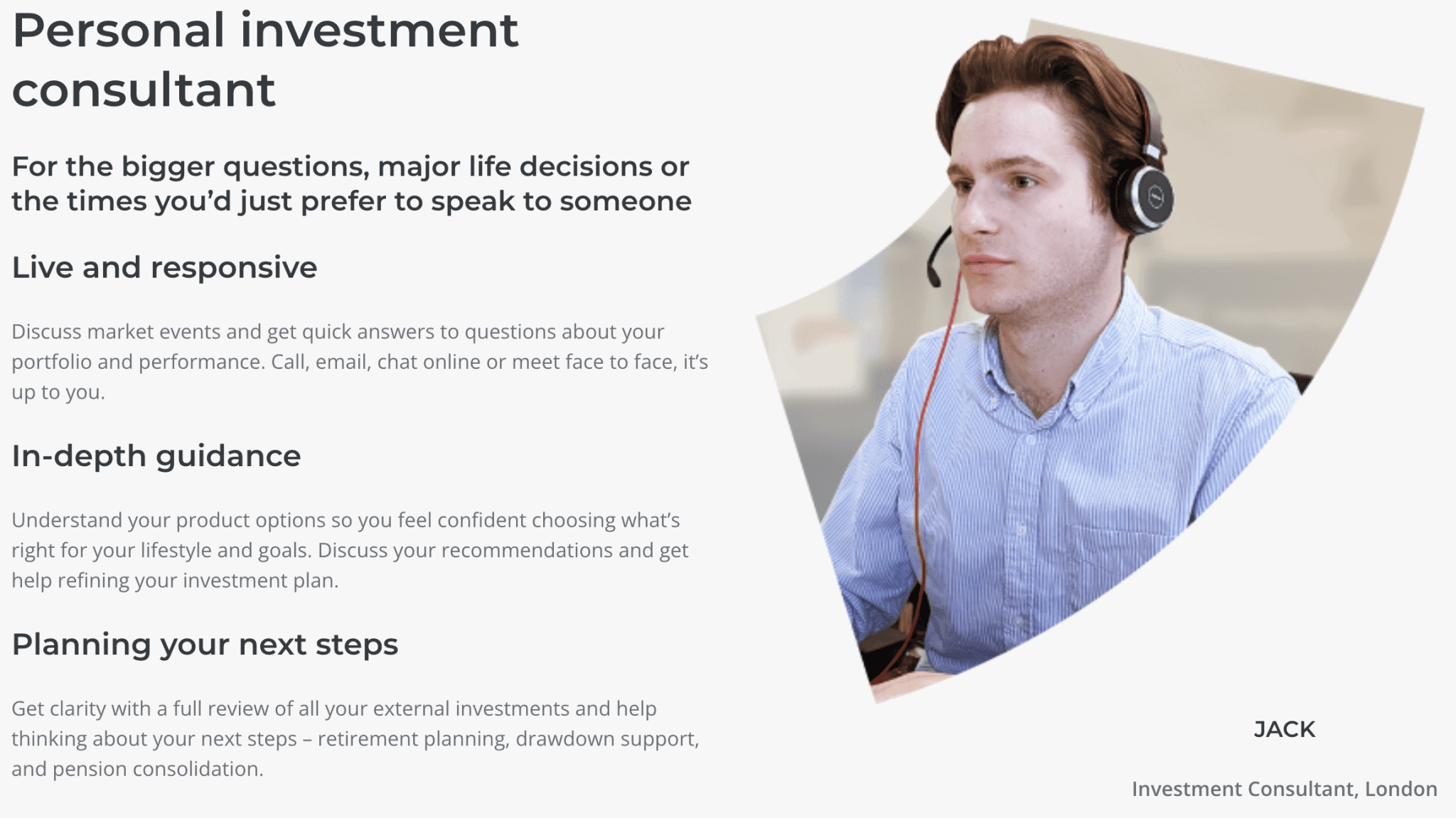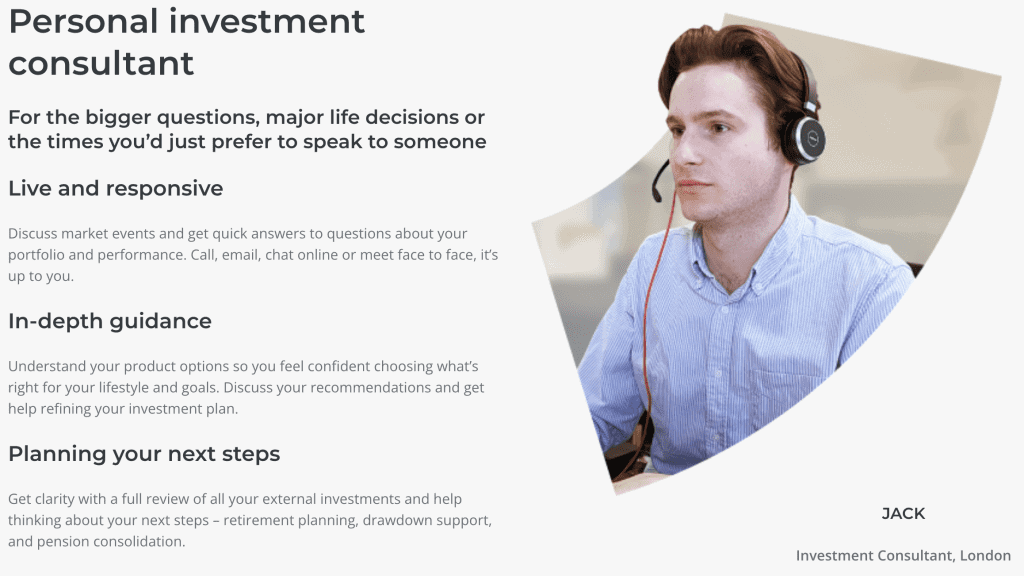 Moneyfarm Mobile App
You can even invest and check your investment portfolios on the go with the Moneyfarm mobile app, available on Apple iOS and Andriod.
Blogs, Guides & ebooks!
Moneyfarm's impressive range of written content provides help, reassurance, and expertise to ensure new investors understand financial markets and how Moneyfarm works. 
Investment Calculators
Plot your investment trajectory with a helpful range of calculators. Want to see how much your portfolio will be worth in 10 years time and hopefully increase your personal finance? Moneyfarm makes it easy to crunch those numbers.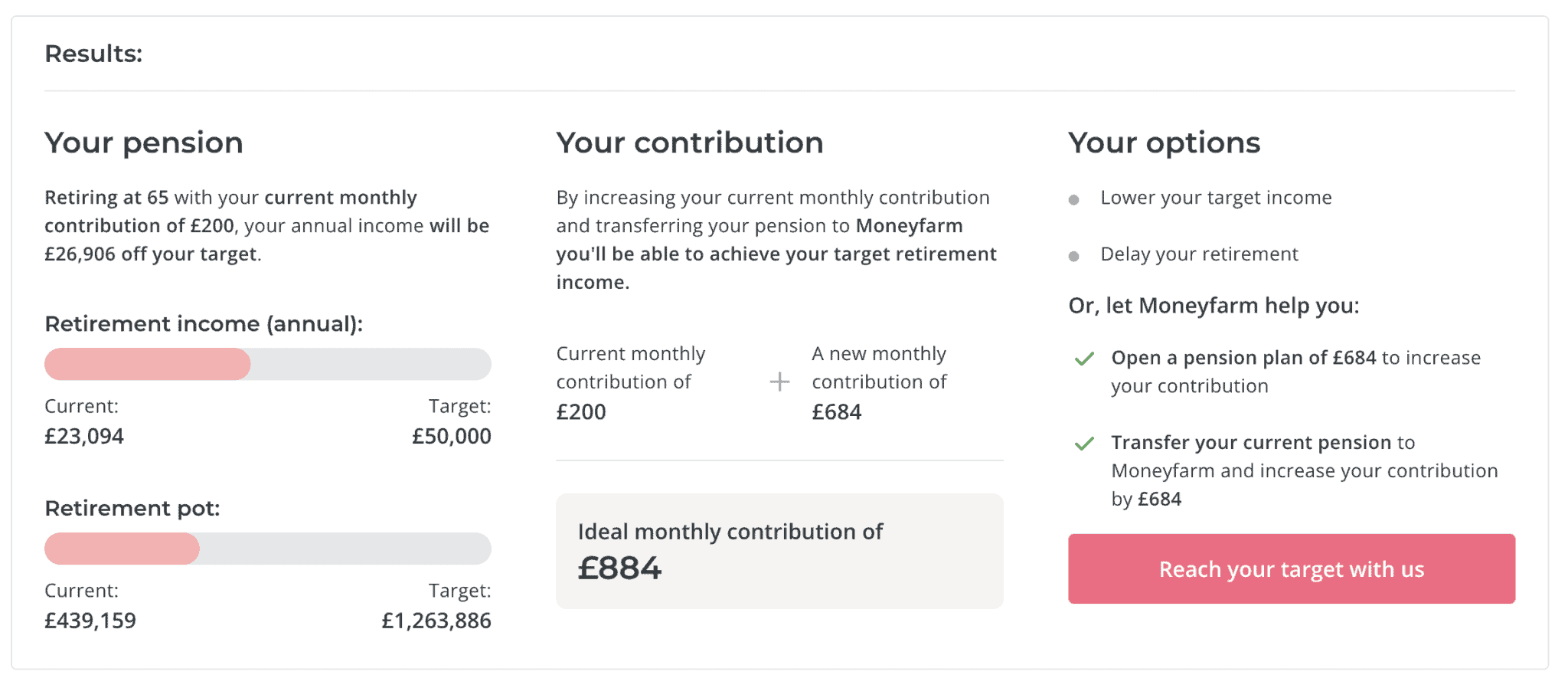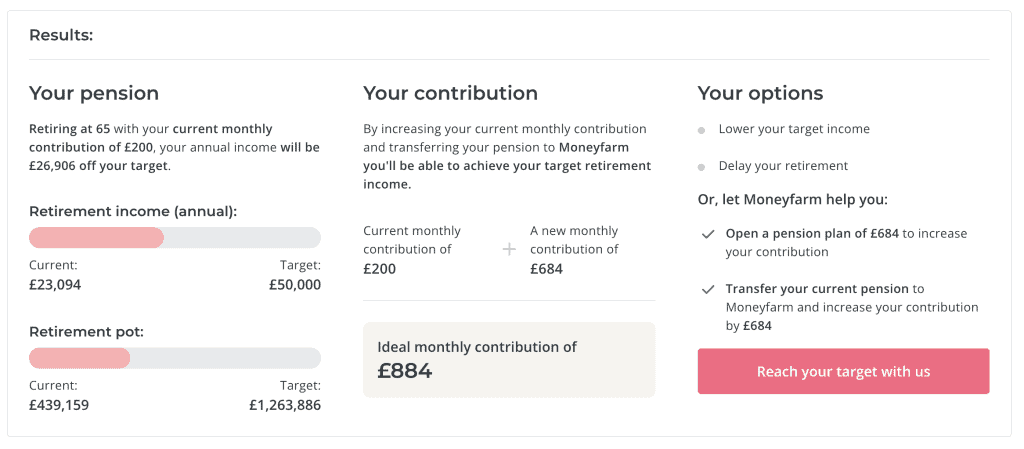 Moneyfarm Fees
In keeping with its ethos of simplicity, Moneyfarm fees provide a consistently tiered pricing structure for all of its investment accounts. While a lack of a passive investment option might be seen as an opportunity wasted, every investment portfolio is nevertheless competitively priced in terms of management fees and span a broad range of investment styles and risk profiles.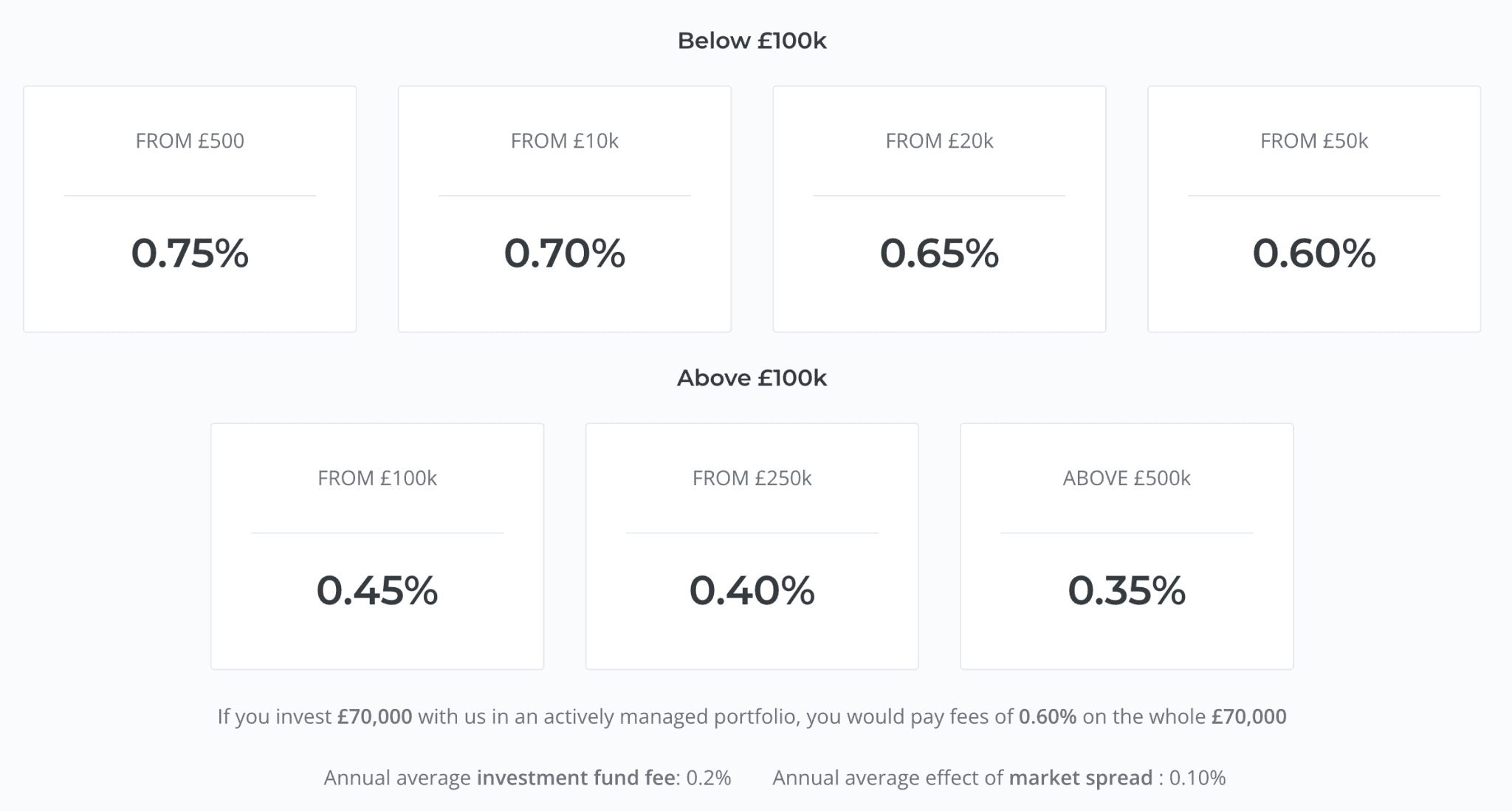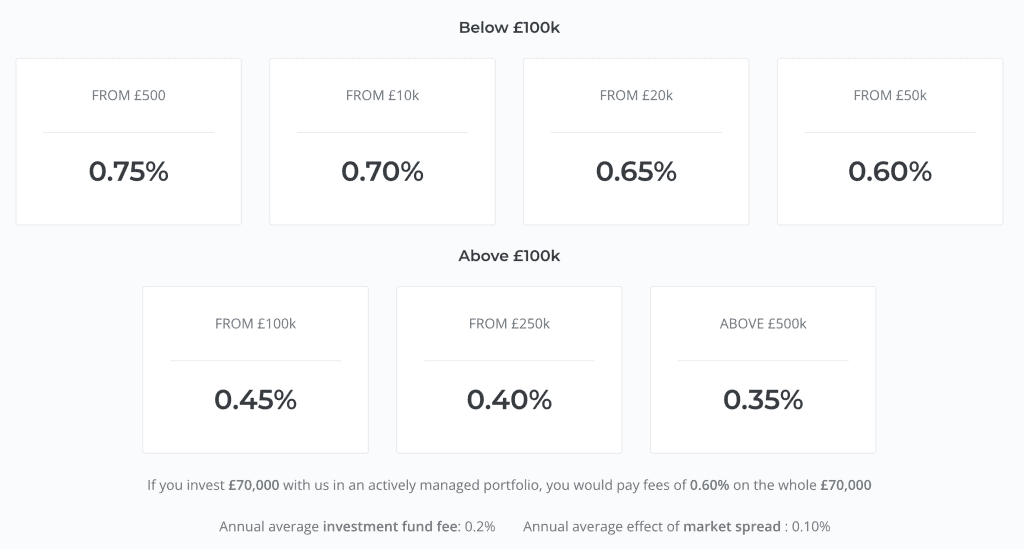 Moneyfarm Minimum Investment
Moneyfarm has a minimum deposit of £500, which is required to create an account and start investing. This applies to both new contributions and to transfers from previous providers. While seeming high, this is broadly in line with the minimum investment amount charged by other wealth management providers. For the latest Moneyfarm minimum investment amount, check their website.
Is Moneyfarm Worth the Fees?
Moneyfarm's pricing structure is designed to reward those trading with higher amounts, which – while providing a good incentive for those with the necessary capital – might appear to exclude those who want to start off small.
While Moneyfarm's products and services seem broadly similar to other Robo-Advisors on the market, the provision of a dedicated account consultant is a fantastic benefit for those seeking transparency of communication.
Investors would be well advised to work out their long-term money goals in order to calculate if the company provide good value for money or if other alternatives might work out better in the long run.
Moneyfarm Performance
In recent years, Moneyfarm has impressed with its strong portfolio performance, outperforming its rivals on a number of benchmarks. A recent Boring Money report showed Moneybox performance to be the strongest among so-called 'ready-made investment solutions. This ranked above peers Nutmeg, Vanguard, and IG.
The study took a starting investment of £500 and tracked the returns made over a three-year period. Moneybox earned over £105 in that time, which is an impressive increase! Despite its higher fees, an equivalent Hargreaves Lansdown investment only earned £19.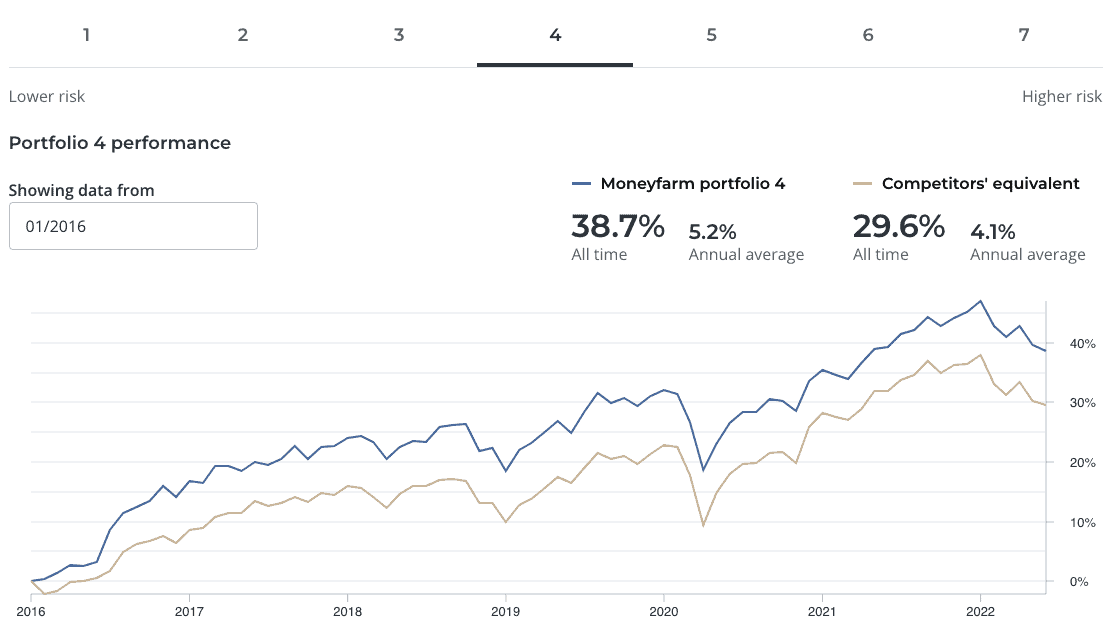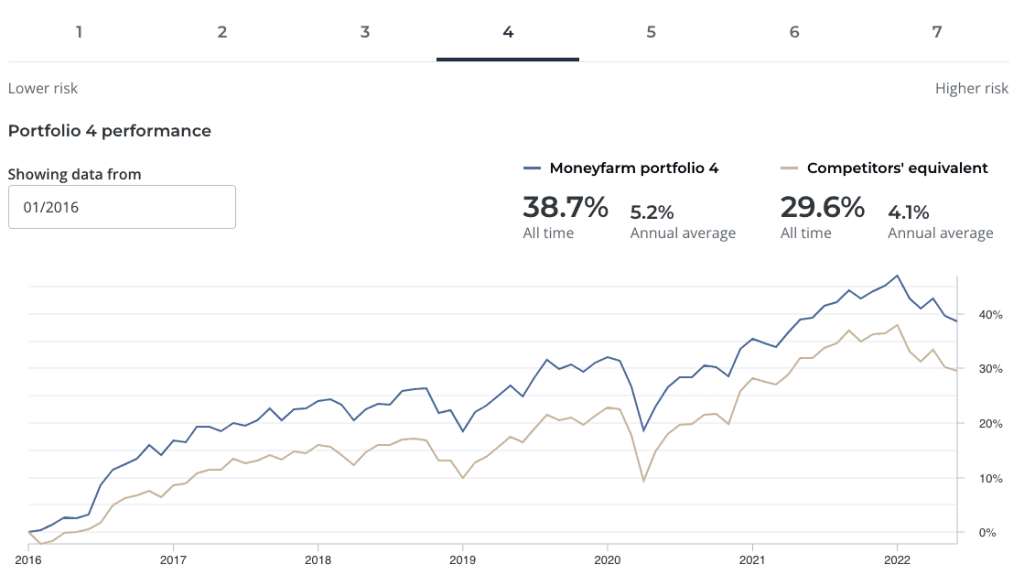 Moneyfarm Support
Moneyfarm customers can access a wide range of support options, with queries accepted via email, live chat, social media, and a dedicated phone line for customers in and outside of the UK. This is available through the Moneyfarm app and Moneyfarm investment platform.
Quantity is backed up by quality as well, as most social media users report an overwhelmingly positive experience using these channels. 
Additionally, Moneyfarm provides a wealth of educational material relating both to Moneyfarm's platforms and the wider world of investment advice. Its FAQs section is one of the most comprehensive we've seen, and its investment guides offer a helpful curriculum for those looking to learn more about the industry. 
How to Contact Moneyfarm?
Twitter: @MoneyfarmUK
Facebook Messenger: Moneyfarm UK
Email: hello@moneyfarm.com
Free phone: 0800 433 4574
From abroad: +44 (0)20 3745 6990
Is Moneyfarm Safe?
To protect its growing user base, Moneyfarm maintains strict security protocols. These include:
Segregated Client Funds: Client money is held in a separate bank account to avoid commingling of assets. 
Safeguarding of Assets: In the unlikely event of Moneyfarm going bankrupt, users will be compensated up to £85,000 via the Financial Services Compensation Scheme (FSCS).
Regulated Conduct: As an FCA-regulated business, Moneyfarm is obligated to meet all of the rules and regulations set by the FCA, including all the client protections those rules require.
Moneyfarm Alternatives
If Moneyfarm's ethos of active wealth management based on risk-oriented exchange-traded funds selection sounds familiar, then you're not wrong.
Moneyfarm performance and impressive growth have come amid fierce competition in the Robo-advice sector. As one of its main competitors, Nutmeg offer a near-identical range of products and services, while other companies such as Wealthify and Invest Engine provide similarly stiff competition. 
| Provider | Management fee* | Products | Trustpilot Review |
| --- | --- | --- | --- |
| Moneyfarm | 0.70% | ISA, Pension, GIA, JISA, SRI | 4.5 |
| Nutmeg | 0.75% | ISA, Pension, GIA, LISA, JISA, SRI | 4.1 |
| Wealthify  | 0.60% | ISA, Pension, GIA, JISA, SRI | 4.5 |
| Invest Engine | 0.25% | ISA, GIA | 4.4 |
The chart above illustrates a £10,000 Managed stocks and shares Moneyfarm ISA Portfolio compared against other similar providers of exchange-traded funds-based portfolios in the market. It has been calculated on the basis of fees noted on their websites as of 18 May 2022. The information above is for illustrative purposes only; for up-to-date fees, you should visit their respective websites.
Moneyfarm vs Nutmeg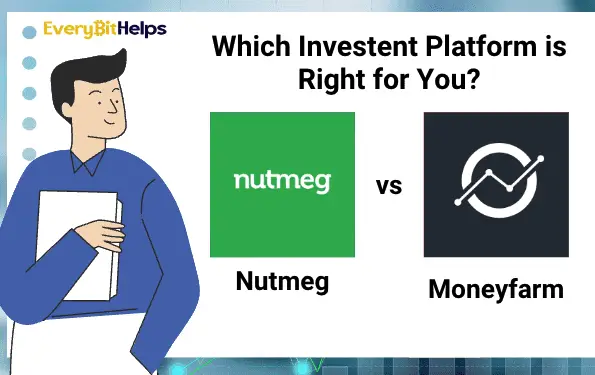 Moneyfarm faces stiff competition in the wealth management industry, with Nutmeg likewise competing for market share. In terms of pricing, Nutmeg offers a more simplified fee structure, with two pricing tiers as opposed to Moneyfarm's seven.
Despite the broad similarity between the pair, the two diverge quite significantly on their historical track records. On the basis of highest-risk portfolio performance, Nutmeg managed 19.6% growth for 2021, with Moneyfarm achieving 10.2% While historical returns are no predictor of future performance, it's interesting to see Nutmeg's investment strategy win out in what was a bumper year for financial markets.
Moneyfarm vs Wealthify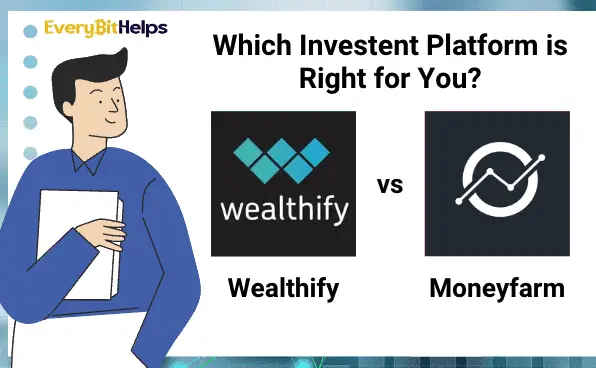 The wealth management space is growing fast, and with it – some brand rivalries are heating up, too, like Moneyfarm vs Wealthify. While both companies offer broadly similar products and services, the companies differ most distinctly on the subject of fees.
The table above shows that Wealthify undercut its competitors to the tune of 10% for its comparable stocks and shares ISA accounts. This is a small difference in the scheme of things, but those looking to grow their portfolio for the long run would be well advised to ensure they're happy to stomach some of the extra costs involved.
Moneyfarm Sign Up
Moneyfarm's sign-up process is refreshingly straightforward, with just a few provisional details needed before you can begin the exciting process of portfolio selection. During this stage, you'll be asked a series of questions about your financial situation in an attempt to gauge the amount of risk you can safely tolerate.
This process shouldn't take any longer than 10 minutes, after which you'll have a made-to-measure portfolio. You can then start depositing money, which will be invested in the next twice-weekly trading cycle.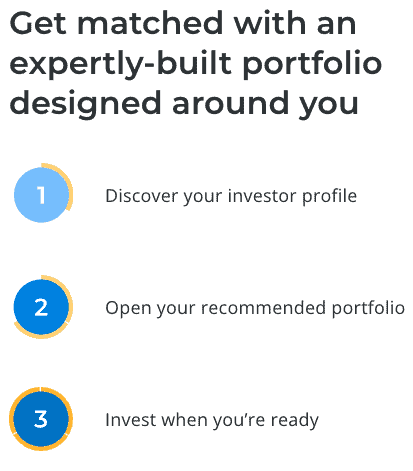 Moneyfarm Referral Bonus
Previous promotions include a generous cashback offer for new signups, with tiered rebates depending on your account size. As of the time of writing, there are no current promotions available through Moneyfarm.
Looking for referral offers or sign-up bonuses? Check out our best referral offers available to Every Bit Helps readers.
Our Verdict: Should You Invest With Moneyfarm?
Moneyfarm provides a solid investment platform for those looking to grow their funds with active wealth managers. Its transparent communication style and slick presentation are a refreshing change from other more established firms on the market. The company offer a simplified user experience for those trading financial instruments without appearing too basic. While its strong historical performance and detailed educational resources suggest client funds are in capable hands. 
While there doesn't seem to be much separating Moneyfarm from other Robo-Advisors on the market (particularly in terms of its investment strategy), we found inclusions like live investment consultations a real positive. As the battle for the retail consumer pound wages on, we believe modern investors will find a lot to love in Moneyfarm's products and services. 
We hope you found this MoneyFarm review useful. If you have already tried Moneyfarm, let us know what you think in the comments below or click here to start using Moneyfarm for yourself.
Before making any financial decisions, do your own research and seek advice from a financial advisor.
Moneyfarm FAQs
See below for some of the most commonly posed questions about Moneyfarm that people have been asking online.
Can I trust Moneyfarm?
Moneyfarm is regulated by the UK's Financial Conduct Authority, a top-tier regulator that ensures the company meet all the stringent requirements set by the FCA while maintaining all the client protections those rules require. 
Which is Better, Nutmeg or Moneyfarm?
From a fee standpoint, Moneyfarm's pricing structure suits those depositing amounts up to £100,000, with Nutmeg undercutting its rivals for higher value investors.
The features, products, and platforms offered are broadly identical in other areas. But with over £4.5 in assets under management, Nutmeg can be considered the larger, more established UK broker. 
How Long Does Moneyfarm Withdrawal Take?
Due to Moneyfarm's disinvestment process, it will normally take up to seven working days to withdraw money from the company. Withdrawals are then deposited back into your nominated account. 
Where is Moneyfarm Located?
While its international headquarters are in Milan, Italy, its UK office is located in London. 
Does Moneyfarm have a Minimum Investment?
Moneyfarm's minimum deposit amount currently stands at £500.
Related Posts
Here are some of our articles you may also find helpful;