This Wealthify review for 2023 will outline the company's key pros and cons while comparing it to similar providers in the fintech industry.
One of the more recent arrivals in a crowded Robo-advice sector, Wealthify are quickly earning a reputation for delivering superior value for retail investors. Following on from its acquisition by financial powerhouse Aviva, we review the latest offering from one of the fastest-growing investment brands in the UK.
Our Wealthify review uncovers some of the main benefits and drawbacks that clients can expect when choosing this broker. 
Wealthify Review: How to Use Wealthify?
What is Wealthify?
Wealthify is an award-winning investment provider offering a smart approach to wealth management. Using a combination of market knowledge and technical expertise, it offers investment opportunities via a range of actively managed funds. 
Emboldening prospective clients with the promise to "make your money work harder", the company offers numerous account options and two investment styles. With its low barriers to entry (you can invest with as little as £1), Wealthify helps those with little or no investment experience to get a foothold on the financial market.
Looking for a Mobile Investment App? Check out our Guide on the 9 Best Investing Apps for UK Investors.
How Does Wealthify Work?
To help explore Wealthify's core proposition, we'll continue this review by asking, "how does Wealthify work?" As a Robo adviser, the company utilises a combination of smart technology and investor oversight to actively create and manage portfolios on behalf of its users.
During signup, you'll be asked a series of questions about your investment goals and about your risk tolerance. You'll then be assigned a portfolio risk level, depending on how much market volatility you can experience. In this way, you'll have a purpose-built portfolio that considers your financial situation. It's just like having your own personal investment manager, only a lot more techy.
Pros & Cons
In contrast to some of the big beasts of the investment industry, Wealthify has kept its offering deliberately simple. Targeting novice investors, its transparent fee structure and uncluttered user experience present a great entry-point for first-timers. On the flip side, those hoping for a more insightful overview of their portfolio exposure might sense a lack of detail. 
Wealthify Investment Account
Wealthify provides plenty of tax-efficient investment opportunities for clients. While its lack of cash or Lifetime ISA products may leave some customers feeling underserved, the company are notably receptive to customer requests, so we may see these accounts introduced in the not too distant future!
General Investment Account
General investment accounts are a simple way to invest if you've used up your annual ISA allowance or simply wish to invest outside of a tax wrapper. In keeping with the rest of its account range, Wealthify's GIA allows free deposits and withdrawals at any time, with account oversight available through its web platform or smartphone app. 
Investment ISA
Investment ISAs enable tax-free returns of up to £20,000 each year. With just one investment ISA available for each UK resident, those looking to consolidate ISAs from other providers can benefit from Wealthify's free ISA transfer service. Money deposited within these accounts will be invested in a range of market instruments, hence the commonly used title 'stocks and shares ISA'. 
Junior ISA
Invest in your children's future using a Junior ISA account. These accounts offer tax-free savings of up to £9,000 each year, with the money made available to your child when they turn 18 years old. With Wealthify's Family and Friends feature, contributions can be received from your nearest and dearest in a simple, no-fuss manner.  
Personal Pension
If you're looking to supercharge your pension, Wealthify offers a Personal Pension service to help you track, manage, and consolidate your retirement funds. Account holders are entitled to an instant 25% tax relief top-up for tax-efficient pension contributions – meaning every £800 invested in a Wealthify pension is worth £1000 for a basic rate taxpayer.
Wealthify Investment Styles
When setting up an investment account with Wealthify, you'll have the choice of two main styles – original and ethical. A team of investment experts actively manages both and with the help of intelligent algorithms to help select portfolios according to user-selected risk appetites.

Weathify Original Plan
Wealthify Original Plans use low-cost investment funds to provide expansive market access across five risk profiles: cautious, tentative, confident, ambitious, and adventurous. They align their portfolio selection along long-term horizons when making investment decisions, extolling the value of "time in the market" instead of "timing the market".  
Wealthify Ethical Plan
Bearing the same risk profiles as its original counterpart, Wealthify's Ethical Investing seeks exposure within carefully selected markets that fulfil ethically conscious criteria. Aligning with ESG (environmental, social, and governance) principles, these ethical investments actively exclude morally questionable sectors like tobacco and weaponry and are the perfect choice for those looking to invest ethically without compromising their values.
Wealthify Features
Alongside its primary product offering, Wealthify offers a handy range of added features to help investors make the most out of their experience. These include:
Wealthify Mobile App
Wealthify's mobile app is straightforward, easy to use, and an enjoyable way of tracking your investment performance. Customer service can also be accessed in-app, giving users the perfect one-stop shop for managing their accounts. 
Insightful Research & Education
Wealthify's blog section covers a helpful list of topics that will enable inexperienced investors to grow their knowledge and their wealth. These cover topical issues like inflation and interest rates to more general guides to investing. 
Savings Calculators
Want to know how your investments compare to the interest rates of your savings account? Wealthify's savings calculator is an eye-opening way of exploring the opportunity cost of saving vs investing. 
ISA or Pension Transfer Service
Wealthify offers a free ISA or Pension transfer service, allowing you to consolidate your tax-wrapped accounts. Transfers are quick and easy to initiate, and Wealthify does an excellent job of keeping users updated about the progress of each transfer. 
Wealthify Fees
With its flat account management fee, Wealthify provides a level of simplicity and transparency suitable for novice investors. This same fee applies to its original and socially responsible accounts, with the latter likely being more expensive due to the average investment costs involved. But whilst Wealthify fees are competitively priced at lower amounts, those looking to invest more might find better deals elsewhere. 
| Investment Style | Account Management Fee | Average Investment Costs |
| --- | --- | --- |
| Original | 0.60% | 0.16% |
| Socially responsible | 0.60% | 0.7% |
Wealthify Minimum Investment
Wealthify recently announced that it would slash the minimum investment amount to just £1 for its investment accounts. This means greater accessibility for retail investors, who might want to start investing small before stumping up higher amounts. While companies typically demand higher amounts to cover trading costs, Wealthify has cleverly undercut its competition with this reduced initial investment amount.
Is Wealthify Worth the Fees?
Wealthify's flat fees represent good value for money when investing with lower amounts. At 0.60%, management charges are lower than key competitors. However, the absence of any tiered fee structure to incentivise higher deposits might prove a turn-off for those looking to make higher initial and monthly investments.
Providing actively managed portfolios at this lower rate, along with excellent customer service and account transparency, we think Wealthify's fees offer impressive value in a crowded market.

Wealthify Performance
Despite its lower fees, Wealthify data shows some positive performance and encouraging results for investors. While not as forthcoming with their investment returns as other companies, prevailing data shows that the company appear to be recording strong returns. Enjoying stellar results from the post-pandemic bull market, Wealthify reported a five-year performance of 47%.
While past returns are no predictor of future results, the company's historical track record is impressive and ranks up there with Nutmeg and Moneybox.
| | Date | Cautions | Tentative | Confident | Ambitious | Adventurous |
| --- | --- | --- | --- | --- | --- | --- |
| Year 1 | 16/17 | 7.37% | 10.71% | 14.84% | 16.98% | 21.85% |
| Year 2 | 17/18 | 0.60% | 1.38% | 1.88% | 3.00% | 3.76% |
| Year 3 | 18/19 | 0.55% | 0.38% | 0.10% | -0.29% | -0.53% |
| Year 4 | 19/20 | 5.92% | 5.90% | 5.59% | 4.73% | 4.08% |
| Year 5 | 20/21 | 0.79% | 4.13% | 7.14% | 9.84% | 12.30% |
The Wealthify performance table shows their simulated* annual performance figures for the Original Plans, from Cautious to Adventurous, between February 2016 and February 2021, after all, fees have been taken.
Wealthify Support
Based on Wealthify customer reviews, users report a friendly and informative customer support team who are well equipped to deliver answers and solutions to any issue. They also commend Wealthify's comprehensive FAQs section, which goes the extra mile to ensure all common customer queries are answered. 
With an array of support channels available, Wealthify is well equipped to deal with an array of issues using both written and verbal communication.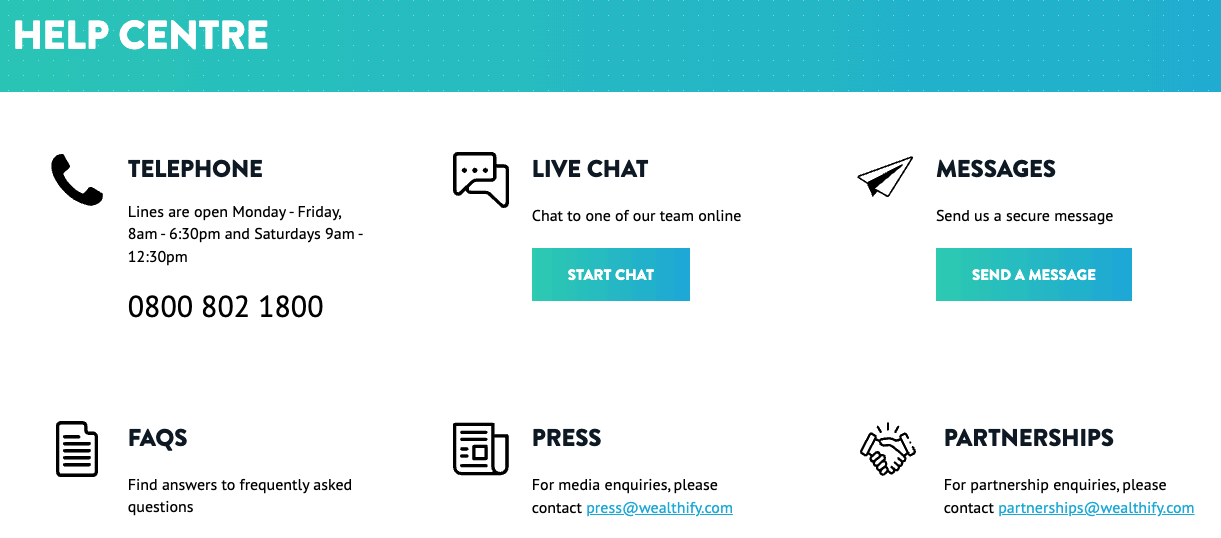 How to Contact Wealthify Support?
Wealthify aims to offer its users rapid and thorough customer service, which is available through telephone, online chat, secure messages and an online contact form.
Wealthify customer services support team currently works;
Monday – Friday 8:00 am & 6:30 pm
Saturdays – 9:00 am & 12:30 pm
Is Wealthify Safe?
To protect its growing user base, Wealthify maintains strict security protocols. These include:
Segregated client funds: Client money is held in a separate bank account to avoid commingling of assets. Wealthify's chosen custodians are Winterflood Securities Limited, which holds the funds for their ISA and General Investment Accounts, and Embark Investment Services Limited, which holds the funds for their pensions.
Safeguarding of assets: In the unlikely event of Wealthify going bankrupt, users will be compensated up to £85,000 via the Financial Services Compensation Scheme (FSCS).
Regulated conduct: As an FCA-regulated business, Wealthify is obligated to meet all of the rules and regulations set by the FCA, including all the client protections those rules require.

Wealthify Alternatives
Wealthify is a recent entrant into the Robo-advice sector, taking its place alongside heavyweights Nutmeg and Moneyfarm. These companies follow a similar approach to investing – combining tech and investment expertise to deliver a low-cost, actively managed retail market proposition. And while their products and services may look broadly similar, their fees and performance do vary. So it's worth knowing what's out there before making a decision.
| Provider | Nutmeg | Wealthify | Moneyfarm |
| --- | --- | --- | --- |
| Management Fees (>10k) | 0.75% | 0.60% | 0.75% |
| 2021 Performance | 15.30% | 12.82% | 13.70% |
| Investment Products | ISA, JISA, LISA, GIA, Pension | ISA, JISA, GIA, Pension | ISA, JISA, GIA, Pension |
| Socially Responsible | Yes | Yes | Yes |
| Trustpilot Review | 4.1 | 4.6 | 4.5 |
Wealthify vs Nutmeg
One of Wealthify's primary competitors in the Robo advice market is Nutmeg. With both companies offering actively managed portfolios consisting of ETFs, each enables broad and diversified exposure to financial markets, with investments chosen using a mix of tech and human input. 
But while Wealthify tailors its products and services to an inexperienced clientele, Nutmeg is increasingly seeking to entice more seasoned users. This is reflected in their fee structure, which drops to 0.35% with investments of over £100k. Those choosing between the two companies will therefore be minded to assess the pricing differences as investments grow.
If you would like more information, check out our Nutmeg review.
Wealthify Signing up
Wealthify's signup process is reassuringly thorough, with its investment suitability process acting as a personalised financial advisor to help you find the right investments and create your investment plan. 
Once you've chosen your account type and investment style, you'll need to fill out a few questions about your personal finance and your appetite for risk. You'll then be recommended one of 5 investment approaches, ranging from cautious to adventurous.
Users can join Wealthify in just a few clicks, either using their web browser or via Wealthify's smartphone app. The entire process won't take longer than 10 minutes, after which you'll have a bespoke investment portfolio ready and waiting. 
Wealthify Referral
As an added investment incentive, the Wealthify referral scheme offers a great way to get rewarded for bringing in new clients. Wealthify currently offers a £25 cashback for you and the person you refer. This amount will be paid into your and your friend's first Wealthify Plan after the Qualifying Investment.
To obtain your code, simply click on the app's rewards tab or the "refer a friend" section on your dashboard.
Our Verdict: Should You Invest with Wealthify?
With actively managed investment accounts starting from £1, Wealthify offers low barriers to entry for a burgeoning retail investment market. Providing simplified platforms and transparent pricing, first-time investors will find a lot to love in the company's stripped-back approach. 
While its competitors may offer more comprehensive account types and portfolio insights, Wealthify hone in on providing a great entry-level service for novices with effortless investing. 
We hope you found this Wealthify review useful. If you have already tried Wealthify, let us know what you think in the comments below or click here to start using Wealthify for yourself.
Wealthify Frequently Asked Questions
See below for some of the most commonly posed questions about Wealthify that people have been asking online.
Is Wealthify a safe investment platform?
The Wealthify investment platform is regulated by the Financial Conduct Authority – a tier-one regulator based in the UK. Client money is kept segregated and is fully protected by the FSCS up to £85,000.
Who is Wealthify backed by?
How to use Wealthify?
Wealthify offers a range of actively managed investment funds tailored to each investor's risk appetite and preferred investment style.
When you signup to Wealthify, you will be asked a series of questions to determine a suitable fund matching your risk profile. Once Wealthify has selected a suitable fund, you can deposit money and start generating returns.
Where is Wealthify based?
Wealthify's head office is located in Cardiff, South Wales. 
What is Wealthify minimum investment?
Wealthify recently announced that it would slash the minimum investment amount to just £1 for its investment accounts. Opening up investing to the masses with users being able to start their investing journey with just a small investment.
Related Posts
Here are some of our articles you may also find helpful;