In this Freetrade Review for 2022, we take a deep dive into one of the top UK fintech investment platforms for retail investors. We analyze the variety of features Freetrade has to offer. Plus, we take a look at their security, regulations, fees, support, pros and cons.
Freetrades' commission-free trading model remains an attractive proposition for cost-conscious consumers and has ambitious growth plans for this year, which includes a keenly anticipated expansion into the European market.   
So, let's jump into our Freetrade review and discuss if Freetrade still represents good value for consumers. Or should savvy investors be looking elsewhere for the best online trading platform?
Freetrade Review: How to Use Freetrade?
What is Freetrade?
Founded by Adam Dodds, Viktor Nebehaj and Davide Fioranelli, Freetrade is a fintech firm providing investment services to customers in the UK. Touted as a 'challenger stockbroker' upon launch, they recently surpassed the 1.1 million customer mark, cementing their position as a household name in an evolving financial landscape. 
Winning multiple awards for its services and netting over £10 million in crowdfunding, the company's mission to 'get everyone investing' has usefully coincided with a pandemic-led boom in 'retail trading. Having recently hit £1 billion in assets under administration, it seems more and more customers are being attracted to Freetrade's commission-free trading model. So what contributes to their mass-market appeal? Our Freetrade review lifts the lid on their offering.
Looking for a Mobile Investment App? Check out our Guide on the 9 Best Investing Apps for UK Investors.
How Does Freetrade Work?
Commission-free trading? Sounds great! So how does Freetrade work? And how does it make money?
By eliminating trading costs, Freetrade is on a mission to make global markets more accessible than ever. Offering superior conditions on a huge range of stocks, newcomers will be understandably tempted by the company's striking proposition.
Its main revenue generators appear to be its ISA fees, which are charged at a monthly fee of £3. Plus, its premium level account options (Freetrade Plus) and the currency conversion fees it charges. Basically, you can pay for the extra level of service if needed. But for those looking to stick to a basic level account trading UK-only stocks, you'll be able to experience free trading in all its glory.
Freetrade vs Freetrade Plus
Apart from its basic account option, Freetrade offers a premium alternative. So which one should new or experienced investors choose between Freetrade vs Freetrade Plus?
Offering 3% cash interest for those choosing not to go all-in with their investment balance, Freetrade Plus provides a well-rounded money management experience. Priced at a monthly fee of £9.99 (which quickly becomes peanuts when trading with higher amounts), this is a worthwhile option for those looking to upgrade from its basic level accounts.
In addition, Freetrade Plus users have access to more advanced features you can expect from expert trading providers, including limit orders & stop losses. In addition, you can enjoy the benefits of a tax-wrapped ISA account without any extra charges involved.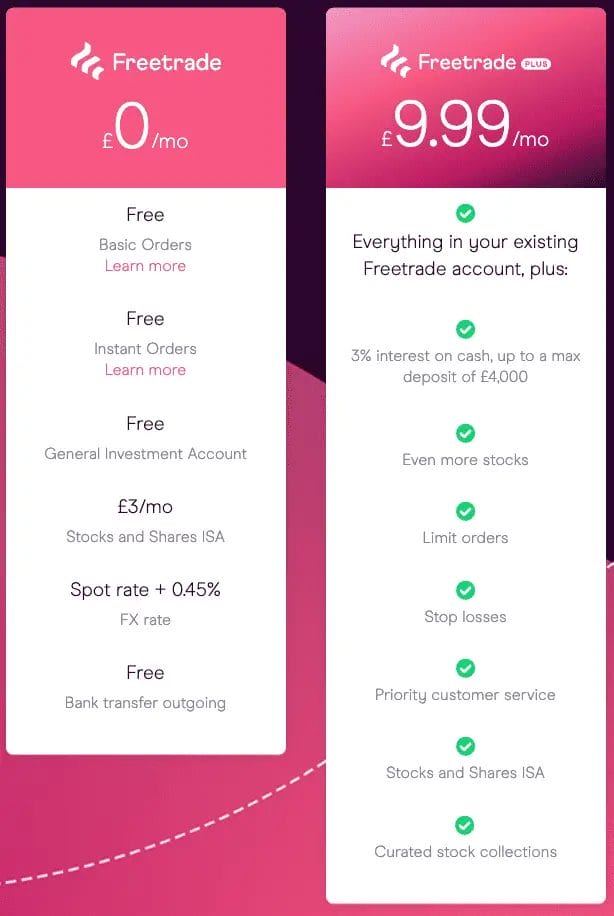 Pros & Cons
While a great entry point for inexperienced investors with its user-friendly mobile app, Freetrade's simplified approach to trading stocks has its limitations. But in terms of value for money and the slick functionality of the Freetrade app, the company provide a useful stepping stone for those looking to put their money to work in the investment market.
Freetrade Features
There is a slick range of Freetrade features which are designed to enhance its overall user experience across web and mobile. These include cash incentives, as well as extra tools for experienced traders and benefits available for all Freetrade account holders.
Fractional Shares Trading 
With Fractional shares, users can specify an exact cash amount to invest, rather than buying one share at a time. This means greater flexibility for traders, who might be put off by higher share prices.
Commission Free Trading & No Hidden Fees
Freetrade investors pay only a small fixed rate for their investment account with no added costs. Freetrade's pricing ensures clarity and confidence for traders unwilling to part with their well-gained profits.
Custom Watchlists
Live stock performance displayed in-app, including customisable categories. Freetrade's custom watchlists enable users to gain a holistic view of the markets tailored to their investment needs. 
In-App Customer Support
Live web chat is available through the Freetrade app. Simply open up the customer service panel, and a dedicated support rep will be with you within a few minutes.
Cash Interest
Don't let uninvested cash go to waste. Earn 3% interest on your cash deposits, available to Freetrade Plus members. 
Great Incentives
Collect a Freetrade free share worth between £3 and £300 when you register your bank account and deposit money using our Freetrade referral link.
Freetrade Investment Account Types
When signing up to Freetrade, investors can choose between four Freetrade Investment Account types. Each Investment Account offers varying time horizons and tax implications. See the table and descriptions below for a full outline of each of these options.
General Investment Account
The Freetrade general investment account is a simple way to invest if you've used up your annual ISA allowance or simply wish to invest outside of a tax wrapper. In keeping with the rest of its account range, Freetrade's GIA allows free deposits and no fees to withdraw money to bank accounts at any time.
Freetrade ISA
Freetrade ISAs enable tax-free returns of up to £20,000 each year. Investment returns will be untaxed up to this figure, with surplus profits channelled through its GIA accounts.
Freetrade SIPP (Self Invested Personal Pension)
Self Invested Personal Pension plans, also known as SIPPs, are for tax-efficient pension contributions. Account owners are entitled to an instant 25% tax relief top-up – meaning every £800 invested in a pension is worth £1000 for a basic rate taxpayer.
Freetrade Plus
Freetrade's Plus account provides a premium tier option to access extra features. Priced at a monthly fee of £9.99, Plus includes enhanced trading functionality such as Limit Orders and Stop Loss Orders and offers hundreds more instruments to trade from. In addition, Plus users earn 3% interest on cash up to a maximum deposit of £4000, allowing investors to make money even without opening any positions.
Freetrade Investing Options
Freetrade offers clients investment opportunities across a broad spectrum of the financial market, with some exciting new additions to the roster in recent years. The current list of Freetrade investing options includes:
US & UK Stocks
Freetrade offers investors the ability to take a position on thousands of equities across the London and New York Stock exchanges. These include highly regarded tech stocks such as Apple and Google to sectors as diverse as energy, retail, and healthcare.
ETFs (Exchange Traded Funds)
Growing in popularity, ETFs (short for 'Exchange Traded Funds') enable investors to buy and sell ready-made portfolios of assets. Such funds include index trackers provided by the likes of Vanguard and iShares, as well as 'thematic' ETFs which can follow socially responsible investment protocols.
REIT Stocks
Add some bricks and mortar to your portfolio, with a range of residential and commercial real estate assets to invest in. This provides an ideal way for real estate enthusiasts to make long-term investments without the hassle of direct property management.
Investment Trusts
Select from over 150 investment trusts, which cover a broad sweep of the financial market, and allow for global exposure to a range of markets worldwide.
Freetrade Fees
As its name suggests, Freetrade offers zero-commission trading, with no inactivity fee, no withdrawal fees, trading fees or deposit fees. Plus no share dealing fee for its General Investment Account. Its upgraded accounts charge a small flat fee per month for those looking to take advantage of extra benefits like tax breaks and enhanced features. Additionally, FX conversion rates are charged at 0.45% above the spot rate, so be mindful when investing in global stocks!
Freetrade's account options can be viewed below, along with their monthly account costs.
| | General Investment Account | Stocks & Shares ISA | Self-Invested Personal Pension | Freetrade Plus |
| --- | --- | --- | --- | --- |
| Charge | Free | £3.00/mo | £9.99/mo | £9.99/mo |
Freetrade Minimum Investment
Freetrade doesn't require any minimum deposit amounts, but when trading the markets, your order value must be a minimum of GBP £2 for both US and UK stocks. This means lower barriers for entry to people looking to try their luck in the investment market without needing to risk higher amounts of capital.
Freetrade Support
Freetrade's customer support team can be reached via live chat or email. While response times are impressively quick during the day, its lack of 24/7 support could prove problematic for those requiring help after hours. Additionally, no dedicated phone support is provided. So if you're not a fan of written communication, Freetrade's support options might leave you feeling slightly frustrated.
Freetrade's live chat feature can be accessed in-app, with questions typically answered within a few minutes. The chat window resembles any other instant messaging platform with its smart user interface, creating an atmosphere of familiarity for smartphone users.
How to Contact Freetrade Support?
Freetrade offer three primary communication channels, each of which can be reached during its main office hours. While the lack of a dedicated phone line might leave some people feeling alienated, it nevertheless presents good alternatives in its live chat, social media, and email options.
Is Freetrade Safe?
As the company massively undercuts other providers on the market, users will understandably want to know, 'is Freetrade safe?' Reassuringly, Freetrade maintains strict security protocols that are consistent with secure, trustworthy brokers. These include:
Segregated Client Funds: Client money is held in a separate bank account to avoid commingling of assets.
Safeguarding of Assets: In the unlikely event of Freetrade going bankrupt, users will be compensated up to £85,000 via the Financial Services Compensation Scheme (FSCS). 
Regulated Conduct: As an FCA-regulated business, Freetrade is obligated to meet all of the rules and regulations set by the FCA, including all the client protections those rules require.
To help maintain its low fees, Freetrade recently announced the introduction of securities lending, which will apply to GIA and SIPP customers. Despite receiving some backlash online, the company remains upfront about the risks involved, however minor. A recent explainer article on the topic emphasised the prevalence of the practice, with most prominent financial institutions lending shares to third parties. Only time will tell whether or not this is enough to prevent users from seeking another provider!
Regulations
Freetrade holds a license with the Financial Conduct Authority – the UK's regulatory authority. Considered a top-tier regulator, FCA holds the company to rigorous standards to ensure the safety of its clients and the healthy functioning of the broader financial market. 
Recently, Freetrade fell foul of the authority's Conduct of Business regulations after an influencer working for the company suggested consumers in debt could use the platform to make money. Freetrade was served with a supervisory notice and asked to remove the offending content from all social channels. Lesson learned. 
Earlier this year, Freetrade obtained regulatory approval to enter the Swedish market, with its financial regulator Finansinspektionen giving the go-ahead to offer its products to retail investors there. Users in Sweden can now join the company's online waitlist to receive updates about Freetrade's anticipated rollout. 
Freetrade Sign-up
Opening a Freetrade account is quick and easy. As with most online brokers, you'll need to provide a few personal details and valid proof of identity before your account can be registered. The process will take around 10 minutes, with the following information required: 
Name, address, telephone number and email.
Your National Insurance number.
Proof of identity (passport or driving license).
Financial information, like a card number, so that you can transfer money in and out of your bank accounts.
Once your Freetrade account is created and verified, you'll be taken on a quick app walkthrough, which will guide you through its key features. With a pleasingly gentle learning curve, users can get up to speed with the Freetrade app functionality in just a few minutes. 
Collect a Freetrade Free Share!
To kick-start your trading experience and start investing, the Freetrade app is offering* new investors a free share worth between £3 and £200. Take advantage of this free share offer by using our referral code below:
Complete W-8BEN form & fund your account
Freetrade Alternatives
With its pioneering approach to fee-free pricing, Freetrade is stepping on the toes of many established firms in the financial industry. But while undercutting such businesses financially, do they offer something similar in the extent of their products and services? The table below compares Freetrade to some of the most well-regarded participants in the DIY investment sector.
Freetrade vs Trading 212
With its USP of low-cost DIY investing, Freetrade shares the field with a few other names in the fintech industry, chief among which is its London-based rival Trading 212. For this Freetrade review, we've pitted Freetrade vs Trading 212 to see how each online trading platform compares.
To help inform you which is the best online trading platform, we've created a comparison table to assess the primary features and benefits of Freetrade vs Trading 212.
Freetrade
Trading 212
Platforms
Mobile App
Mobile App
Webtrader
Products
GIA
ISA
SIPP
GIA
ISA
SIPP
Fees
Basic Account: Free
ISA: £3 per month
SIPP: £9.99 per month
Freetrade Plus: £9.99 per month
Currency Conversion Charge: 0.45%
No Platform Charge for ISA
Currency Conversion Charge: 0.15%
No Platform Charge for ISA
Currency Conversion Charge: 0.15%
Trustpilot
4.3
4.5
Freetrade vs Hargreaves Lansdown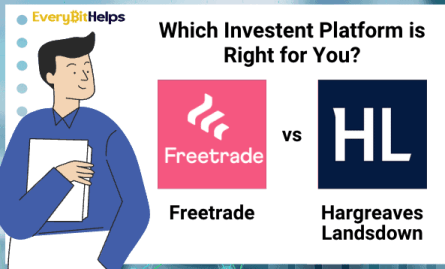 Despite only being around for a few years, Freetrade is earning a reputation as a high-quality mobile trading platform to trade stocks and ETFs. But can it compete with the big boys? Freetrade vs Hargreaves Lansdown reads as an encounter between old and new. On the one side, you have a fresh-faced provider undercutting its rivals through a tech-driven approach. On the other, you have a tried and tested investment company with a proven pedigree.
Here's what we think: if you love the detail and cutting-edge analysis, Hargreaves Lansdown might be your preferred option. If, on the other hand, you want something more stripped back, then you can't go wrong with Freetrade.
Our Verdict: Should You Invest with Freetrade?
Offering commission-free investing via a suite of account options, Freetrade's pricing continues to undercut most other online trading platforms. Despite remaining light on trading functionality and analysis, fledgling investors desiring simplified market access will find a lot to love in the platform's clean and accessible user interface.
Platform-wise, with its crystal clear smartphone app and simple investing approach, make it a pleasurable user experience. Freetrade's trading app is one of the best we've seen. But while many casual traders will be content with its mobile-first approach, those looking for a more fleshed-out investment broker would understandably be tempted by other providers on the market.
We hope you found this Freetrade review useful. If you have already tried Freetrade, let us know what you think in the comments below or click here to get a free stock and start using Freetrade for yourself.
Please note that buying and selling on the stock markets is risky, and we do not provide financial or investment advice in our Freetrade review. Please seek independent advice before you start stock trading on any investment platforms or trading apps.
Freetrade FAQs
What payment options does Freetrade accept?
Freetrade deposits can be made using Bank Transfer and Google Pay/Apple Pay.
Where is Freetrade located?
Freetrade's headquarters are located in London, United Kingdom.
Does Freetrade serve overseas customers?
Right now, Freetrade serves only customers in the UK. It will shortly offer its products and services in Sweden, where it now has regulatory approval.
How does Freetrade make money?
While Freetrade basic accounts are free, Freetrade operates a freemium model, with other account types incurring a subscription fee. Additionally, Freetrade charges a foreign currency transaction fee.
Does Freetrade have a minimum investment amount?
Freetrade doesn't require any minimum deposit amounts, but when trading the markets, your order value must be a minimum of GBP £2 for both US and UK stocks.
Related Posts
Here are some of our articles you may also find helpful;