In this Hargreaves Lansdown review for 2023, we assess the pros and cons of this popular broker while comparing them to other providers on the market.
Retail investment giant Hargreaves Lansdown Asset Management has built its reputation on offering quality products, unrivalled expertise, and industry-leading innovation. But while they continue to shine in the first two departments, do they still deliver that cutting edge for modern investors?
So, let's dive in and take a look into what Hargreaves Lansdown offers so you can decide if HL is the right investment platform for you.
HL Review: How to Use Hargreaves Lansdown?
This HL review will explore all aspects of the company's investment offering, from its products to its features. The sheer range of investment styles offered by HL can seem overwhelming for inexperienced investors. Therefore, the first stage of the process should be deciding which type of investment you'd like to choose.
Would you like to trade individual stocks, like Google and Apple, or would you prefer to leave them in the hands of the experts in the form of specially selected funds? Once you've determined your preference, you can immerse yourself in the company's extensive offering.
What is Hargreaves Lansdown?
As the UK's largest investment broker, Hargreaves Lansdown is something of a household name in the financial industry. Winning many awards over a 30-year period, the Bristol-based investment platform offers retail traders a raft of market opportunities. The company is listed on the FTSE 100 index and boasts over £135.5 bn in assets under management.
This Hargreaves Lansdown review covers the company's current offering, which continues to evolve to keep pace with the modern financial market. With reports suggesting an estimated £225 million worth of tech and platform upgrades to be implemented over the next five years, will this be enough to attract a new generation of investors? Or will users flock to newer, shinier alternatives?
Looking for a Mobile Investment App? Check out our Guide on the 9 Best Investing Apps for UK Investors.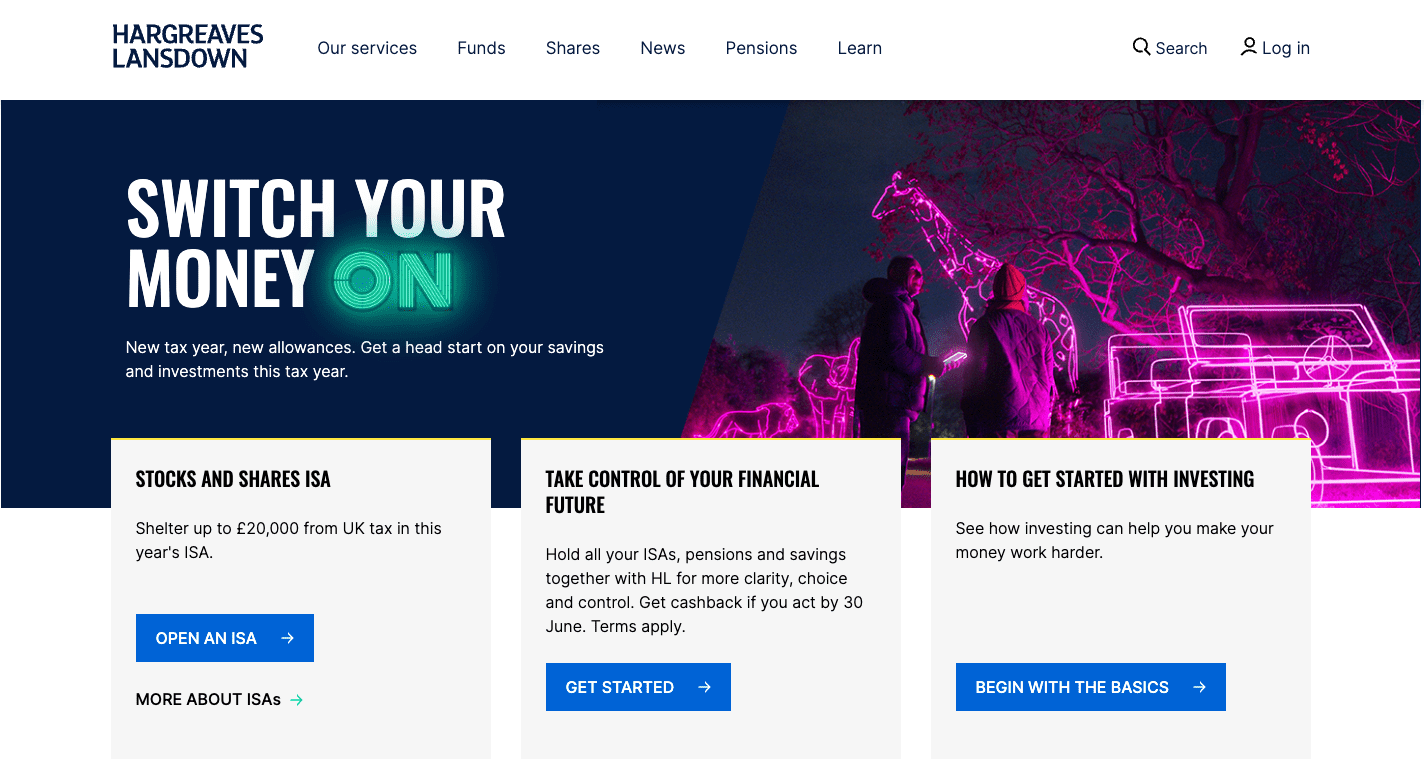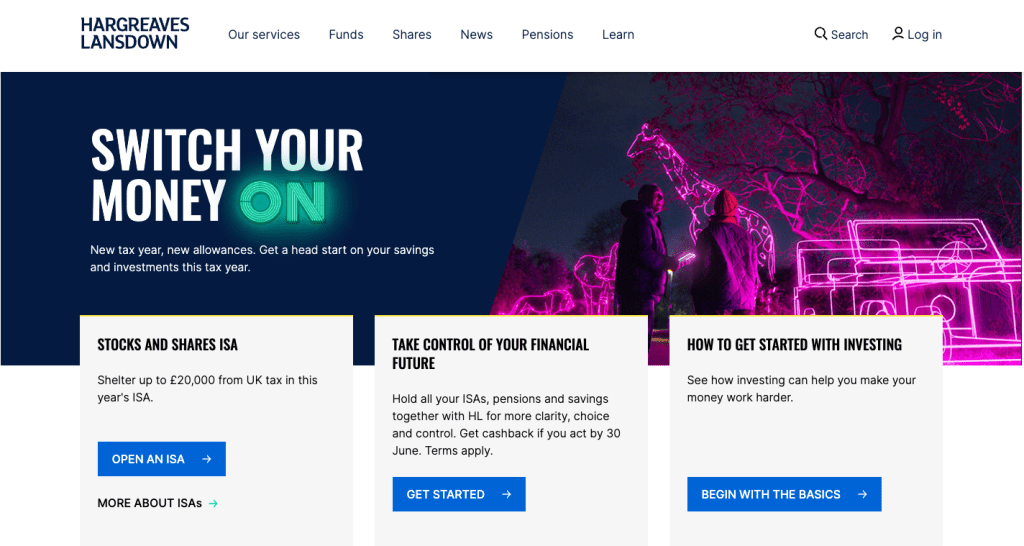 Pros & Cons
As with any broker, HL comes with its own array of pros & cons. In this case, higher-than-average fees and legacy platforms prop up the cons column, while pros include the depth and variety of investment opportunities available.
Hargreaves Lansdown Features
Hargreaves Lansdown's list of features and investment options can seem overwhelming for first-time users. But with the help of platform guides and educational articles, it won't take too long before even inexperienced investors are diligently poring over detailed price charts and income accounts.
This section of our HL review covers the primary features that clients can enjoy.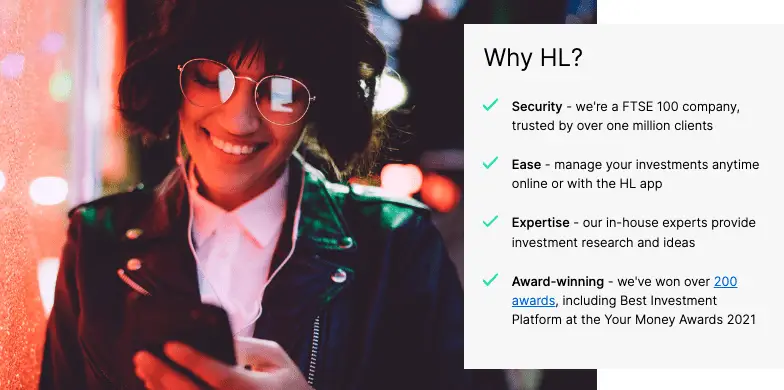 Over 3,700 Funds & Investment Trusts
Choose from a wide selection of instruments, including investment funds, global shares, corporate & government bonds, ETFs (Exchange Traded Funds), and investment trusts. Each fund type contains detailed research and analysis for investors and a Hargreaves Lansdown wealth shortlist.
Advanced Trading Tools
Access stock market reports, track live price movements and rely on cutting-edge research and analysis provided by the Hargreaves Lansdown fund investments team.
Money Management Tools
Hargreaves Lansdown provides an extensive paper trail of your income, making it easier than ever to file tax returns and track the growth of your investments. 
Investment Calculators
Plot the trajectory of your finances with ten easy-to-use calculators, including an ISA calculator, an inflation calculator, and a pension tax relief calculator. 
Good Choice of Deposit Options
You can deposit money to Hargreaves Lansdown online using a debit card, telephone, or post. These options can also be used to withdraw money from Hargreaves Lansdown.
Hargreaves Lansdown Mobile App
128-bit encrypted mobile App with vast and seamless functionalities. HL mobile app allows investors to trade, manage their Hargreaves Lansdown account, and conduct investor research. Hargreaves Lansdown mobile app is available for Android and iOS.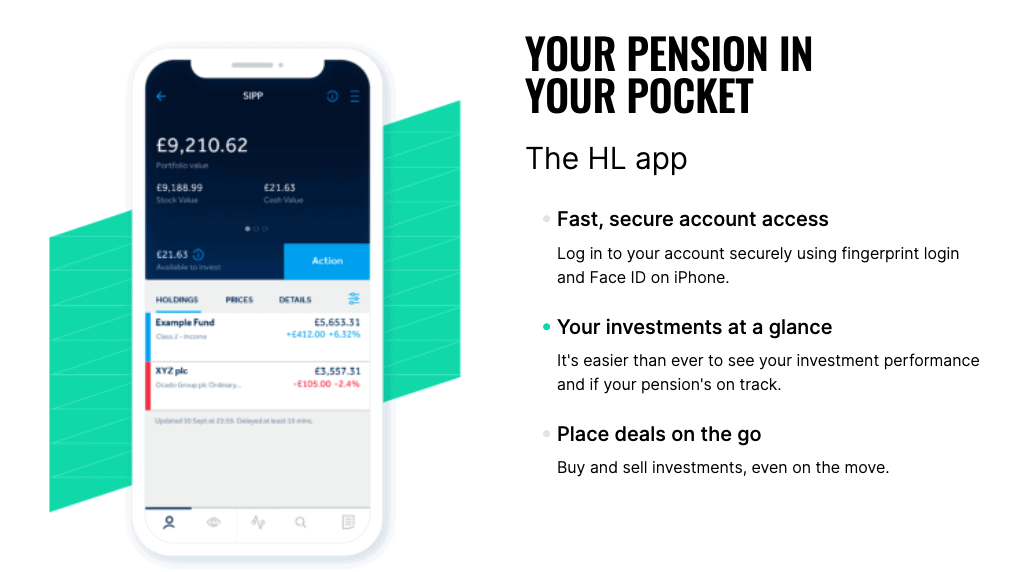 Hargreaves Lansdown Investment Accounts
Whether you're a saver or an investor, the company offers a comprehensive array of account types to suit all money goals. With a mix of active and passive investing styles to choose from, there's not much to fault in the company's generous offering. 

Fund & Share Account (General Investment Account)
A lower-cost dealing account with no contribution limit. These accounts do not offer tax-wrapped investments, so those looking to protect their returns would be well advised to start with one of the ISA accounts below.
Stocks & Shares ISA
Tax-wrapped investments up to £20,000. Earn up to £300 cashback when you transfer your existing S&S ISA to a Hargreaves Lansdown ISA.
Lifetime ISA
Longer-term investments provide a 25% government bonus on contributions up to £1,000 per year. These can be redeemed for savings milestones such as buying your first home.
Junior ISA
The Hargreaves Lansdown Junior ISA is a tax-efficient trading account you can create on behalf of your child, and anyone can contribute to it. Each tax year, from the 6th of April to the 5th of April, there is a Junior ISA allowance of up to £9,000 tax-free. Tax rules for ISAs can change, and their benefits can depend on the individual. The annual charge for holding investments in an HL Junior ISA is no more than 0.45%.
For more information, check out HL Junior ISA Charges.
Cash ISA
Hargreaves Lansdown Cash ISA is a simple savings account offering no UK tax on the interest accrued and tax-free withdrawals. Also, there are no fixed fees or account management fees.
HL Pensions Accounts
Self-Invested Personal Pension (SIPP)
Self-Invested Personal Pensions, also known as SIPPs, offer up to 45% tax relief on contributions and allow you to make your own investment decisions. 
Junior Self-Invested Personal Pension (SIPP)
With a Junior SIPP (Self-Invested Personal Pension), you can start on behalf of your child, allowing them to enjoy a healthier financial future. 
HL Savings Accounts
Active Savings Account
Select the best fixed-term saving rates from a range of Hargreaves Lansdown partnered banks and building societies from one account.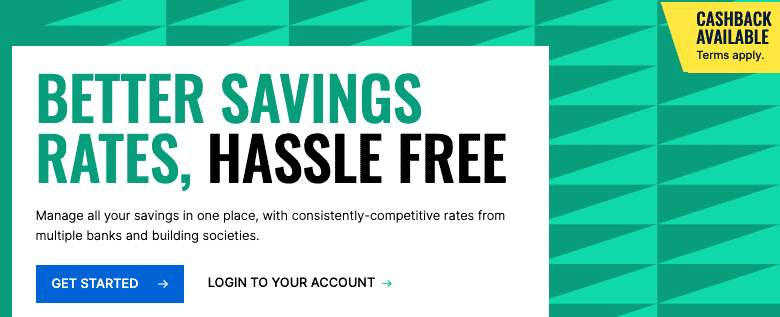 Hargreaves Lansdown's Fees
While loyal customers will insist they're happy to pay more for better quality service, the cost and complexity of Hargreaves Lansdown charges and trading fees could prove a turn-off for new investors. But with numerous account options available, it's worth digging deep into which benefits you need for your account and which ones you can dismiss.
Hargreaves Lansdown Stock Fees
When buying stock on Hargreaves Lansdown, their fee per trade will depend on the volume of trades you make that month. The more you trade on HL, the lower the commission you will pay.
| Trades per Month | Cost per Trade |
| --- | --- |
| 0-9 trades pm | £11.95 |
| 10-19 trades pm | £8.95 |
| 20+ trades pm | £5.95 |
Hargreaves Lansdown Annual Charges
Hargreaves Lansdown charges an annual fee for SIPPs, ISAs, Junior ISAs and Lifetime ISAs. These fees will depend on the total investment, with the value being checked at the end of each month. The annual fee is also charged monthly.
| Investment | Hargreaves Lansdown Annual Charge |
| --- | --- |
| Up to £250,000 | 0.45% |
| £250,000 – £1 million | 0.25% |
| £1 million – £2 million | 0.10% |
| £2 million | No Charge |
Shares Dealing Charge Annual Fee
| Investment | Annual Charge |
| --- | --- |
| Shares held in an ISA | 0.45% or capped £45 per year |
| Shares held in a GIA | No charge |
Hargreaves Lansdown Currency Conversion Fees
If you trade assets on Hargreaves Lansdown, which are denominated in currencies other than GBP, you will be charged a currency conversion fee. This will be charged as a percentage of the trade value.
| Trade Value | Currency Conversion Fee |
| --- | --- |
| First £5,000 | 1.00% |
| Next £5,000 | 0.75% |
| Next £10,000 | 0.50% |
| Over £20,000 | 0.25% |
Hargreaves Lansdown Minimum Investment
When signing up with Hargreaves Lansdown, it is important to understand the minimum investment requirements needed to open an account. These are broadly identical but do very well for its Fund & Share accounts and for its Cash ISA accounts.
| Investments | Minimum Deposit | Management Fees |
| --- | --- | --- |
| Stocks & Shares ISA | £25 or £100 pm by DD | 0.45% & Dealing Charges |
| Fund & Share Account | £1 or £25 pm by DD | 0, & DC |
| Self-Invested Personal Pension | £25 or £100 pm by DD | 0.45% & DC |
| HL Lifetime ISA | £25 or £100 pm by DD | 0.45% & DC |
| Active Savings | £1 | 0* |
| Junior ISA | £25 or £100 pm by DD | 0.45% & DC |
| Junior Pension | £25 or £100 pm by DD | 0.45% & DC |
| Cash ISA | £1 | 0* |
Hargreaves Lansdown Support
Hargreaves Lansdown is one of the few brokers in the UK to provide a dedicated phone line for customer enquiries. Winning Boring Money's 2022 Best Buy award for Customer Service, the company's support reps are reported as possessing expert knowledge alongside clear and friendly communication. 
Social media users report great customer service from Hargreaves Lansdown, dealing with most enquiries promptly. The team appear well-equipped to deal with any issue, which reflects well on the ability of HL to train its staff members to a professional standard. 
Users can also speak with the customer service team via email and post. The lack of a webchat option seems to be the only downside in a service committed to helping its customers get the best possible experience from the platform. Overall, the company scored highly in the support section of our Hargreaves Lansdown review.

How to Contact Hargreaves Lansdown?
If you have an issue that needs addressing, Hargreaves Lansdown's customer service team are available Monday to Saturday. Their experienced agents are well trained at handling any issue you may have and can be contacted via phone or online contact form. Additionally, the company include a comprehensive list of FAQs which cover a broad range of topics, from registration and deposits to executing an order.
Hargreaves Lansdown Contact Number
A full list of Hargreaves Lansdown's telephone numbers can be found on the HL Contact Us. This means you won't be passed from agent to agent to obtain a suitable response.
Is Hargreaves Lansdown Safe?
We believe Hargreaves Lansdown is one of the safest and most secure investment platforms for traders looking to entrust their investment. As evidence of this, HL provides the following safety factors and features which can help secure peace of mind for its investors.
Secure Encryption & Validation

Hargreaves Lansdown uses encryption technology and two-factor authentication to protect its client's data.
Segregated Client Funds

Client money is held in separate bank accounts to avoid commingling assets. Also, to ensure that any creditors of HL would have no legal right to it and cannot use any money to cover the company's obligations.
Safeguarding of Assets

In the unlikely event of Hargreaves Lansdown going bankrupt, UK users will be compensated up to £85,000 via the Financial Services Compensation Scheme (FSCS)
Regulated Conduct

As a Financial Conduct Authority (FCA) regulated business, Hargreaves Lansdown is obligated to meet all of the rules and regulations set by the FCA. These include all the client protections those rules require.
Although we use HL with our investment, we recommend you do your own research before deciding if Hargreaves Lansdown is a safe investment platform.
How to Sign up to Hargreaves Lansdown?
HL's onboarding process is simple and stress-free. Due to the wide variety of products and services on offer, each account option is clearly identified and explained, allowing users to decide how to invest.
Once you've entered your personal details, providing information such as date of birth and national insurance number, you will also be asked to generate a 6-digit account number, which you'll need to use to log in to your account. While at times frustratingly complex, the secure two-step login process is nevertheless reassuring in an industry where safety and security are paramount. 
Check out what Hargreaves Lansdown has to offer and see if it's the right trading platform for you.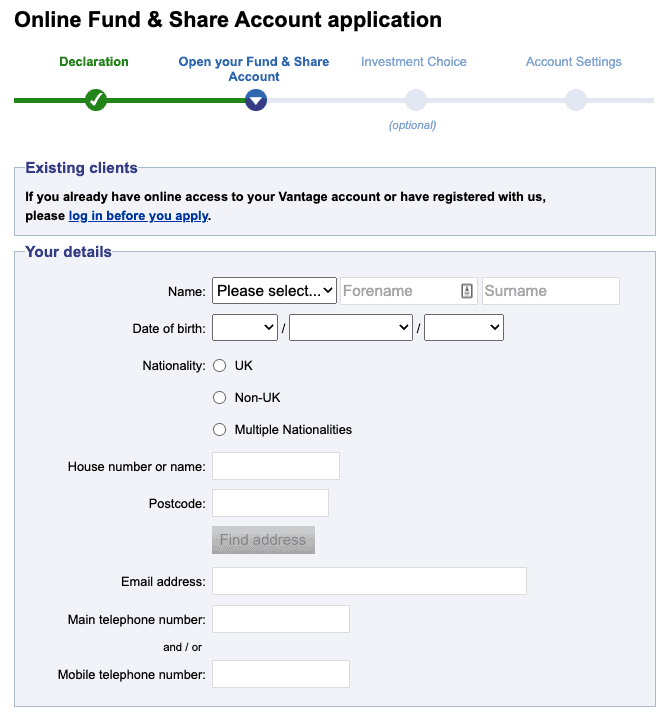 Hargreaves Lansdown Referral
Unfortunately, Hargreaves Lansdown doesn't provide any referral offers, sign-up bonuses, or free shares like Freetrade.
However, HL runs a generous cashback offer for those who open a Hargreaves Lansdown account, transfer their ISA or pension from another provider, or open a new cash savings account.
Eligible users signing up to Hargreaves Lansdown and transferring from another provider can expect to receive up to £500 in this deal. For full details about this offer, please visit https://www.hl.co.uk/features/cashback.
Hargreaves Lansdown Alternatives
The Hargreaves Lansdown investment platform provides a jack-of-all-trades service for those looking to grow their long-term finances, moving in similar circles to many financial brands on the market.
In the comparison table provided below as part of our Hargreaves Lansdown review, we've identified some examples of the larger, more established investment providers in the UK that aim to provide a similarly holistic service with broadly similar fees.
Hargreaves Lansdown vs. IG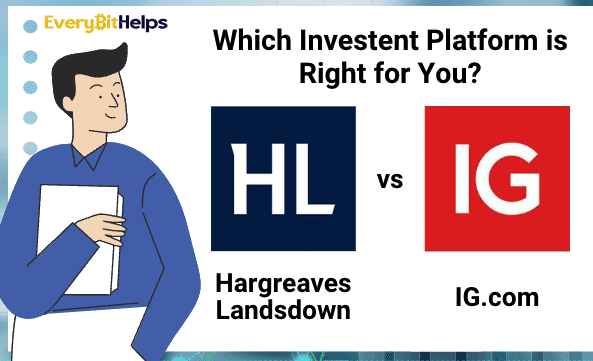 Despite its dominance in the retail investment market, Hargreaves Lansdown faces stiff competition from other areas of the industry. IG is a growing company and is rapidly expanding its products and services to rival of HL. So which is the better option?
Although IG's fee structure is a little more complex than Hargreaves Lansdown's fees, the average investor will typically find them cheaper to use. While lacking the comprehensive list of account types offered by its rival, IG nevertheless provides a huge range of investment opportunities available through its ISA and GIA accounts. These include shares, forex, indices, commodities, and many more. 
IG might offer a decent alternative if you're looking for low-cost stock picking. But with its rich investor insights and vast account selection, HL earns its reputation as the country's foremost investment provider.
Hargreaves Lansdown vs. Freetrade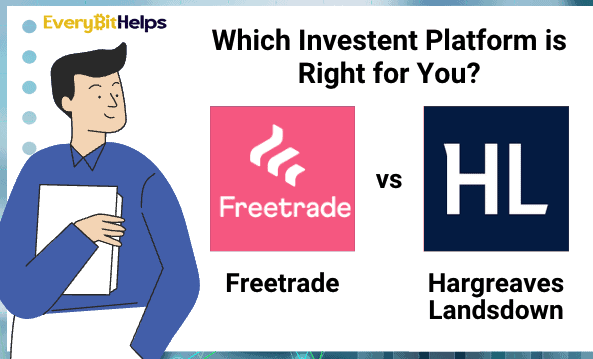 With its promise of commission-free trading designed to tempt novice traders away from HL, Freetrade offers something new to modern consumers. Hargreaves Lansdown vs. Freetrade reads as an encounter between old and new. On the one side, you have a fresh-faced provider undercutting its rivals through a tech-driven approach. Conversely, you have a tried and tested investment company with a proven pedigree.
Here's what we think: if you love the detail and cutting-edge analysis, HL might be your preferred option. If, on the other hand, you want something more stripped back, then Freetrade might offer an attractive alternative.
Our Verdict: Should You Invest with Hargreaves Lansdown?
Amid turbulent market conditions, those looking to grow their finances will understandably seek a safe pair of hands. With its unrivalled reputation and an excellent range of products and services, Hargreaves Lansdown will remain a true industry leader in 2024.
Despite (or perhaps because of) its above-average trading fees and unflashy website design, HL is a reassuring presence in the wealth management industry. Not resting on its laurels, Hargreaves Lansdown continues to deliver excellent service and speak to its customers clearly and responsibly. 
Investing is, and should always be, for the long term. From its detailed reporting to its fee structure, HL's offering suits strategies that favour 'time in the market' over 'timing the market. While less slick than other platforms on the market, the company continue to offer customers the wisdom of experience, which is a priceless advantage for any investor. 
Please note that this is not financial or investment advice. We would always recommend that private investors do their own research and check out the fundamental company data before they start trading UK stocks.
Hargreaves Lansdown FAQs
See below for some of the most commonly posed questions about HL that people have been asking online.
Where is Hargreaves Lansdown located?
The headquarters of Hargreaves Lansdown are in Bristol, United Kingdom. 
Does Hargreaves Lansdown serve overseas clients?
No, Hargreaves Lansdown does not serve overseas clients and currently only serves UK clients. 
What are Hargreaves Lansdown's minimum investments?
Hargreaves Lansdown minimum deposits vary by account type. For instance, the minimum amount to open an HL Fund and Share Account is just £1. The minimum lump sum you can invest in a fund is £100
Does Hargreaves Lansdown charge withdrawal fees?
You can withdraw cash from Hargreaves Lansdown to your nominated bank account without fees.
Related Posts
Here are some of our articles you may also find helpful;