In this eToro review, we assess the pros and cons of this popular investment and social trading platform while comparing them to other providers on the market.
eToro is the leading social trading and investment platform, allowing investors to invest in stocks, crypto, and CFDs with zero fees. Plus, for complete beginners, you can automatically copy experienced traders with eToro's CopyTrader feature.
So, let's dive in and take a look into what eToro offers, so you can decide if eToro is the right investment platform for you
eToro Review: How to use eToro?
What is eToro?
eToro is a popular platform for investors to trade stocks, ETFs, cryptocurrencies, and CFDs. Founded in 2007 by three entrepreneurs, the platform is now trusted by millions of customers worldwide. EToro aimed to make trading accessible to anyone, anywhere, and reduce dependency on traditional financial institutions.
There are hundreds of different financial assets to trade on eToro, which can be traded using various investment strategies. Sometimes you will own the underlying assets, such as long (BUY), non-leveraged positions on stocks and cryptos. They will also employ CFDs, enabling various options, such as short (SELL) positions, leveraged trades, fractional ownership, etc.
Looking for a Mobile Investment App? Check out our Guide on the 9 Best Investing Apps for UK Investors.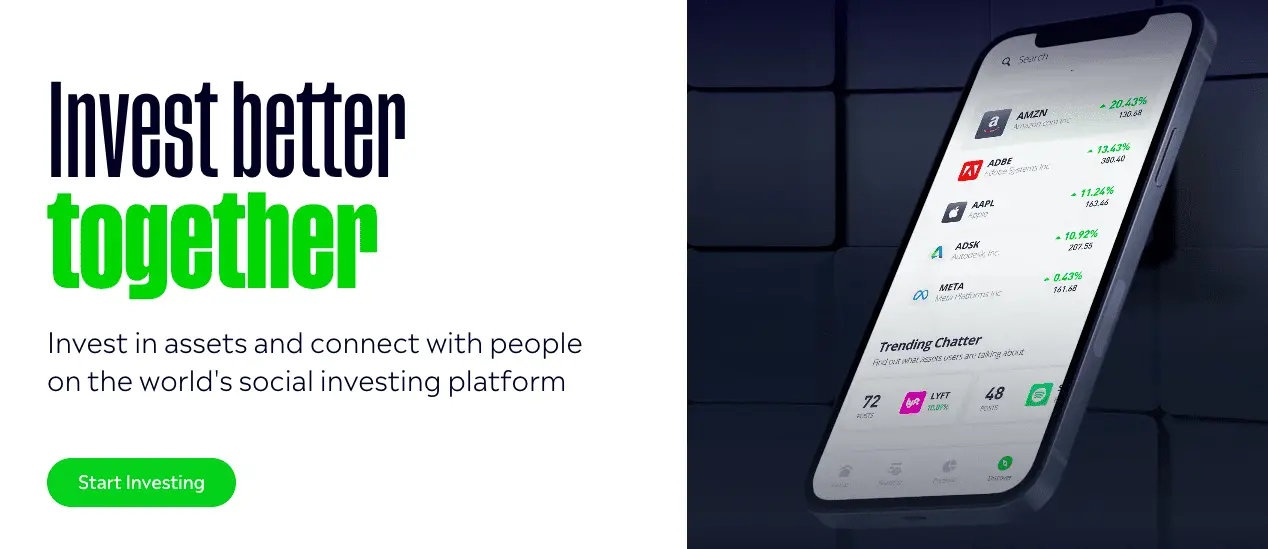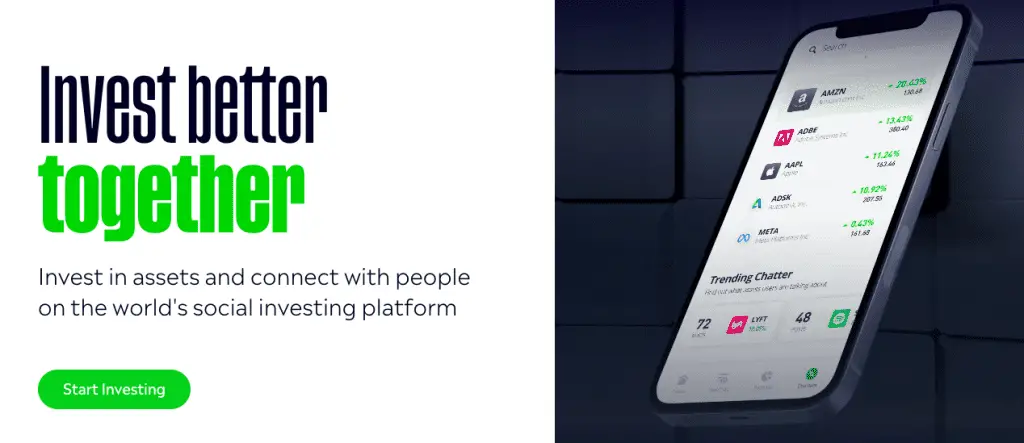 eToro Features
One of eToro's best selling points is its unique features on its trading platform. If you're an experienced investor or a beginner, eToro will have you covered. Making the process of investing simple, fun, and sociable.
Fractional Shares
With eToro, you can invest in stocks with fractional shares. Fractional shares allow users to own a fraction of a single stock. For example, if a stock is priced at $500, you dont have to pay $500; you could simply buy $50 and own a fraction of that share. This allows users to gain access to expensive stocks without large investment capital.
Crypto on eToro
After pioneering Bitcoin trading in 2013 via CFDs, eToro expanded its cryptocurrency offering, enabling clients to trade and invest in Ethereum, Litecoin, and other popular cryptocurrencies.
With eToro, users can buy and sell crypto instantly and own the underlying assets. There are hassle-free deposits and withdrawals, and you can track real market data and follow each coin's trends.
They also have a staking service available for crypto HODLers allowing users to use their crypto and earn passive income.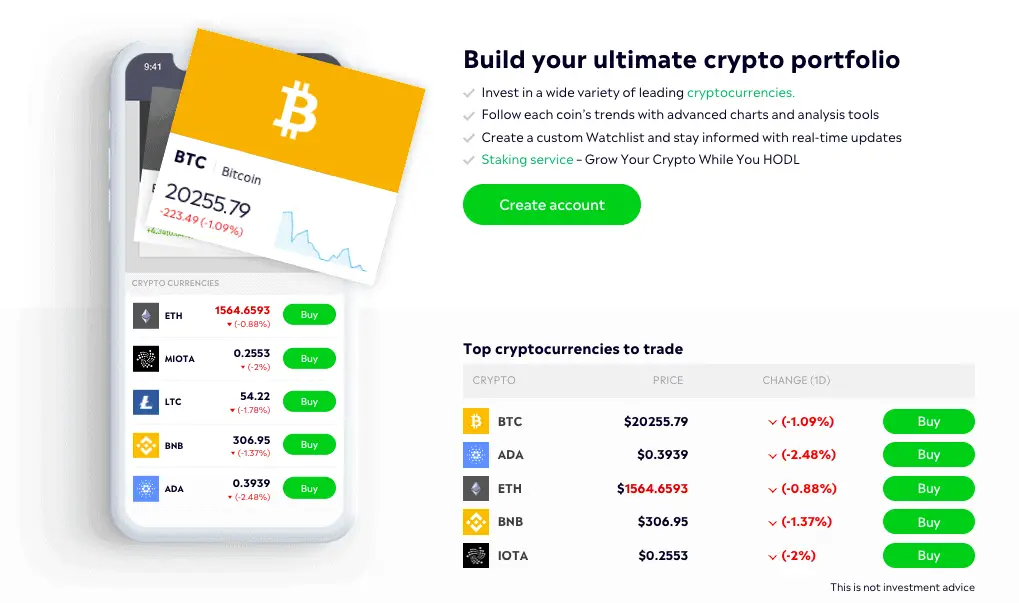 eToro CopyTrader
CopyTrader was brought to the platform in 2010 and is great for those getting started investing or who don't have the time to watch the markets constantly. You'll still have full control over managing your portfolio. You can stop the copy, pause it, and add or remove funds anytime.
CopyTrader lets you view what real traders do in real-time and copy their trades automatically. Basically, whenever they make a trade, you do too. You can copy nearly anybody; just find the trader you want to copy and select the copy button on their profile. You don't have to copy one trader; you can choose up to 100 traders simultaneously.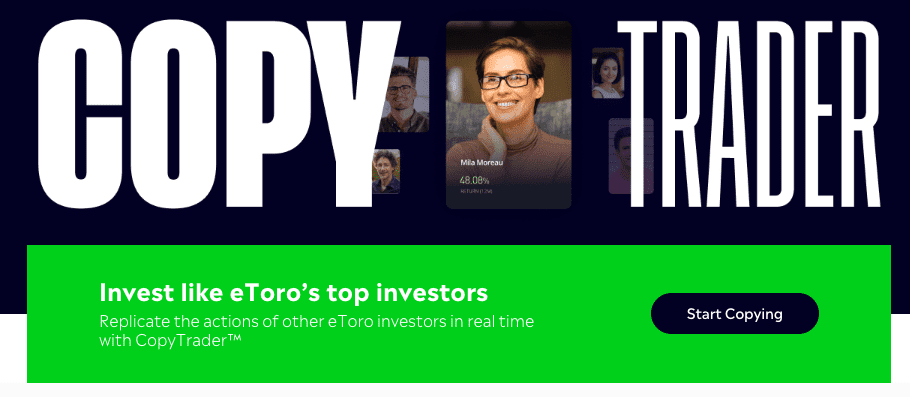 eToro Virtual Account
eToro's Virtual account comes with an available balance of $100,000. You can test the market and try out new features before committing your own funds.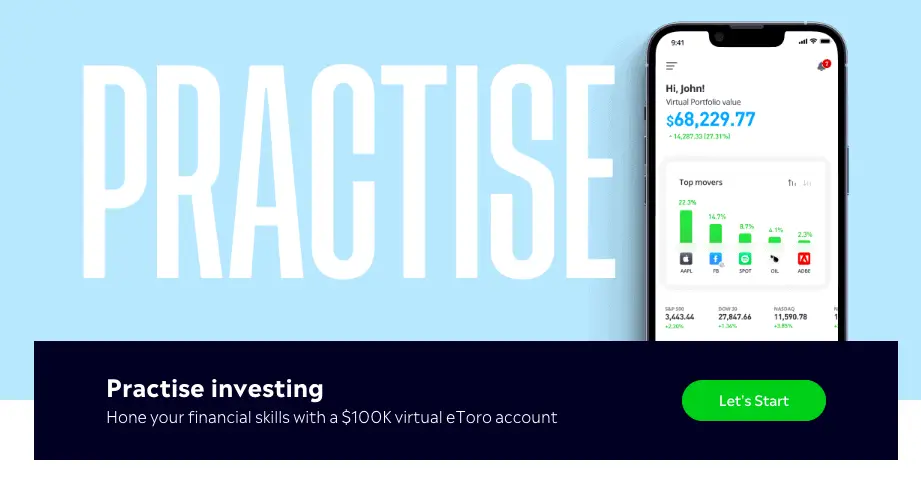 eToro Deposit Methods
You can deposit your funds on eToro using various methods, including credit/debit cards, PayPal, Skrill, Neteller or Bank transfers. However, some of these methods will come with their own limitations and terms, which can be found here.
There are currently minimum deposits of $500 for bank transfers and $10 for credit and debit cards.
All eToro trading accounts are in USD. Therefore, the deposited amount will be converted to the current market rate when depositing with a different currency. Please note that this is subject to a conversion fee. However, using an eToro money account can save on fees.


eToro Fees
With eToro, there are no fees to open an account or deposit your funds onto the platform. Withdrawals are charged at a fee of $5, and they state that there are no clearance fees. There is, however, a minimum withdrawal amount of $30.
They also have no management or ticket fees, and stock investments have zero commission.
With crypto, the only trading fees charged by eToro are spreads, which can be found on their fees page. CFDs also include overnight fees and spreads which can be found here.
They also have a fee named an "Inactivity fee". This means that after 12 months with no login activity, a $10 monthly inactivity fee will be charged on any remaining available balance. No open positions will be closed to cover the fee.


Is eToro Safe?
The eToro platform is regulated by the Financial Conduct Authority of the United Kingdom, Cyprus Securities and Exchange Commission (CySEC), the US FinCEN, and the Australian Securities and Investments Commission (ASIC).
They also state that your funds are protected by industry-leading security protocols and that they will never share your private data without your permission.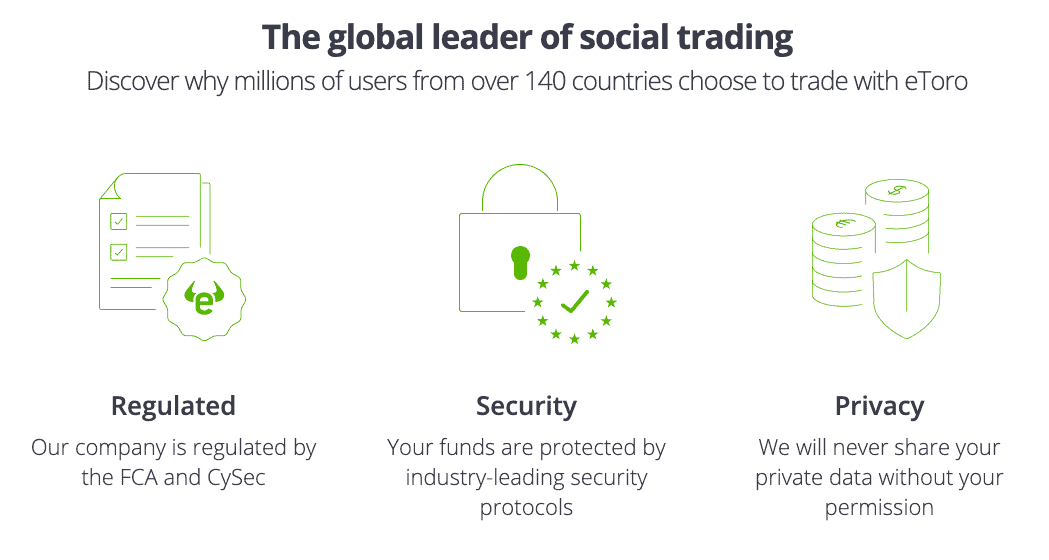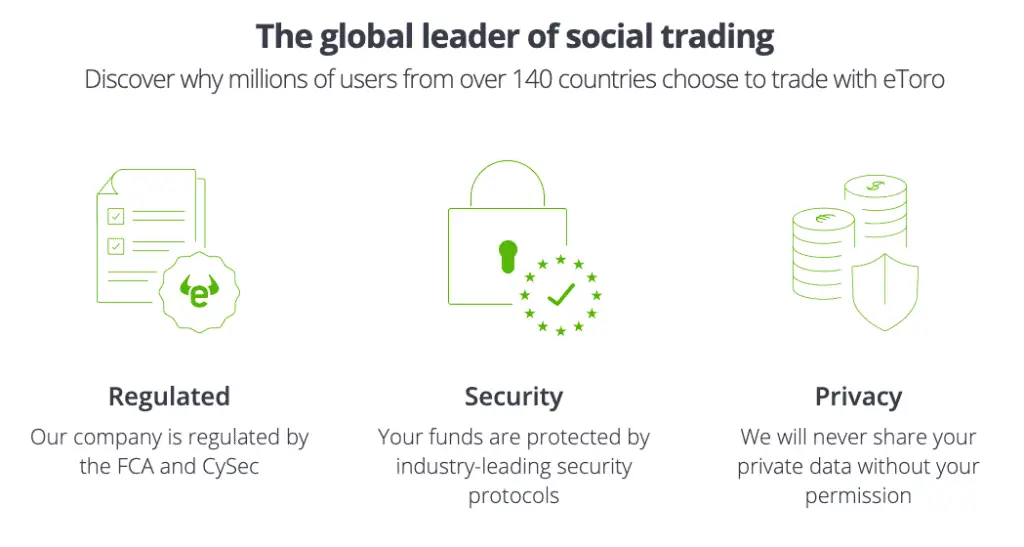 eToro Support
Customers can contact eToro support via a live chat system or using a web-based ticketing system that will respond to emails. I personally found the live chat system very hard to find on their website, which I eventually found under their customer services page. Just note that this is only available in certain regions.
Verdict: Should you Invest with eToro?
eToro has some cool features like CopyTrader, which will appeal to new and younger investors. I personally would avoid (if you can) buying Bitcoin and Cryptocurrency with eToro. If you want to get involved in crypto, look at my Binance Exchange or Coinbase tutorials.
Some investments are held on eToro (not crypto), and buying and selling are easy. One of their major selling points is their free trading feature, but is it free, or is it only a sales tactic? I still use the likes of Hargreaves Lansdown to buy stocks and ETFs, and they charge a minimum of 11.95, which will put off the smaller investor.
The major downfall with eToro is their support, and it's really poor. Somehow Trust Pilot gives eToro a generous 2.3 rating. But I have wasted hours trying to resolve issues. Hopefully, their support will improve; otherwise, someone else will take their market share away.
We hope you found this eToro review useful. If you have already tried eToro, let us know what you think in the comments below or click here to start using eToro for yourself.
eToro FAQs
Do people make money on eToro?
Yes, trading on eToro can be profitable, and people make money from the platform. However, there is no guarantee you will make money. You can also easily lose money when investing in stocks and crypto.
Is eToro free?
eToro offers investors commission-free trading. This means investors do not pay any trading or management fees. However, there are other fees eToro charges; these include withdrawal and inactive fees.
Related Posts
eToro is a multi-asset platform that offers investing in stocks and crypto assets and trading CFDs. Please note that CFDs are complex instruments and come with a high risk of losing money rapidly due to leverage. 67% of retail investor accounts lose money when trading CFDs with this provider. You should consider whether you understand how CFDs work and whether you can afford to risk losing your money.
Past performance is not an indication of future results. Cryptoassets are volatile instruments that can fluctuate widely quickly and therefore are not appropriate for all investors. Other than via CFDs, trading crypto assets is unregulated and therefore is not supervised by any EU regulatory framework.