The Philippines is traditionally a cash-based country; however, tech-savvy Filipinos are quickly adopting Bitcoin and Cryptocurrency. If you´re new to crypto or looking for an alternative exchange to save on fees, We have assembled 7 best crypto exchanges in the Philippines to buy Crypto.
7 Best Crypto Exchanges in the Philippines
If you live in the Philippines or are an OFW and are interested in joining the Bitcoin revolution yourself. I have assembled 7 of the most popular and trusted cryptocurrency exchanges to buy crypto and Bitcoin in the Philippines in 2023. Depending on your location, some of these exchanges may have sign-up restrictions.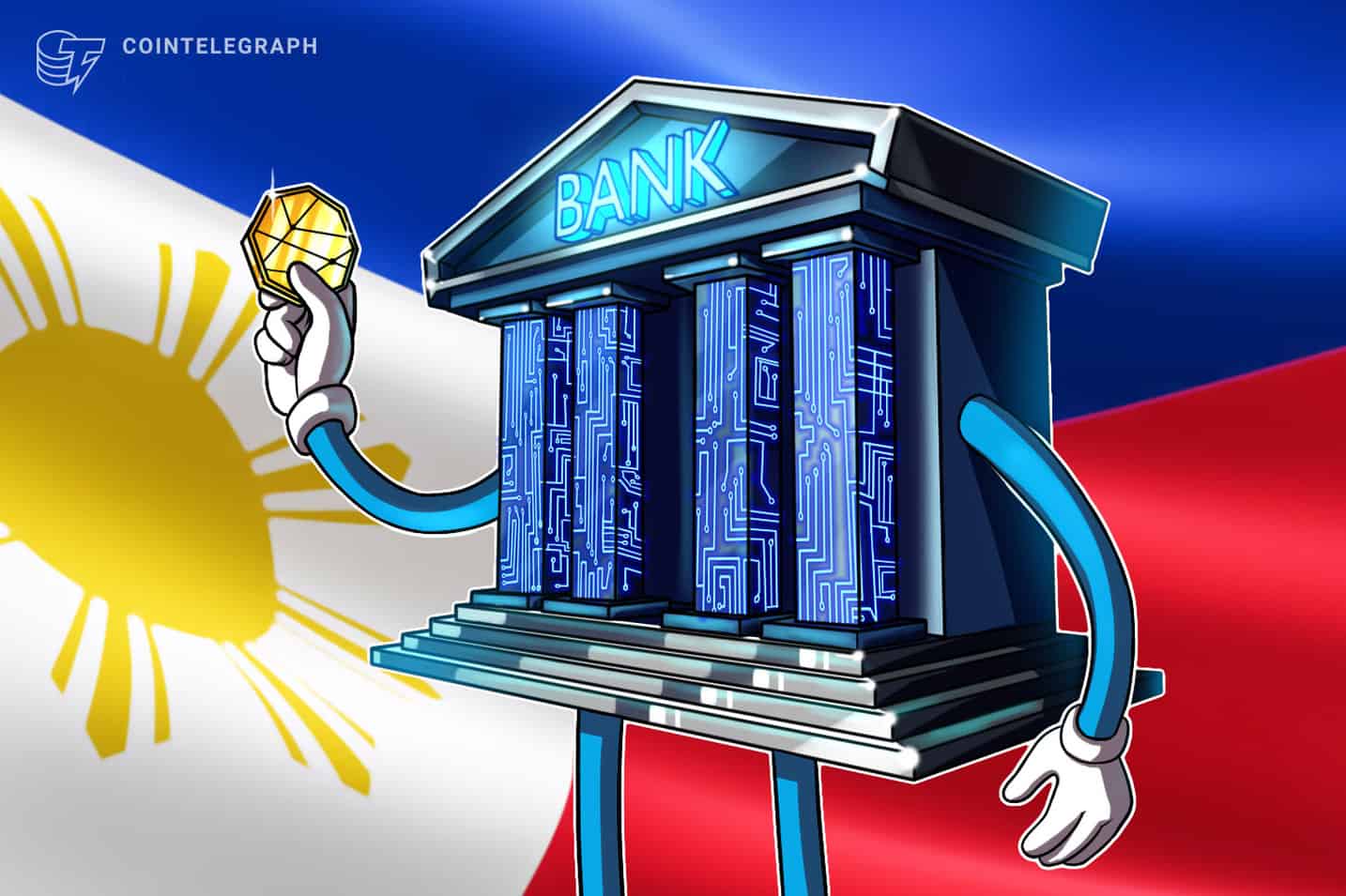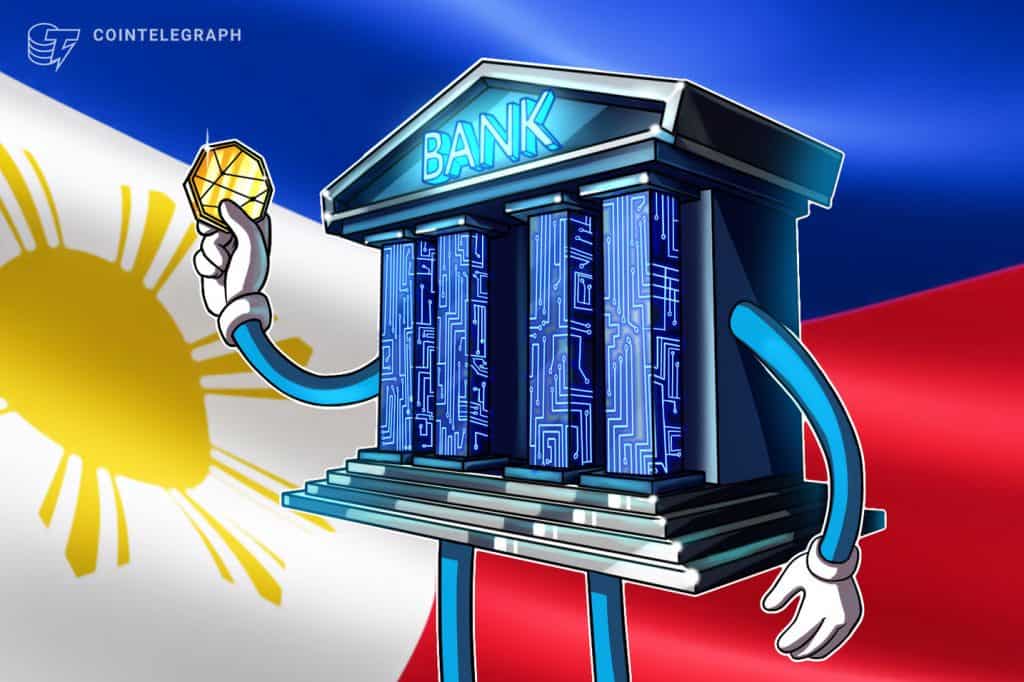 1. Coins.ph
First, we have one of the most popular crypto platforms for buying Bitcoin in the Philippines Coins.ph. Coins.ph is a SE Asian fintech trusted by over 10 million Filipinos. It is the first virtual currency provider in the Philippines to be licensed by the BSP.
It is also the first-ever blockchain-based company in Asia to hold Virtual Currency and Electronic Money Issuer licenses from a central bank.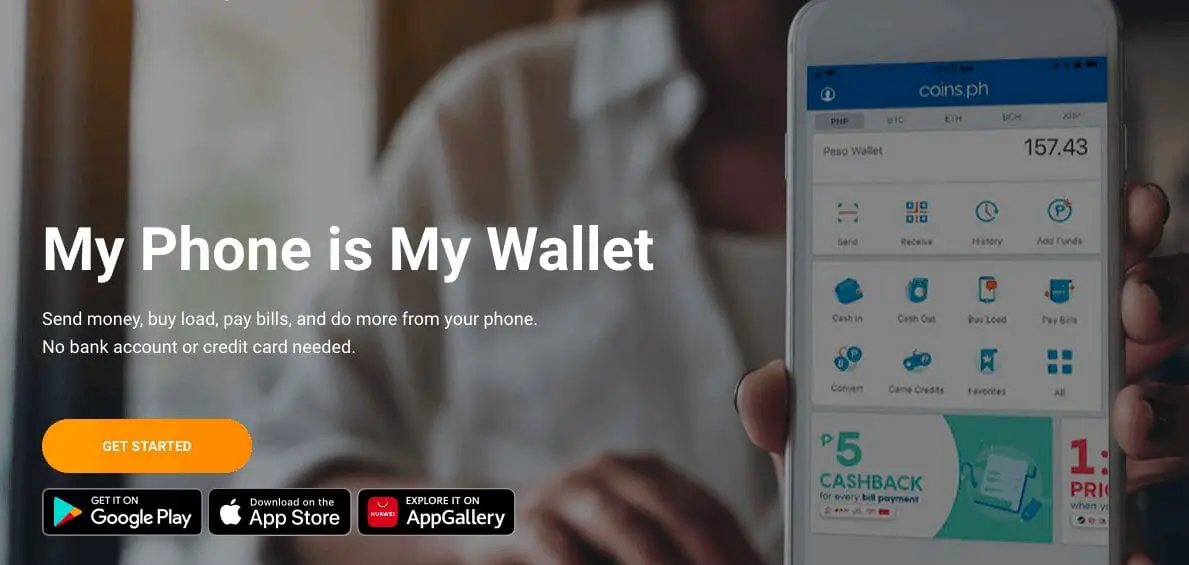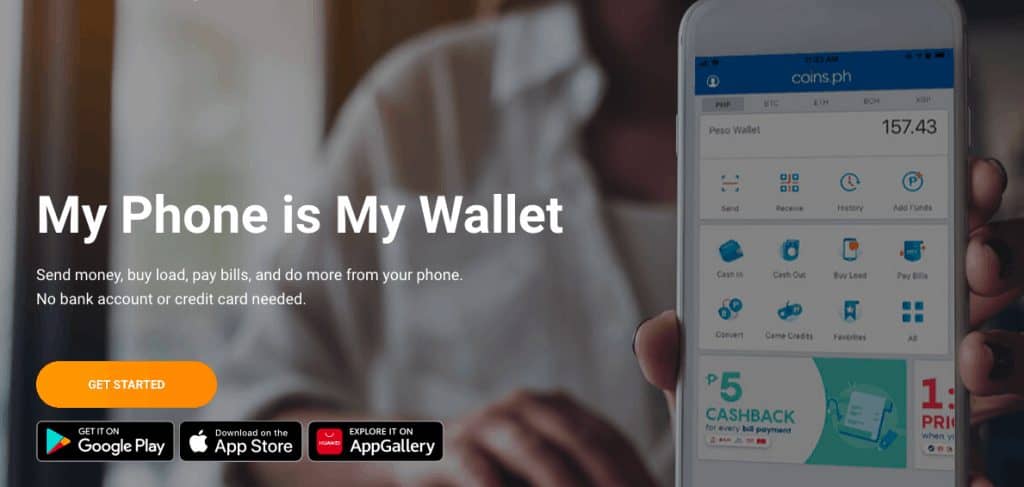 Around 60% of Filipinos in 2022 still have no bank account access. The mission of Coins.ph is to enable anyone (including those without a bank account) to easily access financial services directly from their phone, including cryptocurrency trading.
With this exchange, you can buy BTC, ETH, BCH, XRP, USDC, LINK, and KNC with or without a bank account. You can cash in using your bank account, Gcash, or Paymaya.
Alternatively, you can use a payment centre with cash at places like 7-Eleven, Western Union, Palawan, Cebuana, SM, Robinsons, and even directly from your bank. Once you have cashed in, you can easily convert your PHP to Bitcoin. Type in the PHP you want to spend and confirm by swiping if you are happy with the conversion rate.
Coins.PH Fees
Fees for cashing in will be charged depending on your chosen payment method. 7-Eleven, Cebuana, M Lhuillier, or GCash for no fees, or UnionBank for a fee rebate, whereas with Paymaya, there will be a small fee of around 12 PHP for cash-ins.
Again, depending on your service, this will be similar to cashing out. Bitcoin transfer fees will be dependent on how busy the network is.
All current fees are displayed within their app for you to review before purchase. Should you wish to host your crypto in an external wallet, there are fees to transfer.
However, it can be held within Coins.ph. You have three options of fees for the transfer- the higher the fee, the quicker the miners will work to transfer this for you.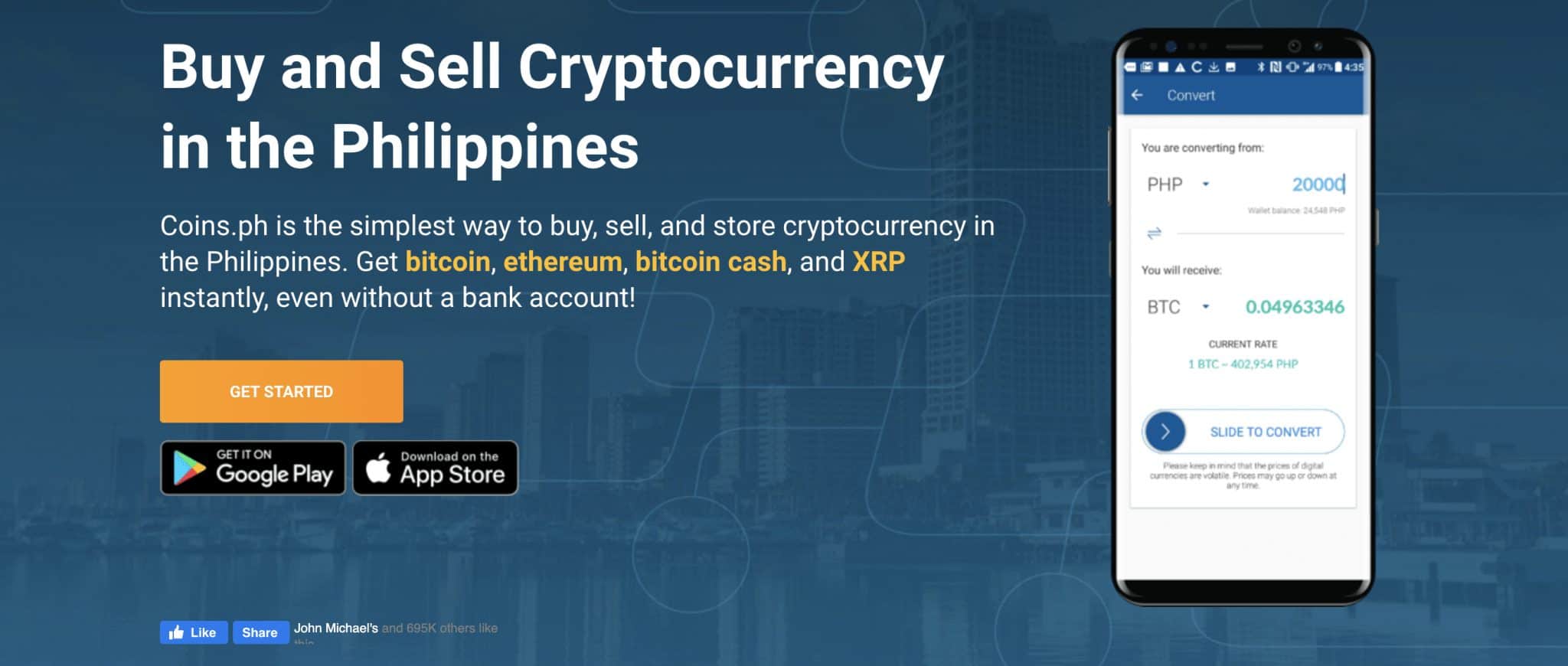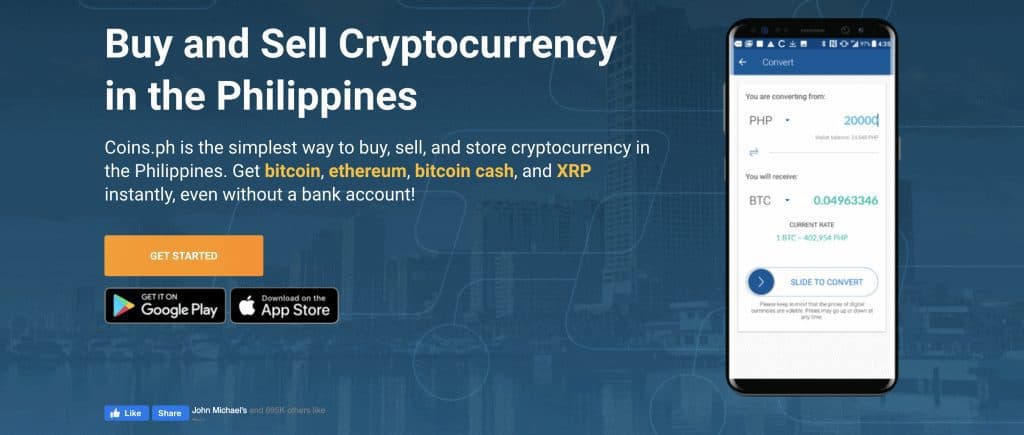 2. Binance Exchange
Binance Exchange is the most popular trading platform in the world, with a large selection of cryptocurrencies to trade. One of the main benefits of trading crypto on Binance is their low trading fees. However, watch out for their withdrawal fees; they can be high depending on the digital assets you want to withdraw.
The exchange was founded in China by Changpeng Zhao, also known as CZ. However, before the Chinese government ban in 2017, Binance moved its servers and headquarters to Japan. It's unclear 2021 where Binance HQ is currently located. In an interview in 2020, CZ said, "Wherever I sit is going to be the Binance office. Wherever I need somebody is going to be the Binance office,"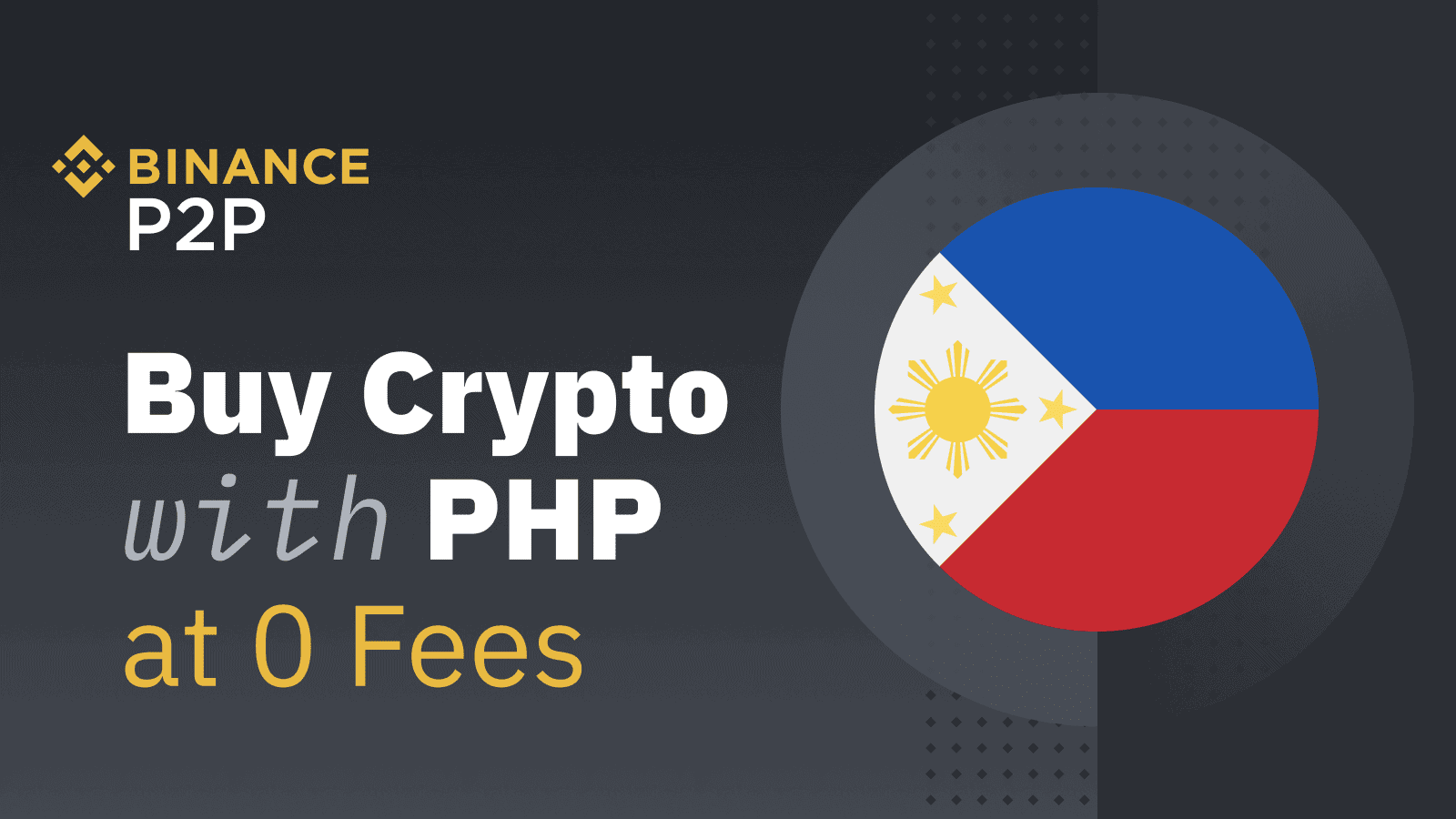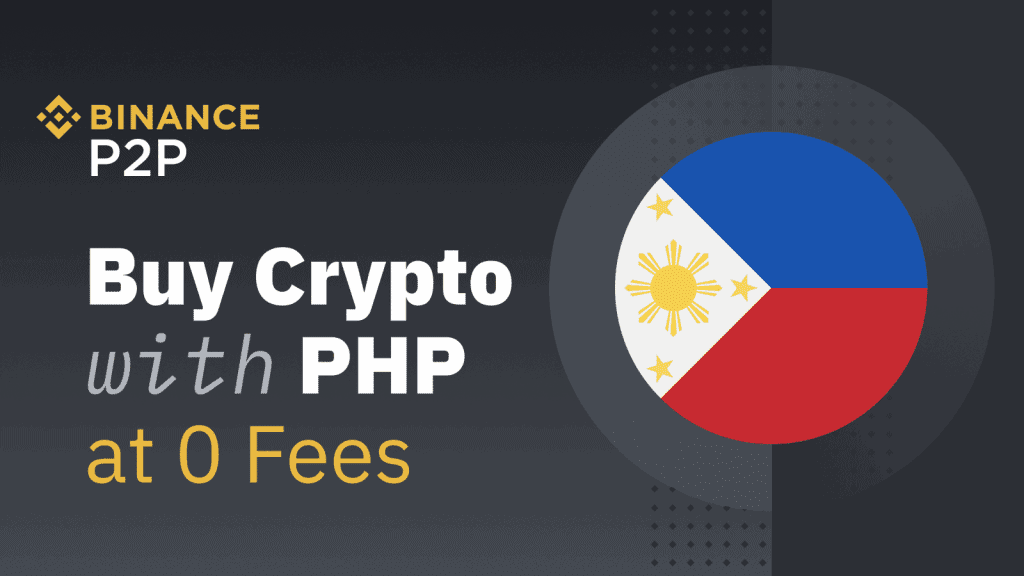 Their P2P platform is a peer-to-peer cash-to-crypto trading platform supporting 31 FIAT currencies globally, including PHP. Using PHP, users in the Philippines can buy and sell BTC, ETH, BNB, USDT, EOS, and BUSD. Plus, they can transfer their crypto assets (using an escrow service) to a Binance wallet with zero transaction fees.
To buy Bitcoin with Binance, pick your seller on the platform first. Then, you can choose various supported payment methods, including bank transfer, PayPal, Western Union, and even GCash.
Binance actively searches for local merchants with reliable crypto and FIAT access. They offer benefits, VIP discounts, ad transactions and postings, and security deposits without fees.
Binance also allows users to earn interest on their crypto assets; you can find out more information on the Binance Earn feature here.

Binance Fees
As this is peer-to-peer trading, the buy/sell rates will differ. However, as mentioned, Binance does offer zero transaction fees. If you´re interested in signing up for Binance, check out our guide on how to save up to 45% on Binance trading fees.
3. PDAX
PDAX is a BSP-regulated exchange that lets you directly trade Bitcoin, Ethereum, and other cryptos using PHP. Established in 2017, its mission is to bring easy access to financial services to Filipinos using its online platform and recently launched a mobile app.
Once you've set up your free account, you must verify this to use the services.
Once you have been verified for payment, you can use PHP. Or you can transfer your crypto from other platforms to start buying Bitcoin. To cash in with PHP, you can transfer using the online wallets GCash and PayMaya or from your credit or debit card. You are also able to cash in over the counter via bank deposit.
When you have funds in your primary wallet, you will need to move your funds into your exchange wallet and go to your trade tab to find your BTC/PHP trading pair.


PDAX Fees
There are no fees for cashing in or cashing out associated with PDAX. However, your bank may charge for these transactions. Regarding trading, this is 0.5% for market orders, and for Limit orders, this is 0.4%.
4. Crypto.com
Crypto.com was founded in 2016 and was formerly known as Monaco. The company has its headquarters in Switzerland and offices in Hong Kong and Singapore.
Crypto.com offers crypto-related products such as spot, margin, and derivatives trading. Recently, they have added DeFi products with their Earn and Swap features. Plus, by staking their CRO token, you can take advantage of their Syndicate and Supercharger features and receive discounts on Crypto Loans. 
The crypto.com exchange trades crypto to crypto, meaning you cannot buy Bitcoin using PHP.


To start trading, you'll need to deposit cryptocurrency into the exchange. To do this, you can use the Crypto.com app to transfer your existing tokens. If you don't have any crypto to trade with, you can purchase Bitcoin with PHP via bank transfer or credit/debit card.
If you want to buy Bitcoin using your existing crypto, you can easily deposit it for free into the Crypto.com exchange.
The exchange hosts three markets: Bitcoin, USDT, and CRO. To buy Bitcoin, you must go into this market and find the crypto pair for Bitcoin.

Crypto.com Fees
Crypto.com fees work on a maker/taker framework, depending on your 30-day trading volume. The fees range from 0.036% to 0.10% for a maker fee and from 0.090% to 0.16% for a taker fee. Previously, Crypto.com has been known to run promotions boasting 0% fees.
5. Coinbase
Coinbase is a platform where you can buy, sell, and trade cryptocurrency. There are currently over 30+ million users worldwide who are using the platform to buy and trade crypto.
As a Filipino resident, the platform only allows crypto-to-crypto conversions. This means you can buy Bitcoin using other cryptocurrencies you have transferred onto the Coinbase platform, but not FIAT.
Please also note that Coinbase is an exchange, and you cannot access your private keys. An exchange is far more likely to be hacked, so keep your Bitcoin offline and in a wallet, ideally with access to your private keys. Coinbase has its own Coinbase Wallet, free to download from Apple´s App Store or Google Play store.
I would also highly recommend their Coinbase Earn feature, a great way to learn about different altcoins and earn free crypto. Coinbase also offers new users a sign-up bonus when they join; click here to learn more.



Coinbase Fees
Coinbase is great for beginners but has higher fees than some competitors. The platform has an up to 2% spread fee for crypto conversions dependent on fluctuations in the market.
Users can also use their trading platform, Coinbase Advance (for free), where the platform is a little more complex. Coinbase Advanced fees will be cheaper than Coinbase, but it's still a lot more expensive than Binance Exchange, for example.
6. Gemini
The Gemini exchange is a US-based crypto exchange where you can buy, sell, and store digital assets. The exchange was launched in 2015 in the US by Cameron & Tyler Winklevoss twins. However, it recently expanded across Asia and is now available in the Philippines.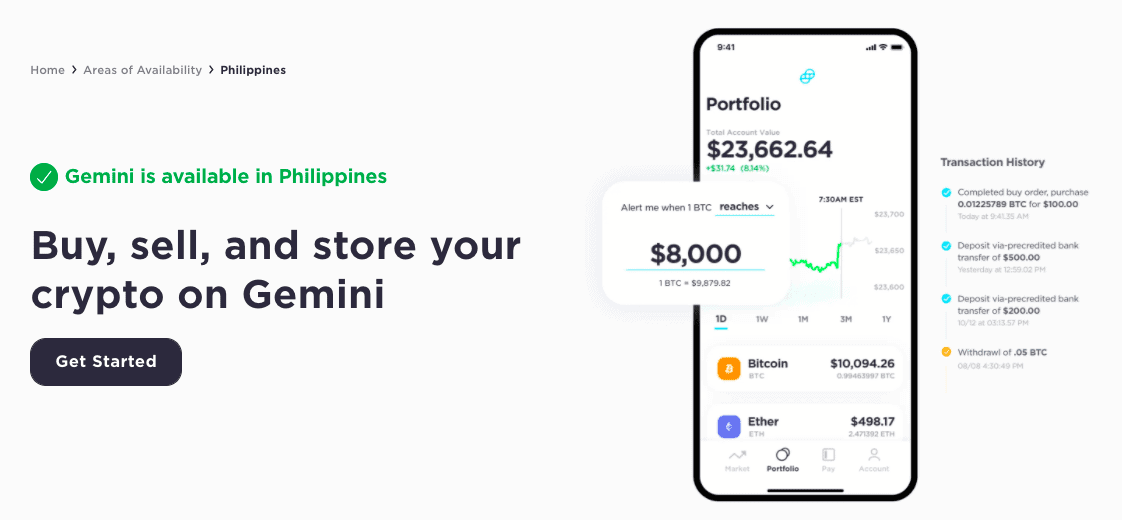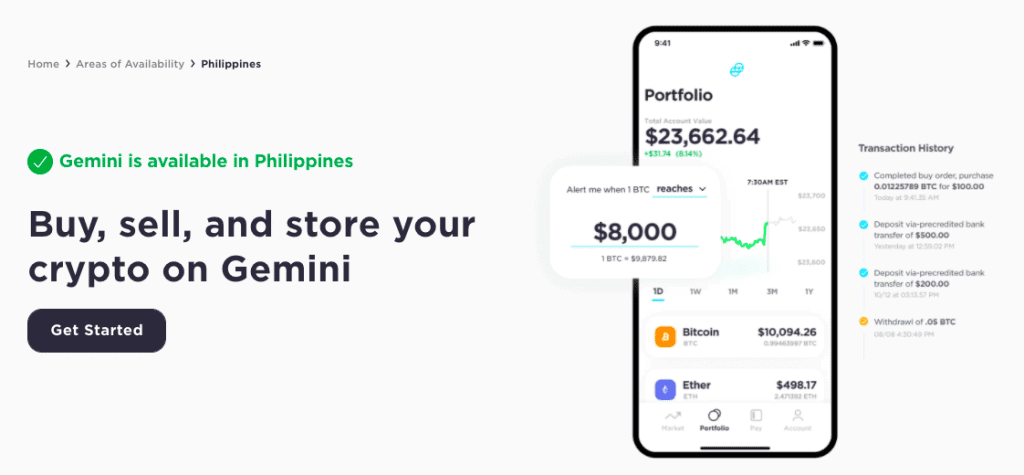 Like Coinbase, Gemini offers customers $10 of free Bitcoin at sign-up. You can deposit your funds once you sign up and verify your account. Gemini supports free deposits in USD and does not charge for Wire Transfers, although your bank may do so. It's also worth checking your PHP to USD exchange rate and associated fees beforehand.
Once you have deposited your USD, you can buy Bitcoin, Ethereum, XRP, Cardano, and Stablecoins like DAI and GUSD.

Gemini Fees
The Gemini fee structure depends on how you access their site and your chosen payment method. Gemini will also charge high fees for credit or debit card payments at 3.49% due to the convenience.
These fees can be reduced by using their more advanced trading platform, named Gemini ActiveTrader. This platform is built into the Gemini exchange, and you can reduce your trading fees by paying a maximum of 0.35%.
7. eToro
eToro is a popular, user-friendly platform where you can instantly and easily start trading cryptocurrency. The FCA regulates the platform and has over 10 million users worldwide. Their platform trades in USD. However, you can deposit in PHP with a conversion fee associated with this (depending on the PHP/USD exchange rate).
To deposit into eToro, you must make an initial deposit of $200 dollars (roughly 10,000 PHP). You can do this using Paypal, PayMaya, Local bank (via Dragon Pay in PHP), debit card (USD), Skrill, wire transfer, or Union Pay.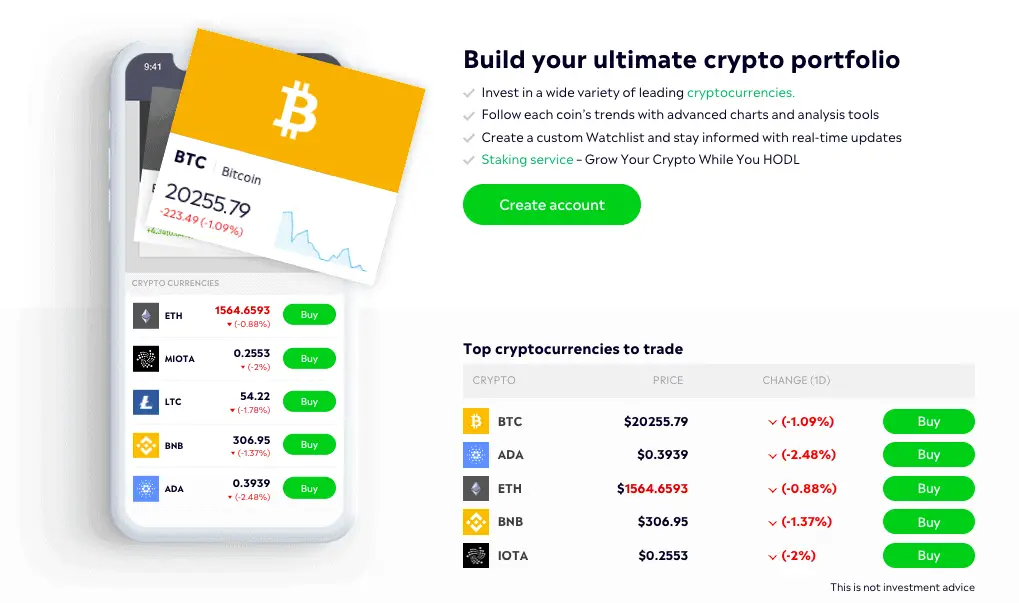 Once you have deposited, using eToro is simple. Functionalities include tracking real market trends and using a CopyTrade service to copy other users' portfolio investments.
Plus, you can even use a virtual 'practice' trading platform. To buy Bitcoin, ensure you are in your 'real' dashboard. Then, search for Bitcoin and input the amount you wish to purchase.


eToro Fees
eToro is free to make an account and has no management or tracking fees. The platform does not charge for deposits; however, as this will need to be in USD, you will have a conversion fee.
Regarding trading, the only fees are spread fees, which for Bitcoin is currently 0.75% and 1.9% on Ethereum. If you want to withdraw funds from the platform, there is a $5 fee.
Please Note: Some of these exchanges are extremely busy ATMs, so if you have any questions, there may be delays from customer support. Also, some links are affiliates and may not work depending on location.
Crypto & Philippines Adoptions
One of the reasons Filipinos embrace digital currencies is the ease of use, but also due to the generally low income in the region. Several banks in the Philippines require monthly deposits to open an account. However, most salaries are cash in hand and are insufficient to meet these requirements.
Thousands of pawnshops and 7/11s now enable cash deposits and withdrawals to and from verified exchanges such as Abra. Allowing for more convenient payments without having to open a bank account. 
Binance's Changpeng Zhao has described the Philippines as "one of the most active crypto communities in Asia".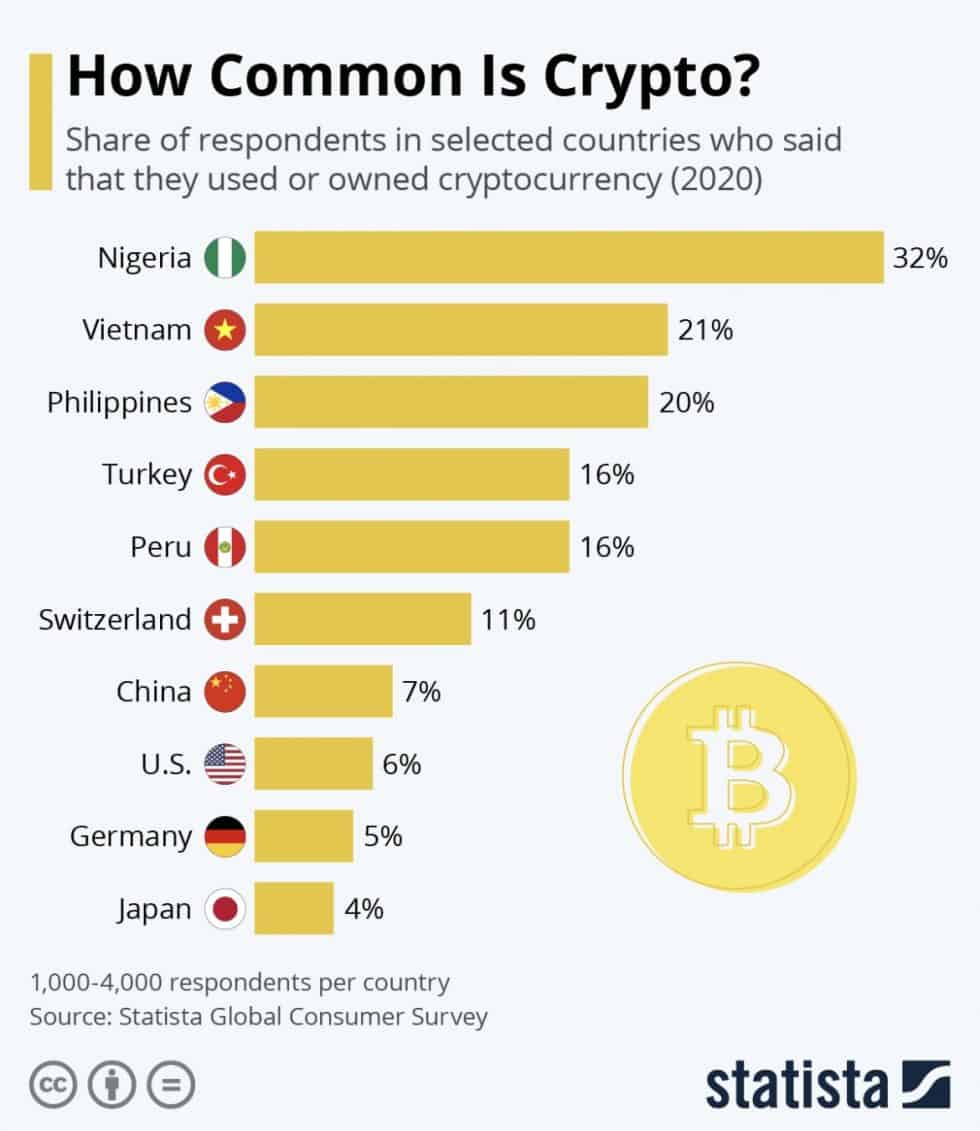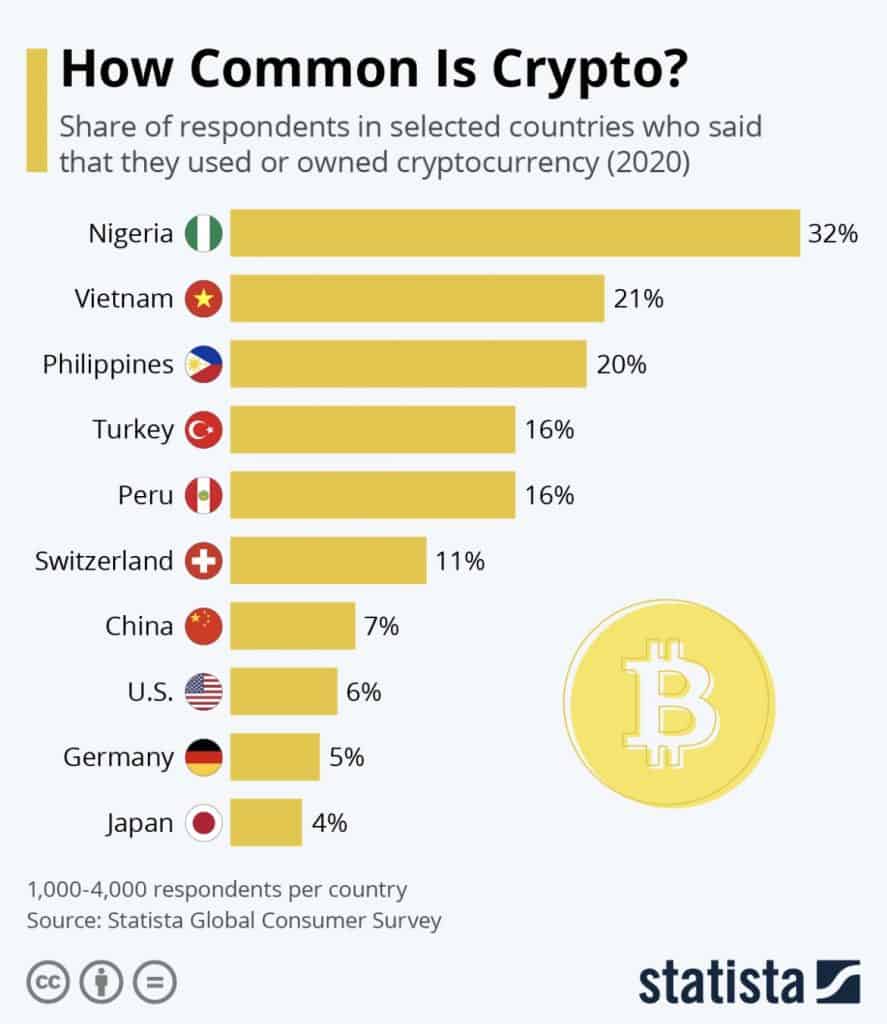 Crypto is also popular amongst Overseas Filipino Workers (OFWs), who currently make up 10% of the Phillippines GDP. Often, OFWs will send remittances back to their families. Usually, this would incur high transaction and transfer fees from banks or the likes of Western Union.  However, using cryptocurrencies can reduce these fees to a few cents.
There are currently 17 licensed exchanges that can be used in the Philippines. All have different features, fees, transaction methods, and verification processes.
Binance's Changpeng Zhao describes the Philippines as "one of the most active crypto communities in Asia" and it's the perfect way to sum up the country's blend of high adoption amid relatively low affluence.
FAQs
Is crypto trading legal in the Philippines?
Yes, crypto trading is legal in the Philippines. The Bangko Sentral ng Pilipinas (BSP) has regulations in place for virtual currency exchanges, ensuring safe and transparent operations.
Is Binance banned in the Philippines?
Binance is not officially banned in the Philippines. However, the Philippines' Securities and Exchange Commission (SEC) has advised the public to be cautious when investing with Binance.
Is Coinbase available in the Philippines?
Yes, Coinbase offers its services in the Philippines, allowing users to buy, sell, and manage their cryptocurrency portfolio.
Where can I trade cryptocurrency in the Philippines?
Filipinos have several options for trading cryptocurrency, including popular platforms like Binance, Coinbase, and local exchanges such as Coins.ph and PDAX.
Which bank in the Philippines allows cryptocurrency?
While many banks in the Philippines exercise caution regarding cryptocurrency, institutions like UnionBank have shown a more crypto-friendly approach. However, it's essential to consult with individual banks for their specific policies
Related Posts