In this guide, we'll walk you through the step-by-step process of purchasing crypto on Binance Philippines with PHP, making digital investments more accessible than ever.
Discovering the world of cryptocurrencies has never been easier, especially for residents of the Philippines. As of 2023, Binance Philippines provides a seamless gateway to digital assets, allowing you to buy your favourite cryptocurrencies using PHP.
How to Buy Crypto on Binance Philippines

What is Binance Philippines?
Binance.com/ph Philippines is the localized version of the global cryptocurrency exchange, Binance.com, tailored for users in the Philippines. The platform allows Filipino users to buy, sell, and trade a wide range of cryptocurrencies using the Philippine Peso (PHP) and other major cryptocurrencies. It offers a user-friendly interface, local payment gateways, and services optimized for the Filipino market.
As part of the global Binance network, it adheres to high-security standards and offers a vast array of cryptocurrencies for trading. The platform also provides educational resources and customer support to assist users in the Philippines in navigating the world of crypto trading.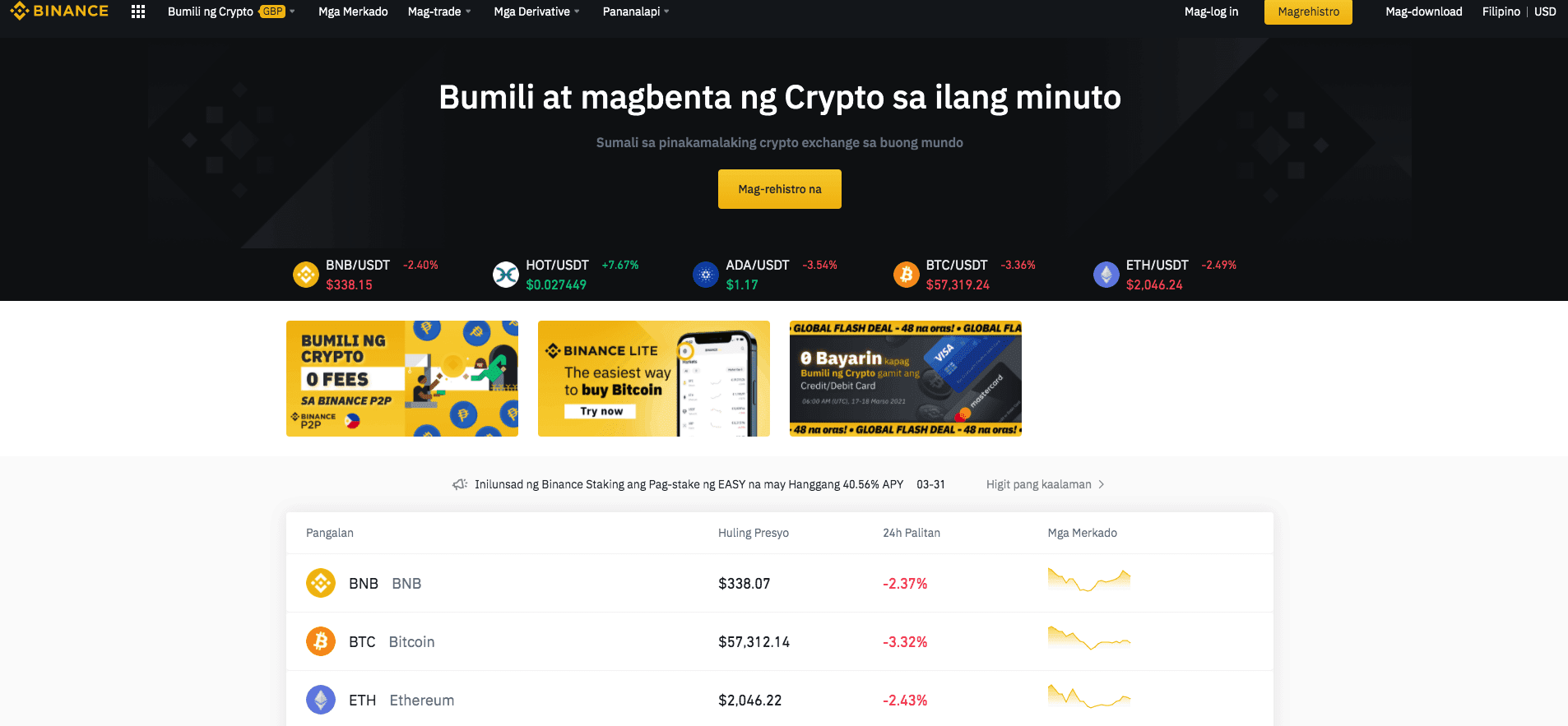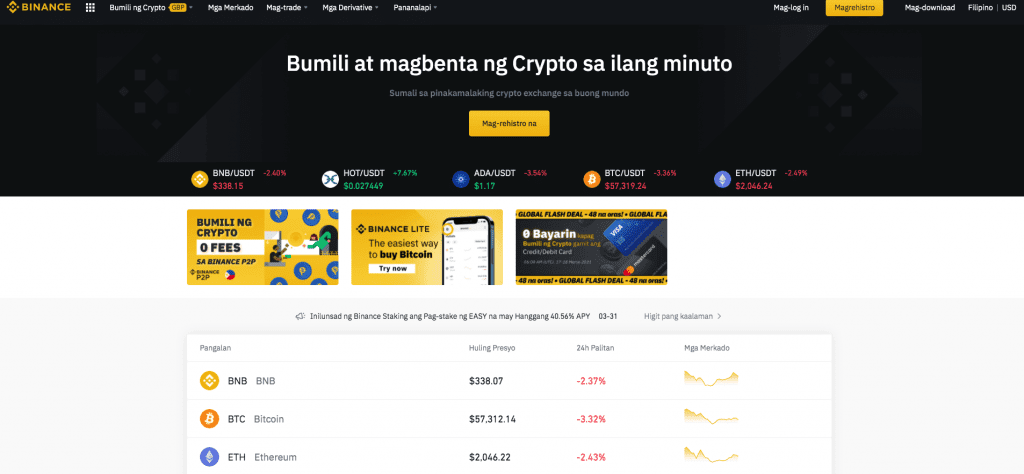 What is Binance P2P?
Binance P2P is Binance's peer-to-peer cash-to-crypto trading platform, launched globally in 2019 and introduced to the Filipino market in 2020. It allows users to directly trade cryptocurrencies with one another using 31 different fiat currencies worldwide. Its immense popularity among Filipinos can be attributed to its user-friendly interface and extensive support for various currencies. Since its inception, Binance P2P has successfully processed trades exceeding $1 billion.
Supported Cryptocurrencies
Since Binance Philippines is essentially the Binance.com platform, the Filipino platform supports the same cryptocurrencies. You can trade with 100 cryptocurrencies and 250+ trading pairs, some of which are listed below. You can see a full list on the exchange here.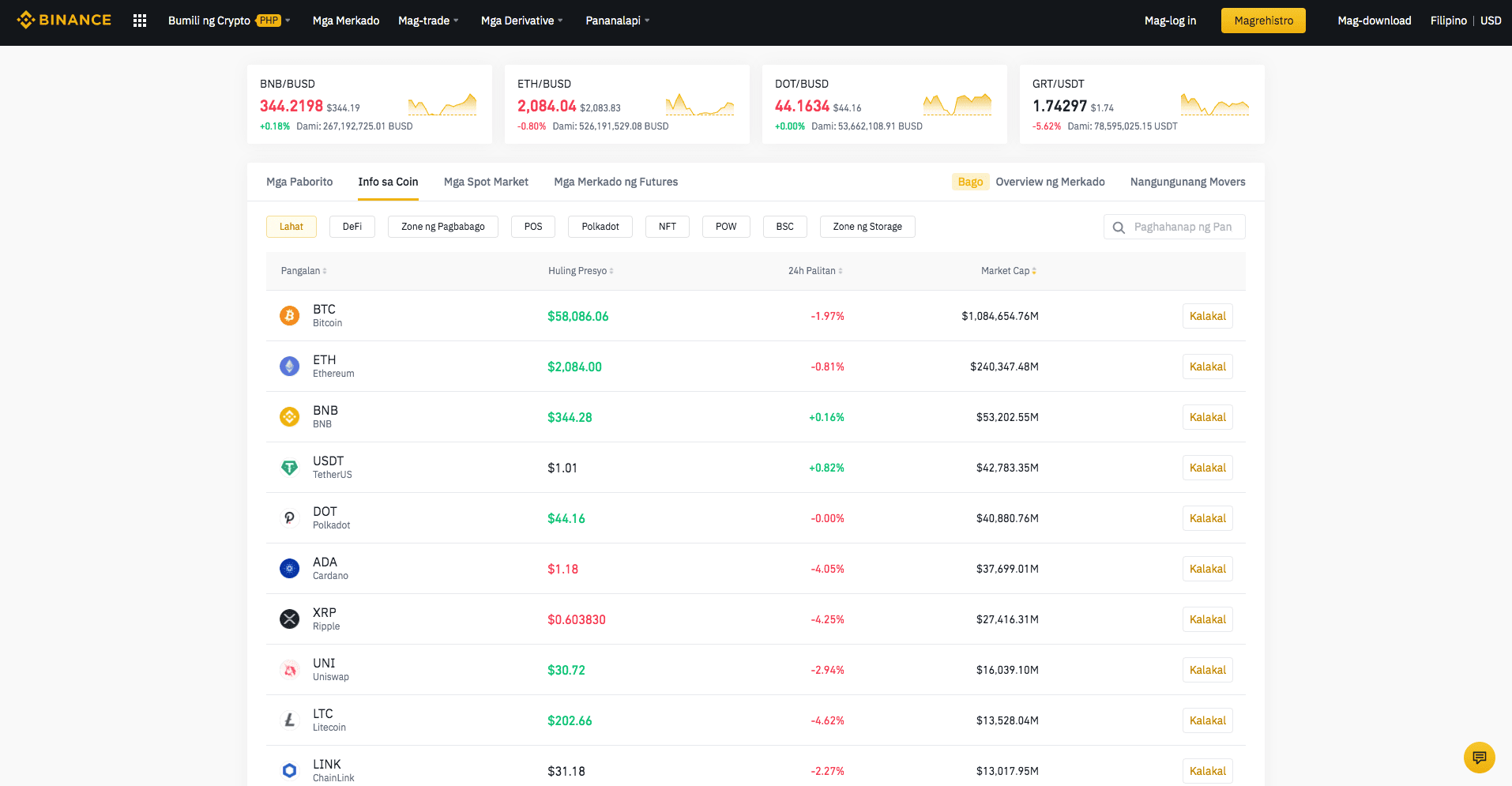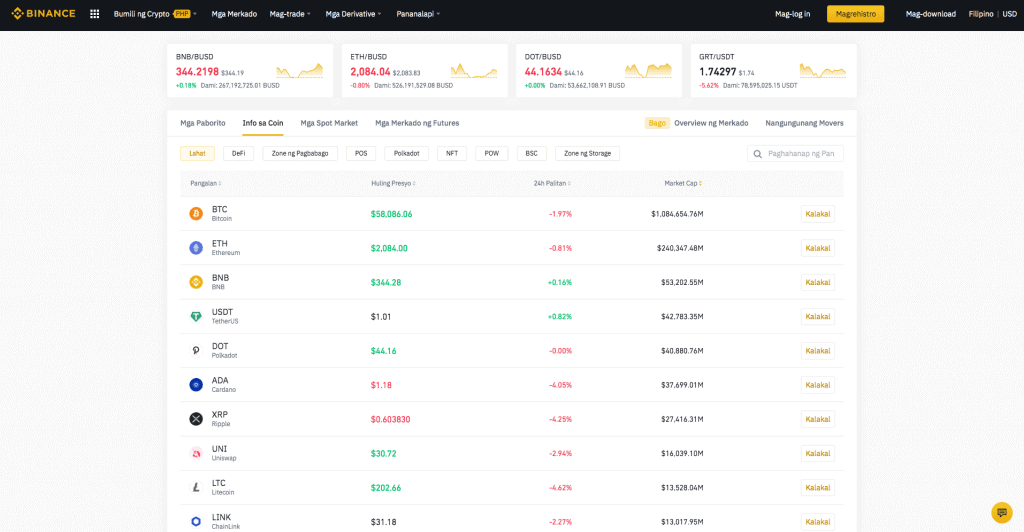 How to Buy Crypto with PHP?
Binance is a predominantly Crypto to Crypto trading platform, meaning you must deposit Crypto into the exchange to start trading. That being said, you can buy crypto with PHP using the "Bumili ng Crypto' tab on the exchange. There are three methods: the Binance P2P platform, with a Credit/ Debit card, or through a third party, Simplex.
Philippines P2P Platform
As mentioned, the Binance P2P platform facilitates buying crypto with PHP. The main difference in this method from using spot exchanges and other direct exchanges for FIAT to crypto is that you can negotiate a price directly with the buyer. Spot exchanges allow buyers to buy orders at a specific price, matching this with a seller using order books, and direct exchanges set the price for buyers and sellers themselves to give you no room for negotiation.
Using Binance P2P, users can buy and sell BTC, ETH, BNB, USDT, EOS, and BUSD using PHP. After buying any of these cryptos, you can move these to your spot wallets for trading on the exchange. The P2P platform offers local payment methods for sellers and buyers to use. When you set up your account, you must pick your preferred payment method to match up with a seller. I have listed the local payment methods for the Philippines below.
Buying on the P2P platform is simple; click 'Bumili ng Crypto' and then navigate to 'P2P trading'. Here, you must pick PHP, the crypto you want to buy, and your desired payment method. You are then able to browse the sellers with these conditions.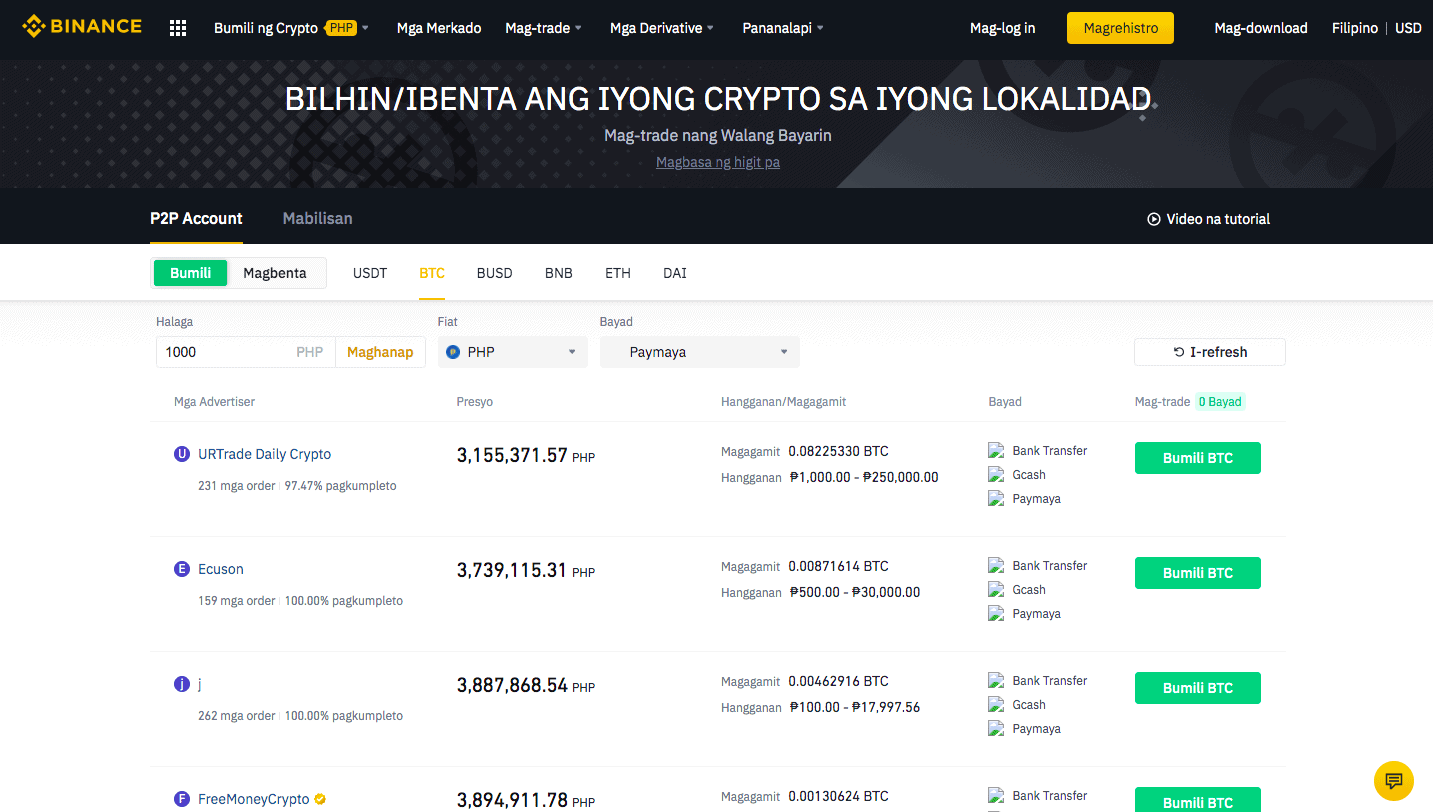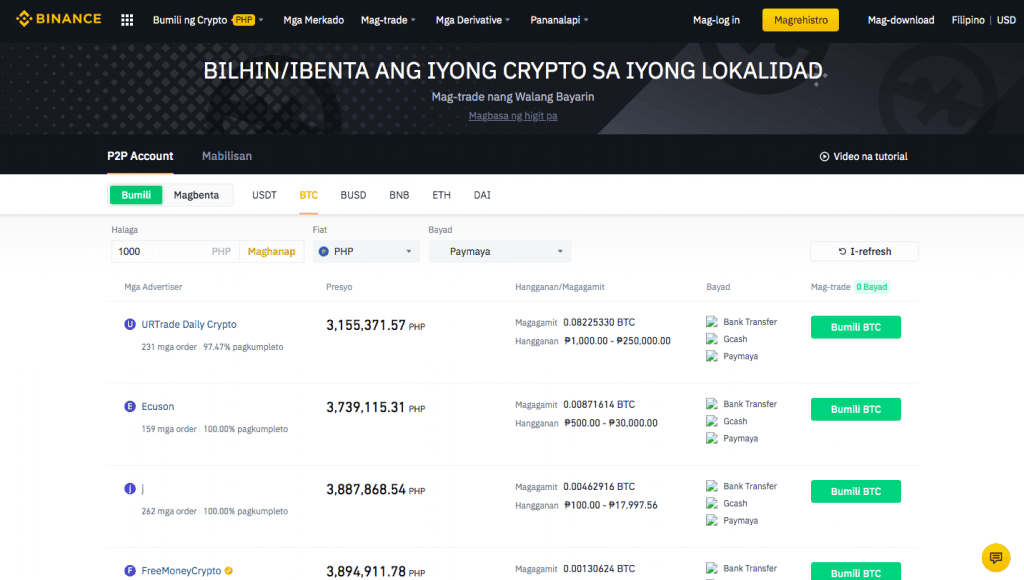 P2P Protection
Trades on the P2P platform are only facilitated by Binance and fulfilled by individual selling users. Because of this, it's natural to feel uneasy. However, Binance users are protected by an escrow service. When their crypto ad goes up, the seller's funds are automatically reserved from their crypto P2P wallet. This means once you transfer your funds, the Binance team can release this if the buyer does not. This feature ensures the safety and timely delivery of the digital asset during trade execution.
Credit/ Debit card
Another way to buy Crypto on the exchange is by credit/debit card. Again, you can use the 'Bumili ng Crypto' tab and click on the credit/debit card option. On this tab, you can buy and sell crypto with PHP and see an overview of the price of the crypto on the last day. With this payment method, you can buy BTC, NPXS, BUSD, ETH, XPR, ADA, CHZ, BNB, DODGE, ZIL and USDT. You will need to deposit 780 – 250000 PHP to use this method.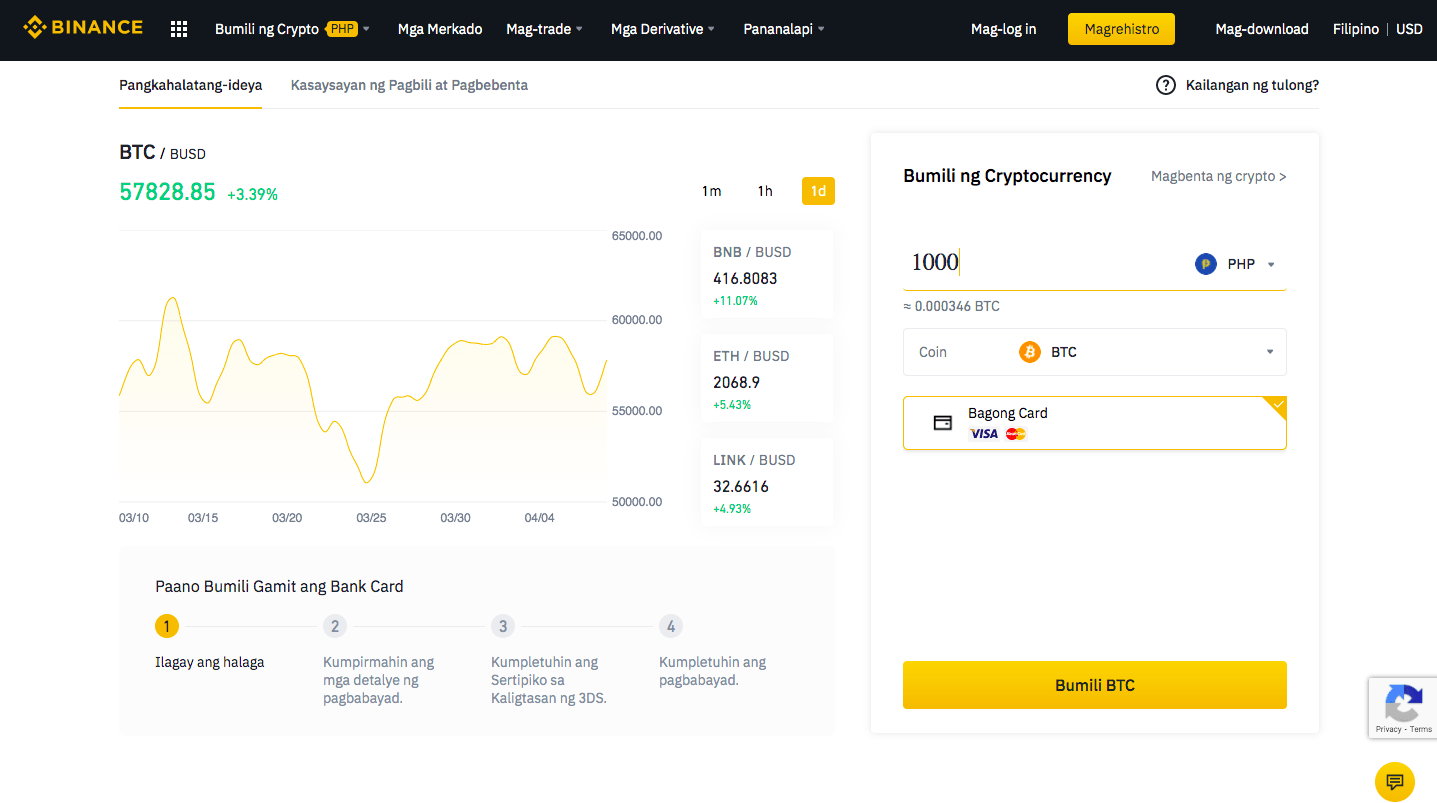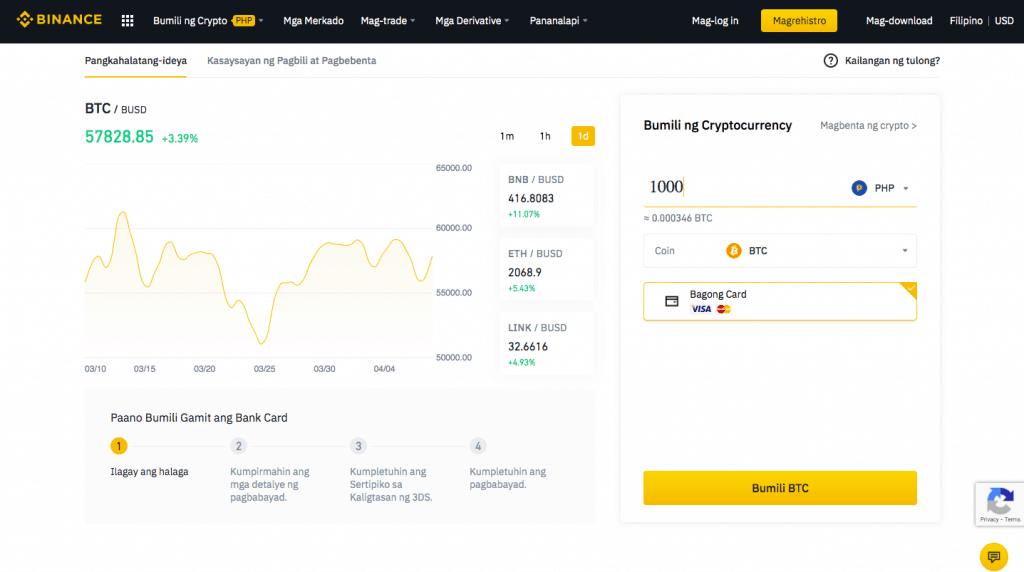 Third-Party – Simplex
On the exchange, you can use a debit/ credit card through a third-party method, Simplex. Simplex is an EU-licensed financial institution providing the fiat infrastructure for the Crypto Industry.' With the partnership between Binance and Simplex, their shared goal is to provide more fiat gateways to grow the Crypto ecosystem globally. Card payments processed by Simplex have a 100% zero fraud guarantee using AI technology to stop fraudulent transactions. Because of this, legitimate transactions can be completed with speed and confidence.


Trading on Binance Philippines.
There are five ways to trade on Binance Philippines- Mag convert, Karaniwan, Advanced, Margin na wallet and P2P. Your trading experience, buying methods, reasons for trading, etc., may determine which trading option you want.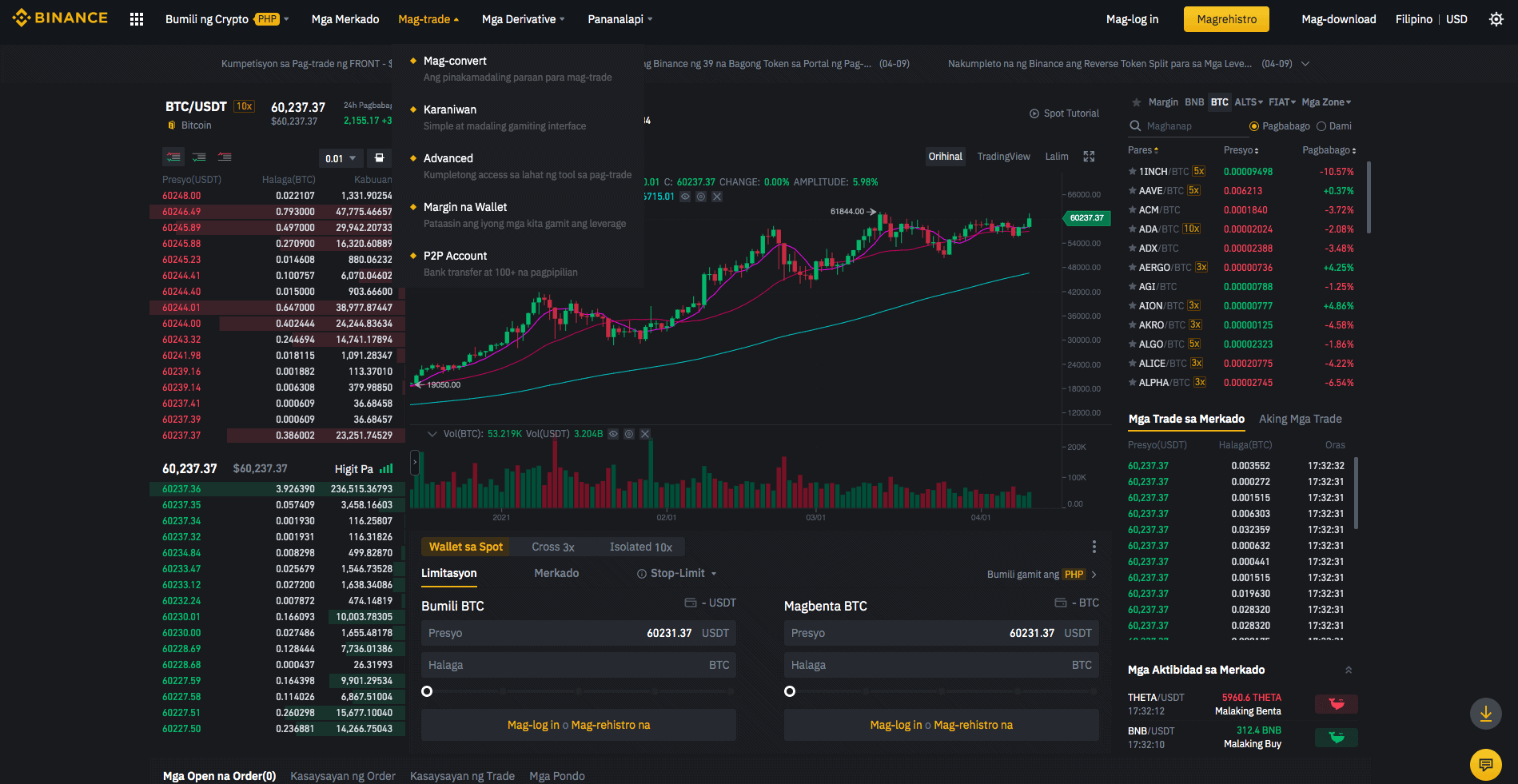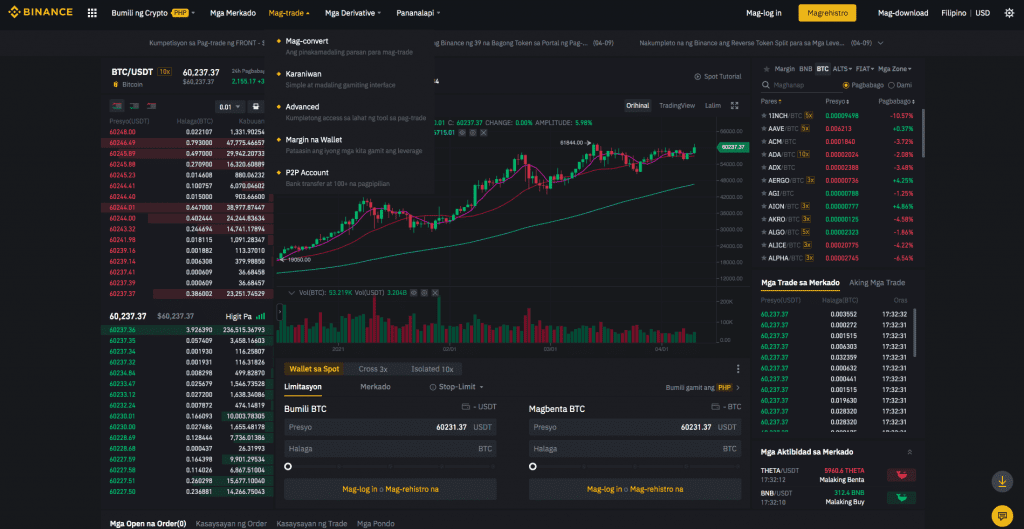 Magconvert– The easiest way to convert and trade your Crypto on the platform. Here, you can pick which Cryptos you want to convert and do this within minutes. This method allows instant trading with a conversation rate set by the Binance platform.
Karaniwan– A more traditional platform that includes charts and options to trade. These include by spot, margin, market, or limit order. Here, you can buy or sell your Crypto.
Advanced– This has all the features of the Karaniwan platform but supports a full suite of charts to support technical analysis and trading.
Margin na wallet– This part of the platform allows you to borrow funds for leveraged trading. Here, you can use Isolate or Cross margin mode, depending on which account you have decided to create.
P2P- Binance's peer-to-peer marketplace allows users to search the marketplace for the crypto, rate and buying method they wish to use. Using this, you are also able to negotiate with the sellers.
Binance Fees
Trading fees for Binance are tiered depending on 30-day trading volumes or 24-hour BNB coin holdings. There are nine tiers dependent on this in which the maker/ taker fees range from 0.1% to 0.04%. Using Binance BNB coin, you can also get a 25% discount.
If you want to withdraw your Crypto, the fees vary depending on the Crypto/ Fiat you would like to withdraw. You can see a full list of your options here.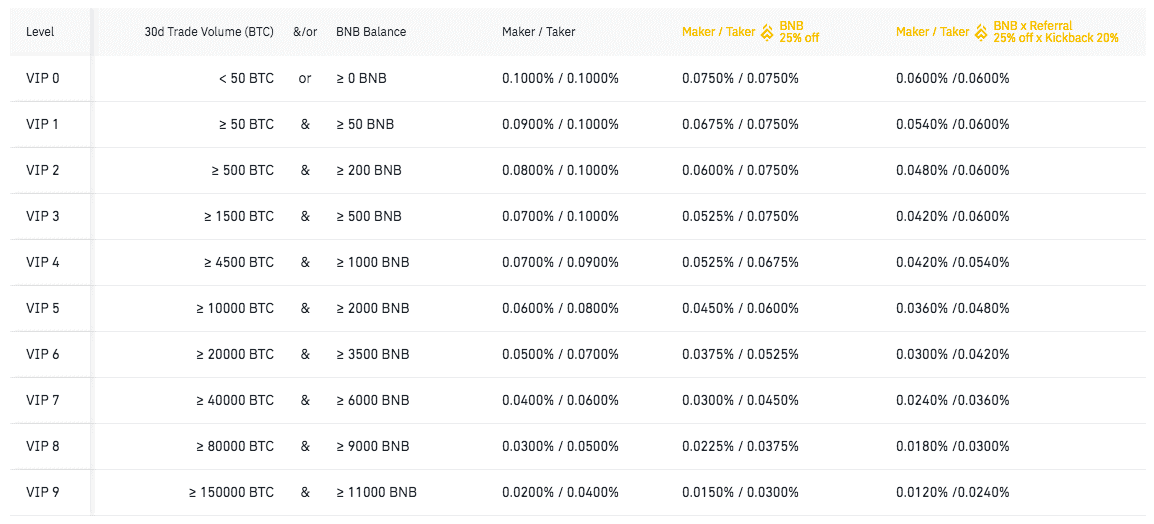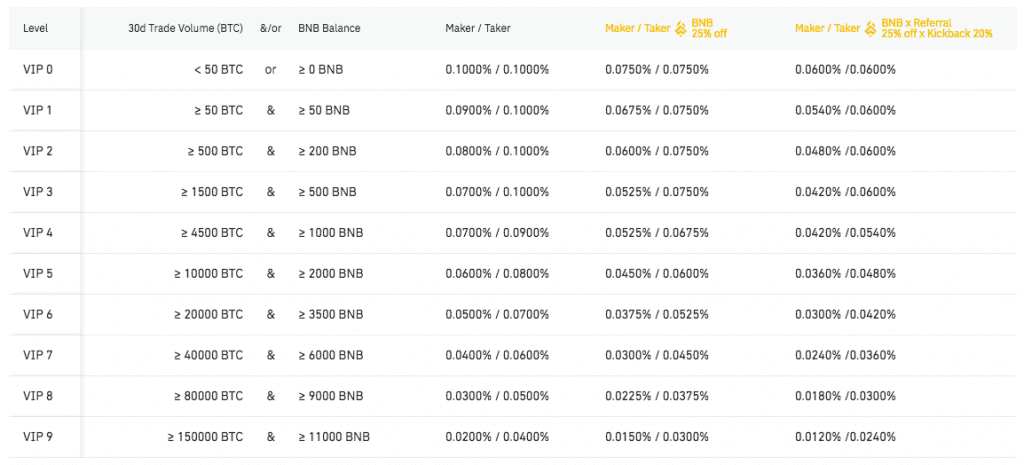 Binance Philippines Support
Binance Philippines offers several support methods. Firstly, they have some resources on their website for users. This includes the 'Binance Academy', an information guide for crypto beginners across almost all crypto topics. Here, you can also ask questions to the community within the Academy. The platform also has blogs, FAQs, and user guides that are pretty extensive. You can also use the 'Binance Filipino' Telegram to communicate with 11,000 Filipino users in the community.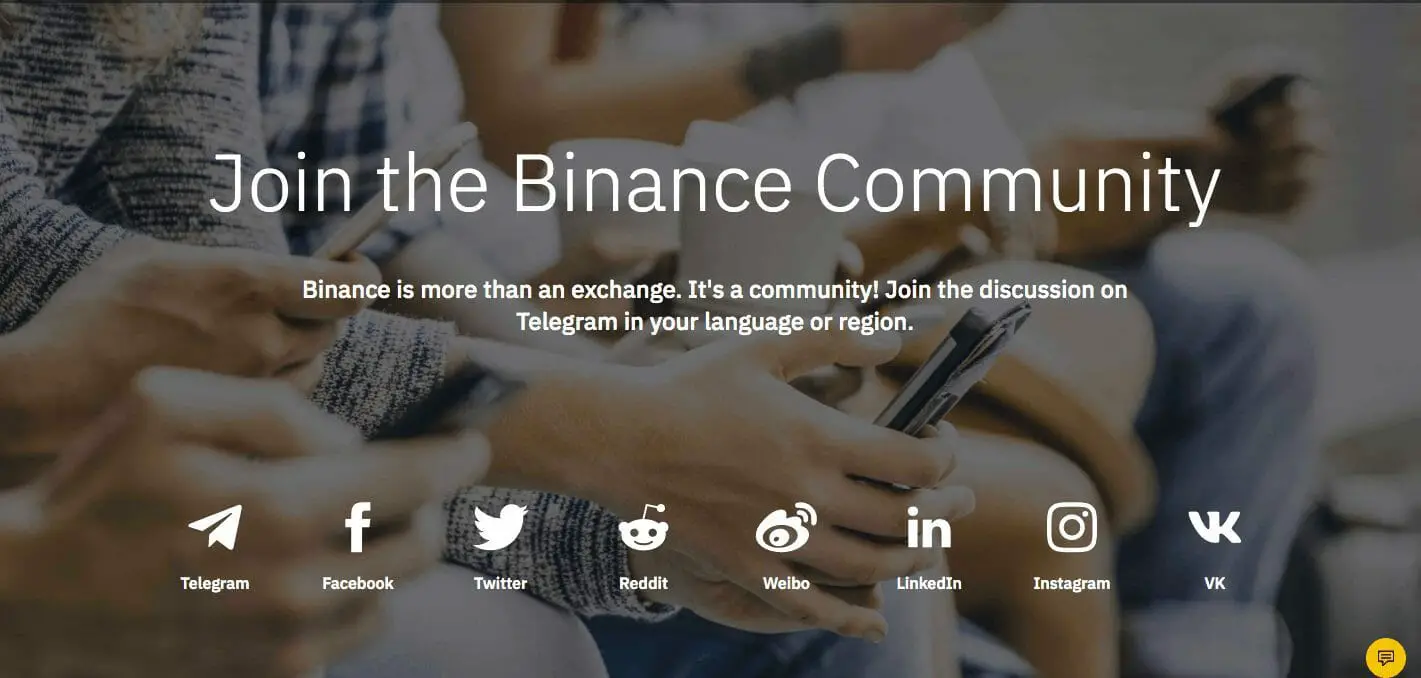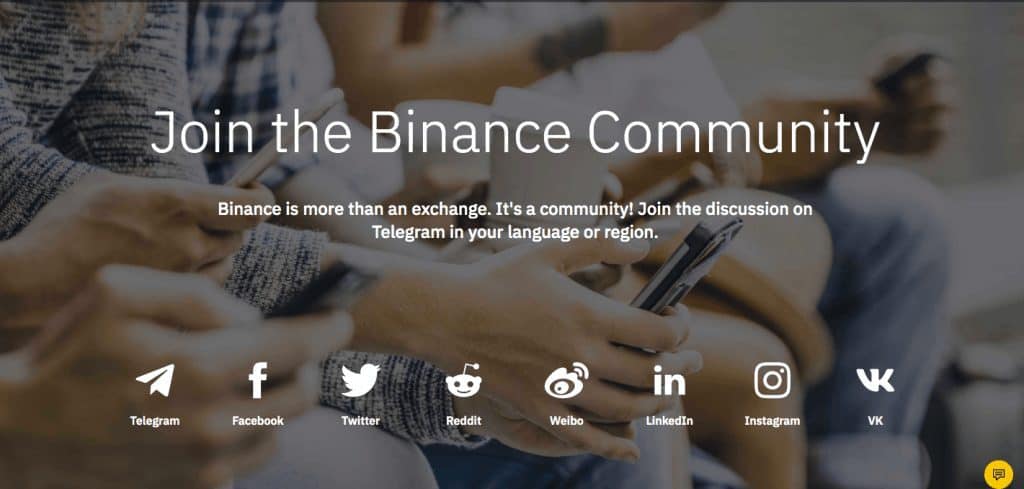 FAQs
Is crypto trading legal in the Philippines?
Yes, crypto trading is legal in the Philippines. The Bangko Sentral ng Pilipinas (BSP) has regulations for virtual currency exchanges operating in the country, ensuring a safe environment for traders.
Is Binance legit in the Philippines?
Yes, Binance is a globally recognized cryptocurrency exchange platform and is considered legit in the Philippines. However, as with any financial decision, users should conduct their own research and exercise caution when trading.
Can I buy crypto in the Philippines?
Filipino investors can purchase cryptocurrencies in the Philippines through regulated exchanges like Coins.ph, PDAX, and Binance. The Central Bank of the Philippines has set guidelines for crypto exchanges, ensuring they adhere to AML and KYC regulations. Decentralized platforms like Uniswap are also accessible to Filipinos for direct crypto trading.