Binance is the world's largest crypto exchange, and like all platforms, its customers occasionally encounter challenges, from account issues to security verifications. While Binance has made significant strides in ensuring a seamless experience for its customers, there are moments when assistance is required. So, how exactly do you contact Binance customer support?
Currently, Binance doesn't offer a customer service number. However, they provide a responsive Binance customer support chat option where they should be able to assist you and answer your questions. Whether you're grappling with login issues, deposit concerns, or withdrawal queries, our beginner's guide will explain how to contact Binance support.
5 Ways to Contact Binance Support
A good crypto platform should always provide its users with easy and quick access to support. Fortunately, Binance does provide users with a few options to help them navigate the complex world of crypto. Binance support can be contacted via Live Chat and social media channels such as Twitter, Facebook and Reddit.
Below, we will explain all the avenues you can use to contact Binance Exchange.
1. Submit a Request on Binance
One of the best ways to contact Binance support will be via their "submit a request" option on the exchange home page. When you submit a request, you will enter the Binance Chat Portal, where you will have some recommendations to quick links that hopefully answer your question. If not, you will have to wait to chat with someone from Binance support.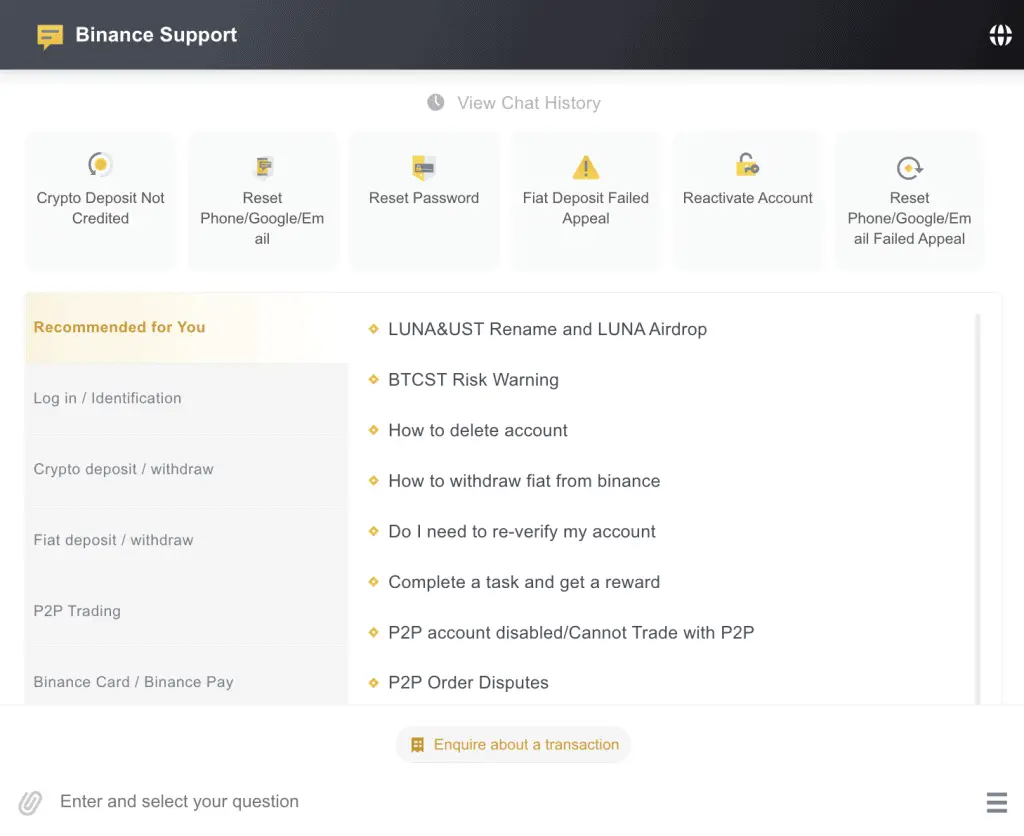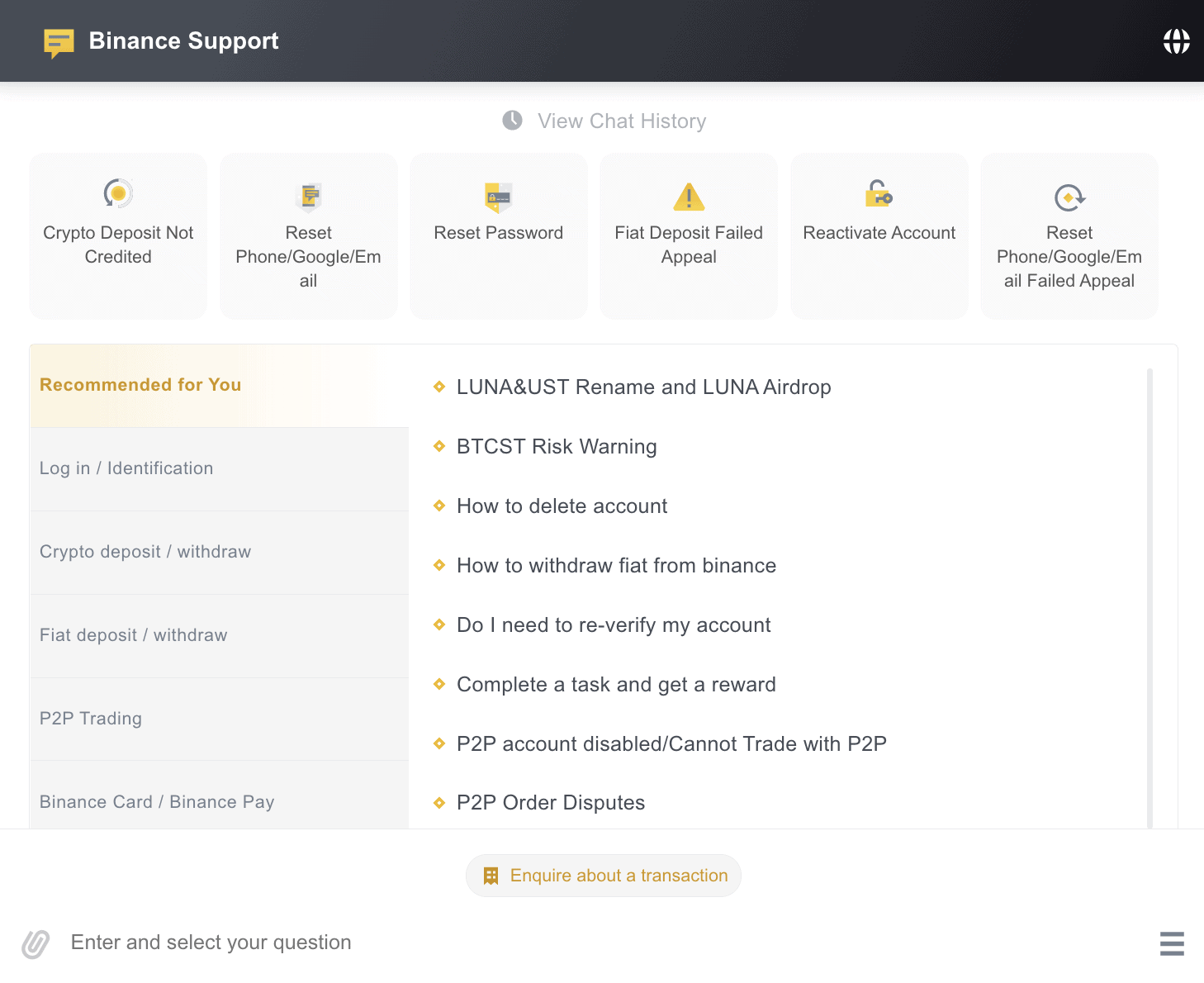 Before you can use the Binance chat and talk with a representative from Binance, you will first need to log in to your account. Wait times can vary, but you will be notified when you begin your chat session.
Log into your Binance account and scroll to the footer at the bottom of the screen.
In the footer, under the category "Support." Click on "Submit a Request." (You can also use this quick link to Binance Chat
In the Binance Chat screen, you must select a category related to your issue. Binance will try to answer your question without you having to chat with a real person.
If the Binance recommended guides don't answer your question, you will be sent to a Binance customer service representative.
Depending on how busy Binance support is, it may take a few minutes or hours before you will get a response.
It's also important to take note of the Binance Case ID from the top of the page. If you don't get a response in a reasonable amount of time, you may have to escalate this via other avenues.
I recommend doing this first so that you can get a Case ID. If you don't hear back from Binance, I recommend following the other steps outlined below.
How to use Binance Live Chat
2. Contact Binance Customer Support via Twitter
Sometimes, the quickest way to contact a platform is via Twitter; no company likes their negative feedback submitted for the public to see. If it's not dealt with quickly, negativity can quickly spread.
To contact Binance via their Twitter account, go to Binance Customer Support @BinanceHelpDesk.
Once you're on the official Binance Twitter page, you can send Binance a direct message. To send Binance a direct message, go to the "Mail Icon" and explain your issue or concern, including your Case ID.
Another way to get Binance's attention is to name and shame publicly on Twitter; you can post a tweet and include the tag @BinanceHelpDesk.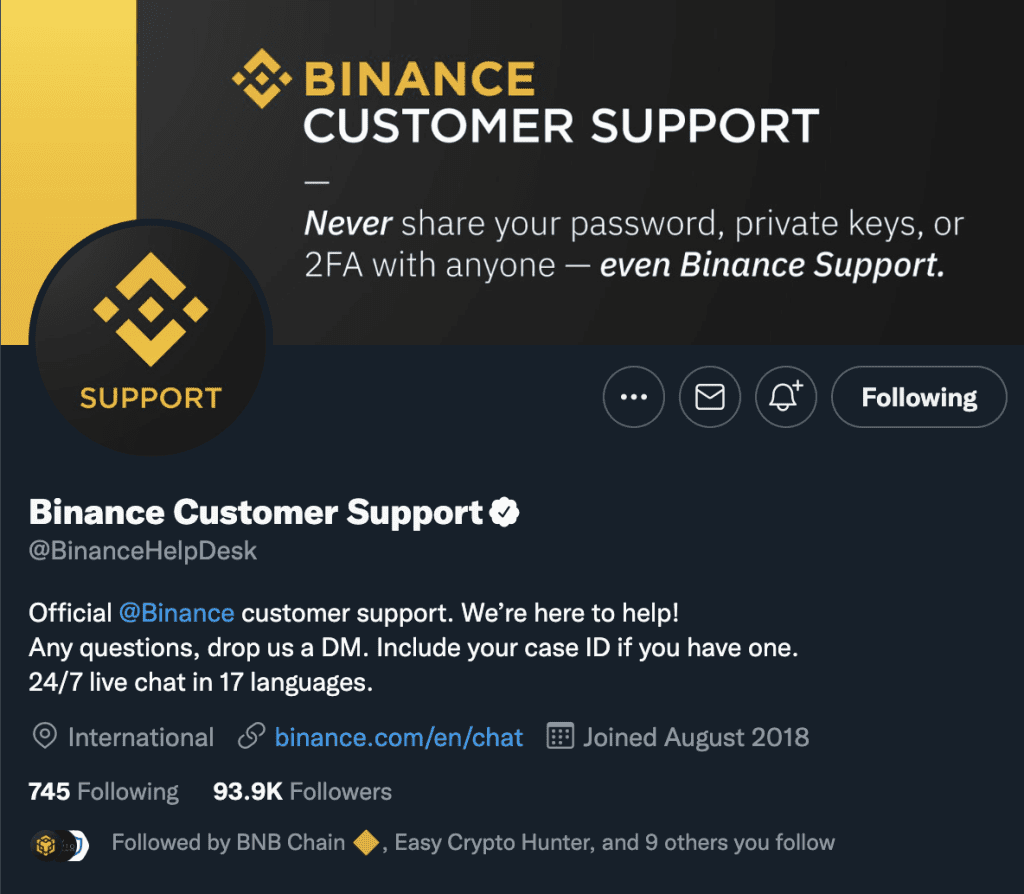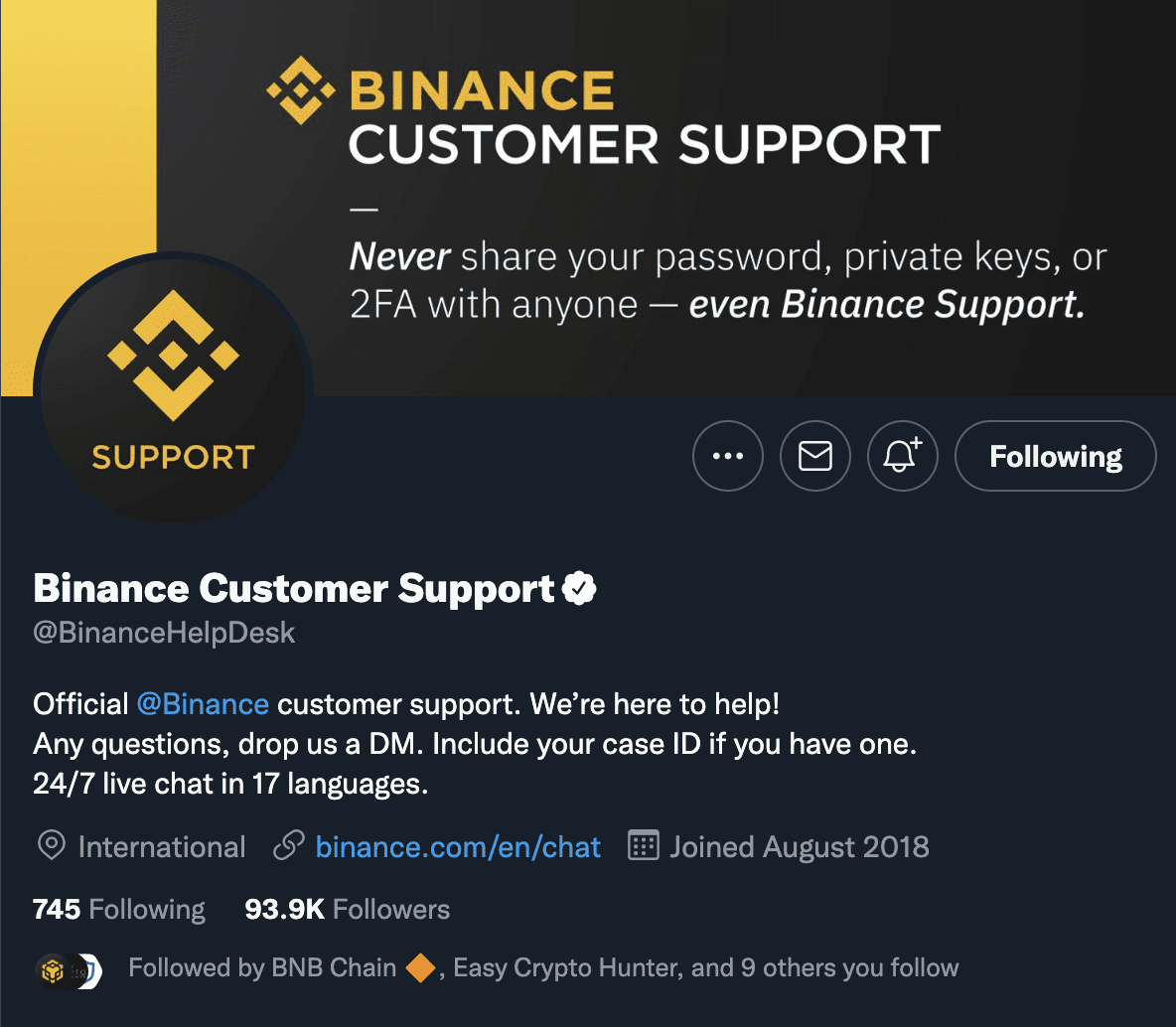 3. Contact Binance via Facebook
The Binance Official Facebook page is another way to contact Binance Exchange Support directly. At the top of the Binance page, you will see a blue "Send Message" button, or you can comment on Binance posts. However, please do not share personal information on their page and ignore any direct message from people pretending to be from Binance.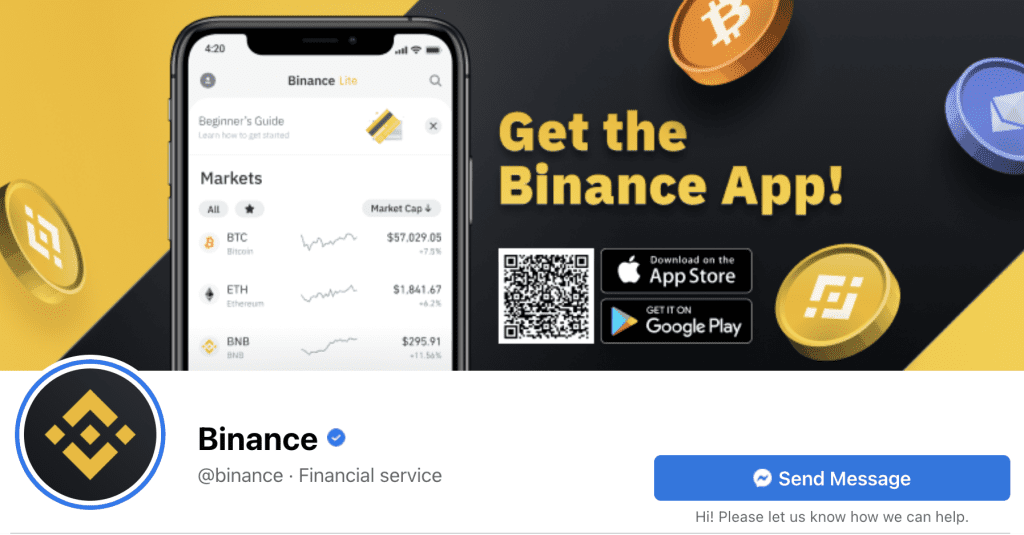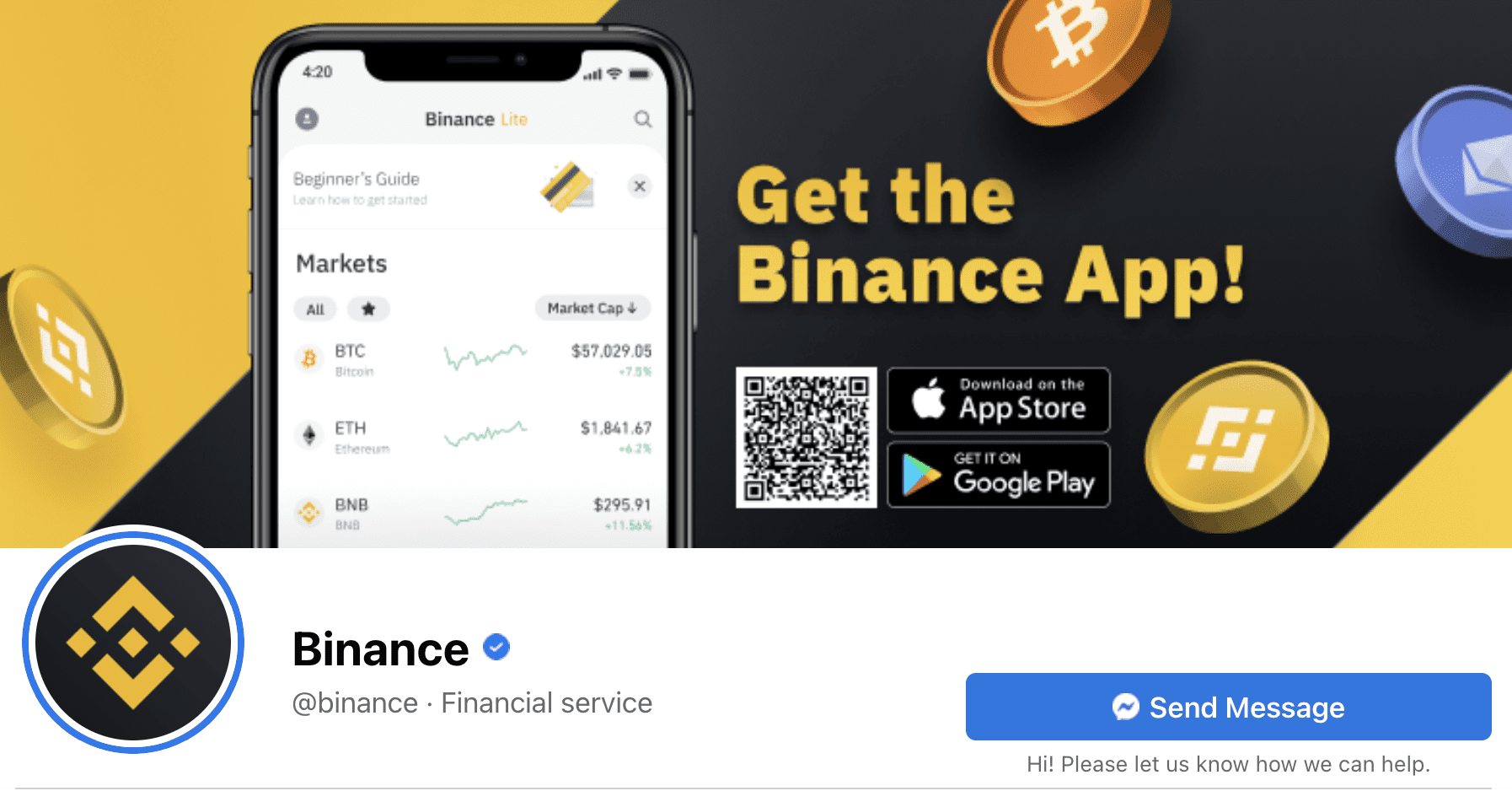 4. Contact Binance via Reddit
Another way to contact Binance is by contacting them via their official Binance subreddit, r/binance. The Binance subreddit has a thread to consolidate support questions and queries into one place.
Go to the subreddit r/binance, and you will see a Pinned "Binance Support Thread" post.
Comment on this thread with your Case ID. (To get a Case ID, you will first need to "Submit a Request" via Binance).
Describe your issue, including your Case ID. Please do not share personal information, and make sure anyone reaching out to you is from Binance and not a scammer.
Please note: Customers from Binance US will have to use the Binance US subreddit r/BinanceUS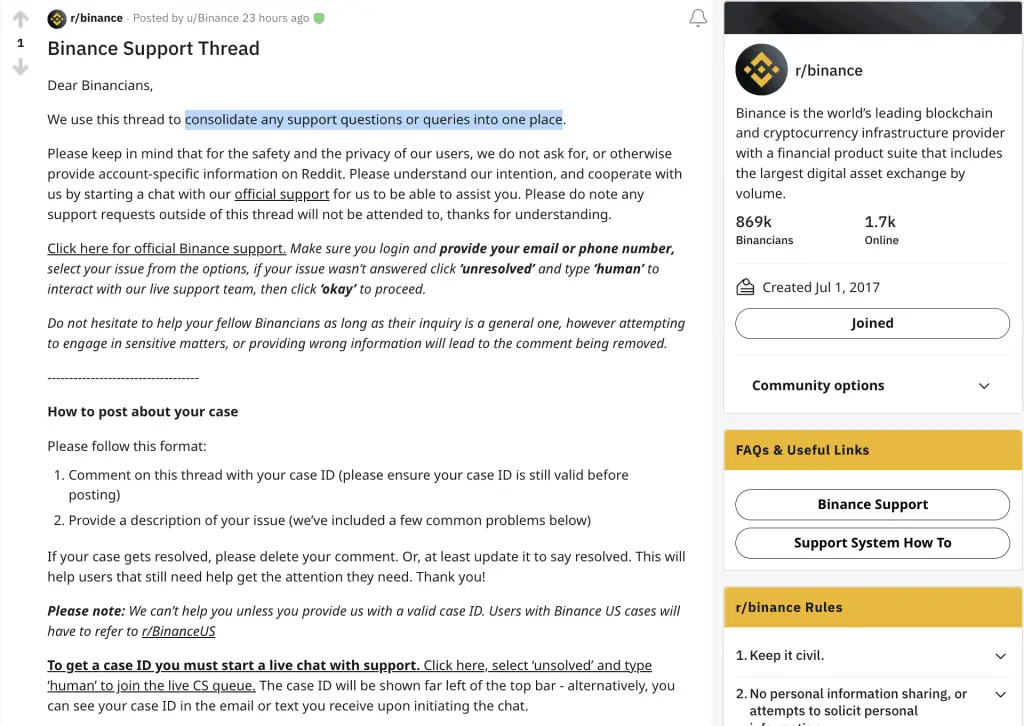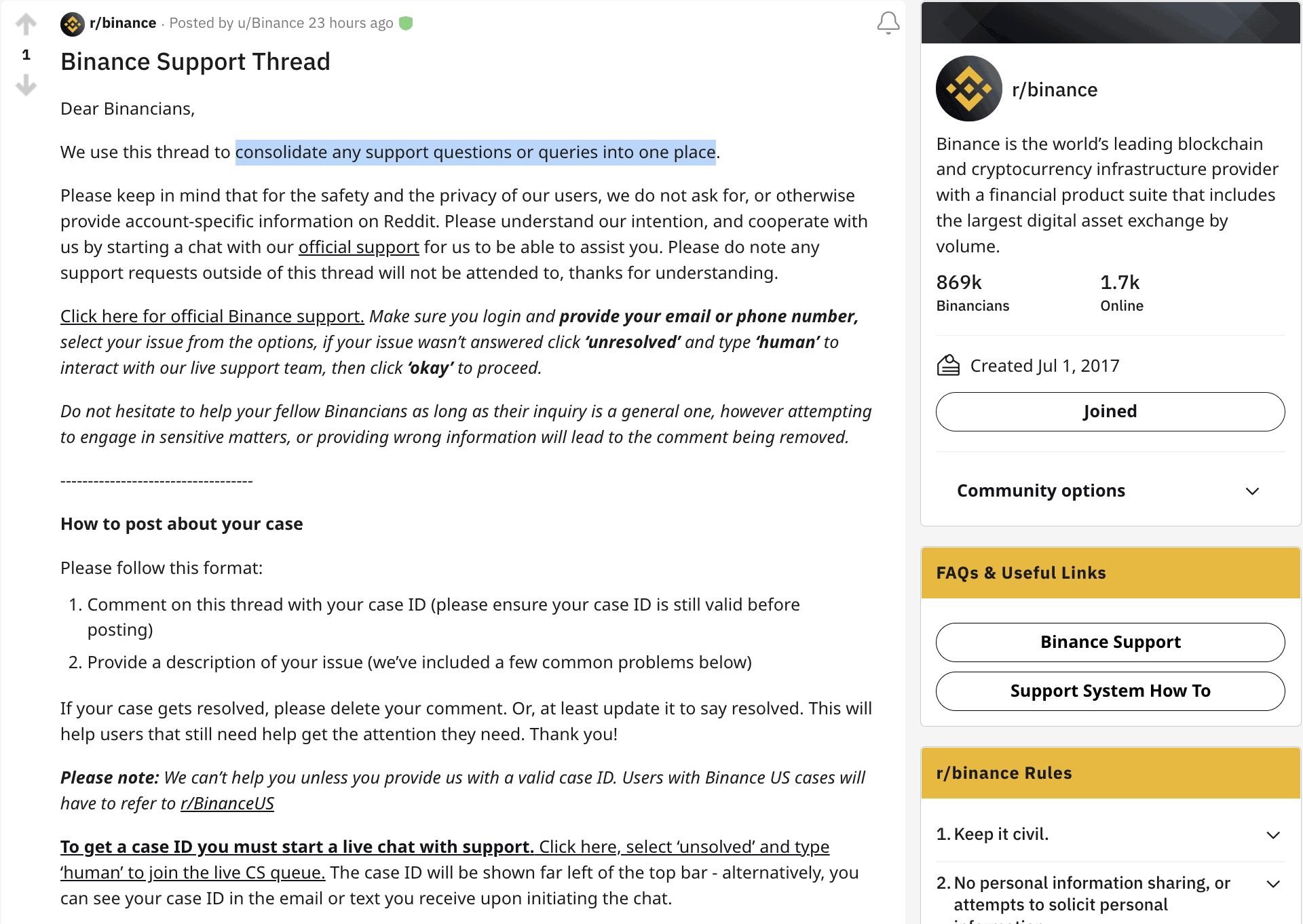 5. Binance Help Center
If you can't wait around to speak to Binance Live Chat, you should check out the Binance Help Center. Binance Help Center has many helpful articles and videos, and they continue to add and keep these articles up to date. You can search Binance FAQs for helpful articles and tutorials or check out their latest announcements.
When using Live Chat, you may find that Binance pushes you toward the Help Center before offering you the option to talk with someone.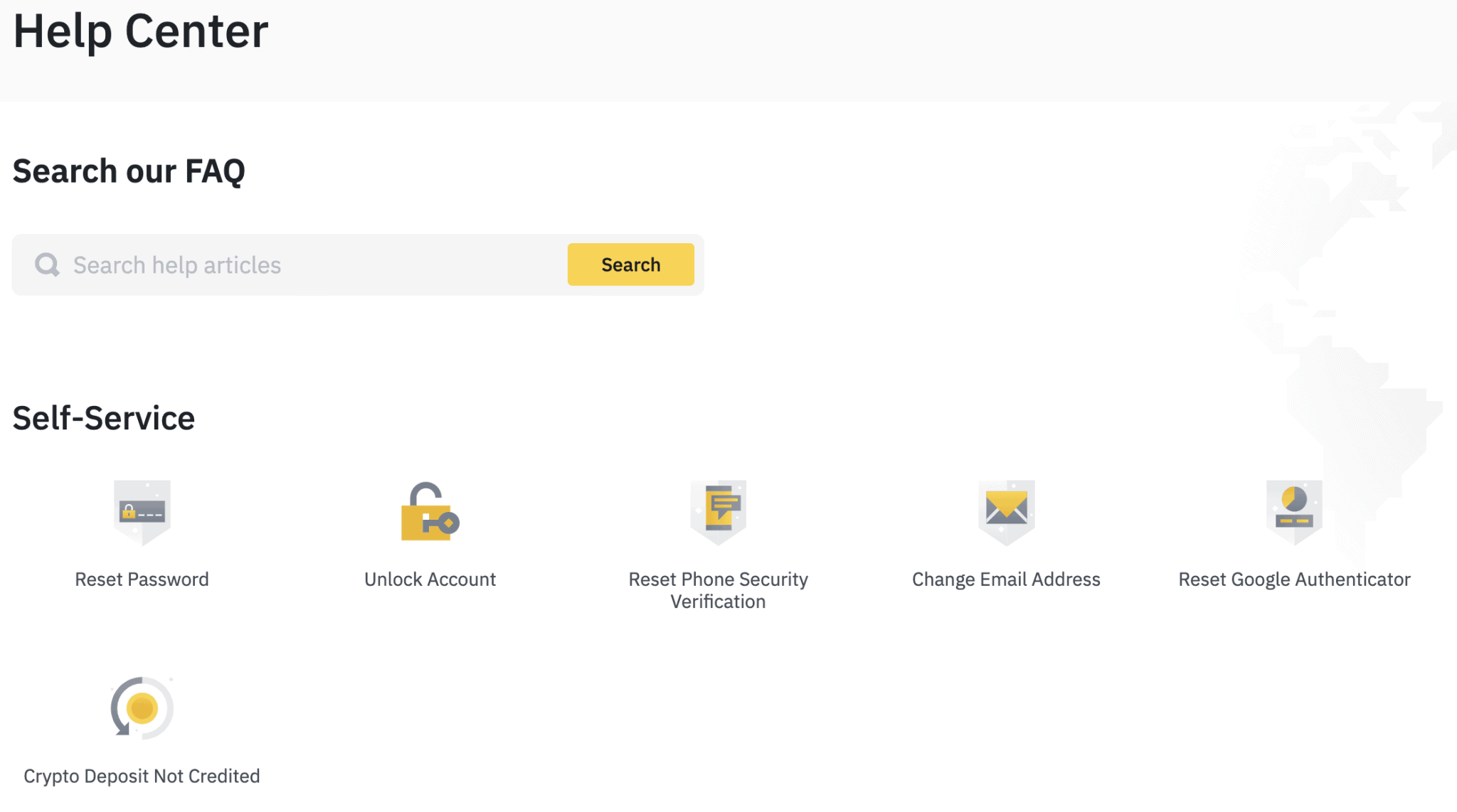 How to Submit a Complaint to Binance?
The best way to submit a complaint or provide feedback to Binance Exchange is via their Binance feedback page. You can contact Binance and submit your feedback here.
There are four feedback categories that you can choose from, including;
Localization & Language
Design & Layout
Security Vulnerabilities
Product Suggestions
Select the category you would like to provide Binance feedback on, fill out the form and submit it. You can then check the submitted status of your feedback via "My feedback history".


Contact Binance Social Media Channels
One of the best ways to contact Binance is through social media channels. Ensure you're talking with a representative from Binance, as many fake accounts and profiles are out there. Below we have put together a few of Binance's social media accounts.
You can contact Binance Exchange via:
FAQs
Can you contact Binance by phone?
Unfortunately, Binance does not provide customers with a contact telephone number. However, their live chat is operational 24/7 for immediate assistance.
What is Binance's email address?
Binance users have several different email addresses when contacting their customers. If you have received an email from Binance and are unsure if it is genuine, check out our list of Binance email addresses below.
– do-not-reply@binance.com
– donotreply@directmail.binance.com
– do-not-reply@post.binance.com
– do-not-reply@sendgrid.binance.com
– do_not_reply@mailer.binance.com
– notifications@post.binance.com
If your Binance notifications go straight to junk mail, you will need to whitelist Binance email addresses to ensure they go into your inbox.
How to contact Binance customer support in the UK?
To contact Binance customer support in the UK, use the live chat feature on the Binance website or app. If the virtual assistant can't resolve your issue, select the 'Unsolved' option to chat with a live agent. Additionally, visit the Binance Support Center to submit a detailed request regarding your concern.
Does Binance provide live support?
Yes, Binance offers support via live chat. To access Binance live chat support, sign in to the Binance app and select the 'Chat' option. Initially, you'll be connected to a virtual assistant. If your query remains unresolved, simply click on the 'Unsolved' button to initiate a conversation with a human representative.
How to report a problem to Binance?
To report a concern on Binance.us, navigate to the Binance Support Center and submit a detailed request about your problem. If you prefer real-time assistance, opt for the Live Chat option available on the Binance website.
How long does it take for Binance to respond to customers?
Binance is committed to addressing customer queries promptly. They assure a response within 24 hours, but in rare cases, it might extend up to 48 hours.
Related Posts