If you are unsure how to close a Trade on eToro, you're in the right place. This eToro beginner's guide will give you everything you need to know about closing a trade on eToro.
Etoro is an investment platform which started in 2007 and has become one of the most popular investing platforms for trading. Investors can buy and sell stocks and cryptocurrency and also interact with like-minded investors.
So, let's dive into this beginner's guide to eToro to help you learn how to close a stock or cryptocurrency on eToro.
How to Close a Trade on eToro
If you've been investing in eToro for a while and feel that now is the right time to cash out of your investment and withdraw from eToro, whether it be a stock or cryptocurrency, you'll need to close your investment before withdrawing.
The below step-by-step guide will explain how to close a stock trade on eToro. However, the process for cryptocurrencies will be the same.u003cbr/u003eu003cbr/u003e
Total Time: 5 minutes
Login to eToro Account
Head across to eToro.com and log in to your account, where you will reach the home screen.u003cbr/u003eu003cbr/u003eu003cimg class=u0022wp-image-40953u0022 style=u0022max-width:100%;u0022 src=u0022https://everybithelps.io/wp-content/uploads/2022/11/etoro-home-screen.pngu0022 alt=u0022eToro How to close a tradeu0022/u003e
Go to Portfolio Page & Locate your Stock
From the navigation pane on the left of the screen, choose Portfolio. From your list of investments, choose the stock you wish to close.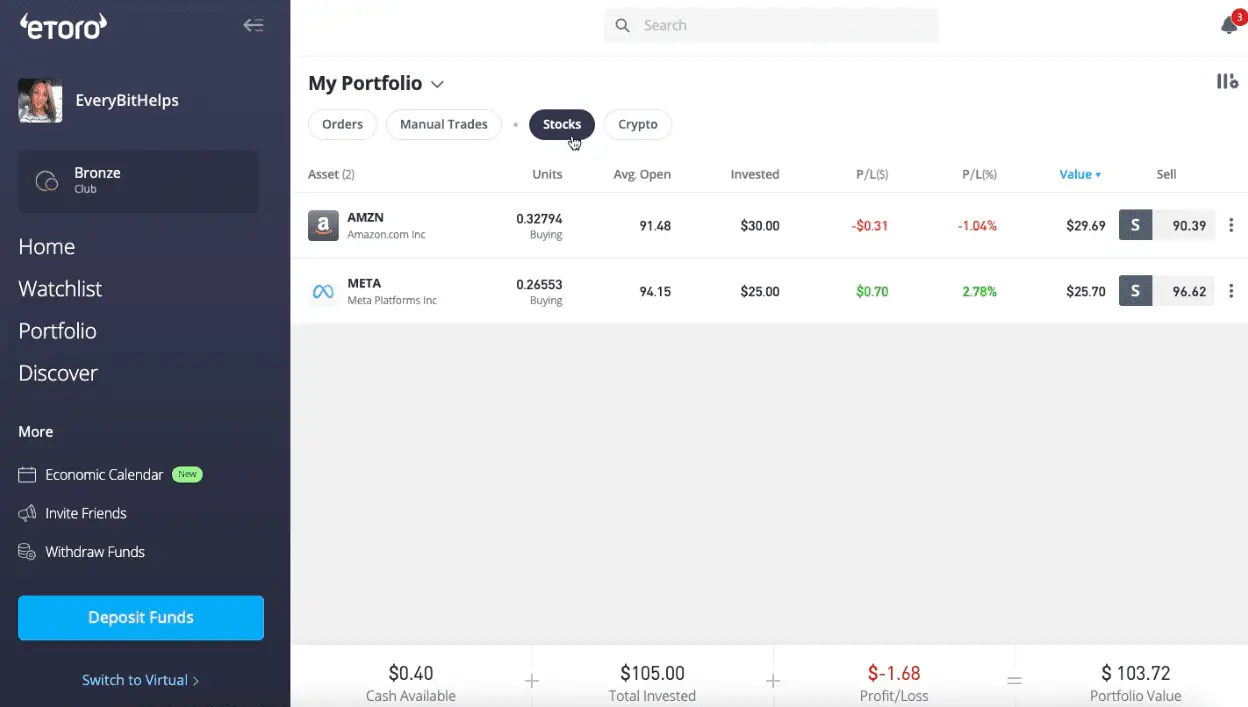 Click the 3 Dots, Choose Close All
Besides the stock, choose the 3 vertical dots and then select Close All.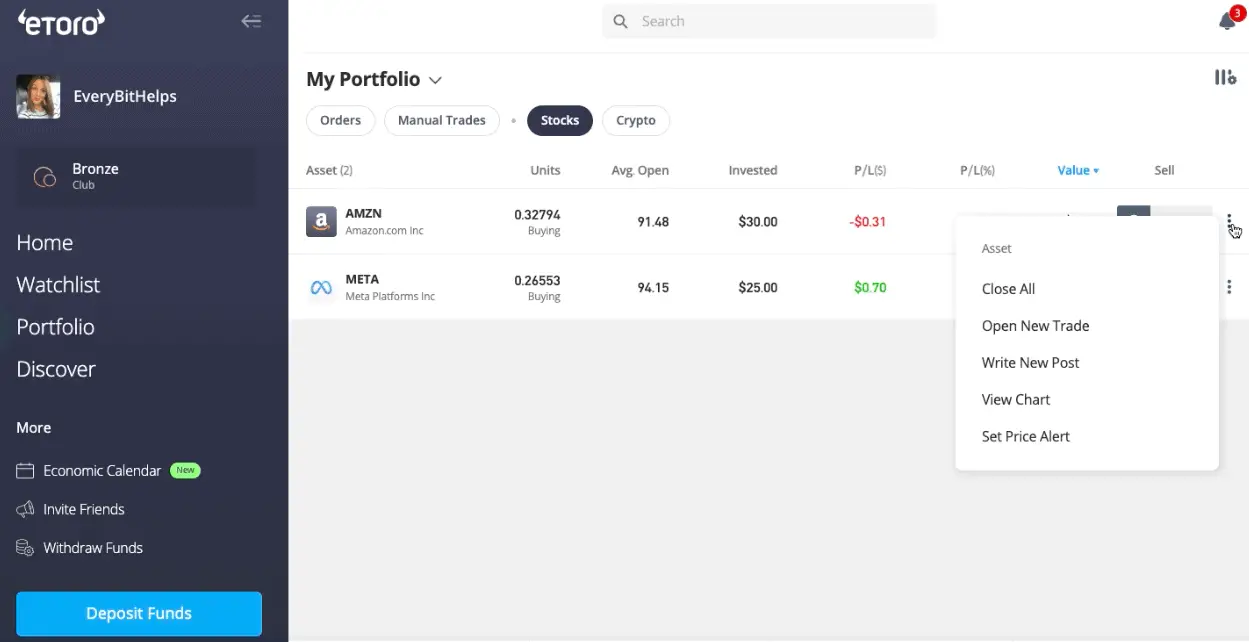 Confirm & Close
You will then be presented with a summary of your investment. If you have more than one position open with this stock, you can choose to close specific positions or close them all.
When you are happy, choose to Close or Close All.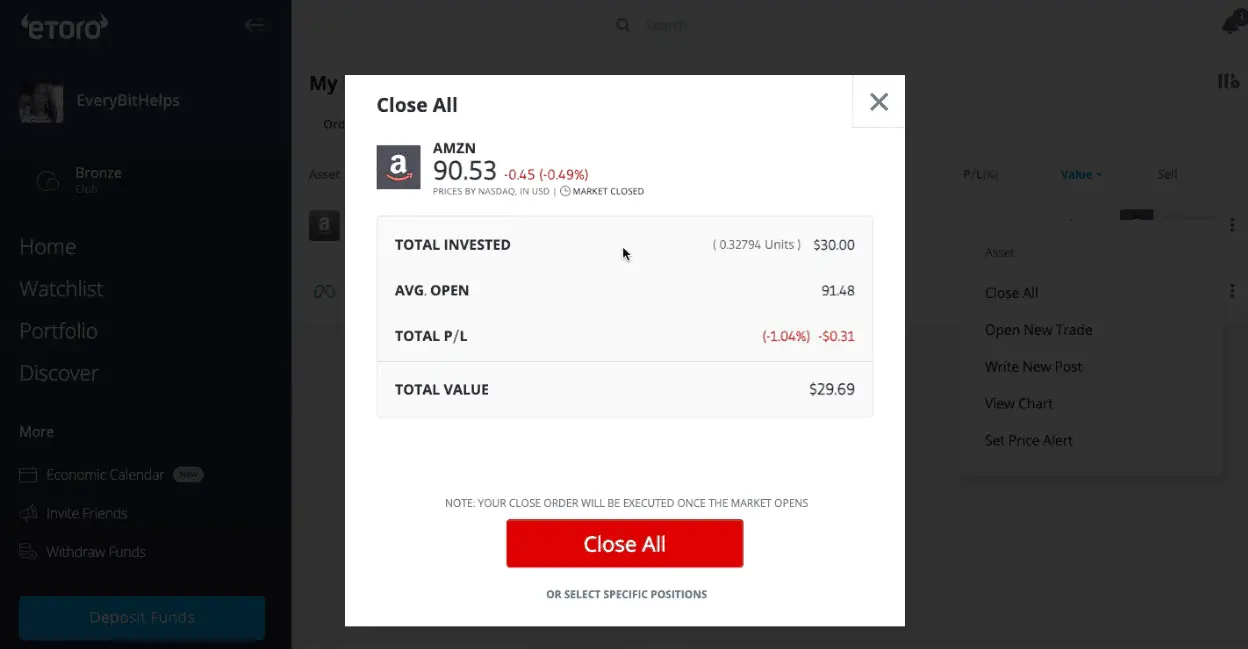 Congratulations! You have now closed your trade.
Your trade will now close (as long as the market is open, otherwise, this order will be Pending until the market opens and completes).
The funds will then become available from your portfolio.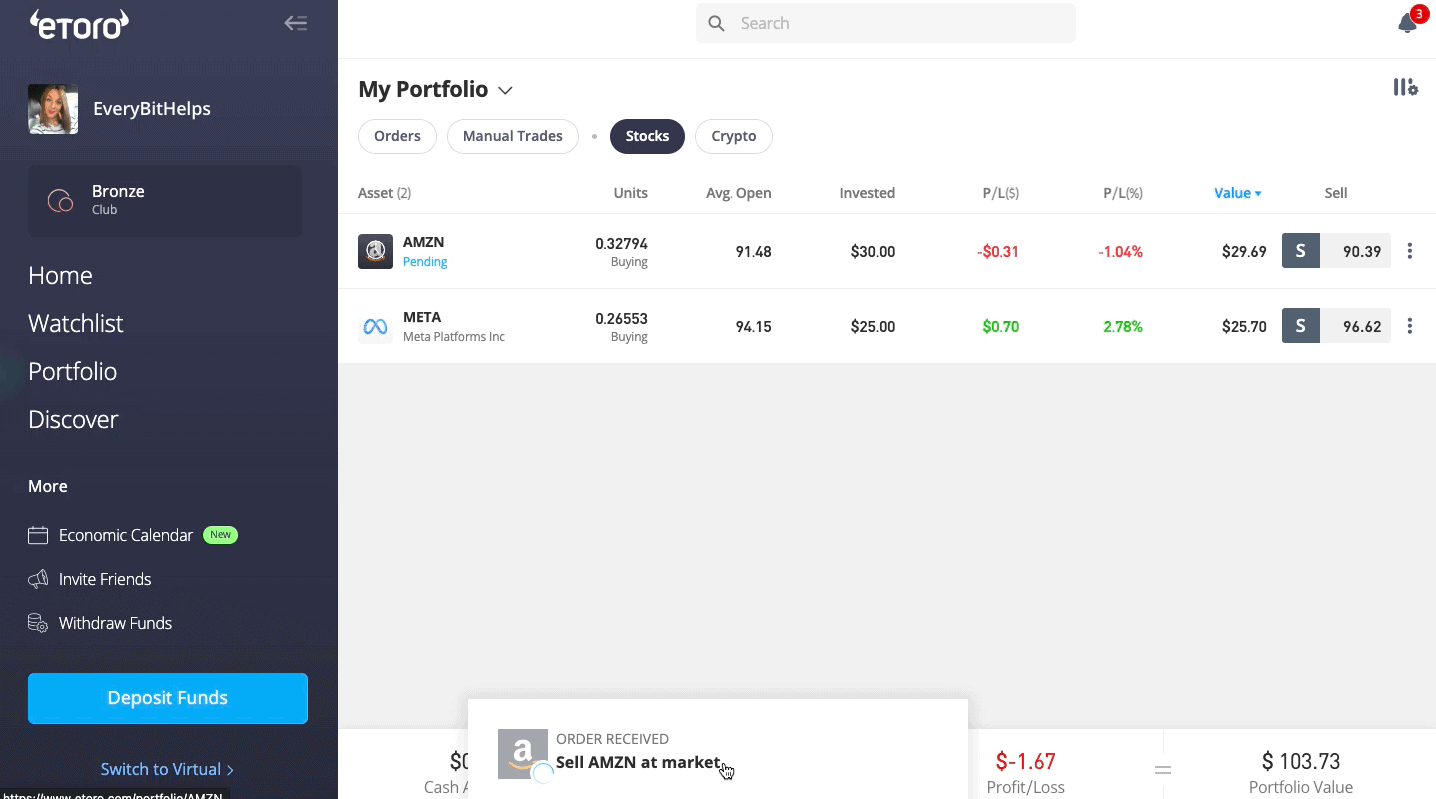 What is eToro?
eToro is a popular trading platform where investors can trade stocks, ETFs, cryptocurrencies, and CFDs. Founded in 2007 by three entrepreneurs, the platform is now trusted by millions of customers worldwide. The aim of eToro was to make trading accessible to anyone, anywhere, and reduce dependency on traditional financial institutions.
How to Close a Trade on eToro App?
Closing a trade on the eToro app is very similar to the process of closing a trade on the eToro web platform. The below guide will show how to close a crypto trade on the eToro app;
Login to eToro App & Choose Portfolio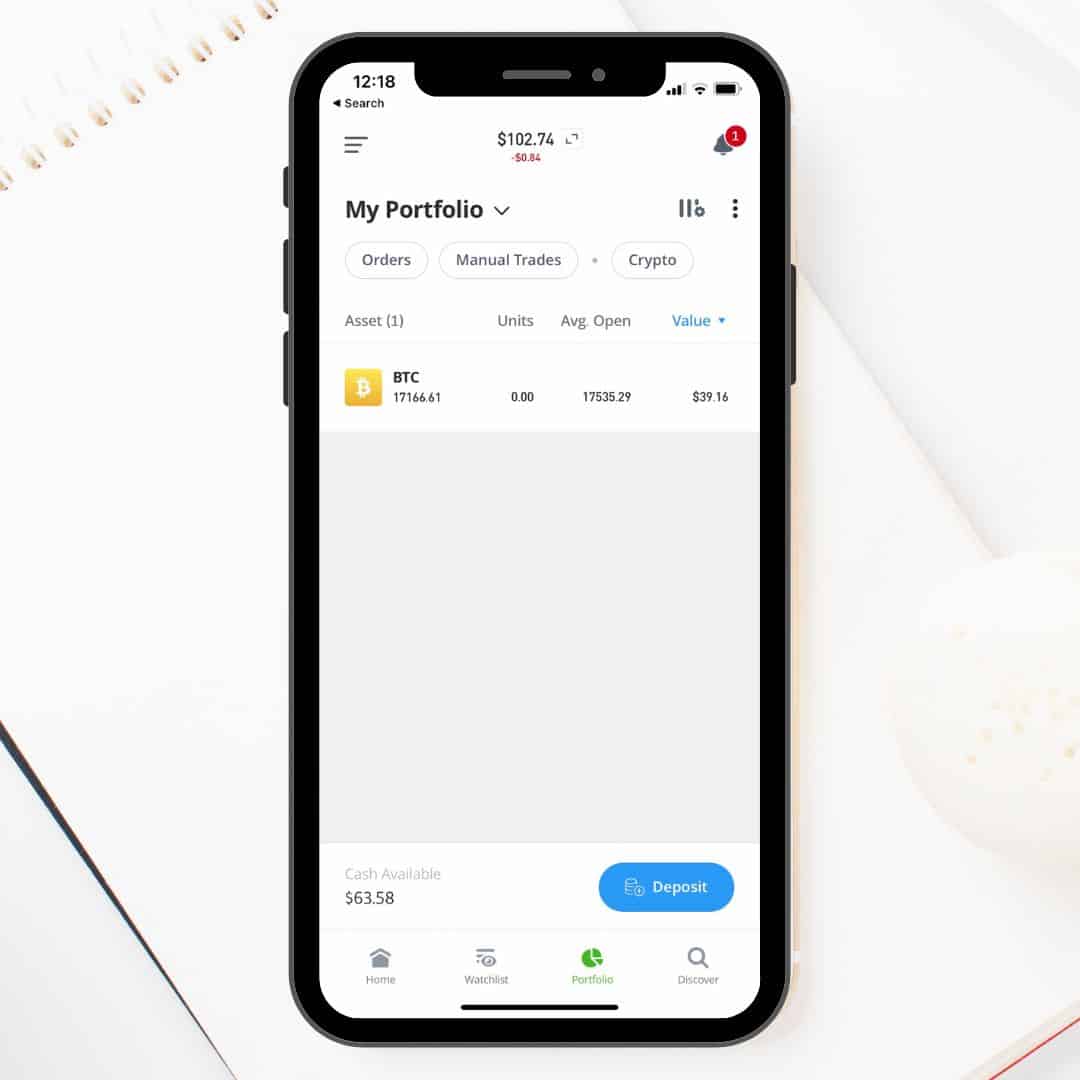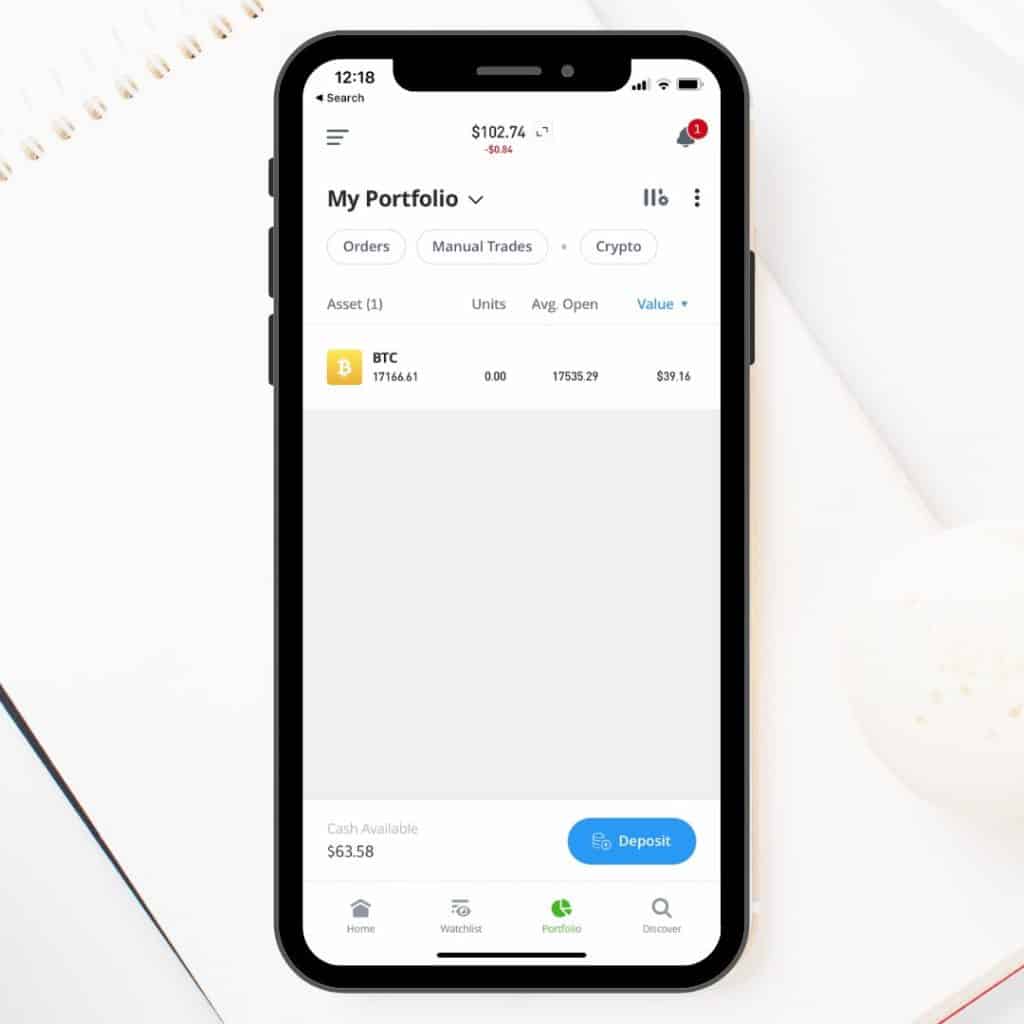 Select the stock or cryptocurrency you would like to close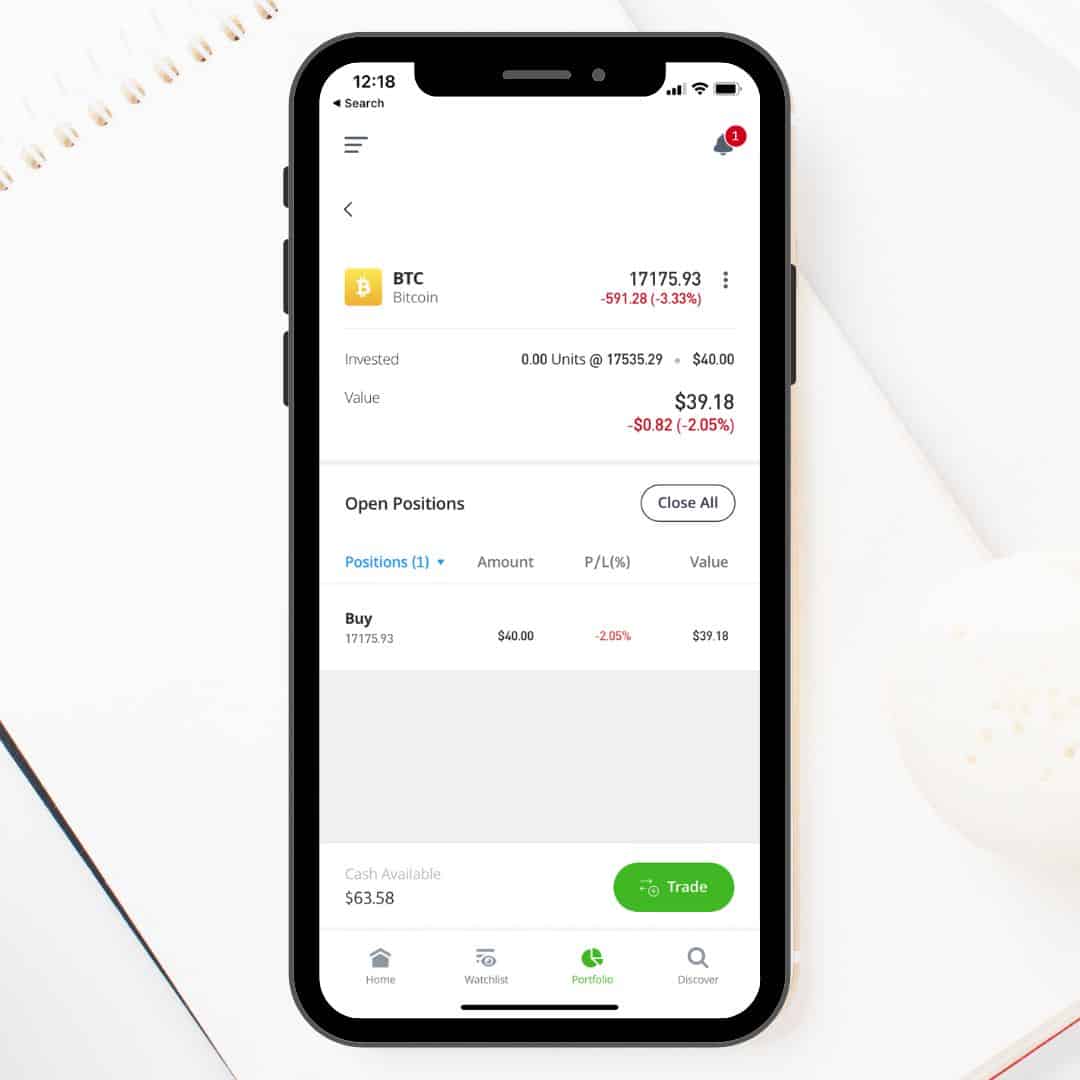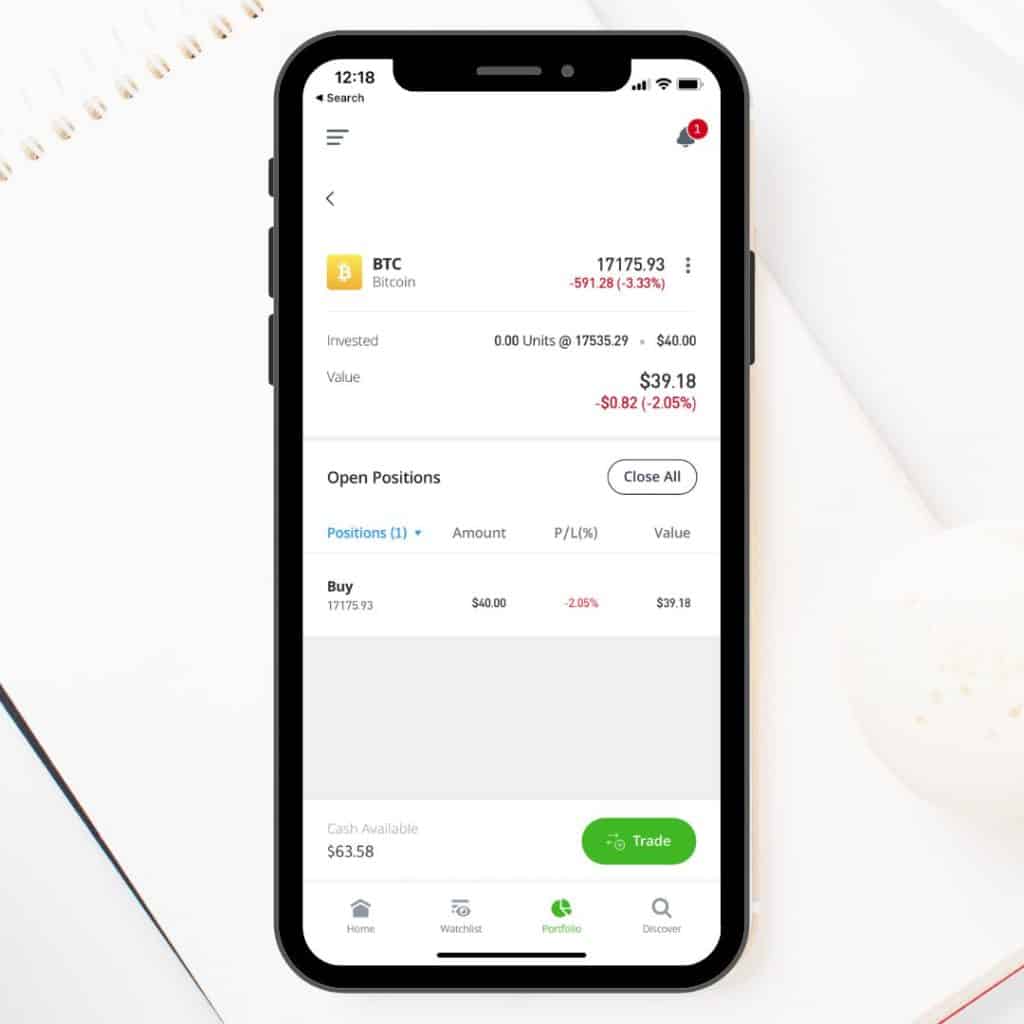 Choose "Close All" or just "Specific Positions".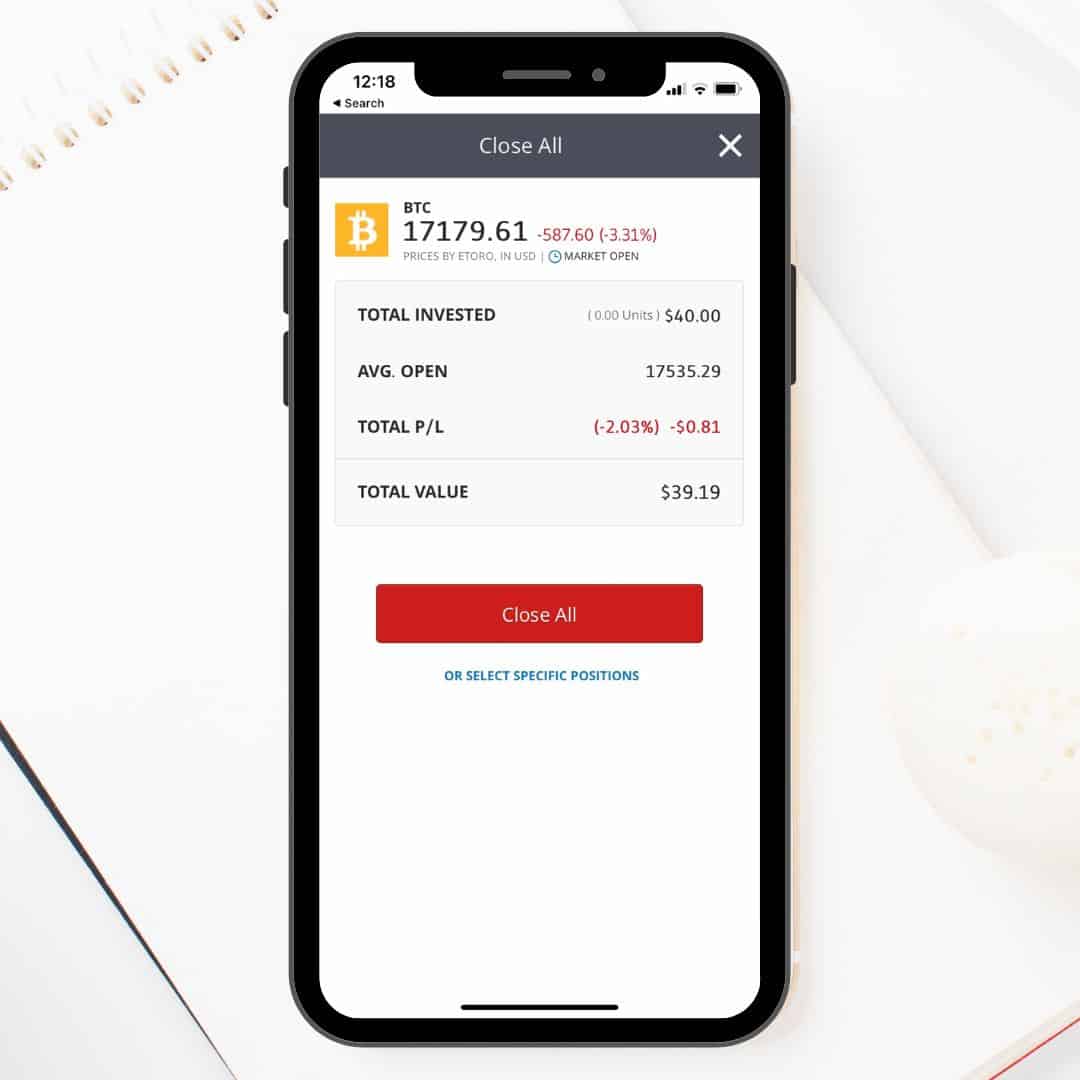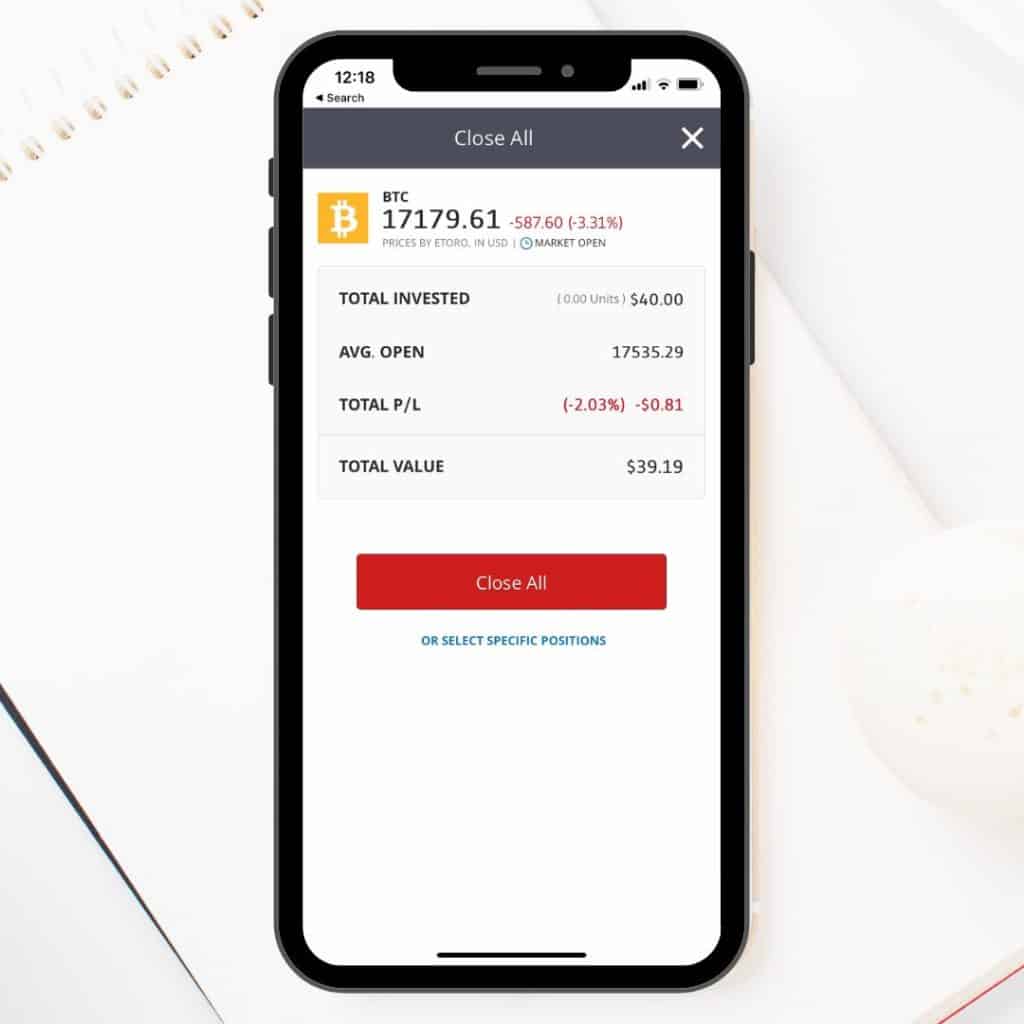 The position will close, and your stock or crypto will be sold.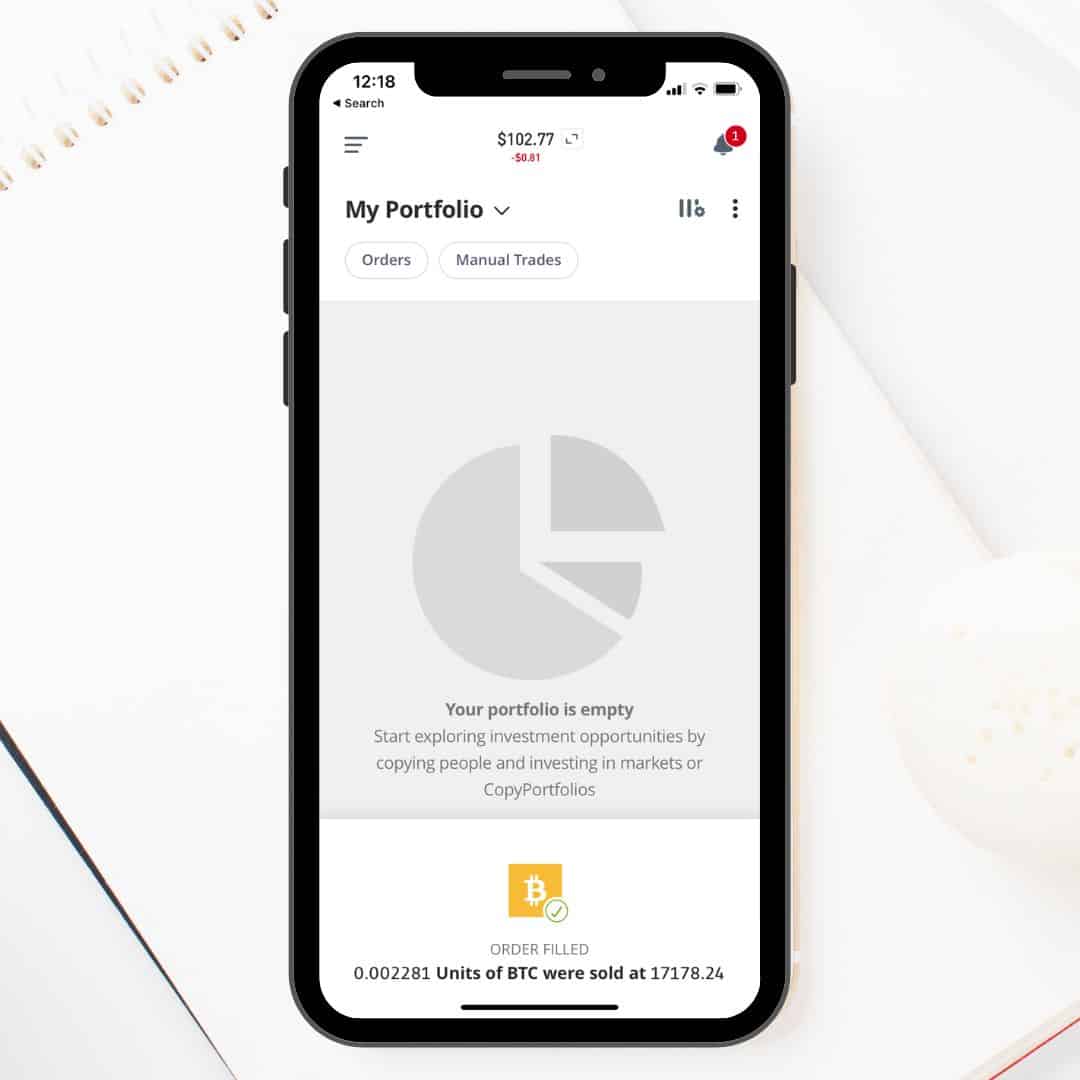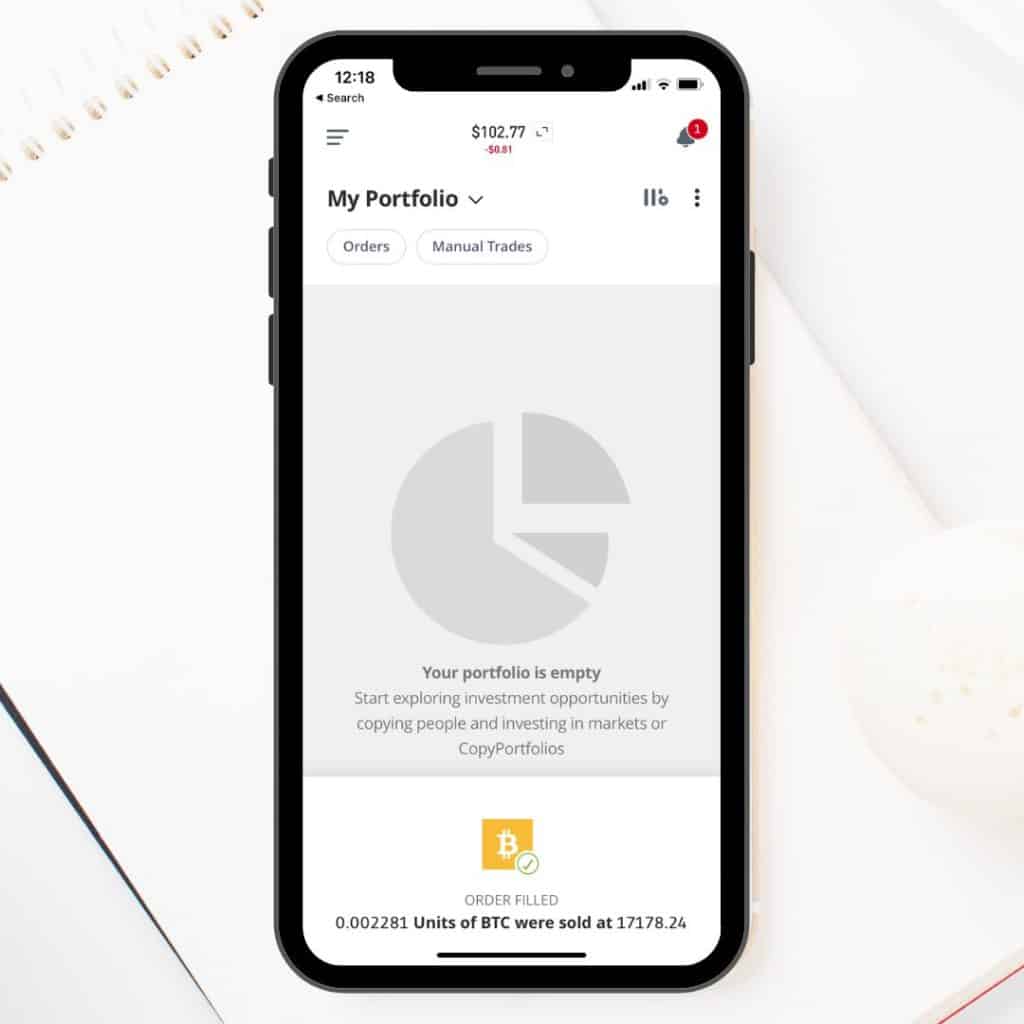 How to Close Part of a Trade on eToro?
If you want to only close part of a trade on eToro, follow our step-by-step guide below. Just note that the remaining part of the trade must meet eToro minimum trade size requirements.

To close part of a trade on eToro: 
Navigate to your "Portfolio".
Click on the asset you wish to close and choose "Close".
From the Close Trade pop-up, tick the box "Close only part of the trade".
Enter the close amount in USD or units.
Choose "Close Trade".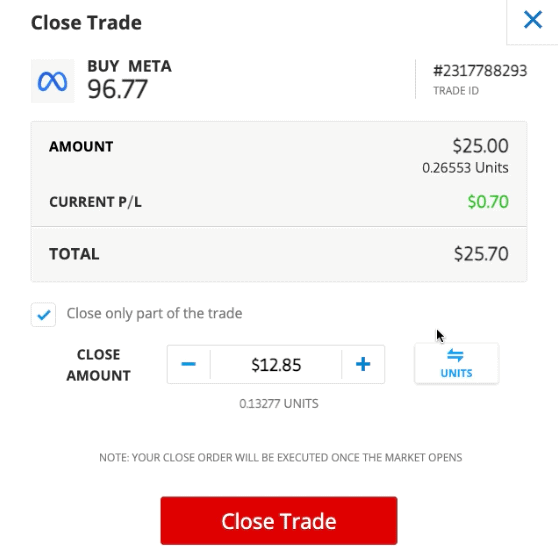 eToro Closing vs Selling
On eToro, "closing" and "selling" have different meanings. Closing a trade is connected with all types of investments of financial assets on the eToro platform and is synonymous with the popular phraseology of selling a stock, meaning you are ending your current position on an asset.
However, "selling" on the eToro platform refers to "short selling". Short selling means that a trader anticipates a price drop in the future and wants to make a profit out of the drop. When you short-sell, you open a short position, which is not the same as closing a trade. Closing your short position is much the same as closing any other trade on eToro.
How to Withdraw from eToro to a Bank Account
To withdraw from eToro, you will first need to close your trade, using the steps provided in this post. Once the trade is closed you will be able to withdraw from eToro. If you are unsure how to withdraw from eToro to the likes of a bank account, you can follow our step-by-step guide to withdrawing from eToro.
Conclusion
Closing trades on eToro can seem daunting for a beginner. However, by following our step-by-step guide, you should now find it easier to close eToro trades on your account.
FAQs
What does close trade mean on eToro?
Closing a trade or a position on eToro means that you are essentially selling your stock or asset.
What happens when you close a trade on eToro?
When you close a trade on eToro, the stock or asset will be sold at the market rate as soon as the markets for the investment are open.
What is Pending Close eToro?
You can only close an investment when the markets are open. If you try to close a position outside this time, this will show as a pending close until the markets re-open.
Why did my position close on eToro?
Your position might automatically close on eToro if you have set up Stop Loss or Take Profit parameters.
How do I sell my crypto on eToro?
The process of selling crypto on eToro works in the same way as selling a stock. The only difference is that the crypto markets are always open (24/7).
Related Posts