If you are unsure how to withdraw from eToro, you're in the right place. This beginner's guide will provide you with all you need to know about withdrawing from eToro.
Etoro is an investment platform which started in 2007 and has become one of the most popular investing platforms for trading. Investors can buy and sell stocks and cryptocurrency and also interact with like-minded investors.
So, let's dive into this eToro guide to help you learn how to withdraw from eToro to a bank account.
How to Withdraw from eToro to a Bank Account
Once you have closed your trade and you have cash available to withdraw from eToro, you can withdraw these funds back to the likes of a bank or PayPal account.
Time needed: 5 minutes.
The below guide will show you how to withdraw cash from eToro to your bank account.


Close your Investment

Use the below step-by-step guide to close your trade on eToro.



Choose Withdraw Funds

Once you have "Cash Available" from within your portfolio, choose "Withdraw Funds" from the left of the screen.



Choose the Amount & Next

Enter the amount of cash you wish to withdraw from eToro (the minimum is $30). Any associated withdrawal fee will be displayed beneath. Then choose "Next".



Complete Your Bank Details & Submit

You'll then be prompted to enter your bank details, including the bank account currency and details. Once complete, choose "Submit".



Congratulations! You've now learned how to withdraw cash from eToro

Once you've submitted your request, you'll receive a confirmation. Then once approved, the payment should process in 1-2 days.


If you wish to cancel your request, you can follow our guide below.

What is eToro?
eToro is a popular trading platform where investors can trade stocks, ETFs, cryptocurrencies, and CFDs. Founded in 2007 by three entrepreneurs, the platform is now trusted by millions of customers worldwide. The aim of eToro was to make trading accessible to anyone, anywhere, and reduce dependency on traditional financial institutions.
eToro Withdrawal Methods
There are several ways that you can withdraw your funds from eToro. However, these supported withdrawal options with eToro may depend on your location or how you have funded your account.
For example, to be able to withdraw to your PayPal account, you must first have funded your account using this method.
The list of available options includes the following;
Bank Account
PayPal Account
Credit or Debit Card
eToro Money Account
Payoneer
Neteller
Skrill
Trustly
iDEAL
How Long Does eToro Withdrawal Take?
eToro will send you an email confirming your withdrawal status within 2 business days of your request. However, when you request the withdrawal, it can take up to 10 business days, depending on the withdrawal payment method used.
The quickest method to withdraw from eToro will be to an eToro Money Account, but the availability will depend on your location. You can check out this link for a full list of withdrawal times.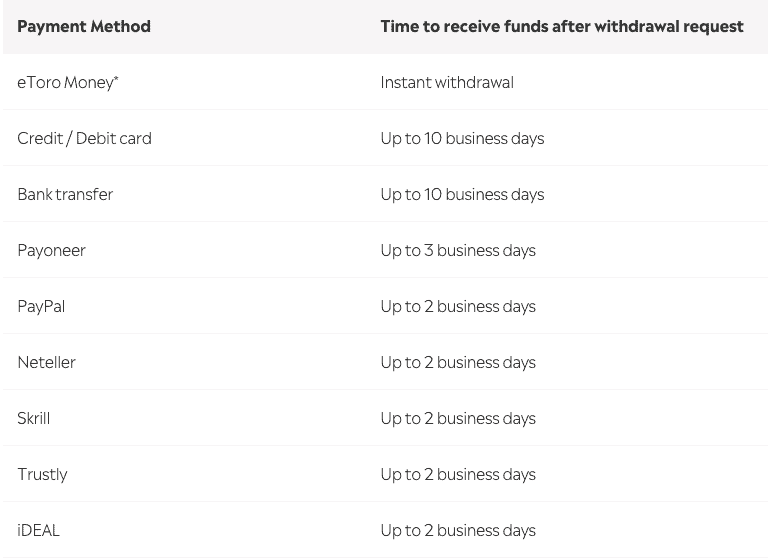 eToro Withdrawal Fees
The eToro withdrawal fee is $5 USD (eToro always shows the amounts in USD). When withdrawing from eToro to a non-USD account, users will also be charged a foreign exchange fee which will vary depending on your currency.
Regarding other eToro fees, eToro has a 0% commission on stocks with no extras or markups. There are, however, spreads (spreads are the difference in percentage between the bid price and the asking price.).
How to Cancel an eToro Withdrawal Request
If your eToro withdrawal is currently showing with the status: "Under Review" you can cancel your withdrawal request if you wish. When doing so, any funds and fees that have been applied will be returned to your account.
Unfortunately, you will not be able to follow the below guide if the status is "In process".
Step 1: From the home page, choose "Withdraw Funds" from the left of the screen
Step 2: If you have pending withdrawals click on this from the pop-up.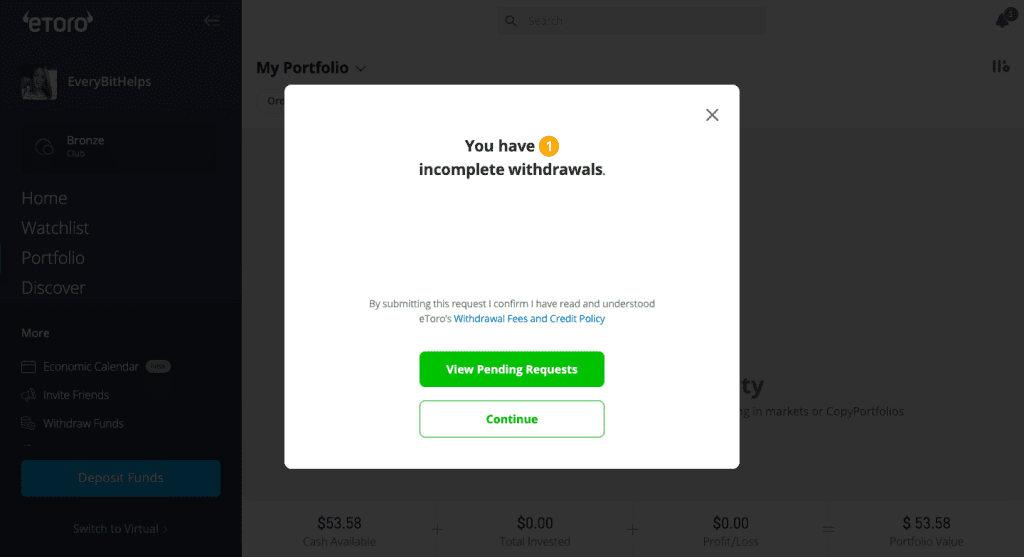 Step 3: Check the status of your withdrawal. If this is "Under Review", choose "Reverse" beside it.

Step 4: Confirm the withdrawal cancellation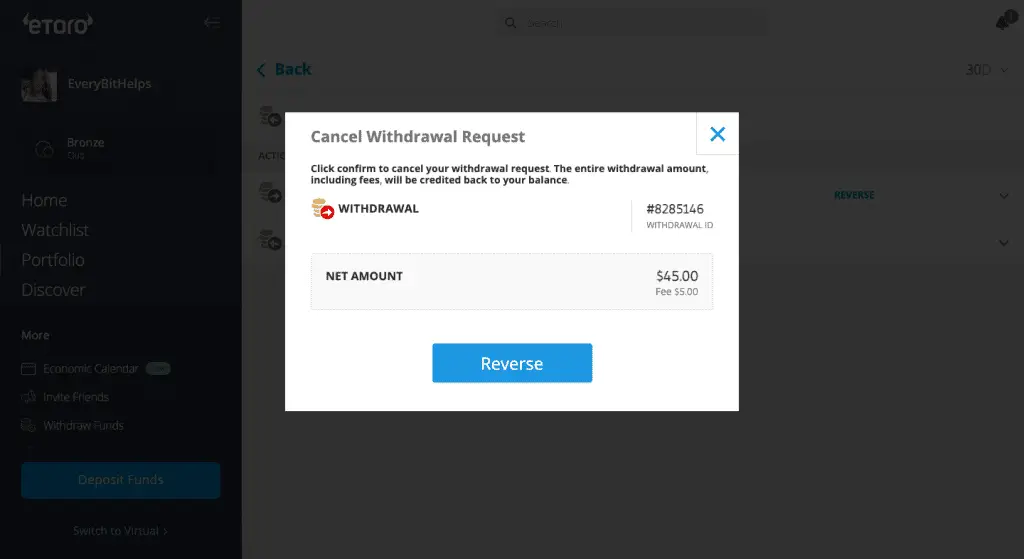 How to Close a Trade on eToro
If you've been investing in eToro for a while and feel that now is the right time to cash out of your investment and withdraw from eToro, whether it be a stock or cryptocurrency, you'll need to close your investment before withdrawing.
The below step-by-step guide will explain how to close a stock trade on eToro. However, the process for cryptocurrencies will be the same.
Step 1: Log in to eToro Account
Head across to eToro.com and log in to your account, where you will reach the home screen.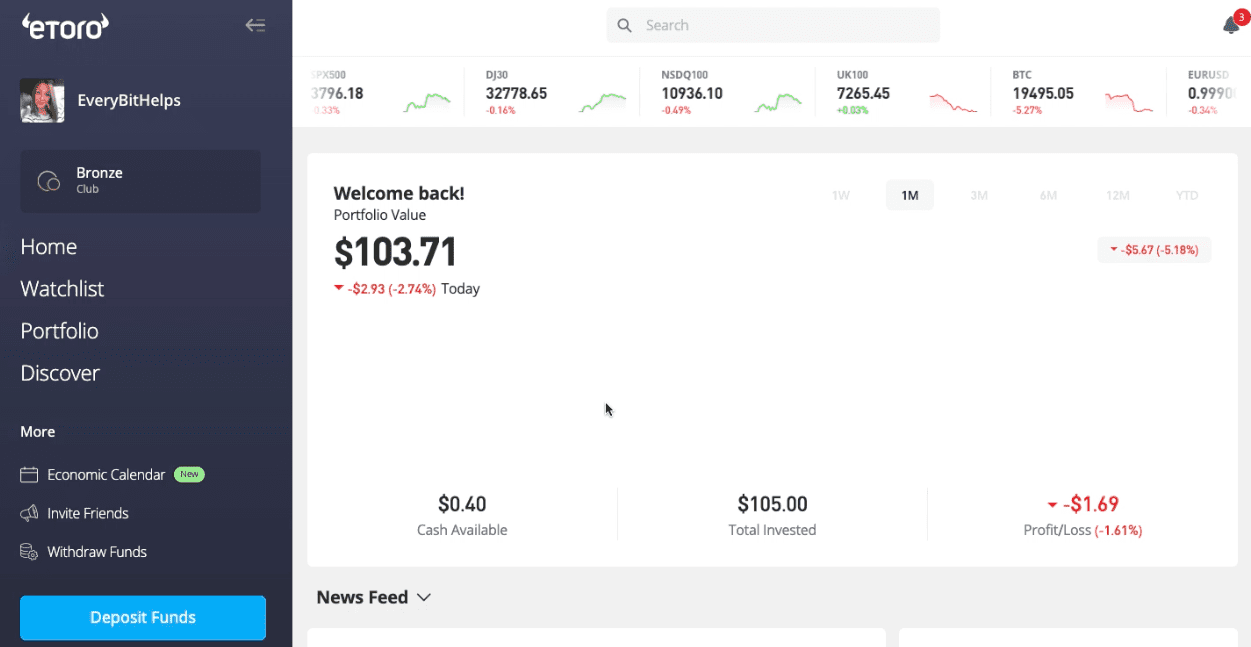 Step 2: Go to Portfolio Page & Locate your Stock
From the navigation pane on the left of the screen, choose "Portfolio". From your list of investments, choose the stock you wish to close.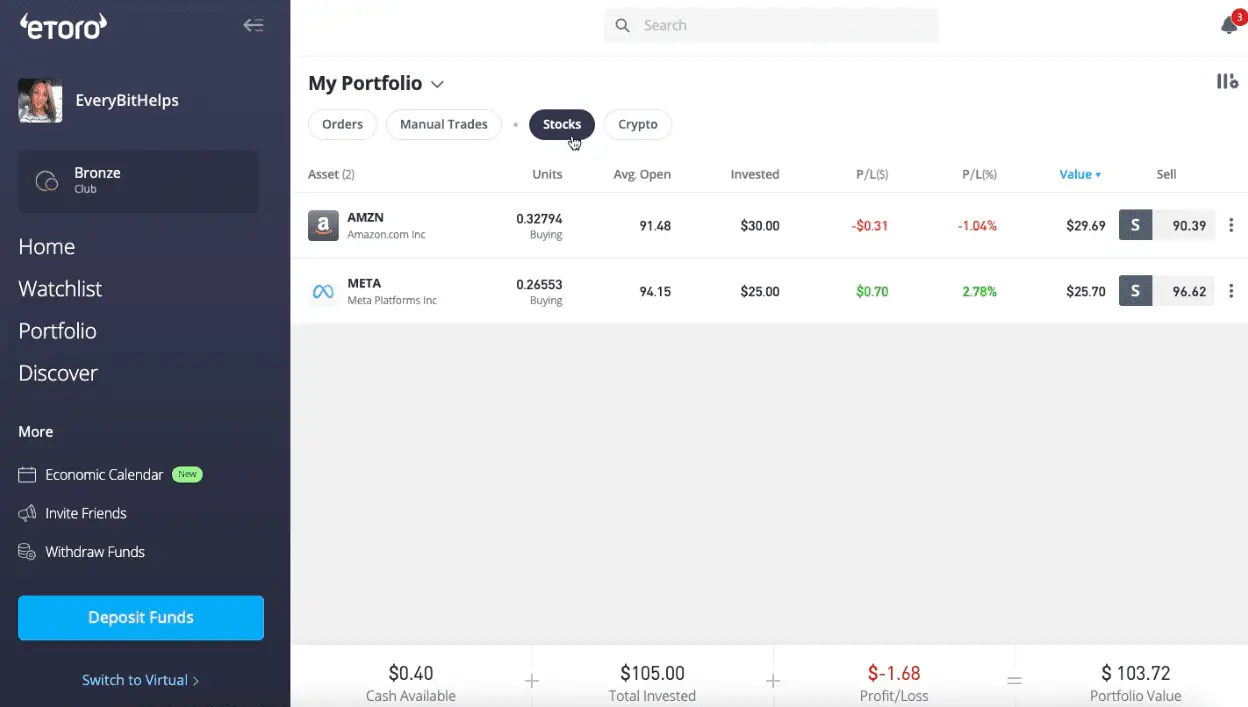 Step 3: Select the 3 Dots & Choose "Close All"
Besides the stock, choose the 3 vertical dots and then select "Close All".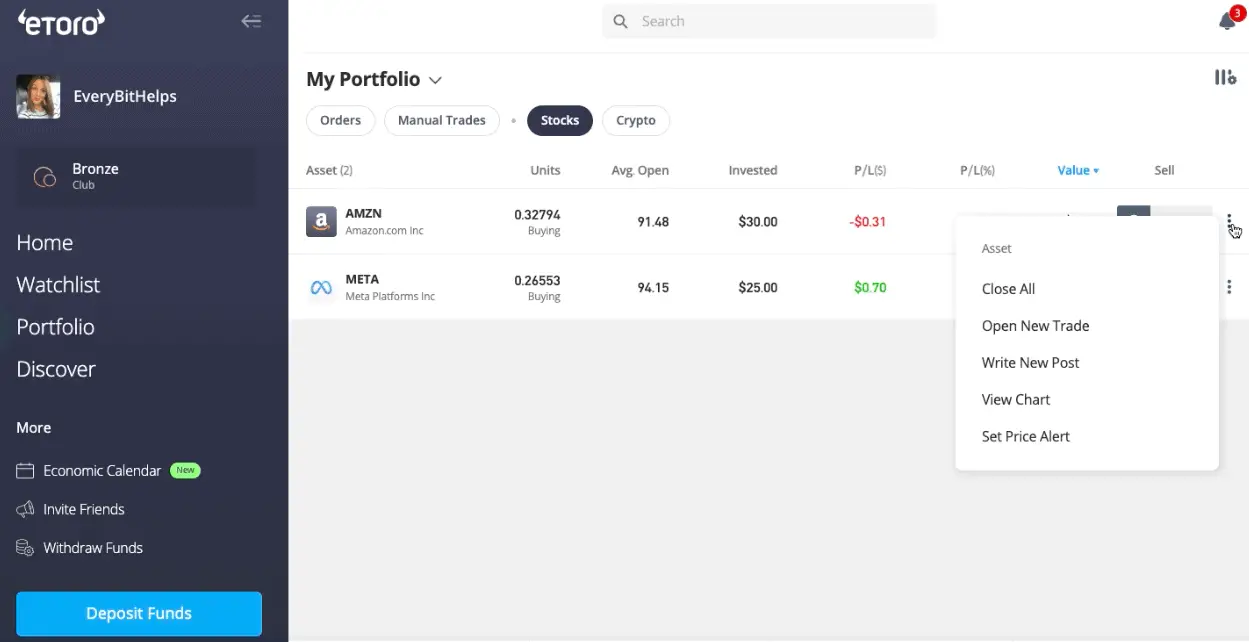 Step 4: Confirm & Close
You will then be presented with a summary of your investment. If you have more than one position open with this stock, you can choose to close specific positions or close them all.
When you are happy, choose to Close or "Close All".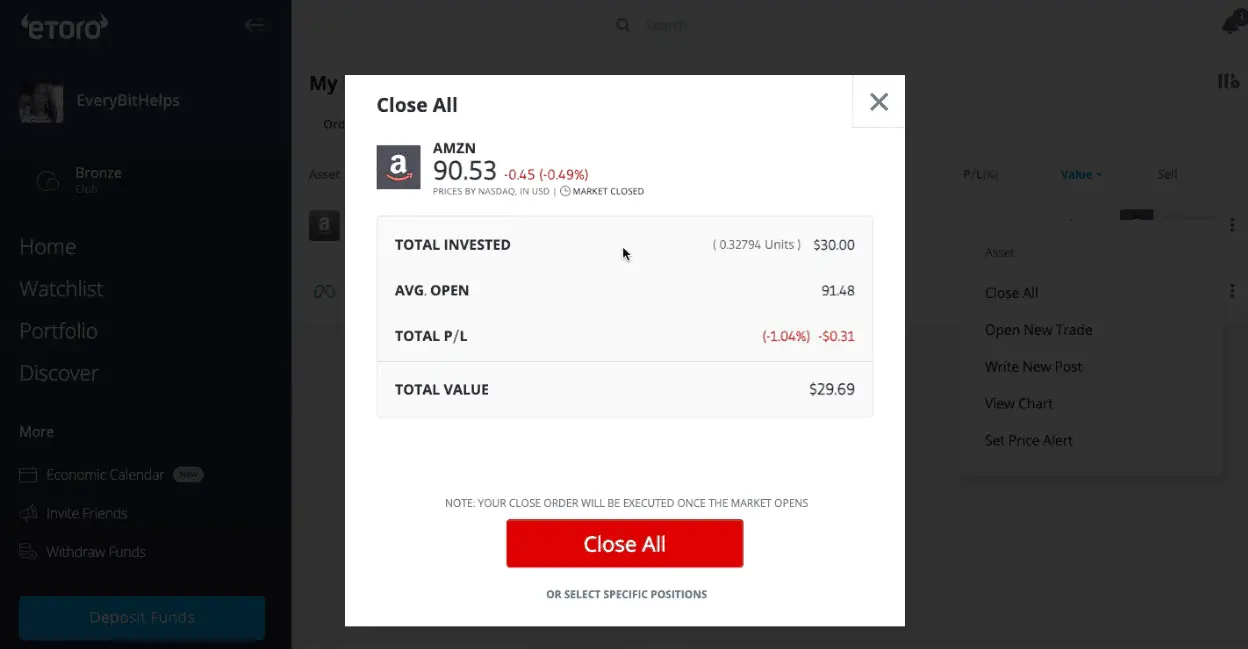 Step 5: Congratulations! You've now closed your trade on eToro
Your trade will now close (as long as the market is open, otherwise, this order will be "Pending" until the market opens and completes).
The funds will then become available from your portfolio.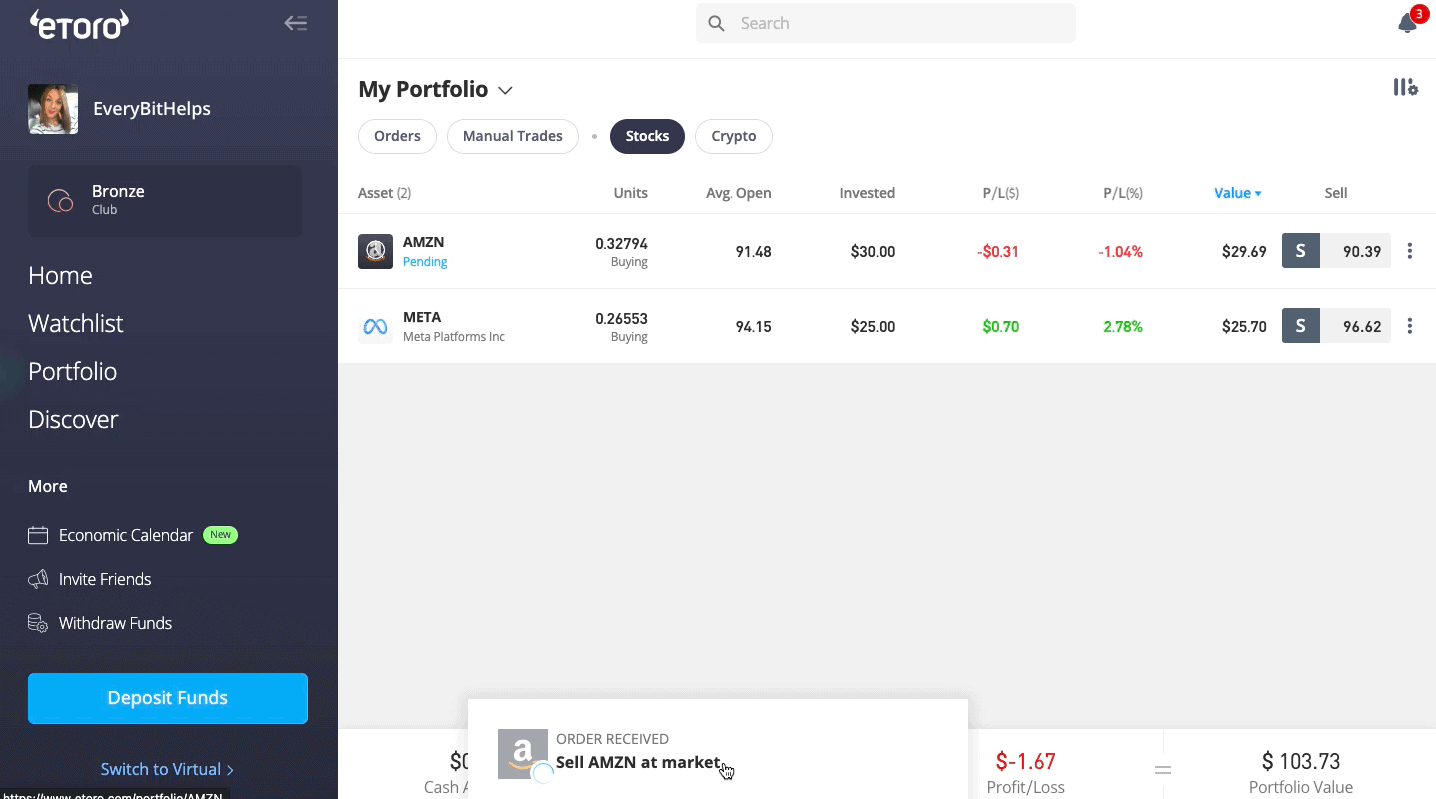 Conclusion
Withdrawing from eToro can seem daunting for a beginner. However, by following our step-by-step guide, you should now find it easier to withdraw from your eToro account. Now that you know eToro's withdrawal process ensure you're in line with their withdrawal policy to avoid potential issues.
FAQs
Is there a minimum withdrawable amount on eToro?
Yes, the minimum withdrawal amount on eToro is $30.
Does eToro let you withdraw?
Yes, with eToro, you can withdraw cash to the likes of a bank account, Paypal account, credit/debit etc.
Why can't I withdraw from eToro?
If you are having eToro withdrawal problems, one of the first things to check is that your account is verified (you will need to see a green tick beside your name). Also, ensure you have already closed your investment or have available cash in your portfolio.
What is the eToro withdrawal time?
The amount of time it takes to withdraw from eToro will all depend on your payment method. For a full list of withdrawal times, you can check out their FAQs here.
How do I sell my crypto on eToro?
The process of selling crypto on eToro works in the same way as selling a stock. The only difference is that the crypto markets are always open (24/7).
Related Posts