This Revolut review will take you through the popular digital app and its features and account options.
If you need an app to manage your money and track your expenses from your mobile phone, Revolut is a great option. Not only that, but the Revolut card is a great travel companion. You can exchange money at the real market rate, commission-free, and even get their standard account for zero monthly charges.
Let's jump into this Revolut review to help you work out if Revolut is the right online app for you.
Revolut Review: How to use Revolut?
What is a Revolut?
Revolut is a digital-only app and card different from traditional banks due to its low fees and flexibility. It is a pre-paid Mastercard that is specifically aimed at those that travel. Offering international money transfers and spending abroad with no hidden fees.
They are a UK-based company that launched in 2015. Although you won't find a physical branch on the high street that you can go into, they do have 24/7 customer support available. 
When writing this Revolut Review, they now have over 20 million customers across 200 supported countries and regions, with transactions totalling over 100 billion pounds. 
Their goal at Revolut is for you to be able to manage your entire financial life from a single app. From everyday spending and budgeting to foreign currency exchange and easy-access stock trading. So that you can get more out of your money.
They also have their business account platform, "Revolut for Business". This is for domestic and international payments, designed to save time and money.

Revolut US
In 2020 the Revolut app became available in the US. Revolut US partnered with Metropolitan Commercial Bank for the banking infrastructure. Meaning that deposits are FDIC insured for up to $250,000. Unfortunately, functionality, such as purchasing cryptocurrencies and investing in the stock market, is not yet available to US customers.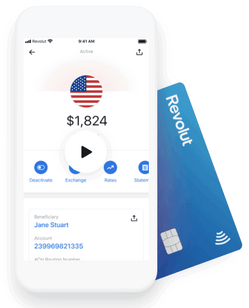 Using Revolut Abroad
One of the great advantages for Revolut users is spending fee-free at the Interbank exchange rate in 150 countries. Usually, when you spend abroad, you get hit with transactions or hidden charges. However, using Revolut abroad is much like using it in the UK.
However, just don't forget that ATM withdrawals are capped at £200 per month. After that, you are charged a 2% fee abroad or in the UK. However, there are no spending limits on card payments.
How to Create a Foreign Currency Account
Suppose you want to create an account in a foreign currency such as a USD, Euro, Sterling account, etc. Then you can easily set one up within Revolut.
Within your App;
Go to your "Accounts" and press the icon with three dots.
Choose "Add New Account"
Select a currency from the list or search and select your currency.
The account will then be created for you.
How to Exchange Your Currency on Revolut?
Exchanging is easy to do within your Revolut App;
Simply open the Revolut App.
From the "Accounts" screen, press the button with three dots.
Choose "Exchange".
Select the currency you want to exchange "From" and enter the amount.
Select the currency you would like to exchange "To". (The amount will automatically populate for you.)
Revolut Fees
Revolut Accounts come in 4 different plans across Europe and three in the US. 
A Revolut free "Standard" version offers fee-free money transfers and ATM withdrawals up to £200 monthly. There's also 0.75% interest on savings, up to £1,000 in currency exchanges (with no fees Monday to Friday) and some cashback offers. You will be charged a 2% fee if you exceed the free ATM withdrawals.
Revolut customers can also upgrade and pay for their accounts to receive extra benefits. Revolut allows customers to upgrade from the basic "Standard" account to the Pro, Premium and Metal. Premium account holders will receive additional benefits such as fee-free multi-currency exchanges, increased ATM withdrawals, commission-free stock trading, purchase protection, overseas medical insurance and event ticket protection.
Below is a detailed list of services currently included in each plan.
UK Revolut Pricing & Plans
Extra fees include; 2% on withdrawals over £200 and charges 0.5% for transfers over £5,000 a month.
European Revolut Pricing & Plans
US Revolut Pricing & Plans
Revolut Features
Stocks
With trading on Revolut, you can own a piece of some of the world's most well-known companies, including Google, Facebook, Amazon and Tesla. You can invest in a company with fractional shares as little as 1 dollar. And a great advantage is the fact there are no account minimums. Plus, you can withdraw at any time for free!
Cryptocurrency
You can immediately exchange any currency into some of the most popular cryptocurrency assets such as Bitcoin, Ethereum, Bitcoin Cash, Litecoin and Ripple. However, you cannot access your private keys; your funds are not safeguarded by Revolut or covered by the FSCS.
Previously you could not withdraw your crypto, and you could only hold this in your wallet or send it to other Revolut account holders. However, you can now transfer your crypto externally to the safety of an external crypto hardware wallet such as a Ledger or a Trezor, where you'll have more control over your crypto.
Check our guide on the 11 best crypto debit cards for UK investors.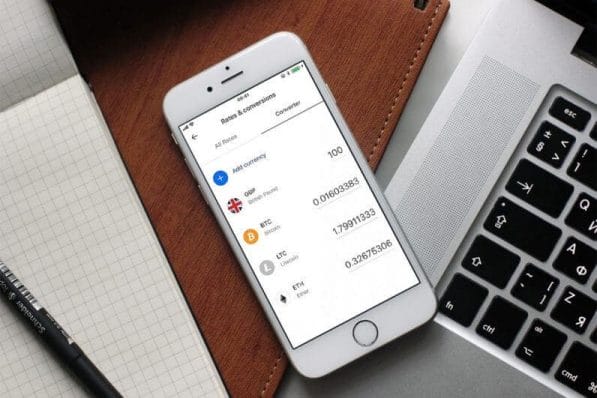 Savings Vaults
Revolut offers different ways to save money in 30+ currencies with Saving Vaults. With options to round up spare change, set up recurring transfers or just keep a little cash aside.
Savings vaults allow Revolut customers to earn 0.75% interest a year with a standard plan. Or increased rates with their Plus, Premium or Metal plans.
A personal vault can round up payments and stash any spare change. This works because with every purchase you make, say you buy a coffee for £1.60; it will round up to the nearest £ and save the remaining 40p into your vault. 
Or there are Group saving vaults you can share with friends and family for everything from holidays to house deposits.
Revolut Junior
This kid's account, "Revolut Junior", is for ages 7-17. It is available through a parent or guardian with a Revolut Premium or Metal subscription. It's aimed to help children learn about responsible spending and budgeting and build healthy, lifelong money habits. It's an account and prepaid card for your kids to use, controlled by you.
Revolut Virtual Cards
With the Revolut app, you can hold a physical card and create Virtual cards to protect you against online card fraud. These disposable virtual cards automatically clear details after every online transaction. The new card details are instantly generated in your app too.
How to Create a Virtual Card
To generate a Revolut virtual card is a simple process, which we lay out step-by-step below;
Go to "Cards" within your app.
Click on the "+ Get Card" icon in the top right-hand corner
Select "Virtual Debit Card" and "Get Virtual Card for FREE"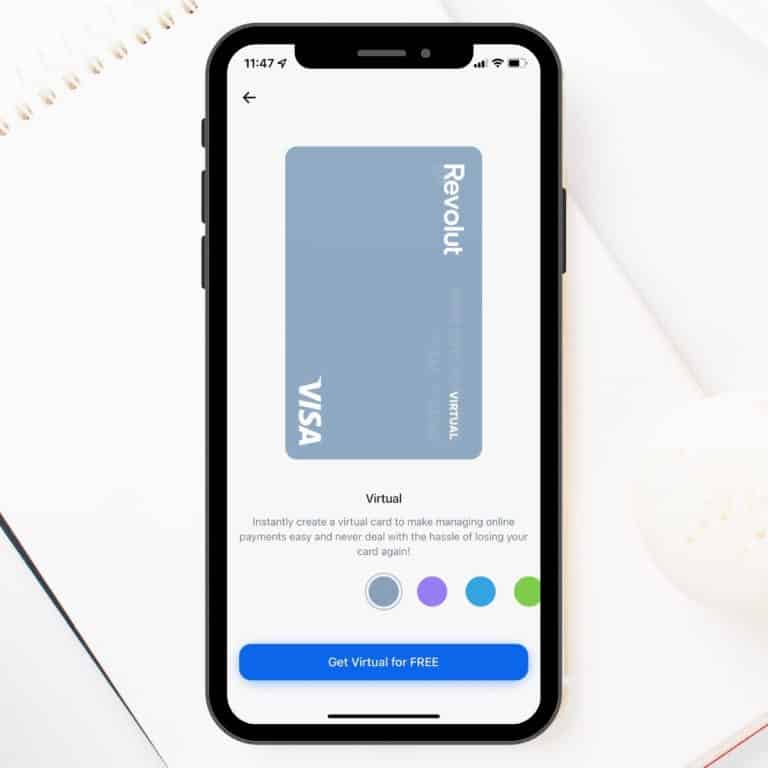 How Safe is Revolut Account?
One of the downfalls, in my opinion, is that Revolut in the UK is not FCS Approved. The account you hold with Revolut is an electronic money account (and not a standard bank account). Therefore your money is not covered by the Financial Services Compensation Scheme.
However, Revolut is reportedly preparing to apply for a UK banking licence, enabling the firm to offer its customers FSCS-protected deposits and lending services. The app was granted a European banking licence by the Bank of Lithuania in 2018. But the UK has operated as an FCA-authorised e-money institution. Currently, Revolut only "safeguards" the money they receive from their customers.
If you're In the US, Revolut has partnered with Metropolitan Commercial Bank for the banking infrastructure. This is great as it means that deposits are FDIC insured up to $250,000. 
Revolut Security
Revolut will monitor your account, flag suspicious transactions, keep your card details safe, and ask for extra verification to protect you. If you think you've lost or misplaced your card, you can freeze your card instantly without having to speak to Revolut. Then, if you find it again, you can simply unfreeze your card from the app.
Revolut Alternatives
Revolut vs Monzo
Revolut and Monzo are great apps for travelling, allowing you to manage your money better with spending insights and real-time notifications. Revolut focuses on international payments, and you'll find that international money transfers are the cheapest option. However, Monzo does have a full banking license and provides overdrafts and savings accounts.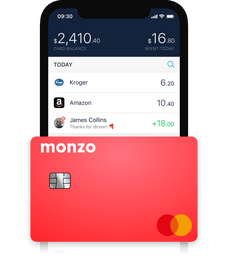 Revolut vs Starling
Revolut and Starling both offer apps that are designed to help you budget. Both automatically categorize your transactions and give insights into where you spend your money.
Starling and Revolut differ because they use the Interbank exchange rate, which is usually cheaper than the Mastercard rate. Starling is free with no £4.99 delivery charge and offers an interest rate of 0.5% as opposed to 0% with Revolut, and the big plus is that Starling has a full banking license.
Revolut vs Wise
Both Wise and Revolut offer very cost-effective international money transfer providers. In my personal experience, I found currency exchange cheaper over on Revolut, although Weekend Rates are definitely more expensive. Both platforms are FCA and not FCSC-regulated like Starling or Monzo. However, TransferWise offers access via a platform and an app, whereas Revolut is only accessible via the app.
With many pros and cons on both sides, look at my Wise review and tutorial to decide for yourselves.
Revolut vs Robinhood vs Coinbase vs Uphold
Verdict: Should you use Revolut?
The Revolut App is great for tracking expenses and travelling abroad and will save you money on fees. Once Revolut has obtained its banking license in the UK, we will certainly feel safer storing our funds on it, and we think it will then be a force to be reckoned with.
However, at this time, we don't use Revolut as our main account and don't keep a large amount of money stored on the app. We mainly use Revolut when we travel abroad and send fiat to Coinbase and Binance to buy cryptocurrency.
FAQs
What is Revolut's address?
Revolut is based in London, England. For those looking for the Revolut Address, it is; 7 Westferry Circus, Canary Wharf, London E14 4HD.
Is Revolut Safe?
By law and under FCA regulation, your money is protected by regulated banks. They'll also flag suspicious activity and ask for extra verification to protect you.
What are Revolut weekend markups for foreign exchanges?
One thing to be aware of is that if you make a currency exchange on Revolut during the weekend, you'll be charged a markup. That's because the interbank rate is always fluctuating. Therefore, it may not be the same on a Monday as it was on the previous Friday. The markup is 0.5% for the 15 major currencies and 1% for the others.
Also, remember that card payments, ATM withdrawals and money transfers abroad imply a currency exchange. Therefore, the weekend markup applies in all of these cases. The solution is to exchange one of the 29 currencies that Revolut supports in advance (i.e. on a weekday). Then you won't have to pay this fee.
Related Posts
Here are some of our articles you may also find helpful;