In this in-depth Uphold review, we'll explore the features, fees, and benefits that make Uphold a go-to choice for many. While also taking a critical look at the potential drawbacks you should be aware of. Helping you make an informed decision about whether Uphold is the right choice for your trading and investment needs.
As a leading platform in the world of digital finance, Uphold has continuously evolved to meet the ever-changing needs of its users. With Uphold's "Anything to Anything" approach, users can seamlessly trade between different asset classes and financial markets, making investing much more accessible and easier for everyone.
So, let's dive into the world of Uphold, where we'll guide you through its exciting offerings and unique innovations in the fintech space.
Uphold Review: How to Use Uphold?
Uphold Tutorial Timeline
00:31 Uphold Review
02:18 How to Sign up to Uphold
02:47 How to Secure Uphold Account
04:44 How to Deposit into Uphold with Bank Transfer
05:44 How to Deposit into Uphold with a Debit Card
05:55 How to Buy Crypto on Uphold
06:34 How to Deposit Crypto onto Uphold
07:27 How to Sell Crypto on Uphold
08:16 How to Create Limit Orders on Uphold
09:52 How to Withdraw Crypto from Uphold
11:42 How to Stake Crypto on Uphold

What is Uphold?
Uphold is a multi-currency investment provider founded by serial entrepreneur Halsey Minor in 2013. The platform enables businesses and individuals to invest and exchange a wide variety of assets, including cryptocurrencies, national currencies, precious metals and US equities.
Previously known as Bitreserve, its rebrand coincided with the inclusion of cryptocurrency dealing services, which it provides to its global client base. 
Uphold offers commission-free trading on a range of products, with trading pairs available via its app and web platforms. Additionally, account holders can benefit from digital wallets, in which currencies can be easily stored and exchanged. Uphold is a popular choice for those looking to trade online with confidence and security as a well-regulated and robustly safeguarded investment provider.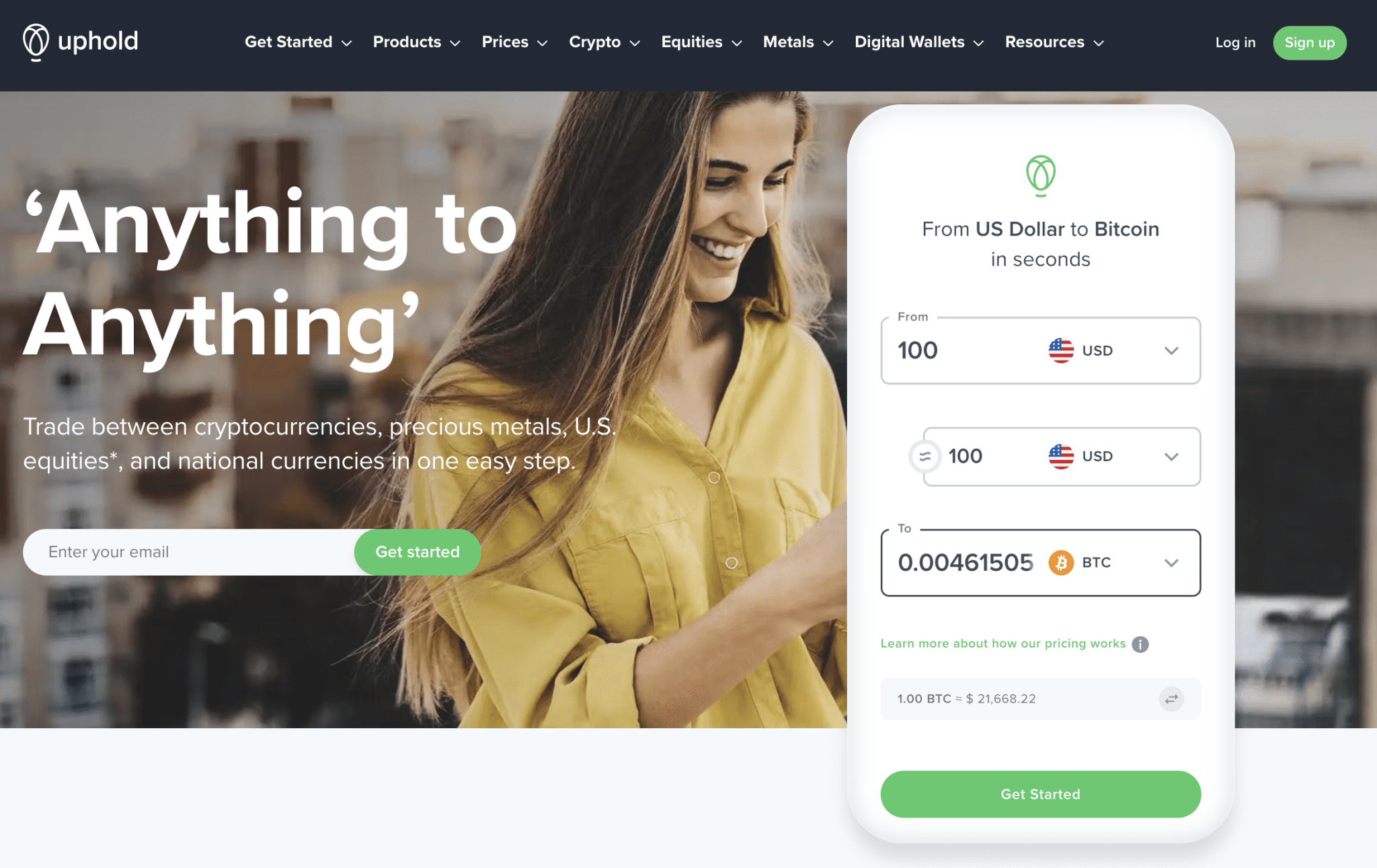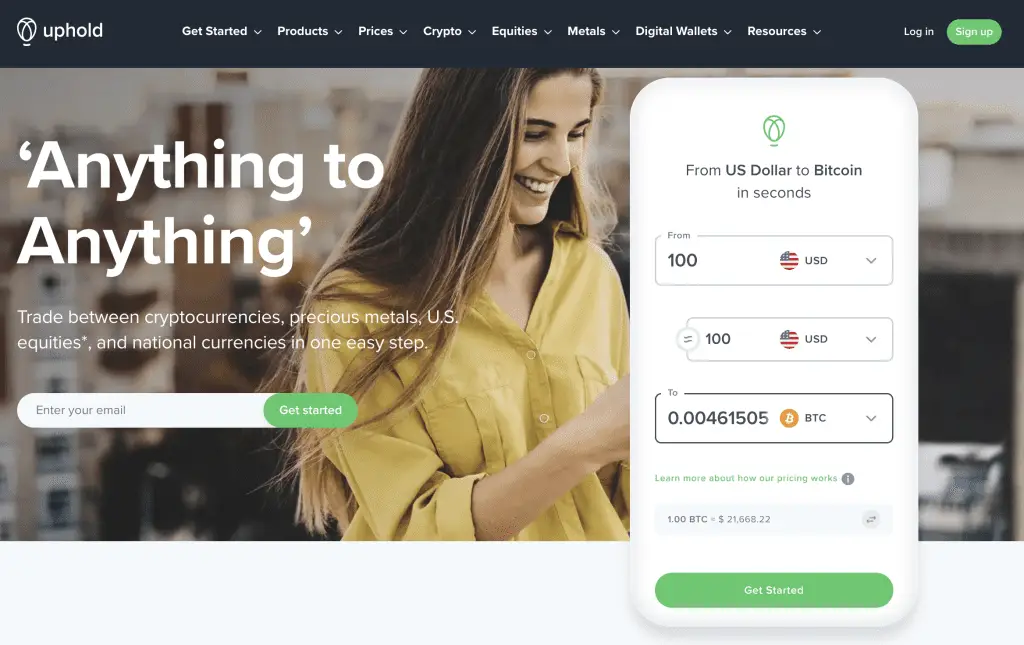 Pros & Cons
The list of Uphold's pros & cons provides important reading for those considering signing up. The positive side of the ledger includes the intuitive feel of its web and mobile interfaces, its extensive product choice, and its security measures. Negatives include the trading charges incurred and a lack of support options. 
Uphold Features
Uphold is known for its diverse offerings and array of features, designed to cater to both novice and experienced investors. Below we break down Uphold's features individually, so you can get a better understanding before trying them for yourself.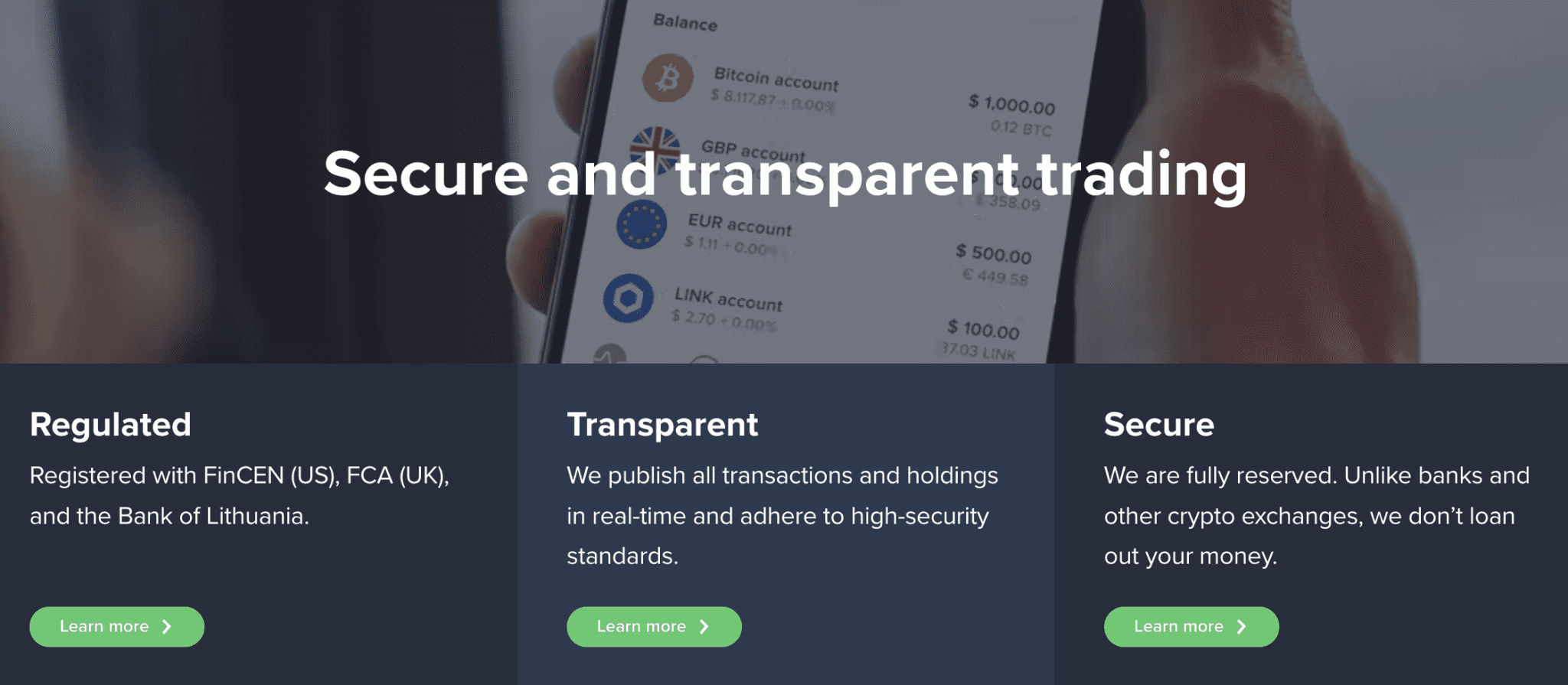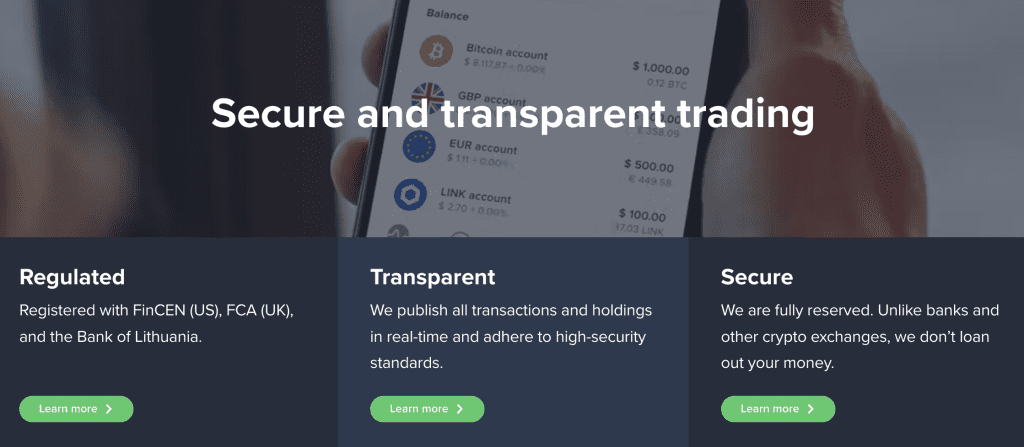 Anything to Anything Asset Conversion
One of the primary USPs of Uphold is their 'anything to anything' asset conversion offering. This means you won't need to execute multiple transfers to invest in cryptocurrencies or fiat currencies.
Depending on your location, you can trade assets directly with a bank account, cryptocurrency network, precious metals, US equities or debit/credit card.
Uphold Mobile App
The Uphold mobile app offers all the company's web trading platform features, available via iPhone or Android. Make trades, manage your money, and seek customer support from one powerful app.
This app is free to download and provides an all-in-one trading experience to help users trade crypto anywhere, at any time.
Uphold Debit Card
Clients can also receive an Uphold debit card, enabling smooth transactions using a range of cryptos, metals, and currencies. Its inclusion within the Mastercard® network means it's accepted at nearly 50 million merchants. Clients can earn 1% back in USD for every USD-sourced transaction and 2% back in the cryptocurrency used for every crypto purchase.
While currently available in the US, EU users can join a waitlist to receive their own card as soon as it becomes available.
Uphold Digital wallets
Like most crypto brokers, there's the opportunity for clients to store their funds in Uphold's digital wallets. To help facilitate the sending and receiving of cryptocurrencies, there is a range of coin types to choose from, including Bitcoin, XRP, Ethereum, Litecoin, and Bitcoin Cash. 
Uphold Limit Orders
Uphold limit orders allow users to set a target price for their trades. Users can place up to 50 limit orders with Uphold and are only charged when the trade is executed.
In just a few steps, clients can create a limit order at the price they want their order to complete without having to watch the markets constantly.

Uphold & Brave Browser
Uphold has partnered with Brave to give its customers extra rewards. Brave rewards their user's attention with Basic Attention Tokens (BAT). These can be used in the Brave eco-system to tip their favourite creators and Publishers. Uphold is the wallet provider for the Brave Publisher platform.
To access your Brave balances, you must first verify your identity on Uphold. It's a simple process that takes just a few minutes to complete on a web or mobile device. Before you start, you will need a valid government-issued photo ID. Verification is complete when you take a live selfie with your laptop or phone's camera.
Once your account has been registered and verified with Uphold, your basic attention tokens (BAT) will appear in your portfolio. Allowing you to store, trade the tokens into FIAT or withdraw them to the safety of a hardware wallet.
Uphold Crypto Staking
For those averse to letting their unused funds gather dust in a digital wallet, Uphold staking allows users the chance to put their money to work and earn some interest. Staking your crypto with Uphold can earn you some generous rewards with high-interest rates available for a range of crypto coins, including Kava, Kasuma, and Ethereum. Just be careful about the risks involved!


Which Cryptos can I stake on Uphold?
We have listed the current rates for staking on Uphold below. However, please be aware that these rates will vary depending on when you read this Uphold review.
| Crypto Asset | Estimated APY |
| --- | --- |
| Kava (KAVA) | 19.5% |
| Kusama (KSM) | 15.3% |
| Polkadot (DOT) | 10.5% |
| Cosmos (ATOM) | 10.2% |
| Solana (SOL) | 5.1% |
| Ethereum (ETH) | 4.25% |
| Tezos (XTZ) | 4.25% |
| Cardano (ADA) | 4% |
Uphold Supported Assets
A diverse range of Uphold-supported assets is included in its product selection, allowing easy access to some of the most popular global market instruments. Each charges zero commission, although (as you'll soon find out), charges will be primarily levied through the spread, i.e., the difference between the buy and sell prices.
It's important to note that the available assets will vary depending on your location, so your options might look slightly different to the entries included below. 
Precious Metals
With Uphold Metals, investors can buy and sell precious metals such as gold, silver, platinum, and palladium. Hedge your investments with one of many safe-haven assets, with instant liquidity into 27 national currencies and zero custody costs.
U.S Equities
Enjoy fractional ownership over some of the most popular equities through the impressive Uphold stocks selection. Invest with as little as $1 in companies including Tesla, Apple, and Google.
This is a great way to buy into global equities by offering bank connectivity in 36 countries, seamless debit/credit card payments, and integration with seven blockchain networks. 
Environmental Assets
Help do your bit to combat climate change by investing in Uphold environmental assets. These groundbreaking investing products are minted on the Ethereum blockchain and help encourage efforts to support environmental projects such as rainforest protection. The two assets on offer include the world's first tradable carbon credit token – UPCO2, and the cleanest form of Bitcoin – Bitcoin Zero.
Cryptocurrencies
Depending on your location, Uphold currently supports 130+ digital currencies. These include all the major cryptos, such as Bitcoin, Ethereum, alt-coins and stablecoins.
For a full list of supported cryptocurrencies and stablecoins in your location, click here.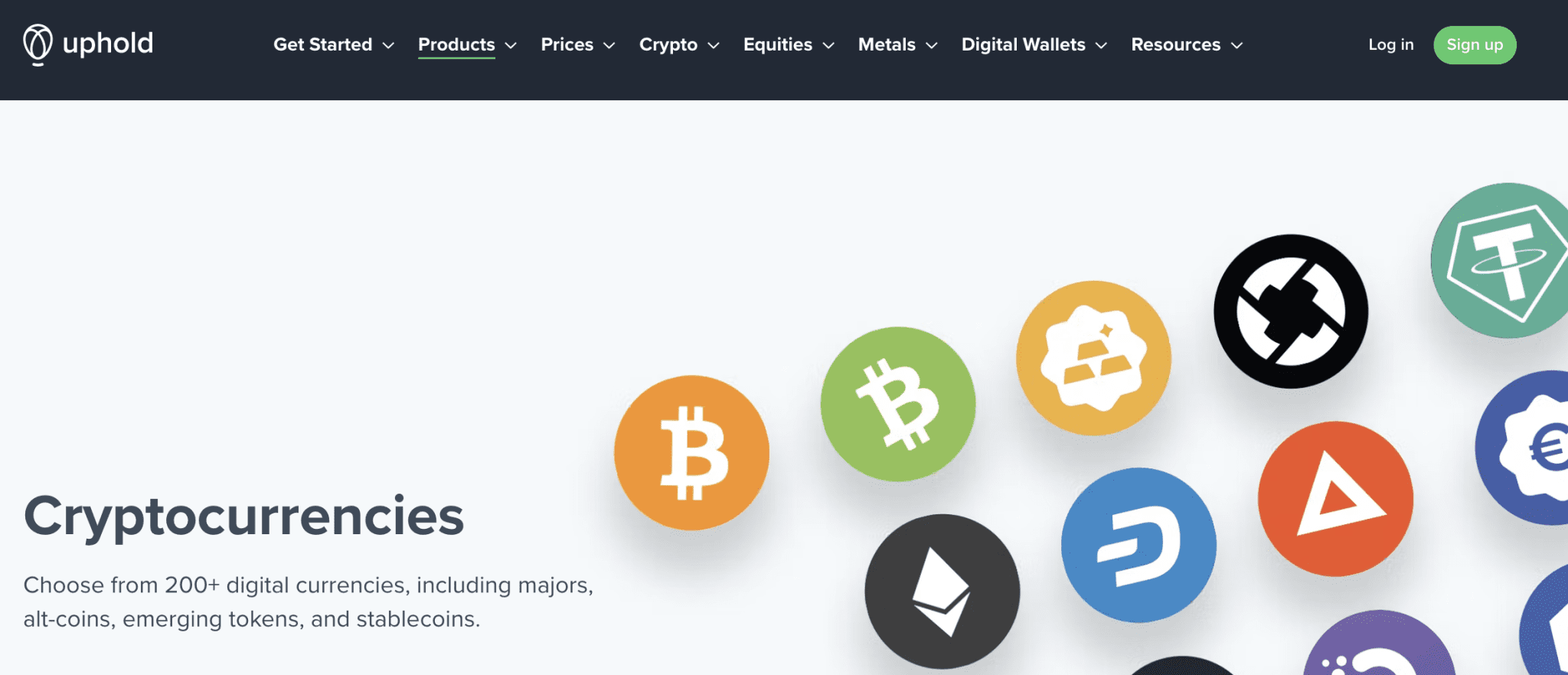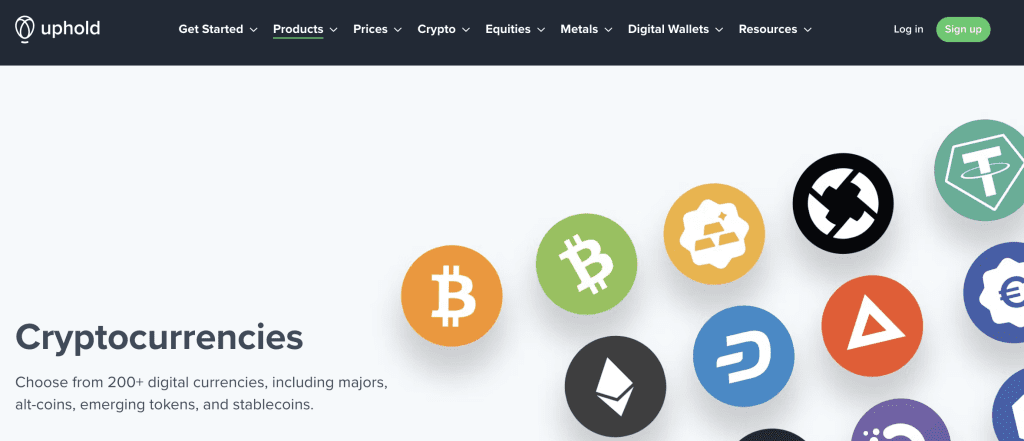 Uphold Fees
Uphold offers commission-free pricing and boasts 0% trading and deposit fees. There are no complicated fee layers to contend with, and unlike on other platforms, the price you see before your trade is the price you actually pay. Unlike many competitors, they confirm and guarantee the price upfront, and the prices are all-inclusive.
Although there are no trading fees, Uphold is not a free platform. They will charge a "Spread" every time you convert one currency or asset to another.
These spreads vary between currencies and locations, so we've shortlisted a few popular assets to help give an indication of the company's charges.
Different spreads exist for commodities, such as 3% for precious metals, 0.2% for FIAT (GBP, EUR and USD), and 1% for U.S Equities. Take a look at Uphold fees here. 
| Asset | Buy Spread  | Sell Spread |
| --- | --- | --- |
| BTC | 0.85% | 1% |
| ETH | 0.95% | 1.1% |
| EUR | 0.2% | 0.2% |
| GBP | 0.2% | 0.2% |
| USD | 0.05% | 0.05% |
Uphold Withdrawal Fees
Withdrawing from Uphold is free for more asset types. However, there will be withdrawal fees when withdrawing cryptocurrencies on a crypto-by-crypto basis.
For example, with Bitcoin, the withdrawal fee is 0.0003 BTC, and ERC20 tokens are based on the dynamic network fee, which varies. However, these are presented to the user before they withdraw.
There will also be minimum and maximum amounts for withdrawing assets from the platform. For a full list of fees and limits, look at their withdrawal costs and limits.
Uphold Security 
Security is an incredibly important consideration when it comes to using any crypto platform. It starts with understanding whether private keys are locked on the platform and what that means for users/customers. 
Uphold is well-regarded throughout the industry for its cutting-edge security measures. Its users can expect high-level safeguards of data, privacy, and funds, guaranteed through the following safety features: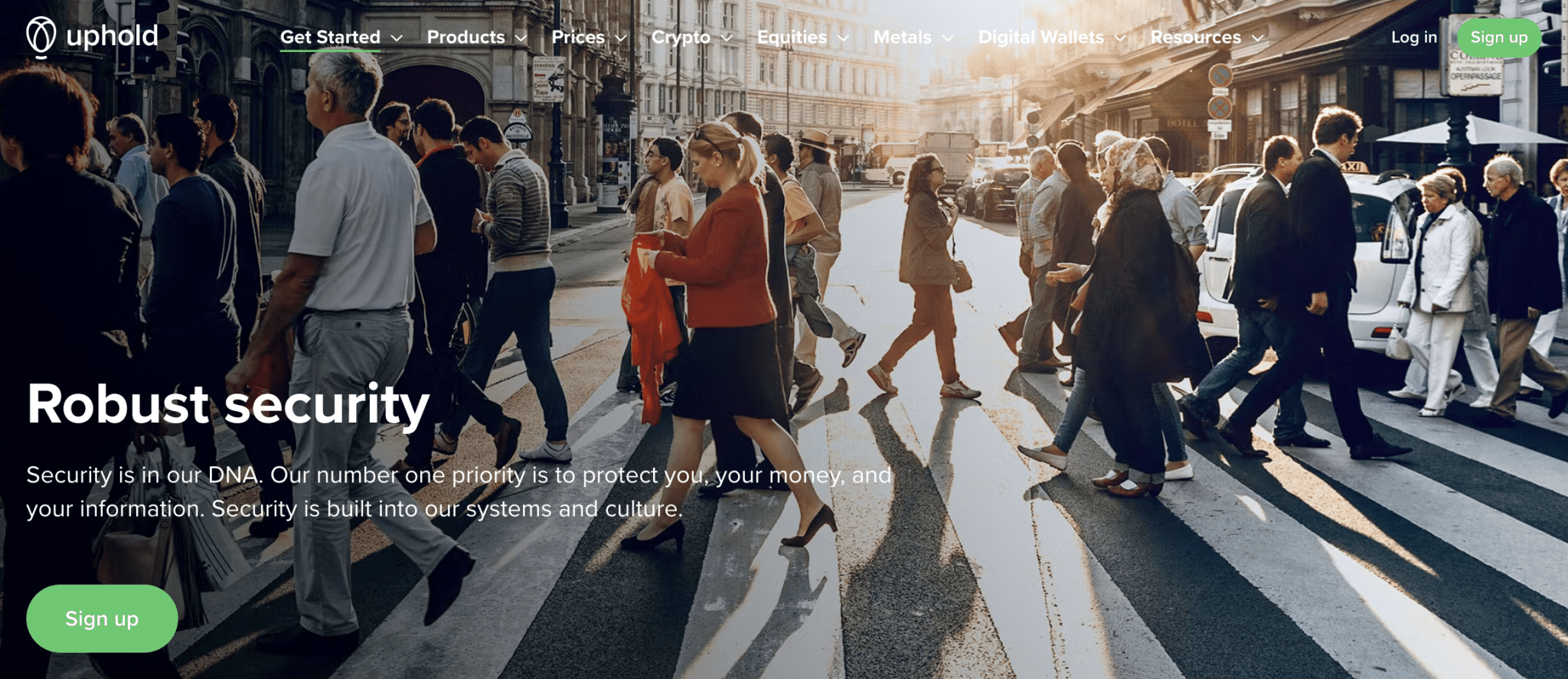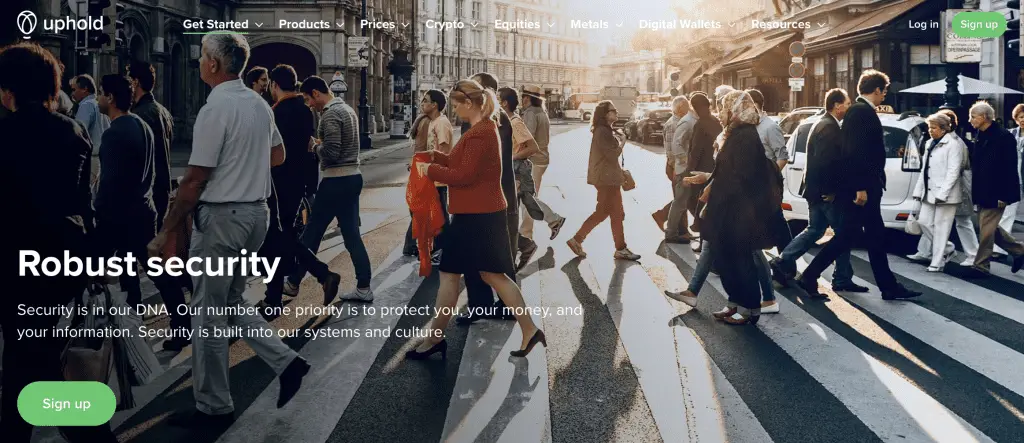 KYC Verification
Before registering with Uphold, users are required to submit verification documents, including proofs of identity and address. This deters client malpractice while ensuring the safety of successfully validated clients. 
Two-Factor Authentication
Uphold accounts utilise two-factor authentication, providing an extra login security layer. This can be toggled on/off, depending on your preferences.
Cold Storage Wallets
One of the most secure ways to store your crypto is offline. Uphold offers a multi-signature cold wallet storage system to protect funds from malicious activity. 
Bug Bounty Program
Uphold utilises a bug detection program through Intigriti, a third-party security company. With this program, users can report bugs encountered when using Uphold.
Rigorous Staff Background Checks
Uphold staff members are also required to undergo background checks and participate in routine privacy training to help promote platform security.
How are Funds Protected with Uphold
Uphold deploys layers of defences to limit the risk of cyberattacks, including sophisticated encryption. Customers can confirm their reserve holdings and ensure their funds are safe anywhere.
They are insured; however, their insurance policy does not cover any losses due to unauthorized access to your Uphold account. It is the user's responsibility to use strong passwords and 2-Step Verification (2FA) to access your Uphold account and approve any withdrawals from your account.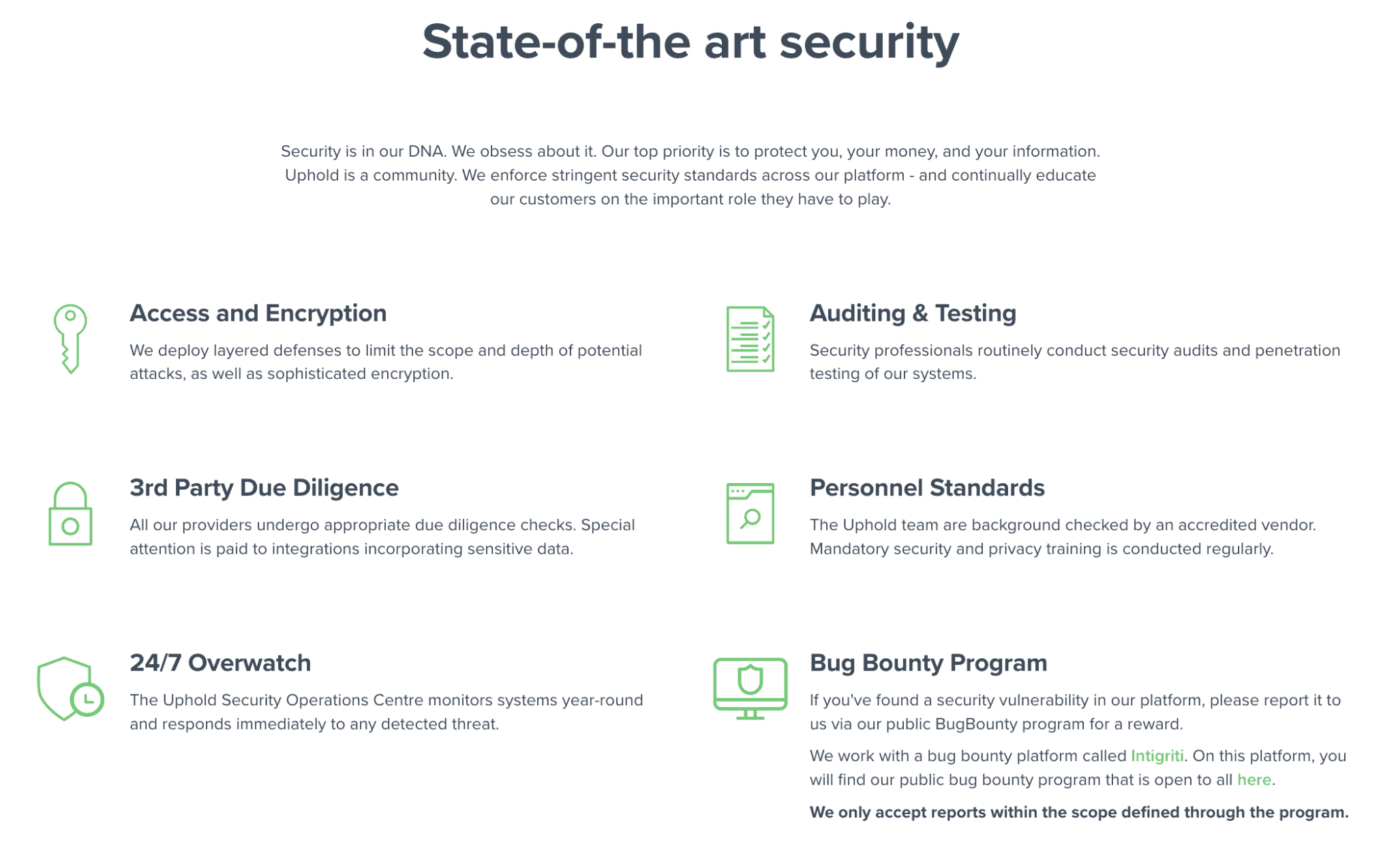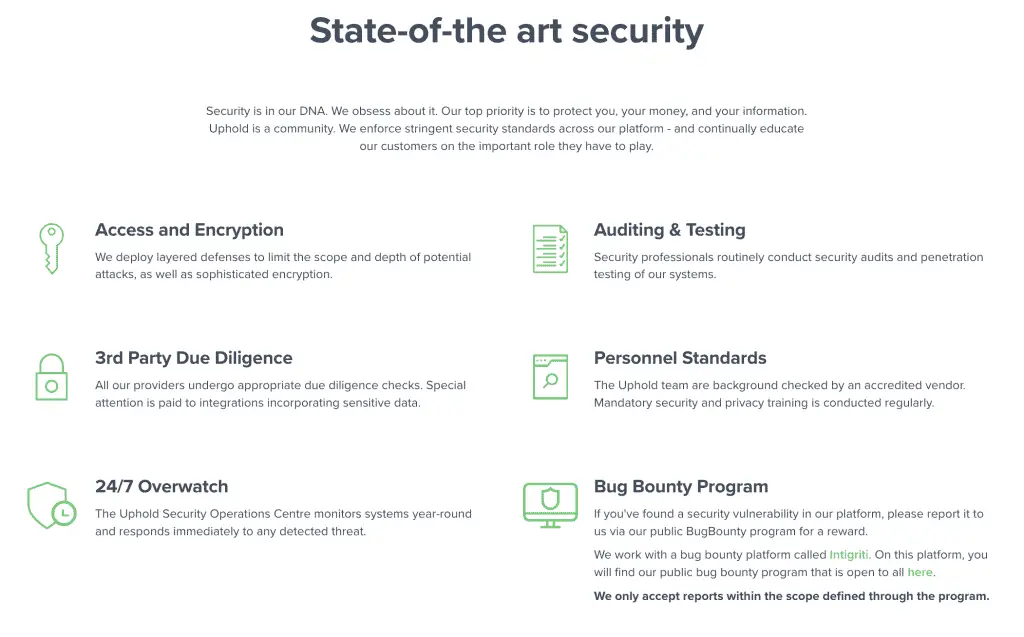 Uphold Regulations & Licenses
So what licenses do Uphold currently own? Quite a few, as it happens. At the time of writing, the Uphold is regulated by;
The U.S. Department of the Treasury and the U.S. Treasury Department for Financial Crimes.
Uphold is partnered with the Authorized Payments Institute for its Europe-wide business operation, which reports to the U.S. Financial Regulatory Authority.
Additionally, Uphold has received authorisation from the UK Financial Conduct Authority (FCA) to operate as a registered crypto-asset firm in the UK.
Uphold Support
Uphold offers customer support through email and live chat. While lacking a direct telephone line, online users report quick response times through the available channels. Additionally, the company offer a comprehensive list of FAQs which, more often than not, will provide the answer you're looking for. 
How to Contact Uphold
You can contact Uphold using email or live chat. Its website provides a long list of email addresses you can get in touch with so that your message can be sent to relevant stakeholders.
These are included below:
You can access the support channel via the Uphold mobile app to speak to the team on live chat.
What Countries does Uphold Support?
Uphold supports a long list of countries and regions, including the UK, EU, US and Latin America. However, users may find that not all the features are available depending on location.
There are also some locations that Uphold does not support. For a full list of unsupported jurisdictions, check out their list here.
Uphold Sign-up
Although Uphold's registration process contains KYC verification measures, users should encounter no problems getting onboarded.
You'll be taken through a straightforward process involving just a few required fields by clicking "Sign up" via the Uphold website's header.
Next, you'll be asked to submit your proof of identity and address as part of the verification requirements.
Once validated, you'll be free to begin trading from your newly created account.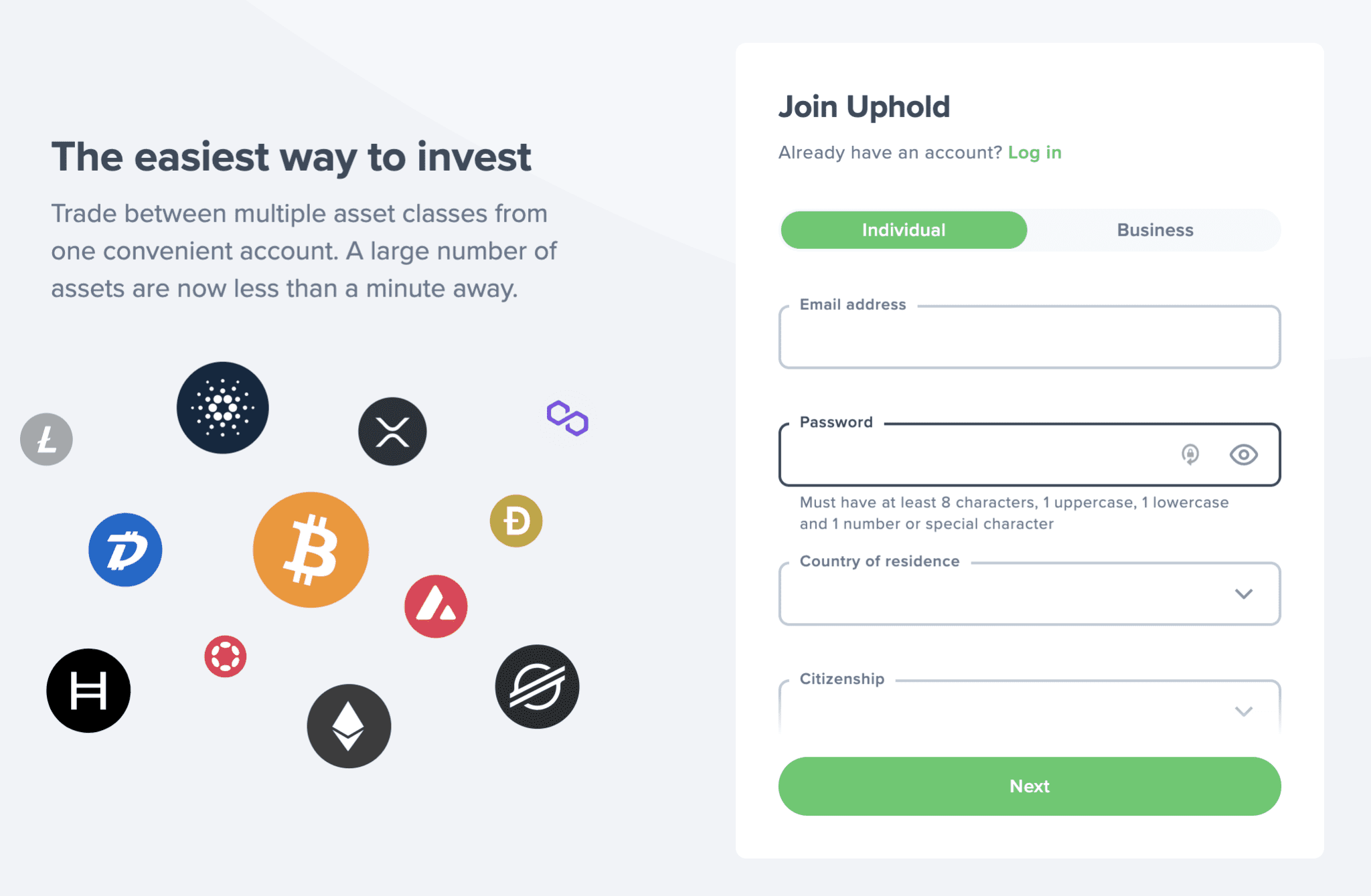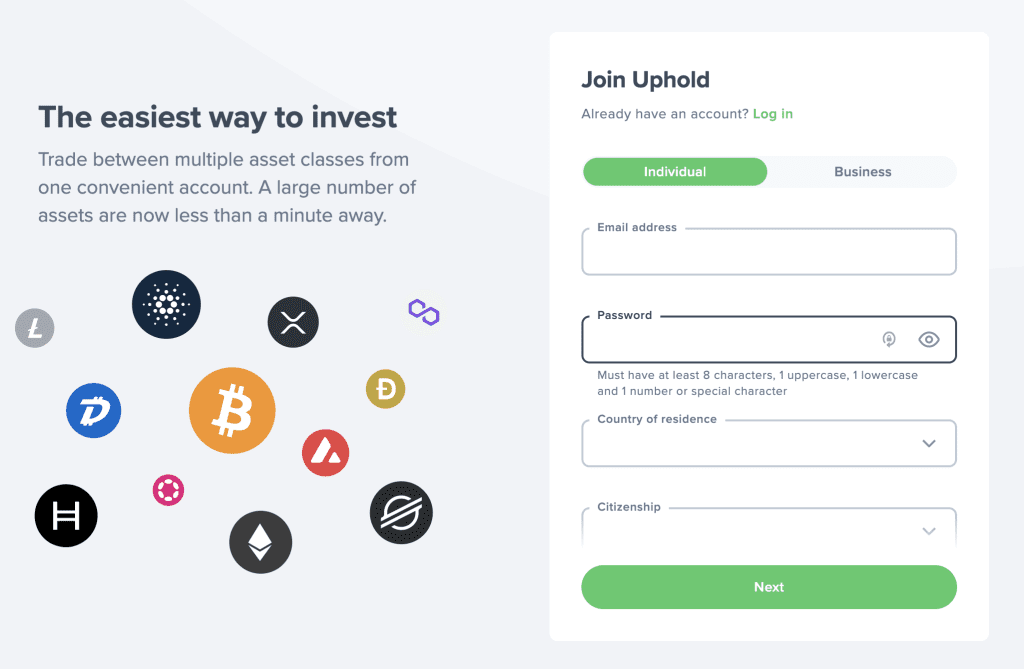 Uphold Alternatives
To determine whether the company provide good value against its competitors, it's important to compare them to some of the Uphold alternatives on the market. Each of the following companies has been selected according to the similarity of their business model and the scale of their operations.
| Platform | Fees | Tradeable Cryptos | Trustpilot |
| --- | --- | --- | --- |
| Binance | 0.1% Spot-Trading, 4.5% for Debit Cards | 600+ | 2/5 |
| Crypto.com | 0.04% to 0.4% Maker & 0.1% to 0.4% Taker | 250+ | 2.1/5 |
| Uphold  | Commissions Free & Variable Spreads | 90+ | 2/5 |
Uphold vs Coinbase
Uphold and Coinbase are both popular cryptocurrency platforms, but they cater to different users and offer unique features.
Coinbase is tailored towards beginners and offers a learning-focused approach by rewarding users who engage in educational content. This feature makes it an attractive option for those new to the world of cryptocurrencies. Although Uphold and Coinbase provide staking options, you will find more tokens to stake on Uphold and sometimes higher rates.
Both Uphold and Coinbase provide custodial wallets to their customers. These wallets are controlled by the platforms instead of the user, offering a convenient option for storing and managing their crypto assets. However, if you prefer to take control of your private key, Coinbase does provide a self-custody Coinbase Wallet.
While Coinbase is known for beginner friendly, you do pay for this with high fees. Coinbase charges between $0.99 and $2.99 depending on the trade size and includes a spread of about 0.50%. Uphold takes a different approach, embedding fees within asset price spreads. This method can make it more challenging to identify the exact charges.
Our Verdict: Should you use Uphold?
Uphold offers a fantastic user experience for individuals and businesses alike. Its generous range of products and services creates excellent trading and crypto storage solutions, albeit at a higher cost than some competitors.
Its focus on making cryptocurrency dealing as accessible as possible, alongside the stringent security measures provided, establish Uphold as one of the most suitable for beginner investors. However, those looking for better value for money might be tempted to opt for one of the lower-cost providers on the market.
We hope you found this Uphold review useful. If you have already tried Uphold wallet, let us know what you think in the comments below or click here to start using Uphold Wallet.
Uphold FAQs
What deposit options does Uphold accept?
Uphold accept a wide range of deposit options, including credit/debit card, bank transfer, and private crypto wallet. 
Where is Uphold located?
Uphold is located in New York, New York, United States.
What is Uphold used for?
Uphold provide an extensive suite of services for individuals and businesses, including currency speculation, exchange, and storage. 
Is Uphold legit?
Yes, as a fully licensed crypto dealer, Uphold's services include extensive safety protocols, from advanced fund protection measures to account security. With a strong reputation for financial excellence accrued over a 10-year period, the company are universally recognised as a safe and secure brokerage. 
Do I have access to my Private Keys with Uphold?
No, Uphold does not provide users with their Private Key. Similar to other exchanges, such as Coinbase or Binance, you are entrusting a third party (Uphold) with your private keys. Therefore, we'd recommend storing your Bitcoin long-term in a hardware wallet, such as Ledger Nano X, Nano S or Trezor. Gives you more control over your funds with access to your private keys.
Is Uphold a wallet?
Yes, Uphold provides free secure digital wallets for various cryptocurrencies such as Bitcoin, Ripple, Ethereum, Litecoin, and Bitcoin Cash. The platform ensures the highest industry standard security, including private key encryption and two-factor authentication (2FA).
Related Posts
Here are some of our articles you may also find helpful;
"Uphold Disclaimer: Uphold offers Cryptoasset investing within the EU/UK (by Uphold Europe Limited) and USA (by Uphold HQ Inc).  
Capital at risk. As with any asset, the value of crypto assets can go up or down, and there can be a substantial risk that you lose all your money buying, selling, holding or investing in crypto assets. Your crypto assets are not subject to protection. You should carefully consider whether trading or holding crypto assets is suitable for you in light of your financial condition.
Uphold makes no representation and assumes no liability as to the accuracy or completeness of the content of this publication, which has been prepared by our partner utilizing publicly available non-entity specific information about Uphold."