In this Nuri Review, we take a look at the German-based crypto-friendly bank. We analyze the variety of features Nuri has to offer, plus security, support, pros and cons.
Nuri offers account holders the ability to manage, save and grow their money and crypto. Invest in cryptocurrencies, create savings plans, and spend their funds with their free visa debit card.
So, let's dive into this Nuri Review to help you work out whether Nuri is the right crypto-friendly bank for you.
What is Nuri?
Nuri is a German-based bank formerly known as Bitwala, which was founded in 2013 by three founders Ben, Joerg and Jan.
They launched Bitwala in 2015, allowing users to make bitcoin-powered bank transfers to 22 countries and a prepaid debit card. In 2018, Bitwala then became the world's first crypto bank account. Nuri provides an easy way to get started with crypto directly from their German bank account.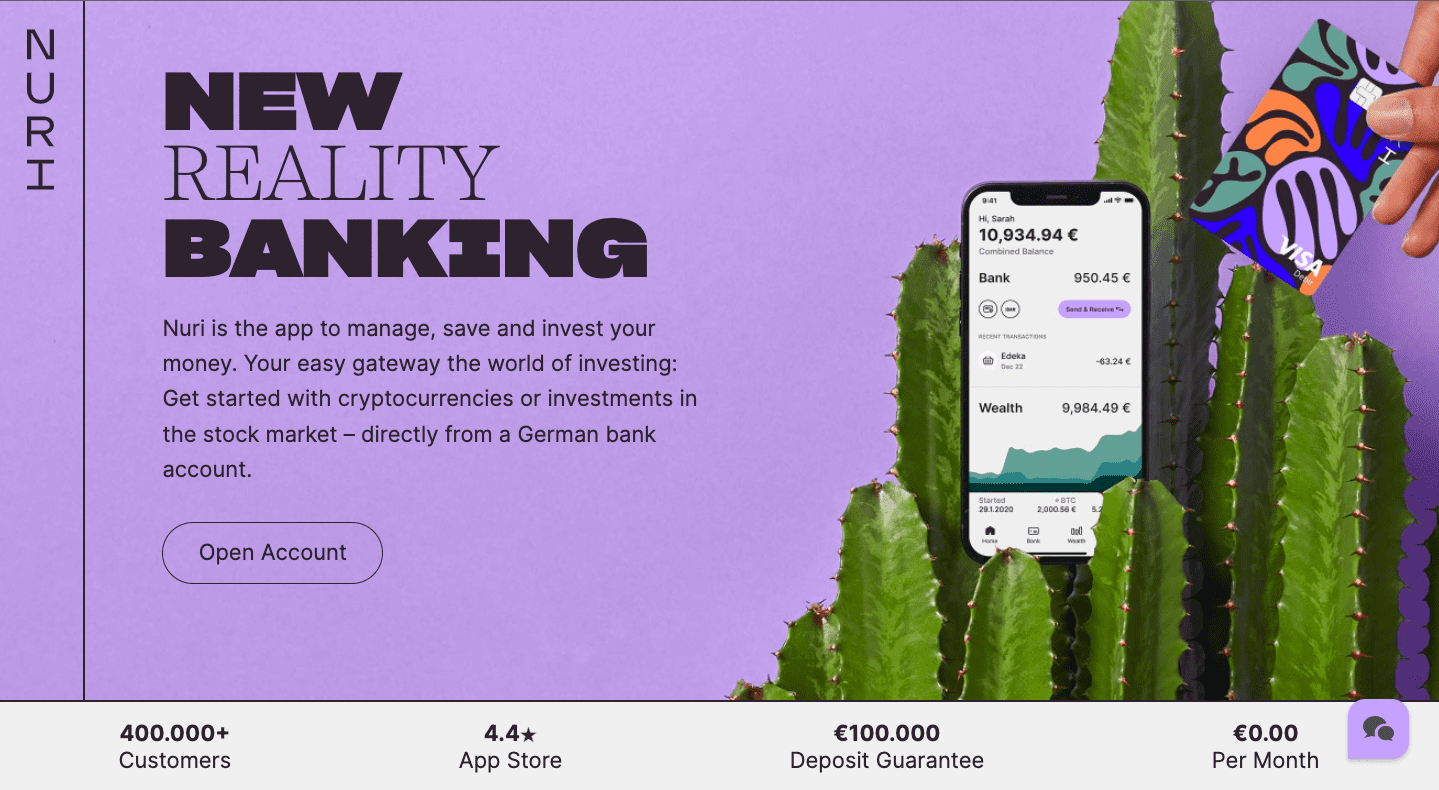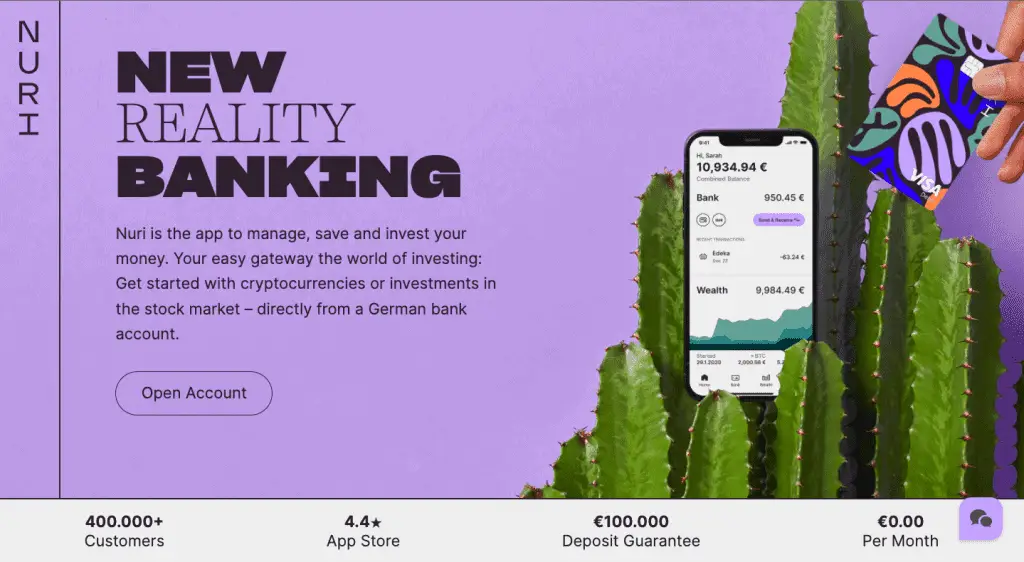 Now rebranded as Nuri, they currently have over 300,000 bank account holders and are available for EEA residents (including Switzerland and the UK). Plus, they accept ID documents from over 70 nationalities.
With Nuri bank accounts, users can manage, save and grow their money. Invest in cryptocurrencies, and create savings plans, plus you'll have access to a free (zero fee) Nuri debit card with unlimited free atm withdrawals.

Features
As a Nuri customer, you'll not only get access to a full german bank account but also to an array of features. Including the Nuri app, free cash withdrawals with their debit card, and recurring bitcoin purchases.
Custodial Wallet
There are two types of crypto wallets that you can hold with your Nuri account. Nuri Wallets, also known as Custody Wallets, are managed by their partner Solaris Digital Assets. Custodial wallets come with the below features:
Fast trading: Your trades settle very fast.
Zero network fees: Nuri will cover the network fees when you buy/sell Bitcoin from this wallet
Quick Login: Access your Wallet via your Nuri account, with no extra keys or wallet password required
No risk of losing keys: Nuri will take care of your account and can restore your wallet for you
Vaults (Non-Custodial Wallet)
The second wallet Nuri offers is its Vaults, and only you can access and hold its security keys. This comes with the below features:
Your keys, your crypto: You hold your private keys and only you have access to your private keys and, therefore, your funds.
True ownership: The generated security keys are in your full possession. Nuri can't access or recover your Vault. 
Network fees: As your trades are settled directly on the blockchain, network fees are applicable.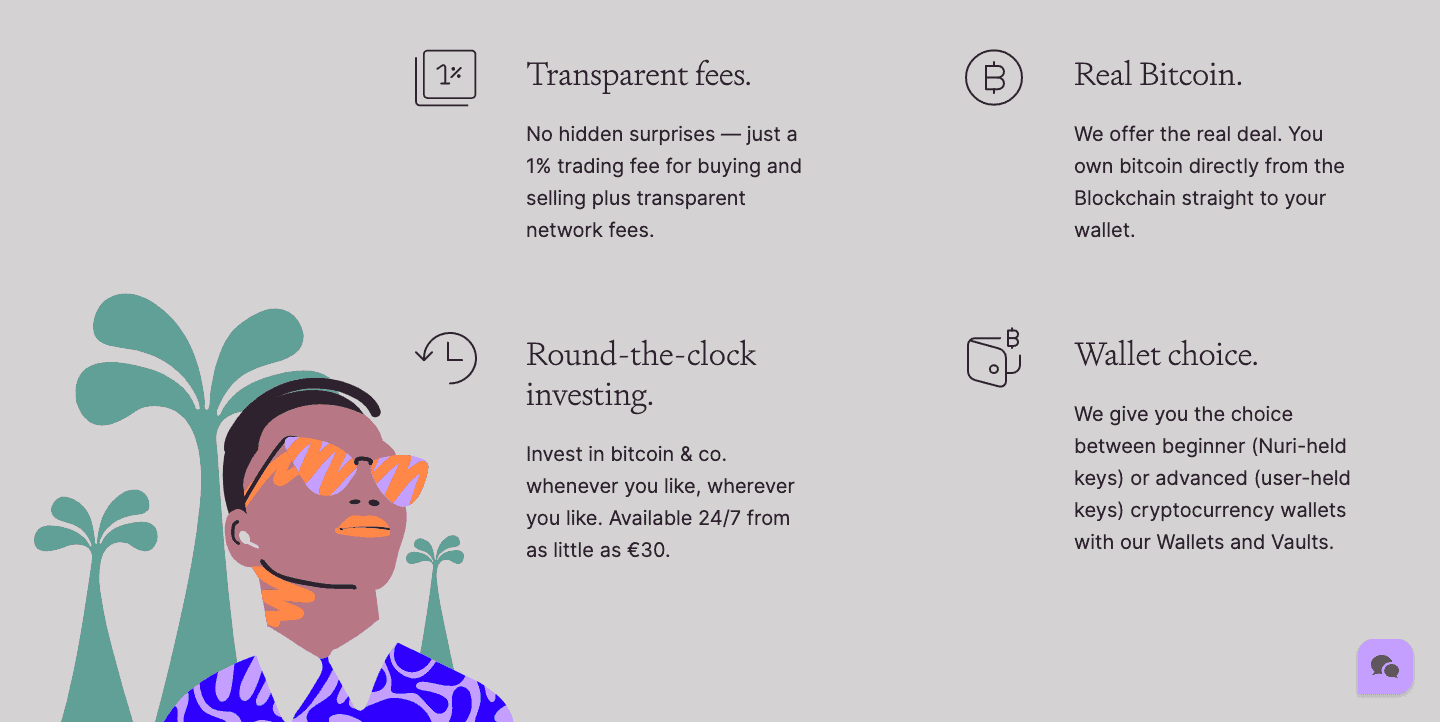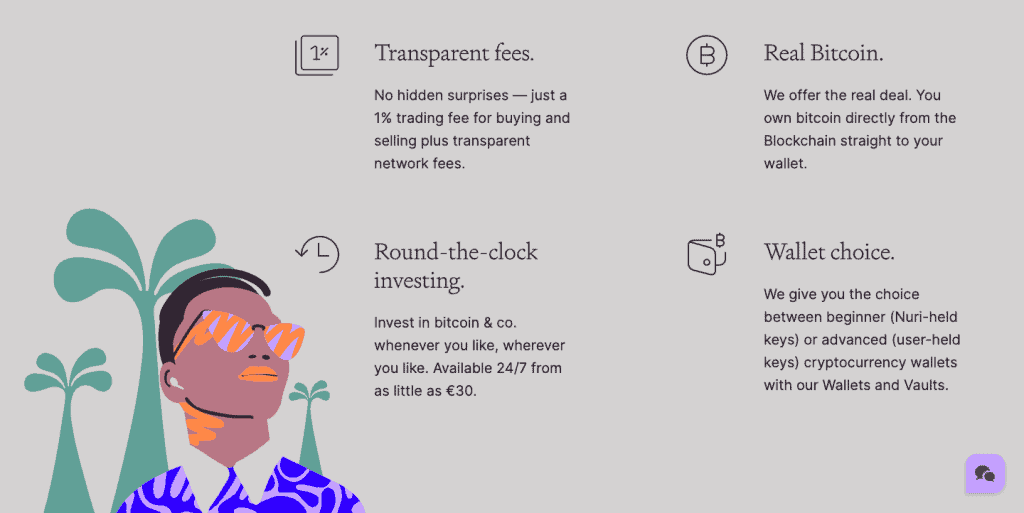 CryptoTax Tool
If you need to declare your crypto transactions, Nuri has the solution. Their inbuilt CryptoTax tools ensure that your investments are collated into an easy-to-export document.
Nuri Debit Card
The Nuri Visa Debit card is completely free to use and links to your Nuri current bank account. It's contactless, can be used globally, and has unlimited free cash withdrawals.
With Nuri, you can exchange your bitcoin or ether for Euros and instantly use your Nuri card. In emergencies, you can block or freeze your card and report it as a lost or stolen card via your Nuri account.


Savings Plans
Nuri's Savings Plans allow users to buy crypto on a regular, recurring schedule (monthly or weekly). In this way, users can grow their money by investing in smaller amounts instead of waiting to buy the dip or time the market.


Nuri Mobile App
The Nuri mobile app is available on iOS via the Apple App Store or for Android users using Google Store. With the mobile app, users can manage their fiat or crypto assets on the go, investing, buying, selling or exchanging from fiat to crypto on the go.
Deposit Methods
You'll need to deposit some funds to get started with Nuri and start to fund your bank account. This can be done by depositing either fiat or cryptocurrency using the below methods;
Bank Transfer
Standing Order
Receive Salary
Add to Bitcoin Wallet
Add to Ether Wallet
Nuri Supported Currencies
Nuri currently supports both fiat/traditional currencies and cryptocurrencies. These include;
Depositing is also possible via Bitcoin Vault & Ethereum Vault.
Nuri Supported Countries
Nuri is currently only available for EU residents (European Economic Area, including UK & Switzerland). However, documents are accepted from multiple countries worldwide.
Nuri Fees
With Nuri, there are zero fees for opening an account, depositing or using their contactless debit card.
The fee that they do include fees for buying and selling cryptocurrencies. This consists of the network fee and trading fees.
The network fee is paid to the miners to validate the network transaction. The trading fee is 1% of the purchase or sale value.
Nuri Sign Up
The Nuri sign-up process is pretty simple; you must first provide personal information, including your name, email address, and country, create a strong, secure password, and verify your identity.
As part of the verification process, you'll need to have a video call within the Nuri app. These calls are available in English or German only and include displaying your ID or passport as part of the verification.

Nuri Support
Nuri offers customer support via chat or email if you need some assistance or technical support. Unfortunately, there is no live chat service currently available. However, there is a 24/7 chatbot available on their website.
They also offer a reasonably comprehensive support centre that includes help articles for some frequently asked questions about account opening, banking & cards, wealth, and more.
Nuri Security
Nuri is regulated in Germany and states that they have designed the Nuri account with security as a priority. There's biometric authorization and 3D Secure to put your safety first.
The accounts are also protected by 2FA (two-factor authentication) for actions such as logging into your account and providing a strong, secure password that you will create are account creation.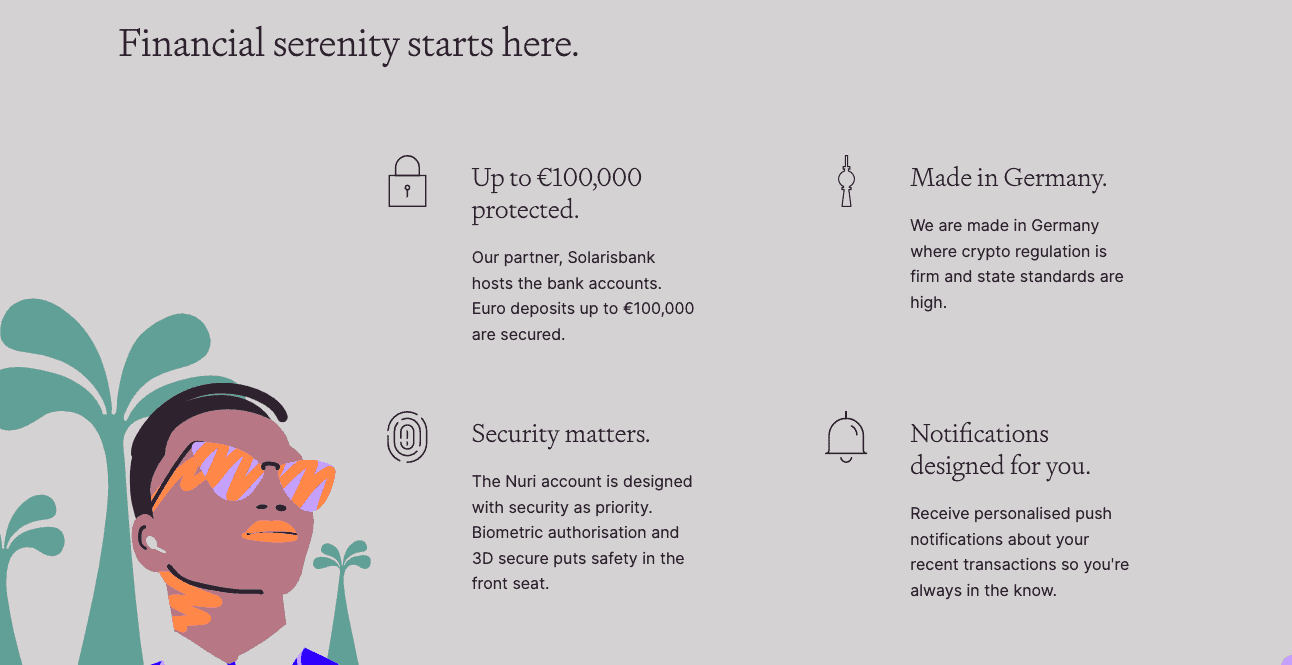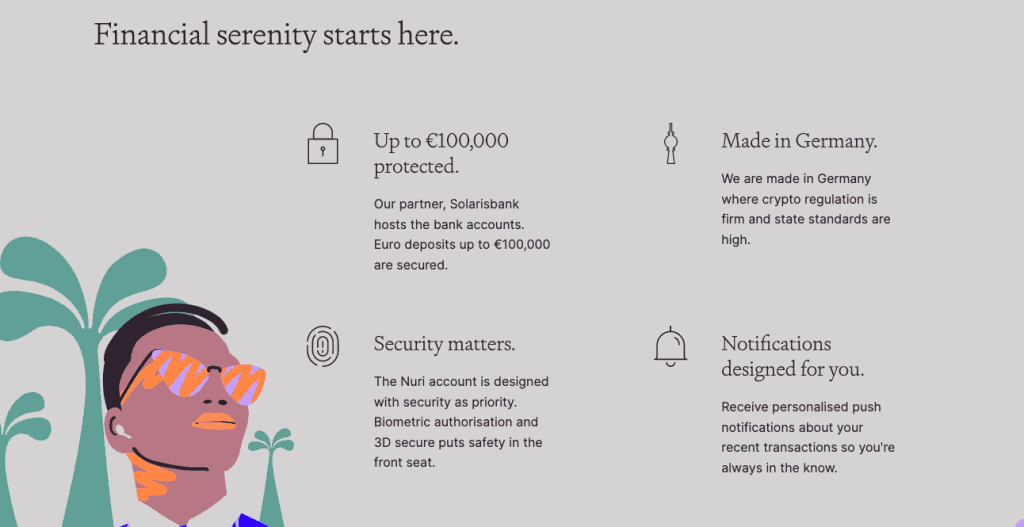 Is Nuri Safe?
Nuri's partner Solarisbank hosts the bank accounts, and with Euro deposits, up to €100,000 are secured under the German Deposit Guarantee Scheme.
In terms of cryptocurrencies, users can create either custodial or non-custodial wallets. Non-custodial crypto wallets let users completely control their crypto with access to their private keys. Therefore, it is down to the users to store these private keys (or backup phrases) somewhere safe and secure, as anyone with access to these will have complete control over your crypto.
Verdict: Should you Open a Nuri Bank Account?
Crypto investing has its challenges, and one of the most frustrating is finding a crypto-friendly bank that supports deposits and withdrawals from crypto exchanges. Unlike most traditional banks, Nuri understands these challenges and also makes it easy for newbies to get started with crypto investing and buying their first crypto.
Obviously, there are some limitations with Nuri; although they offer Bitcoin and Ether, it would be nice to see Nuri expand its list of available cryptos.
Overall, if you're investing in crypto, you need a crypto-friendly bank account. If you're just getting started and looking for a safe and simple option to buy some Bitcoin and Ether, you should look into what Nuri has to offer.
Related Posts
Here are some of our articles you may also find helpful;