In this beginner's guide, we explain how to create a crypto tax report with the Crypto.com tax tool for free.
For those of you who are preparing your crypto taxes, you may be looking for a tool to make your life a little easier. Crypto.com, the one-stop shop for crypto, has created a great crypto tax tool, so users can now prepare their tax returns for free.
So, let's dive in and look at the Crypto.com Tax tool and see if it can help you with reporting your crypto taxes.
What is Crypto.com Tax?
Crypto.com Tax is an online tax tool by Crypto.com. This completely free-to-use platform assists users with preparing their crypto taxes.
It allows users to connect to popular exchanges and wallets using APIs or CSV files. Reports can then be run with an easy-to-use interface and zero cost, regardless of how many transactions you have.

How to use Crypto.com Tax Tool?

Who to Use Crypto.com Tax Tool?
The Crypto.com Tax service is available to anyone (in a supported region), even those that are not currently crypto.com users.
Crypto.com Tax currently supports Australia, Canada, Germany, the UK and the United States. Plus, they state that they have more supported jurisdictions to come.
To get started, users simply need to create an account using an email address and a secure password.

Crypto.com Tax-Supported Wallets & Exchanges
Crypto.com Tax supports a wide range of wallets, exchanges and blockchains. Even if your account is not currently supported, you can simply import data through a Generic CSV Template.
The list of currently supported app and platforms include;
Wallets
Exchanges
Binance & Binance US
Bitfinex
Bitrue
Changelly Pro
CoinJar
CoinSpot
Gate.io
HitBTC

Supported Cryptocurrencies
There are over 10,000 cryptocurrencies currently supported by Crypto.com Tax which are listed on CoinGecko. Crypto.com Tax also supports a huge range of FIAT (or traditional currencies) such as the likes US Dollars, GBP, Australian Dollars, Canadian Dollars and Euros.
What Reports Can I Create with Crypto.com Tax?
Currently, anyone can generate crypto tax reports free of charge using Crypto.com Tax for:
Capital Gain/Loss: Proceeds, Cost Basis, Selling Expense, and Capital Gain/Loss
Transaction History: Detailed Transactions for your records
Income Report: Detailing all the crypto you've received and if it's taxable or not.
Gifts, Donations & Payments Report: Detailing all the crypto you've sent
(US specific) IRS forms

Form 8949 (Pre-selected box C for Part I and box F for Part II. If users receive the 1099-B forms, please check the boxes A-B for Part I and E-F for Part II)
Schedule D

(US specific) Tax filing software, import file for;

TurboTax Online
TurboTax CD/Download
TaxAct
How to Connect Crypto.com Tax to an Exchange or Wallet?
The method of uploading your CSV file or connecting your API keys will depend on the wallet or exchange you are connecting to.
For example, if you are connecting to the Crypto.com App to import your transactions, you will be taken through the steps to export your transaction history as a . CSV file and import these into the platform.
Whereas with Coinbase, you can easily connect your API keys through a series of prompts, and your transactions will automatically sync for you.
However, regardless of the wallet or the exchange you are connecting to, Crypto.com Tax has step-by-step instructions for every method available.

Why am I Getting Errors After importing?
When you import your data, there may be errors due to how complex cryptocurrency transactions are.
It's important to go through the transactions to ensure that they match your records. If something does not match, click on the 3 dots and update the details manually.
If you receive skipped transactions, these are usually FIAT deposits and withdrawals or staking transactions. You can find a full list of errors and resolutions in their help centre.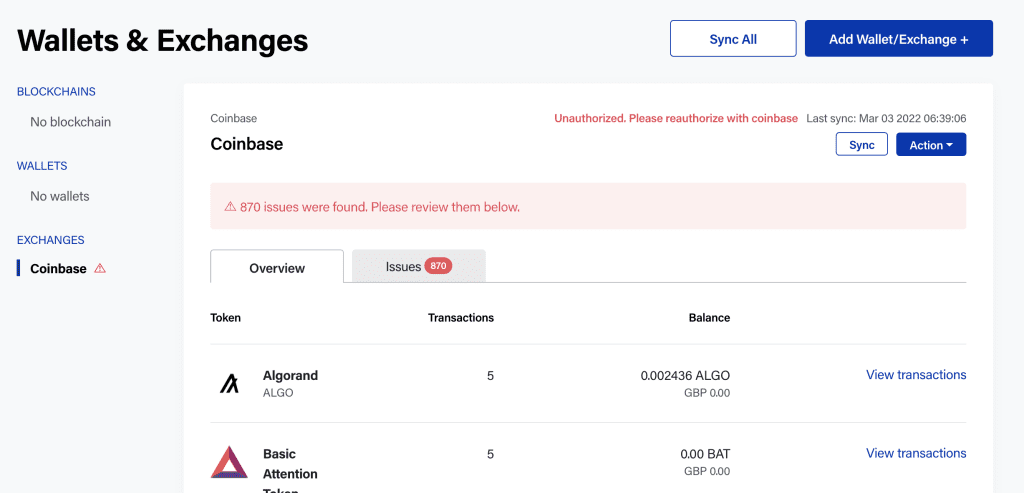 Can I Exclude Transactions?
If transactions are shown on the report, these can be excluded or "ignored". To exclude a transaction;
Go to Transactions at the top of the screen
Choose the 3 dots to the right of your transaction
Click Ignore
If you want to re-include a transaction, simply select "restore" from the same menu.
Related Posts