In this Blockchain.com review for 2023, we take you through one of the oldest and most trusted cryptocurrency trading platforms. I explain to you how to buy and sell crypto, their confusing trading wallet, and how to earn interest staking.
Blockchain.com is one of the oldest and most trusted cryptocurrency wallets, with over 50+ million wallets created since 2011.
Blockchain.com Review

Who are Blockchain.com
Blockchain is based in Luxembourg and the company was co-founded by Peter Smith and Nicolas Cary. With a team of over 100 employees from 22 countries, their experience is from both the tech and financial sectors.
The Blockchain wallet launched in 2011 and has since gained a large amount of trust within the cryptocurrency space. Blockchain now offers a wide range of products with the Wallet being one of many. Their other products include the Blockchain Exchange Platform, Hardware wallet "Lockbox", Institutional Platform "Markets" and the Blockchain Developers API Platform.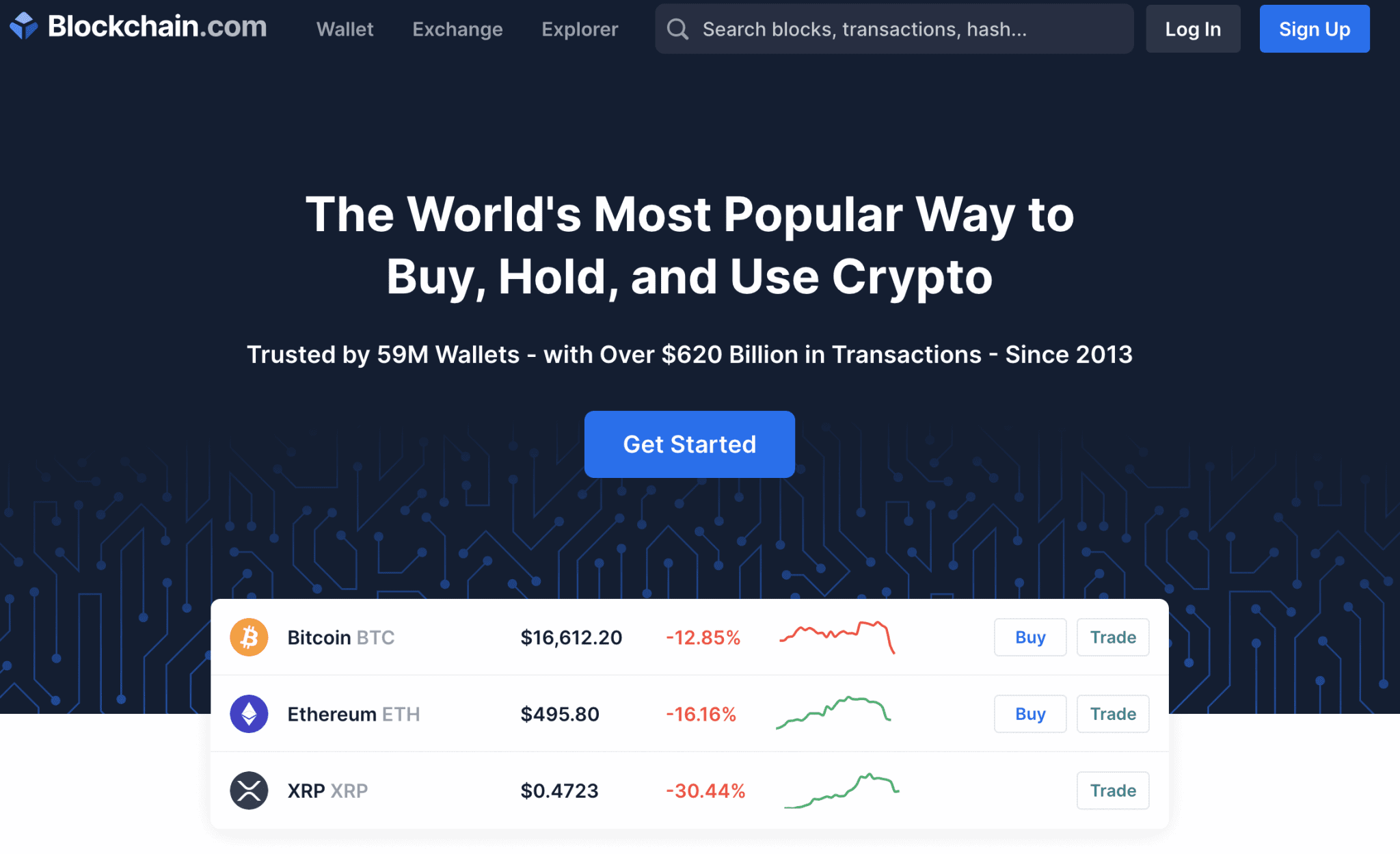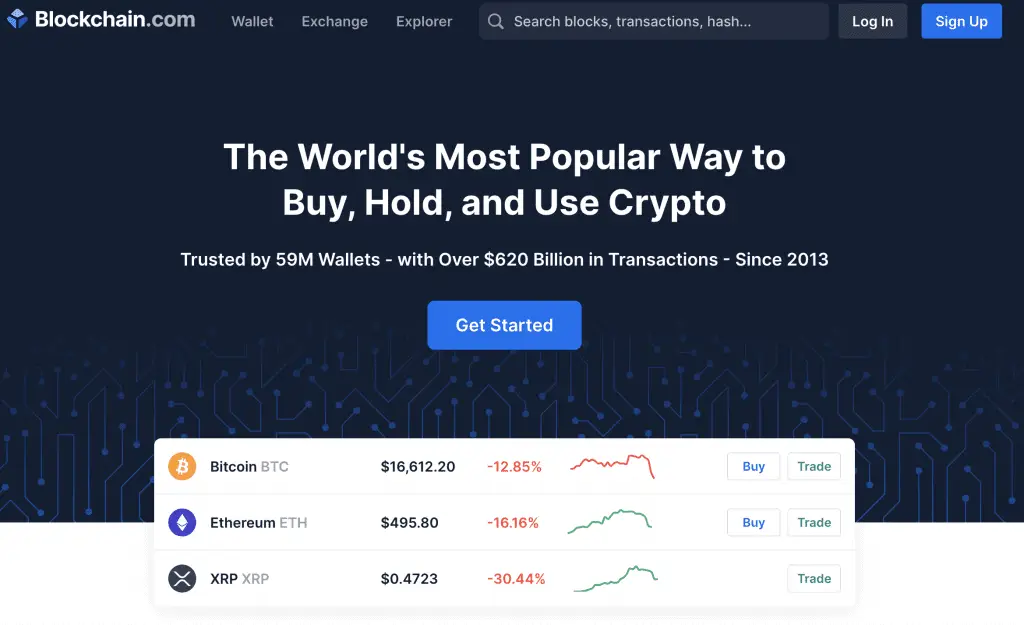 What is Blockchain Wallet?
A Blockchain Wallet is a software cryptocurrency wallet where you can store your coins safely. It is the most popular choice wallet for Bitcoin and Ethereum especially for storing large amounts due to its security and protection. You can easily access your crypto from a mobile device or via the web platform.
With the Blockchain.com wallet, you can buy your first Bitcoin or other cryptocurrencies, exchange them and store your assets safely. You have full control of your assets. With the ability to back up your funds, and protect them from unauthorized access.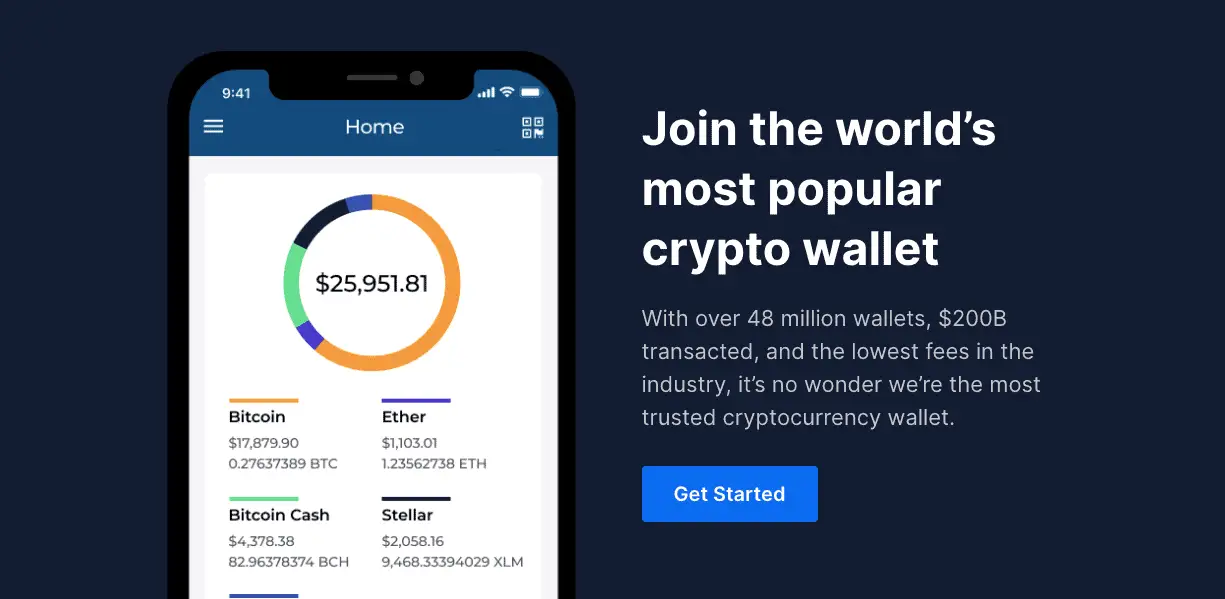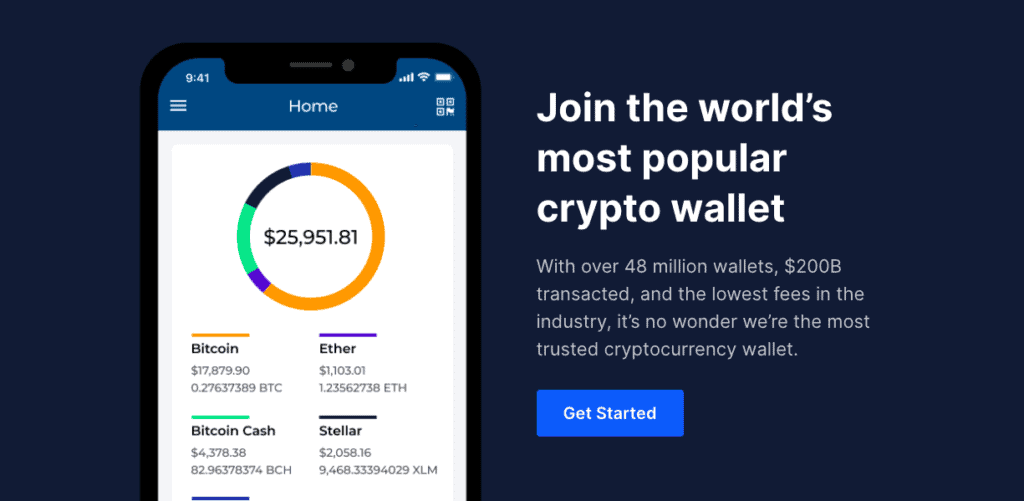 Blockchain Trading Wallet
Blockchain.com has added "Trading Wallets" to their platform for cheaper, faster transactions. Trading wallets are custodial wallet balances that users can use for functions such as receiving the crypto you buy, selling and swapping your crypto because these transactions do not have to be sent on-chain. Meaning the transactions can be faster, as they are not subject to cryptocurrency network congestion or confirmation times, and they do not incur network or transaction fees, as they do not have to be confirmed by the network or miners. Find out more about the Trading Wallet, plus how you can withdraw your crypto from Blockchain.com.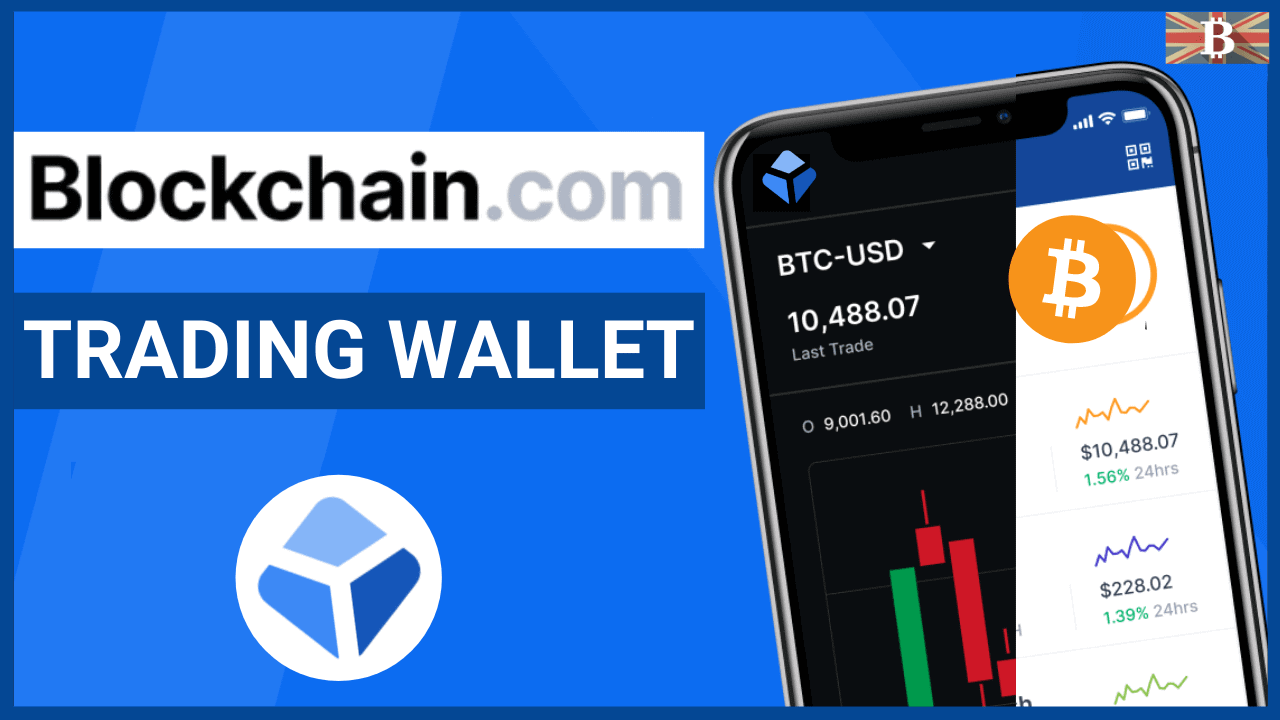 Blockchain Wallet Fees
As with the majority of other wallets, users are only charged for their transactions calculated by the wallet and depending on the network congestion and transaction size.
The fees will depend on whether you choose from a "Priority" or "Regular" transaction. With Priority, your transactions will try to be processed within an hour. Whereas Regular will incur a lower fee, however, will be slower. Advanced users can also customise the fees that they pay.
Blockchain Wallet-Supported Crypto
The Blockchain.com wallet currently supports five cryptocurrencies which include, Bitcoin (BTC), Bitcoin Cash (BCH), Ether (ETH), Stellar (XLM) and USD Digital (previously USD Pax).
How to Buy Bitcoin with Blockchain.com
If you're interested in getting into Bitcoin or other cryptocurrencies and you're not too sure where to start, here is a step-by-step guide.
Step 1: Login In and Buy Crypto
If you would like to buy your crypto quickly and easily on the Blockchain wallet with Euros or GBP, you first need to "Login" and select "Buy Crypto".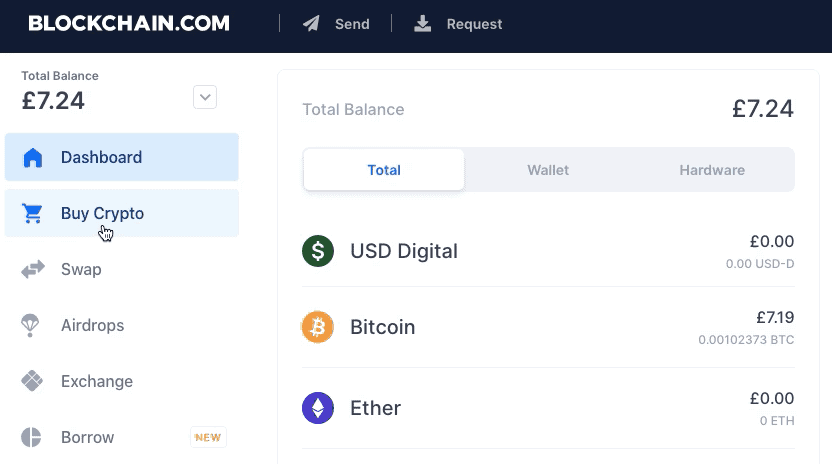 Step 2: Select Your Crypto and Amount
Then over on the right-hand side, choose which cryptocurrency you would like to purchase. And you can select from Bitcoin, Ethereum, Bitcoin Cash, Stellar, and USD Digital.  Against each currency, it'll show you the market price which is the estimated price you will be paying. This is only estimated as the market could change between now and when your order is actually placed.
You can then type in the amount that you would like to purchase. The minimum buy is 5 of your chosen currency, so this could be £5, €5 with a maximum of 5,000 per order. There are also daily and weekly limits too which will depend on your level of verification.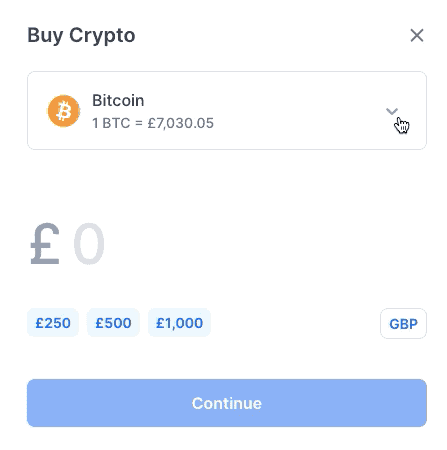 Step 3: Check Out
And if you're new, you'll be asked to verify your identity to proceed with the order which may include uploading your photo ID. 
Once you're verified, you'll reach a "Checkout" screen with the details of your order. 
This screen shows your exchange rate, payment method and the fees associated with your order.
When you create an order on Blockchain's wallet you're actually creating something called a market order which means that you're paying at the market rate. So although the fees are showing as zero you could be purchasing your Bitcoin at a slightly inflated rate.
To Confirm your purchase, you can then click on "Continue".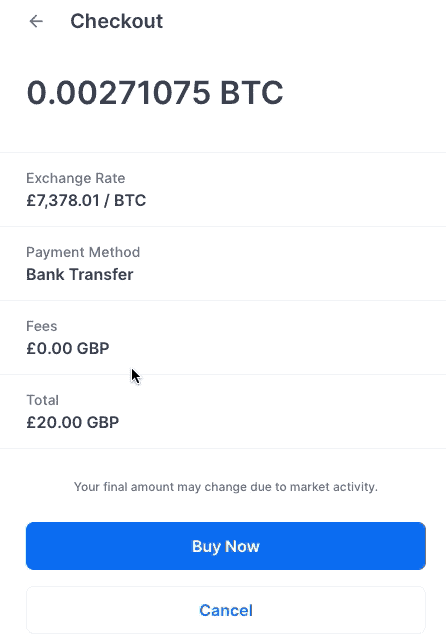 Step 4: Send your Funds
You'll then be presented with the bank details of where to send your funds to.
Please note that it states to "only send funds from a bank account in your name. If not, your deposit could be delayed or rejected".
You'll need to securely transfer Euros or British Pounds (whichever currency you are paying with) from your bank account to Blockchain.com using the details on the screen.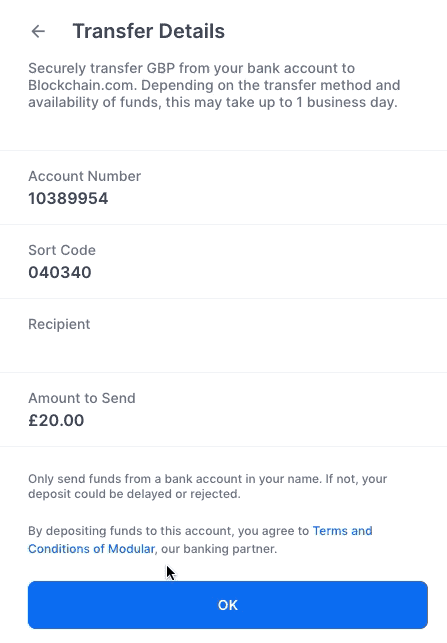 Your purchase is then pending until they receive the funds.
Once it's completed the newly purchased bitcoin will then show in your associated crypto wallet where it's safely stored.
How to Withdraw from Blockchain.com?
If you want to send your Bitcoin from your Blockchain.com wallet and across to another wallet or exchange you'll need to click on the "Send" button from the top of your screen.
Step 1: Choose Your Currency & Wallet
First, you'll need to select the currency you want to send from your wallet. If you have more than 1 of your chosen currency wallet (for example if you've imported a Bitcoin Paper Wallet) you can select the required wallet from the dropdown too.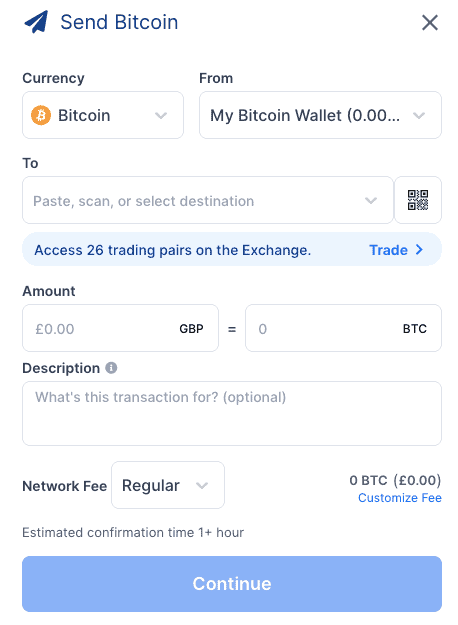 Step 2: Enter the Bitcoin Address & Amount
Enter the address where you would like the crypto to be sent. This will either be a long string of numbers and letters that you can paste into, or you can scan using a QR code.
Then enter the 'Amount' that you would like to send across. You will then have the ability to select your network fee which will appear on the right. Finally, click on 'Continue' to confirm your transaction.
How to Sell on Blockchain.com?
With blockchain being one of the oldest and most trusted wallets available, you'd assume you could easily withdraw your funds. However, unfortunately, this doesn't seem to be the case at this time.
The blockchain wallet used to have a buy and sell section on the left which has been now mysteriously been replaced with just "Buy crypto". Therefore, users must use the Blockchain Exchange to Sell their crypto.
So, if you're not a fan of holding your crypto for the long run and you want to cash it in and withdraw, here is a beginner's guide.
Step 1: Create a Blockchain exchange account & connect your Blockchain wallet
The first thing you'll need to do is create a Blockchain Exchange account by entering your email address and creating a password. You'll then have the option to connect your Blockchain wallet, which is only available at this time and cannot be done later. You can connect this using a QR code or signing into your Blockchain wallet.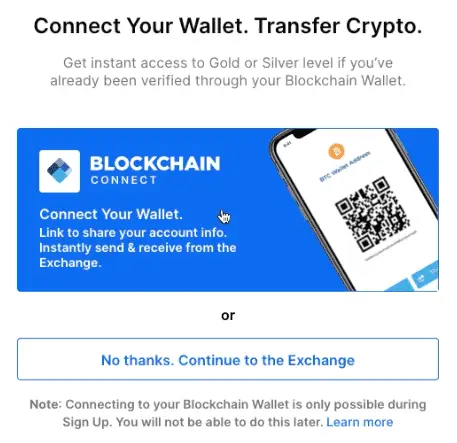 Step 2: Deposit your crypto
Next, you'll need to do is deposit some crypto that you can sell. You can deposit from your linked blockchain.com wallet, or send funds across using the associated wallet address.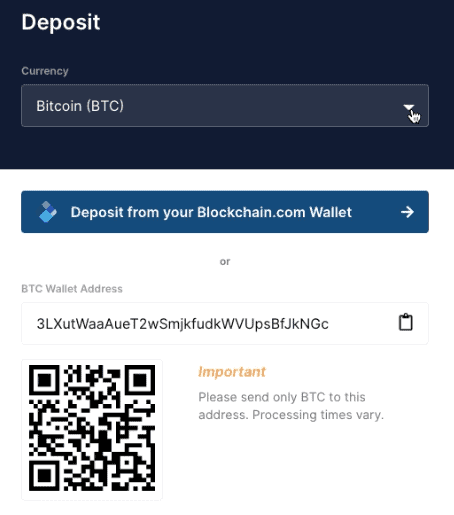 Step 3: Sell your crypto
From the top, you can choose your pairing by clicking on the '+' icon. And you can choose from a host of pairings including exchanging for euros or dollars.
Then select "Sell" on the right of the screen, as well as the amount (in your chosen crypto) that you'd like to sell.
Then you have the option of the market, limit stop and stop-limit orders. For the purposes of this beginner's guide, we're going to keep it simple and sell with a market order. This means I'm going to see whatever the current market price is.
And you can "Place BTC Order" which is go through automatically and instantly.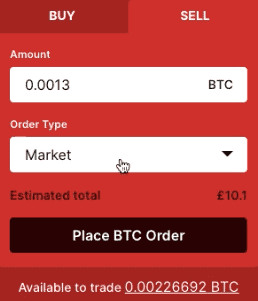 Step 4: Withdraw to your bank account
So we now have converted our crypto to FIAT currency we can head to "Portfolio" and "Withdraw". 
Please note you do need to be gold-level verified to be able to withdraw FIAT currencies. It'll also ask you to make a small deposit if you haven't already linked your bank account.
Your funds will then withdraw into your bank account.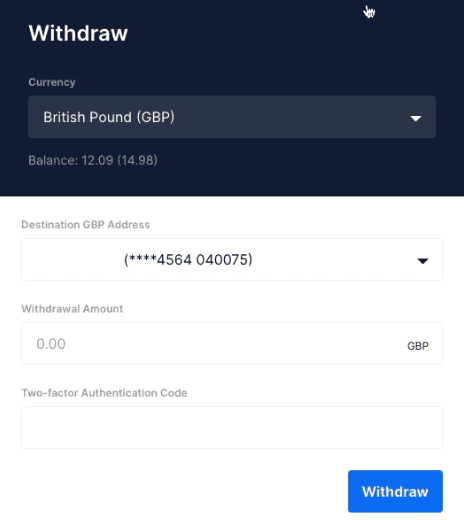 How to Receive Crypto to your Blockchain.com Wallet?
If you want to receive cryptocurrencies into your wallet, maybe you are sending funds from an exchange or another wallet then you'll need to click on "Request" at the top of your screen.
Step 1: Select Your Currency & Receiving Wallet
First, you'll need to select the type of currency you are going to be sending across to your wallet. Each cryptocurrency will have its own associated address. Then you will need to state which wallet you'd like the crypto to be sent to.
Step 2: Share your Address
Next, you will need to copy or share your public address. This can be done using a QR code (for mobile devices) or you can copy the address from the "Address" section by clicking on the copy icon on the right and then you can share or paste this into your "Send" feature from where you are sending the funds.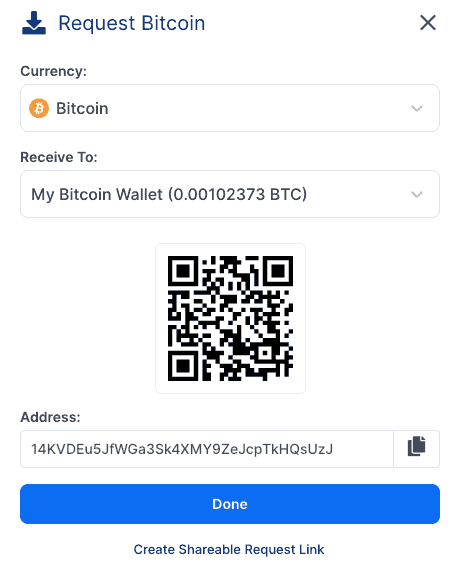 Blockchain.com Features
Blockchain Interest Accounts
Blockchain.com now allows users to deposit Bitcoin into an interesting account. Once you have deposited Bitcoin into your interest account, you will earn up to 4.5% interest.
Blockchain Swap
With Blockchain's "Swap" feature, you can exchange any cryptocurrency for another crypto. This in-wallet exchange, allows users to quickly and easily exchange one crypto asset for another whilst keeping control of their private keys. All without having to ever leave your Blockchain.com Wallet. And you can swap between Bitcoin, Ethereum, Bitcoin Cash, Stellar and USD-D.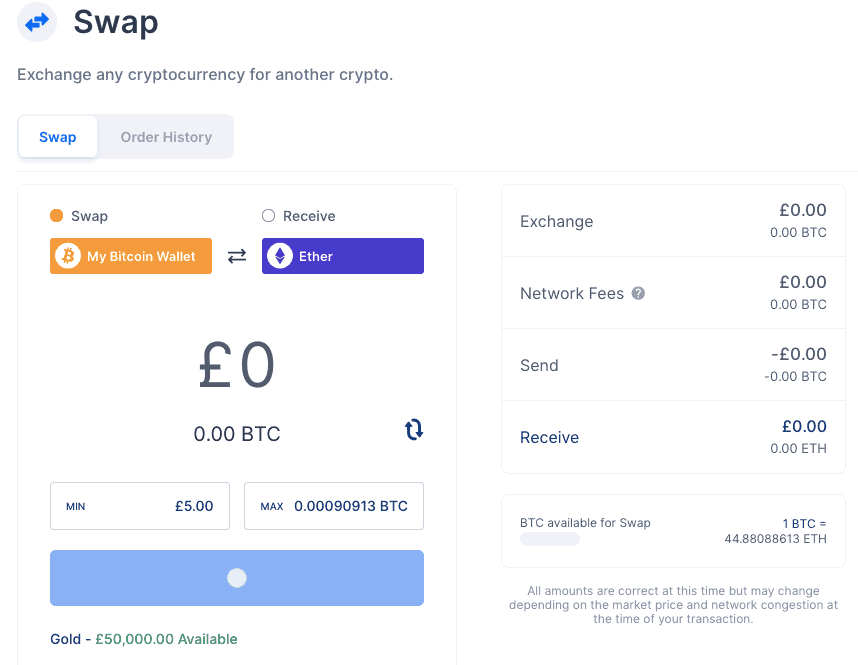 Blockchain.com Airdrops
Blockchain.com's Airdrop Program provides Gold-level verified users with the opportunity to participate in Airdrops. Their first phase, was the Stellar Airdrop, putting XLM in the hands of millions of new users and doubling the Stellar network. 
With their second airdrop, they partnered with Blockstack to give away Stacks tokens (STX) to their users.
Blockchain.com Exchange
Blockchain rebranded its cryptocurrency exchange platform from "The Pit" to "Blockchain Exchange". The new Blockchain.com exchange provides a high-speed crypto exchange for retail traders with the ability to trade 34+ cryptocurrencies.
The exchange has been created with the novice investor in mind, with its clear user-friendly interface. With the Blockchain exchange, you can view markets, check the status of your orders, make deposits, withdraw funds and trade crypto assets. Available in 200 countries within some locations, you can also buy crypto using FIAT, depending on your verification level.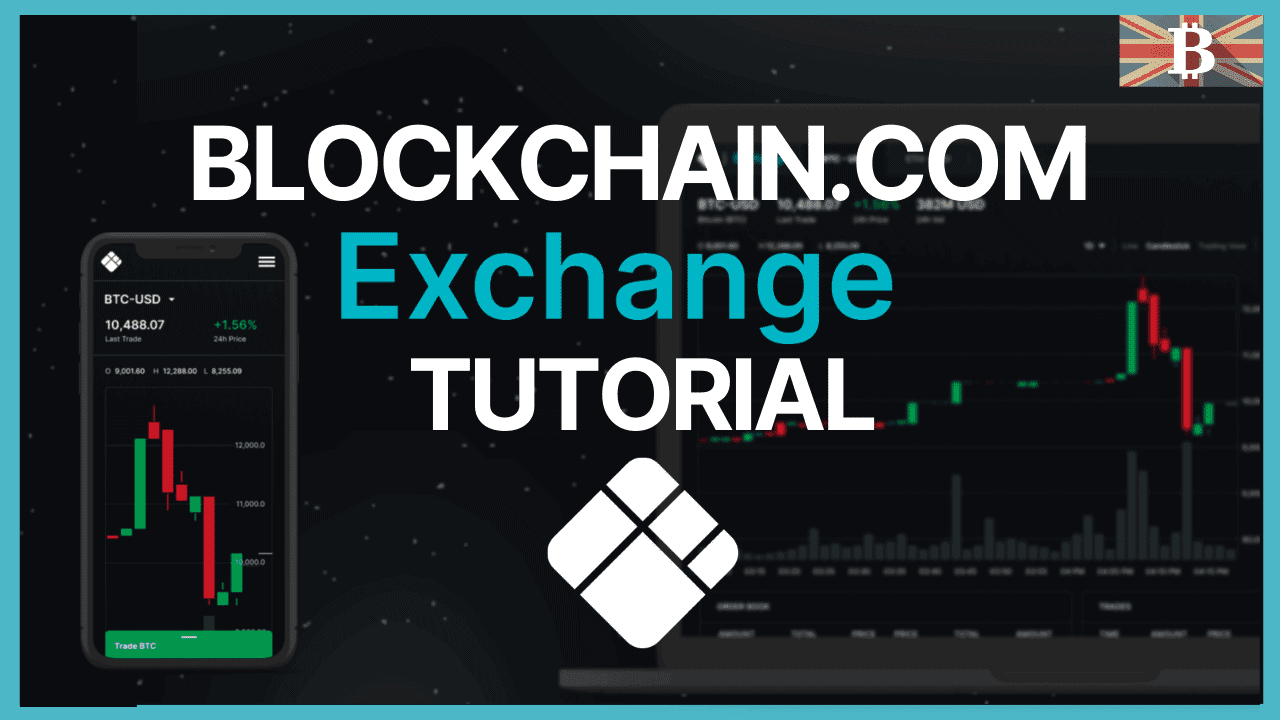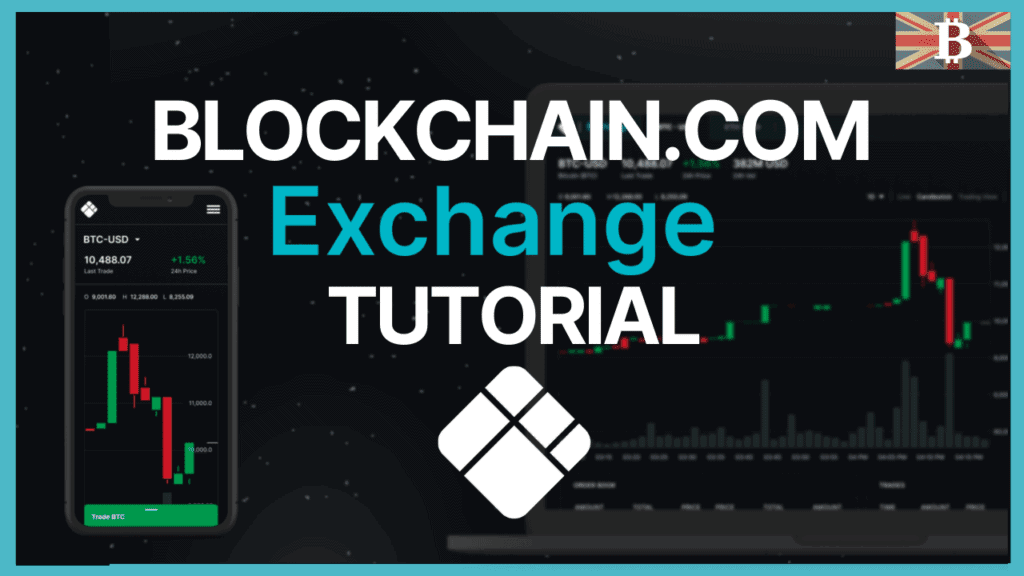 Blockchain Borrow
Blockchain's "Borrow" gives their Gold-level verified users the ability to borrow USD Digital from Blockchain.com using bitcoin stored in the Wallet as collateral. The interest rate for your loan is given in the loan creation form and is subject to change.
At this time, they only accept collateral in bitcoin (BTC), to be sent from your Blockchain.com Wallet. However, they do plan to extend this to other cryptocurrencies in the future. The transaction will be initiated automatically as soon as you confirm the loan. 
Most lenders will pull borrowers' credit score reports or other reports of borrowing history. This can then lead to a negative effect on your credit score. However, Blockchain.com Borrow does not require credit, so taking out a loan with them will not affect your credit score.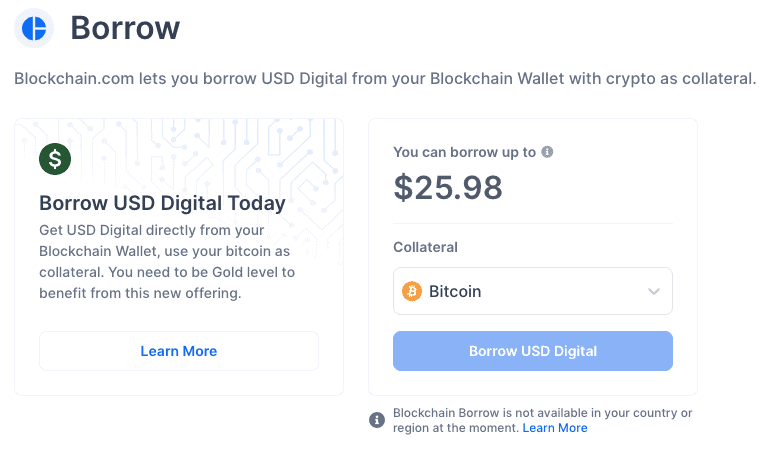 USD Digital Stable Coin
Blockchain has now renamed USD PAX to USD Digitial. USD-D is crypto pegged 1:1 with the USD meaning that 1 USD Digital token will always be valued at 1 USD within your wallet. With USD-D you can hold a stable, digital dollar in your Blockchain Wallet. As USD Digital is an ERC20 token any transactions with it will cost an additional, small fee in ETH.
These digital dollars are powered by Paxos Standard, one of the most actively traded stable coins and among the first to be regulated by the New York State Department of Financial Services.


Lockbox Hardware Wallet
Blockchain
has
released its own hardware wallet called Lockbox. Lockbox has been designed specifically by Ledger (
creators of the Ledger Nano S
). By storing your private key in a hardware wallet, you are securing your crypto offline, keeping it another step away from hackers. Therefore by using their Lockbox in conjunction with the online wallet, you get the best of both worlds. The easiest, most widely used web wallet and the most secure offline storage solution creating a seamless experience to trade, transact, and protect your crypto.
Blockchain Lockbox features custom firmware, enabling exclusive features.
Blockchain Wallet Customer Support
Blockchain.com wallet does have a support system where you can submit ticket requests for support via its online Support Centre. They also provide some FAQs to resolve commonly asked queries. However, for a newbie getting into cryptocurrencies, unfortunately, there is no live 24/7 chat feature and in busy periods their support can get flooded. Therefore you may find that there is not an adequate support structure to support you.
Related Post