Looking to withdraw your crypto from Coinbase? This Coinbase beginner guide will navigate you through the process of transferring your crypto assets to various types of wallets, including the Coinbase Wallet, Ledger and Trezor hardware wallet.
Whether you're a seasoned investor or a novice in the world of cryptocurrencies, understanding the process of withdrawing crypto from an exchange is vital. Our step-by-step guide is designed to demystify the process of withdrawing crypto from Coinbase, helping you transfer your assets safely and efficiently to your personal wallet.
How to Withdraw Crypto from Coinbase to a Wallet
Navigating the process of withdrawing crypto from Coinbase to a personal wallet may initially seem daunting. However, with a little guidance and practice, you'll find it becomes a straightforward task. An essential rule of thumb in crypto is to avoid storing your assets on any exchange for extended periods, primarily due to potential security risks.
After concluding your trading activities, transferring your crypto assets into the secure environment of a wallet is highly advisable. One of the most secure methods of storing crypto is using hardware wallets such as the Ledger Nano S, Nano X or Trezor. These devices offer robust security measures that can keep your investments safe and under your control.
Let's now delve into the step-by-step process of transferring your crypto from Coinbase to your chosen wallet.
Total Time: 10 minutes
1. Log into Coinbase Account
– Go to Coinbase.com and log into your account.
If you're new to Coinbase, they offer new users a £5 Bitcoin sign-up bonus when making their first trade.
2. Go to Send & Receive
– Once logged in, select the "Send & Receive" button in the top right of your screen.
3. Choose the Amount to Withdraw
– First, you must choose "Send" as per our example below. The "Receive" option here will give me the Bitcoin wallet address to receive crypto.
– Enter the amount you want to send next to the "$" symbol or choose "Send all". To change between crypto and dollar value, click the double arrows.
4. Select Asset to Withdraw
– Select the crypto asset you would like to withdraw. You will notice against each asset, and the crypto and dollar value will be displayed for each token you hold.
5. Enter Wallet Address
– In the "To" field, enter the Wallet Address you want to send crypto to or the Email Address if you're sending via email.
– Adding a note is optional.
– If you're happy, select "Continue".
The majority of users will enter a crypto wallet address. Please make sure you are sending the correct type of crypto to the correct type of address. For example, if you are sending Bitcoin, this needs to be sent to a Bitcoin wallet address. You risk losing your funds if you send your crypto to the wrong address.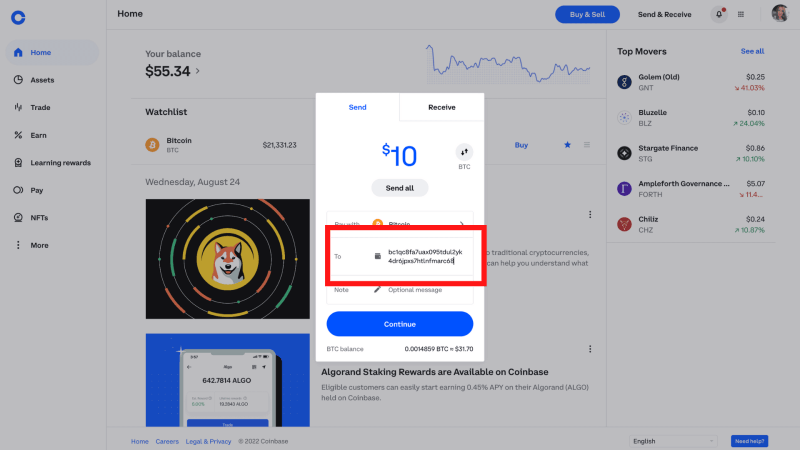 6. Withdrawal Summary
– Coinbase will provide a confirmation screen, which will summarise the cost of sending the transaction.
– Select the "Send Now" button if you're happy with everything.
Please double-check the address before sending your crypto, as crypto withdrawals are non-reversible.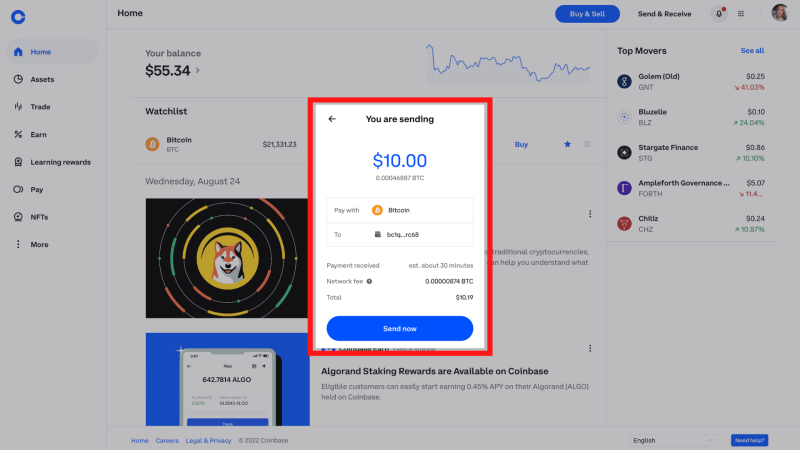 7. Complete Coinbase 2FA
– If you have security set up on your account (recommended), Coinbase will ask you to verify the withdrawal with 2FA. Once entered, select the "Confirm" button.
8. Coinbase Withdrawal has been Submitted.
Congratulations! Your Coinbase withdrawal has now been submitted and will usually take about 30 minutes.
As mentioned, the process of withdrawing from Coinbase is pretty simple, but if you're unsure, consider sending a small amount as a test transaction. This will cost more in-network fees but might give you peace of mind.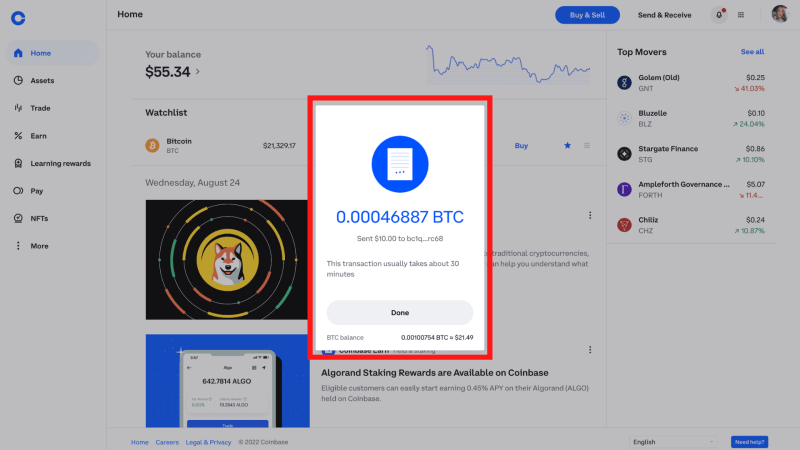 How to Withdraw from Coinbase Wallet
As an integral part of managing your digital assets, understanding how to withdraw your funds from your Coinbase Wallet is crucial. This process allows you to transfer your cryptocurrency to other wallets or exchanges, or even to convert it back to traditional currency.
Though it might seem intimidating at first, with the right guidance, withdrawing from your Coinbase Wallet can become a simple task. Let's walk through this process step by step:
Open Your Coinbase Wallet: The first step is to open the Coinbase Wallet app on your mobile device. If you haven't already, you must download the app from the Apple App Store or Google Play Store.
Select the Cryptocurrency: Once you've opened the app, you'll see your wallet balance on the main screen. Select the cryptocurrency that you wish to withdraw.
Select 'Transfer': You'll be brought to its details page after selecting the cryptocurrency. Here, click on the 'Transfer' button.
Choose 'Send' Option: You'll then see options to 'Send' or 'Receive' the cryptocurrency. Choose the 'Send' option.
Enter Details: Now, you must enter the amount you wish to withdraw and the destination wallet address. Always double-check the wallet address, as transactions on the blockchain cannot be reversed.
Confirm the Transaction: After entering all the details, you'll have the opportunity to review the transaction. Make sure everything is correct, then confirm the transaction.
Wait for Transaction to Process: Depending on the cryptocurrency's network conditions, your transaction may take a few minutes to several hours to complete. You can track the progress in your transaction history.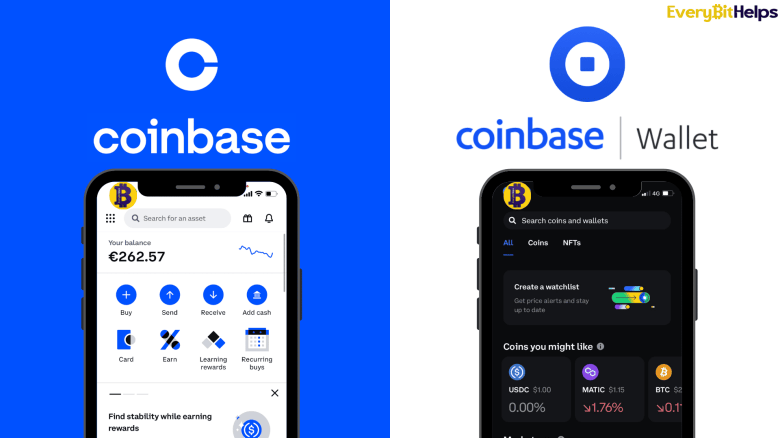 What is Coinbase?
Coinbase is one of the world's leading cryptocurrency exchanges. Founded in 2012 in San Francisco, it has become a go-to platform for individuals looking to trade, buy, sell, and store a wide range of cryptocurrencies. For beginners in the crypto world, Coinbase offers an intuitive and user-friendly interface that makes it easy to navigate the often complex landscape of cryptocurrency trading.
On Coinbase, users can trade and invest in various cryptocurrencies, including Bitcoin, Ethereum, Litecoin, etc. In addition to trading, the Coinbase wallet service lets users store their digital assets directly on the platform. However, for long-term storage and better control over your crypto, it's advisable to move your assets to a personal wallet.
Remember, while Coinbase makes crypto trading accessible and straightforward, it's still essential to understand the fundamentals of cryptocurrency and blockchain technology to make informed trading decisions. Let's dive deeper into how to use Coinbase, starting with how to withdraw your crypto to a personal wallet.
Coinbase is built up of 4 individual products & platforms, plus they have their own USD Coin. These are; Coinbase.com, Coinbase Pro, Coinbase Earn, and the Coinbase Wallet.
Why Can't I Withdraw Cryptocurrency from Coinbase
Navigating the world of cryptocurrencies and exchanges like Coinbase can sometimes be complex, especially for those new to this space. Even with a user-friendly interface and straightforward procedures, users might occasionally encounter issues while withdrawing their cryptocurrencies from Coinbase.
This section aims to solve some common problems users might face during this process. We hope to ease your experience and ensure a smooth withdrawal process by addressing these potential pitfalls. As always, it's important to remember that if a problem persists or you can't find your specific issue listed, don't hesitate to contact Coinbase's customer support for personalized assistance.
The withdrawal option is greyed out or unclickable:

Ensure your account is fully verified. Coinbase requires full account verification for security reasons.
Confirm you have sufficient crypto balance to cover the withdrawal and network fees.

Withdrawal is denied:

Double-check the recipient's wallet address. Cryptocurrency transactions are irreversible, so the address must be correct.
Check network congestion. Sometimes, due to high demand on the blockchain, transactions might get delayed or temporarily halted.

The transaction is not showing up in the receiving wallet:

Be patient. Cryptocurrency transactions can take time to get confirmed on the blockchain.
Check the transaction status on Coinbase or use a blockchain explorer to track the transaction with the provided transaction ID.
Confirm the receiving wallet is compatible with the cryptocurrency you're trying to withdraw.

Issues with Two-Factor Authentication (2FA):

Ensure you're entering the code correctly.
Verify that your 2FA app, such as Google Authenticator, is correctly synced. You might need to reset it.
If you've lost access to your 2FA device, contact Coinbase support for further assistance.

Crypto withdrawal fees are high:

Cryptocurrency withdrawal fees depend on the network congestion of the particular blockchain. Coinbase has no control over these fees.
If possible, consider withdrawing at a time when the network is less congested.
Remember, if you encounter any issue you can't resolve, it's always a good idea to contact Coinbase support. They can provide specific assistance based on your account and transaction details. Also, due to the irreversible nature of cryptocurrency transactions, always double-check your withdrawal details before confirming.
Withdrawing Money from Coinbase
If your investment strategy requires you to cash out your cryptocurrencies into fiat money or if you need to access your funds for any other reason, Coinbase provides a straightforward process for withdrawing to a linked bank or PayPal account.
Withdrawing fiat money from Coinbase differs from transferring cryptocurrency to a secure wallet. If you want to convert your crypto into traditional currency and transfer it to your bank account, we recommend referring to our dedicated guide, 'How to Withdraw Money from Coinbase to a Bank Account'.
This guide outlines a step-by-step process to help you safely and efficiently convert your cryptocurrency into fiat money (like USD, EUR, GBP, etc.) and transfer it to your linked bank account. Ensuring a smooth transition from crypto to fiat is an important part of cryptocurrency investment and trading, so we encourage you to become familiar with this process."
Conclusion
Understanding how to manage and secure your digital assets is paramount in the complex landscape of cryptocurrencies. This guide has walked you through the process of withdrawing your crypto from Coinbase to a personal wallet, a crucial step in maintaining control over your investments and enhancing their security.
Remember, while Coinbase offers a reliable and user-friendly platform for trading a wide range of cryptocurrencies, it's advisable not to keep your assets on any exchange for an extended period. Moving your crypto into a personal wallet, such as Ledger Nano S, Nano X, or Trezor, significantly reduces the risk of potential online threats.
Finally, while the process might seem intimidating initially, withdrawing crypto from Coinbase becomes straightforward with some practice. Always double-check your wallet address and the type of crypto you're withdrawing to avoid any mishaps, as blockchain transactions are irreversible.
Continue to learn and stay informed about developments in the cryptocurrency world. Your journey in crypto trading is bound to be an exciting one. Don't hesitate to revisit this guide or contact Coinbase's customer support if you encounter any issues or questions.
FAQs
Can you withdraw crypto from Coinbase immediately?
Yes, you can withdraw cryptocurrency from Coinbase immediately, provided that the coins are not held as part of any open orders and you have completed any necessary identity verification procedures.
How long does it take to withdraw crypto from Coinbase?
The withdrawal time for crypto from Coinbase depends on the network activity of the specific cryptocurrency. While some transactions may be almost instantaneous, others may take a few minutes or even hours if the network is congested.
How much does it cost to withdraw crypto from Coibase?
Coinbase does charge a network fee for withdrawing cryptocurrency, which goes to the miners who validate transactions on the respective blockchain, not to Coinbase itself. This fee can vary greatly depending on the specific cryptocurrency and the network congestion level at the time of withdrawal.
Related Posts
Here are some of our articles you may also find helpful;
*After you make a crypto purchase, BTC will be added to your portfolio. Limited time offer. Offer available to new users only. Offer not available to new users who were referred to Coinbase through the Referral Program or who have previously opened an account using different contact information. Coinbase may update the conditions for eligibility at any time.
"Cryptocurrency is not regulated by the UK Financial Conduct Authority and is not subject to protection under the UK Financial Services Compensation Scheme or within the scope of jurisdiction of the UK Financial Ombudsman Service. Investing in cryptocurrency comes with risk, and cryptocurrency may gain in value, or lose some or all value. Capital gains tax may be applicable to profits from cryptocurrency sales."