This beginner's guide will explain how to find your Coinbase wallet address so that you can send crypto to your Coinbase wallet.
If you're new to Coinbase and the world of crypto, specific tasks can seem daunting or confusing. As an example, if you're looking to send or receive crypto into your Coinbase account, you'll need your wallet address first. It's essential to choose the correct wallet address and select the right network if multiple networks are available. If you make a mistake, you risk losing your funds.
So, let's dive in and find out how to find a Coinbase wallet address so that you can withdraw your crypto assets.
How to Find Your Coinbase Wallet Address
How to Find Your Coinbase Wallet Address on the Web Platform
Finding your crypto wallet address on Coinbase is pretty simple, but these tasks can be confusing when you're starting out. So, we have put together this beginner's guide to help you find your Coinbase wallet address, plus we also provide you with a few tips along the way.
Total Time: 5 minutes
1. Log into your Coinbase Account
– Once you have logged in to Coinbase, click on the "Send/Recieve" button at the top of the screen.
2. Choose to Receive
– From the Send/Recieve pop-up screen, choose the "Receive" tab on the top right.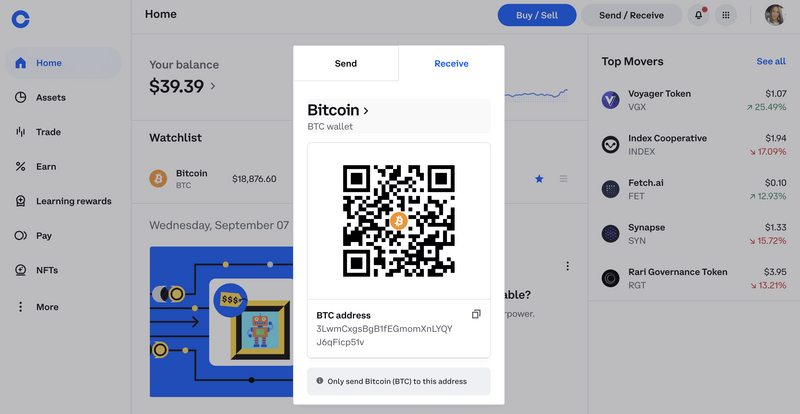 3. Select the Crypto you want to Deposit/Receive
– By default, Bitcoin may be selected. However, if you want to find another cryptocurrency wallet address, click on the word "Bitcoin" and select the cryptocurrency from the list.
4. Select a Network
– Some cryptocurrencies can be transferred on multiple networks or blockchains. If this is the case, you will have the options available when you click on "Network". To choose the correct network, you must check which network you send your tokens to.
– You will then need to confirm you understand the risk of receiving over a new network.
Please note that you risk losing your crypto if the network is incorrectly selected.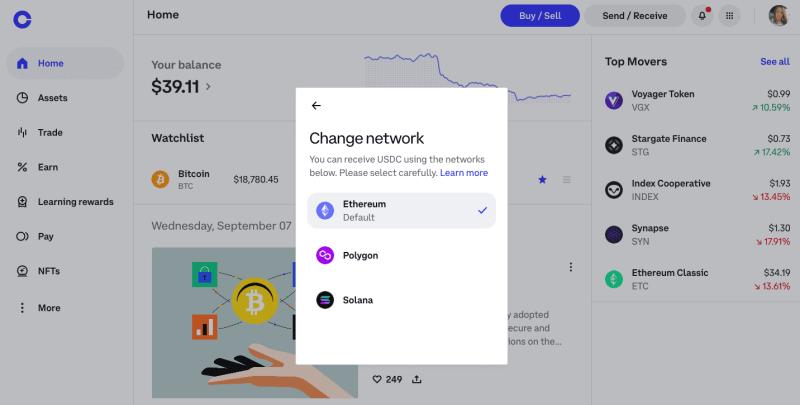 5. Copy Your Coinbase Wallet Address
– Once you have selected your network, you will be presented with your Coinbase wallet address. This is the address for the specific crypto and network you have chosen. If you change networks, a new deposit address and QR code will be provided.
– Copy the address by clicking on the "copy" icon to the right of the address.
– Alternatively, a mobile device can scan the QR code (which contains your address).
6. You have your Coinbase Wallet Address.
– Congratulations! As you can see, finding your Coinbase Wallet address is pretty straightforward. The most important thing is not to rush and make sure you choose the right wallet for the token you want to send or receive.
We recommend sending across a test amount first, especially when the network fees are low. We also recommend copying and pasting the crypto wallet address or using a QR. Once you have pasted the address, double-check the first three letters and last 3 to ensure that the address is complete and correct.
How to Find Your Coinbase Wallet Address using the Mobile App
Open the Coinbase.com app on your mobile device and log in.
Choose the blue Receive button from the top of the screen
Select the Crypto wallet from the dropdown
Select the Network (if multiple networks are available).
The wallet address and QR Code will then display
How do I find my Bitcoin Wallet Address on Coinbase?
If you are looking for your Bitcoin address on Coinbase, you can follow the below steps;
Log in to Coinbase Exchange
Choose "Send/Receive" and "Receive"
If Bitcoin is not already selected, choose "Bitcoin" from the list of available cryptocurrencies.
Click on the "Copy" icon or Scan the QR code beside the Bitcoin Address.
What is a Cryptocurrency Wallet Address?
A cryptocurrency wallet address is a string of characters used to send and receive cryptocurrency. Similar to an address in the real world, each address is unique. It also varies in terms of characters, numbers and length.
If you want to send cryptocurrency to a wallet, you will need a cryptocurrency wallet address to send your funds. Each cryptocurrency will have a different wallet address. Plus, this may vary depending on the network or the blockchain you send your funds on.
For example, if you are sending Bitcoin, you will need to find your Bitcoin address to send it to. In the crypto world, transactions are non-retractable, so if you send Ethereum to a Bitcoin address, you will risk losing your funds. Therefore, finding the correct wallet address for your deposit is crucial.
Conclusion
If you are depositing (or receiving) cryptocurrency into your Coinbase account, it is essential to locate the address for the specific cryptocurrency that is being sent.
If addresses are entered incorrectly, your deposit will fail, and you will risk losing your funds. When sending your funds, you must check the network you are sending your crypto on and see if an associated memo or reference needs to be included.
We would also recommend double-checking wallet addresses before sending your funds to them. Also, try sending a test transaction first to ensure that it completes successfully before sending all your crypto.
Coinbase Wallet Address FAQ
How do I find my wallet address on Coinbase?
You will find your wallet address either on the Coinbase.com web platform or the mobile app. Each cryptocurrency has its own crypto address and associated QR code, which contains the wallet address.
Does Coinbase provide a wallet address?
Yes, Coinbase provides a wallet address for users to send and receive cryptocurrencies or NFTs. A wallet address, also known as a Public Key, is a string of letters and numbers that functions like an email address, allowing users to share it with different contacts.
What is the difference between a Coinbase address and Coinbase wallet address?
A Coinbase address is tied to a hosted wallet managed by Coinbase, while a Coinbase Wallet address is tied to a self-custody wallet where users have full control over their private keys and can interact with dApps.
Related Posts
*After you make a crypto purchase, BTC will be added to your portfolio. Limited time offer. Offer available to new users only. Offer not available to new users who were referred to Coinbase through the Referral Program or who have previously opened an account using the different contact information. Coinbase may update the conditions for eligibility at any time.
"Cryptocurrency is not regulated by the UK Financial Conduct Authority and is not subject to protection under the UK Financial Services Compensation Scheme or within the scope of jurisdiction of the UK Financial Ombudsman Service. Investing in cryptocurrency comes with risk, and cryptocurrency may gain in value or lose some or all value. Capital gains tax may be applicable to profits from cryptocurrency sales."