In this beginner's guide, we'll provide a simple, step-by-step process on how to delete a Coinbase account. We understand that navigating the world of cryptocurrency can be daunting, especially for beginners. That's why we've ensured this guide is easy to follow, even if you're new.
Whether you're looking to enhance your privacy, switch to a different platform, or are simply unsatisfied with Coinbase, we've got you covered. By the end of this guide, you'll have all the information you need to confidently delete and close your Coinbase account. So, let's get started.
How to Permanent Delete Coinbase Account
If you've decided to close and delete your Coinbase account, the first step is to ensure you've withdrawn all your FIAT or cryptocurrency assets. Once this is done, you're ready to proceed with the Coinbase account deletion process.
It's important to note that Coinbase will keep your personal information for at least five years or as long as required by the legal obligations in your jurisdiction. This retention is a measure to prevent fraud and address potential disputes.

The process of deleting your Coinbase account is quite straightforward. However, in this step-by-step guide, we'll walk you through how to delete a Coinbase account and ensure a hassle-free account deletion experience.
Total Time: 15 minutes
1. Sell & Withdraw from Coinbase
Before you start deleting (or closing your Coinbase account), you must ensure you have withdrawn or transferred any FIAT or crypto assets currently in your Coinbase wallet.
You could sell your crypto to FIAT and withdraw to a bank account or Paypal. Alternatively, you can withdraw your crypto to an external wallet or exchange.
If you need help withdrawing from Coinbase, please follow the tutorial below.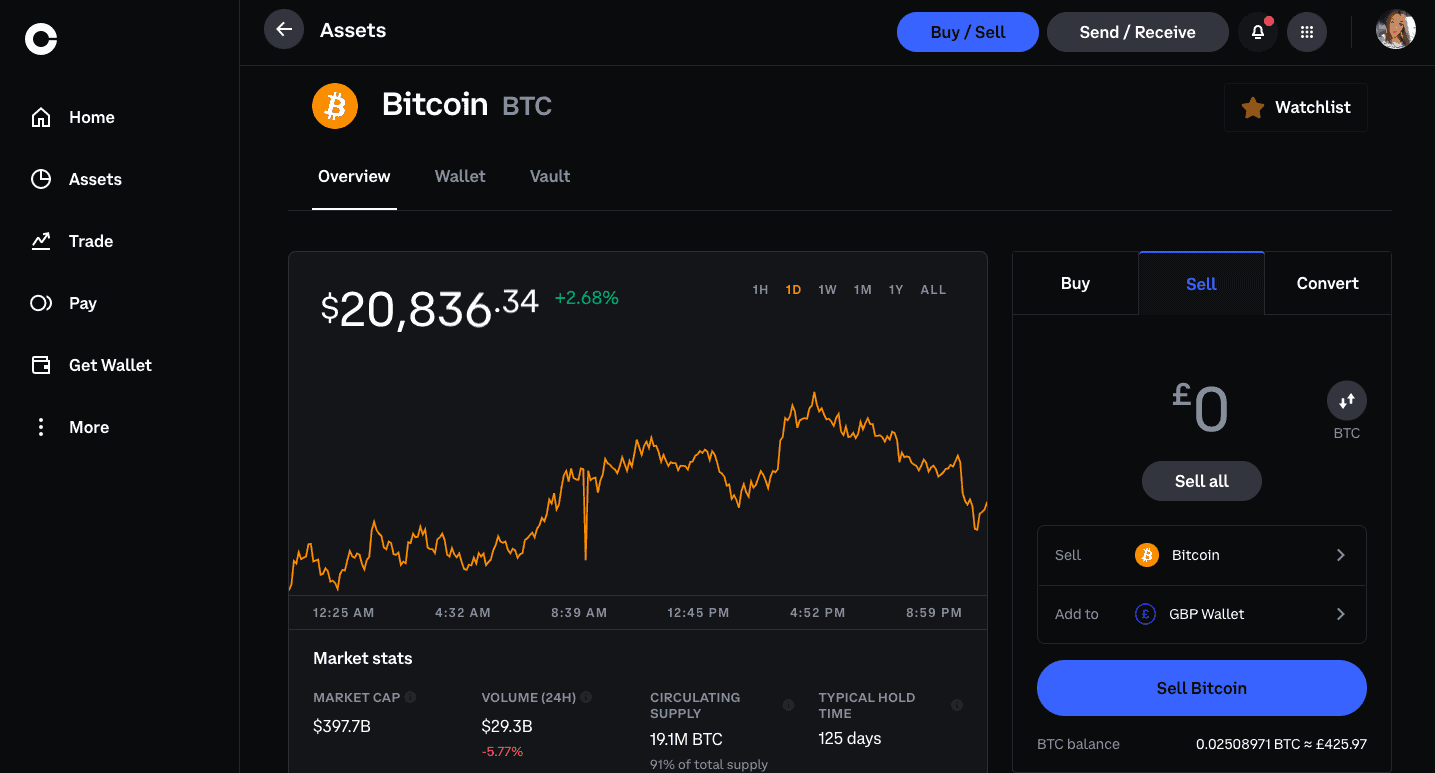 2. Navigate to Coinbase Activity Tab
The next step to closing your Coinbase account is to head across to your Coinabse Account/Profile icon on the top right-hand side of the screen.
Then select "Settings", click on the "Activity" tab at the top of the screen, and scroll down to the bottom.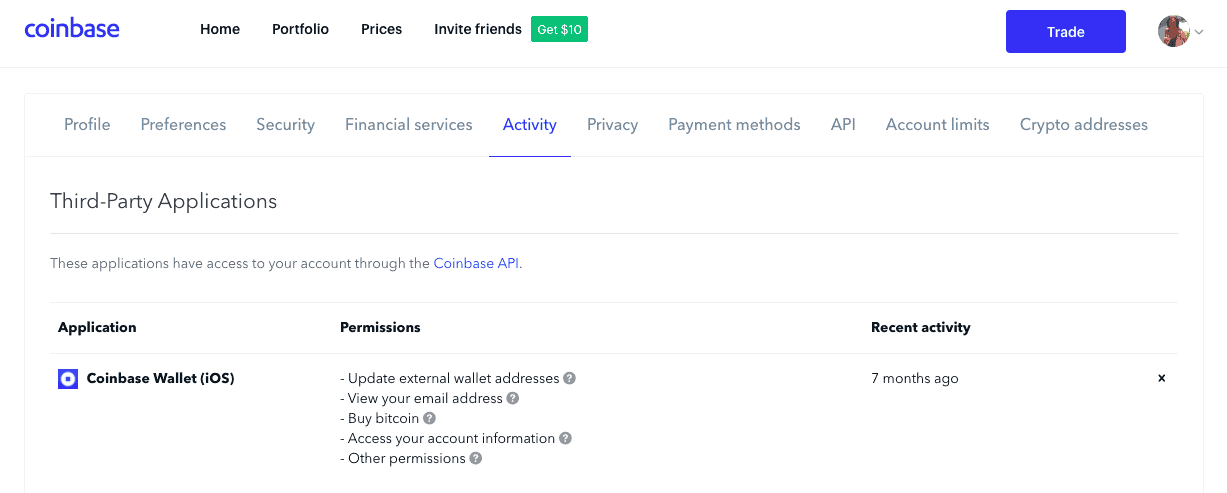 3. Close Coinbase Account
At the bottom of the "Activity" screen, select the "Close Account" button.
You will see a warning: "Withdraw funds and close your Coinbase account – this cannot be undone".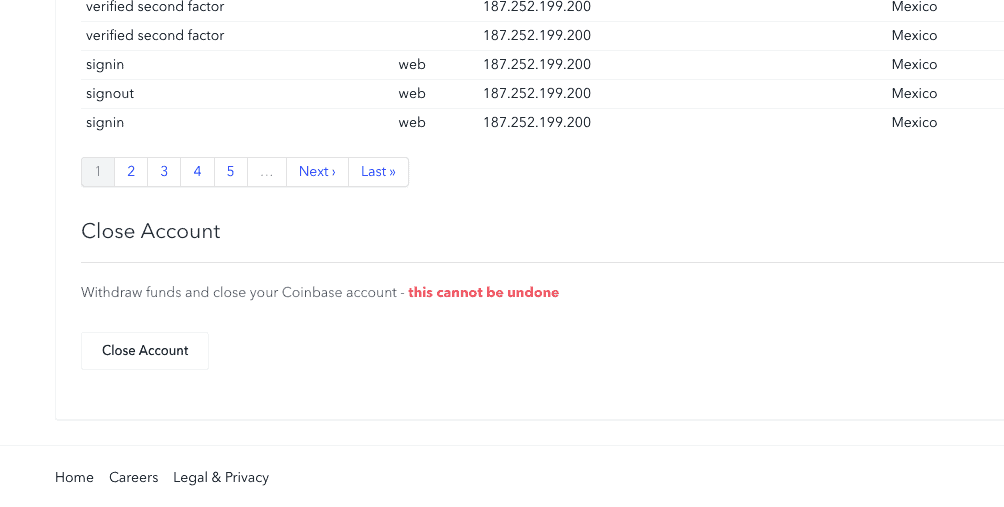 4. Enter the Password & Confirm Close Coinbase Account
You will then be prompted to enter your Coinbase Password. You will be prompted to complete these actions if you have not already withdrawn your funds or have any pending activity.
Once these steps have been completed, you can select "Close Account".
You will then be logged out of your Coinbase account and receive an email notification that the Coinbase account has been closed.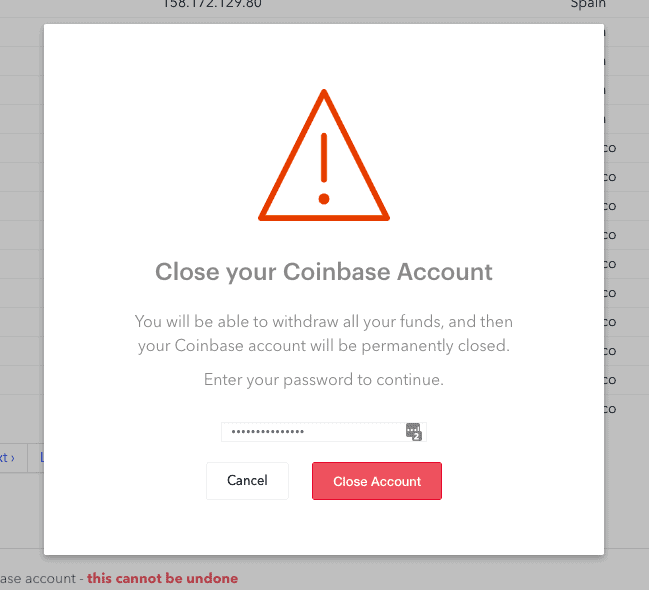 How to Withdraw from Coinbase
Before you bid farewell and delete your Coinbase account, it's essential to withdraw any remaining FIAT or cryptocurrency balances. If the process of selling and withdrawing from Coinbase seems daunting, don't worry. We've prepared a user-friendly video tutorial below to guide you through each step, ensuring a smooth and hassle-free withdrawal process.
How to Download Coinbase Transactions
Before you proceed with deleting your Coinbase account, it's a smart move to download your transaction history. This record could prove invaluable for future tax calculations or financial audits.
The process is straightforward, but if you're unsure, don't worry. We've got you covered with our easy-to-follow guide on how to export your Coinbase transaction history. This way, you'll have all your past transactions safely stored for when you need them.
What is Coinbase?
Coinbase is a centralized cryptocurrency exchange where users can buy and trade Bitcoin and other cryptocurrencies. There have three core products, Coinbase exchange, Coinbase Advanced (their more advanced trading platform), and Coinbase Wallet.
Coinbase is a great place for users to start their cryptocurrency journey. This is because it offers an easy way to buy Bitcoin and an introductory £5 sign-up bonus. Also, their Coinbase Earn feature is a great way to learn and earn free crypto tokens.
Many new users confuse the exchange with a wallet; although the Coinbase exchange has an inbuilt wallet, it's not a wallet. Coinbase does not provide customers with access to their private keys. Therefore you are not in control over your assets, and Keeping your assets on the exchange is not recommended.
Coinbase does require KYC, so you lack anonymity. You must provide your personal details and photographic identification to open an account. There have also been reports of Coinbase sharing data of users' personal data being shared, upsetting the community and turning users away from the exchange.

Coinbase Alternatives
If you're looking to delete Coinbase, you may be searching for an alternative to Coinbase. The cryptocurrency landscape is teeming with centralized and decentralized exchanges, offering you many platforms to trade, swap tokens, and explore new cryptocurrencies.
Among the most notable centralized exchanges are Crypto.com, Gemini, and Kraken, renowned for their robust security and diverse cryptocurrency offerings. Our favourites, Binance and OKX, stand out for their extensive range of tradable assets. Remember that these platforms require some level of KYC (Know Your Customer) compliance and typically charge trading fees starting from 0.1%.
On the other hand, decentralized exchanges like UniSwap, 1inch, and ParaSwap are gaining traction if you're drawn to the allure of peer-to-peer trading and anonymity. These platforms offer a unique advantage: you don't need to transfer funds onto the exchange, making it a perceived safer trading option. Their popularity underscores the growing trend towards decentralization in the crypto world.
Remember, choosing the right exchange depends on your needs and risk tolerance.
Conclusion
Deleting your Coinbase account is a straightforward process, but it's important to ensure you've taken all necessary steps beforehand. This includes downloading your transaction history and withdrawing any remaining balances.
Remember, the world of cryptocurrency is vast and diverse, and while Coinbase is a popular choice, there are numerous other platforms available. We hope this guide has been helpful in navigating your crypto journey. Stay informed and trade wisely!
FAQs
Why can't I delete my Coinbase account?
If you're having trouble deleting your Coinbase account, it could be due to unresolved transactions or balances that need to be cleared. Ensure all your transactions are completed and withdraw any remaining balances before attempting to delete your account.
Can I delete my Coinbase account and make a new one?
Yes, you can delete your Coinbase account and create a new one. However, remember that your transaction history and certain account details from your deleted account will not carry over to the new one.
Why delete Coinbase?
People choose to delete their Coinbase account for various reasons. Some may be concerned about privacy, others may wish to switch to a different platform, or some might simply no longer be interested in using Coinbase for their cryptocurrency transactions.
Related Posts
Here are some of our articles you may also find helpful;
*BTC will be added to your portfolio after you make a crypto purchase. Limited time offer. Offer available to new users only. Offer not available to new users who were referred to Coinbase through the Referral Program or who have previously opened an account using different contact information. Coinbase may update the conditions for eligibility at any time.
"Cryptocurrency is not regulated by the UK Financial Conduct Authority and is not subject to protection under the UK Financial Services Compensation Scheme or within the scope of jurisdiction of the UK Financial Ombudsman Service. Investing in cryptocurrency comes with risk, and cryptocurrency may gain in value or lose some or all value. Capital gains tax may apply to profits from cryptocurrency sales."