If you're looking for a Crypto.com referral code for November 2023, you've come to the right place!
This guide will provide our exclusive Every Bit Helps Crypto.com Promo Code for 2023. By signing up to Crypto.com Exchange through our EveryBitHelps Crypto.com Referral Link, new users will earn up to a $50 welcome bonus. If signing up via the Crypto.com App, you can use referral ID code xw37vqrgu6.
So what are you waiting for? Read on to learn more about the Crypto.com Exchange and App, plus how to use our Crypto.com referral code for a $50 sign-up bonus.
Best Crypto.com Referral Code November 2023
Crypto.com App Referral Code

Crypto.com Exchange Referral Code

Earn up to $50 Bitcoin Welcome Bonus
How to Claim the Crypto.com Sign-Up Bonuses?
Are you interested in securing a sign-up bonus from Crypto.com? Here's an enhanced guide to help you navigate the process of claiming your referral bonus from Crypto.com. This guide is applicable whether you're registering through the Crypto.com Exchange referral program or the Crypto.com App referral system.
Step 1: Get a Referral Code
You'll first need a referral code to claim the Crypto.com Sign-up bonus.
By using our Every Bit Helps referral link or entering referral code xw37vqrgu6 at sign-up, new users can get up to $50 worth of CRO.
Step 2: Sign Up to Crypto.com
Sign up for an account with Crypto.com. If the code has not automatically pre-filled into the referral code box, enter xw37vqrgu6.
Then, proceed through the prompts to create your account. This will include providing your name, email address, DOB, and telephone number.
Step 3: Verify Your Account – Advanced Level
To be eligible for the sign-up bonus, you must verify your account to the Advanced level when registering. This means providing a photo ID, selfie, and full legal name.
Step 4: Buy CRO Tokens
You'll need at least 1,000 CRO to stake to claim either of the referral code bonuses. Therefore, your next step is to buy some CRO tokens. You can do this by depositing FIAT via bank transfers or debit/credit cards or depositing crypto and trading with low trading fees on their platform.
To get the best referral bonus on the Crypto.com Exchange, you will need at least 5,000 CRO.
To get the best referral bonus for the Crypto.com App, you will need at least 1,000 CRO.
Step 5: Stake CRO Tokens
Stake your CRO tokens within the Exchange or App. (The crypto com sign-up bonus will be based only on the first CRO stake). Unfortunately, the invite code does not apply if you are an existing user.
When staking in the App, you must apply for the Metal Visa Card to be eligible for the Crypto.com App referral bonus.
Once you make your first CRO stake, your bonus funds will automatically be delivered to your Crypto.com account as CRO.
Where is my Crypto.com Referral Link?
To locate your Crypto.com referral link, adhere to the following instructions. Following these steps, you can easily find and share your Crypto.com referral link.
Open your Crypto.com App and tap on the "Lion Icon" on your screen's bottom. This is also referred to as the Super App Menu.
Scroll down to the bottom of the Super App Menu and select the "Rewards" option.
Click the "See Details" button next to your Referral Bonus balance.
Next, you'll see an "Agree & Share Now" option adjacent to your referral code. Click it.
You can now share your referral link with friends and family to earn rewards.
What is Crypto.com?
Crypto.com (previously known as Monaco) was founded in Switzerland in 2016 and is a leading cryptocurrency platform with a mission to accelerate the world's transition to cryptocurrency. They envision a more equitable and fair Web3 owned by the builders, creators, and users, and they firmly believe in the fundamental right of individuals to control their money, data, and identity.
The company has a global reach, with users from 90 countries, and it works with some of the world's best partners to reach the next billion users. The team behind Crypto.com is a diverse and dedicated group led by co-founders Kris Marszalek (CEO), Rafael Melo (CFO), Bobby Bao (Head of Crypto.com Capital), and Eric Anziani (President & COO).
Crypto.com isn't just a full-service platform; it's also one of the most recognizable names in the crypto market. This is primarily due to the company's extensive marketing initiatives, including high-profile campaigns featuring celebrities like Matt Damon and significant sponsorships like the Los Angeles stadium, formerly Staples Center.
Crypto.com Pros and Cons
When considering a cryptocurrency platform, weighing the advantages and disadvantages is essential. Crypto.com, a comprehensive platform for managing digital assets, is no exception. Below, we delve into the key pros and cons of using Crypto.com, providing a summary for each point to help you make an informed decision.
Pros:
Comprehensive Features: Crypto.com is a one-stop shop for buying, spending, and saving cryptocurrencies. It offers many features, including a crypto-backed Visa debit card, which sets it apart from many competitors.
Emphasis on Earning: The platform incentivizes users to store assets through its Crypto Earn feature, offering attractive savings rates on various digital assets and savings coins.
Robust Security: Crypto.com prioritizes user security, storing assets in cold storage and partnering with Ledger to create an added layer of protection, the "Ledger Vault."
User-Friendly Mobile App: The Crypto.com mobile app is well-developed, offering a seamless experience for users to manage their assets on the go.
Broad Range of Services: Crypto.com offers various services, including low trading fees, lending options, and a rewards system for liquidity providers.
Cons:
Customer Support Issues: Crypto.com has faced criticism for its customer support, with users reporting slow responses and a heavy reliance on automated systems.
Questionable Company Origins: The founders' previous involvement with Ensogo, a company that closed under unclear circumstances, may raise trust issues for some users.
Limited Web App: The U.S. version of the Crypto.com web app offers fewer tokens and a less user-friendly interface than the mobile app.
Strong Competition: While Crypto.com offers a range of essential features, it doesn't significantly stand out from its competitors. Other platforms may offer lower fees, a more extensive selection of tokens, or a more beginner-friendly interface.
Crypto.com Features
Crypto.com offers a range of products and services, including a mobile app for buying and selling crypto, earning through Crypto.com Pay, metal Visa cards, and an exchange platform for margin and derivatives trading. They also provide resources for learning about cryptocurrency trends, market updates, and research.
Please note that the availability of products and services on the Crypto.com app is subject to jurisdictional limitations due to potential or actual regulatory restrictions.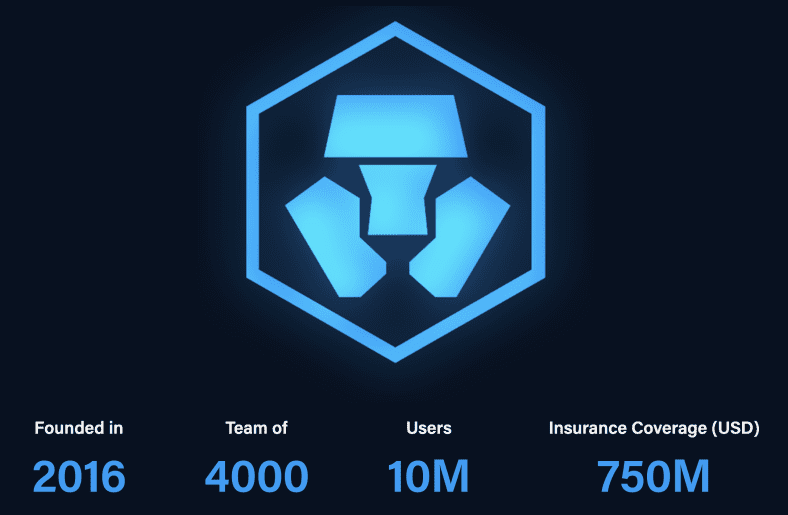 Crypto.com Exchange
The Crypto.com Exchange was launched in 2019 and enabled users to trade crypto with low fees and deep liquidity. Supporting 200+ pairs, including Bitcoin, Ethereum, Litecoin and stablecoins such as USDT and USDC. It also seamlessly integrates with the Crypto.com App.
The exchange also offers a range of additional features, including The Syndicate, Supercharger and Lending.
To sign up for the exchange referral program, use our referral ID xw37vqrgu6 or the referral link.
Crypto.com App
Crypto.com app is available to download from Google Play and the Apple Appstore. The beginner-friendly App allows users to buy Bitcoin and 250+ cryptocurrencies with a credit/debit card or bank transfer. Supporting over 20 FIAT currencies, including GBP, Euros and AUD, they also allow USDC bank deposits, where you can transfer USD and instantly get USDC.
To sign up for the Crypto App, use our referral ID xw37vqrgu6 or the referral link.


NFT Marketplace
Crypto.com launched its NFT platform in March 2021, including unique content from popular artists, musicians, and sports. Within the NFT marketplace, users can browse through all the available NFTs and either make an offer at auction or purchase the NFT instantly.
Crypto.com Visa Card
The Crypto.com Visa Debit Card is one of the most popular features. Users can deposit multiple FIAT currencies with zero charges and annual fees. Depending on your card type, you can also get a cashback bonus on purchases between 0% and 5%. Plus, free Spotify, Prime and Netflix subscriptions.
For more information, check out our Crypto.com Visa Card Review.
Crypto.com Earn
With Crypto.com Earn, users can earn up to 14.5% on over 49 cryptocurrencies and stablecoins. Several terms are available to deposit your crypto (Flexible, 1 Month or 3 Months).
The rates depend on your staked CRO. You must stake 40,000 CRO (Crypto.com's token) for the best rates. Plus, you must choose the longest term available, i.e. three months.
Crypto.com Fees
Crypto.com's fee structure is multifaceted and depends on several factors. Here's a brief overview:
Trading Fees: Crypto.com's trading fees are based on the user's 30-day trading volume and are categorized into nine tiers. As a user's trading volume increases, the exchange offers more discounts. Crypto.com charges two types of trading fees:
Taker Fees: A taker is a user who makes a trade from an existing order and "takes" volume off the order book.
Maker Fees: A maker trade happens when a user creates an order that remains on the order book for some time. These trades add volume to the order book and help "make" the market. Makers are generally rewarded with lower trading fees for creating liquidity.
At Crypto.com, makers and takers are both charged 0.075% at the basic Level 1. The fees decrease as the trading volume increases, with the lowest fee being 0.00% for makers and 0.05% for takers at Level 5 (above $10 million trading volume).
Deposit Fees: Crypto.com doesn't charge deposit fees for cryptocurrency assets, regardless of the coin or network. It also doesn't charge a fee for U.S. dollar fiat currency deposits via ACH or wire transfer.
Withdrawal Fees: Crypto.com charges fees for withdrawing cryptocurrencies from the exchange. These fees depend on many factors, including the status of the withdrawal network and the type of cryptocurrency. For example, Crypto.com currently charges a withdrawal fee of 0.0005 BTC to withdraw bitcoin via the BTC network.
Purchase Fees: Digital cash traders may be charged admin fees on the Crypto.com exchange. These fees are determined at the time of purchase and vary by market.
When compared to other leading exchanges, Crypto.com's maker-taker fees are low. For bitcoin withdrawals, Crypto.com offers a competitive rate compared to other exchanges. However, fee structures vary across cryptocurrency exchanges, making direct comparisons difficult.
Crypto.com Alternatives
Binance vs Crypto.com
Binance, one of the world's largest and most recognized cryptocurrency exchanges, stands out for its extensive range of cryptocurrencies and advanced trading features. It offers lower fees than Crypto.com, making it a preferred choice for many traders. However, Crypto.com brings additional features, such as a crypto Visa card and interest-earning accounts. These features allow users to spend their crypto at any merchant that accepts Visa and earn interest on their crypto holdings.
Therefore, while Binance may offer more in terms of trading, Crypto.com currently provides a broader spectrum of crypto-related services.
OKX vs Crypto.com
OKX, another significant player in the cryptocurrency exchange market, offers various cryptocurrencies for trading. It supports over 400 trading pairs, surpassing Crypto.com's support of over 90. OKX also provides a broader range of deposit and withdrawal options and a more complex fee structure, which varies for makers and takers based on their 30-day trading volume.
However, Crypto.com again distinguishes itself with its crypto Visa card and interest-earning accounts, which OKX does not offer. Hence, while OKX might appeal to traders seeking variety and flexibility, Crypto.com caters to those looking for additional crypto services.
Coinbase vs Crypto.com
Coinbase, a US-based cryptocurrency exchange, is known for its user-friendly interface and excellent customer service. It's often recommended for beginners due to its simplicity. However, Coinbase offers a smaller range of cryptocurrencies for trading than Crypto.com and has higher fees.
Crypto.com supports over 250 cryptocurrencies and offers a crypto Visa card and interest-earning accounts. Both exchanges provide robust security measures, including two-factor authentication. However, Crypto.com's lower fees make it a more cost-effective choice for most customers.
Conclusion
Leveraging a Crypto.com referral code presents a compelling opportunity to commence your cryptocurrency adventure with a sign-up bonus of up to $50. This bonus can be claimed by signing up using a referral link or code and meeting specific stipulations. These may include staking CRO on the Crypto.com Exchange or availing of a Crypto.com Visa Debit Card. By fulfilling these conditions, you can optimize your rewards and take full advantage of the diverse features offered by the platform.
This is more than just a sign-up bonus; it's a stepping stone to a broader world of cryptocurrency opportunities. With Crypto.com, you're not just joining a platform but becoming part of a global community of crypto enthusiasts. So, seize this exceptional chance to earn additional CRO and elevate your cryptocurrency journey with Crypto.com today.
Crypto.com Referral FAQs
What is the Crypto.com Referral Program?
If you're a brand new user of Crypto.com, you qualify for a referral bonus of up to $50. The Crypto.com referral ID is valid globally, including in the US, UK and Australia.
As mentioned, Crypto.com offers some generous signup offers for new users, one for their App and another for the Crypto.com Exchange.
Forgot to Add the Crypto.com Referral ID?
If you didn't enter a referral ID when signing up for Crypto.com, don't worry! You can add the referral ID up to 5 days after receiving the Crypto.com confirmation email.
Go to the App Settings > Referral Code and enter Crypto com referral code xw37vqrgu6
How much is the Crypto.com Referral Bonus?
The amount you claim as a referral bonus will depend on registering for the Crypto.com Exchange or Crypto.com App. The referral code (xw37vqrgu6) will remain the same.
– Crypto.com Exchange: Earn between $10 and $50 worth of CRO. The amount will depend on how much CRO you invest.
– Crypto.com App: Earn $25 by buying and staking 1,000 CRO & reserving a metal (Ruby Steel or above) Crypto Visa Card.
Does Crypto.com have a sign-up bonus?
Yes, Crypto.com offers sign-up bonuses for new users. A few different sign-up bonuses are available; the referral code (xw37vqrgu6) will remain the same.
– Crypto.com Exchange: Earn between $10 and $50 worth of CRO. The amount will depend on how much CRO you invest.
– Crypto.com App: Earn $25 by buying and staking 1,000 CRO & reserving a metal (Ruby Steel or above) Crypto Visa Card.