If you're stuck at home, you're probably watching Netflix trying to figure out whether Carol Baskin killed her husband in 'Tiger King' or whether Marty Byrde will escape imprisonment in the 'Ozarks'. These 10 Netflix hacks and tips will help you get the most out of your subscription giving access to more content, the ability to share your favourite shows with your friends online, watch Netflix at any angle, and be able to continue binge-watching even when you're supposed to be 'working from home.
So, why not try and take your Netflix subscription to the next level and unlock the full potential of Netflix with these Netflix Hacks?
10 Best Netflix Hacks, Tips & Tricks for 2023
Watch with Friends Online
It used to be the case that to watch a film or series with your friends, you'd get everyone over to your place to watch it. But maybe it's just not feasible anymore with friends living further away. Or maybe (like many right now) you're on lockdown or self-isolating.
Well, you'll be pleased to know you can now all watch your favourite shows with your pals using an extension called "Netflix Party". Basically, it synchronizes video playback and is a chat room that runs alongside Netflix. Allowing you to watch something together without actually being together!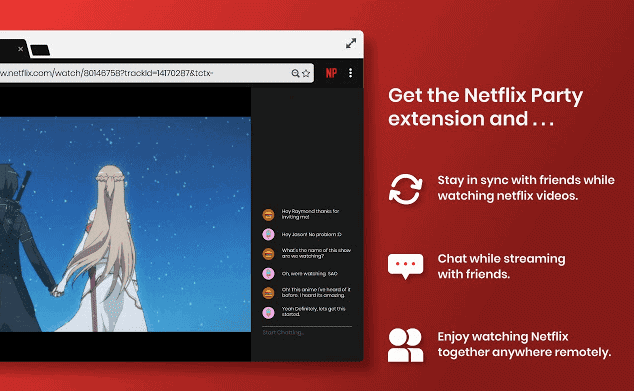 To install Netflix Party, start off by clicking the "Install Netflix Party" button on this page. When you are redirected to the Chrome Web Store, click "Add to Chrome".
Then head over to Netflix and choose the show you want to watch and start playing the video.
To create your party, click on the red "NP" (Netflix Party) chrome extension now showing on your toolbar. Then click "Start Party" to get the party started, and share the party URL to invite friends.
To join a party click on the party URL, and you will then be redirected to Netflix. Then click on the "NP" button next to your toolbar, and you should automatically join the party.
Get Access to More Content!
Some Netflix fans may already be aware that Netflix has a different library of movies and TV shows for every country in that it is active in. However, if you've exhausted your nation's series and movies and fancy something new you'll be really pleased to hear that you can actually unlock any Netflix Library around the globe by using Netflix with a VPN (like ExpressVPN).

By connecting to a VPN you can get around geoblocking and connect to a server in another country. Making it appear like you're in that country. This Netflix Hacks will also work on mobile devices and fire sticks too!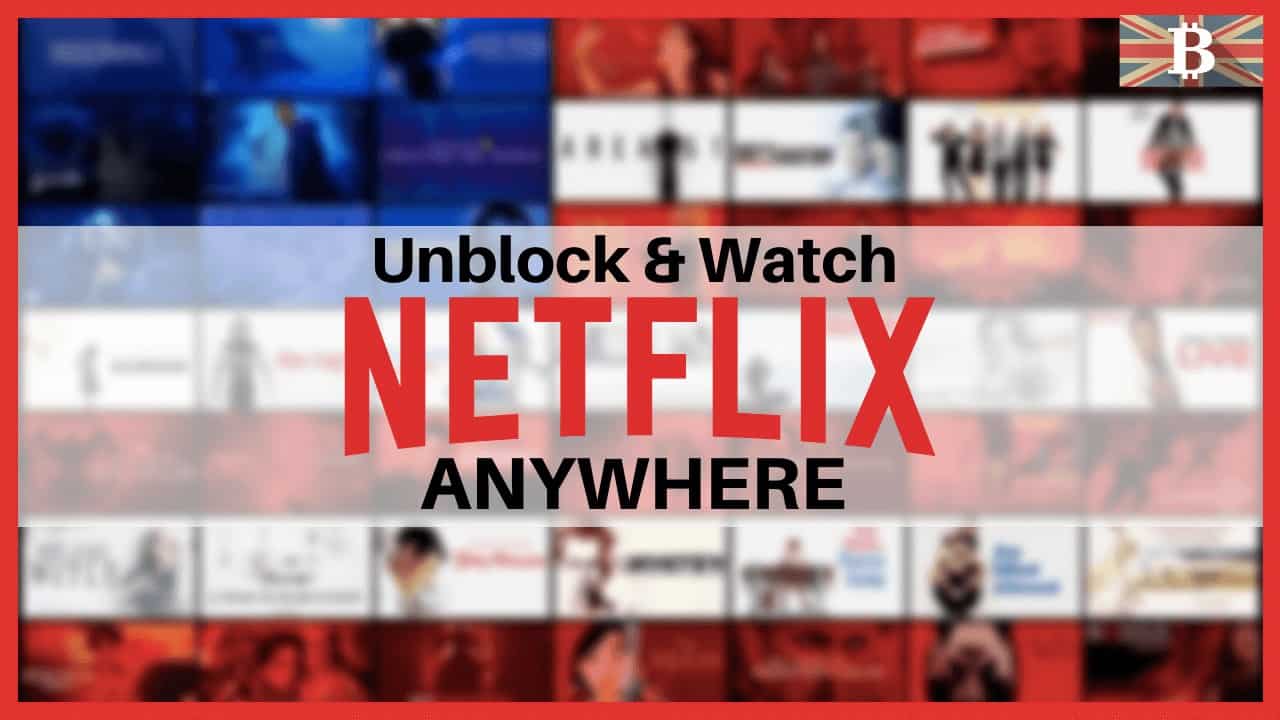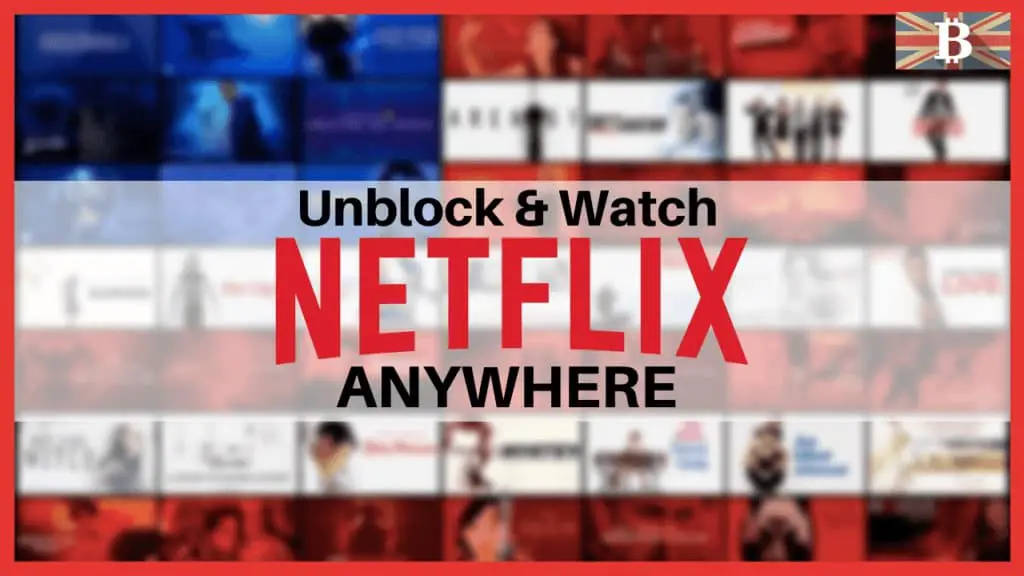 Netflix Roulette
Not sure what to watch? Looking for suggestions? Or spending your evening rowing with your partner about whether to watch Breaking Bad or the Crown. Why not take yourself out of the equation and let fate run its course using Netflix Roulette? All you need to do is enter a few options such as the genre and star rating and off you go to spin the wheel!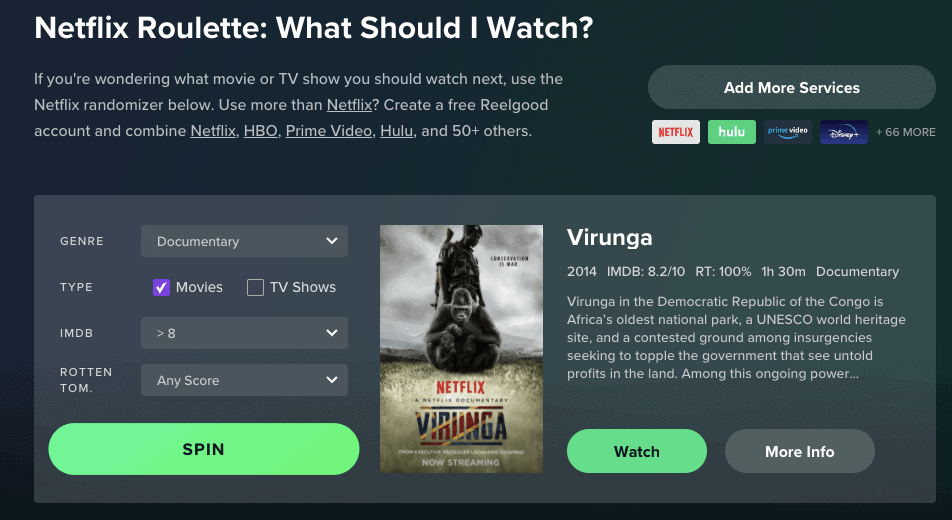 Download Netflix Shows to Watch Offline
If you're travelling abroad, without internet coverage or in a poor wifi area here's another great hack! With Netflix, you can actually download certain TV shows or movies to watch offline. In terms of Netflix hacks, this is a great one for entertaining the kids whilst travelling in the car too.
To download Netflix content, just look out for the download icon under your favourite titles. And once it's completed you'll find all your films available under the "Downloads" section of the app.
There's even such a thing called Smart Downloads. This will delete any completed episodes from your device and replace them with the next episodes when you're on WIFI. If you want to check out how much space Netflix is taking up, you can also check out the usage from within the Netflix App Settings.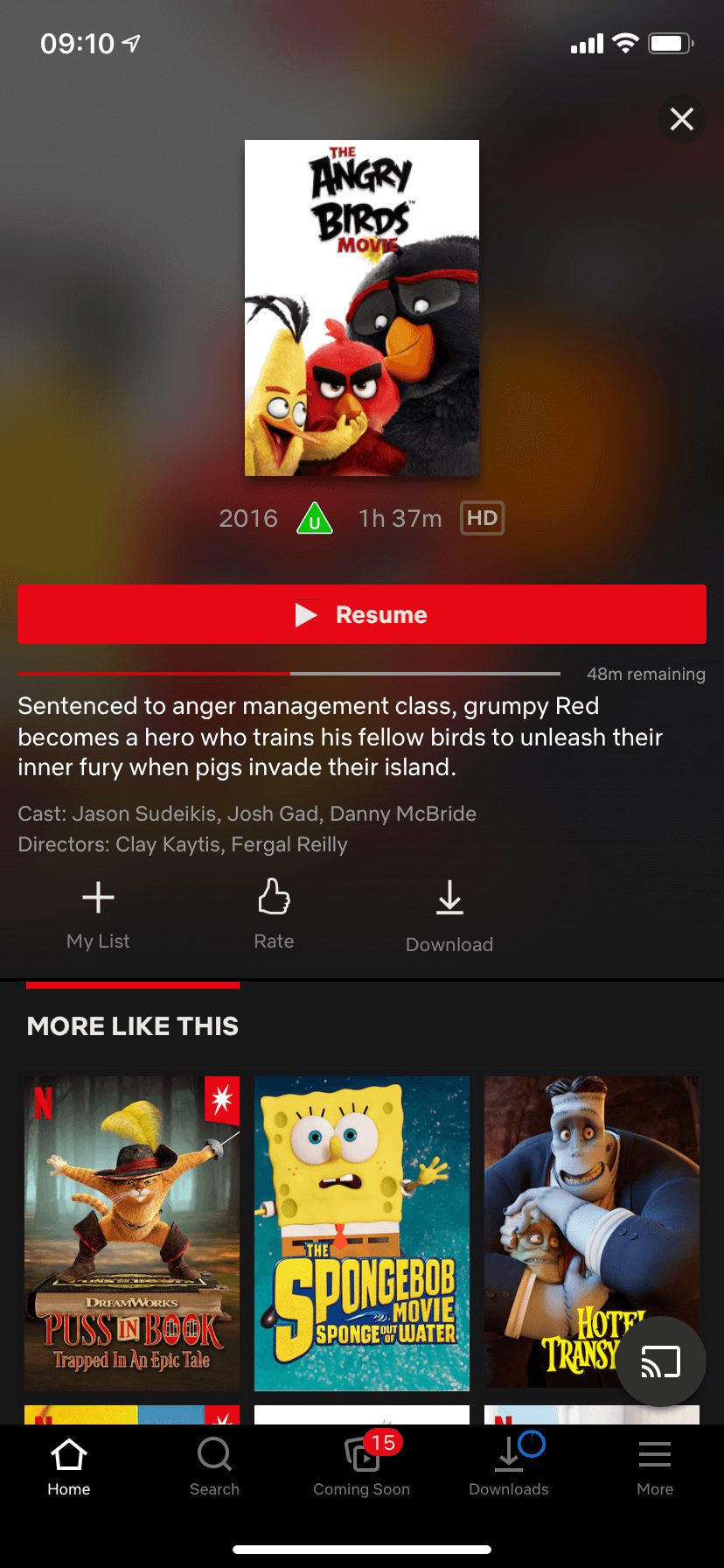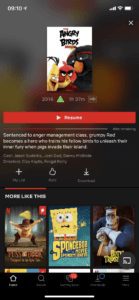 Watch Netflix Movies at Work!
If you can't get enough of your favourite shows, even when you're "meant to be working". Or, if you fancy, having something play in the background whilst you work on a document there is a great way to make sure that Netflix is always showing on top. That is using a web browser called "Helium".
Helium which is available for Mac is a browser that always keeps media playing in a floating window that doesn't get lost or hidden behind the rest of your windows. You can still click, double-click, drag and scroll behind Helium and never actually have to interact with Helium itself.
When you want to interact with the browser again, just click the icon in the dock and you're back in control. This is the perfect hack for those multi-tasking and watching Netflix whilst at work!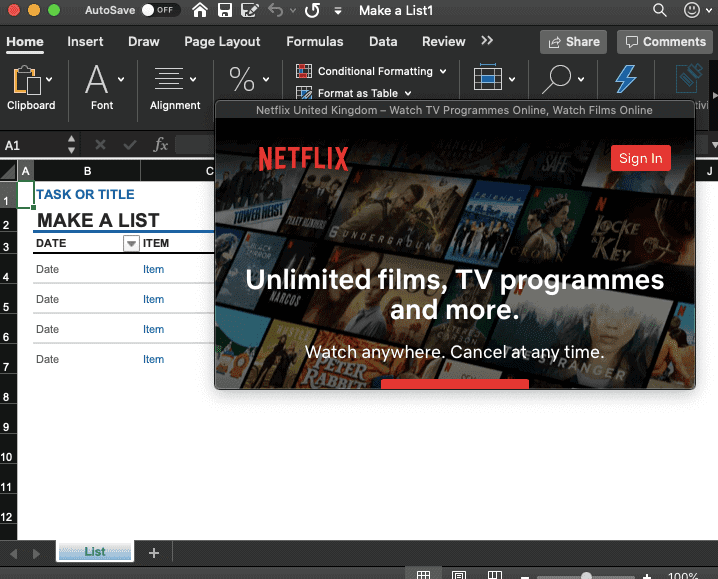 How to Sign Everyone Out of Netflix!
If you've given out your Netflix credentials to too many people or you just want to boot your ex off then here's how! You can sign everyone out of Netflix with just a touch of a button. This can only be done on the web version, so you'll need to head over to your computer and log in.
Then go to "Account", and under the "Settings" section you'll see "Sign Out of All Devices".
Then all you need to do is change the password and hey presto, they're no longer in your account! Job done!

How to Change Netflix Subtitle Appearance
If you're like me and watch your shows and movies with the subtitles on so you don't miss a thing, then here are some more Netflix Hacks for you. In your settings, you can actually change the way that subtitles appear on the screen.
This includes the font type, size, shadow and background or windows.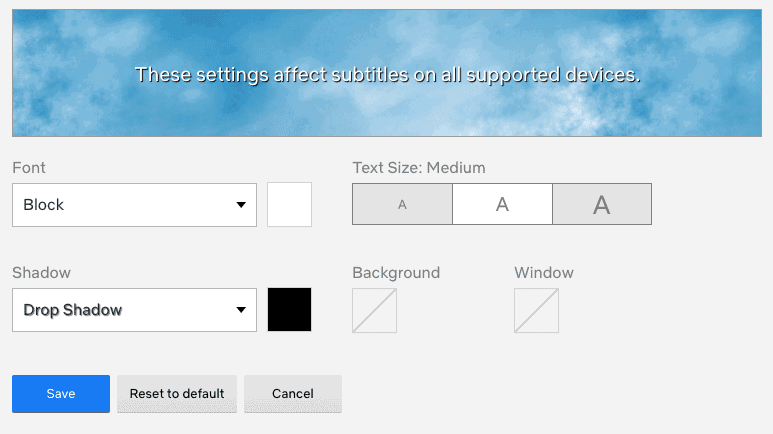 How to Turn Off Subtitles on Netflix
If you´ve been watching a TV show or movie with subtitles and then find they´re suddenly getting in the way of the action, then you may want to turn the subtitles off.
To turn off subtitles, start playing the title you´d like to watch, then head across to the bottom left-hand side of your screen for Audio and Subtitle options.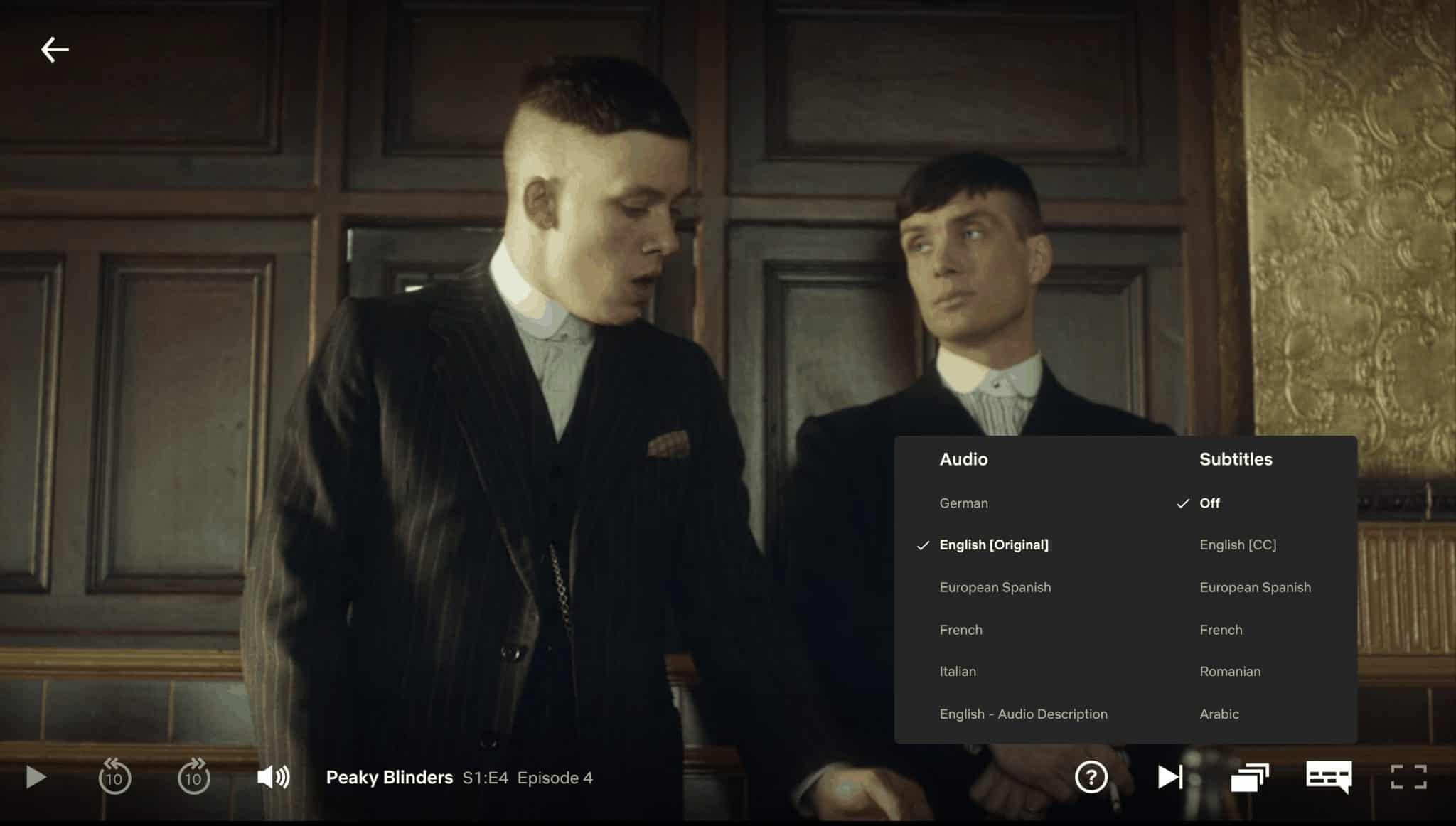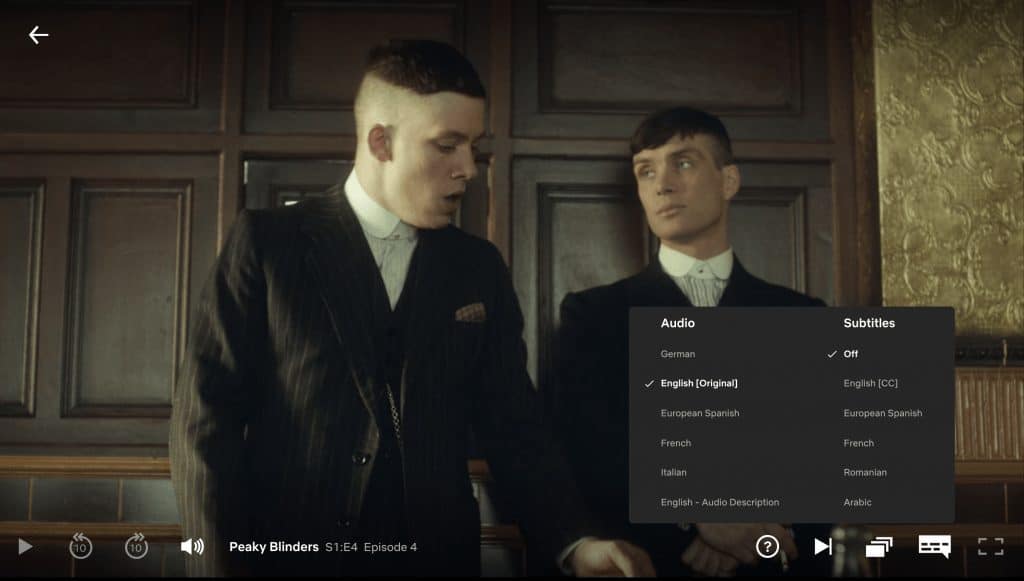 For those of you wanting more content or if you fancy searching for something a bit different Netflix has thousands of categories hidden from you.  There are a couple of different ways to find these;
Firstly there's a website that holds all of these categories and gives you the code that's associated with each. Head over to www.netflix-codes.com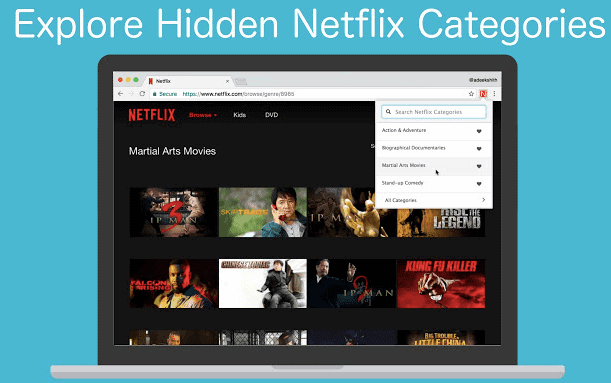 Then once you've found the code for the category that you're searching, you just have to put the code in the search bar or you can replace the xx in this link netflix.com/browse/genre/xx with the code or simply click on the code in the list.
Alternatively, you can use an extension that helps you to unlock many of those secret categories and that's "Netflix Categories".
With the extension, you can also bookmark/favourite your categories for easy access. 
Find Out What's Leaving Netflix
Netflix loses movies and TV series every month because of the way that licensing deals work. However, there are a few different websites where you can find everything that's leaving Netflix. The site that most people used to like was Stream Em and Leave Em which has unfortunately now closed. But the site I particularly like tells you what is leaving in the United States, the United Kingdom, Canada, and Australian libraries and that's www.whats-on-Netflix.com.
Click on "Leaving Soon" and you'll be able to see all the titles leaving Netflix, by country!
For those wanting to know what's coming soon or what's New, they also have a section for that on their site!
Watch Netflix From Any Angle!
If you fancy watching Netflix from the comfort of your own bed, this trick will rotate your Netflix videos so you can watch movies and TV shows more comfortably in bed.
"Netflix Flip" is a small extension that will literally just flip your Netflix videos to any angle you choose!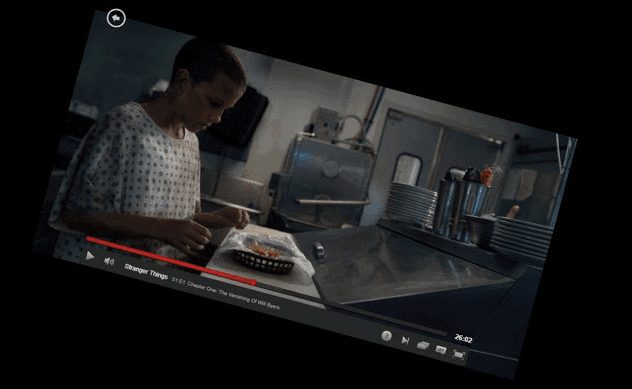 To install it just head over to the Chrome Web Store and click on "Add to Chrome".
When you're playing the show, click on the Flip extension and choose to Rotate or Zoom In/Out.
So that was just a few Netflix Hacks to get you going. I hope that you found them useful!
Netflix Global Search – uNoGs.com
With the long evenings and potential further lockdowns, you may be spending more time indoors, searching for entertainment, and heading to the likes of Netflix as a result. I explained how to watch Netflix in different regions to access more content and regional Libraries. But if you're not sure what's playing in each region it can be quite difficult and you could waste a lot of time searching for content.
UNOGS.com which stands for Unofficial Netflix Online Global Search has a huge Netflix library covering every single country in the world, where Netflix is available. Their database allows you to search 244 Netflix active regions to search based on Netflix Genre, IMDB rating, Netflix rating, and the availability of subtitles.
When you search for a title, you will be presented with a list of countries where the title is available, so you can simply connect your VPN to that region.
There are other sites too such as flixwatch.co that offer similar services too with catalogues by country, VPN, etc. It's completely up to you which one you use. However, you may find that some databases are more up to date than others.
Is Get Out on Netflix?
Yes, the movie Get Out is available on Netflix, but this will depend on your location if you can access it. Get Out movie starring British actor Daniel Kaluuya is currently showing on Netflix in France, Italy, and Switzerland. So simply connect ExpressVPN to either of these locations and you should be good to go.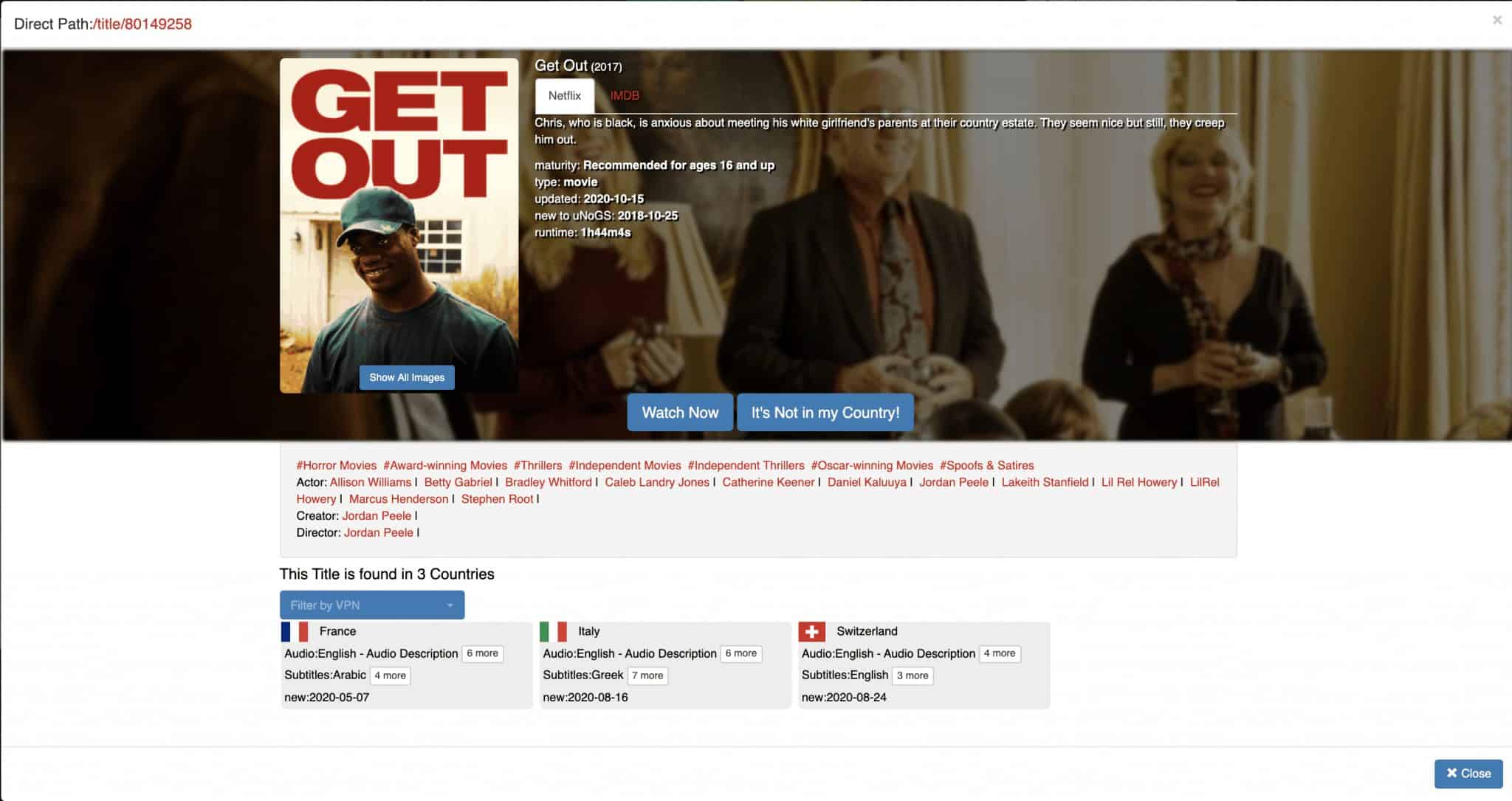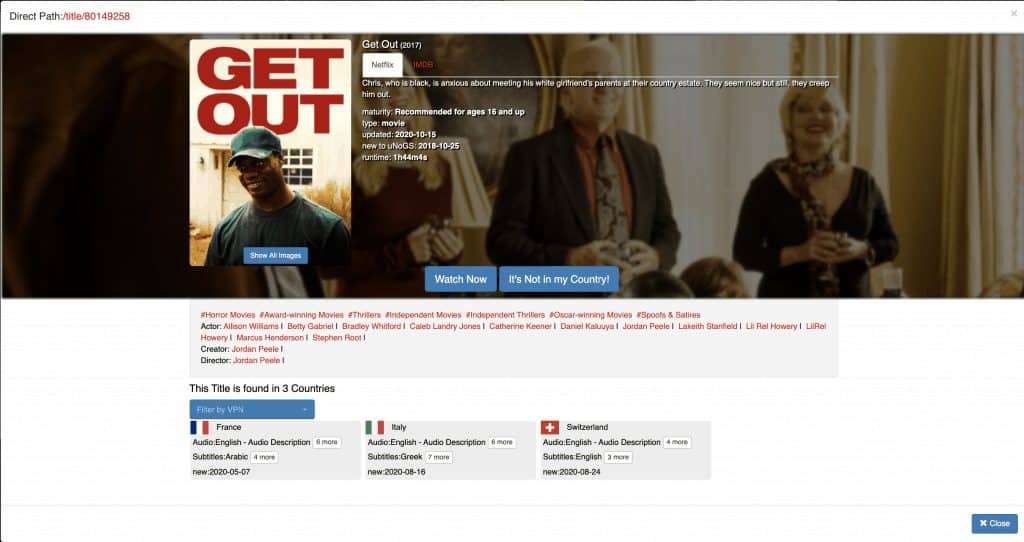 Related Post