In this Kucoin review for 2023, we take a deep dive into one of the fastest-growing and  most popular cryptocurrency exchanges with over  10  million registered users.
This guide will give an in-depth review of the KuCoin exchange. You will learn about KuCoin, its supported cryptos, features, fees, security, customer support, and KuCoin´s Pros and Cons.
So, let's dive into this Kucoin Review to help you determine whether Kucoin is the right crypto exchange for you.
KuCoin Review: How to Use Kucoin?

KuCoin Pros & Cons
What is KuCoin?
KuCoin exchange was officially launched in September 2017 by Johny Lyu and has quickly grown into one of the biggest crypto exchanges in the world, with over 700 assets and more than 1,200 trading pairs.
KuCoin operates in Seychelles and has over 10 million registered KuCoin users across  207 countries and regions worldwide. According to popular crypto sites CoinMarketCap and CoinGecko, KuCoin is listed in the top 5 crypto exchanges.
Known as the "People's Exchange", it's easy to use for beginners buying or exchanging their first crypto. Plus, it's also ideal for more experienced traders who can use spot trading, margin, and futures trading. Plus, you can also maximize your earnings by lending and staking crypto to earn interest on KuCoin.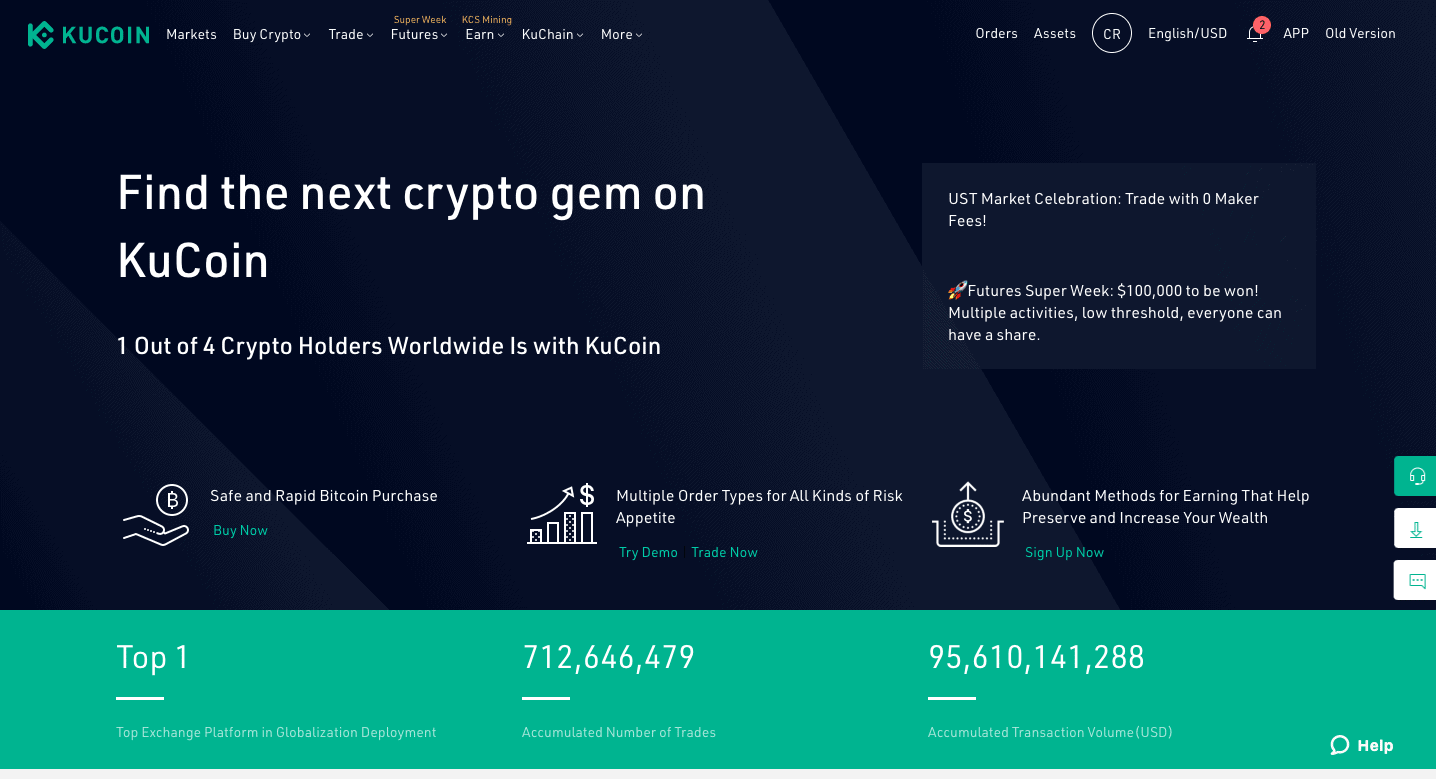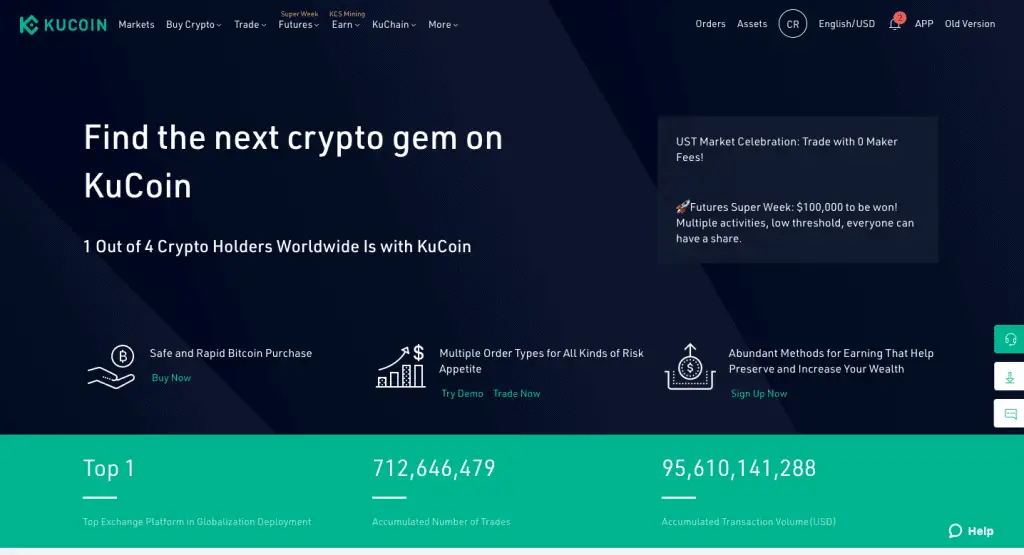 KuCoin Shares Token (KCS)
KuCoin Shares (KCS) is the native token for the KuCoin cryptocurrency exchange. KCS holders receive trading fee discounts and get a further 20% discount on their already low trading fees of 0.1%.
If you hold at least 6 KCS tokens in your account, you will get extra money in the trading fee in your KuCoin account. The KuCoin exchange distributes 50% of its daily trading fee among all its KCS holders. This is a tiny amount, but it is still money that you get for just holding a KuCoin token.
KuCoin Supported Cryptocurrencies
Although KuCoin is crypto to crypto with no FIAT markets, there are still over 1200 trading pairs KuCoin users can trade with. With markets such as BTC, KCS, ALT, DEFI, and USD stablecoins.
If you don't already have crypto to deposit, you can purchase crypto directly on the KuCoin site with fiat currencies via their FastTrade service.
This is where you can buy crypto with fiat currency using the likes of Visa, Mastercard, or SEPA. However, just be aware that although the fees are lower than the industry standard (at 1.3%), it won't be the cheapest way to buy crypto. This is because you'll be paying higher fees for convenience.
So you may be better off using other exchanges offering fiat currency trades. These include the likes of Coinbase Pro, for example.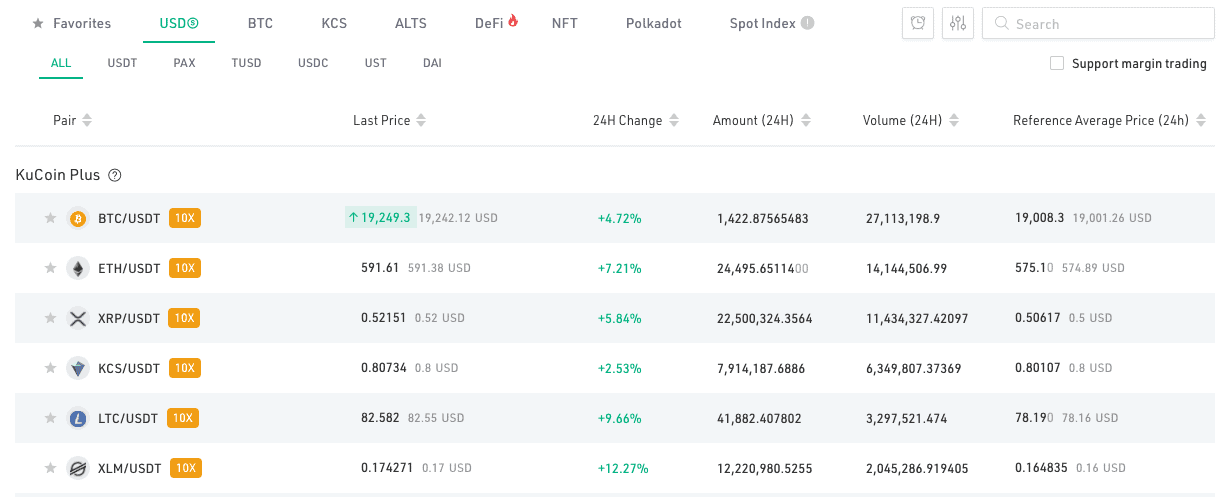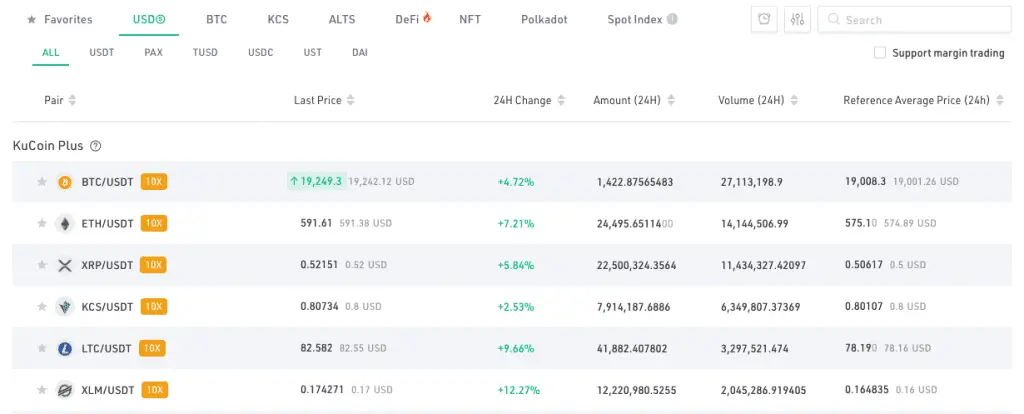 KuCoin Fees
KuCoin users can deposit crypto into their KuCoin account for free. However, withdrawal fees are incurred on a crypto-by-crypto basis. For example, with BTC, the fee is 0.0005 BTC. Or ETH is at 0.005 ETH. There are also minimum withdrawal amounts that are on a crypto-by-crypto basis.
To view all platform fees, click here.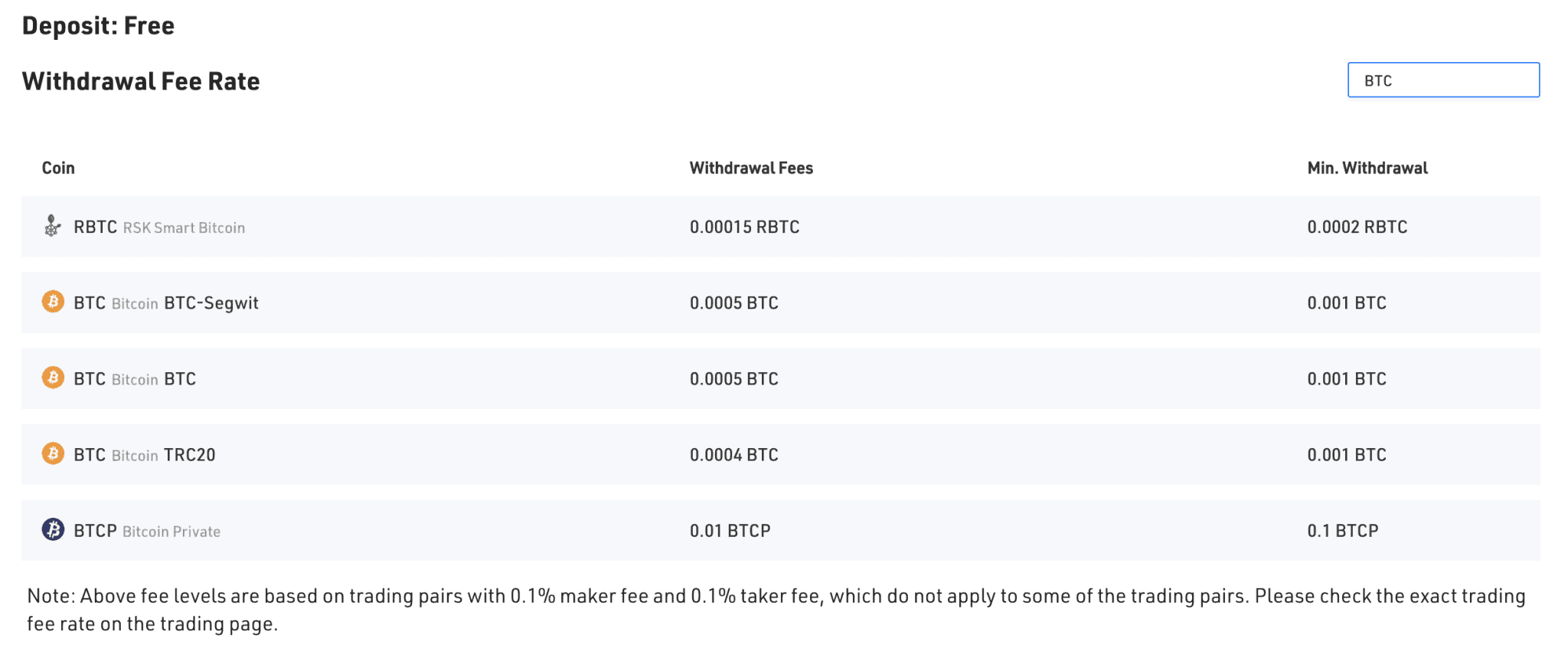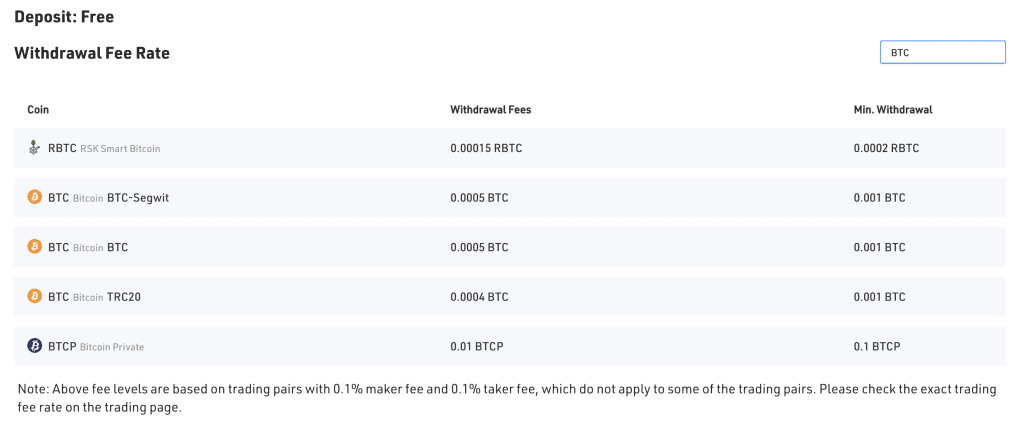 Trading Fees
Trading fees are based on a Maker/Taker model and will depend on your 30-day trading volume. I am not a day trader, so fees are 0.1% for maker and taker orders.
The fees then start to differ when trading amounts are greater than 50 BTC in a 30-day period. Like Binance, you can also get reduced fees by holding the KuCoin KCS token.


KuCoin Fiat Accounts
KuCoin Accounts
On the KuCoin platform, under the "Assets Overview" screen, KuCoin offers different accounts to transfer, lend or deposit from.
"Main Account" is used for cryptocurrency deposits & withdrawals, fiat to crypto purchases via credit card, and margin lending.
"Trading Account" is for cryptocurrency transactions
"Pool-X Account" is for staking and mining with yields up to 20%
"Margins Account" is for margin borrowing and margin trading
"Futures Account" is used for futures trading, such as XBTUSD perpetual futures
To start trading, you'll need to deposit your funds into the Main account and then "transfer" to the Trading Account.


KuCoin Security
KuCoin offers several different ways for its users to secure their KuCoin accounts. This includes two-factor authentication using the likes of Google Authenticator, which supplies one-time codes for actions such as logging in, withdrawing, etc.
You can also enable other security features, such as a trading password for buying and selling your crypto. Plus, you can also restrict IP login attempts and enable anti-phishing codes.
Is KuCoin Safe?
KuCoin is not regulated by any financial regulatory agency and was hacked in September 2020. $281 million were stolen by hackers obtaining the private keys to the centralized exchange's hot wallets. However, their CEO Johnny Lyu quickly promised that funds would be "covered completely" by an insurance fund.
I always advise you to store your crypto in a hardware wallet such as a Ledger or a Trezor (when you're not trading your funds) to keep them offline and away from any potential harm.
Also, once you've signed up, implement 2-factor authentication as an extra level of security. This will help to secure your account.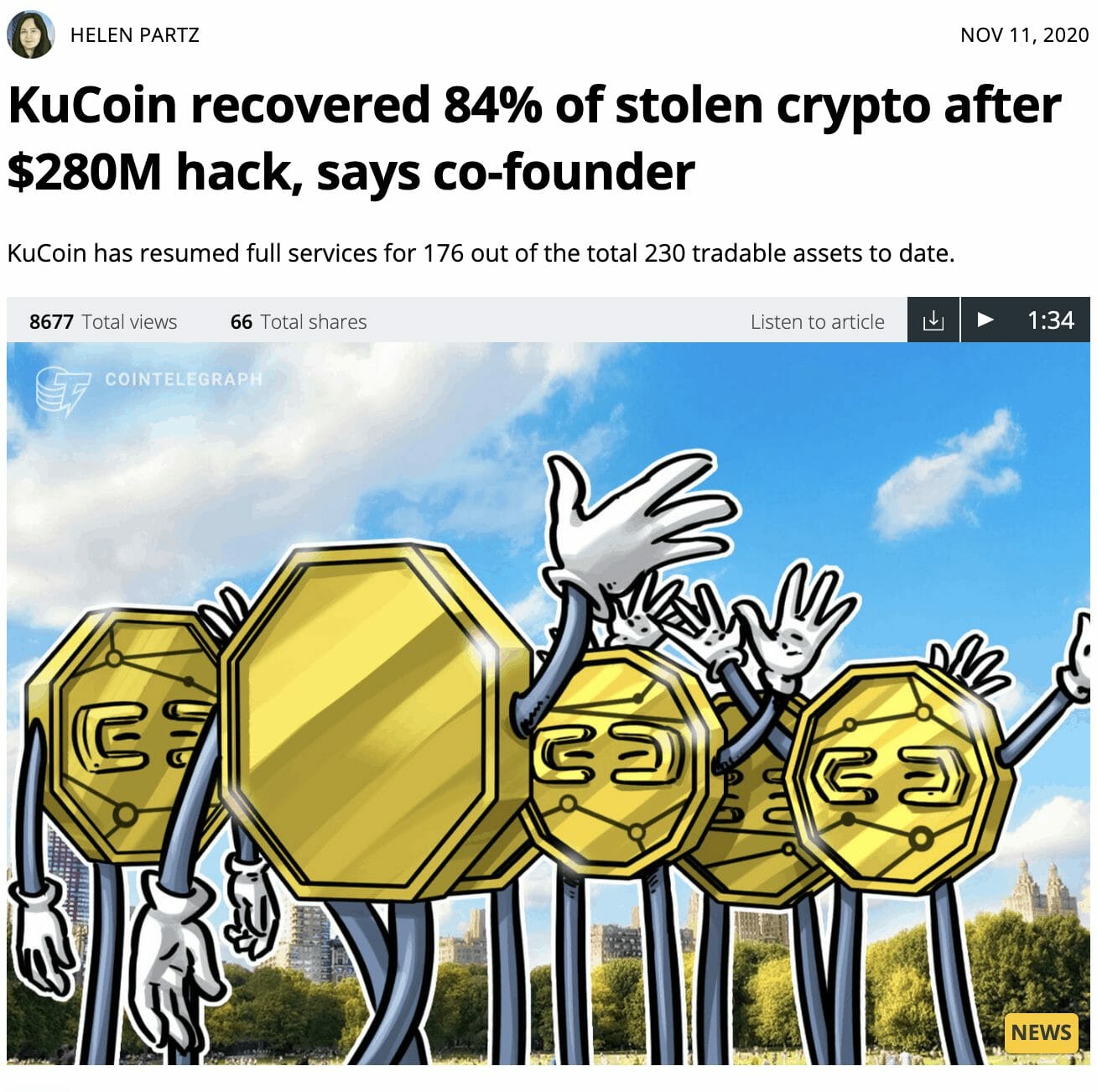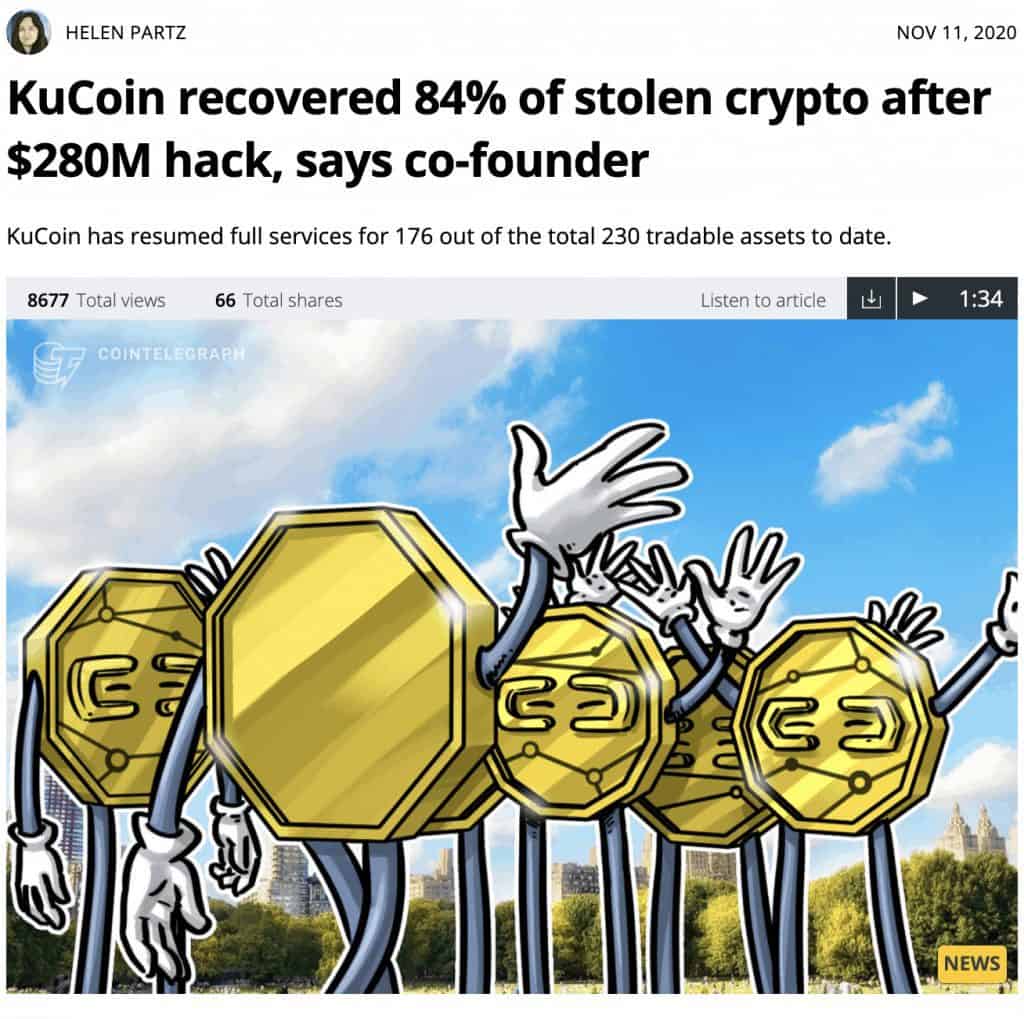 KuCoin App
With KuCoin, you can trade quickly on the go anytime, anywhere, 24/7. The exchange is available via the web, plus mobile apps are also available for Android and iOS. You can easily sync up your mobile device by scanning a QR code via the website with your mobile.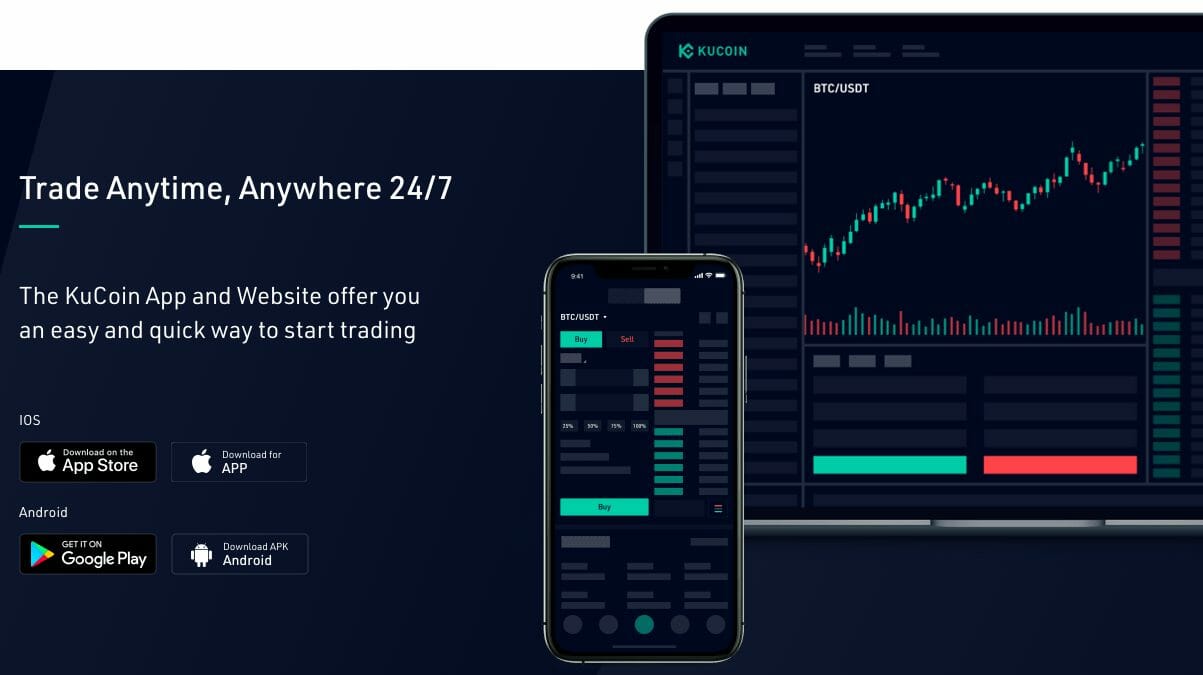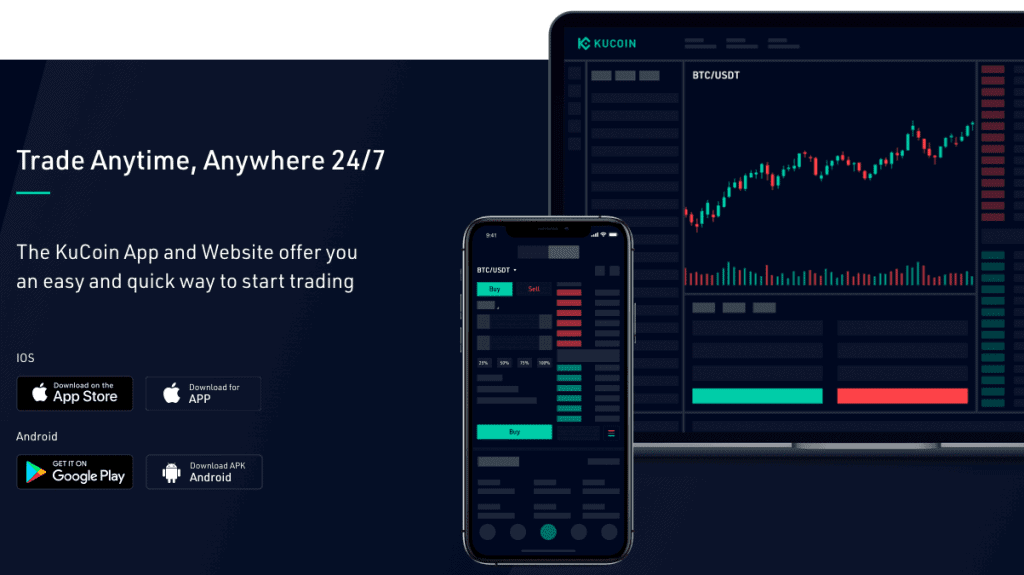 Where is KuCoin Available?
KuCoin is available in more than 207 countries, including the United States of America. According to CoinMarketCap, KuCoin is one of the top 5 cryptocurrency exchanges in the world today and is used by 1 in 4 crypto holders across the globe.
With KuCoin, crypto traders can trade, deposit, and withdraw funds without completing KYC verification. However, you must complete verification to unlock the exchange's full features.
You can buy crypto on KuCoin using 28 different fiat currencies, with some lesser-known currencies like the Thai Baht, Polish zloty, and Bangladeshi Taka. To check if your desired fiat currency is listed, see here. 
KuCoin Support
KuCoin users can access 24×7 customer support via WeChat, phone, email, and web chat. Plus, they can use KuCoin's comprehensive support centre, which has a lot of helpful information about the crypto exchange.
I have personally used their webchat facility, and they were super responsive, replying in under a minute which is rare compared to other exchanges.

Conclusion
KuCoin isn't an exchange I personally use day-to-day. However, I can see its attraction with low trading fees and multiple trading options for both advanced traders and newbies.
Although I don't sell my crypto for fiat, not having this as a trading option can be deemed as a negative. I know that they have the option to buy crypto with fiat currency via their FastTrade service. However, you will be paying higher fees for the service, which can cut into your profits.
When checking the Kucoin Trust Pilot score, they receive an unimpressive "bad" rate. However, most cryptocurrency exchanges do generally receive similar ratings. Most of these negative reviews are due to their hack in 2020.
As many of the reviews mention, I don't believe Kucoin is a scam. Still, it will be very difficult for Kucoin to build trust again, especially in a competitive crypto market.
Similar to your bank, once you get used to an exchange, it can be difficult to change crypto exchanges, and I don't see myself moving any time soon. I would personally prefer to use the likes of Binance, Gemini or Coinbase Exchanges.
Related Posts