This Kraken review provides an overview of the popular cryptocurrency exchange, including supported cryptocurrencies, deposit methods, fees, and security. Plus, if you're interested in taking your crypto assets, you can now stake and earn rewards.
Kraken Exchange is one of the largest and most popular centralized cryptocurrency exchanges, offering over 250 trading pairs. Kraken was founded by Jesse Powell in 2011 in San Francisco. With the aim to accelerate the adoption of cryptocurrency by providing a platform for investors to quickly and securely buy crypto.
Let's jump into our Kraken review to help you work out if Kraken is the best crypto platform for you.
Kraken Review: How to Trade on Kraken Exchange?
What is Kraken?
Kraken Exchange is a San Francisco-based cryptocurrency exchange that was founded in 2011. The platform enables users to trade more than 30 digital assets and seven different FIAT currencies. It's now trusted by more than 5 million traders, institutions, and authorities worldwide.
With Kraken, you can create trades with spot markets, trade top cryptocurrencies with up to 50x leverage with futures, and open larger positions with margin trading. Plus, you can also stake your crypto and FIAT currencies with rates up to 12% APY.
Supported Cryptocurrencies
Kraken supports over 40 different cryptocurrencies when writing this Kraken exchange review, with even more available crypto pairs. The exchange also supports a wide range of FIAT, including USD, JPY, CAD, and GBP. EUR, AUD, and CHF. For more information on Kraken´s supported crypto, click here.
Plus cryptocurrencies; Algorand (ALGO), Augur (REP), Basic Attention Token (BAT), Balancer (BAL), Bitcoin (BTC), Bitcoin Cash (BCH), Cardano (ADA), Chainlink (LINK), Compound (COMP), Cosmos (ATOM), Curve (CRV), Dai (DAI), Dash (DASH), Dogecoin (DOGE), EOS (EOS), Ethereum (ETH), Ethereum Classic (ETC), Gnosis (GNO), ICON (ICX), Kava (KAVA), Kusama (KSM), Kyber Network (KNC), Lisk (LSK), Litecoin (LTC), Monero (XMR), Nano (NANO), OMG Network (OMG), Orchid (OXT), PAX Gold (PAXG), Polkadot (DOT), Qtum (QTUM), Ripple (XRP), Siacoin (SC), Stellar Lumens (XLM), Storj (STORJ), Synthetix (SNX), Tether (USDT), Tezos (XTZ), Tron (TRX), USD Coin (USDC), Melon (MLN), Waves (WAVES), Zcash (ZEC).
What is XBT?
On Kraken, Bitcoin is known as "XBT" instead of its more commonly known ticker, "BTC". XBT is a newer abbreviation for Bitcoin and uses the international standards organization method. The currency starts with an "X" to indicate that the currency is not specific to any country.
The currency is exactly the same, and it's still a unit of Bitcoin; however, it's just the abbreviation that's different.
Deposit Methods
With the Kraken exchange, you can deposit either FIAT or cryptocurrencies. Depending on your fiat, minimum deposit fees will apply, and processing times may vary.
You can check out all deposit methods here. Also, please note that all first-time FIAT deposits will result in a temporary (72-hour) withdrawal hold on the account.
Cryptocurrencies can be deposited into the exchange by sending your crypto to the deposit address.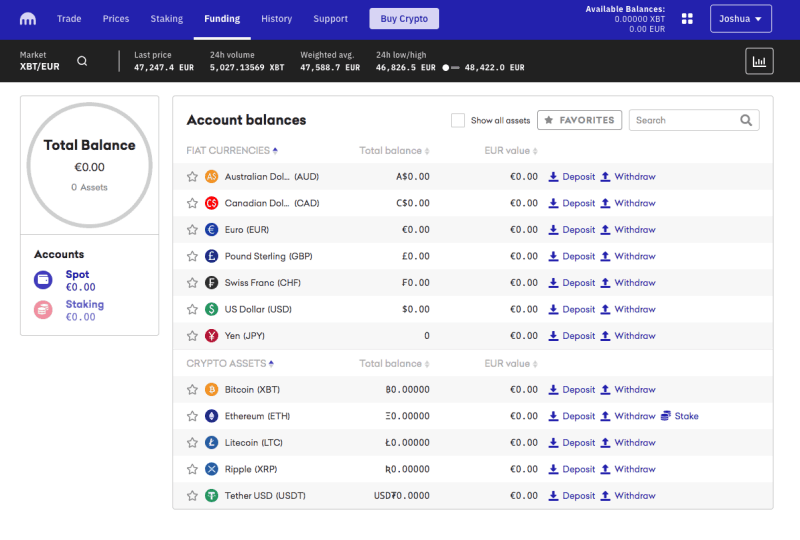 What is Kraken Pro?
Kraken Pro is a more advanced trading platform by Kraken. With Kraken Pro, you can greatly reduce the fees that you will be paying when trading and will pay around 0.26% to 0%.
Plus, you can view depth charts and graphs and choose from more advanced trading pairs and order types. These include Market, Limit, and Stop Orders.
Kraken Fees
The fees that you pay with Kraken will depend on if you are using the Kraken exchange or Kraken Pro, plus they are fees for margin trading and futures. In this Kraken Exchange review, we will focus on Instant Buys on the exchange and Kraken Pro.
With Kraken instant buy, you'll be paying a 0.9% fee for any stable coins and FX pairs or a 1.5% fee for any other crypto. You'll also pay 3.75% + €0.25 for card processing fees or 1.7% + $0.10 for bank processing fees.
With Kraken Pro, spot trading fees range from 0.26% all the way down to 0%. Kraken uses a maker-taker fee schedule with volume incentives based on your activity in the past 30 days.
Depending on your currency and withdrawal method, you'll also need to pay deposit and withdrawal fees. A full list of fees can be found here.
Kraken Staking
If you want to maximize your returns and earn interest on your crypto that might just be sitting idle in a wallet, staking your assets with Kraken could be a great way to earn some passive income.
With Kraken, you can stake assets such as Polkadot, Ethereum, Tezos, Bitcoin, and even FAIT currencies such as EUROS or US dollars. With returns currently ranging from 1.5% for EUROs all the way up to 12% for Polkadot and KSM.

On-Chain & Off-Chain Staking
On-Chain staking allows you to stake your crypto assets with blockchain Proof of Stake protocols such as Tezos. Off-Chain staking allows you to stake your assets with Kraken´s internal programs. Off-chain staking is restricted to eligible countries only.
How to Stake Crypto on Kraken

Kraken Support
If you need support on the Kraken Exchange, there's a 24/7 live chat where their team of experts will work directly with you to reach a quick and efficient resolution.
They also have a help centre to troubleshoot with in-depth guides and a robust support library.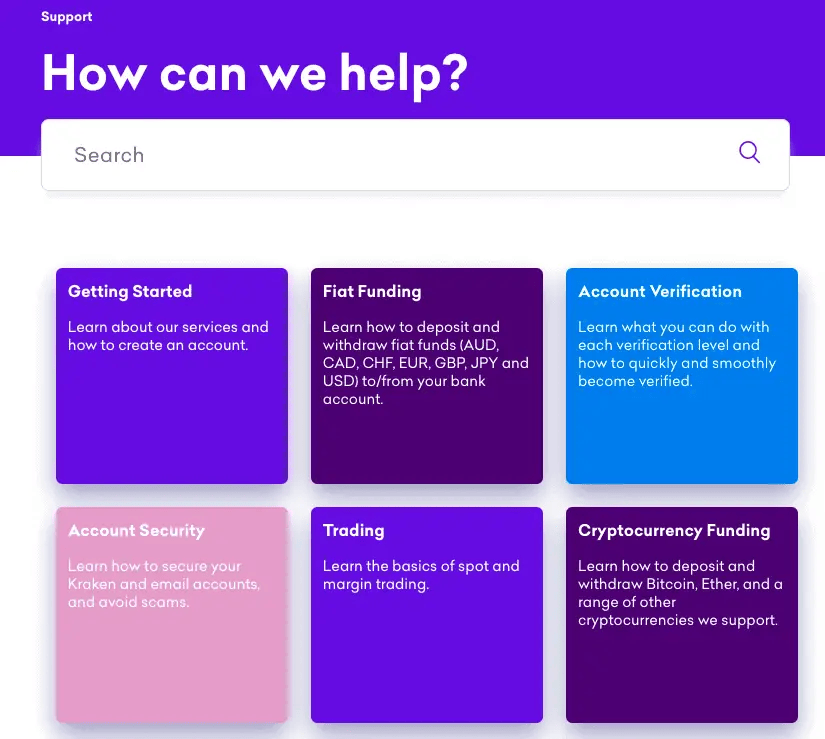 Is Kraken Safe?
Kraken states that safeguarding your funds and your privacy is our number one objective. With that in mind, they keep 95% of all deposits in offline, air-gapped, geographically distributed cold storage. 
Plus, they include security features, such as 2FA, email confirmations for withdrawals, sensitive data encryption, and SSL encryption to protect you when browsing Kraken. For more information on Kraken´s security features, click here.
Kraken vs Coinbase
Kraken and Coinbase are both long-standing and well-trusted cryptocurrency exchanges. Offering users a way to conveniently buy and sell crypto with credit/debit cards or bank transfers. Or to trade between cryptocurrency pairings.
Both exchanges offer more advanced trading platforms where fees are greatly reduced. However, generally, you will find cheaper fees at Kraken/Kraken Pro. Kraken Pro's highest fees are at 0.26%, whereas Coinbase Pro is at 0.5%.
If simplicity is your driver, Coinbase may come on top, as is the go-to exchange for the newbie getting into crypto and buying their first Bitcoin. They also have new sign-up incentives, offering new customers $10 of FREE bitcoin.
Related Posts